During a year that has been isolating to say the least, the Symbiosis competition—part of the 13th Imagine Science Film Festival —lived up to its name by bringing 12 scientists and filmmakers intimately into one another's lives.

Each year Symbiosis pairs six filmmakers with six scientists and tasks each team with creating an original film over the course of the festival. Because all programming was online this year, longtime admirers-from-afar were able to join in, with our participants and organizers spanning six countries and two US coasts. Each team shared their projects—first as works in progress at the Lab Meeting on day four, and then as finished work at the closing night event —to an international audience of more than 3,000 people.

Over the course of the week the filmmaking teams collaborated intensely to create an alternate reality where research is driven by sentimentality, to satire modern medicine's take on a common reproductive health issue, to explore and expand our interconnectedness across the planet, to follow a biotech invention to the internet's least logical, but most likely, conclusion, and more.

All six films, including the winning film, Fathomless, by Meilin Fernandez Garcia and Melissa Ferrari, are available below, as well as archives of the live streamed Lab Meeting and Closing Night events.

Learn more about the Symbiosis competition on the Imagine Science Film Festival website: imaginesciencefilms.org/symbiosis
The Imagine Science Symbiosis Initiative is supported by Science Sandbox, a Simons Foundation initiative dedicated to engaging everyone with the process of science. Science Sandbox is dedicated to inspiring a deeper interest in science, especially among those who don't think of themselves as science enthusiasts. We support and collaborate with programs that unlock scientific thinking in everyone. Science Sandbox is an initiative of the Simons Foundation.
A Chronological Overview of Symbiosis 2020 Competition
Meet our participants that were carefully selected from a wide range of fields, disciplines and backgrounds. A week before kick-off, Symbiosis participants shared a few words about the prospect of art-science collaborations. We compiled these on-camera testimonials into a short video.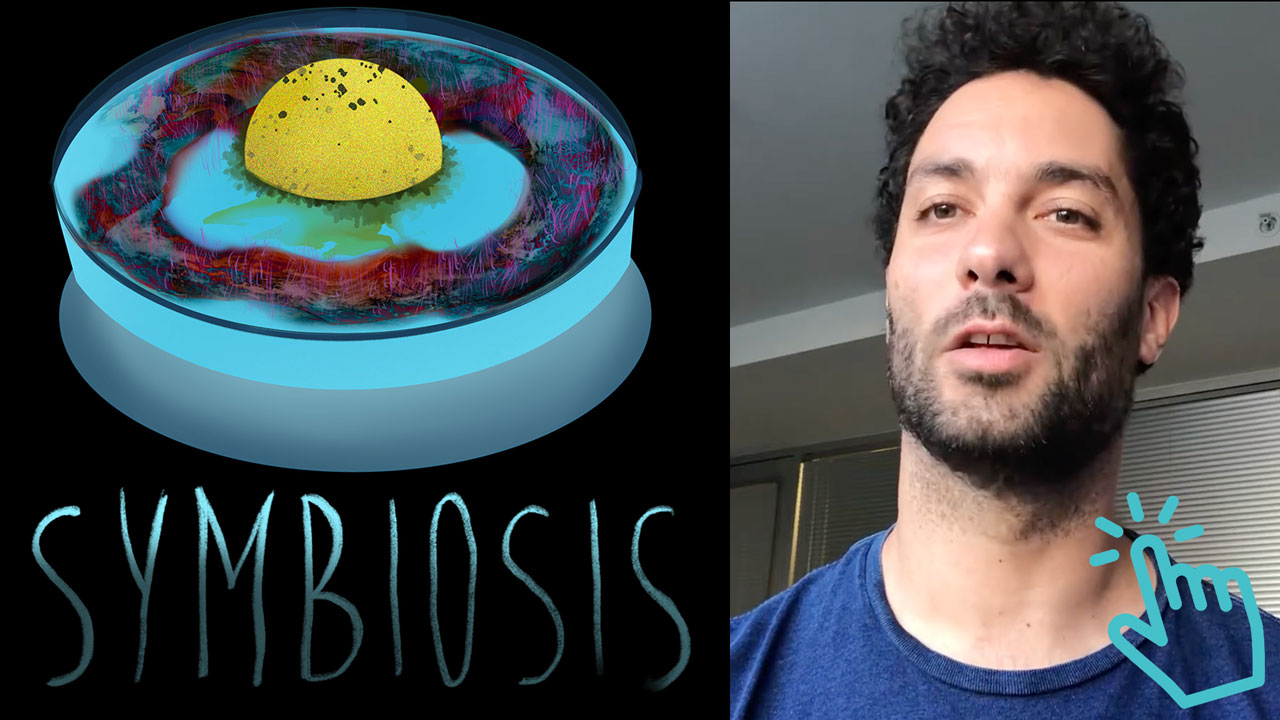 Symbiosis participants are announced to the world and discuss the idea of art/science collaboration.
All participants read each other bios and perused through their work, eventually coming up with a wishlist of potential collaboraters. With these preferences, our Symbiosis team paired up the scientists and filmmakers.
Participants met each other for the first time on October 15, 2020 at a mixer on the Spatial.Chat platform. Pairs were annouced in our art-nouveau virtual room by our Symbiosis director Sophie Tintori.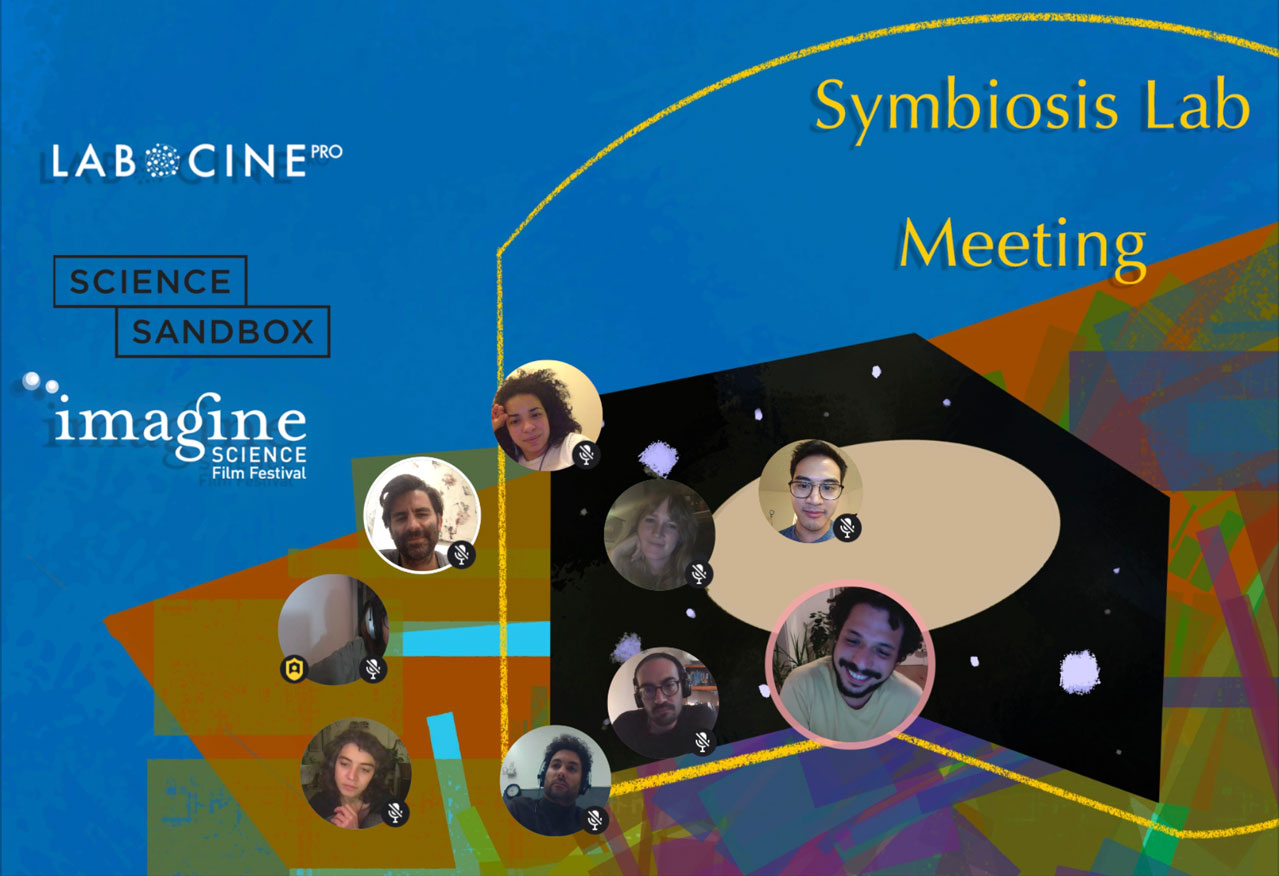 A Spatial.Chat virtual party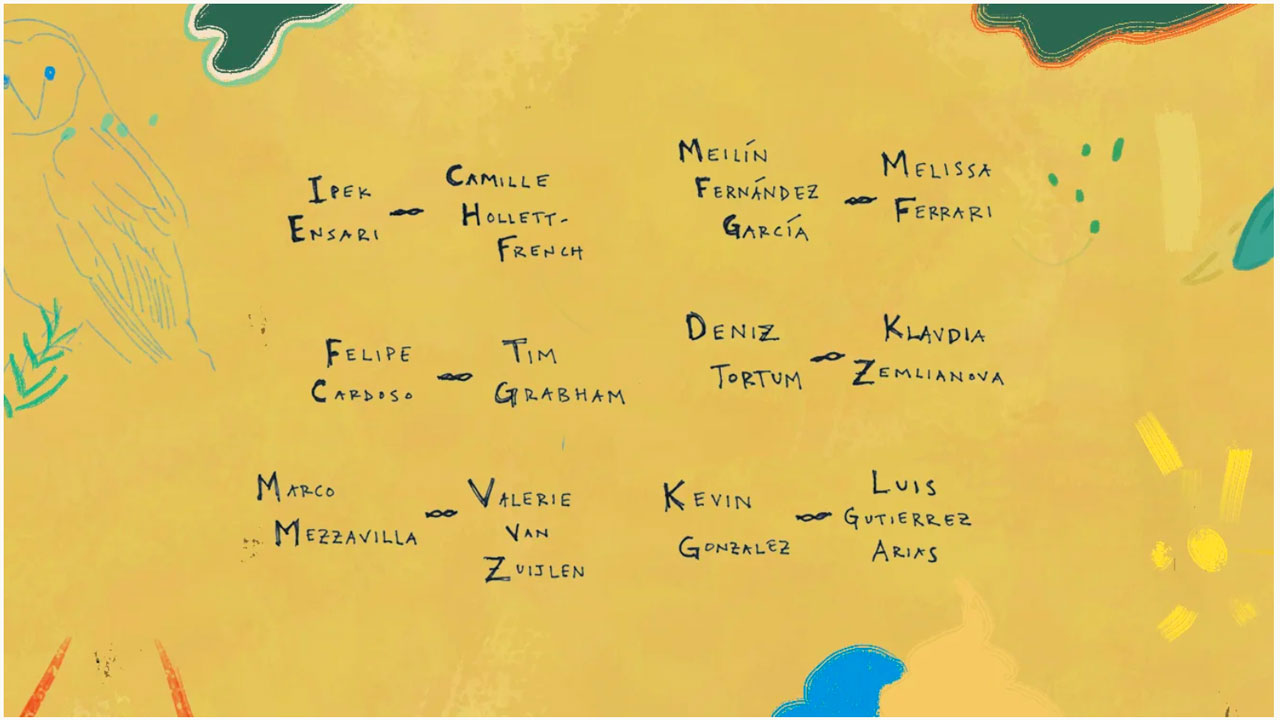 The scientist-filmmaker pairs
The Lab Meeting happens on day 4 of the festival. It is a mid-way check-in where pairs speak about their initial conversation and share first data and images of their budding ideas. Watch here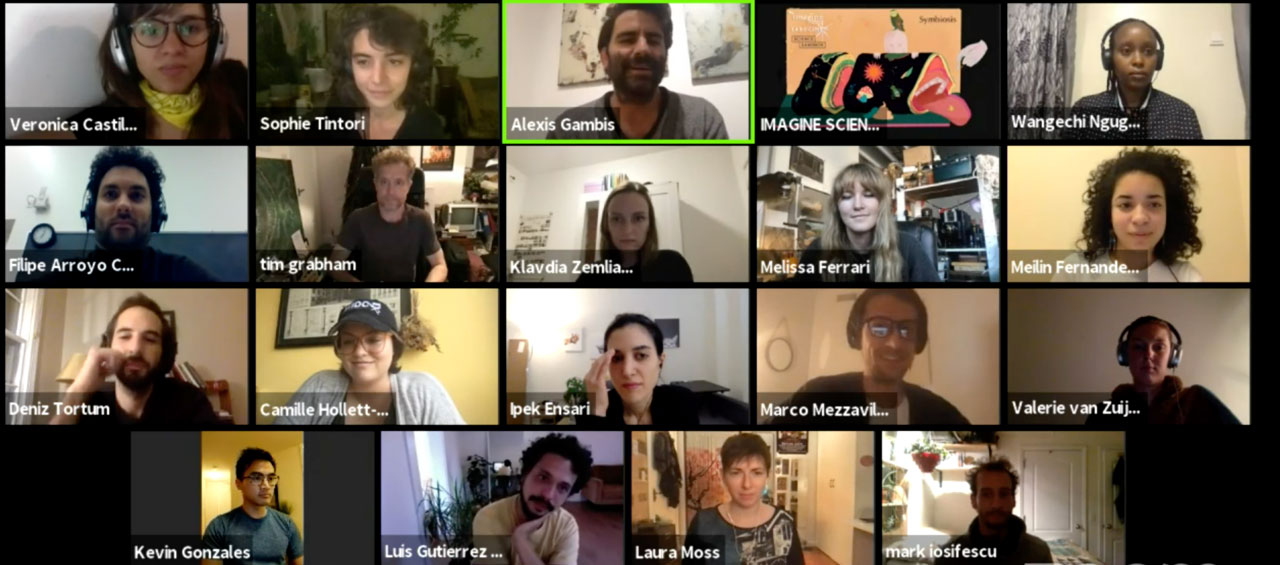 Our Symbiosis participants meet up in our traditional Lab Meeting - virtually this year - to discuss their initial brainstorms.
The Closing Night of the festival unveiled the premiere of these six films. The pairs speaks about their work. Watch here.
Scientist Meilín M. Fernández García and filmmaker Melissa Ferrari speak to Symbiosis Director Sophie Tintori about their film 'Fathomless'
Here are the six Symbiosis art-science films that were produced in 8 days at the 13th Annual Imagine Science Films:
Fathomless - by Meilín M. Fernández García, Melissa Ferrari (Symbiosis 2020 Winner - Science Sandbox Prize)
Fathom, a unit to measure depth. A medical-science trajectory toward understanding the deep complexity of distorted minds and the perception of the ones who suffer it.
"Symbiosis opened my eyes to all the endless ways we can communicate science. I sincerely had no clue how to even being to combine science and art, they are so far apart. But partnering with such a creative mind like Melissa's was such a blessing. She showed me how to use art and relics artifacts to connect with the audience using senses, emotion, imagery and imagination. She reminded me that as scientist we sometimes become too rigid and stoic often limiting our mind on how we create, record and share our findings.
To me Symbiosis created a space where real scientists meet filmmakers and only in such a space we could create Fathomless, a film that shares some of the most significant discoveries in science recently awarded Nobel Prizes, how these technologies change how we do neuroscience, and the ripple effects in has on real people lives and relationships. It was shocking to see how Melissa's artistic mind work and how she collaged what we wanted to convey without the need to show scientific data. In our case the science, became the skeleton that holds the film together." Meilín M. Fernández García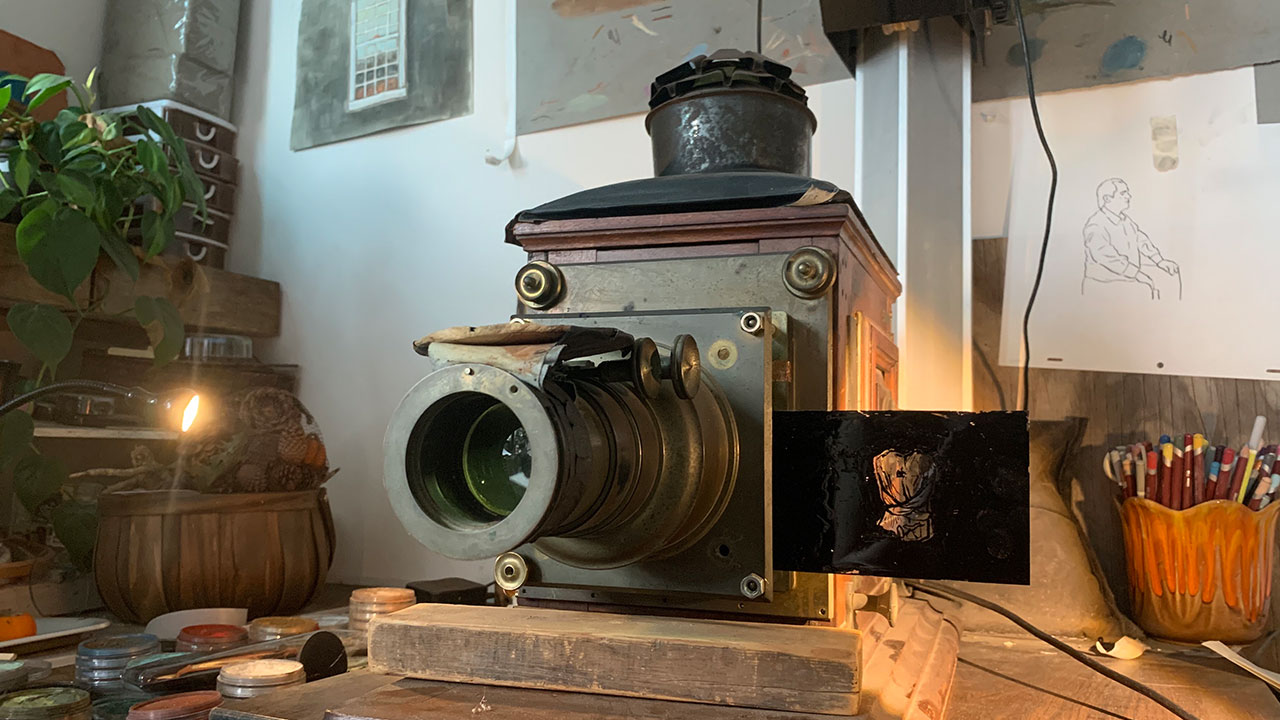 Melissa Ferrar's Magic Lantern - one of the principal instruments used to create Fathomless.
Wound - by Luis Gutiérrez Arias & Kevin Gonzales
Two immigrants recount the changes brought about by their journeys to the U.S., paralleling that of cells migrating in response to a wound.
Nanodoctor - by Felipe Cardoso & Tim Grabham
Nanodoctor - iterations 1 to 3' is an imaginary promotional film from the near future explaining the migration of information inside living organisms through molecules, and how the real time monitoring of those molecules will allow the diagnosis and rapid resolution of a crisis inside the human body or, in other words, illness. The film then expands on this idea of migration by presenting a reflection on the current reconfiguration of information/misinformation via the internet. How is misinformation disintegrating trust and confidence in science and how is the rapid spread or migration of this misinformation causing real world crisis such as scepticism in medicine, vaccines or climate science?
The Octopus Network - by Marco Mezzavilla, Valerie van Zuijlen
A living organism to host, extend, connect, and express our senses. The Octopus Network is our attempt to capture the boundless motion of human senses, thoughts, and emotions that are constantly flowing around us - transported over invisible waves that dance to the vibrational rhythm of electromagnetism, one of the four fundamental forces of Nature. We explored the spectrum in which physical boundaries become virtually boundless. During this exploratory journey, we met distant strangers that felt closer than ever. We switched roles, we stretched our senses, we created virtual spaces that gave us a sense of natural equilibrium, collectiveness, togetherness, and sensorial flow.
A Sentimental Science - by Deniz Tortum & Klavdia Zemlianova
How many neurons do you need to recognize your mother? "A Sentimental Science" explores the limitations of our understanding of how our experience is encoded in neural activity.
Paracyst - by Ipek Ensari & Camille Hollett-French
It might not even exist at all.
An exhaustive meta-analytic review documenting a mysterious "women's issue," otherwise known as endometriosis.1 1term used to describe a clinical etiology that thus far has only been identified in primates with a female reproductive system, an anatomical structure of decidedly lower importance in comparison to those of the male primate.
Symbiosis is an initiative of Imagine Science Films supported by Science Sandbox. Symbiosis is a yearly short film competition took place during the 13th Annual Imagine Science Film Festival. Symbiosis will bring together scientists and filmmakers to create a science-inspired short film themed Migration over the course of one week.
Symbiosis Artwork by Wenkai Wang and Xinchen Zhang.