In her 1972 essay "When We Dead Awaken: Writing as Re-Vision," the poet Adrienne Rich writes of the late fifties as a transformational point in her life as an artist:
I think I began at this point to feel that politics was not something "out there" but something "in here" and of the essence of my condition. In the late fifties I was able to write, for the first time, about experiencing myself as a woman.
The works collected here from VALIE EXPORT, Karen Aqua, and Christina Lammer, exist in the same continuum as Rich and the women artists who pioneered this introspective mode. Their contemplation of the personal goes beyond the narrative "I" and its political valences, though.
EXPORT, Aqua, and Lammer use media, video, and animation to push this probing of the self to its anatomical limit. They look literally inwards—viscera and all—not for reasons of novelty or gross-out thrills, but each in an attempt to channel the revelatory aesthetic and political potential of introspection.
VALIE EXPORT: I turn over the pictures of my voice in my head
"The voice is my identity, it is not body or spirit, it is not language or image, it is sign, it is a sign of the images, it is a sign of sensuality," the legendary Austrian artist VALIE EXPORT declares in this installation piece.
How can this be? Elfriede Jelinek, in a text she published on the piece, points to the tensions of the feminine voice:
"[T]he speaking of woman is not heard, it isn't heard in public since it's uncomfortable, it sounds shrill, we aren't used to it, she would need an apparatus, the woman, to dampen her voice a bit, which creates an obstacle for speaking, an obviation of speaking that is forbidden to her, namely this voice is unwelcome."
Notice, too, how the image of EXPORT's pink innards at times dissolve into abstraction and at others resemble the vulva. The work is loaded with these double meanings and rhymes, like the "split body," she compares the voice to.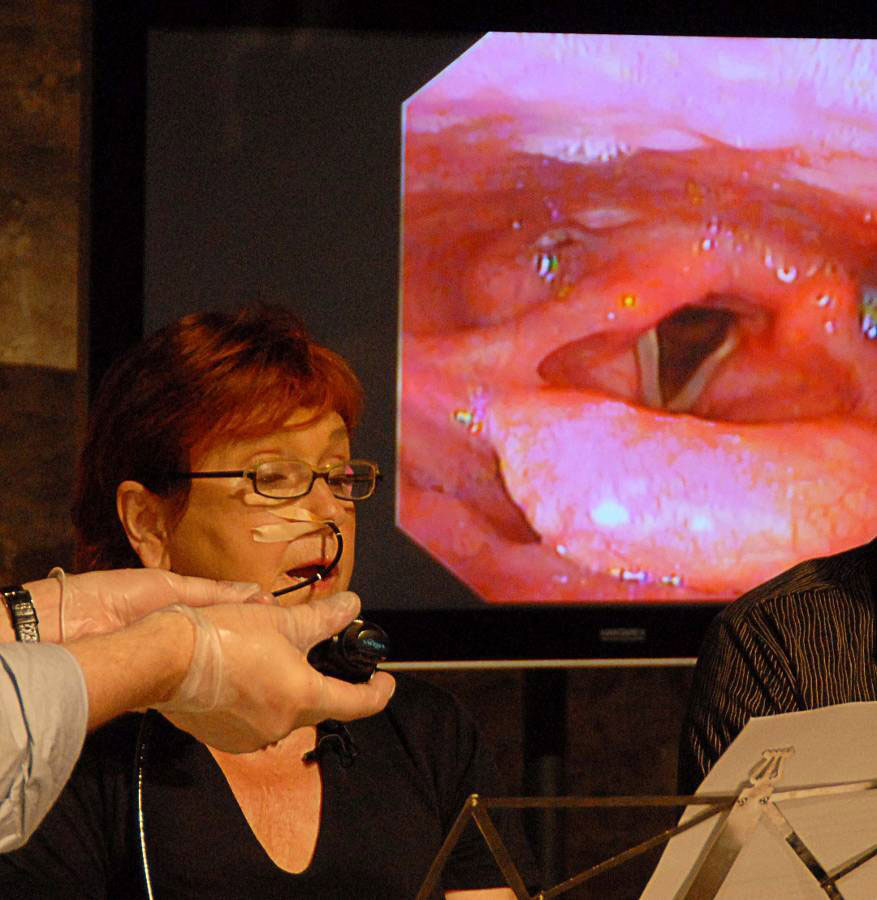 For the body: "VALIE EXPORT, "the voice as performance, act and body", performance, 2007, Courtesy of Charim Galerie, Vienna"
Karen Aqua: Twist of Fate
In her penultimate film, the late animator Karen Aqua grapples with her diagnosis of and treatment for ovarian cancer.
This multimedia piece is suffused with images—hand-drawn animation, medical reports, and MRI and x-ray scans—which come and go with rapid-fire rapidity. This is aided by the propulsive soundtrack courtesy of her husband, the musician Ken Field. The result is a surreal, stunning, and profound whirlwind that seems to mimic the affect of being a cancer patient.
Twist of Fate ends with the poignantly self-reflexive image of a bandaged hand picking up a pencil and drawing. We are reminded that Aqua's illness is not an abstraction but an embodied struggle, but also that to receive medical treatment is still to be a person capable of introspection.
For more work by this incredible artist, visit: https://vimeo.com/ondemand/animationbykarenaqua and http://karenaqua.com.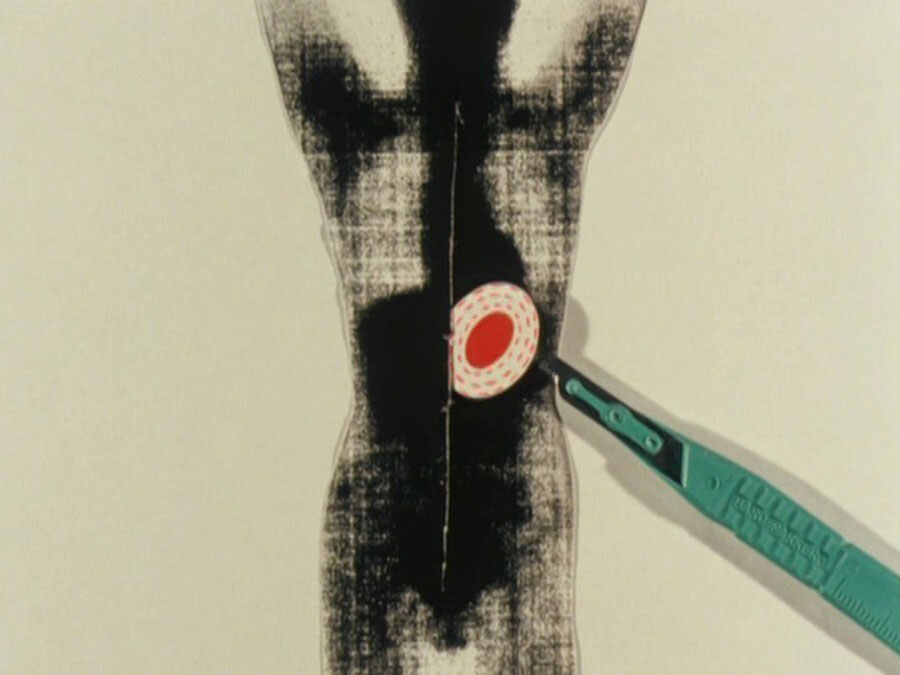 Still from Karen Aqua's Twist of Fate
Christina Lammer: Matters of the Heart
This piece consists of six films: Heart, Blood Flow, Stomach, Eye/Hand, Vertebra, and Brain. Each feature invasive surgeries of the titular anatomical parts; each is gorgeously shot on B&W 16mm film. Provocative and sometimes difficult to watch, Matters of the Heart is the work of the Viennese sociologist and multimedia artist Christina Lammer.
Unlike EXPORT or Aqua, Lammer here does not physically look inside herself. But strange and compelling things happen as we watch anonymous bodies being sliced open, operated on, and sutured back up.
This is the fascinating parallel between the analog Bolex 16mm camera Lammer works with and the surgeons on screen. A precision, finesse, and exactitude are necessary for both, of course. Shooting on Bolex requires technological knowledge and relative dexterity, editing it involves laceration and stitching. In an artists' statement on the film, Lammer acknowledges this twinning. She quotes Walter Benjamin, who compares the surgeon and the cinematographer who "penetrates deep into the subject's tissue."
Lammer locates the self (or selves) in the universal sense of the anatomy we largely all share. She points to the body as the nexus between the personal, the universal, and the political.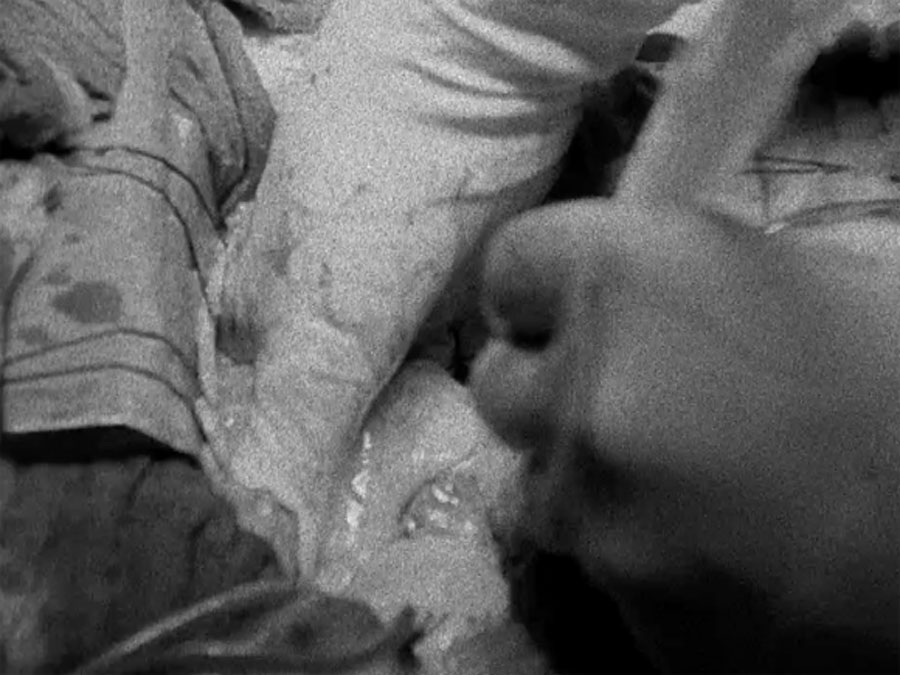 Still from Christina Lammer's Matters of the Heart
About the author
Brandon Kaufman is a filmmaker, writer, and student based in Montreal and Toronto. Both his academic work and artistic practice deal with the literary and cinematic avant-garde as well as constructions of bohemia. Follow him on Twitter @bvertov.