Note : This is a transcribed version of the original manuscript. For a scanned copy of the original manifesto (typed on August 26, 2016), refer to Appendix C below.
The Science New Wave is characterized by its rejection of traditional scientific film conventions and stereotypes in favor of experimentation and personal expression.
The Science New Wave was established on August 26, 2016 in Lairoux, a commune in the Vendée department on the west coast of France.
During a town hall meeting, citizen scientists presented longitudinal data showing the devastatating impact of human activity on the local bat population. To the surprise of many, these avid amateurs ended their talk with a short, experimental film, revealing a new world from the perspective of an anguised bat and merging scientific research with surrealism.
Many (but not all) agreed on the vital importance of fusing science, the imaginary and cinema. One attendee decided to put pen to paper, drafting the early version of the manifesto.
The Science New Wave heavily draws inspiration from early cinema and the field of developmental biology.
The SNW Central Dogma is built on 6 fundamental traits yet, as any other living organism, it will keep evolving.
trait #1 Culture is Science. Science is Culture.
trait #2 Diversity feeds the ecosystem
trait #3 Experiments become Cinema
trait #4 Structure dictates function.
trait #5 Science & Story never collide.
trait #6 WE ARE ALL MESSENGERS
ATCGGTCGGTCAATGCCTTGCCAATTGGGTACCTGCATGCAATGGTTGCGCCCGCATGTATG
TACATCGGTCAFTGACTGGTCGGGCCATCGTAACATCATCGGGTAACTGCGTTCCCGCGCTA
L A B O C I N E
A.G.
SUPPLEMENTARY DATA
A. MEET THE SCIENCE NEW WAVE LUMINARIES
The Science New Wave community include artists, filmmakers, journalists, researchers who have inspired us in their approaches to scientific storytelling. Instead of succumbing to stereotypes or conventions, they have all proposed singular new visions in both their art and science. They take risks, cross boundaries and fuse genres, blending process and realism with subjectivity and commentary. Their vision has shaped the very birth of the Science New Wave manifesto. They are also the key players in its ongoing evolution. Meet and learn about their work by visiting their Labocine Habitat profiles. Each of the SNW members has this badge associated to their Habitat profile.

B. GET A DIGITAL COPY OF THE ORIGINAL TYPEWRITTEN MANIFESTO
If you are a SNW member, you can request a copy of the original manifesto by sending an email to film@labocine.com. Please indicate your name and provide a link to your Habitat profile.
If you are not an SNW member, see (C) below for instructions on how to become one!
C. HOW BECOME A SCIENCE NEW WAVE MEMBER
Step 1: Science New Wave // your manifesto
Every membership request will be reviewed by a selection committee formed by our founding members.
We ask that you submit the following to: film@labocine.com
How do align with the vision of the Science New Wave? (a few sentences)

Provide links to your research and/or creative work (text, web, art, video…)

A short bio (few sentences)
Step 2: Labocine Subscription
If selected by our SNW committee, you will receive and a message. Every Science New Wave member will be required to sign up annually to the Labocine.com platform and complete the Habitat profile.
Learn more about membership and benefits.
SNW is the abbreviation for SCIENCE NEW WAVE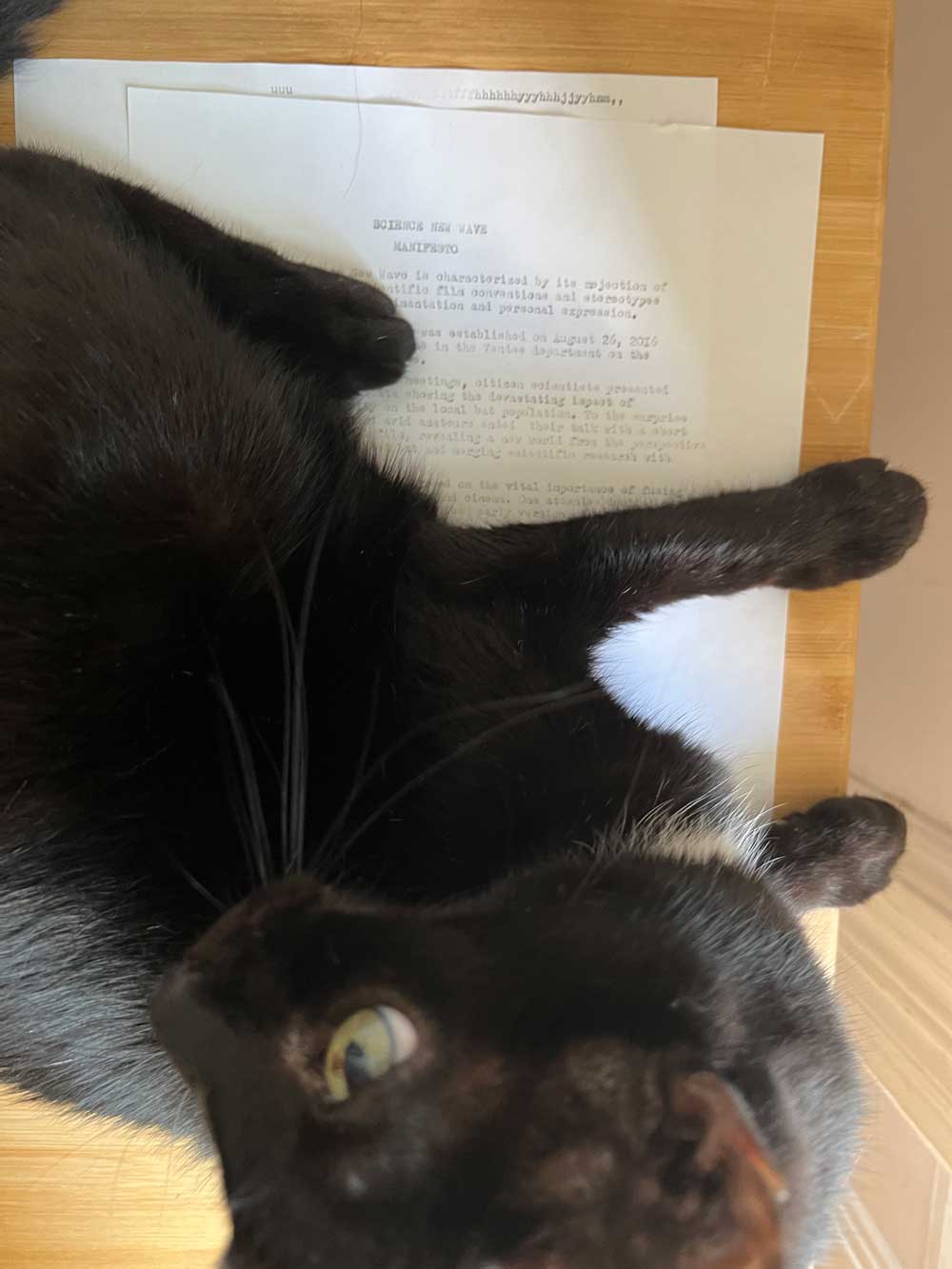 A black cat and the Science New Wave manifesto