Marina Bay Sands, Gardens by the Bay, Jewel Changi Airport—what is Singapore beyond these shiny landmarks of Southeast Asian success? This Spotlight tours a different side of Singapore beyond the glitzy veneer of Crazy Rich Asians skylines, subverting the image of an urban utopia.
Singapore's meteoric rise and its reliance on technology has long caught the attention of those wishing to replicate the tiny city-state's trajectory from Third World to First World. In 1994, Wired sent cyberpunk writer William Gibson to Singapore to "see whether that clean dystopia represents our techno future." Gibson was unnerved by the Big Brother modus operandi of the government and the country's hostile architecture, which he described as looking as if IBM had micromanaged a nation. Disturbingly, he found Singaporean citizens flourishing despite the lack of civil liberties. Gibson famously dubbed Singapore "Disneyland with the death penalty."
While Gibson's alienating descriptions of Asia read like textbook techno-orientalism today, the striking moniker has stayed persistent. Singapore's futuristic cityscapes (the world's tallest indoor waterfall! an infinity pool atop a casino! a steel bridge shaped like DNA!) have served as the film locations for dystopian Hollywood science fiction projects like Westworld, Equals, and Independence Day: Resurgence.
Singaporean academic Cherian George has proposed a new epithet of Singapore in the 21st century. "Think of Singapore as the Air-Conditioned Nation, a society with a unique blend of comfort and central control, where people have mastered their environment, but at the cost of individual autonomy, and at the risk of unsustainability," he writes in his influential essay collection. The reference to air-conditioning is apt, not only because Singapore's founding father Lee Kuan Yew praised the device as the single most impactful invention in history, but also because air-conditioning is considered essential for taming the hot, unruly tropical rainforest climate of Singapore.
While Singapore is often touted as the glowing advertisement of technocratic, hypercapitalist governance, these films examine socioeconomic issues that are swept off the street, such as immigration, migrant worker rights, and income inequality. Our characters amble through hawker centres, construction sites, kopitiams, migrant worker dormitories, and void decks in public housing blocks, occupying mundane, working class spaces that go untelevised.
The winner of the Camera d'Or award and Singapore's entry for Best Foreign Language Film at the 86th Academy Awards, Ilo Ilo follows the Lim family members and their Filipino live-in maid, Terry, during the 1997 Asian financial crisis. Pregnant Hwee Leng Lim, a secretary at a downsizing shipping firm, and her husband Teck, a struggling salesman at a glass company, hire Terry to do household chores and supervise their delinquent ten-year-old son, Jiale. Slowly, Terry forms a genuine bond with Jiale, garnering the jealousy and ire of Hwee Leng. Based on director Anthony Chen's own childhood in the care of his Filipina nanny, the film exposes the cracks of the Singapore Dream and the difficulty of ordinary citizens and migrants to make a living. The film's title references both domestic and international spaces—fitting for a country wherein roughly 1 in 3 people are non-Singaporean citizens. In Chinese, the phrase literally translated to "Mom and Dad Are Not Home," while the English title refers to the Ilo Ilo province in the Philippines. The film reframes what Singaporeans typically call the "heartland" or true-blue local spaces, from a security guardhouse of an egg factory to a Chinese void deck funeral to a Filipino hair salon in Lucky Plaza.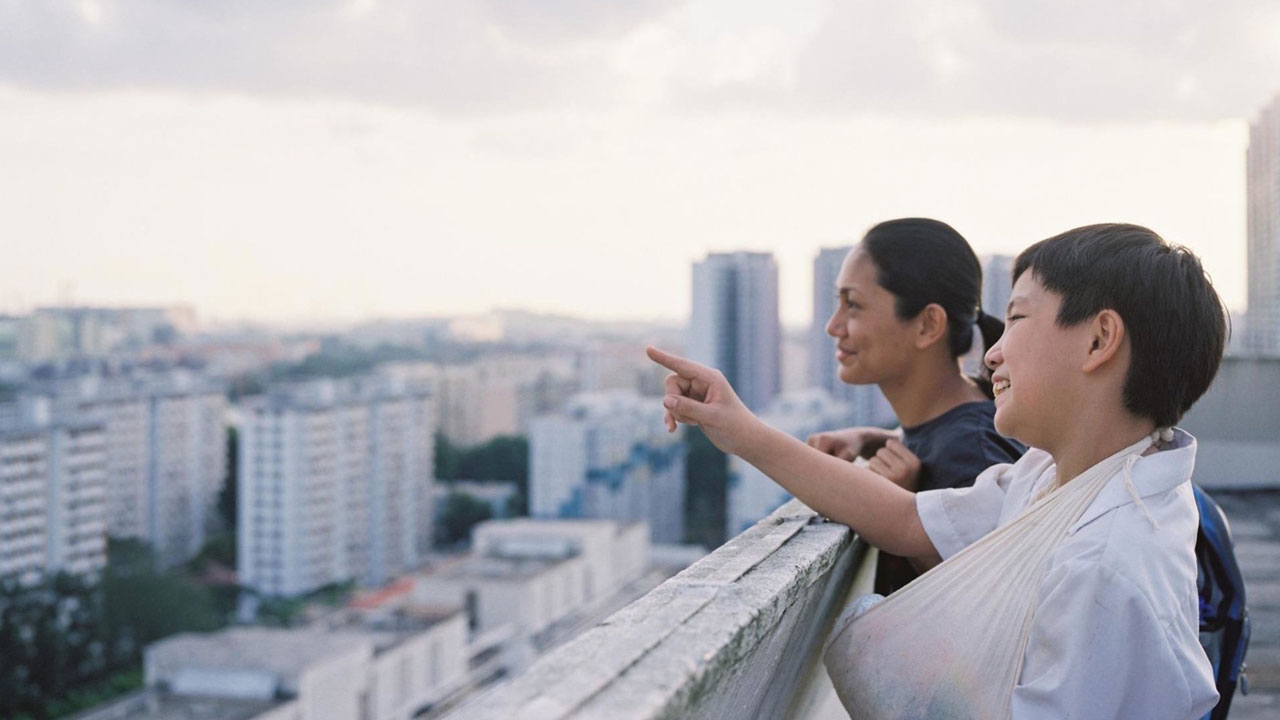 Ilo Ilo (Dir: Anthony Chen)
Filmmaker Tan Pin Pin is best known as Singapore's pioneer documentarian. Her narrationless observational film In Time to Come follows the unearthing of an old state capsule and the creation of a new time capsule. The film invites the viewer to enter history, lingering on Fuji video cassette tapes, a packet of Yeo's chrysanthemum tea, a Yellow Pages book, and a vial of water from the Singapore River—curious artifacts dug up from 1990—while preserving contemporary Singaporean scenes to mark the nation's fiftieth birthday. People rarely speak in the film, though they do gaze at their phones while crossing the street, doze off on the subway train, or wait patiently in neat queues. Tan Pin Pin's film captures the dreamlike, ritualistic movements of Singaporeans in public places. Routine mosquito fogging cloaks a residential building in haze, Singapore Zoo's Inuka the polar bear swims in slow-motion, an emergency fire drill empties out a shopping mall, migrant workers picnic on blue tarp blankets, and a policeman stands guard at the mouth of a new coastal highway. With a lightly dystopian soundscape of automated announcements, traffic light chimes, and elevator jazz, the film's quotidian Singaporean moments become eerie and ethereal.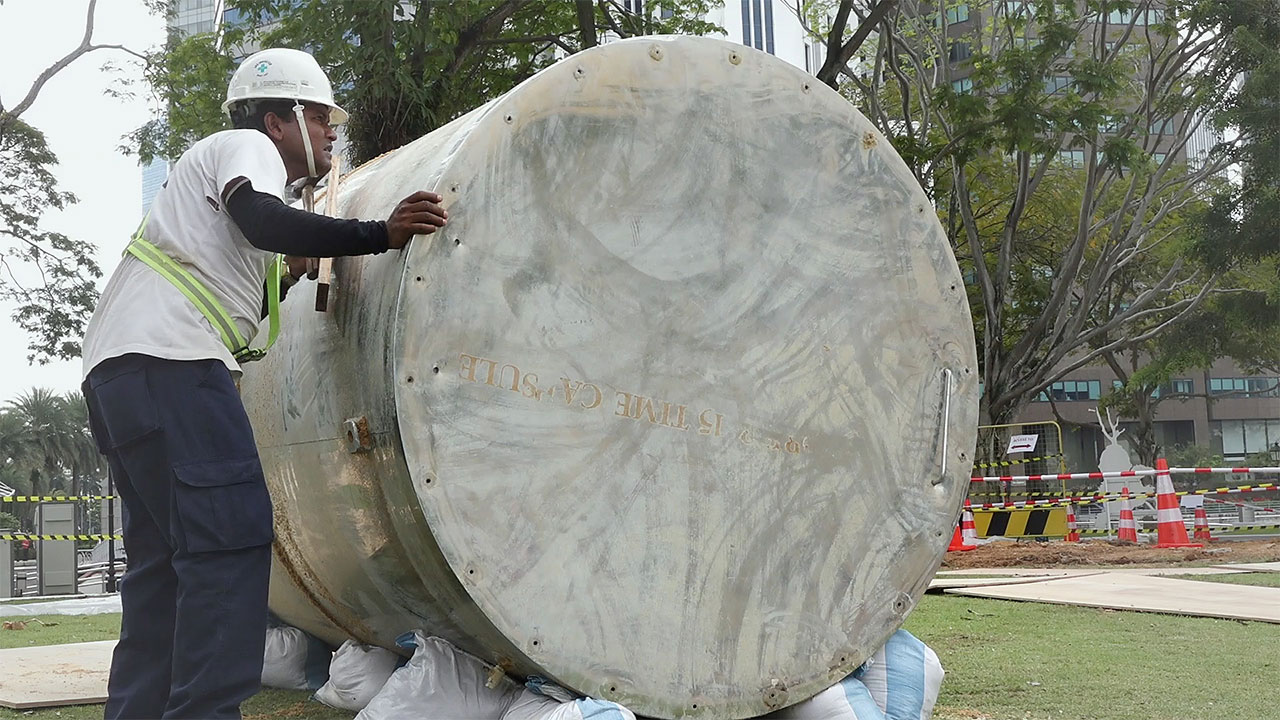 In Time to Come (Dir: Tan Pin Pin)
Filmmaker Yeo Siew Hua made history with his mystery, neo-noir film A Land Imagined, becoming the first Singaporean to win the prestigious Golden Leopard Award at the 71st edition of the Locarno Festival. A Land Imagined combs through the shadows of industrial Singapore, following a sleepless police investigator on the hunt for Wang Bi Cheng, a missing Chinese constructor worker. Hard-boiled Detective Lok visits 24-hour internet cafes, land reclamation sites, and migrant worker dormitories, trying to step into the shoes of an itinerant worker. A Land Imagined pulsates with a moody jazz score, neon, steamy cityscapes, and Inception-like twists on the search for Wang Bi Cheng, one of the estimated 293,000 foreign construction workers in Singapore. The bleakness of Singapore's migrant worker politics quickly becomes clear as Lok searches the cramped dormitories for clues and Wang Bi Cheng's bosses confiscate their workers' passports for "safekeeping." The endless construction zones of Singapore become the grounds for a harrowing, hypnotic interrogation of national identity.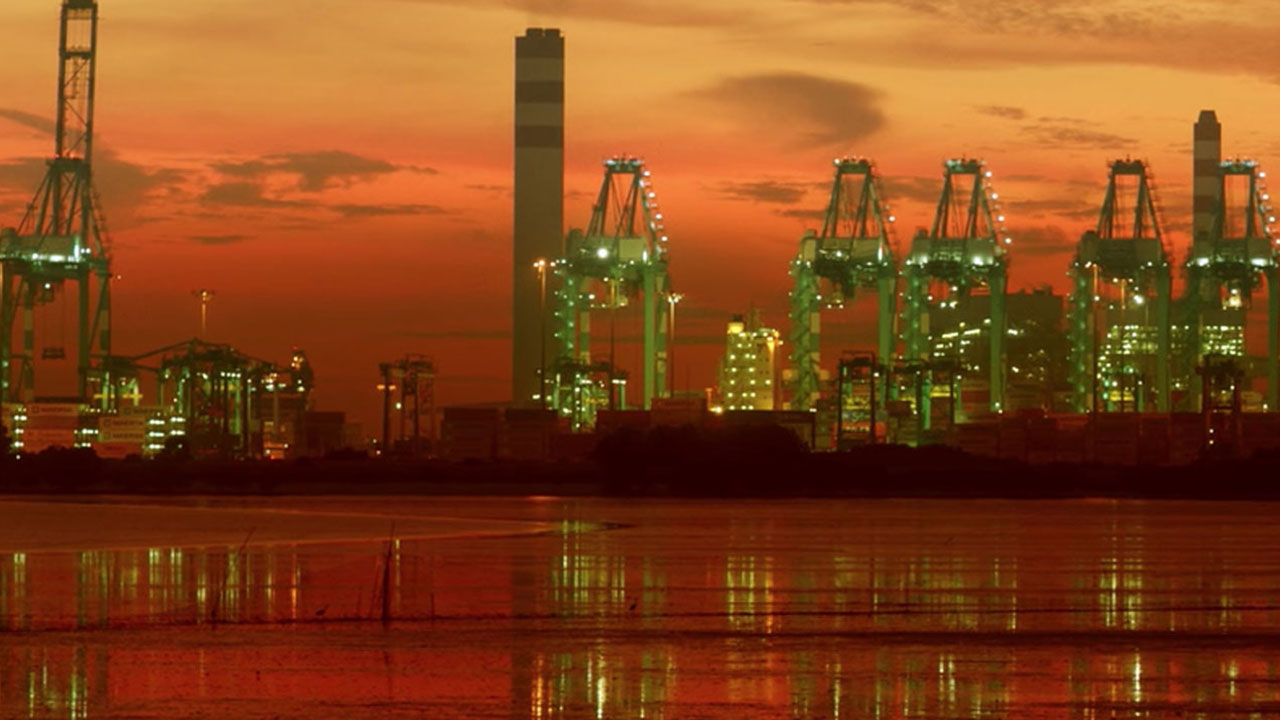 A Land Imagined (Dir: Yeo Siew Hua)
About the author
Jamie Uy is an incoming M.A. English student at Nanyang Technological University. She graduated from New York University Abu Dhabi with double B.A. degrees in Literature and Film Studies. A Filipino-Chinese Singaporean, Jamie now calls Singapore home.