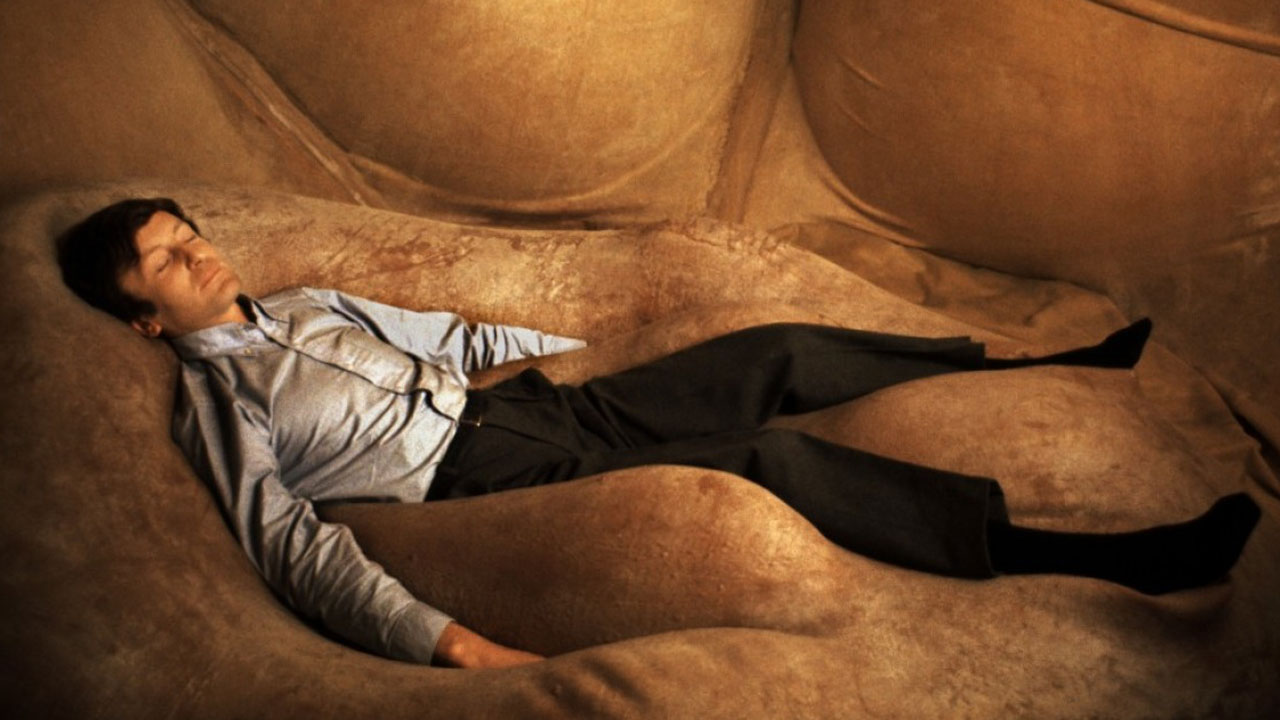 Je t'aime, Je t'aime
Alain Resnais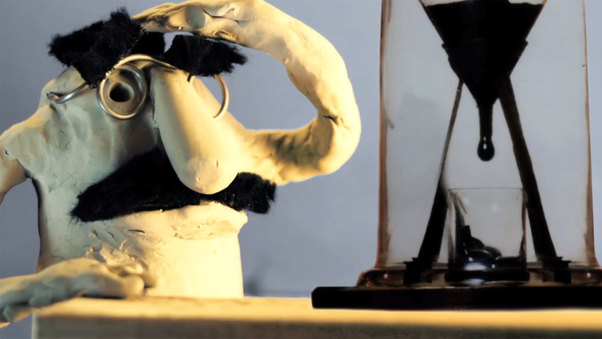 Pitch Drop Experiment
Pablo Melchor,David Rybak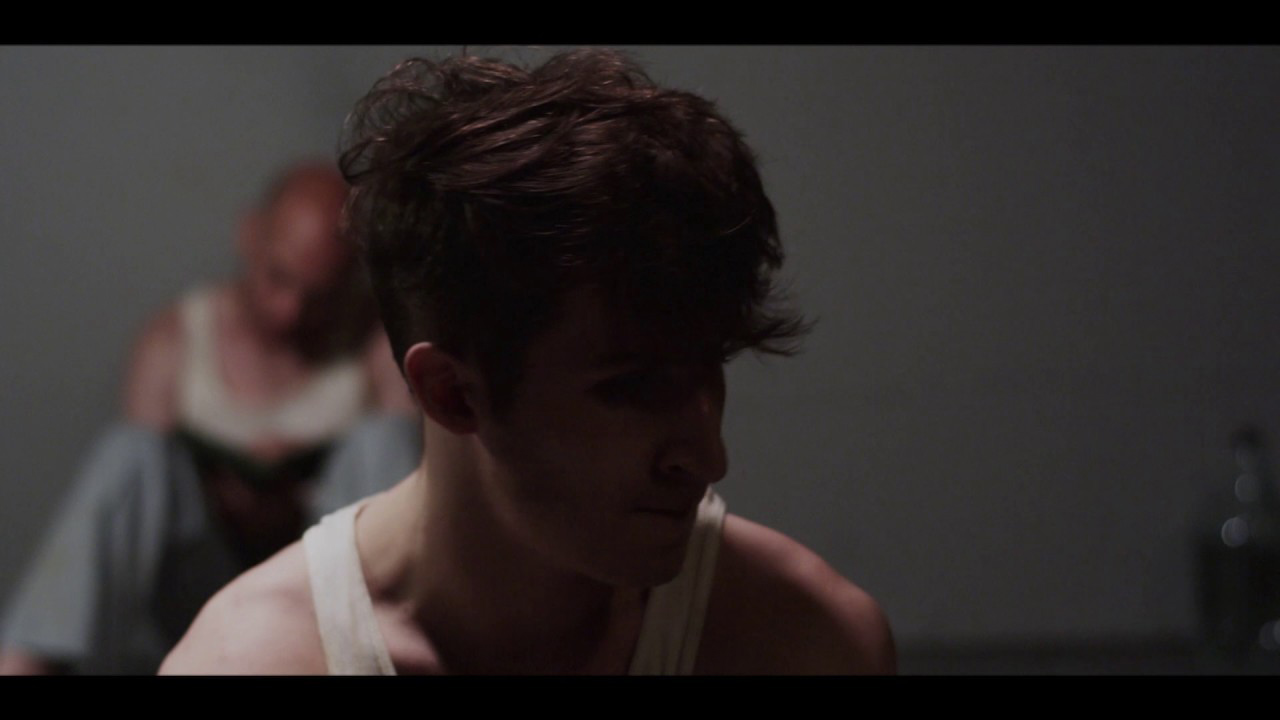 The Russian Sleep Experiment
Timothy James Smith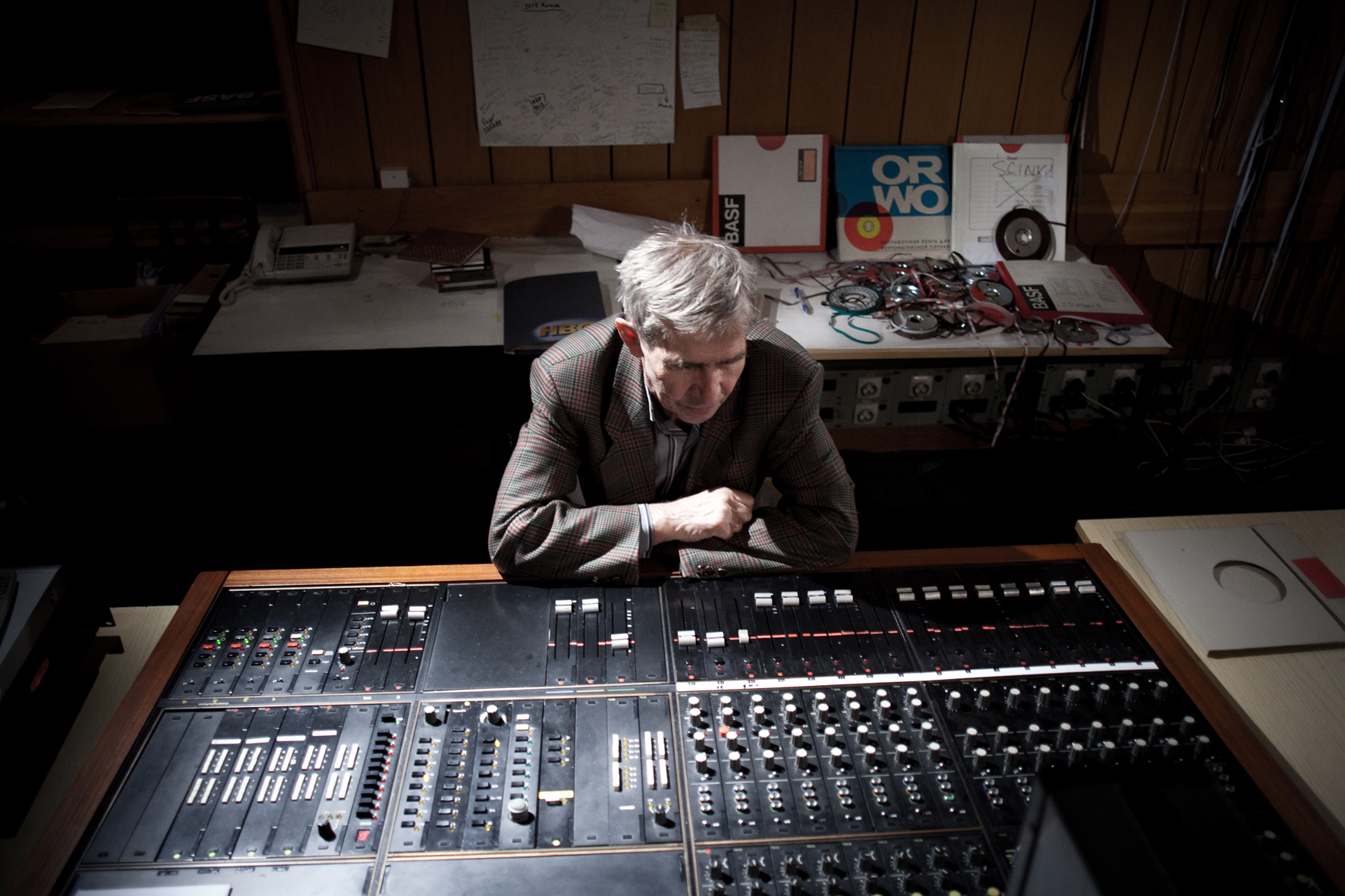 15 Corners of the World
Zuzanna Solakiewicz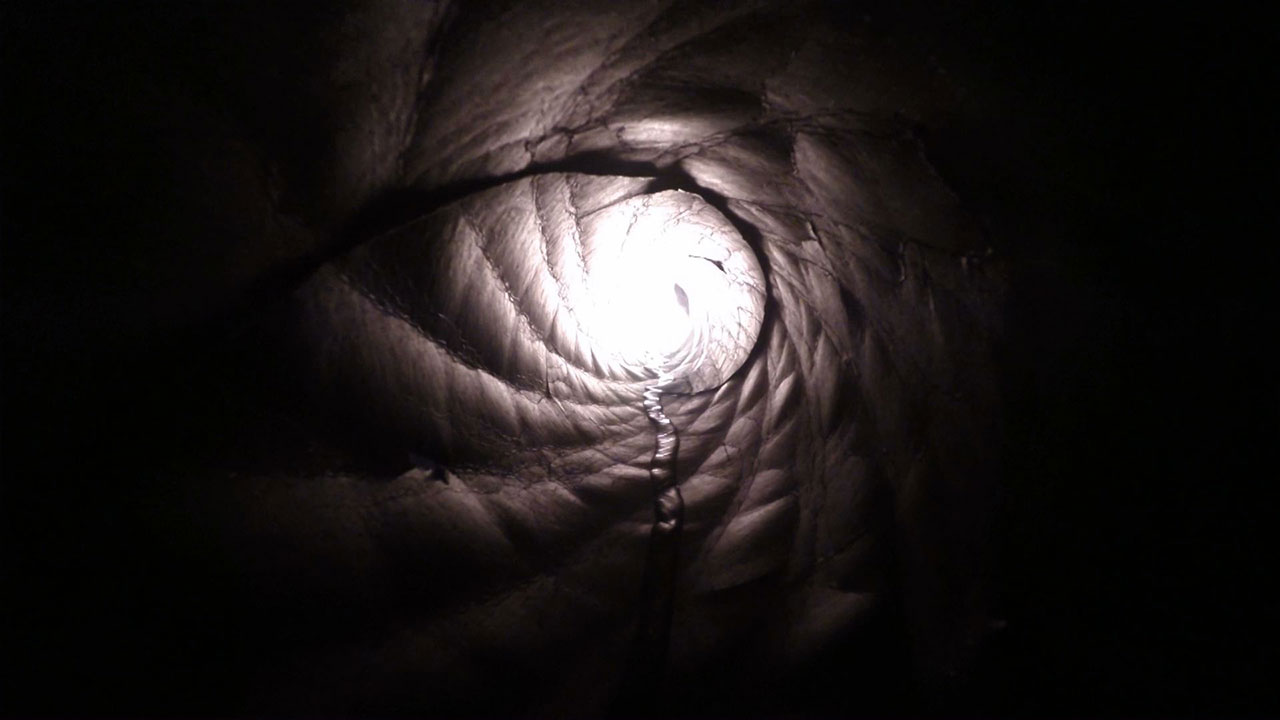 The Drawing Experience
Franck Lesbros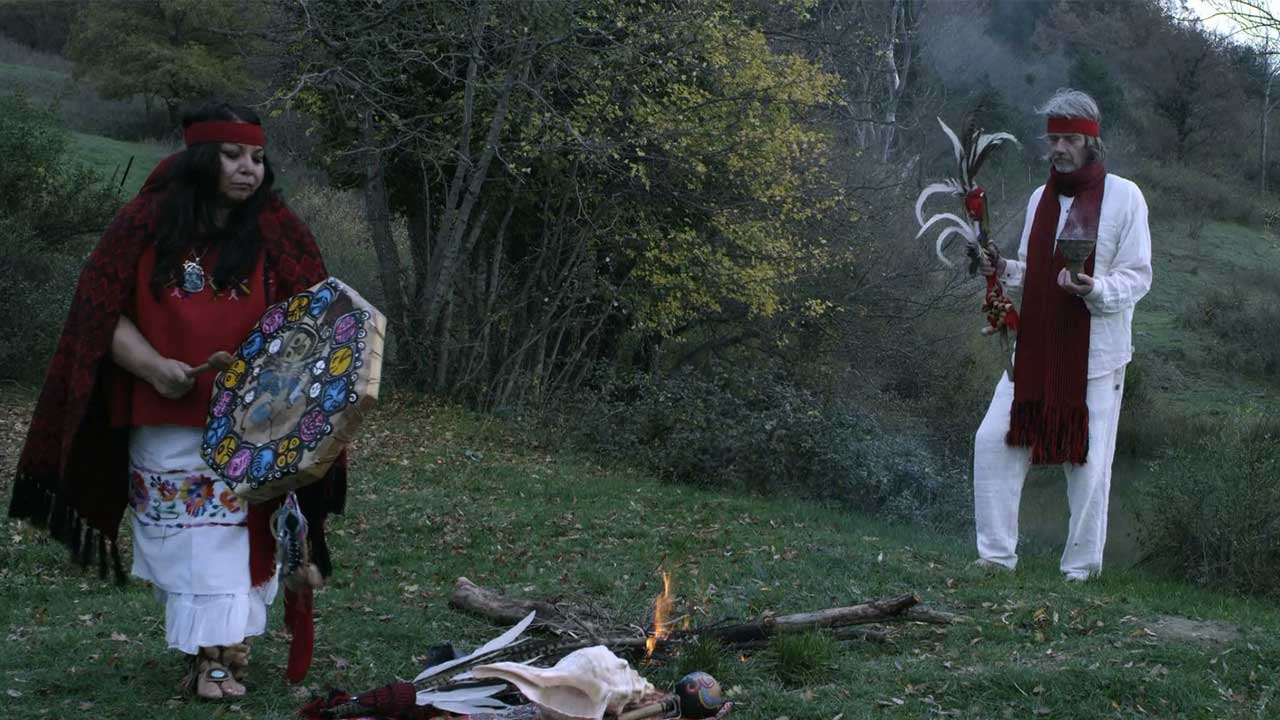 Peaks experience
Giulia Grossmann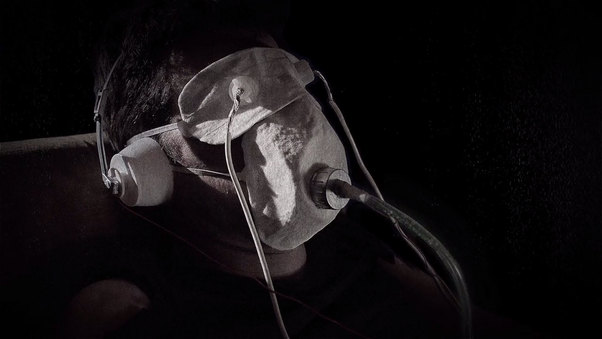 Amnesiac on the Beach
Dalibor Baric
Zebrafish in two-alternative forced choice teleportation experiment
Andrew Straw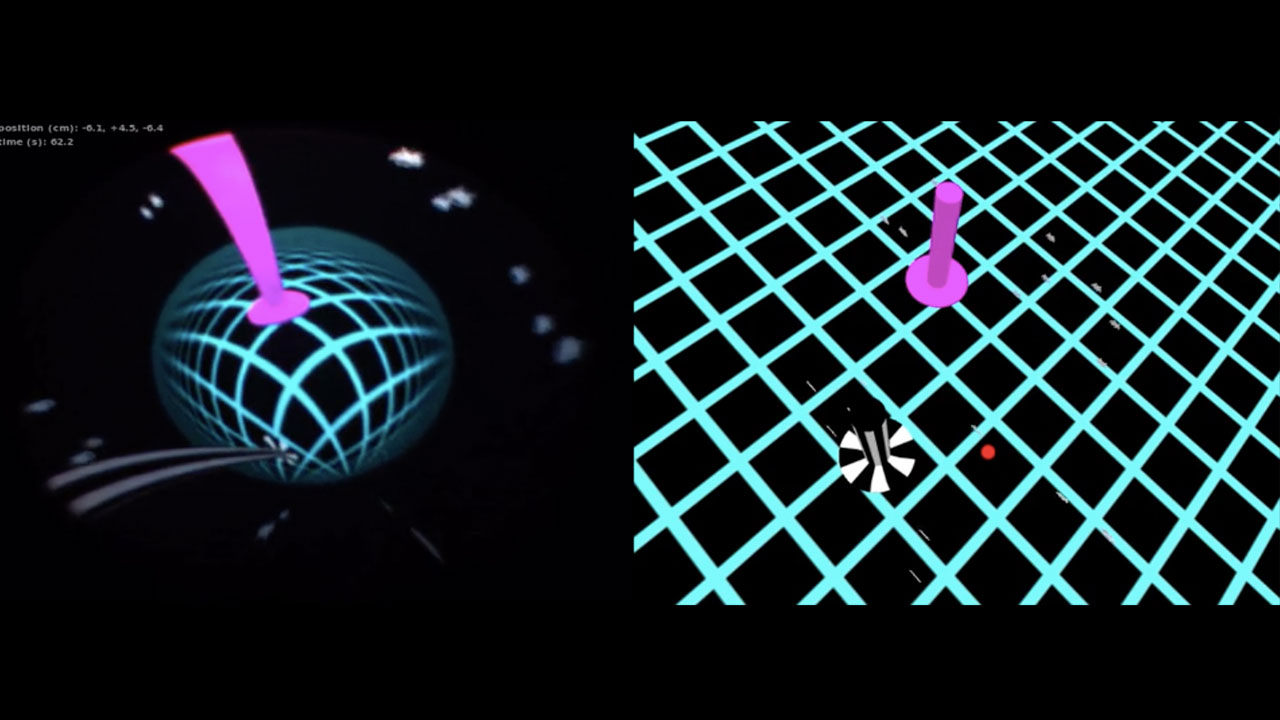 Zebrafish in two-alternative forced choice swarm teleportation experiment
Andrew Straw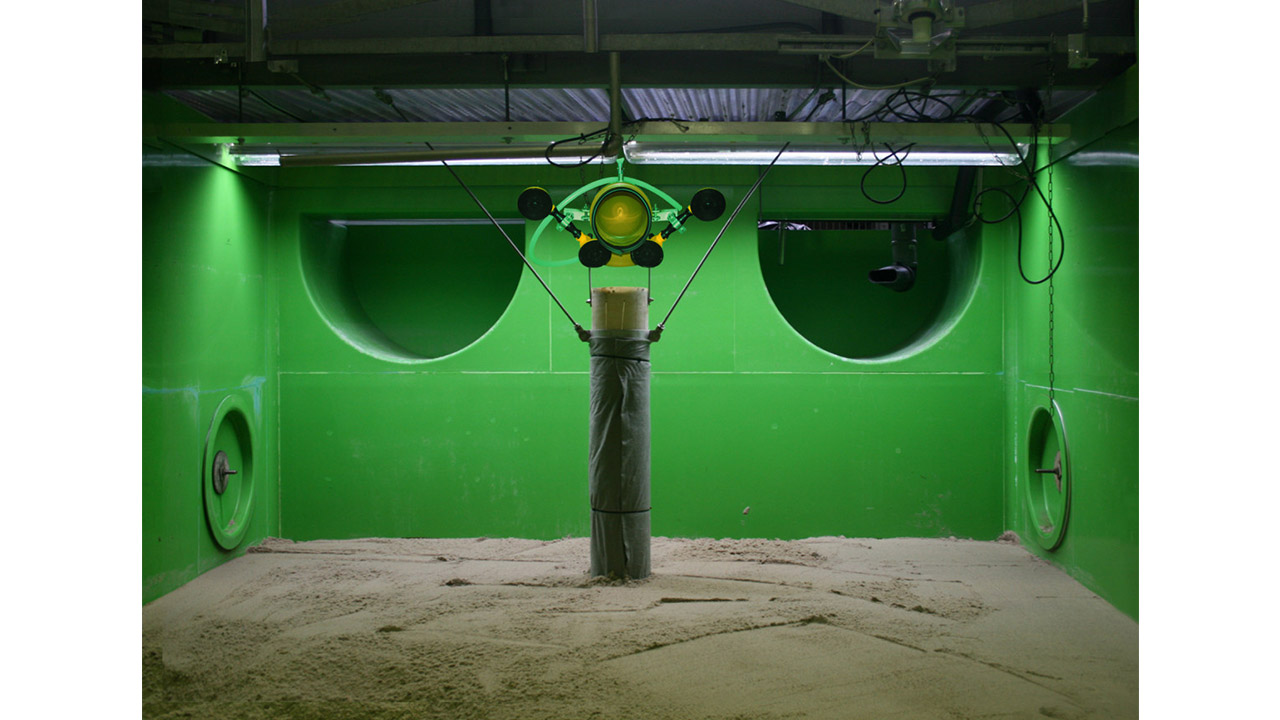 Keep Your Boots Muddy
Anne Rinn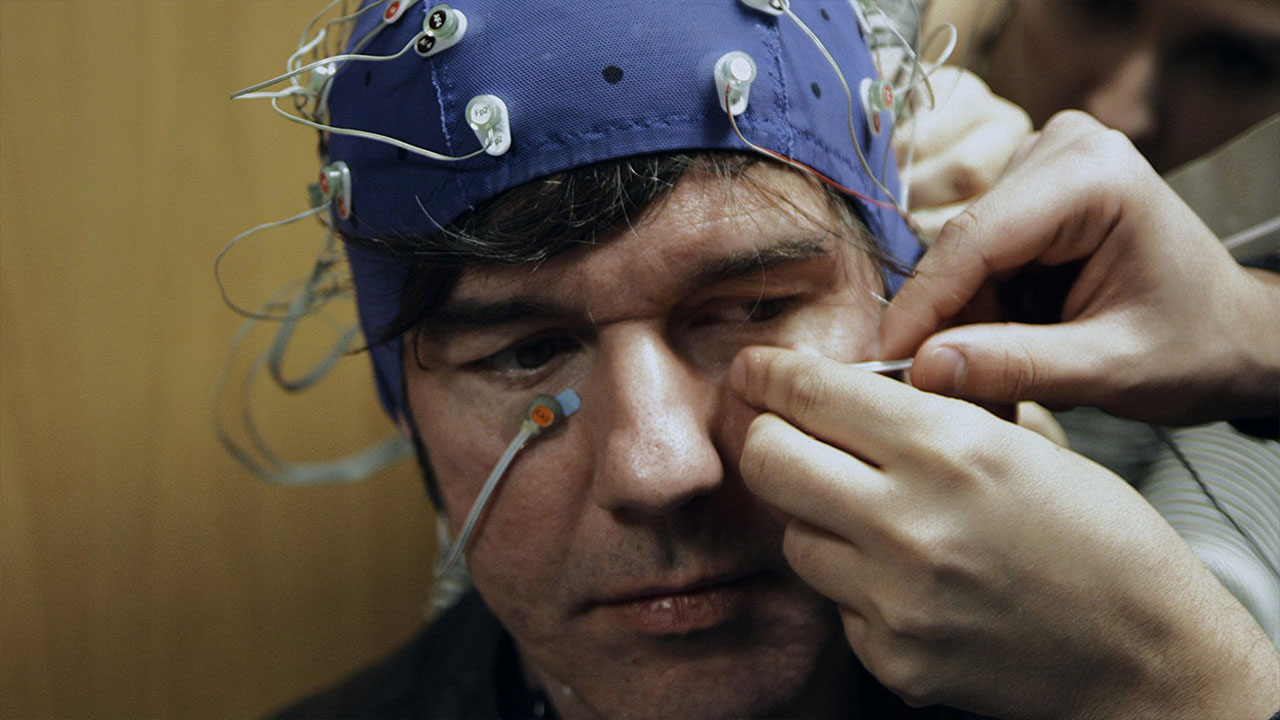 The Happy Film
Stefan Sagmeister,Ben Nabors,Hillman Curtis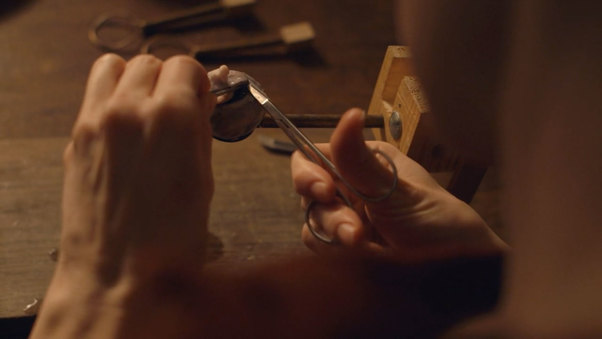 In Waking Hours
Sarah Vanagt & Katrien Vanagt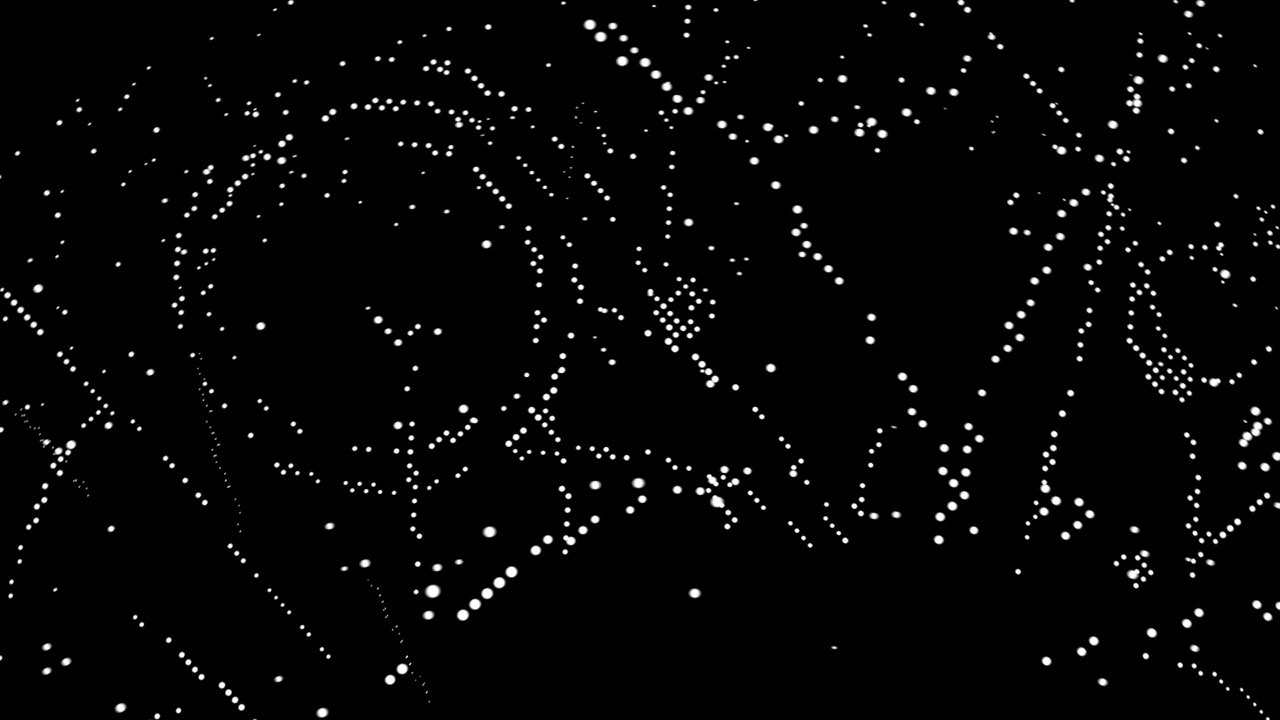 The View from Nowhere
Semiconductor: Ruth Jarman & Joe Gerhardt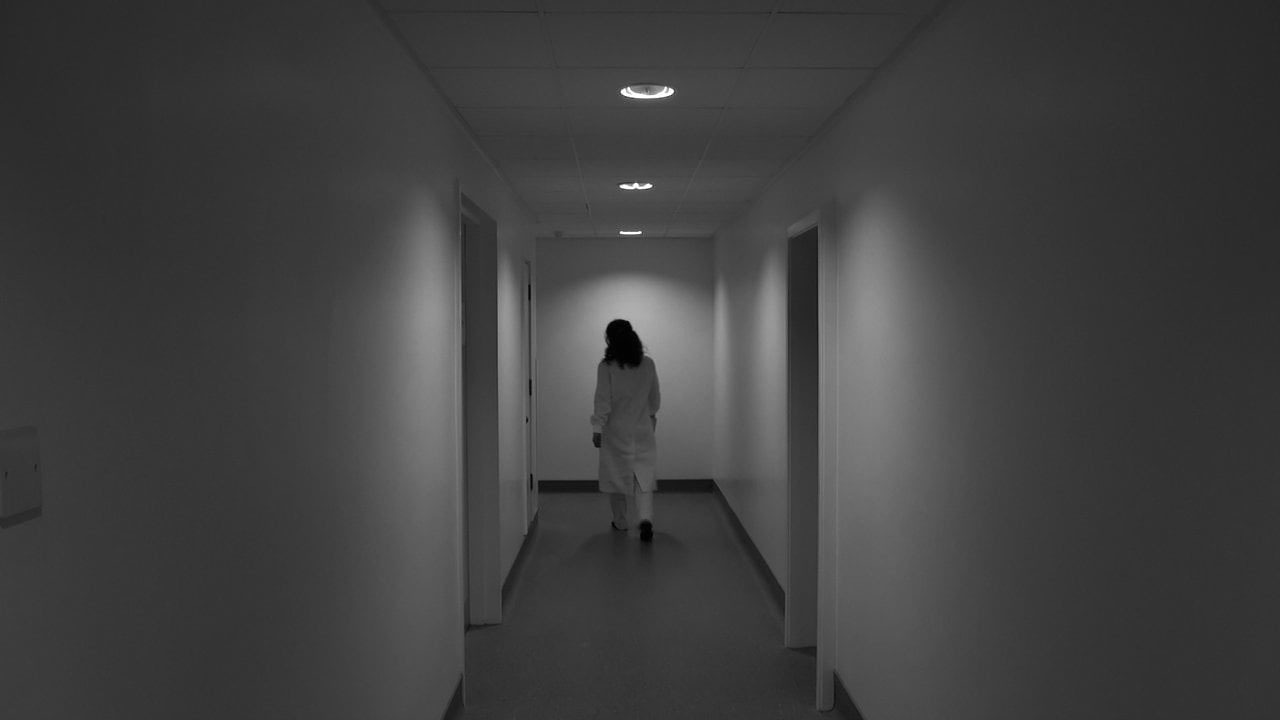 Laboratory Film
Andy Birtwistle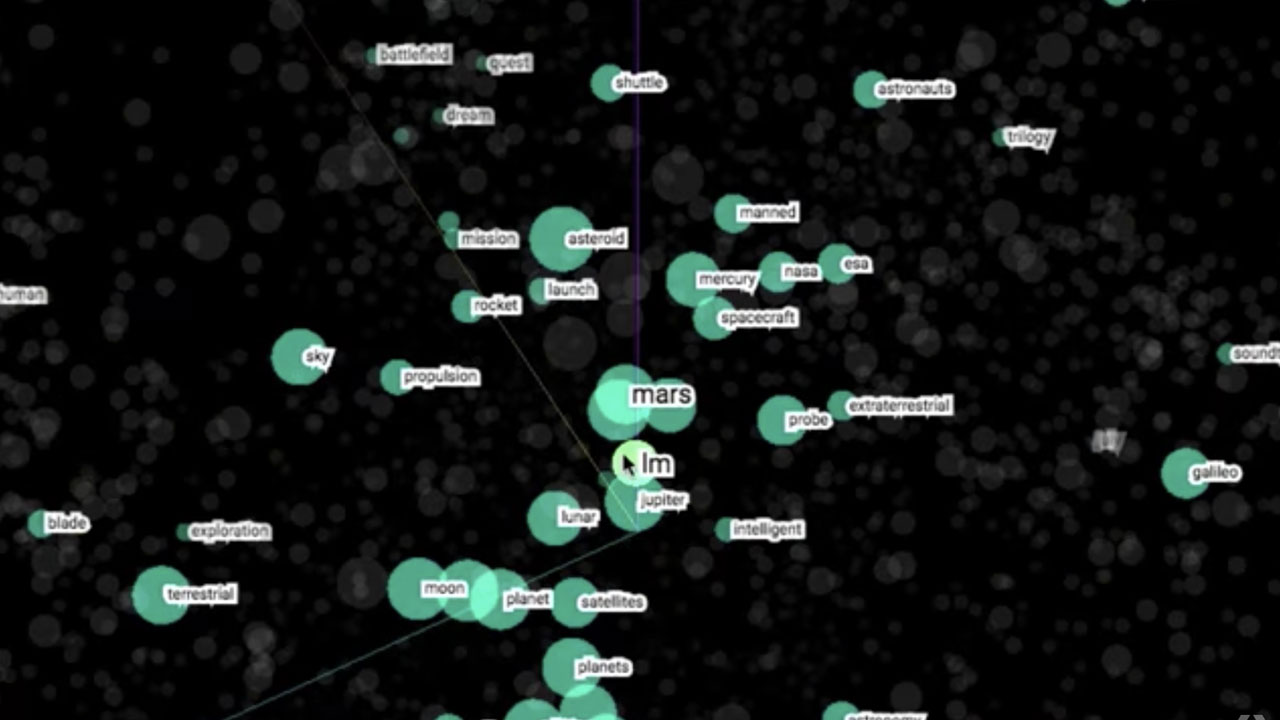 A.I. Experiments - Visualizing High-Dimensional Space
Fernanda Viégas,Martin Wattenberg
Refraction: The Alphabet
Jesse Zaninger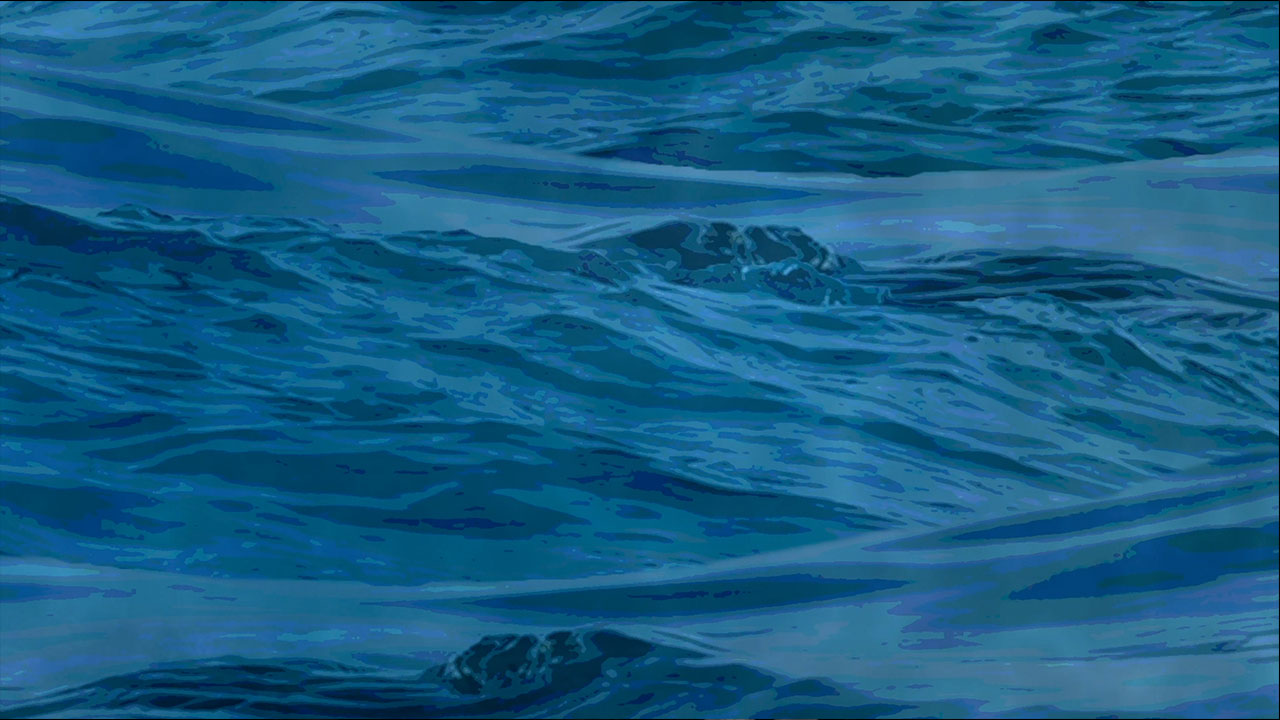 Reverie Falls On Water
Orsolya Szantho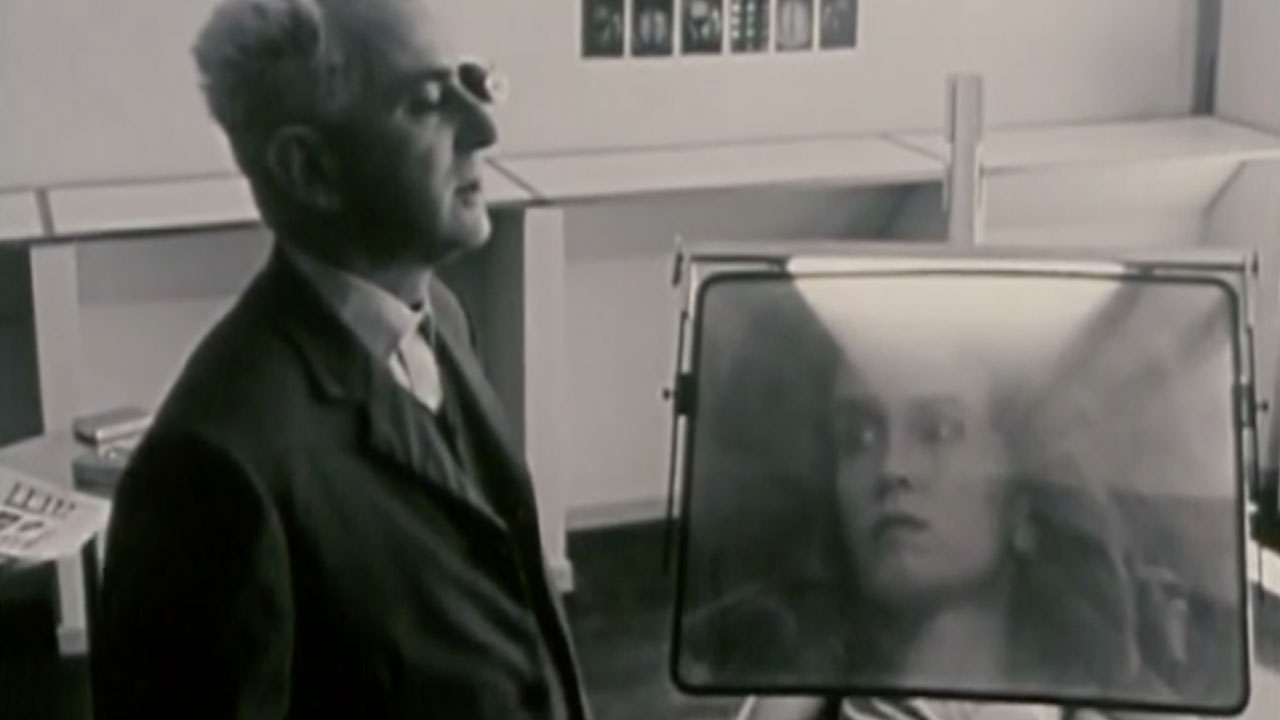 La Sonámbula (Sleepwalker)
Fernando Spiner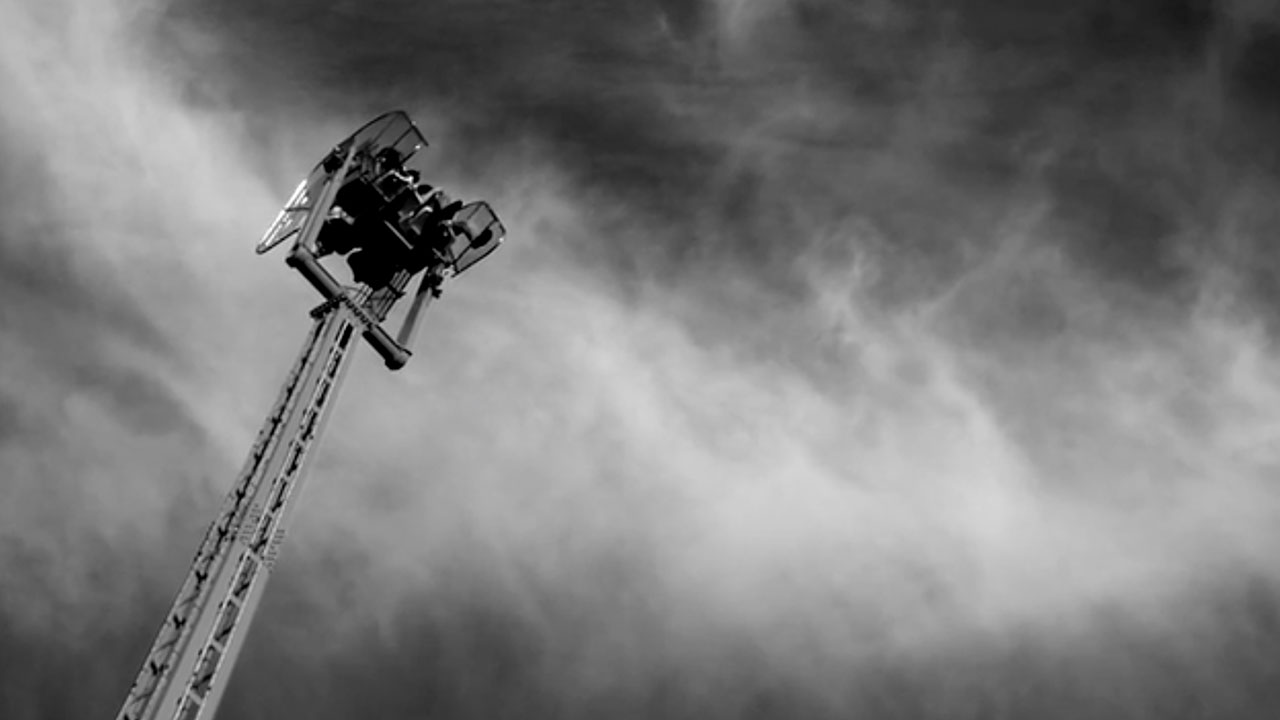 Light will never be that fast again
Alfredo Hubard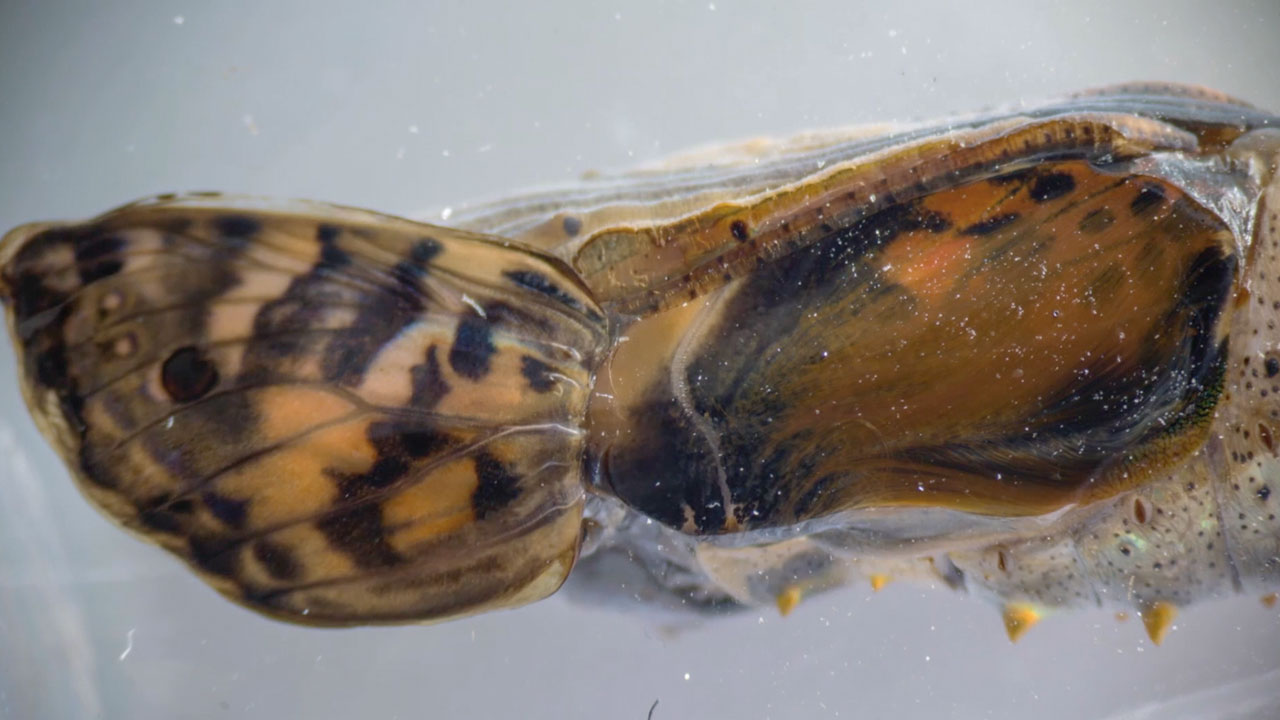 Painted Butterfly Lady - Both Wings
Aaron Pomerantz,Damien Gailly,Rachel Thayer,Nipam Patel
All Rot
Max Hattler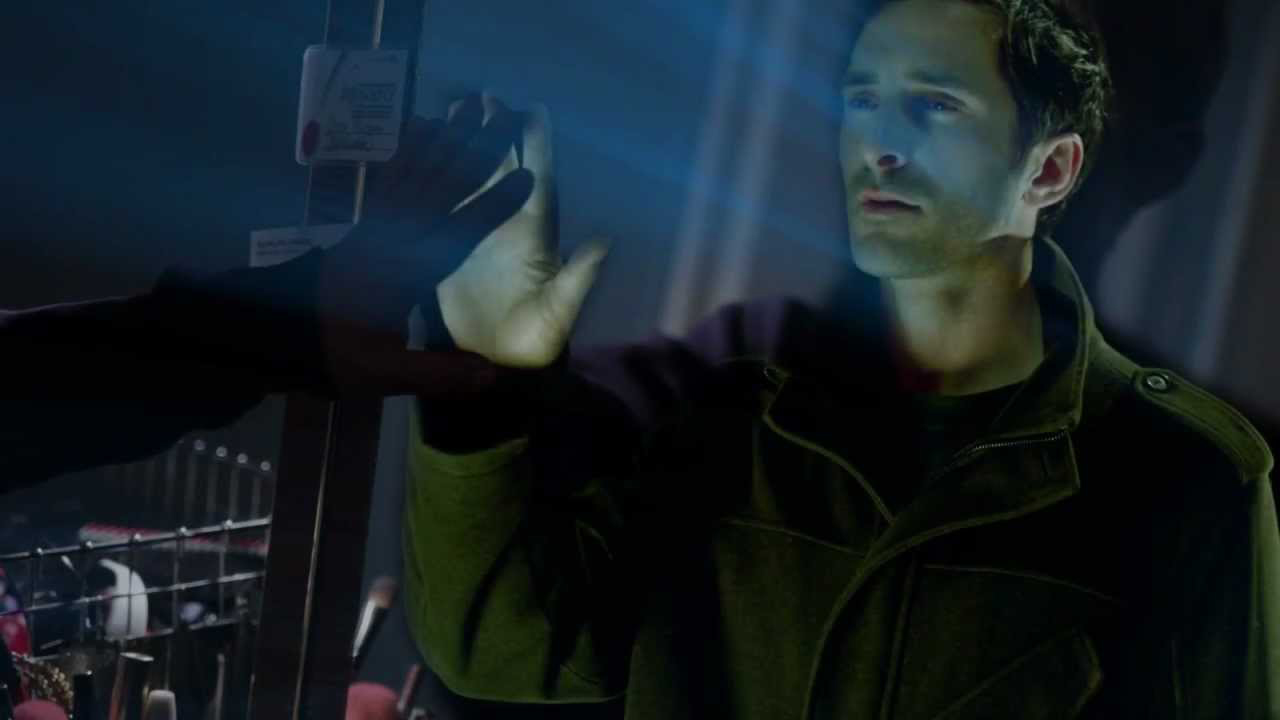 Singularity Principle
David Robert Deranian, Austin Hines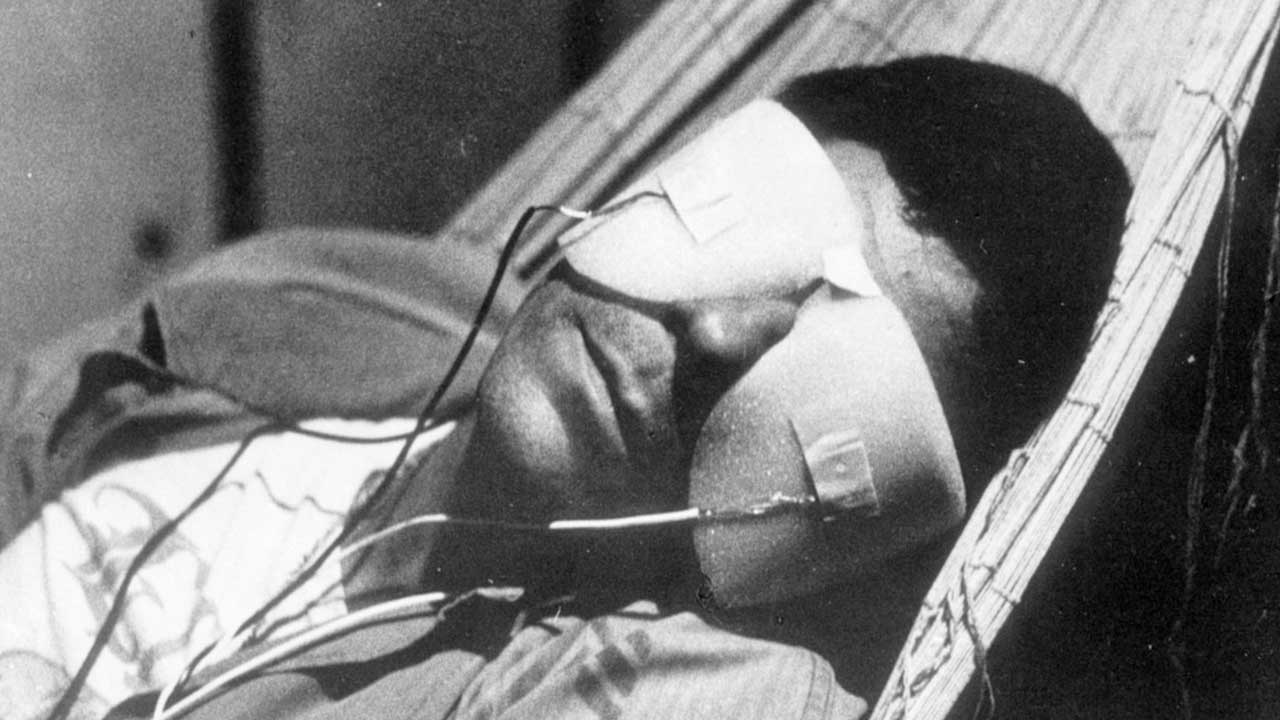 La Jetée
Chris Marker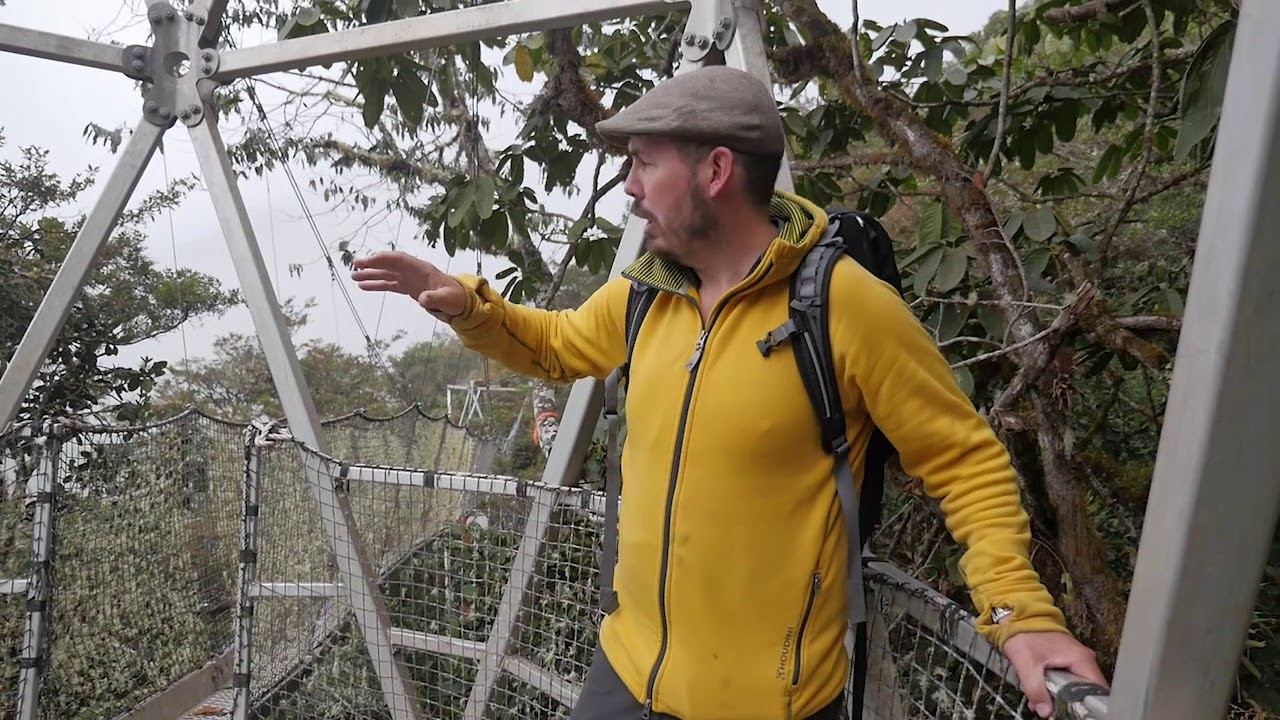 High and Dry: Cutting Fog for Science
Daniel & Rebecca Grossman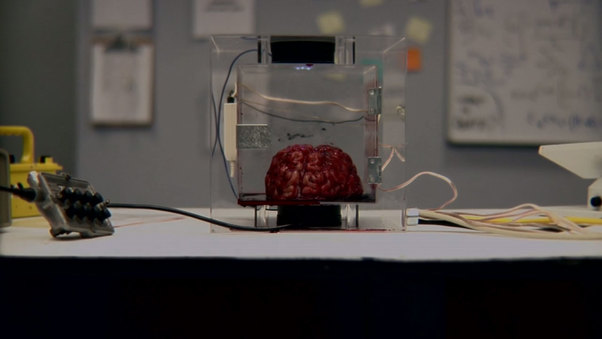 The Sierra Project
Gabriel de Urioste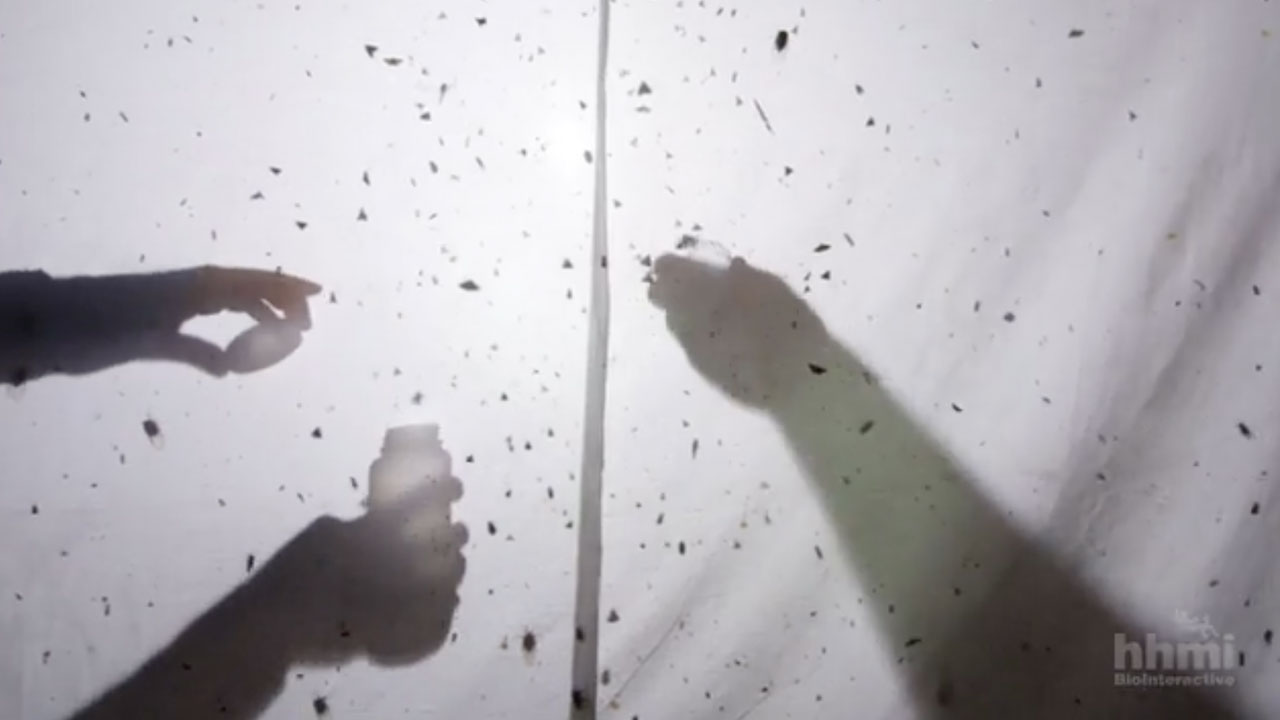 Moth Mimicry: Using Ultrasound to Avoid Bats
Carla Rebai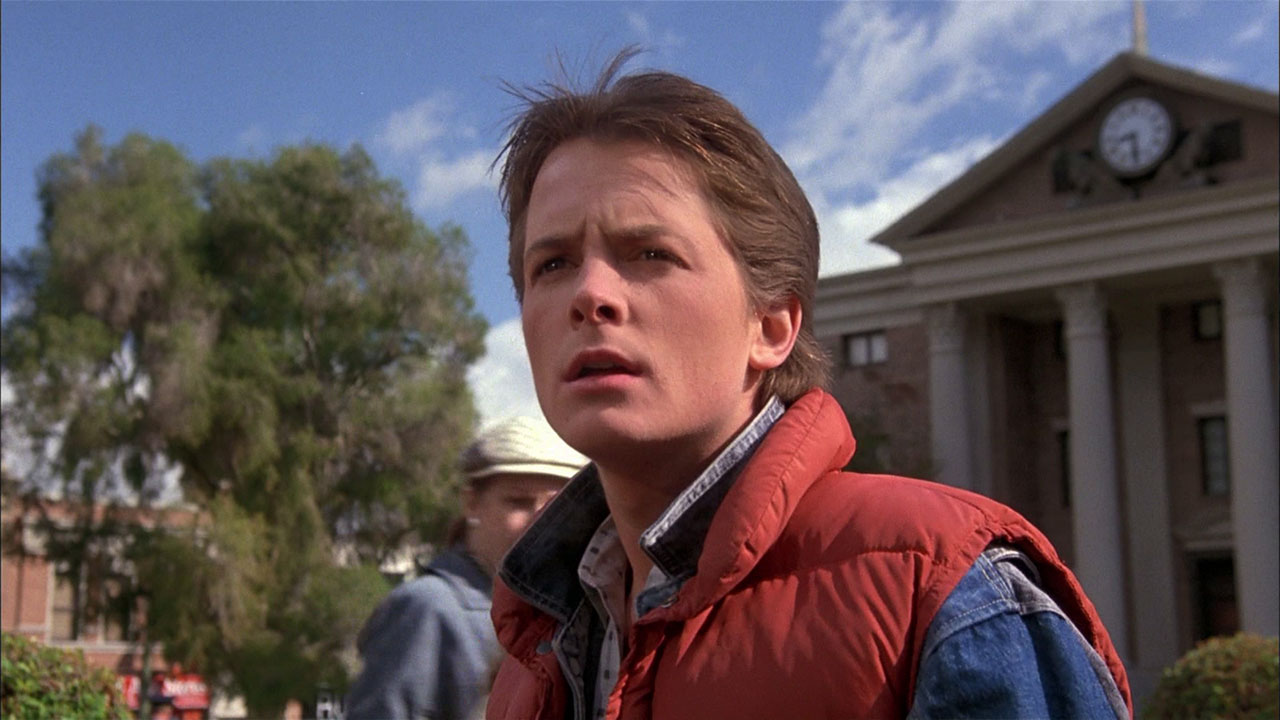 Back to the Future
Robert Zemeckis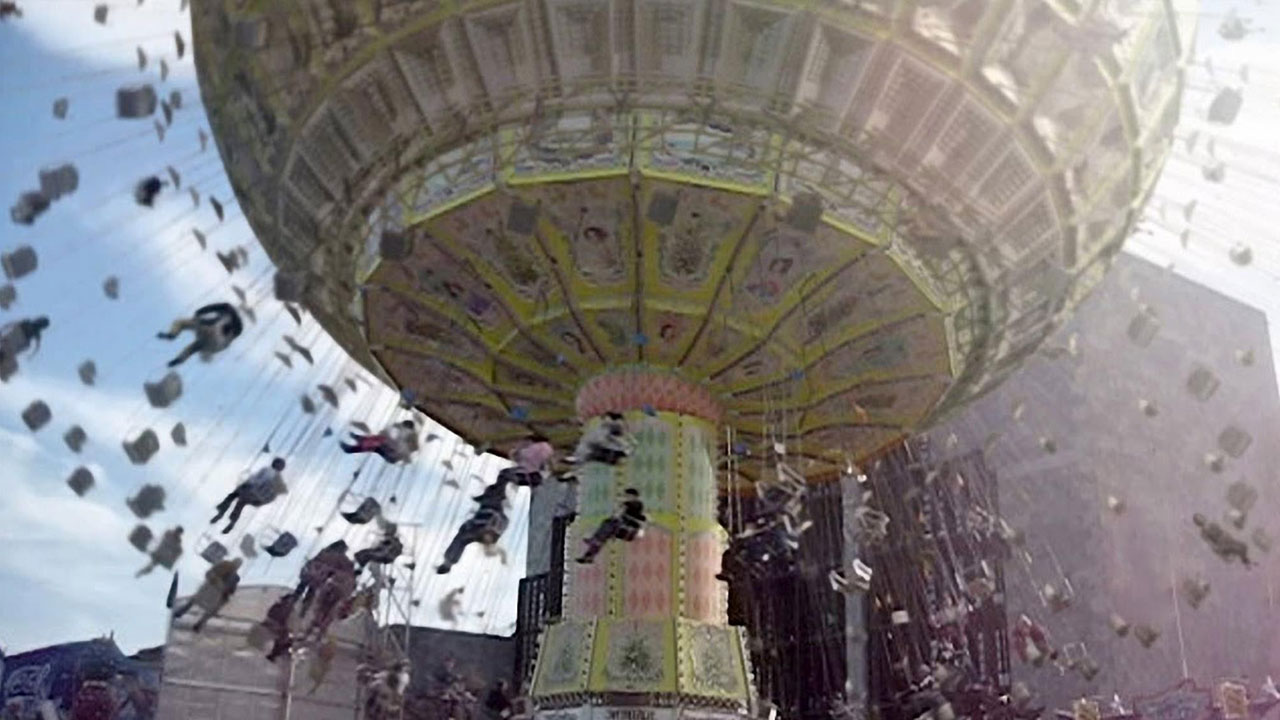 The Centrifuge Brain Project
Till Nowak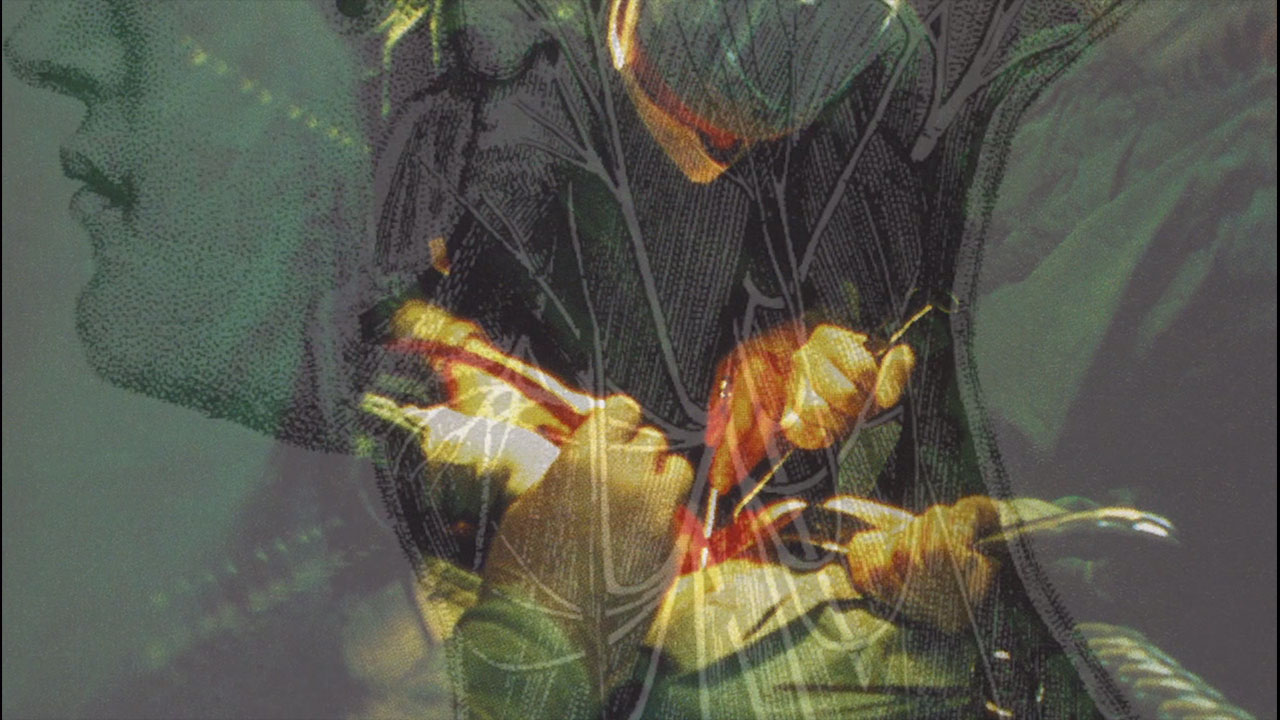 Sonia, Interlude
Jeannette Louie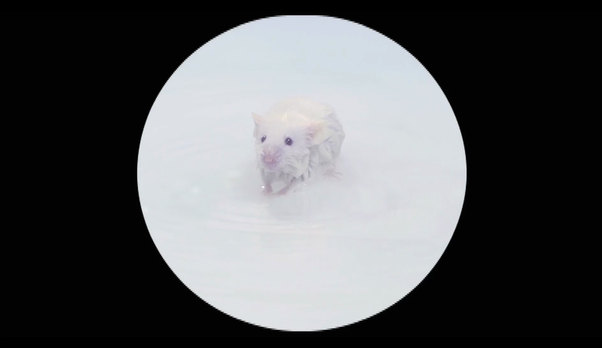 Blank
Boris Hars-Tschachotin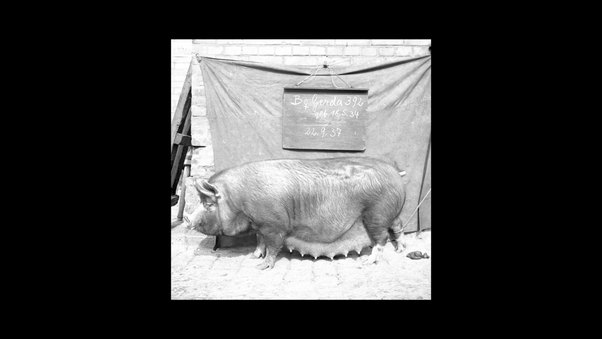 Alles was Irgendwie NütztAll (All What is Somehow Useful )
Pim Zwier
Acid Science Underground
Daniel Maszkovitch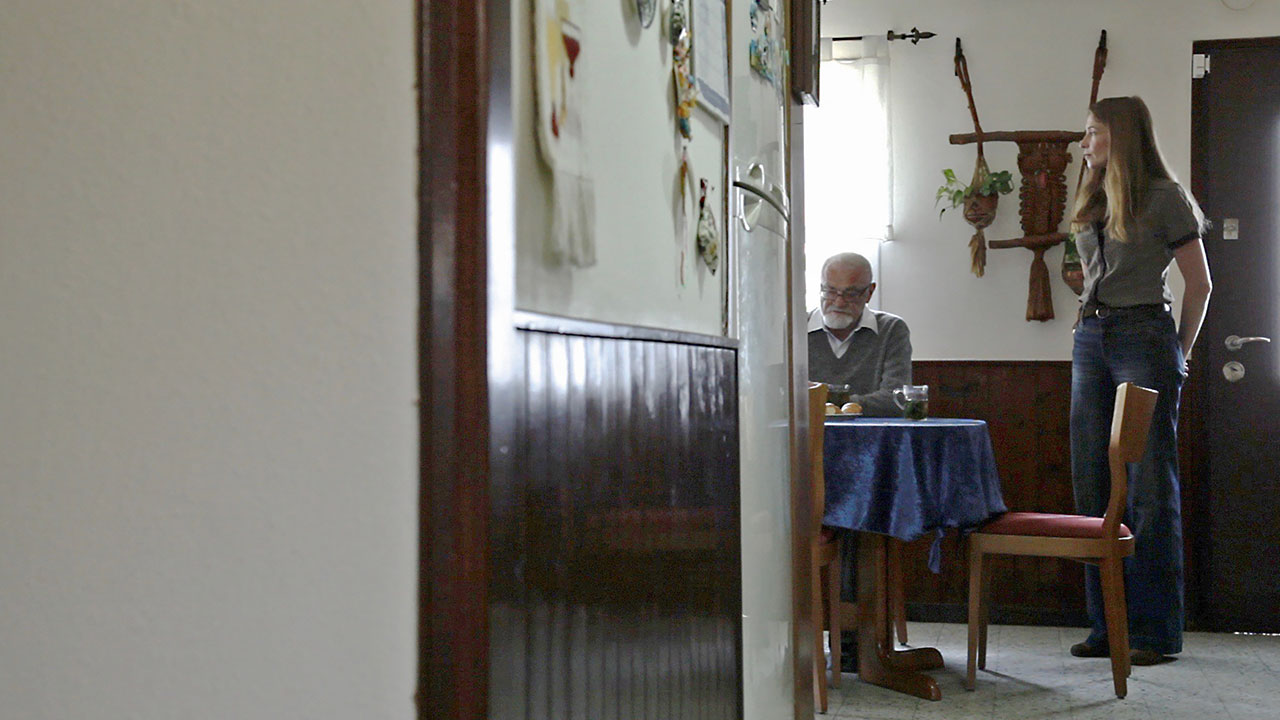 Reconsolidation
Liron Unreich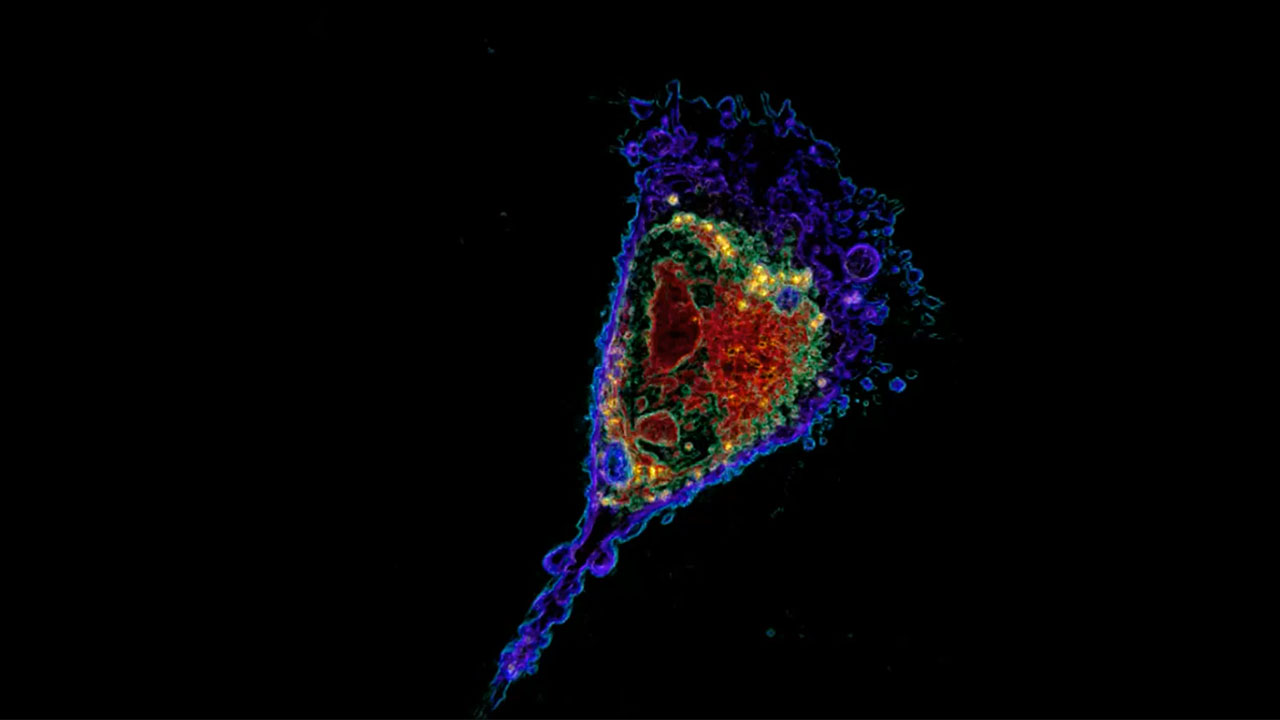 Apoptosis (Programmed Cell Death) - Live and in 3D
Lisa Pollaro,Nanolive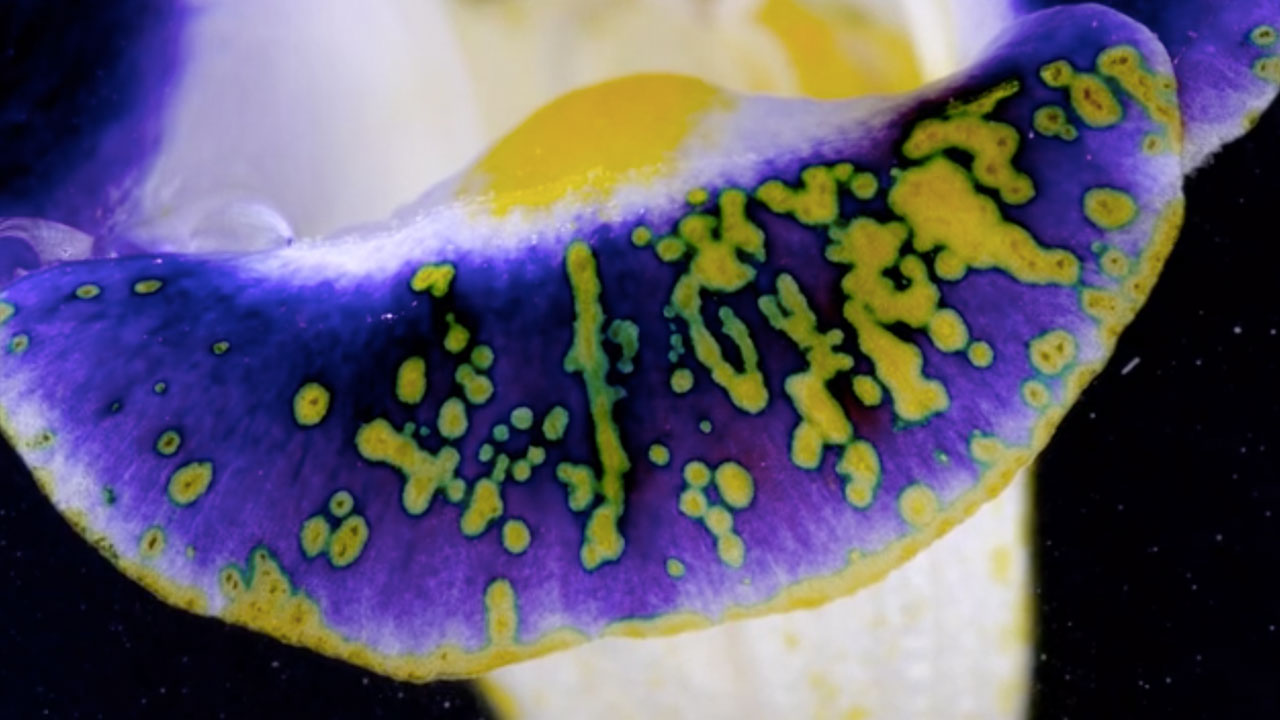 Beautiful Reactions
Yan Liang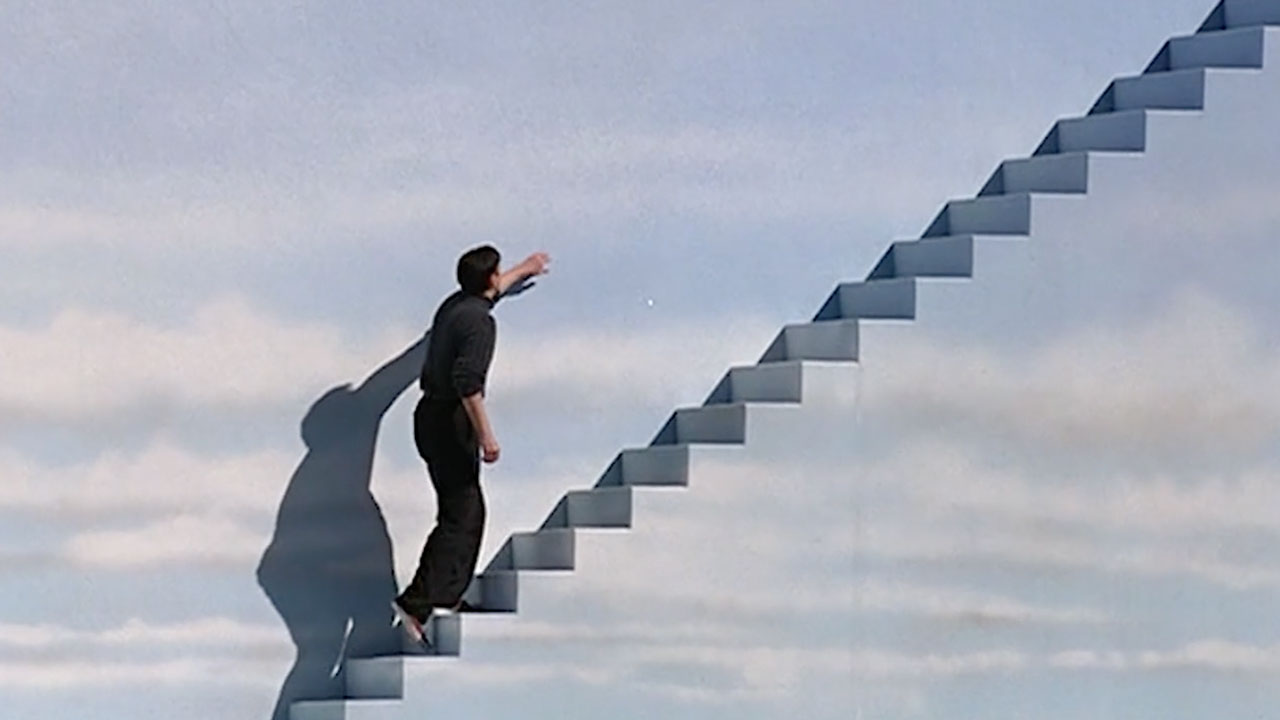 Can Neuroscience Make Super Movies?
Tom Malkowicz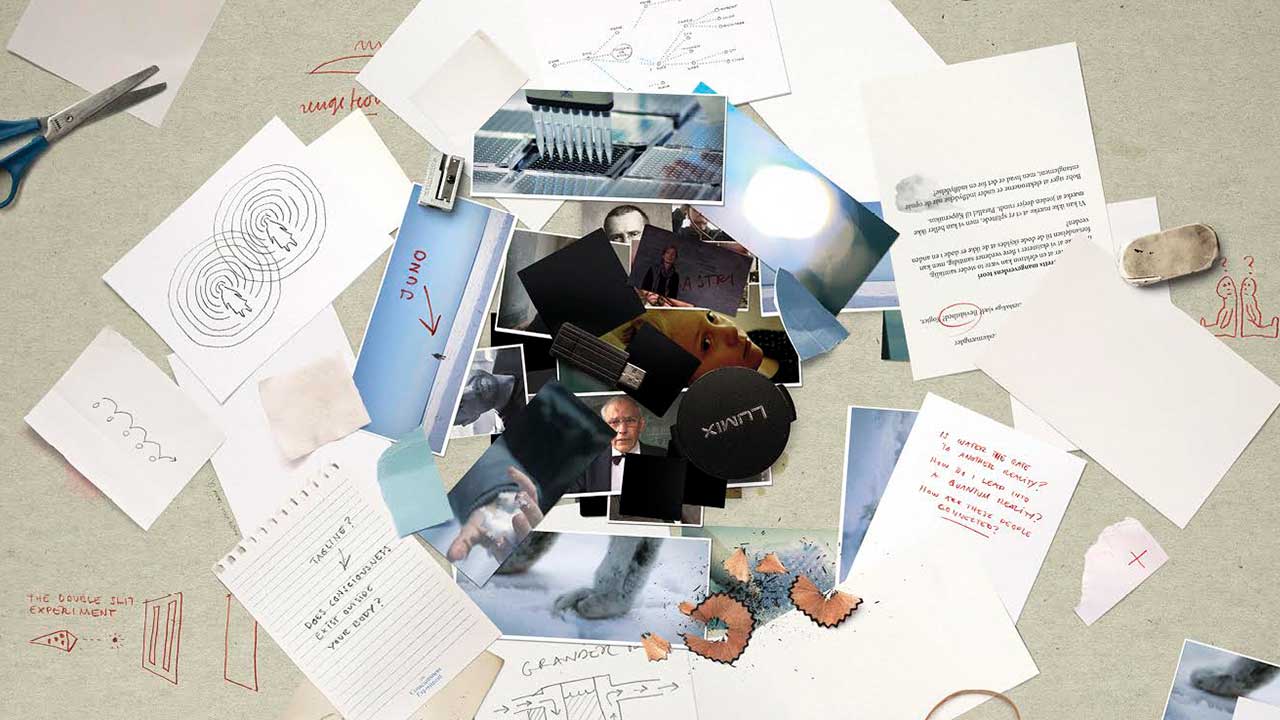 ...when you look away (trailer)
Phie Ambo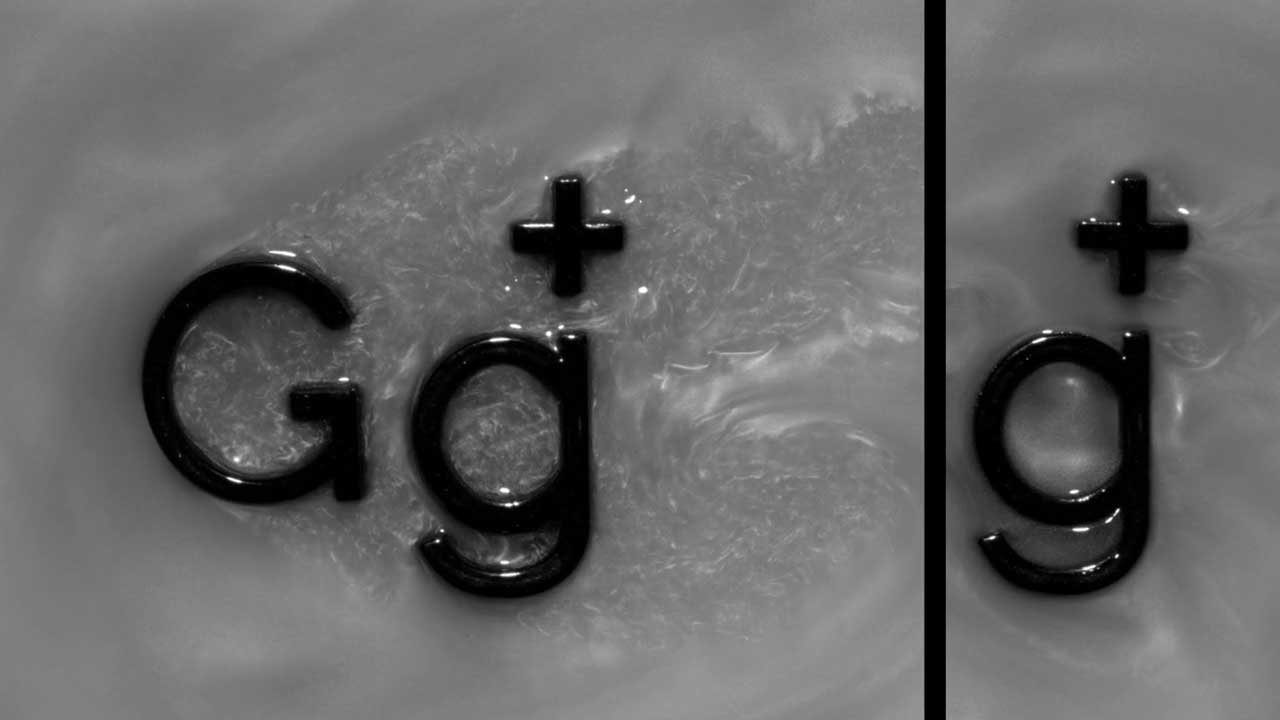 Gobbledigook
Andrea Rassell,Katharine Adcroft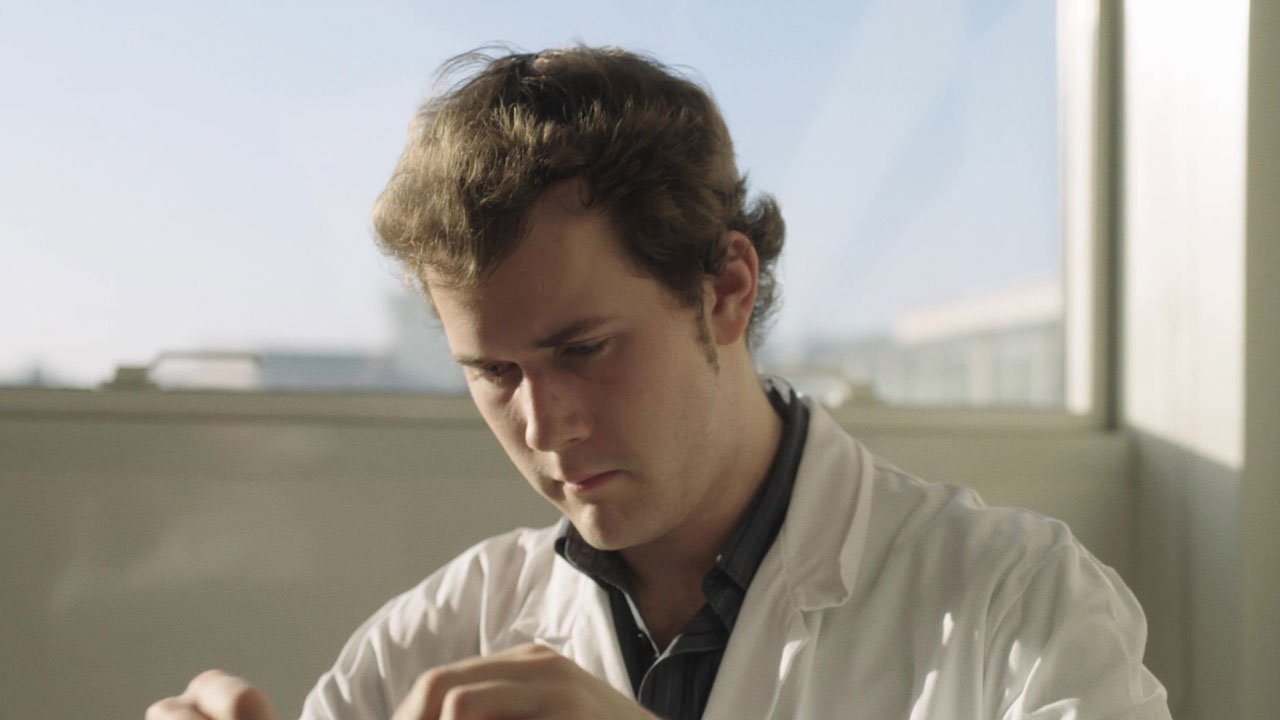 The Researchers (Les Chercheurs)
Aurélien Peilloux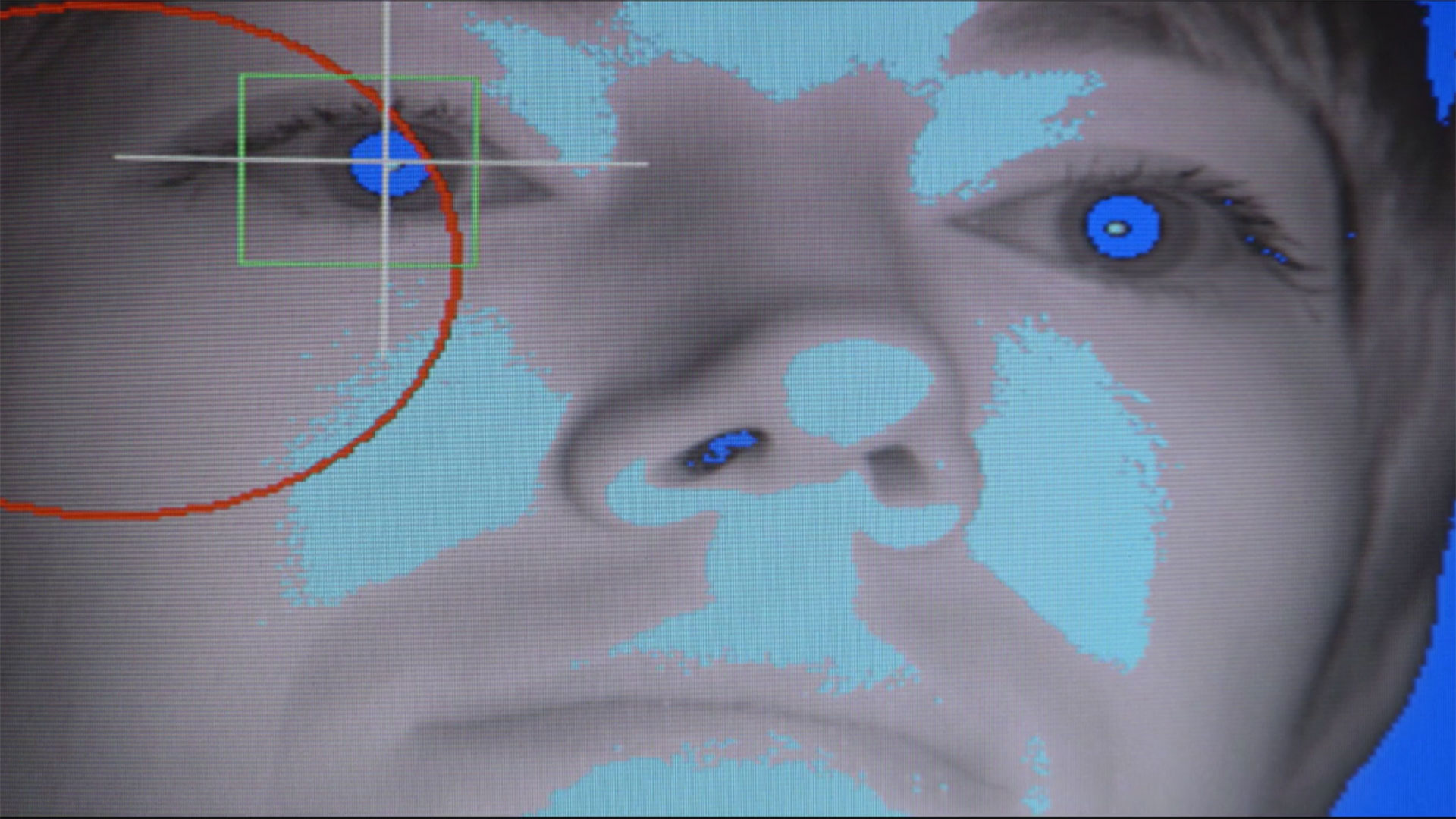 The Mirror System (Le Système Miroir)
Eva Zornio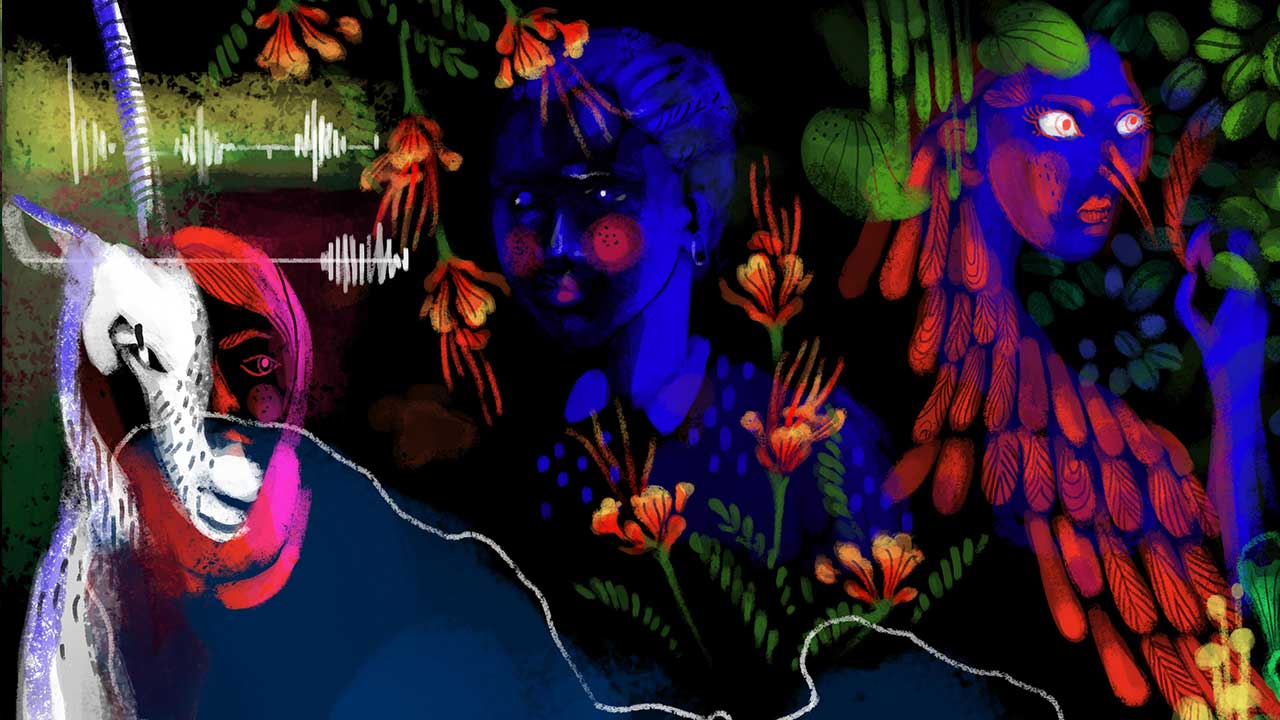 Mosaic
Miryam Charles,Josephine Decker,Alexis Gambis,Barry J Gibb,Ian Harnarine,Noah Hutton,Demelza Kooij,Jeannette Louie,Rachel Mayeri,Sally Warring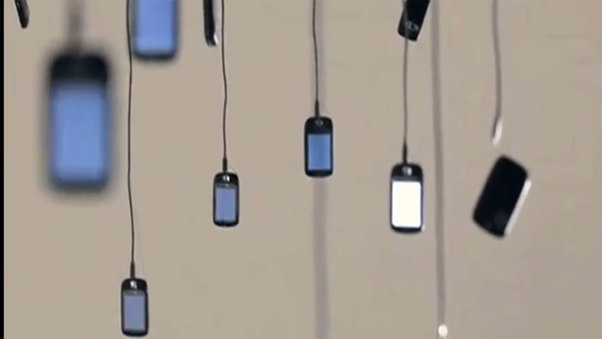 Experience Mobile Mobile
James Theophane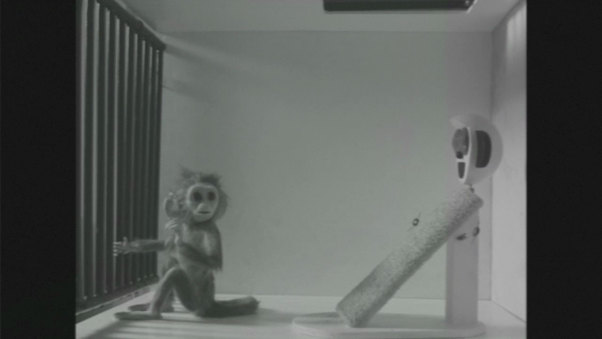 Monkey Love Experiments
Ainslie Henderson,Will Anderson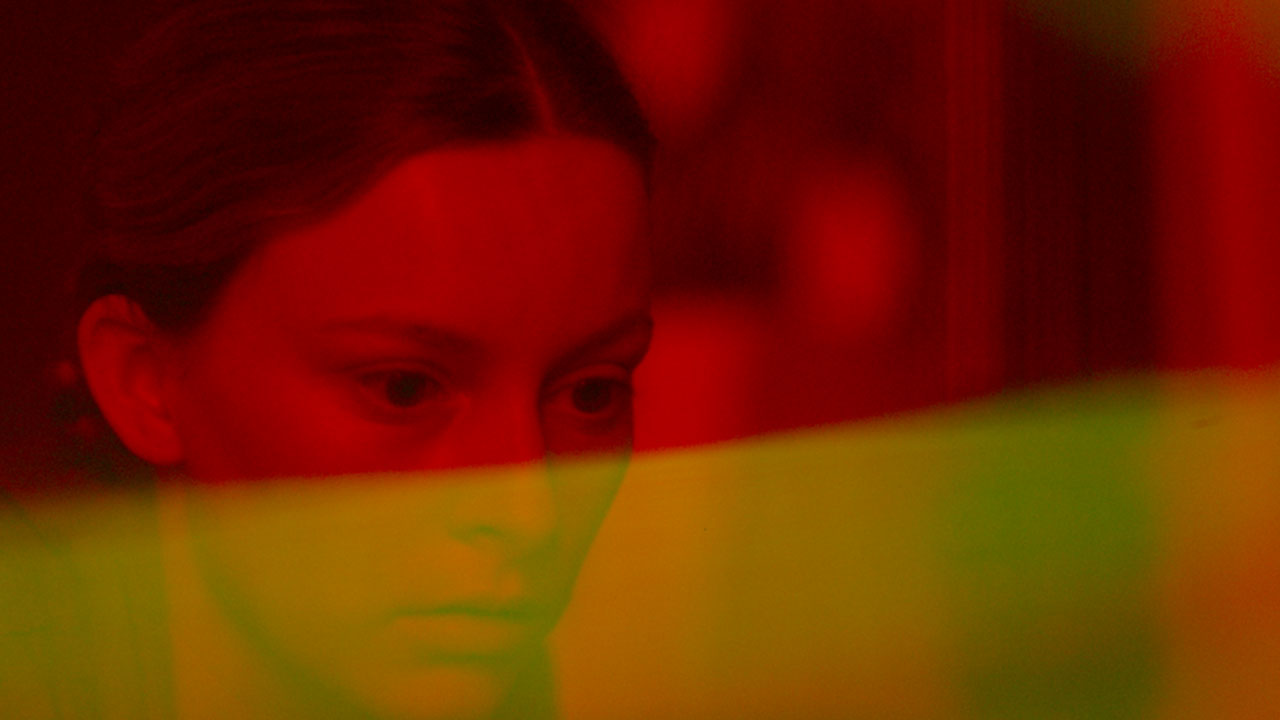 Please Speak Continuously And Describe Your Experiences As They Come To You
Brandon Cronenberg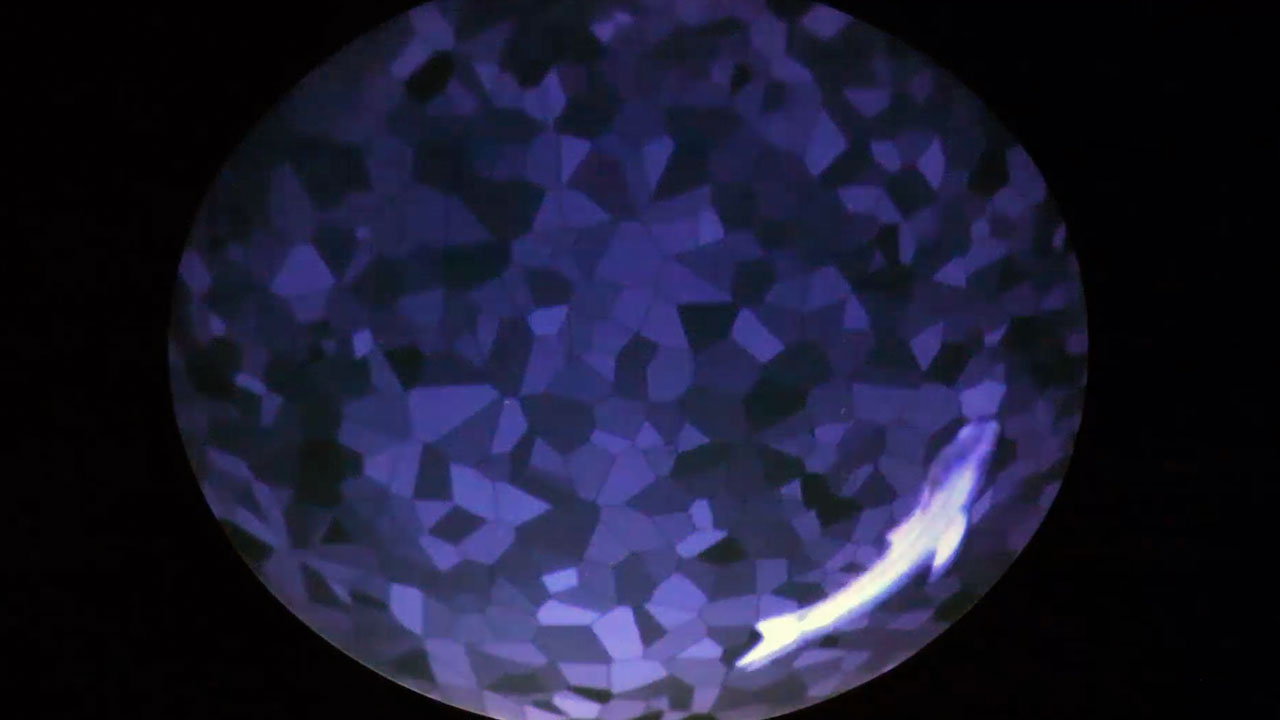 Social feedback experiment with real and virtual fish
Andrew Straw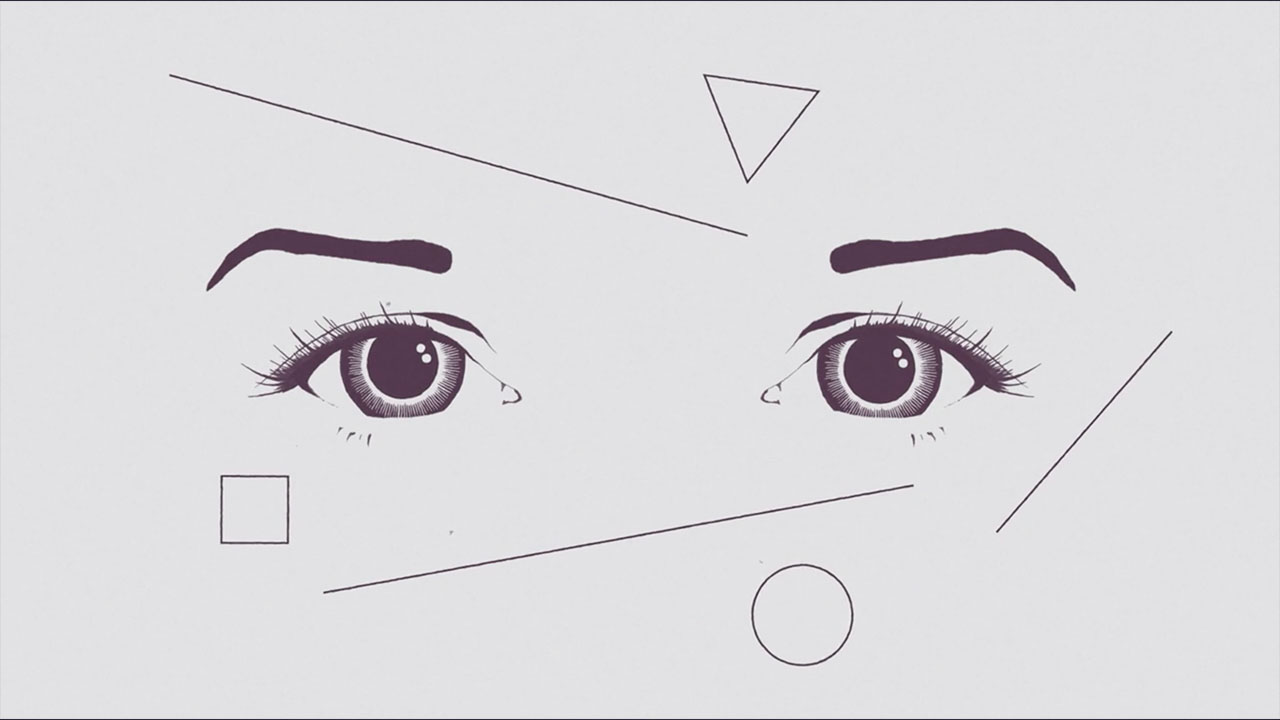 Beau Lotto – Understanding Perception: How We Experience the Meaning We Create
Steve West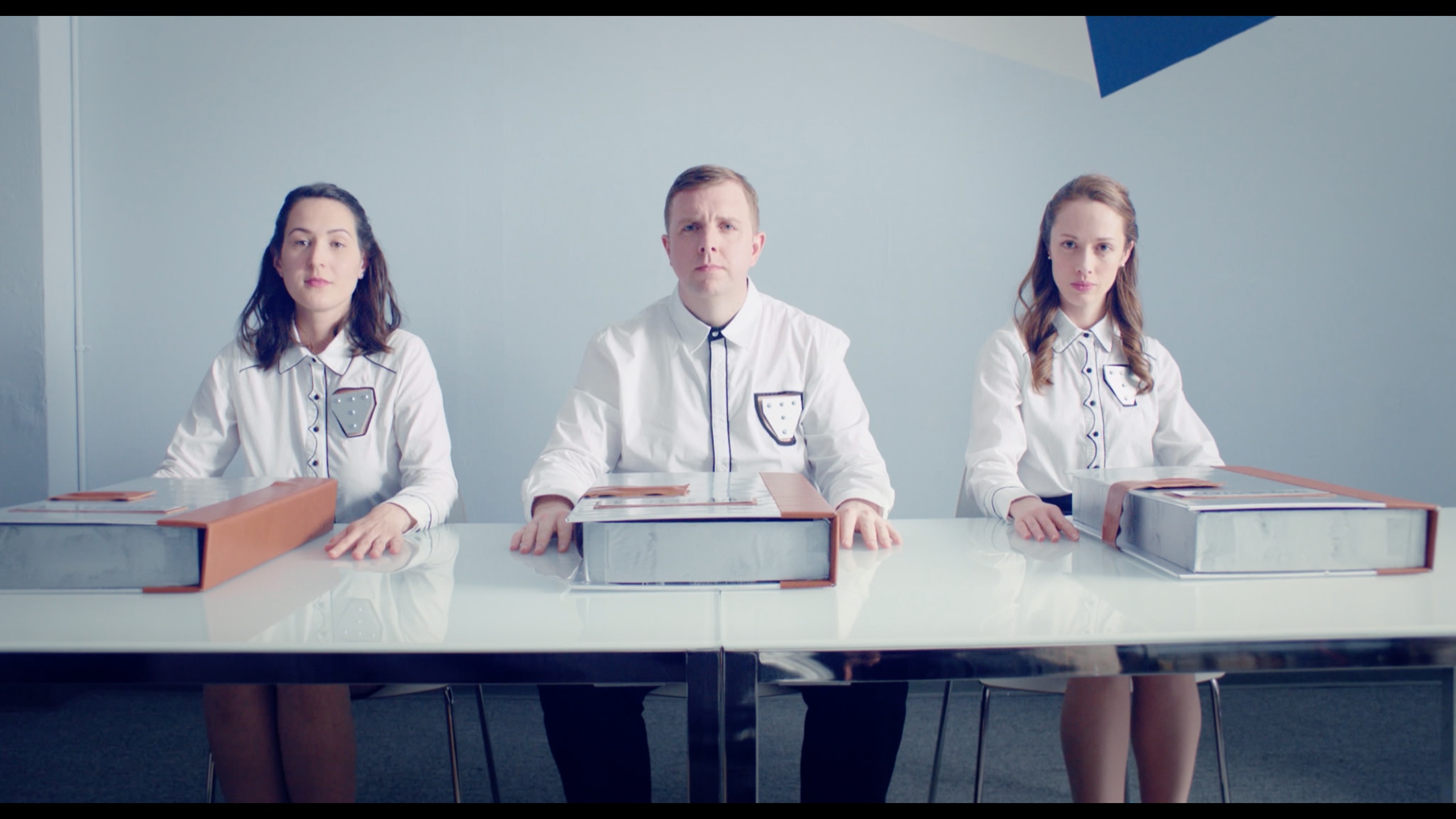 e.ro.sion, noun
Catriona Rubenis-Stevens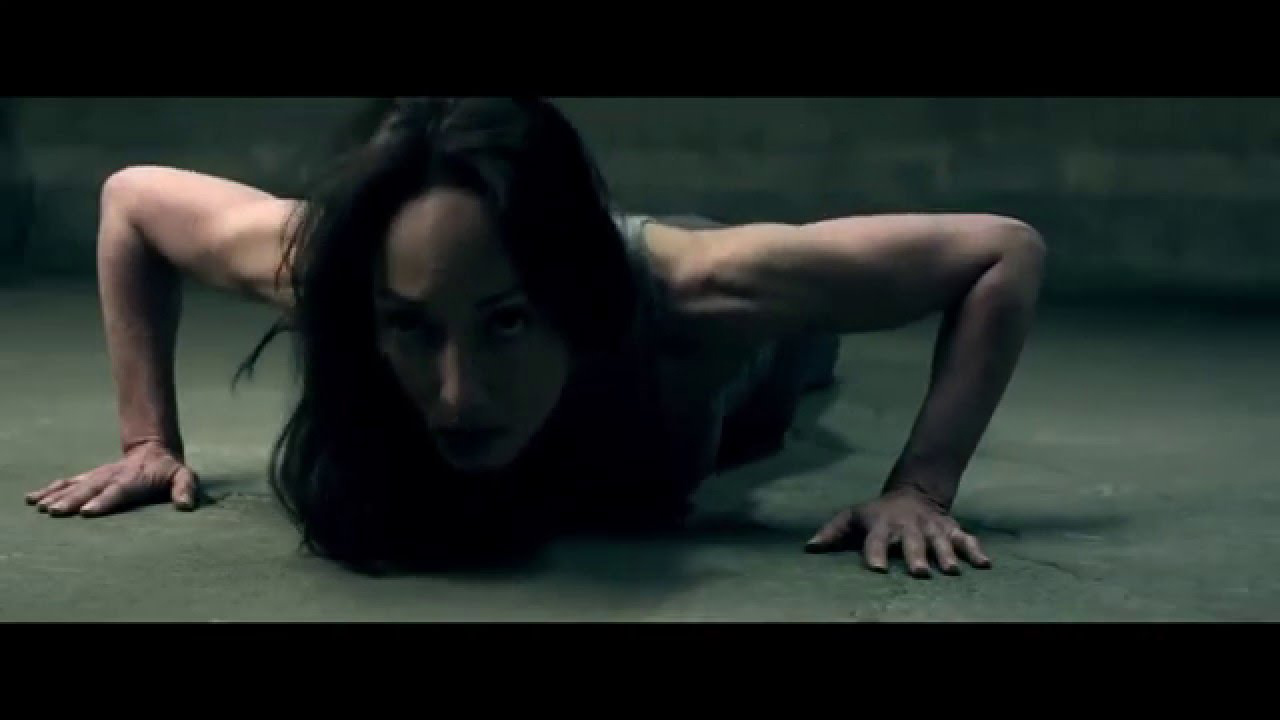 Portal: No Escape
Dan Trachtenberg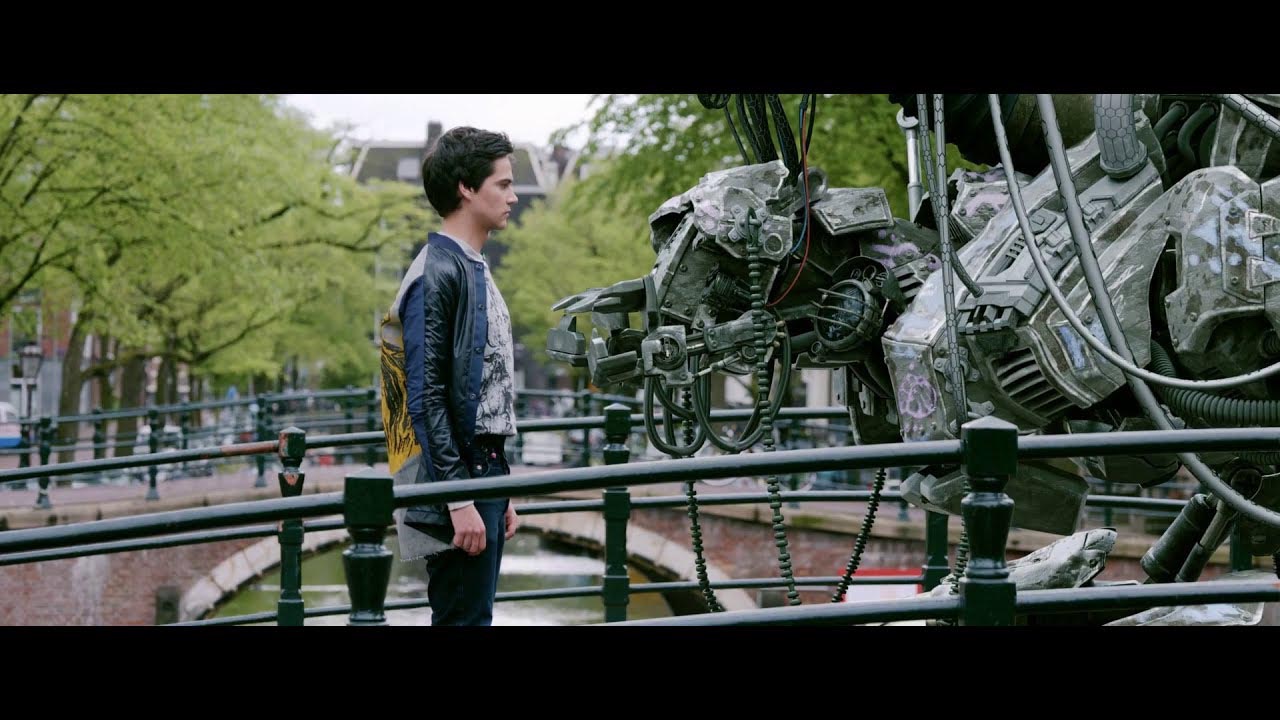 Tears of Steel
Ian Hubert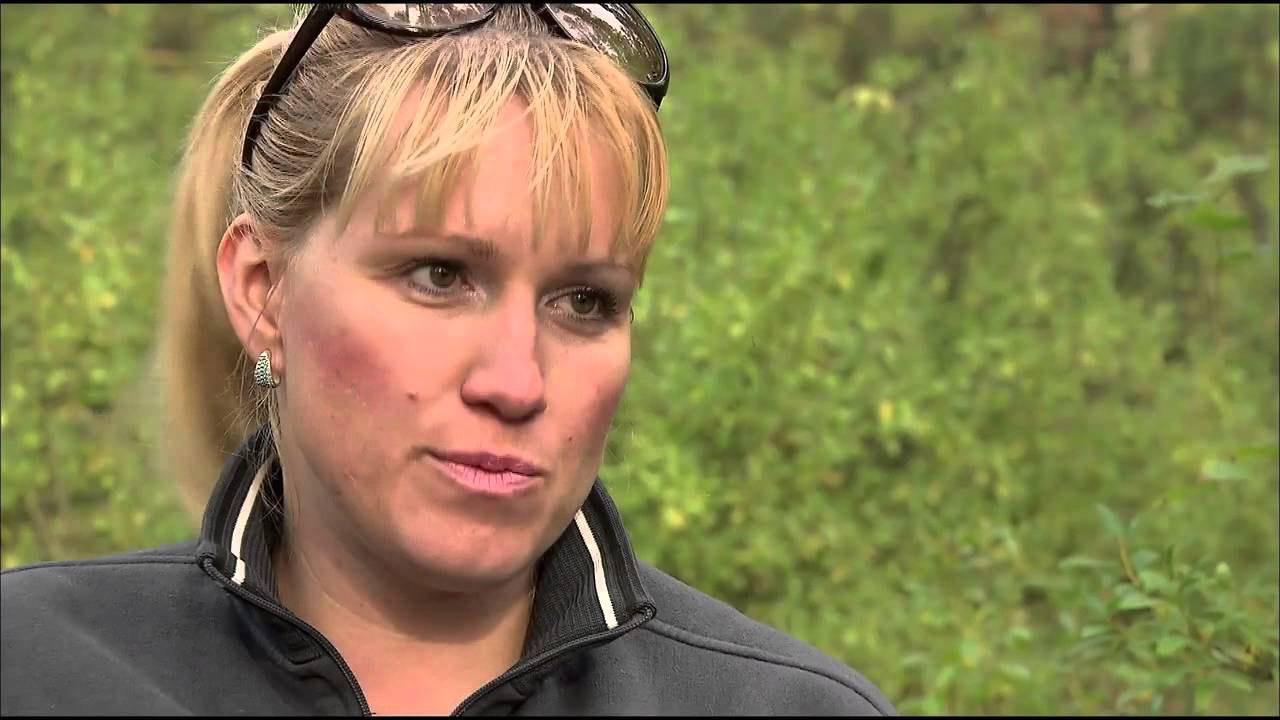 Science of Fasting
Sylvie Gilman, Thierry de Lestrade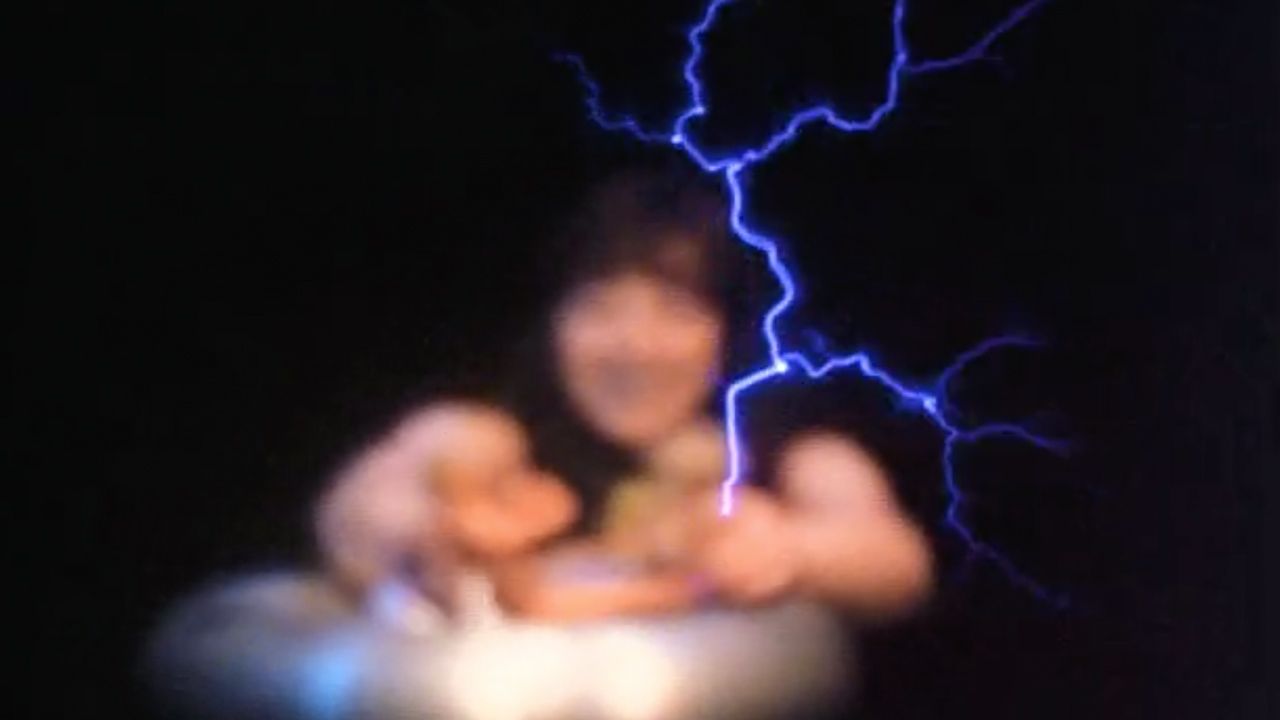 Teslamania
Joel Schlemowitz
Guests from the Riverside
Hirofumi Nakamoto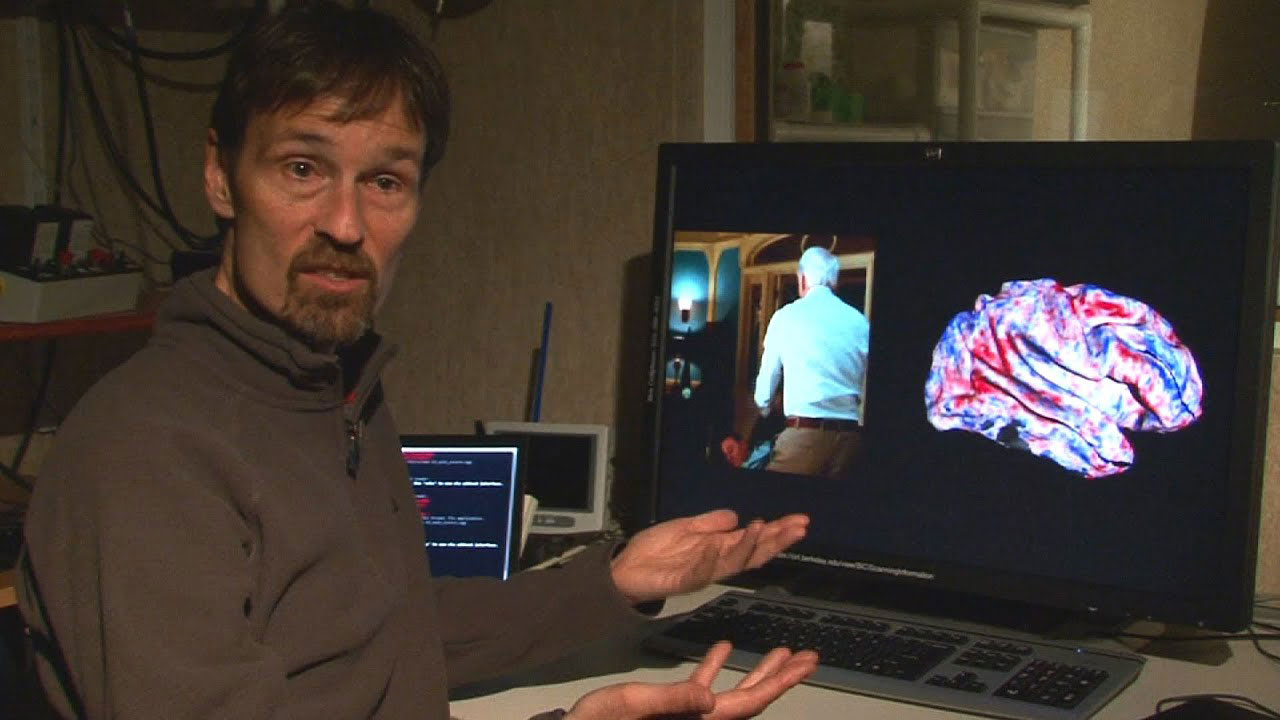 Movie reconstruction from human brain activity
Jack Gallant
Brilliant Darkness: Hotaru in the Night
Emily V. Driscoll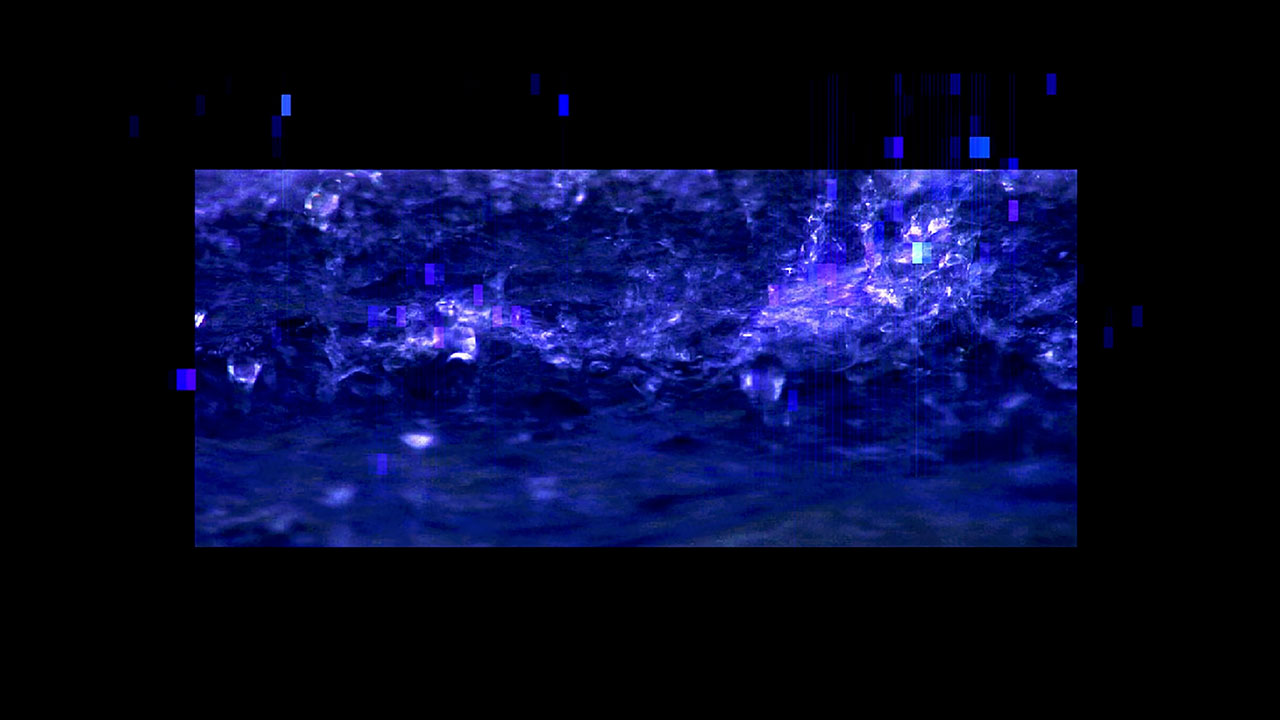 Quantum Theater of the Aquatic
Carolyn Turner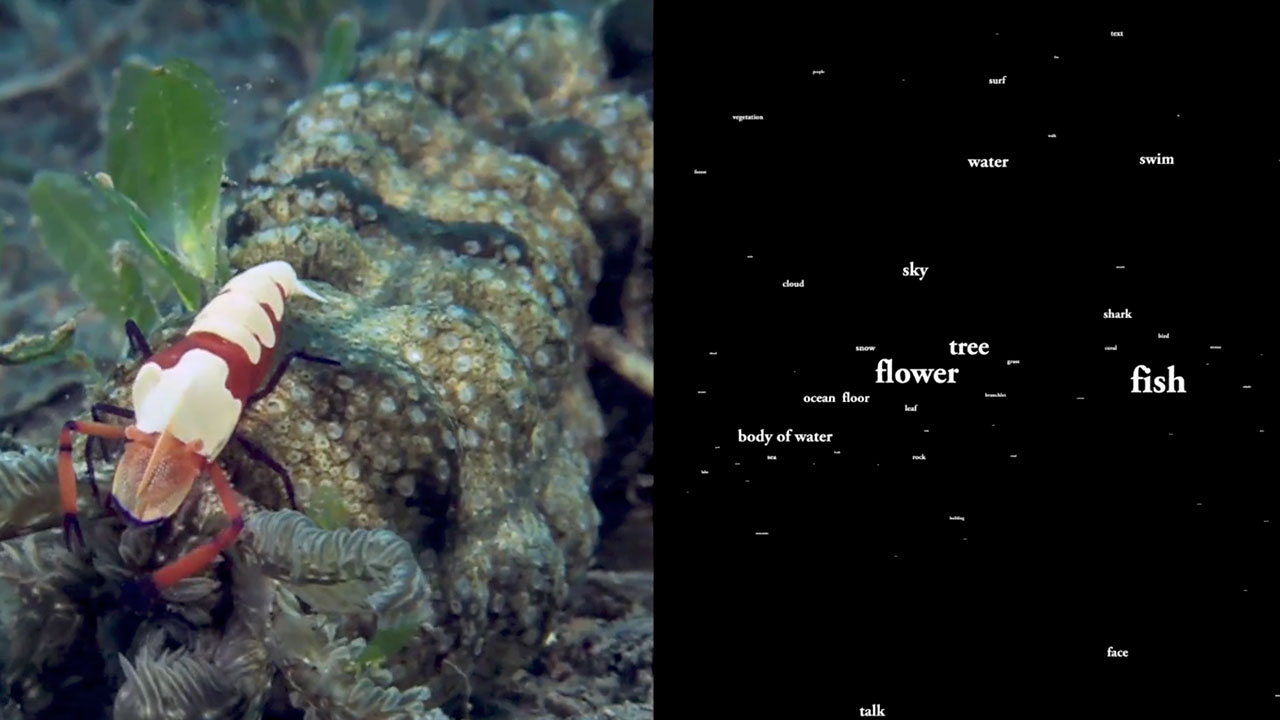 Semantic Decoding From Movies
Jack Gallant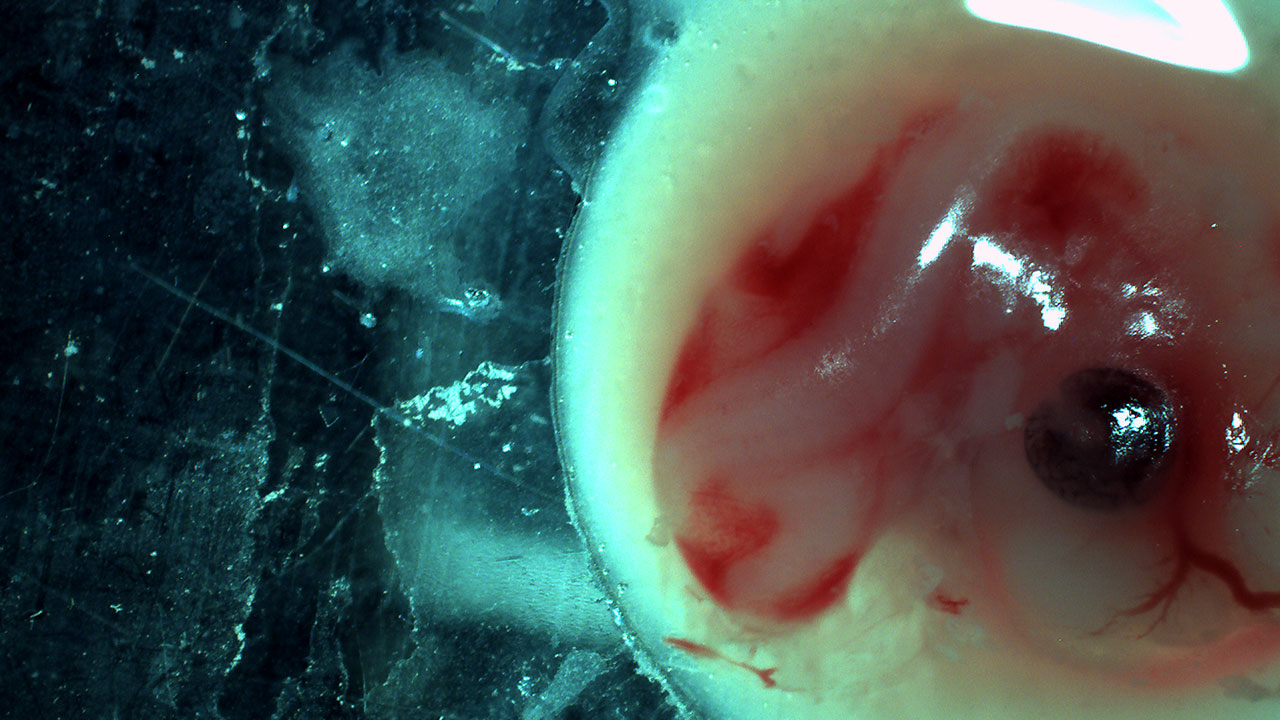 DIY Embryology
Adam Zaretsky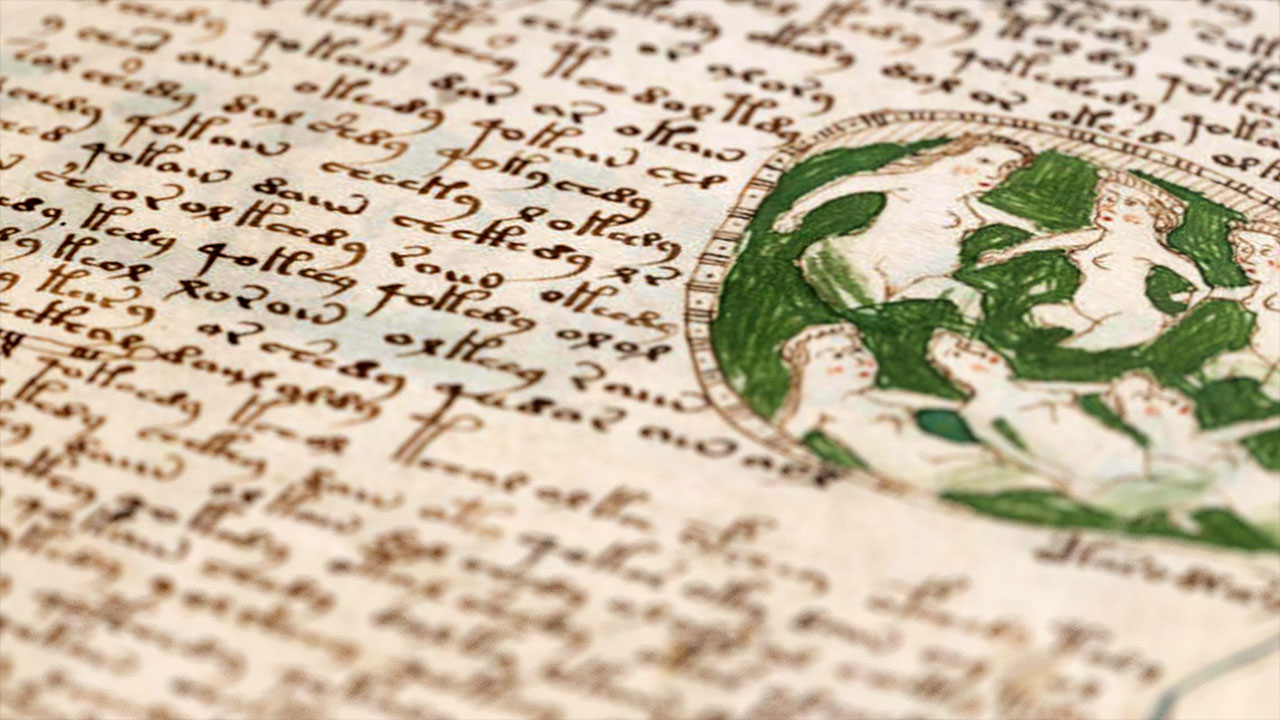 The Voynich code
Tiago Marconi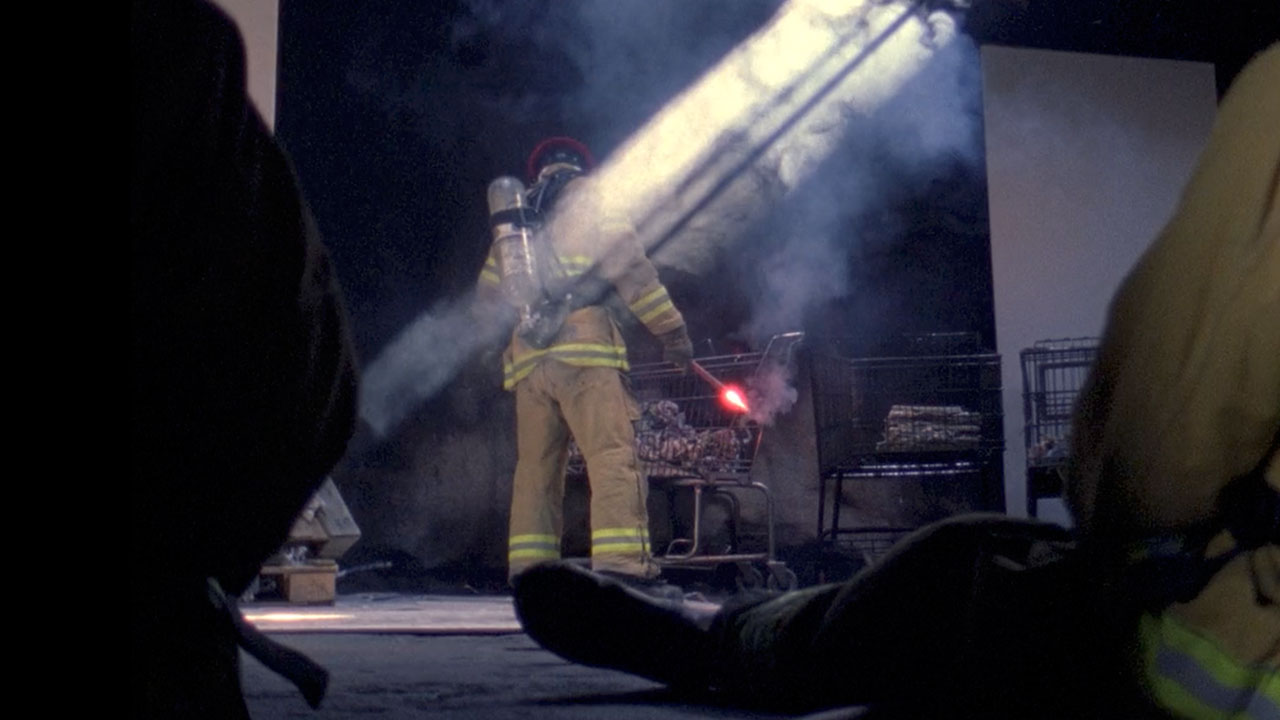 Simulation Beach
Edward Kihn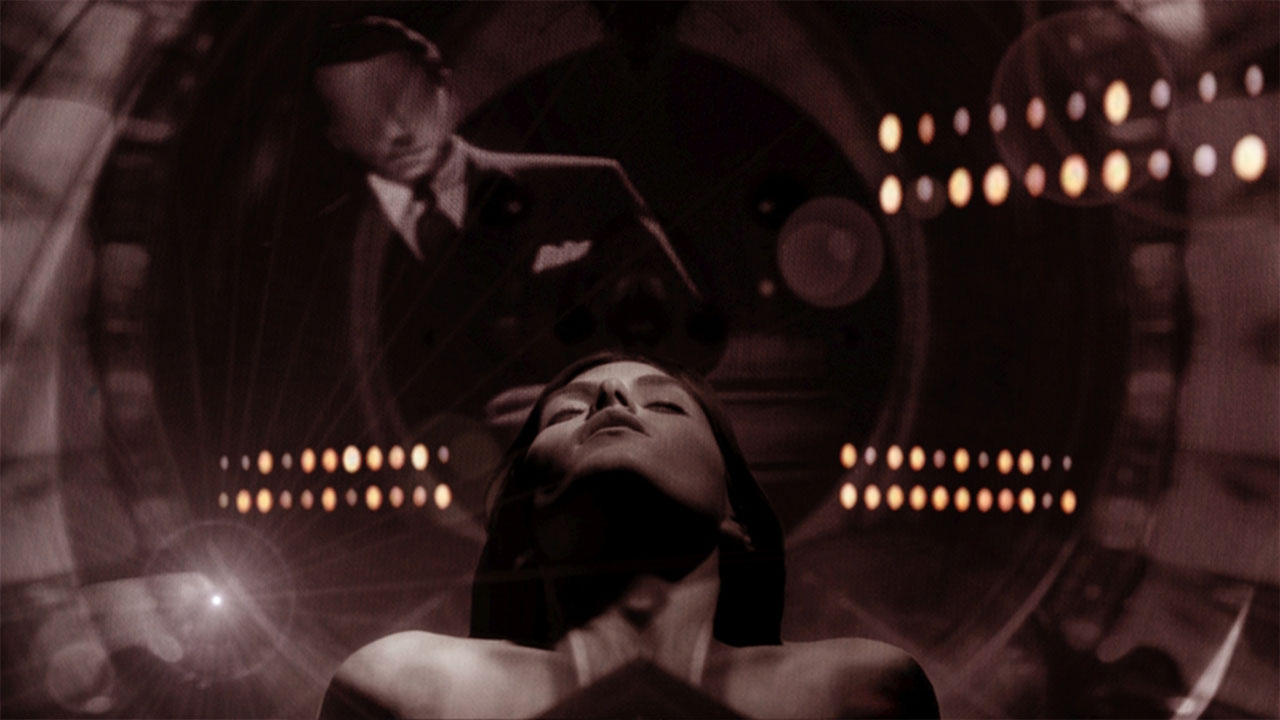 Unknown Energies, Unidentified Emotions
Dalibor Barić,Tomislav Babić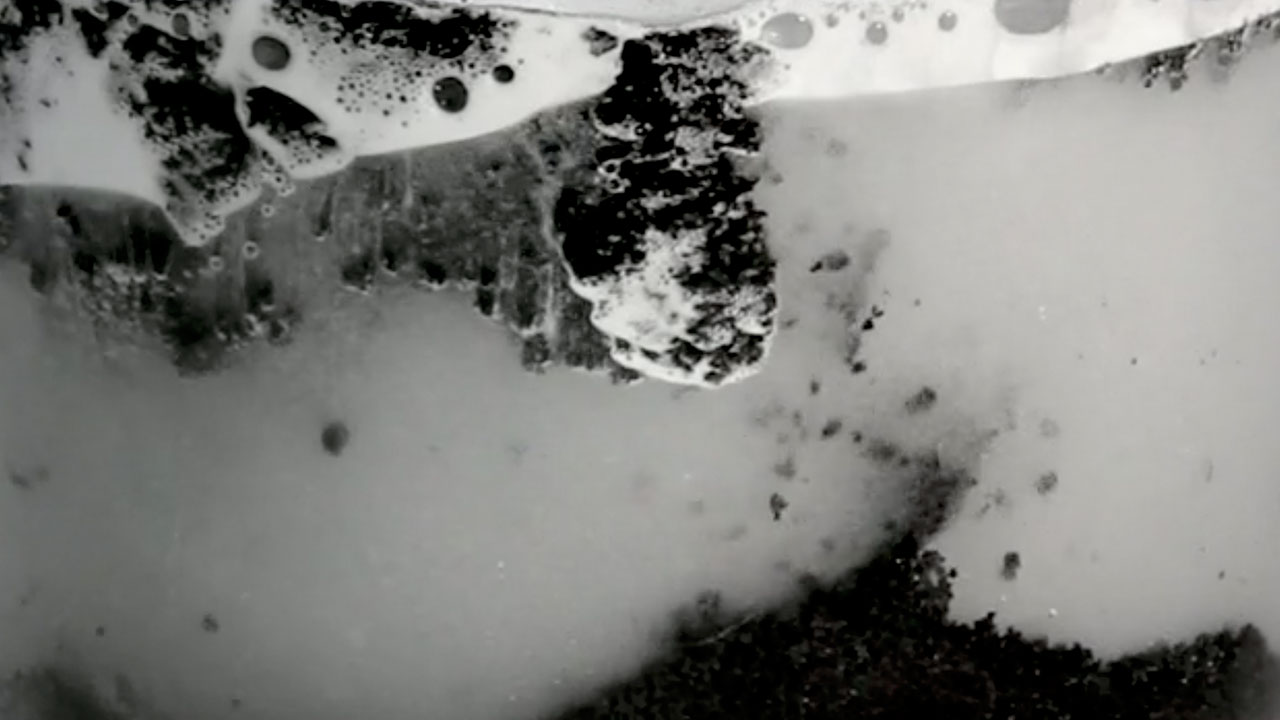 Pepto Bismuth
Melanie Hoff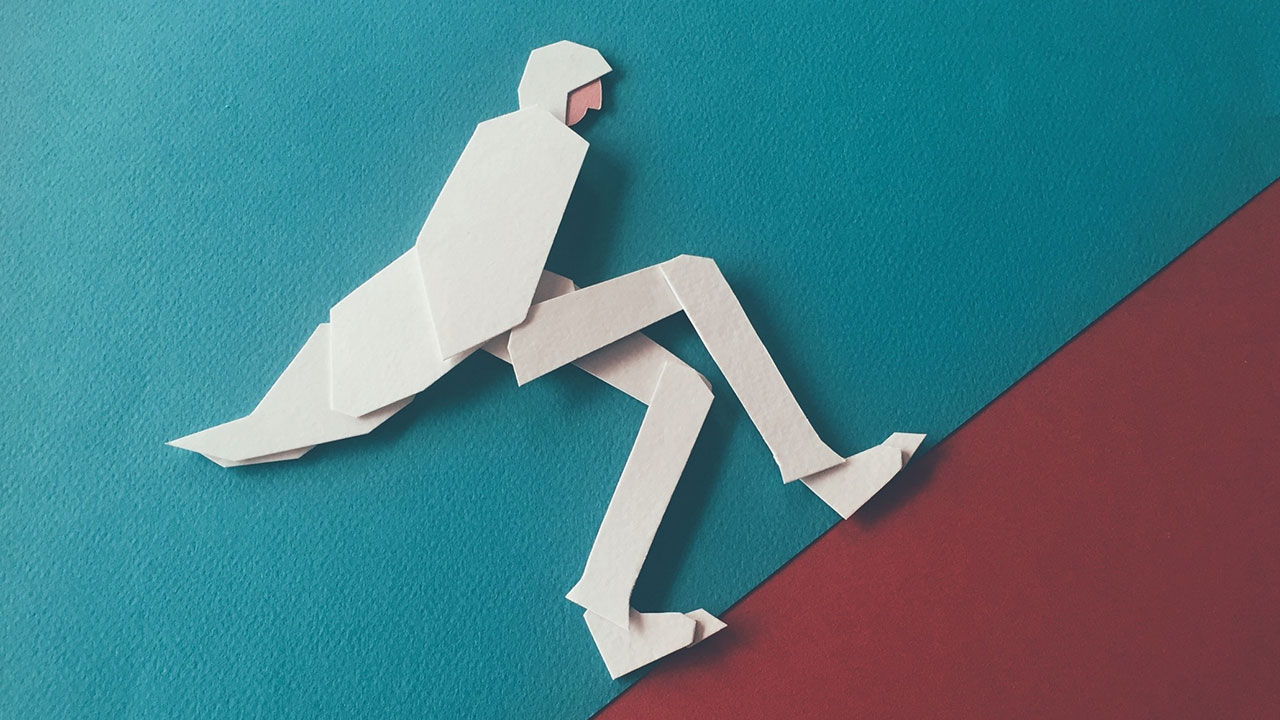 Ornetica Hesse
Sean Pecknold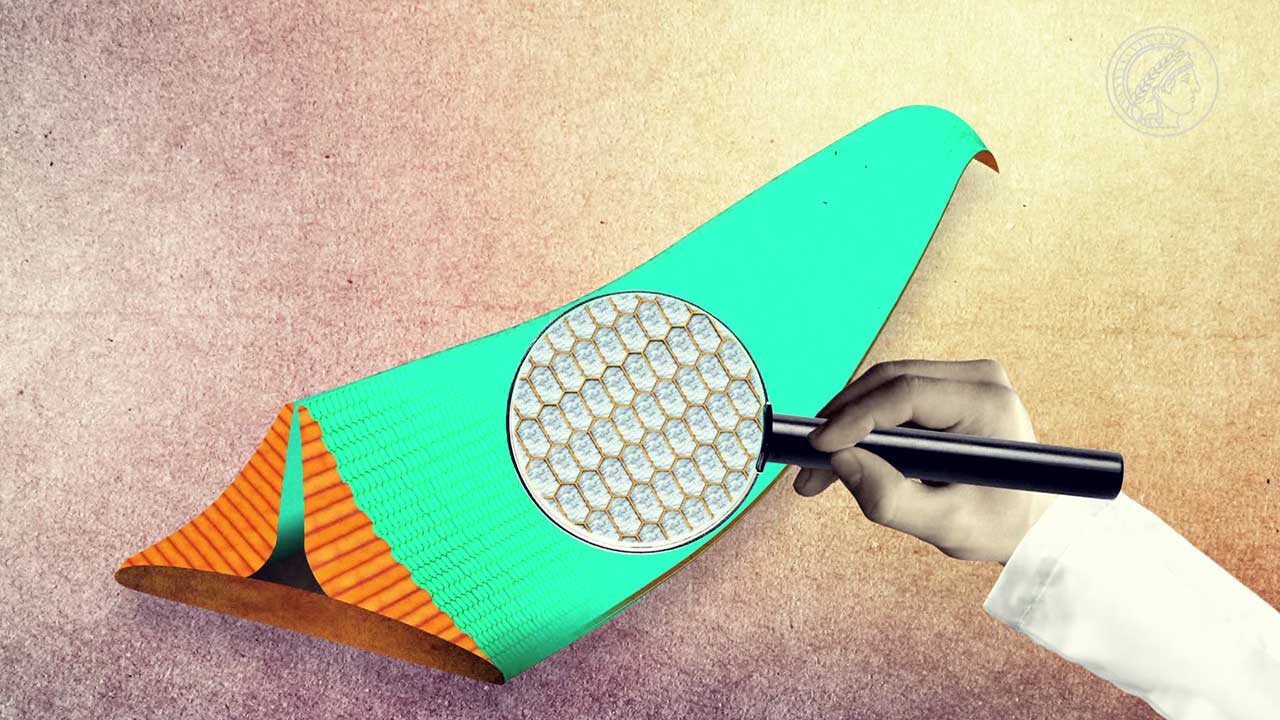 Biomaterials: Patent Solutions from Nature
Jakob Kneser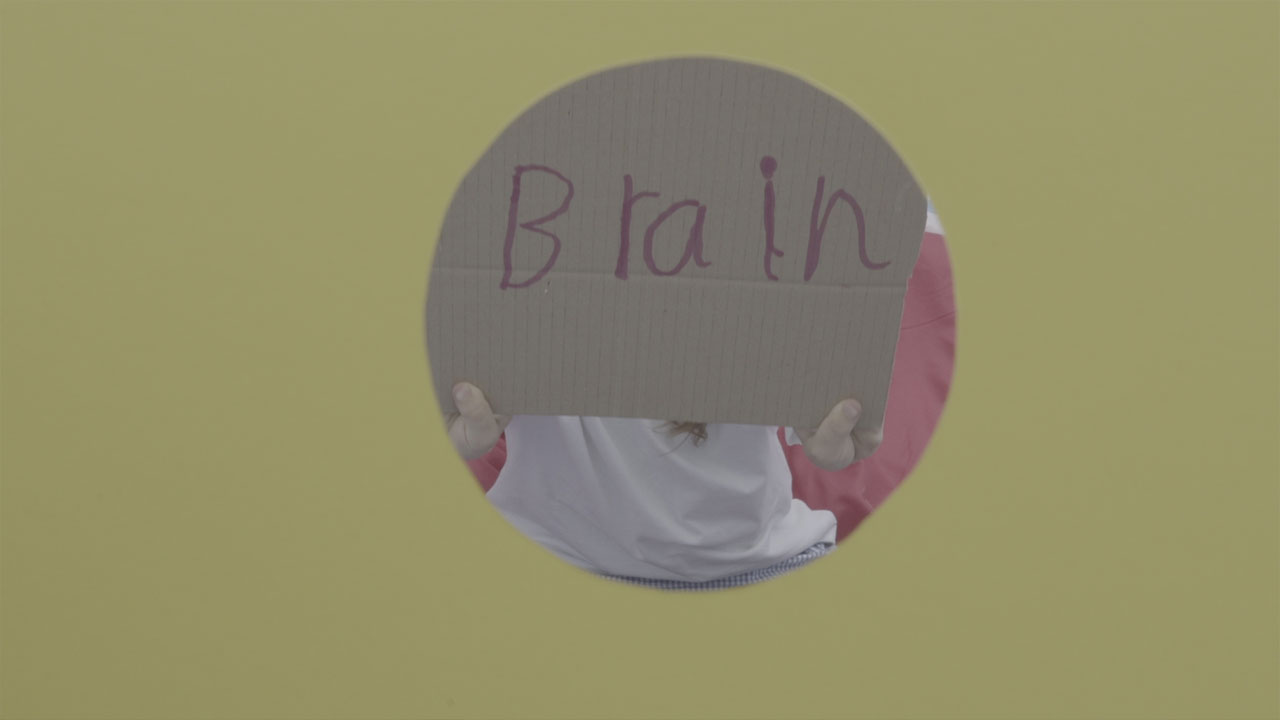 Dish Life
Chloë Thomas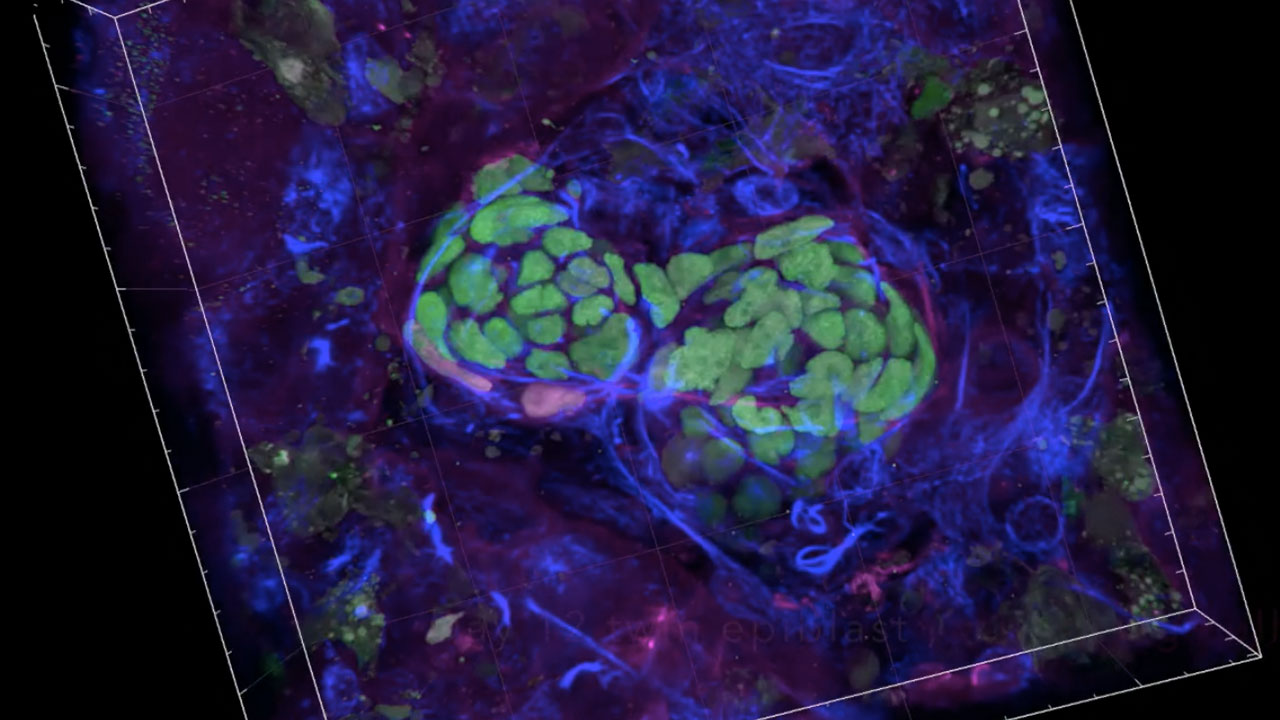 Human Development: Day 6 to 14
Gist Croft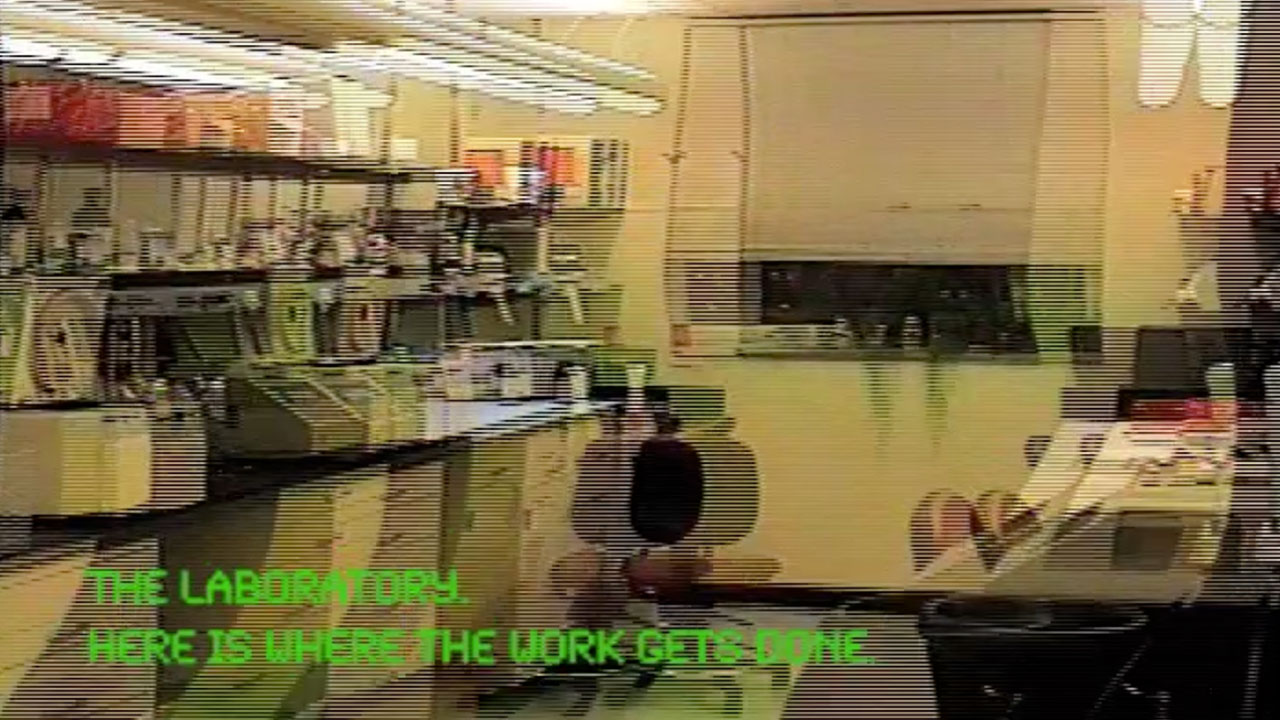 foundfootagexx100n.s.1
Tony Grayson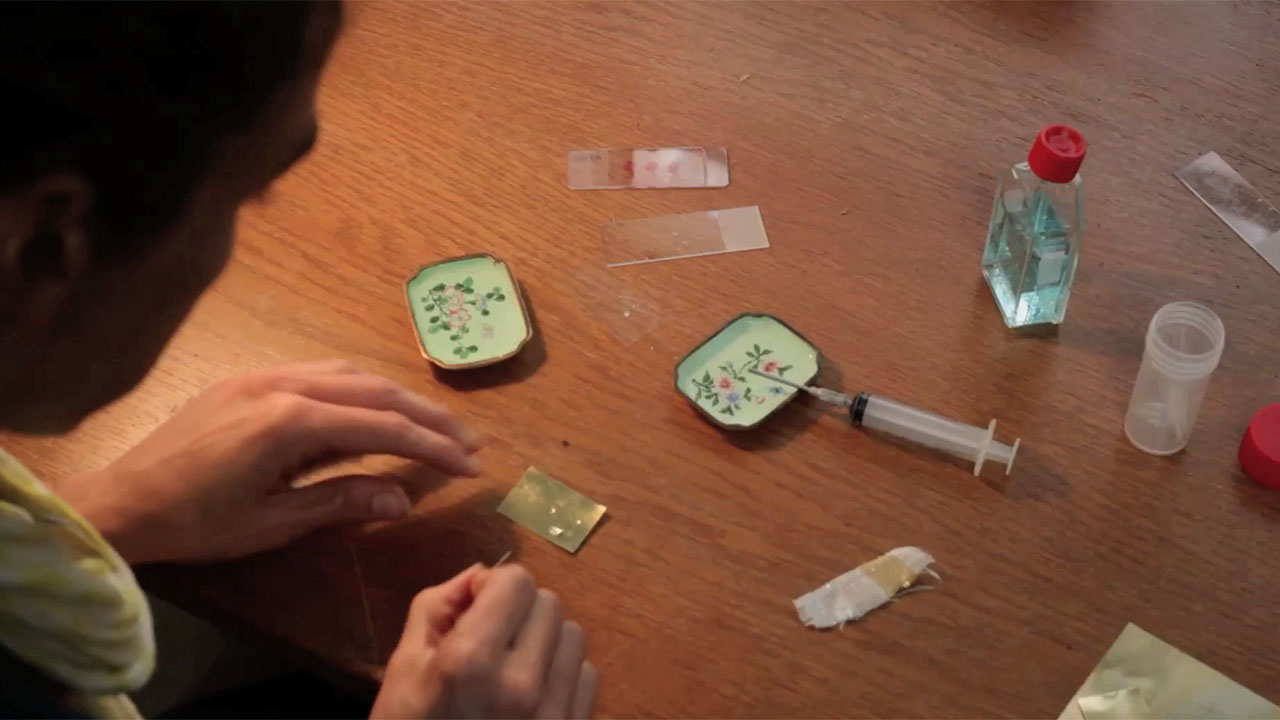 Alle de tranen (Every Tear)
Sarah Vanagt
Duality
Inés Vogelfang,Merritt Moore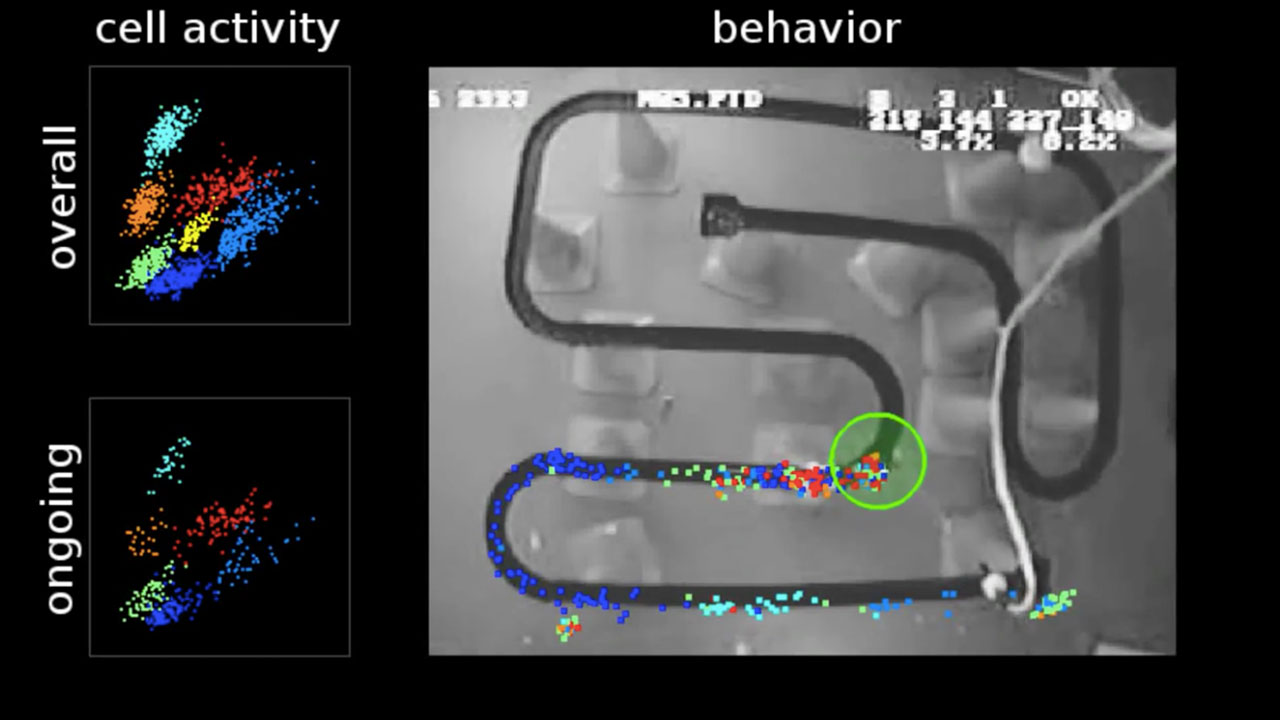 Rat Dreams
Fabian Kloosterman,Matthew Wilson
Laboratory Sun
Tiago Marconi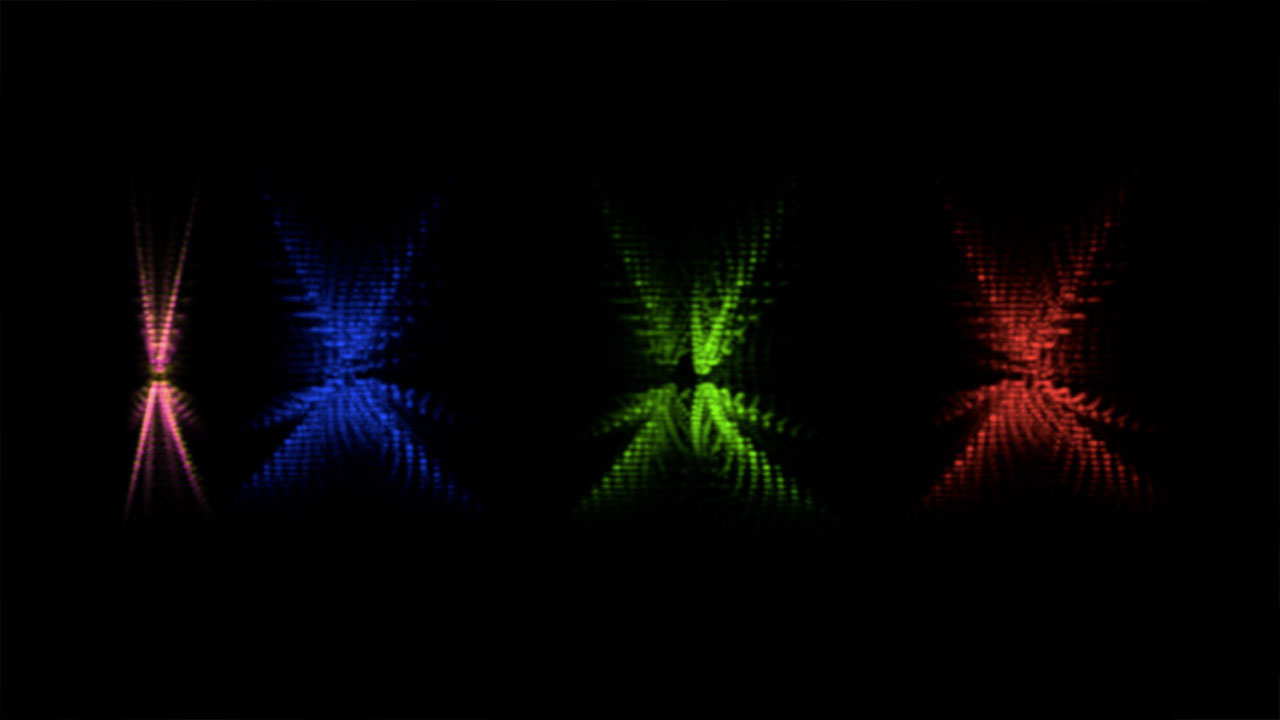 Molecular Ghost Dance
Ula Alexander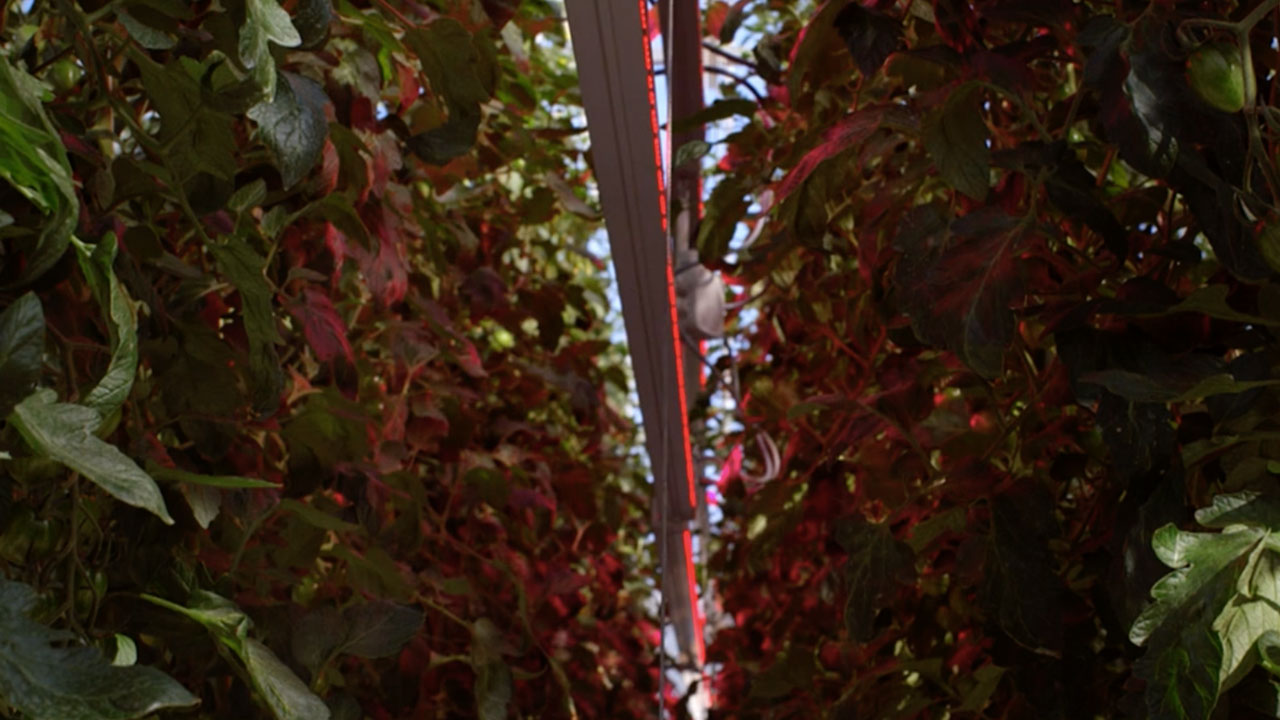 Nature's Switch
Caroline Ward,Erinma Ochu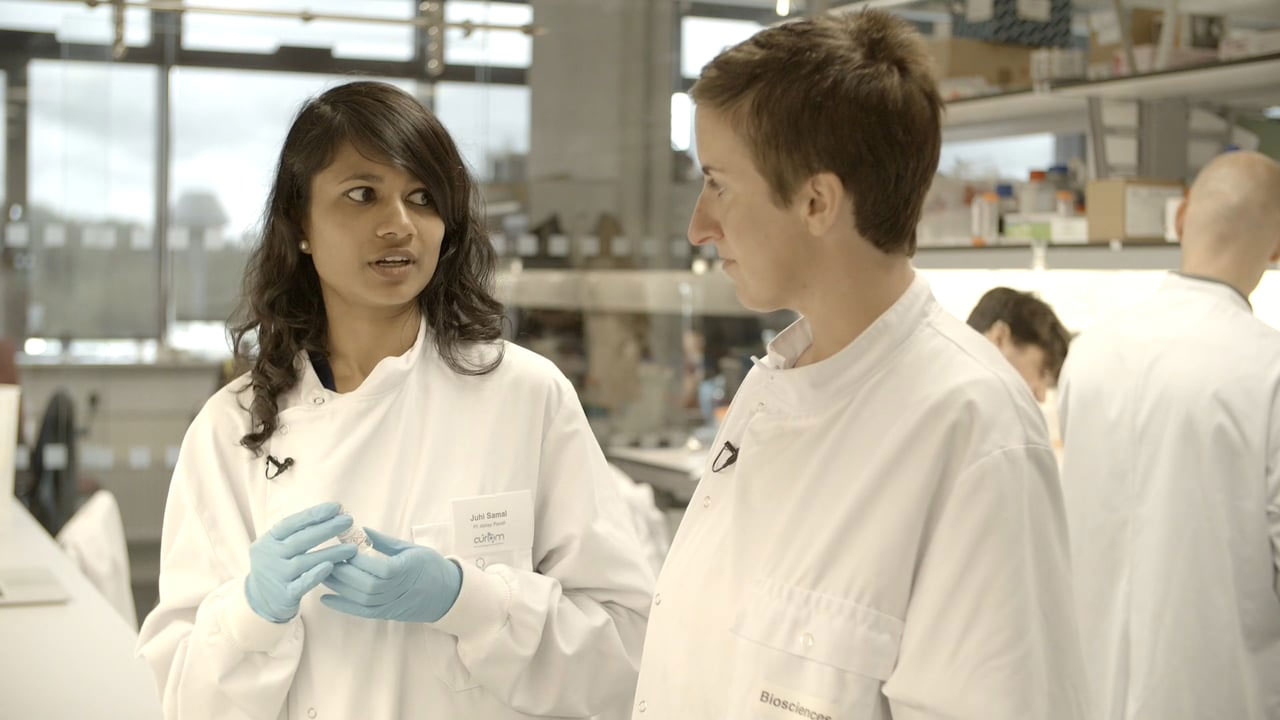 Feats of Modest Valour
Mia Mullarkey,Alice McDowell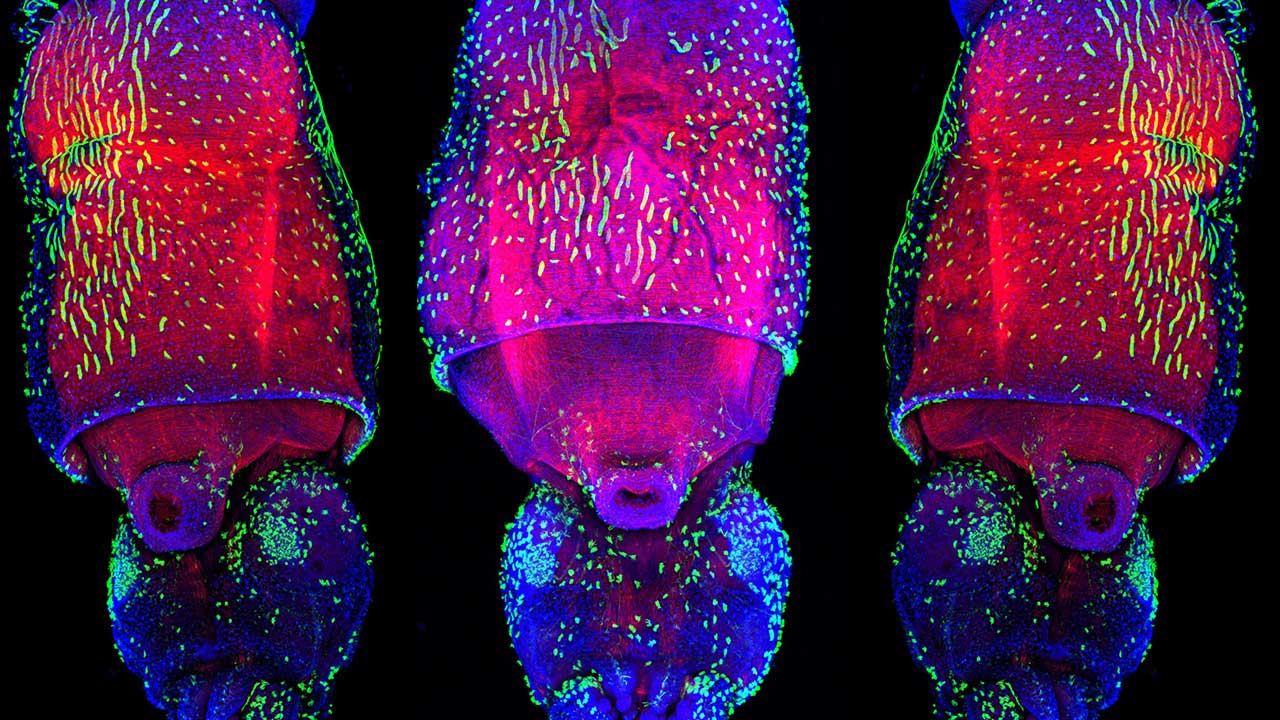 Squid: Coming to Life
Nipam Patel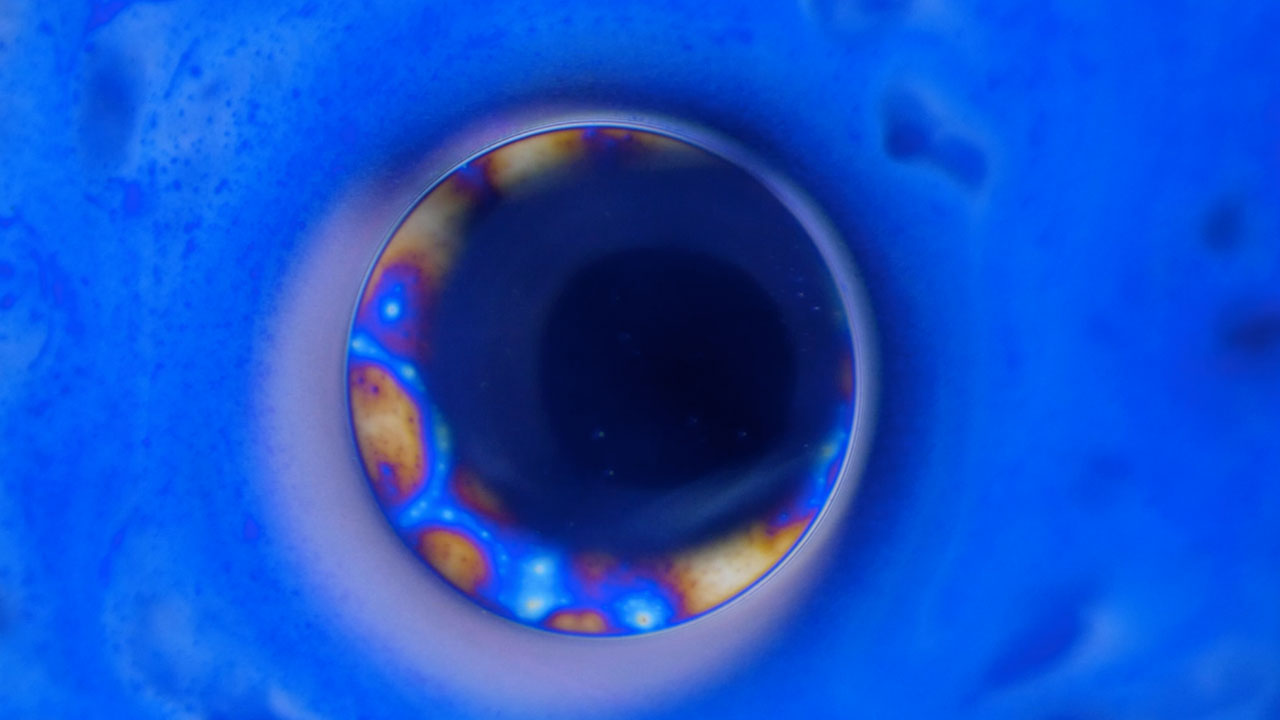 MINIPOND
Wenting Zhu
Developing Butterfly Scales (SuppMovie 02 Dinwiddie)
Ryan Null,Nipam Patel
Path of Least Resistance
Melanie Hoff
Butterfly Buckeye Development & Wing Close-up (music)
Aaron Pomerantz,Damien Gailly,Rachel Thayer,Nipam Patel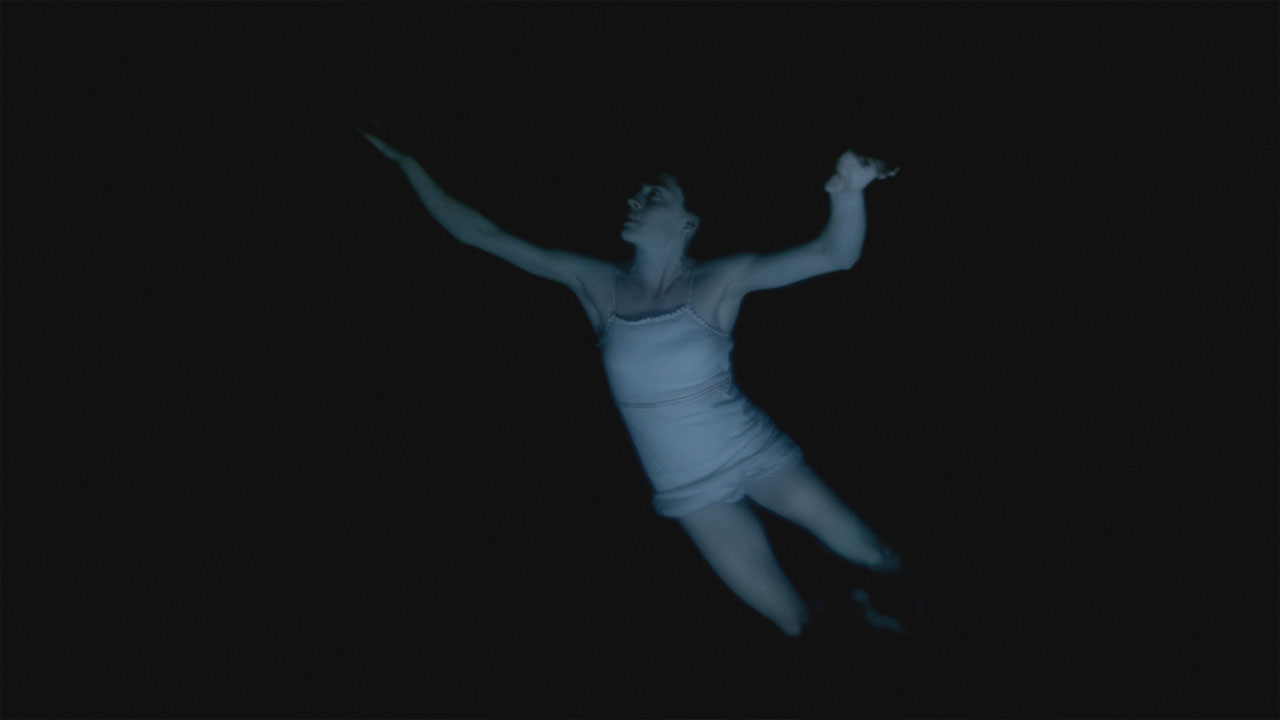 The Purple Plain
Kim Albright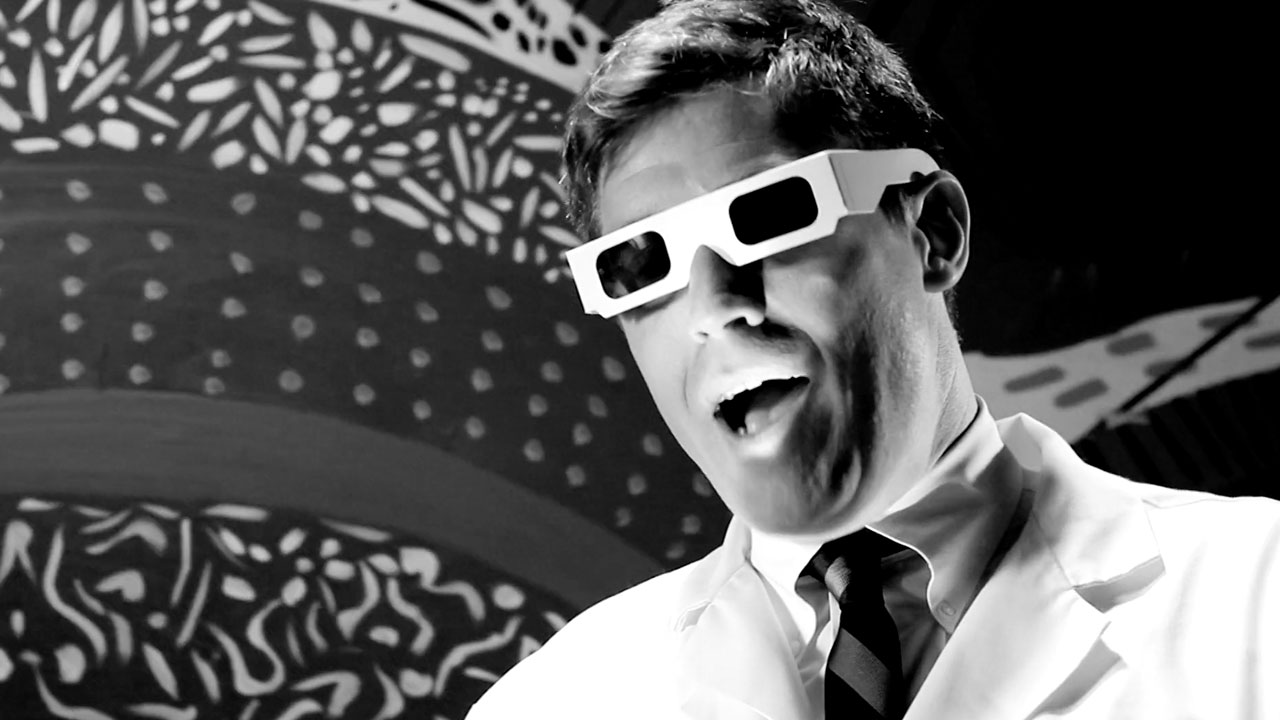 Life and Freaky Times of Uncle Luke
Jillian Mayer,Lucas Leyva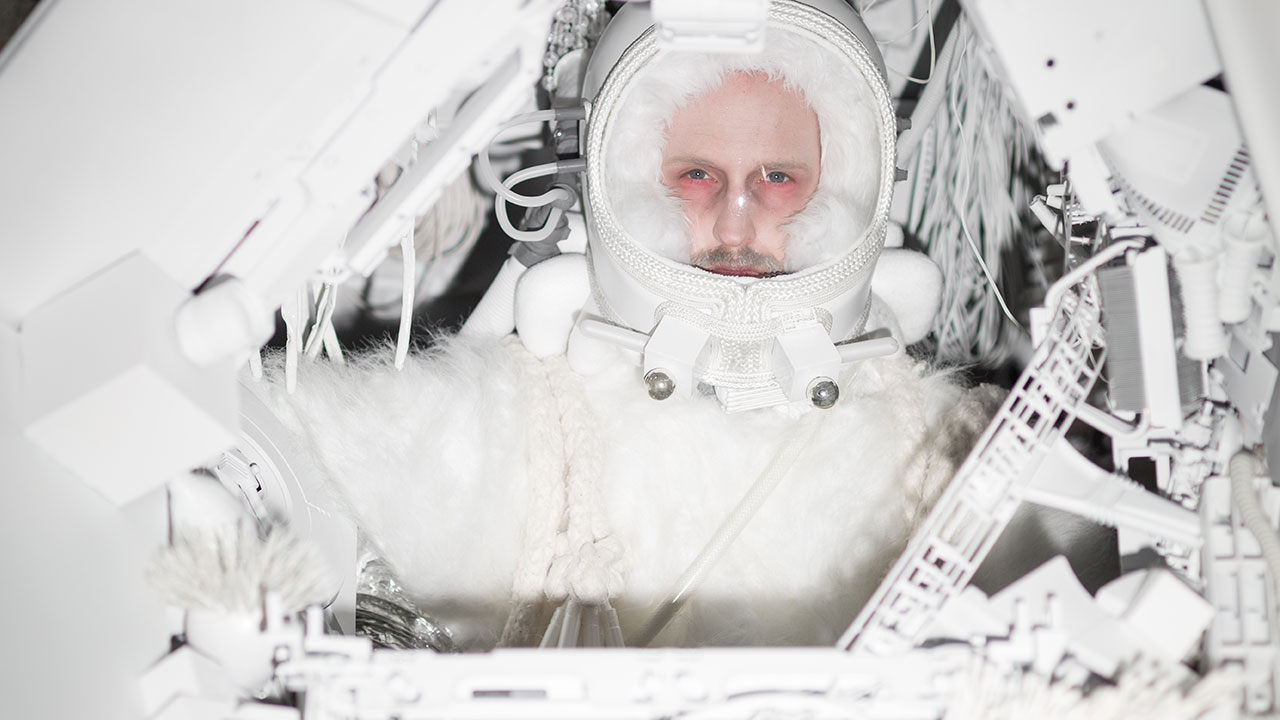 Voyage of the Galactic Space Dangler
Evan Mann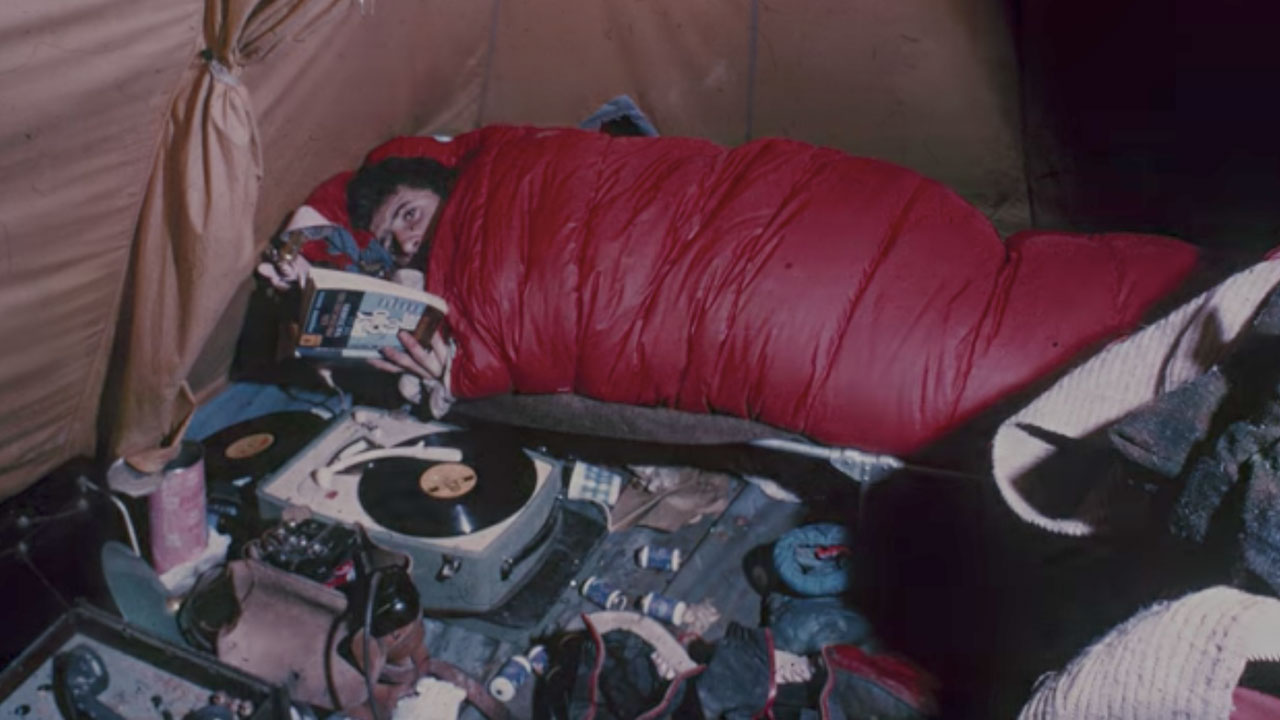 L'exilé du temps (Exiled from Time)
Isabelle Putod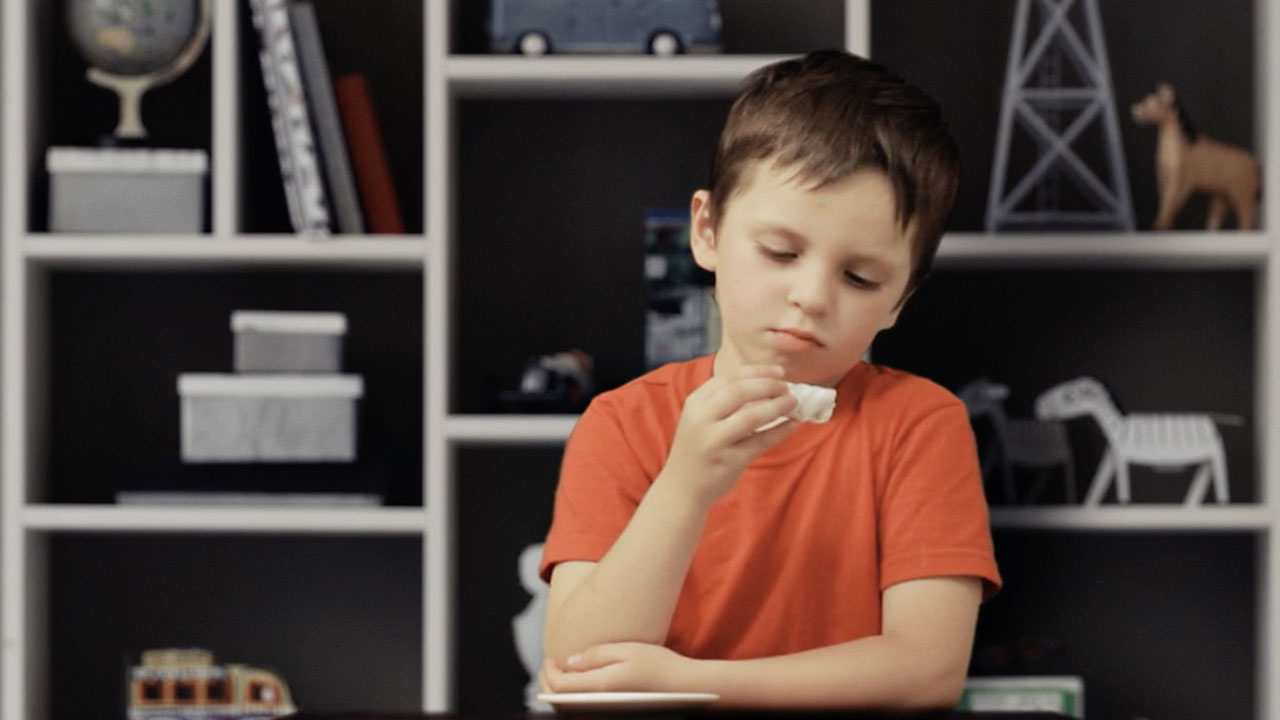 900 seconds
Robert Seneko
Animalia Genitalia
Nguyen Khoi Nguyen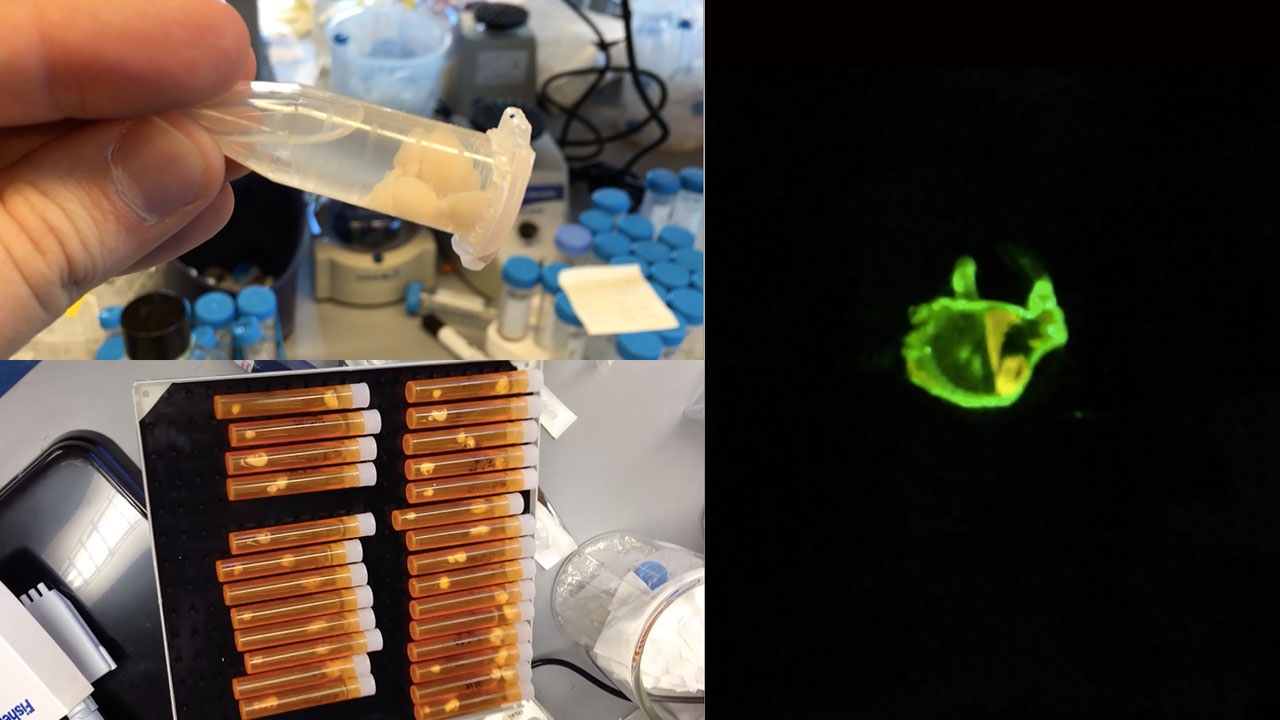 Mouse Embryo Prep for 3D Imaging
Nicolas Renier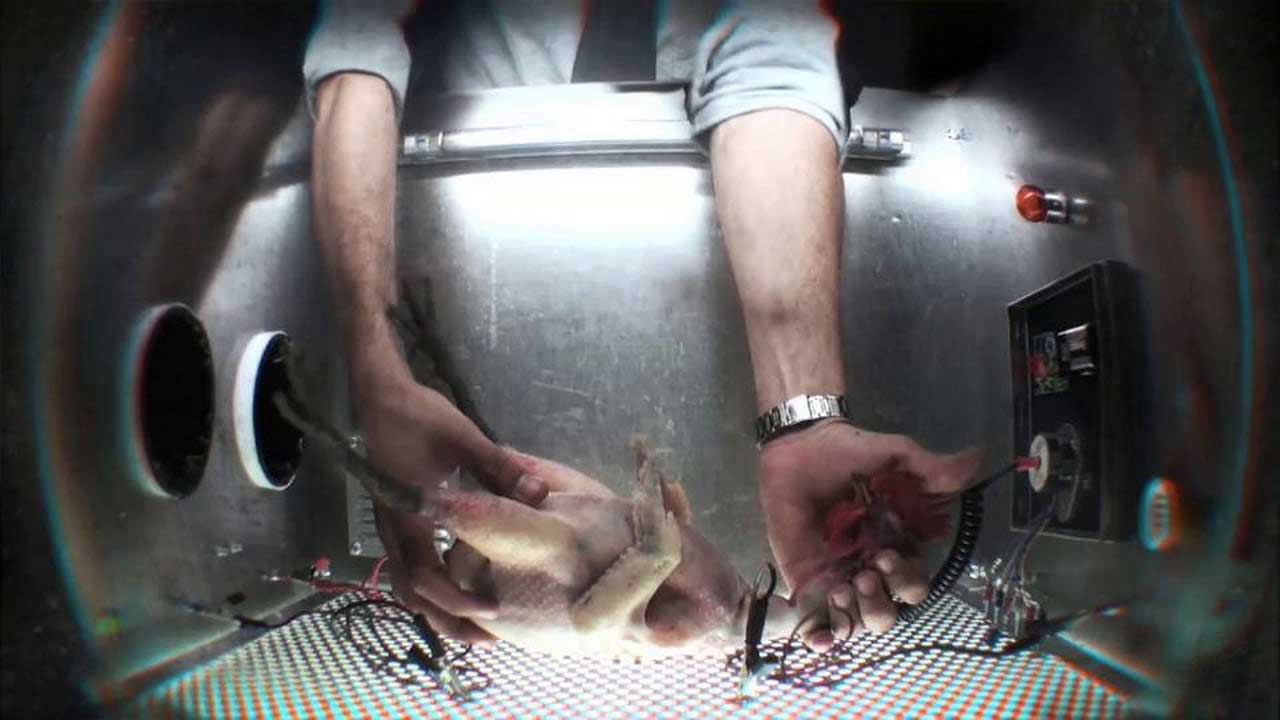 Lazarov
Nieto
Akira
Katsuhiro Otomo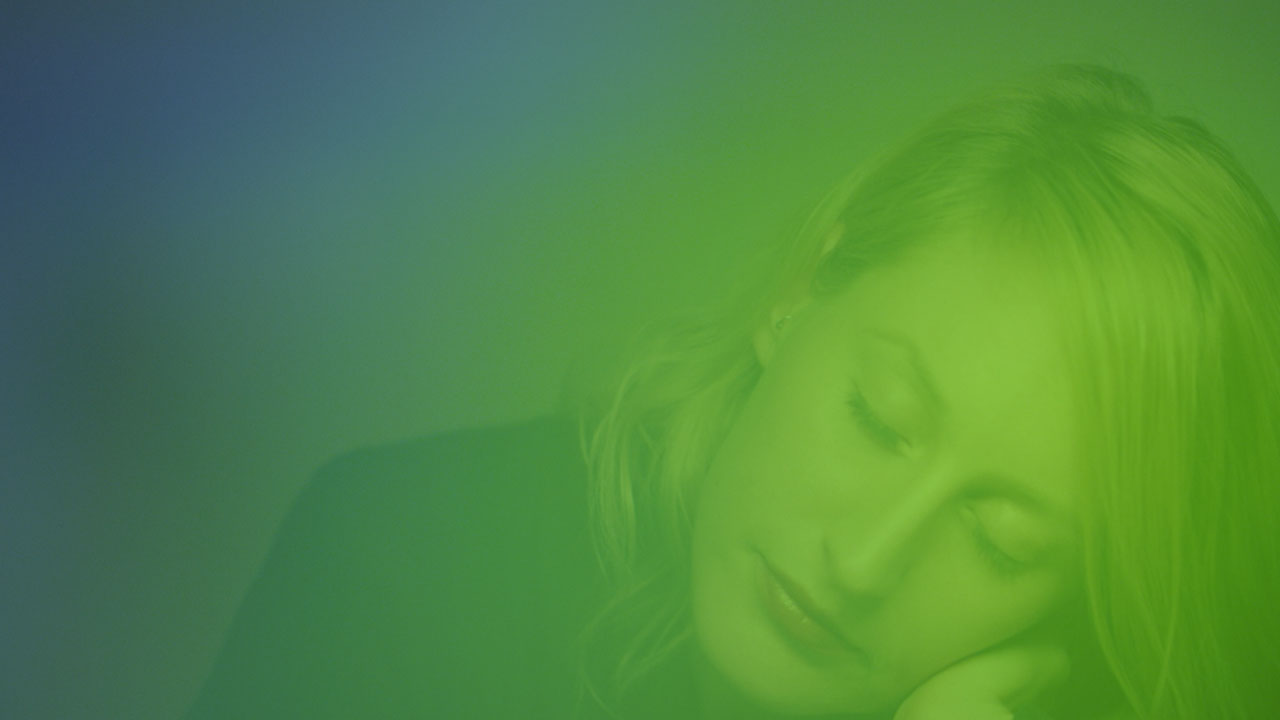 Happy Tree
Jonathan Minard
Beyond Expression Bright
Erin Espelie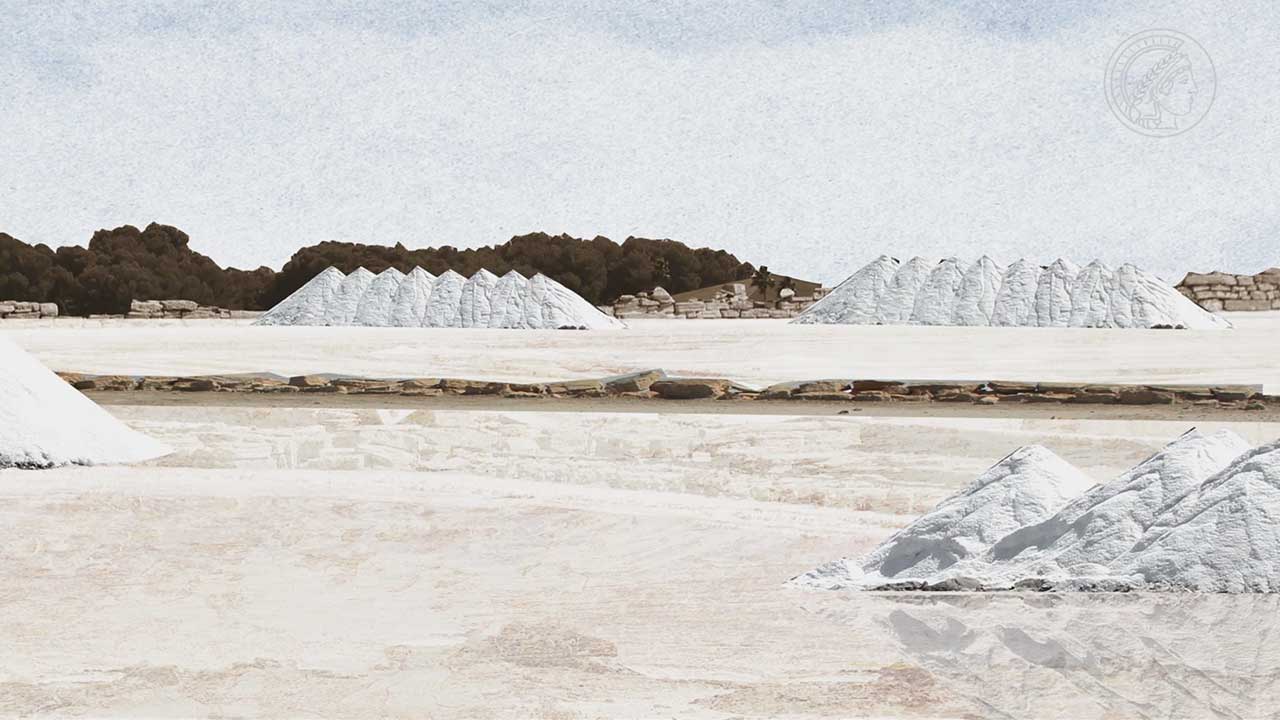 Optogenetics - Light Gets on Your Nerves
Oliver Päßler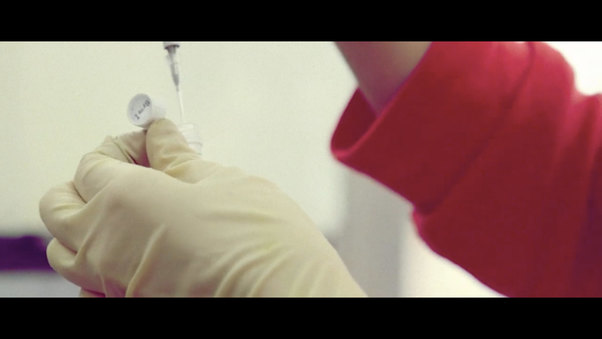 Benchwork
Field Test Film Corps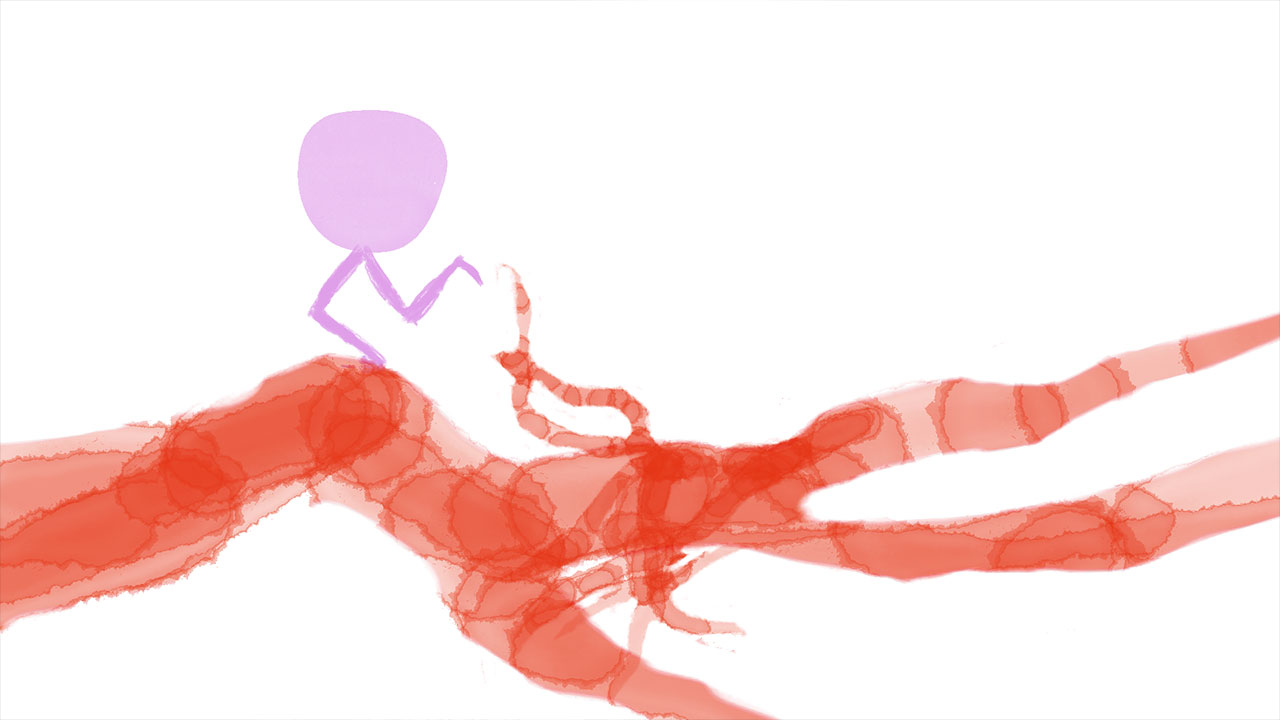 Loop
Samantha Moore
Expert Dreamers
Nguyen Khoi Nguyen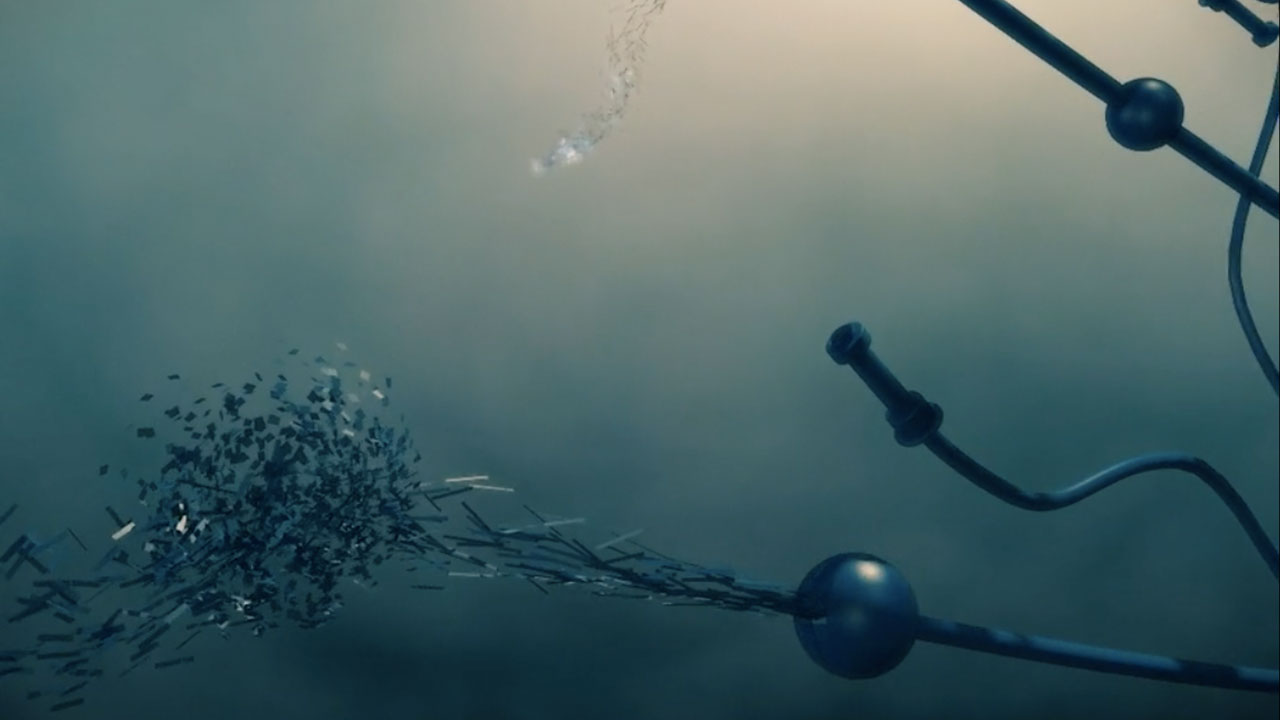 Inscapes
Tamara Vanderwal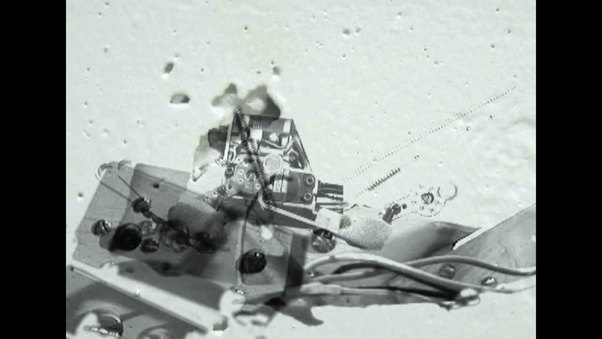 archipelago.ch: Fumiya Island
Adrianne Wortzel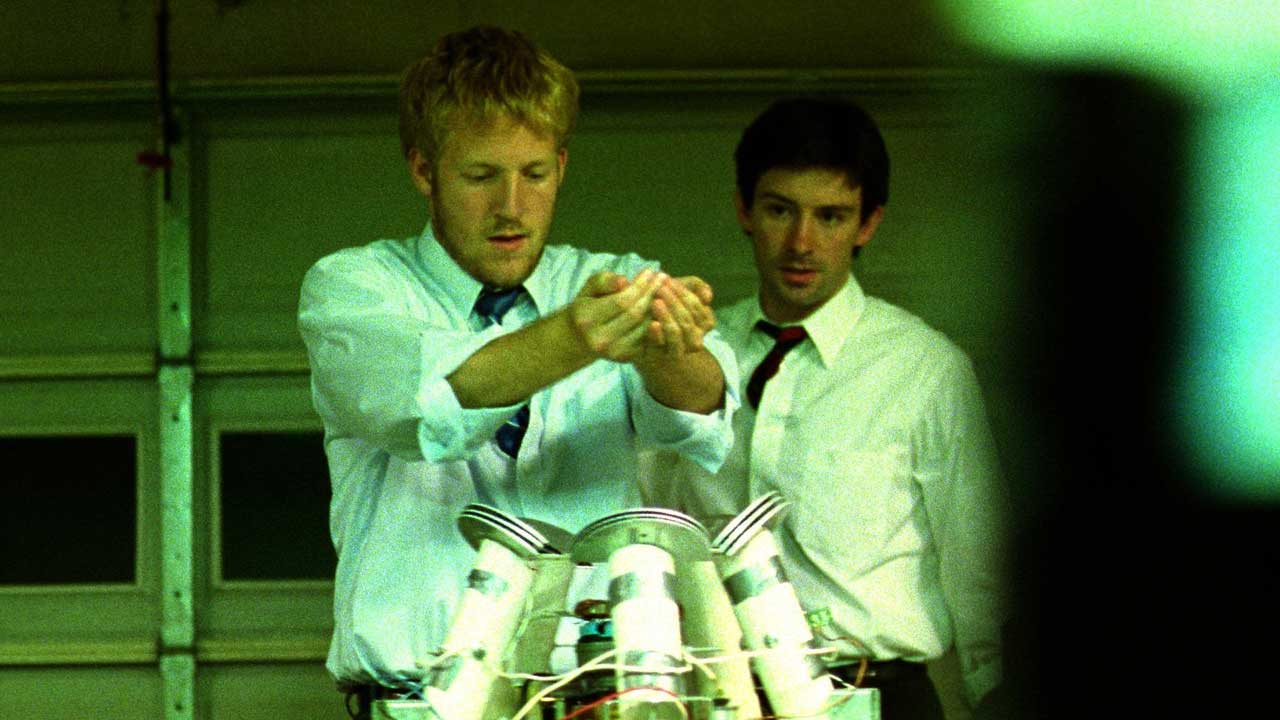 Primer
Shane Carruth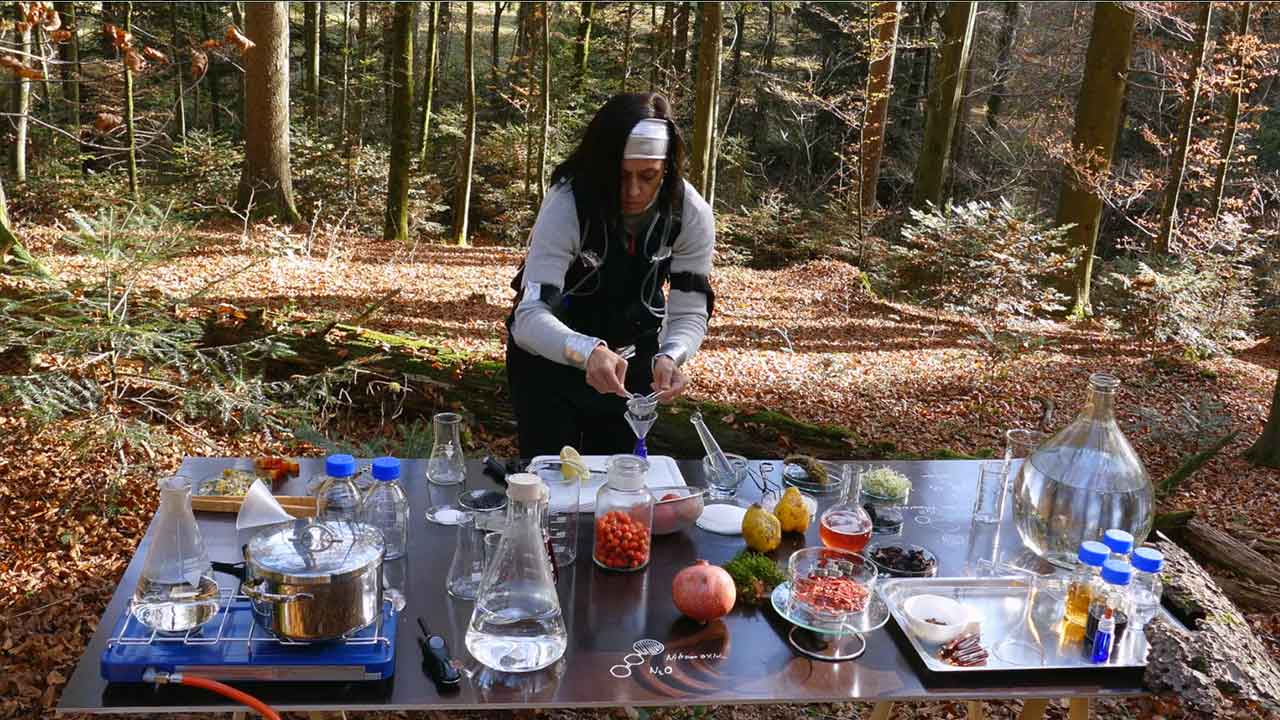 Twenty-One Percent
Ursula Biemann,Mo Diener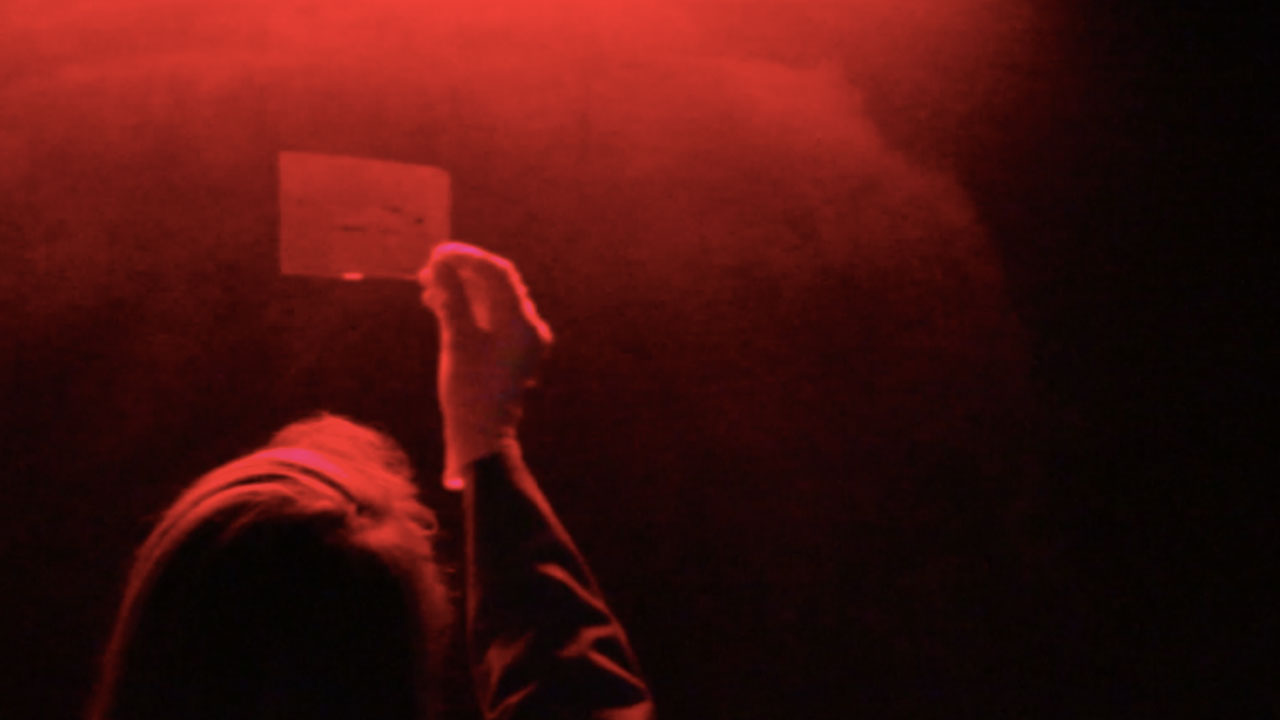 95%
Marie Coutelier,Alexandre Labarussiat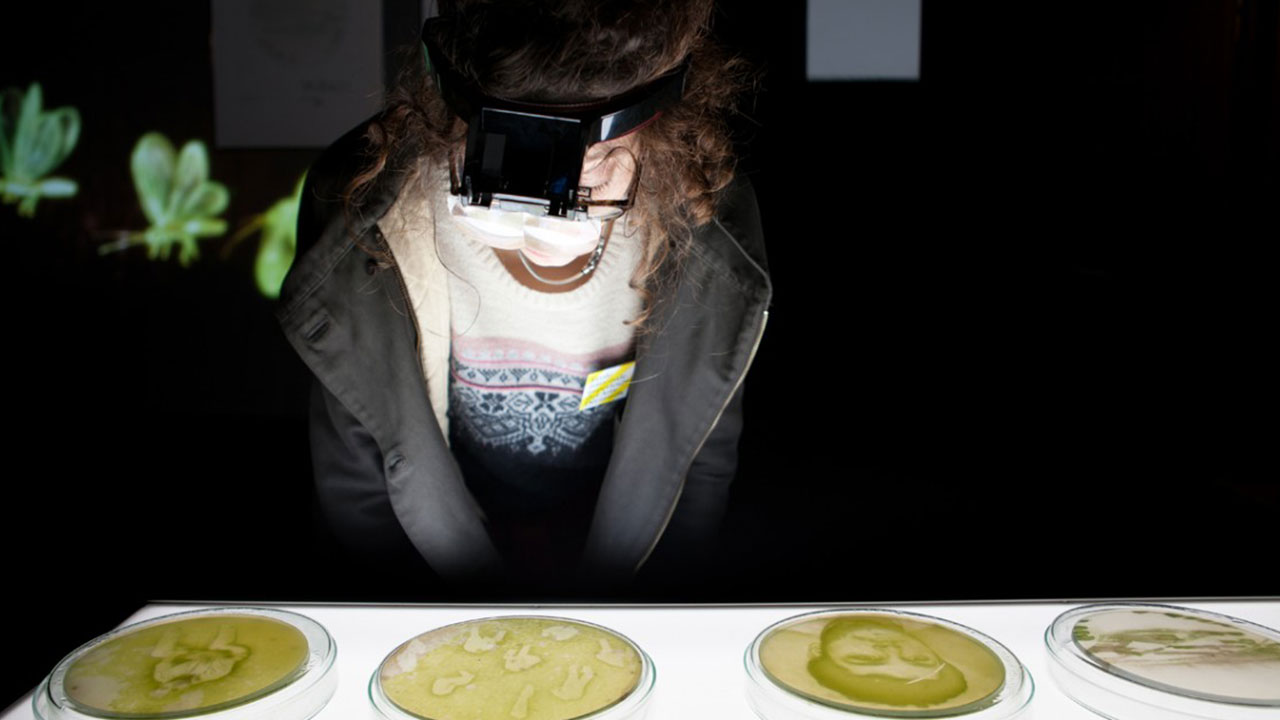 Cultures
Lia Giraud
Applied Metacinema
Nieto
Silent Passengers
Hirofumi Nakamoto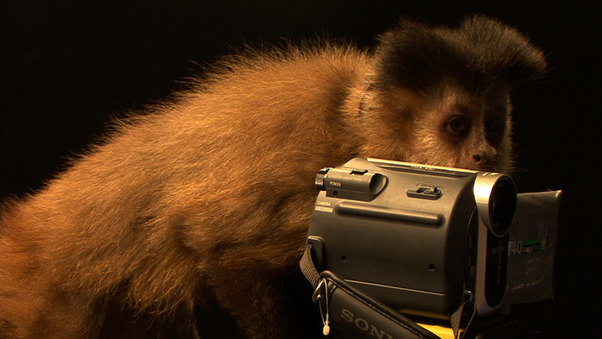 Capucine
Nieto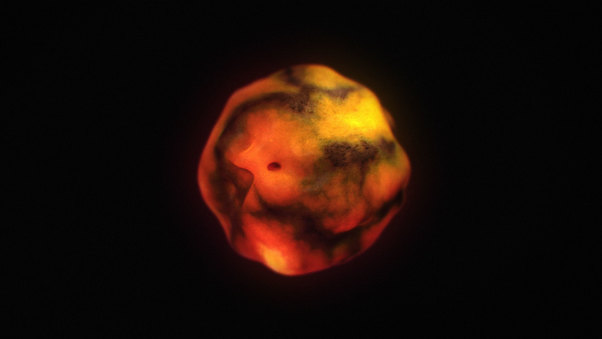 Icarus
César Pesquera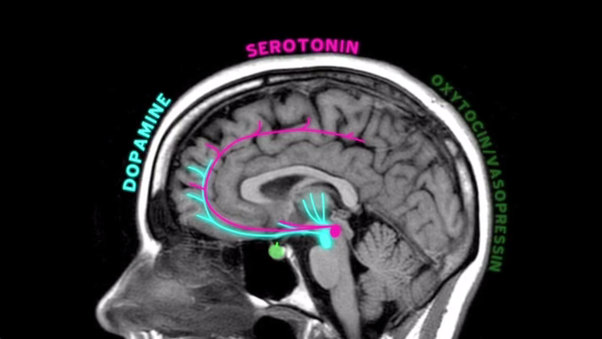 The Love Competition
Brent Hoff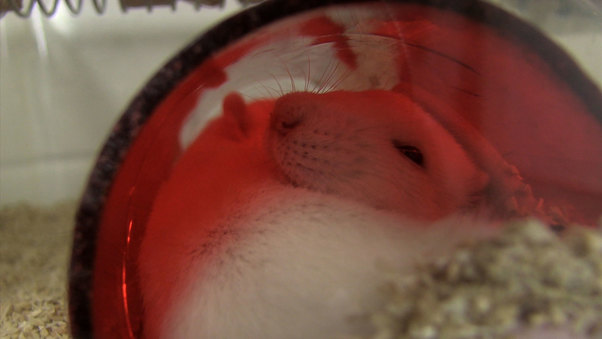 Number 32
Linnea Langkammer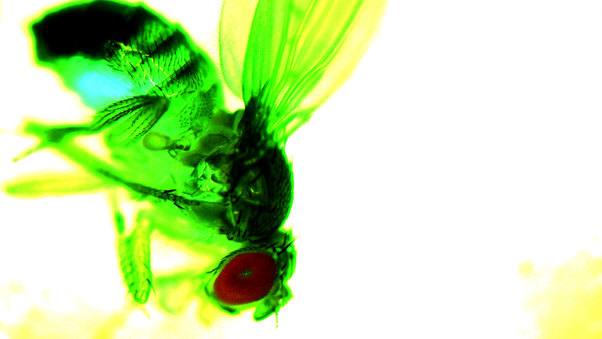 A Fruitfly in New York
Alexis Gambis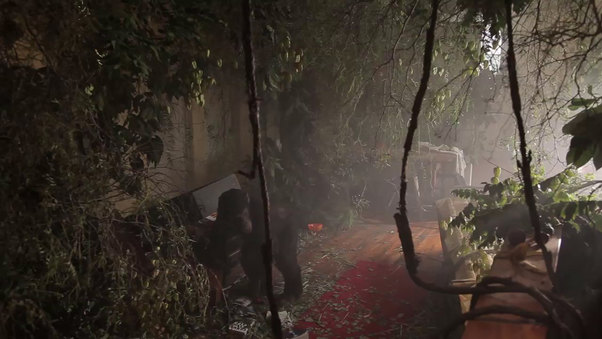 Primate Cinema: Apes as Family
Rachel Mayeri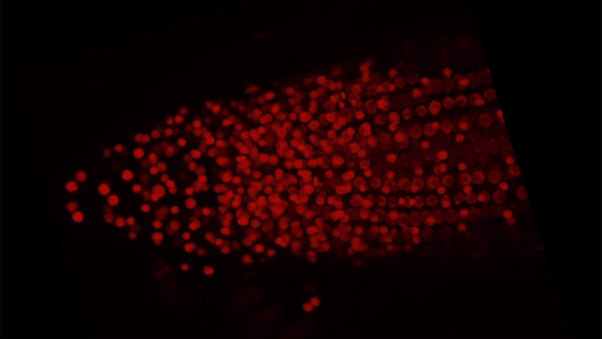 Root Tip Regeneration in Arabidopsis
Ramin Rahni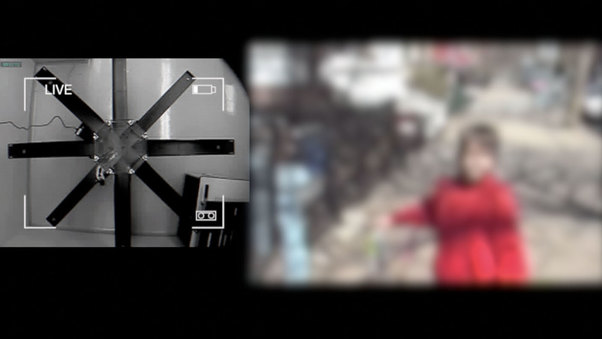 Murine Montage
Alexis Gambis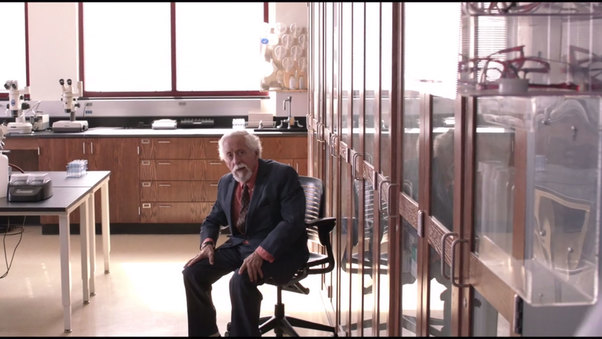 Nostalgic
Ronald Eltanal
Butterfly Wing Development in Culture (Painted Lady)
Nipam Patel,Ryan Null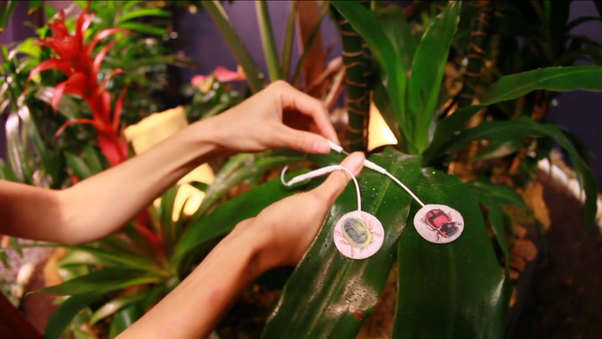 Other Voices
Sarah Enid Hagey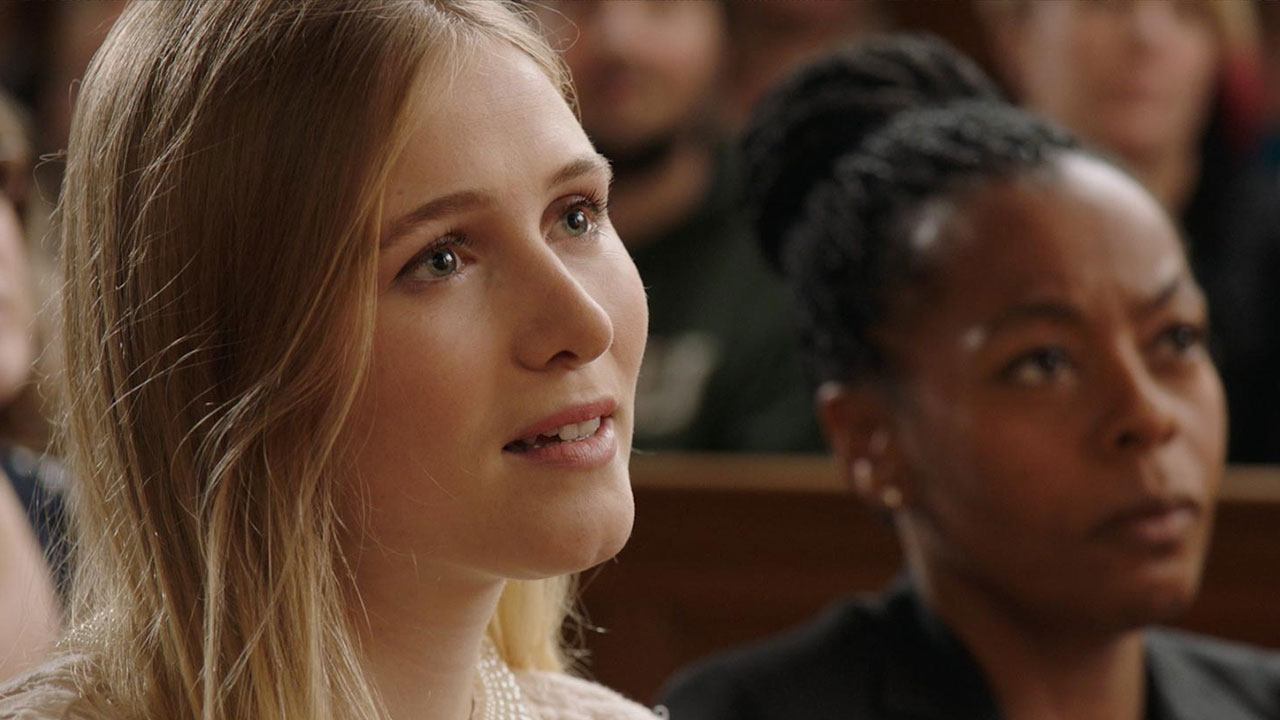 On Being a Scientist
Gosja Klivtonne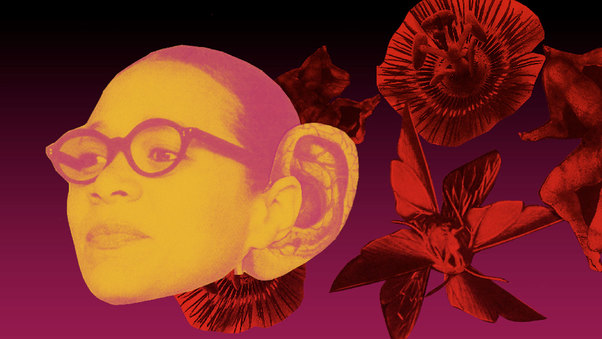 The Strange Eyes of Dr. Myes
Nancy Andrews
A Fly Called Fig
Samuel Ridgeway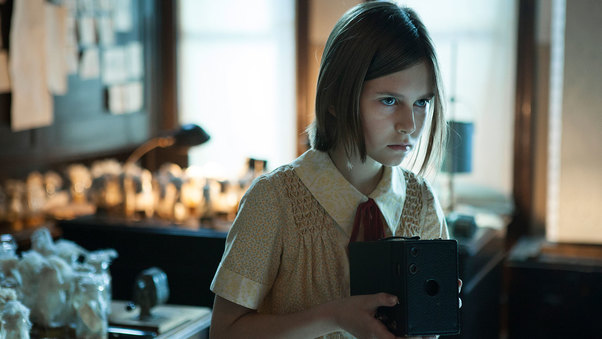 The Fly Room
Alexis Gambis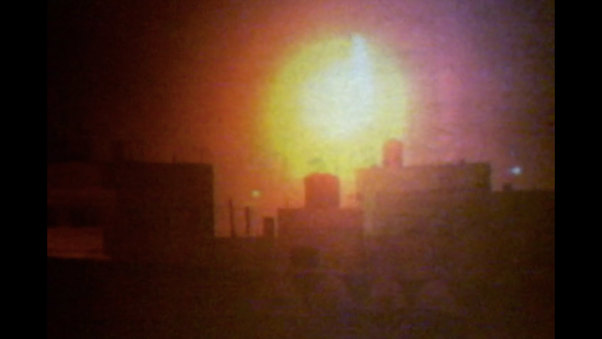 Escape from Planet Tar
Luigi Campi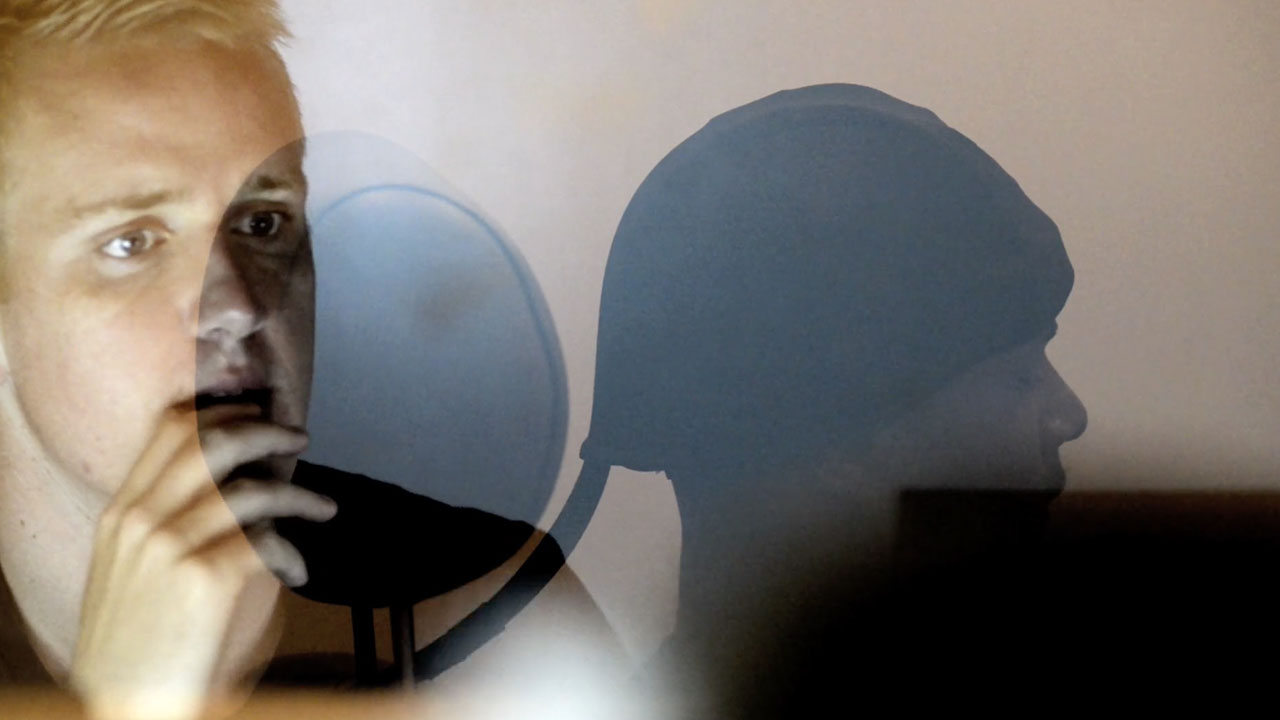 Apparatus Synapse
William Noland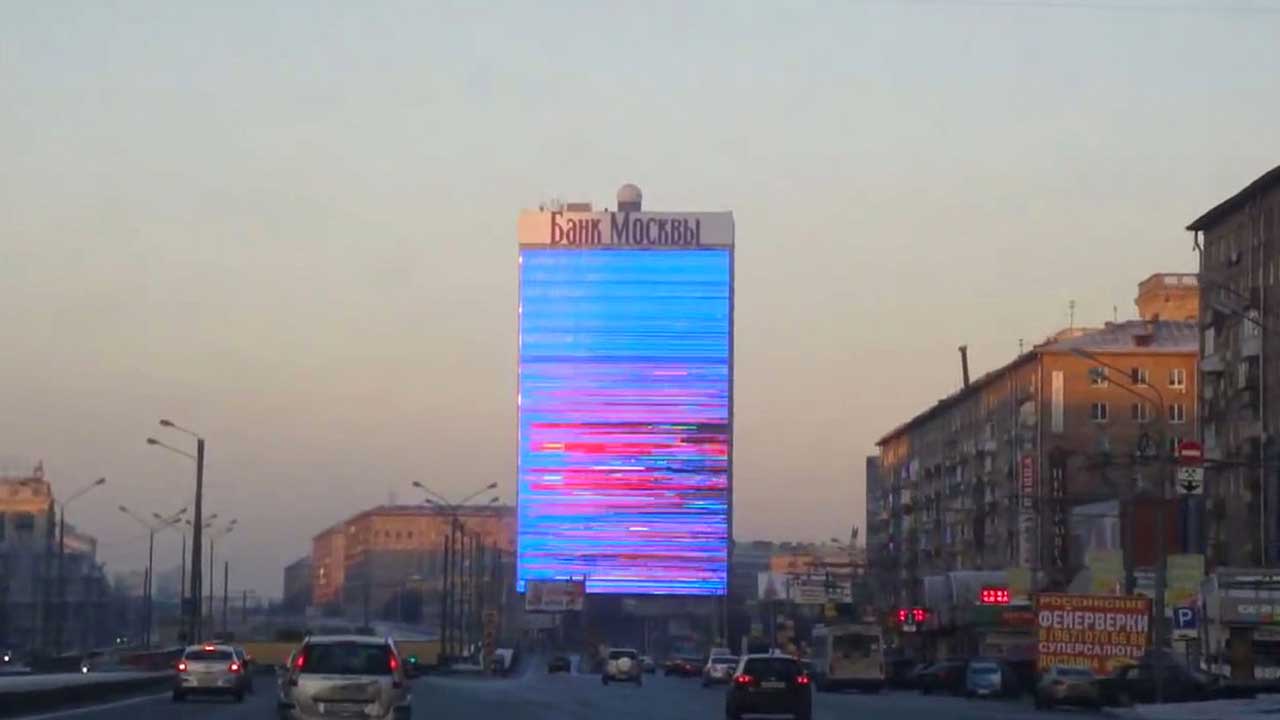 Immortality, home and elsewhere
Sasha Litvintseva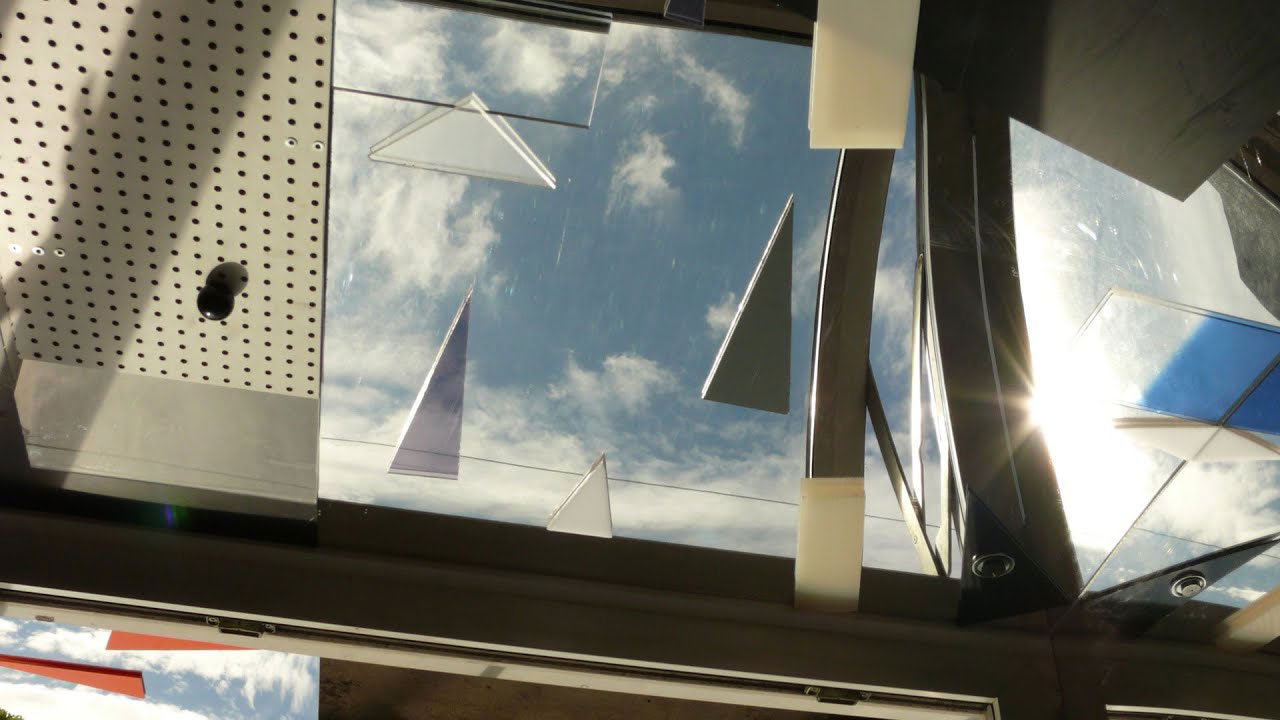 AANAATT
Max Hattler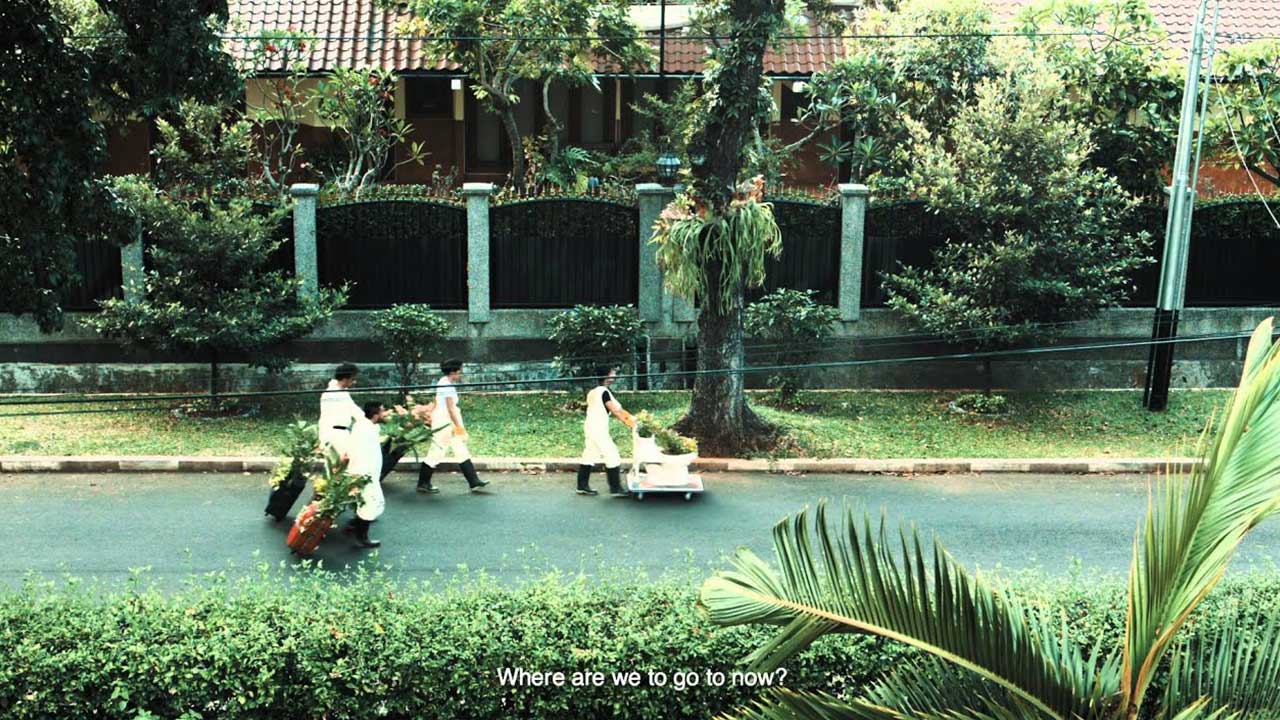 Flutter Echoes and Notes Concerning Nature
Amir Pohan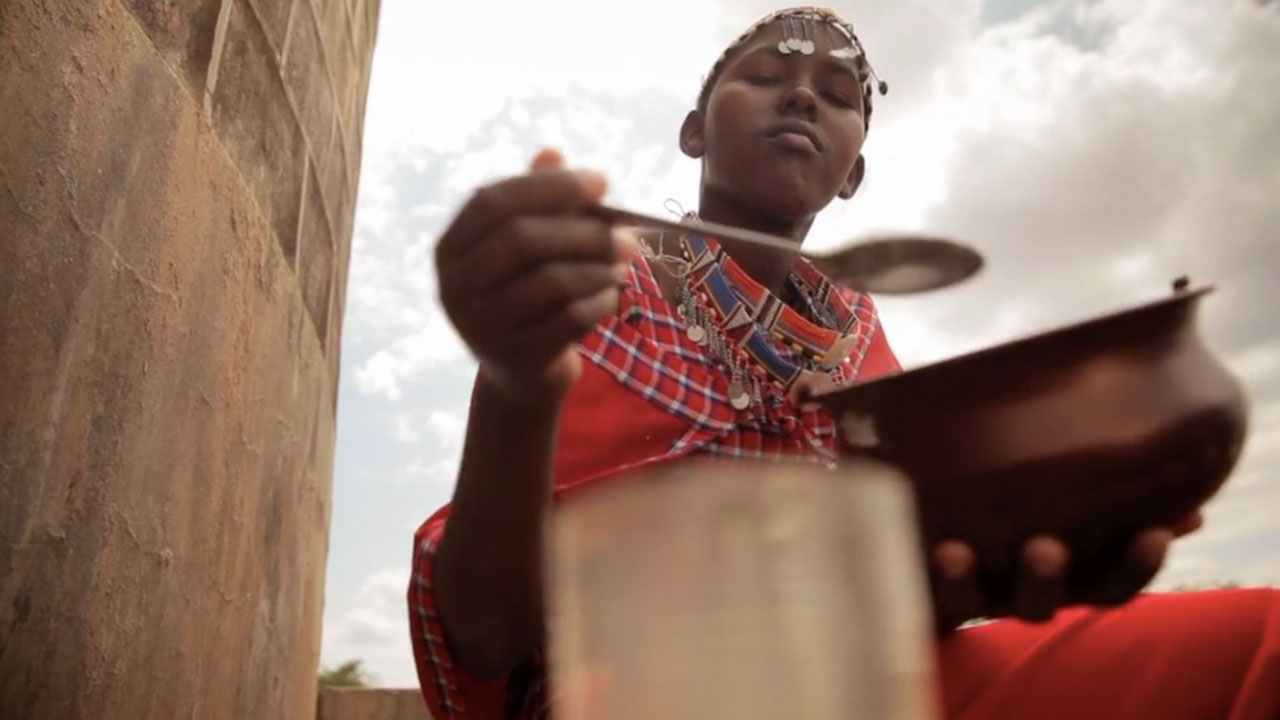 Full Proof - Salt
Uif Putters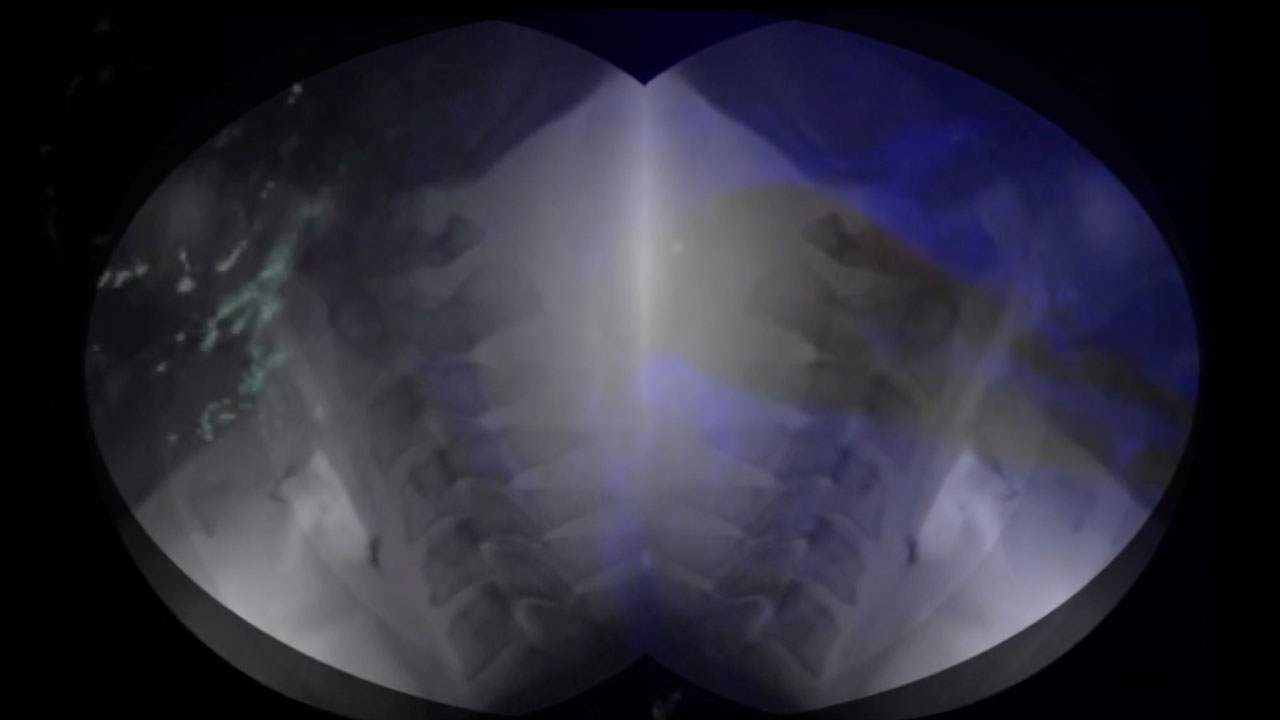 Mi Tierra Invincible (My Invincible Land)
Juan Miceli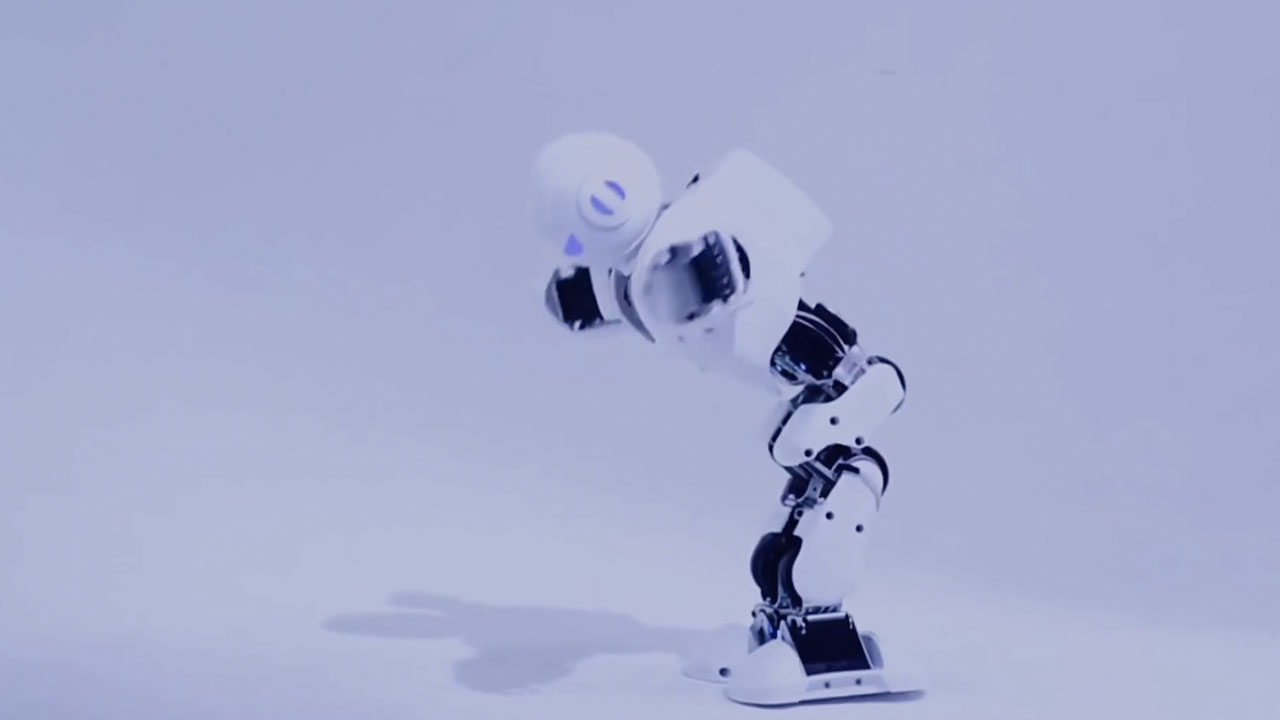 The Human Robot
Rob Van Hattum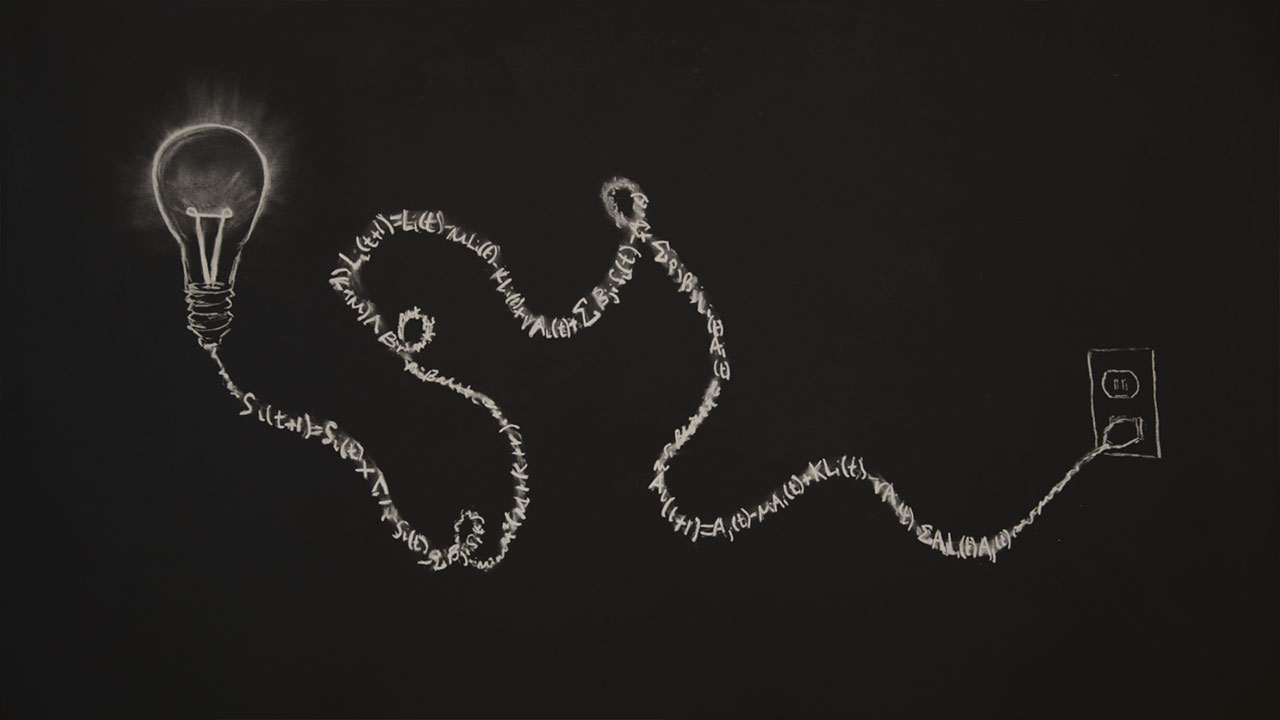 Persistence & Vision
Mahalia Lepage,Jeremiah Yarmie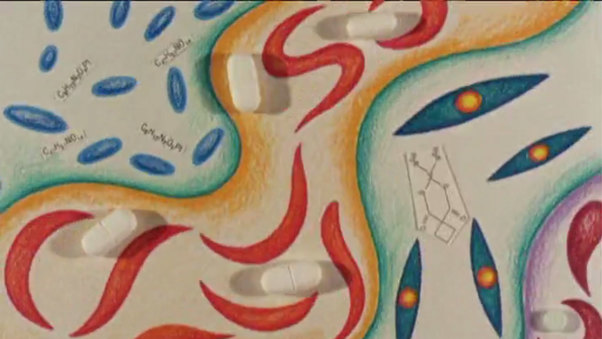 Twist of Fate
Karen Aqua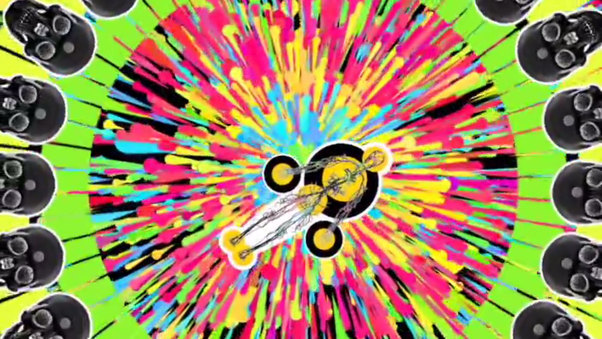 Nanosporin AI
Stephen Hal Fishman
Mary Shelley's Frankenstein
Kenneth Branagh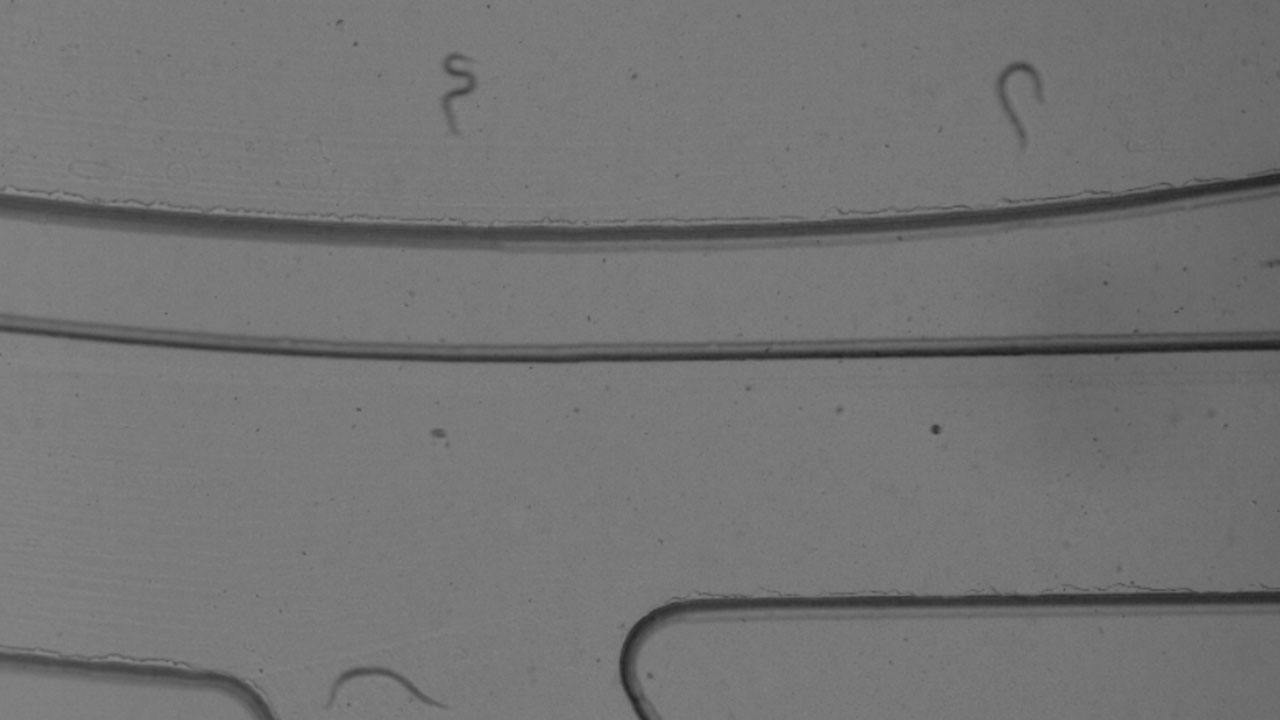 Separation of Eggs and Worms in a Spiral Chip
Rafael (Yong-Ak) Song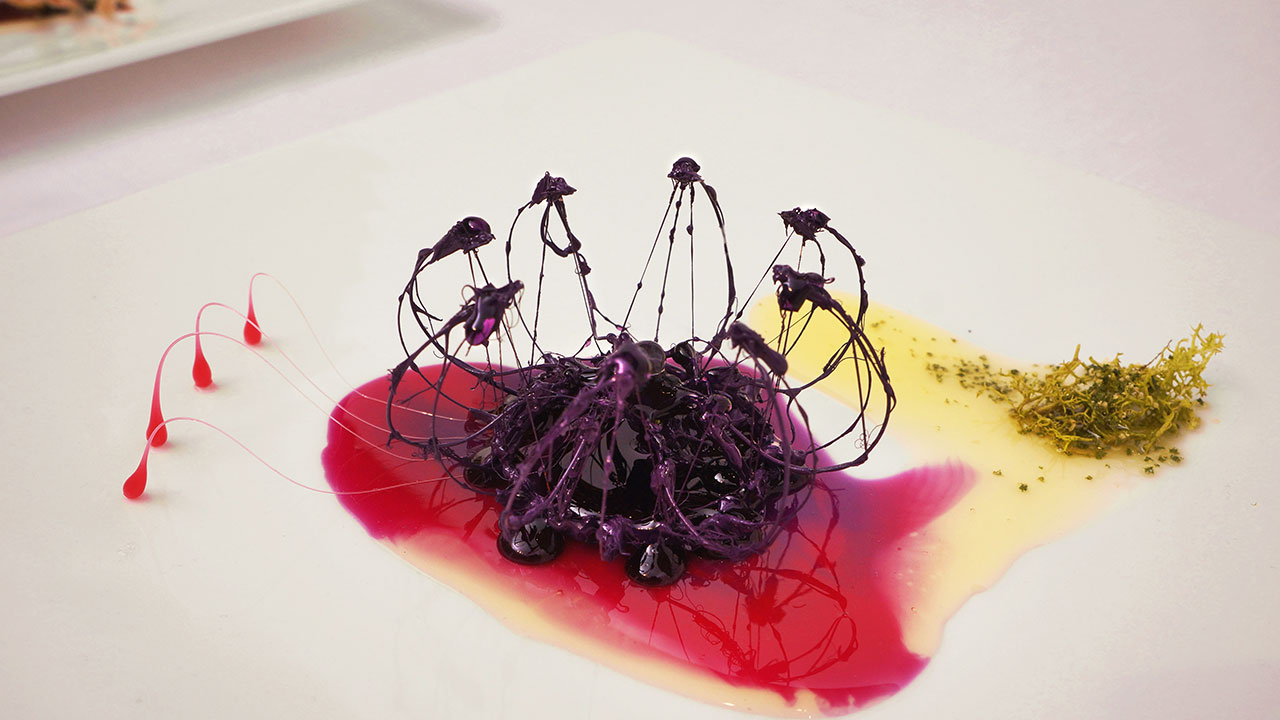 Living Food
Minsu Kim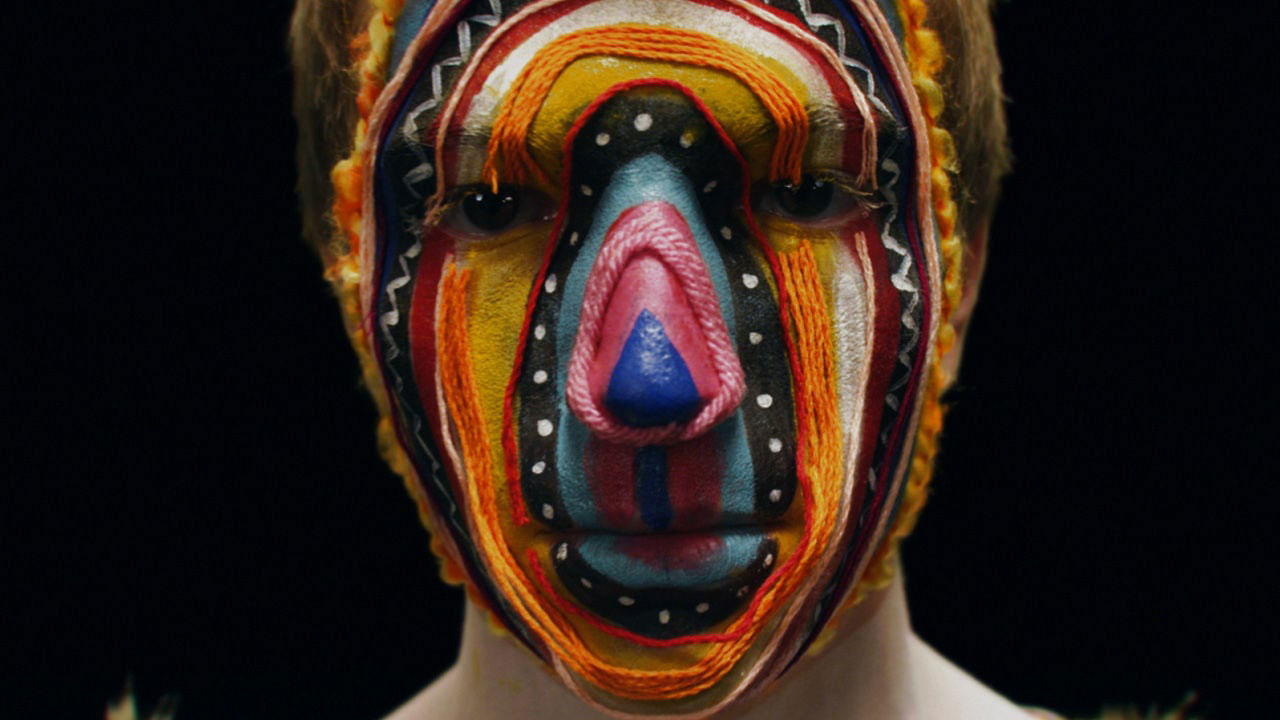 Solipsist
Andrew Huang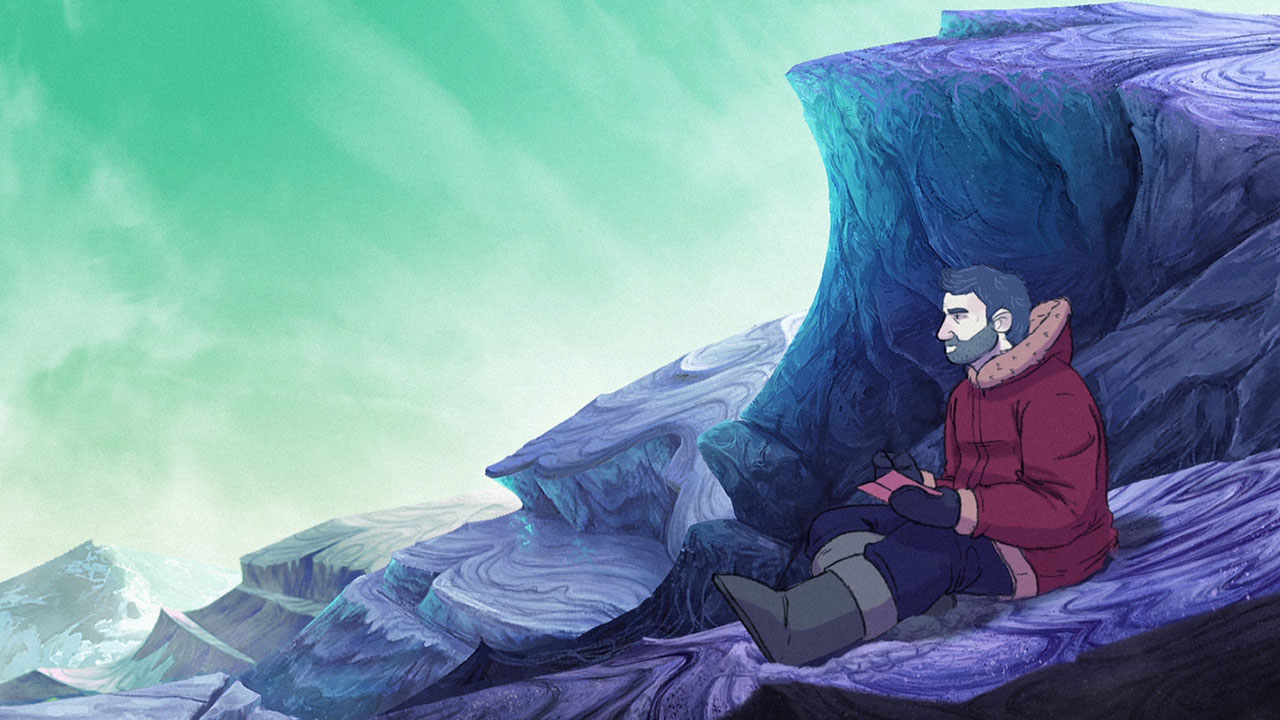 Below 0°
Itai Hagage,Jonathan Gomez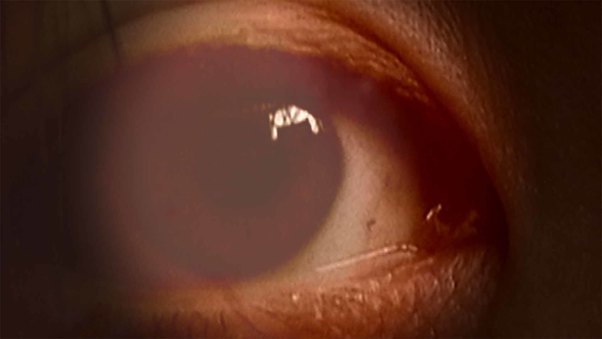 Amygdala
Jeannette Louie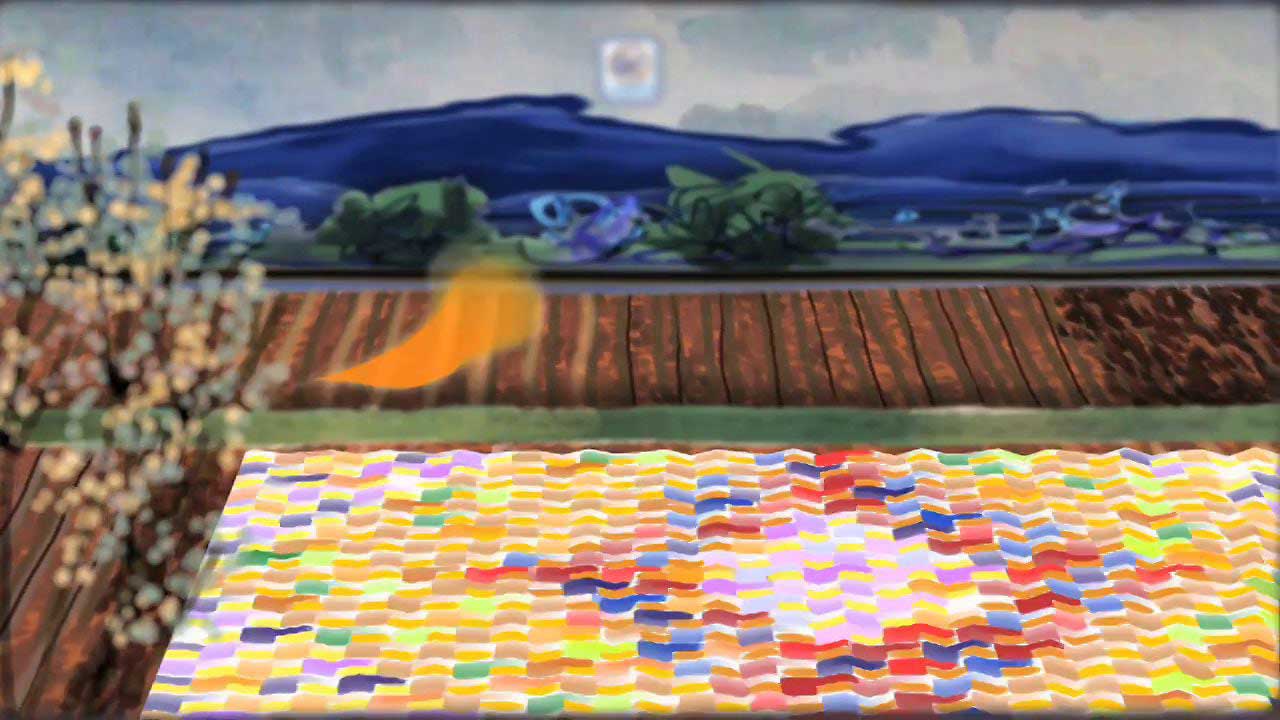 An Eyeful of Sound
Samantha Moore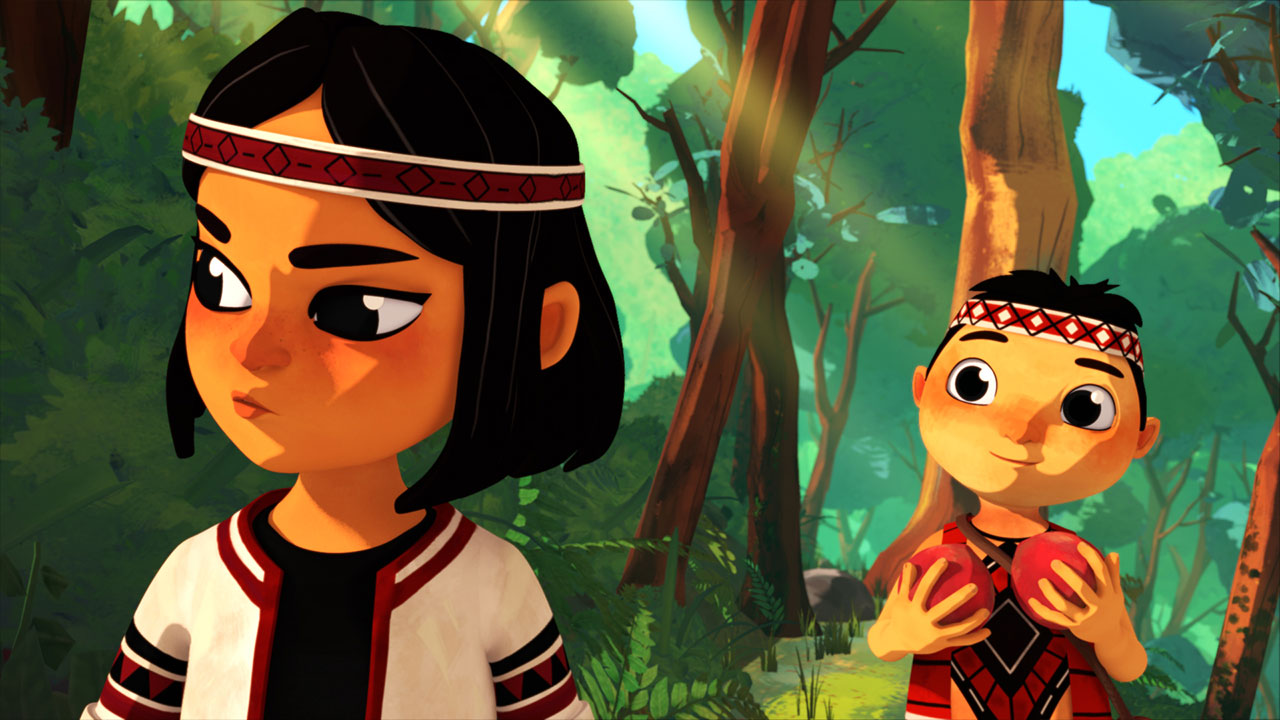 Go Go Giwas - Episode 1
Yi-Feng Kao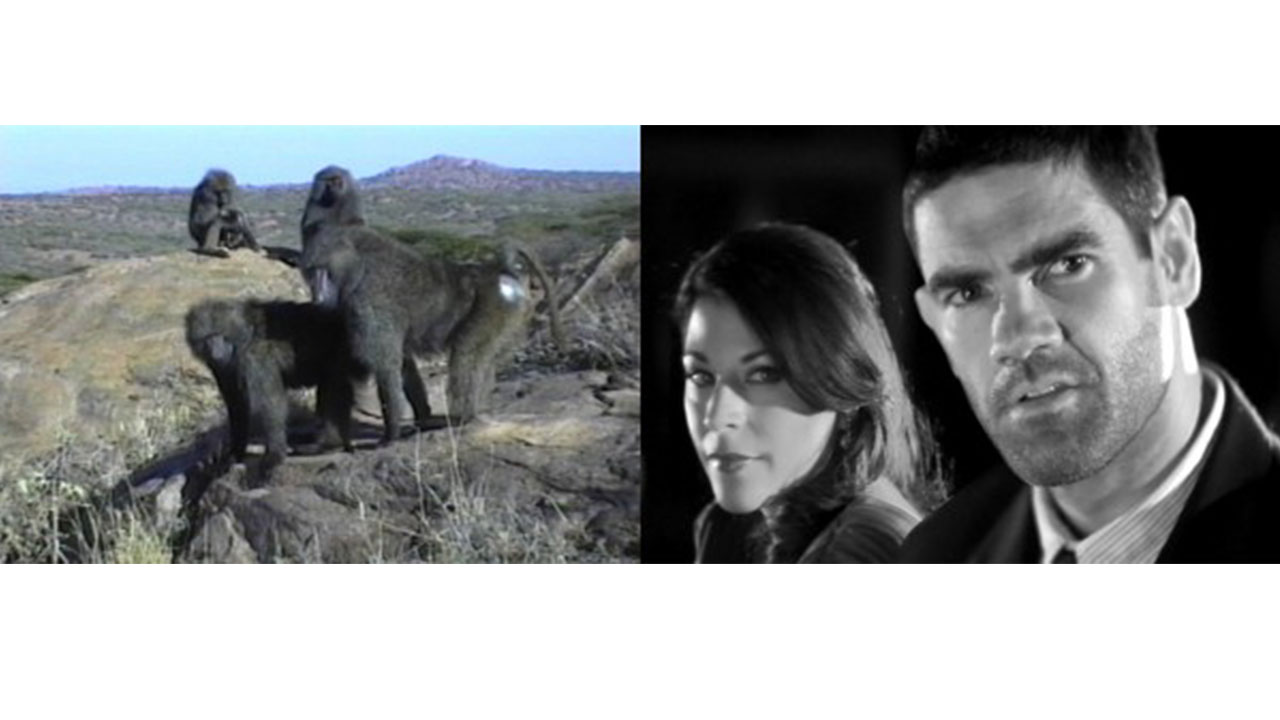 Primate Cinema: Baboons as Friends
Rachel Mayeri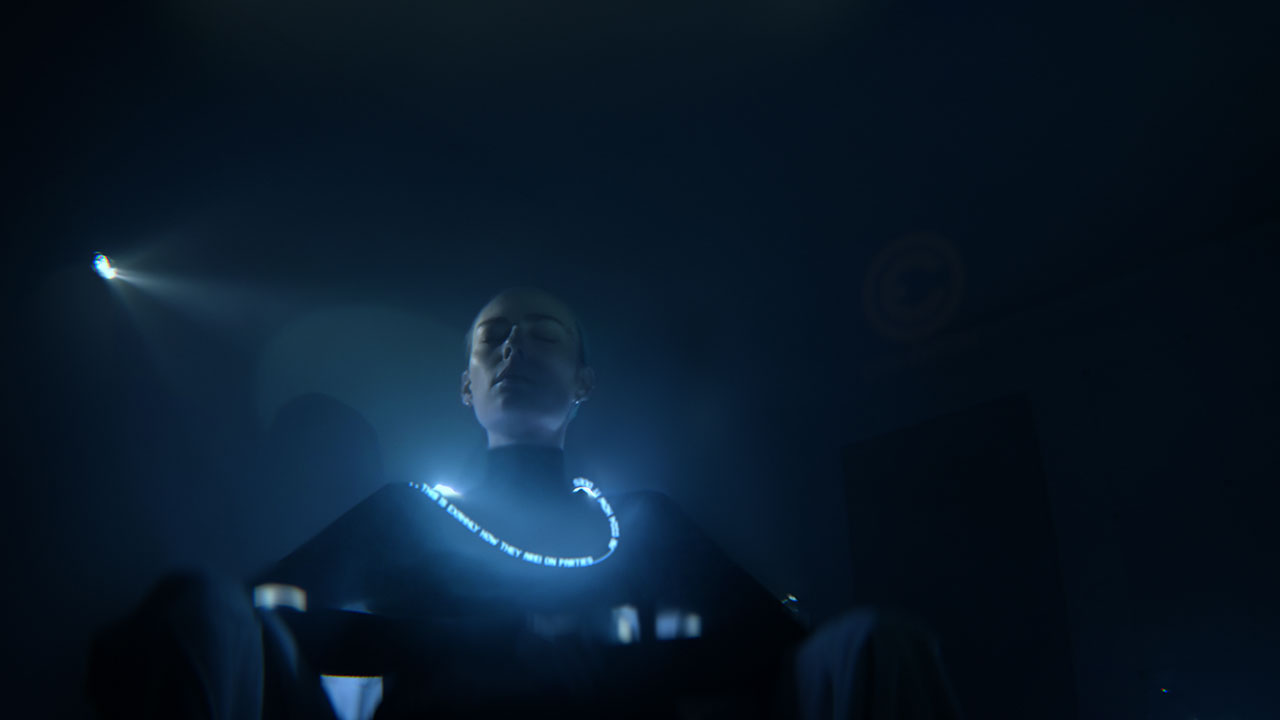 Photon
Norman Leto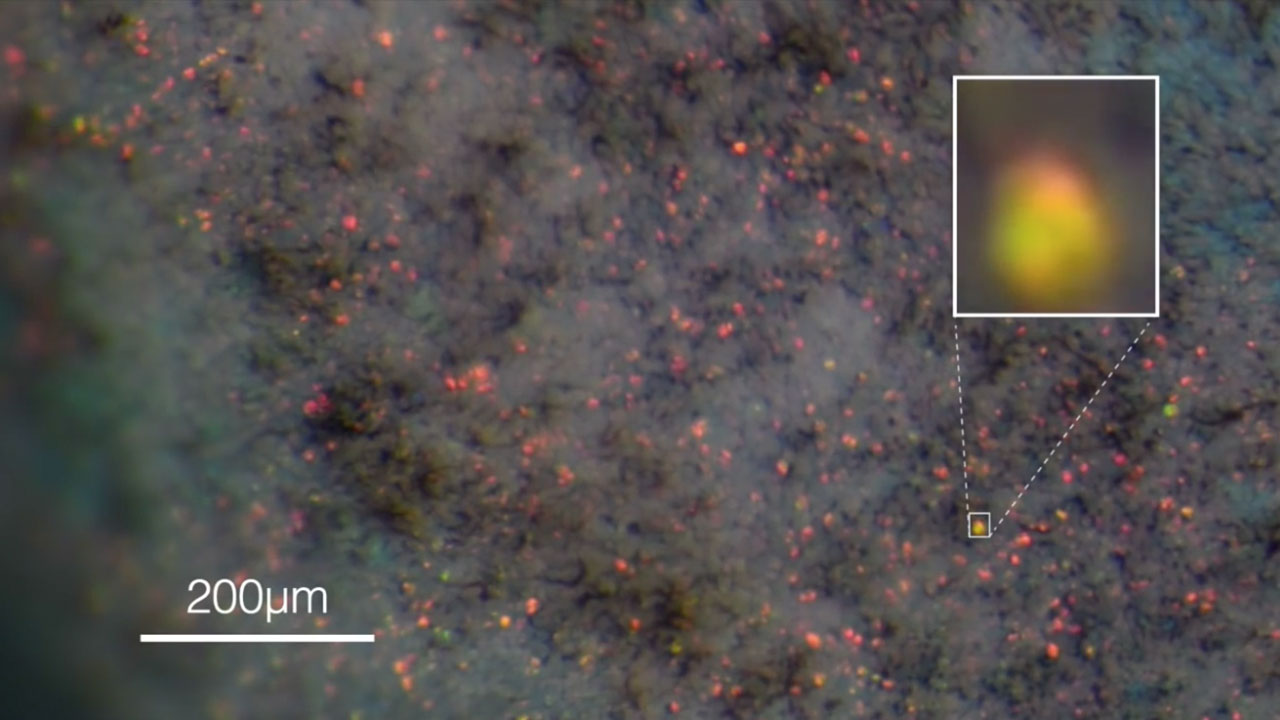 Chameleon colour change (Suppl Movie S4)
Michel Milinkovitch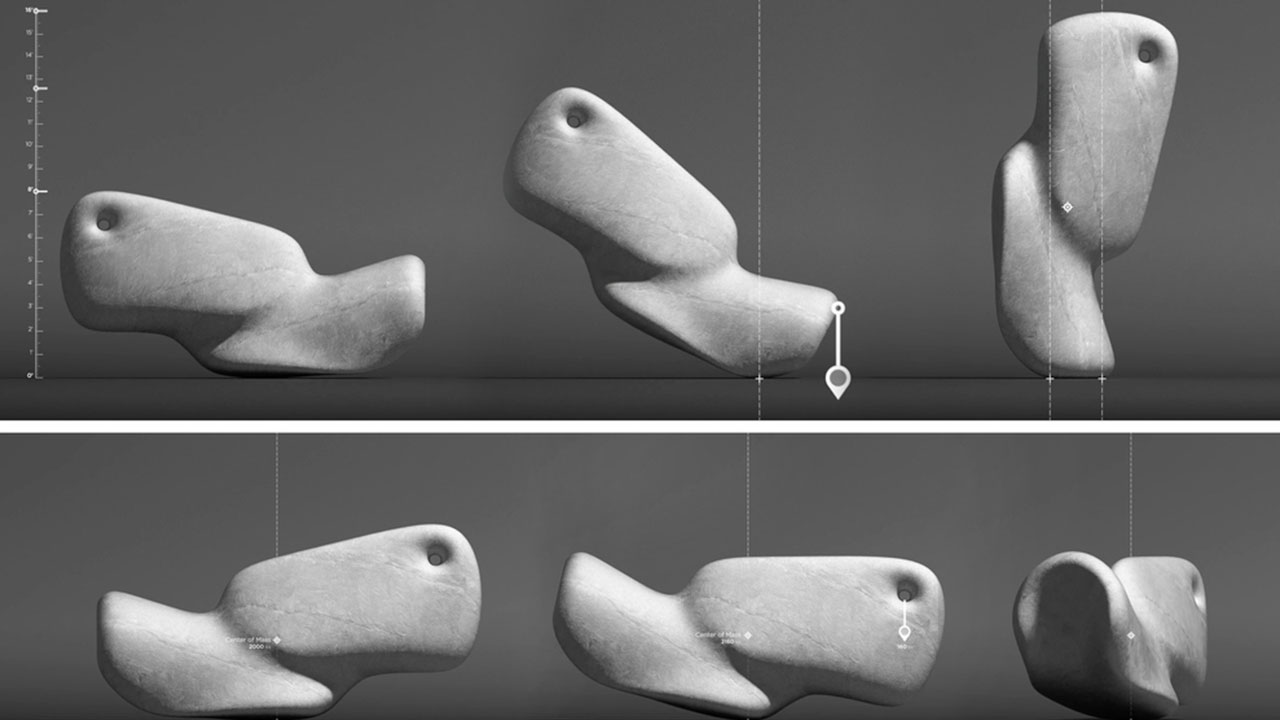 The Math Behind the McKnelly Megalith
Matter Studios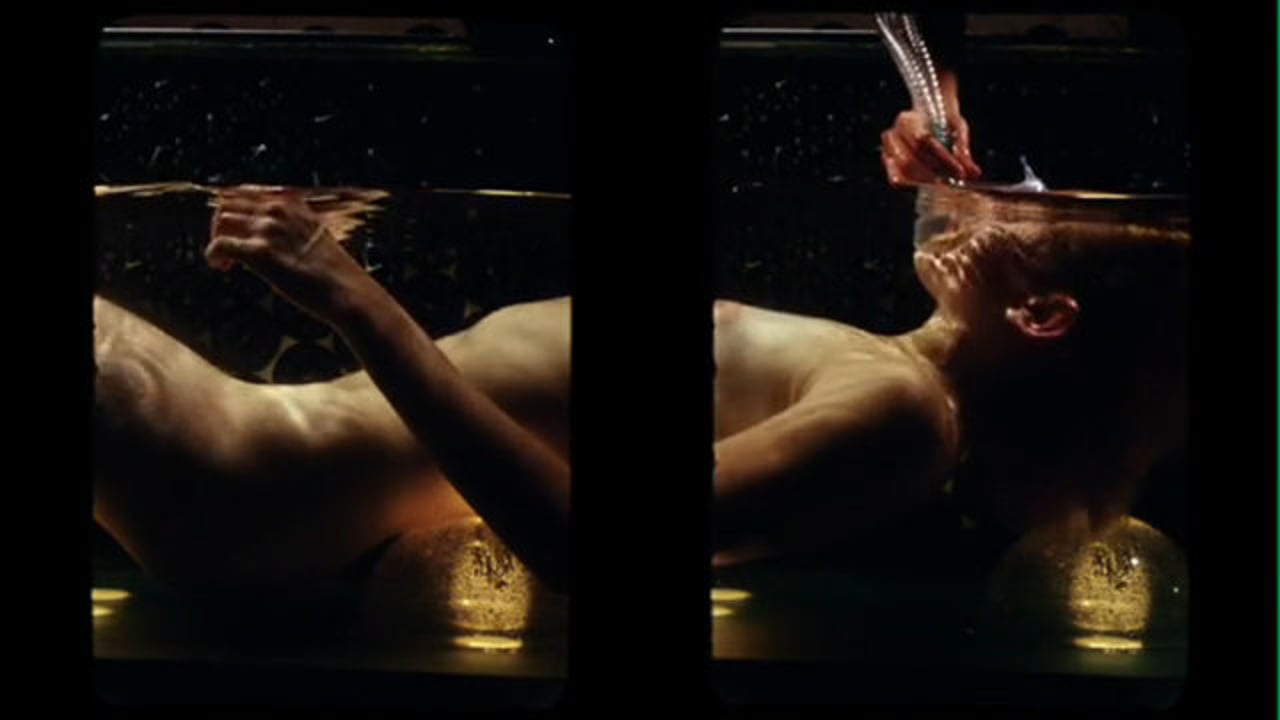 Secret Machine
Reynold Reynolds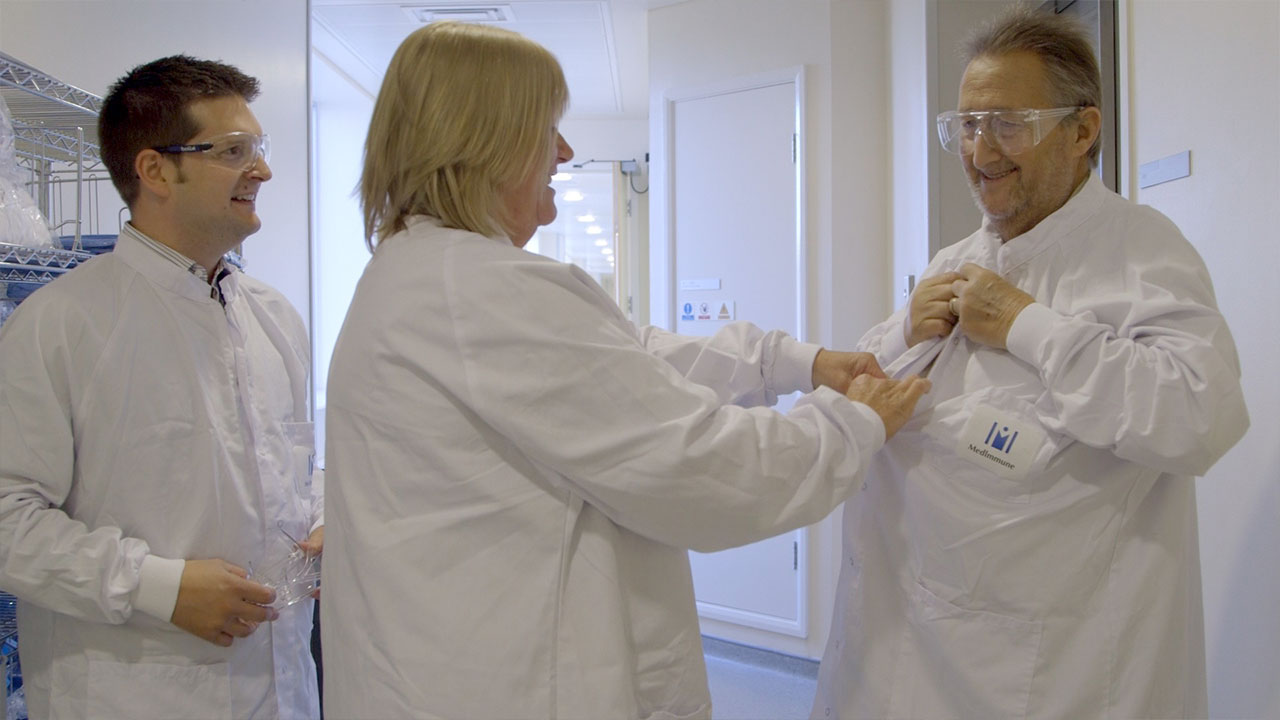 The Pain Detective
Barry J. Gibb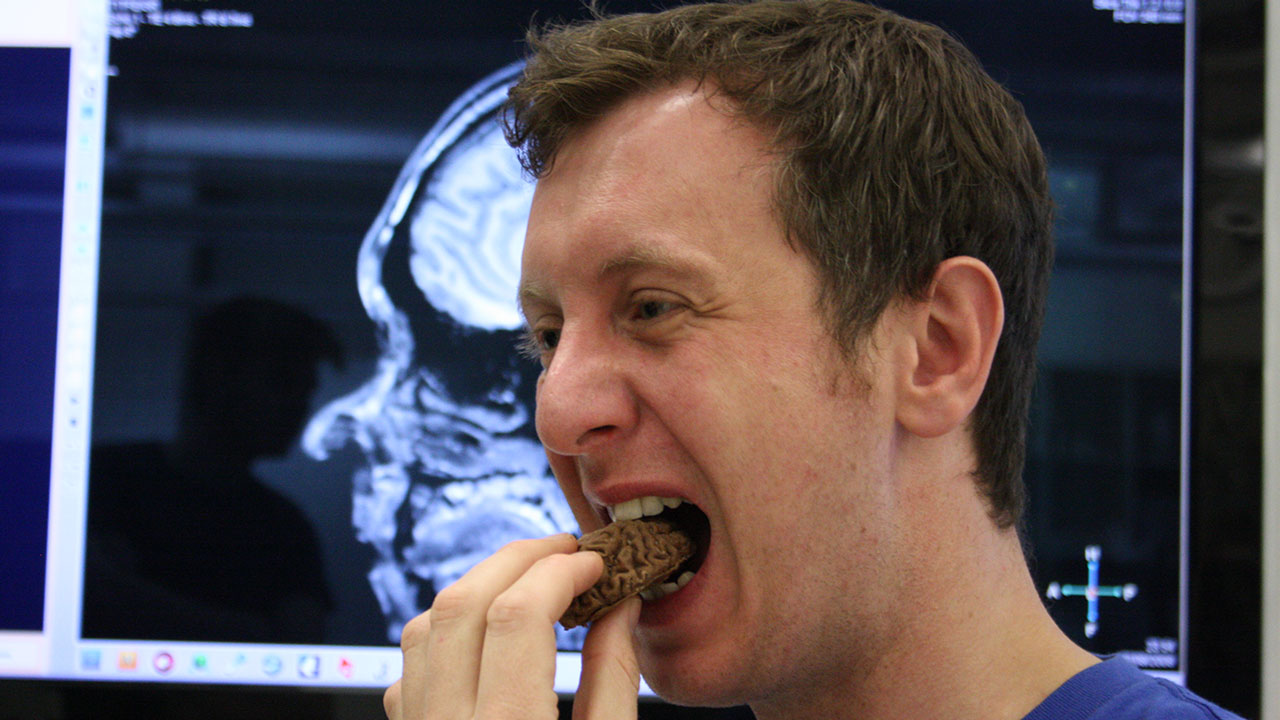 How To Eat Your Own (Chocolate) Brain!
Andy Millns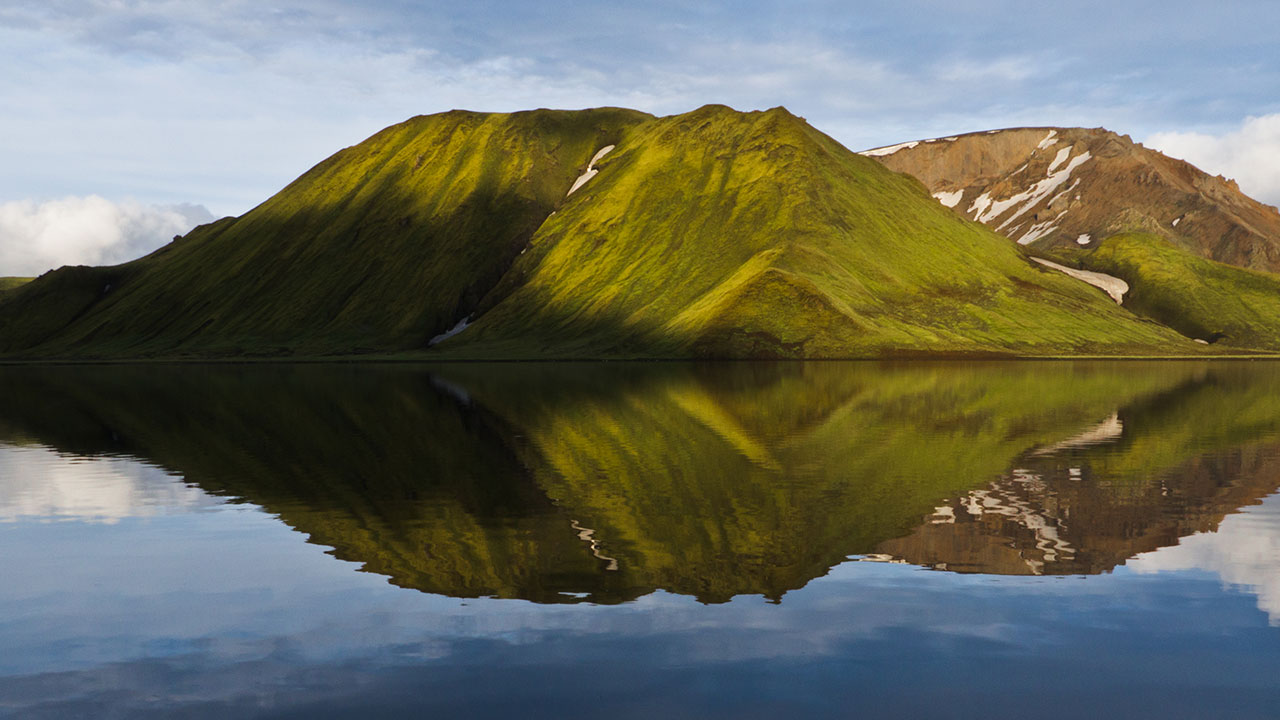 Meta (3.1 / km²)
Sandro Bocci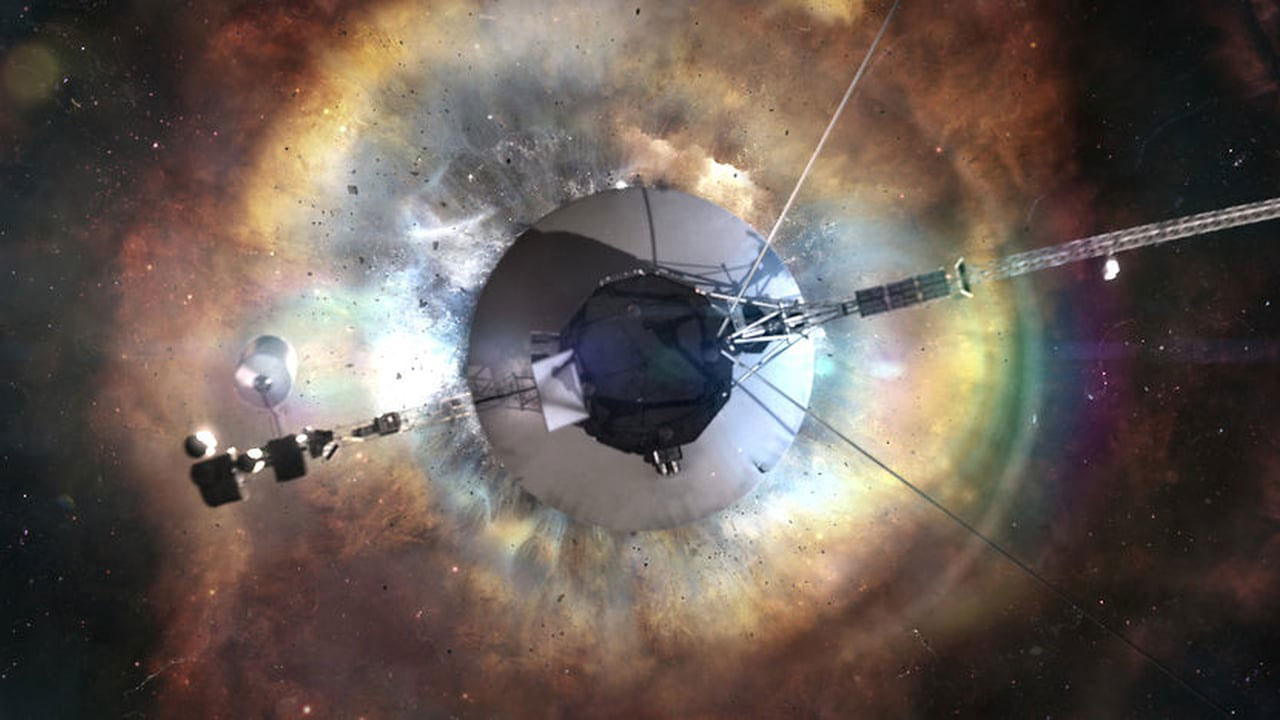 Stardust
Mischa Rozema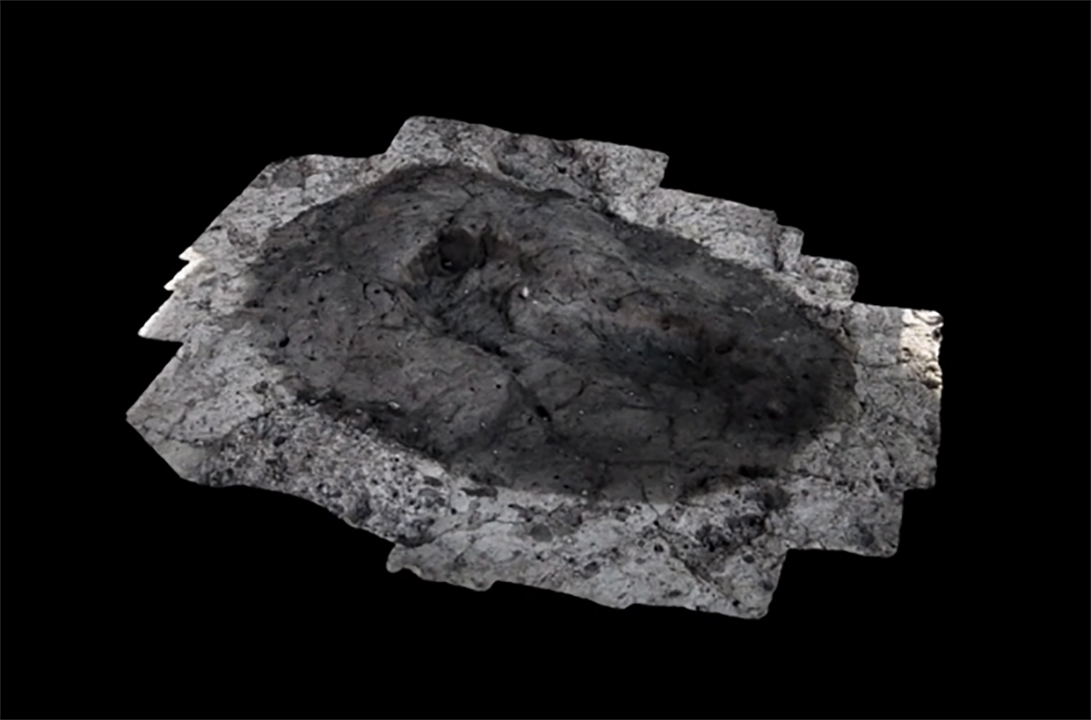 Encoded/Exploded
David Sherman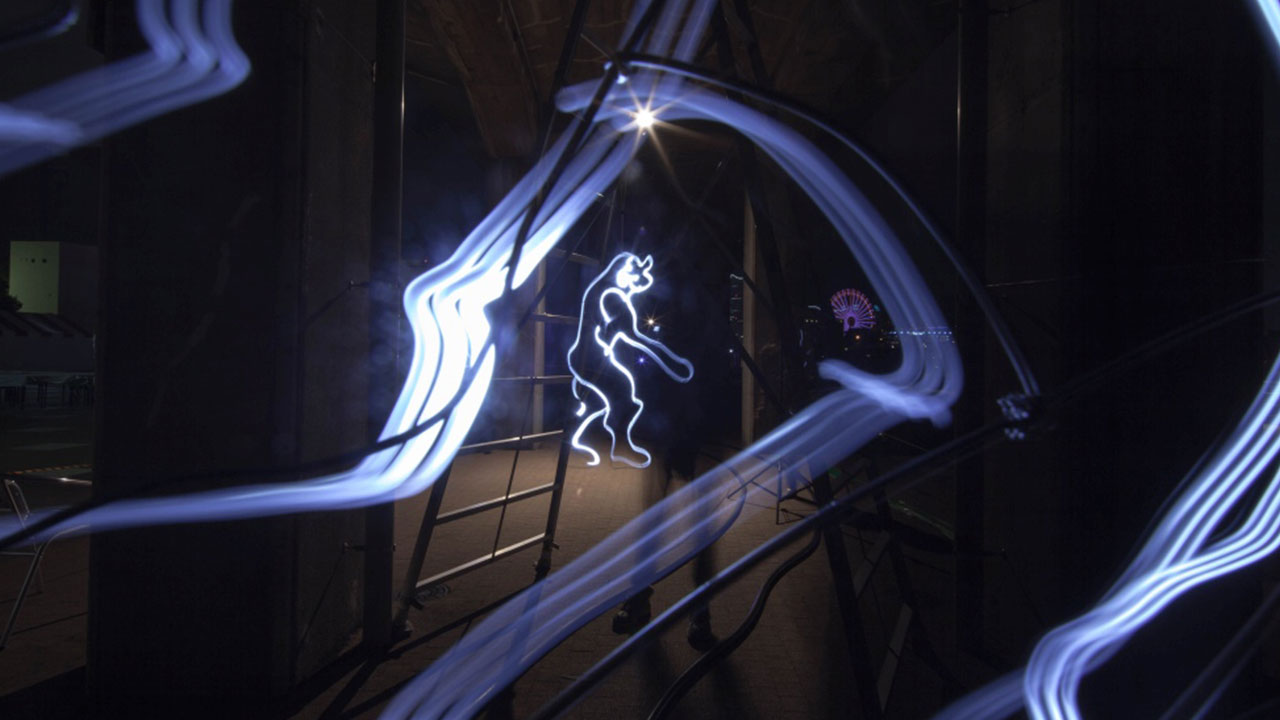 Track
TOCHKA (Takeshi Nagata & Kazue Monno)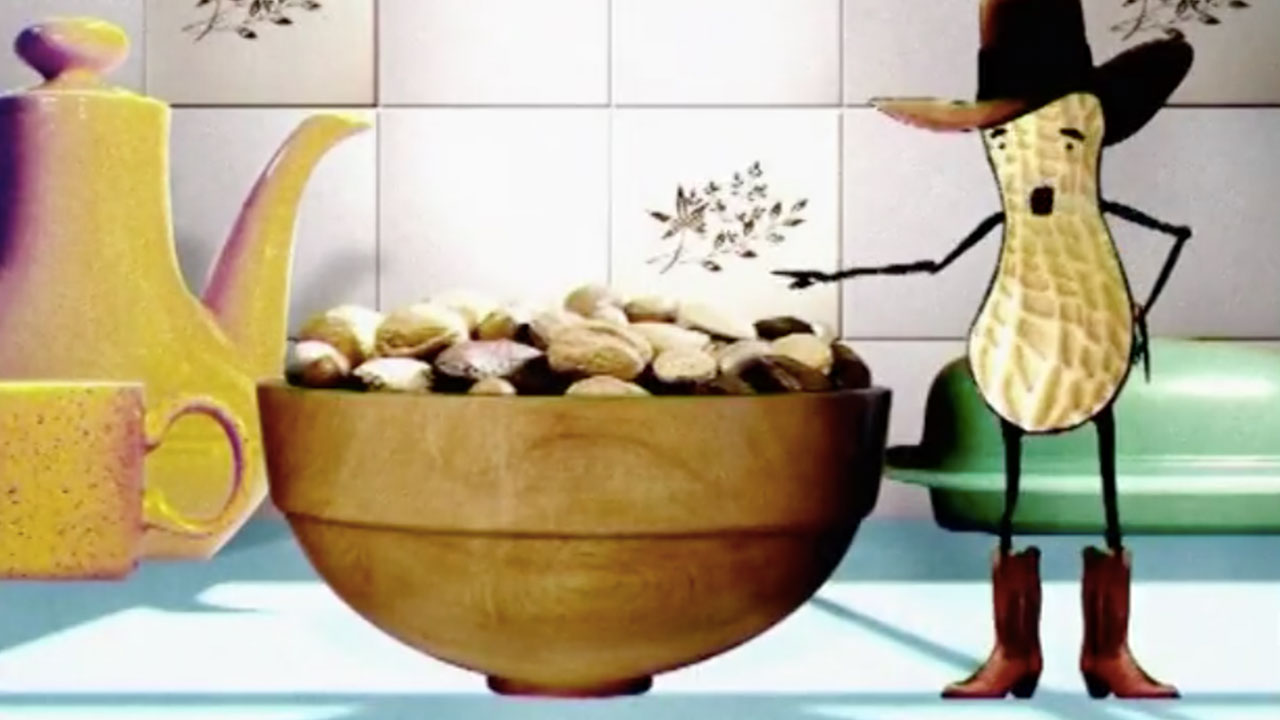 The Luckiest Nut in the World
Emily James
Protoparticles
Chema García Ibarra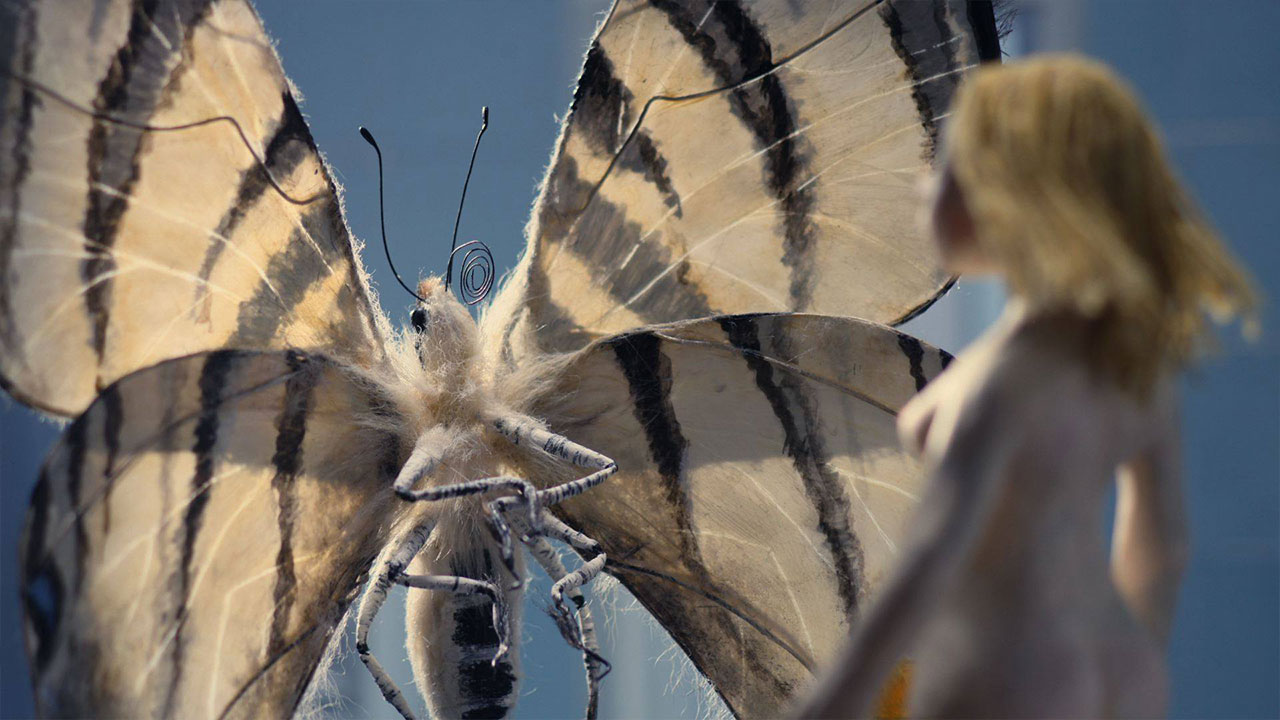 Kosmos (Cosmos)
Daria Kopiec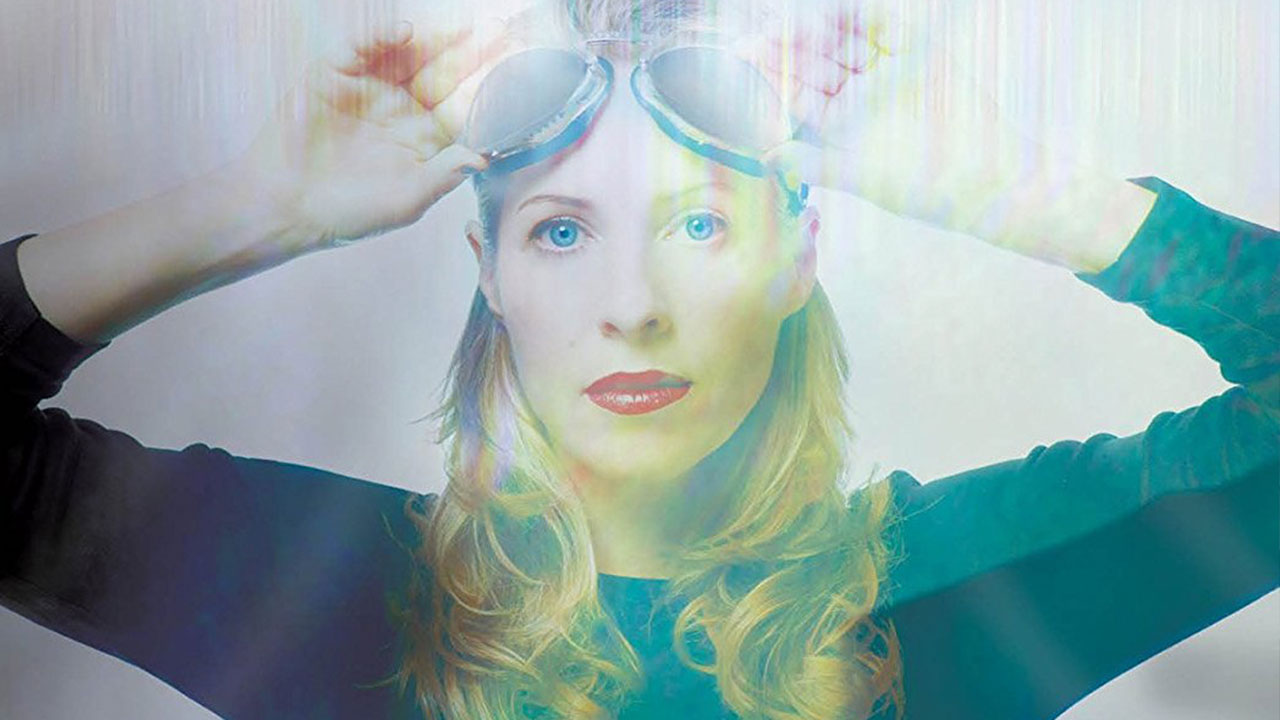 Connected: An Autoblogography about Love, Death & Technology
Tiffany Shlain
Leviathan
Lucien Castaing-Taylor,Verena Paravel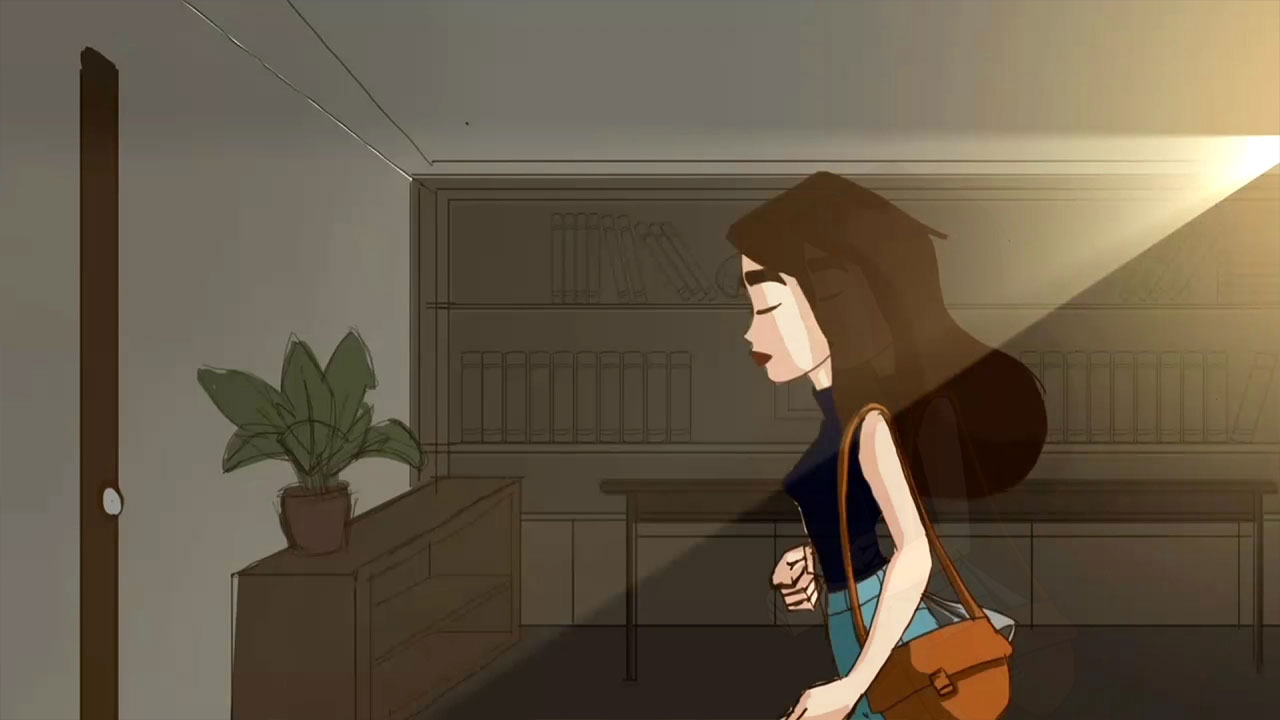 Collision
Nina Abouzeid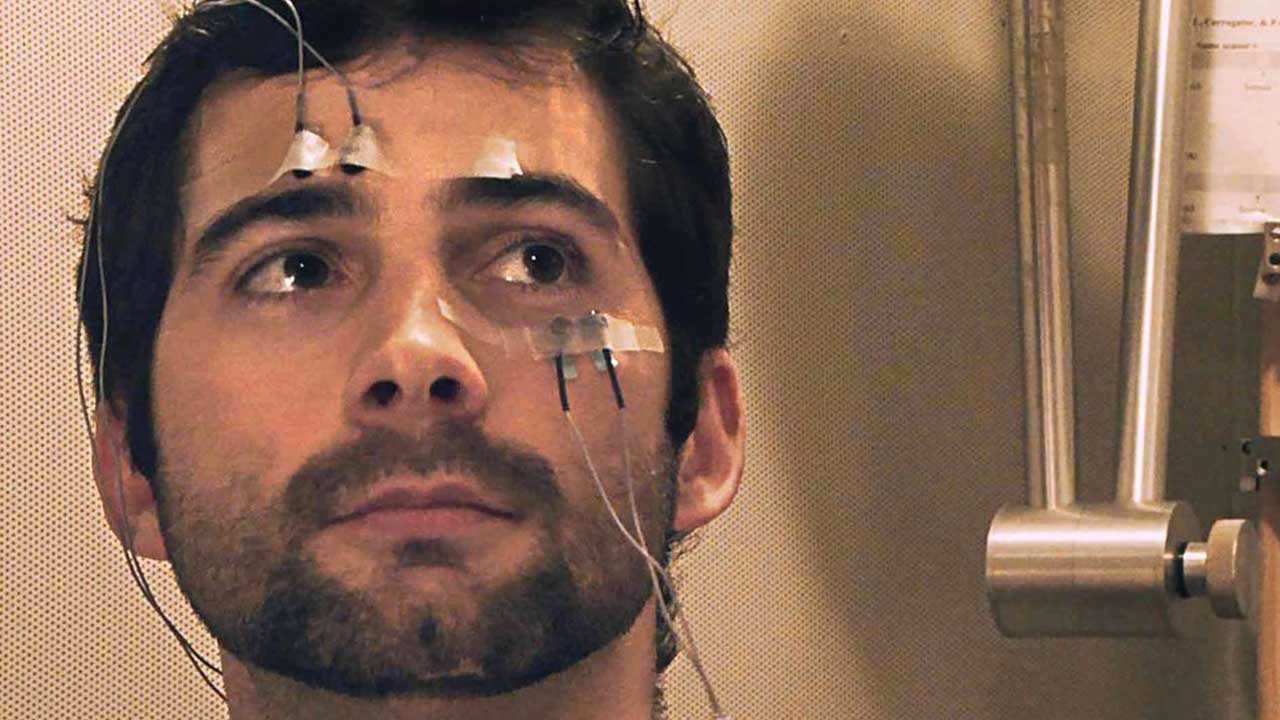 Free the Mind
Phie Ambo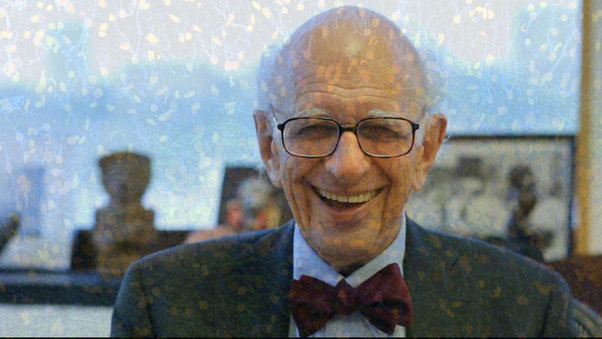 My Mind's Eye - Mapping the Mind: An Interview with Eric Kandel
Alexis Gambis
Lost in Words
Ivyy Chen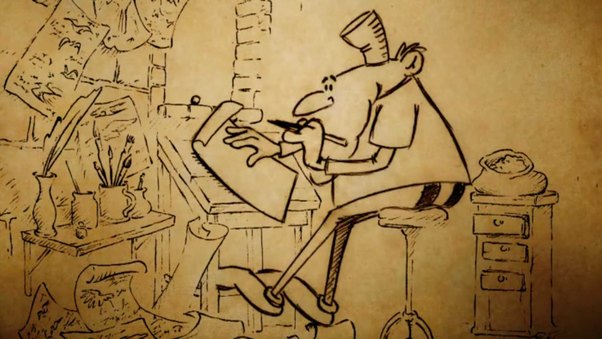 Leonardo
Jim Capobianco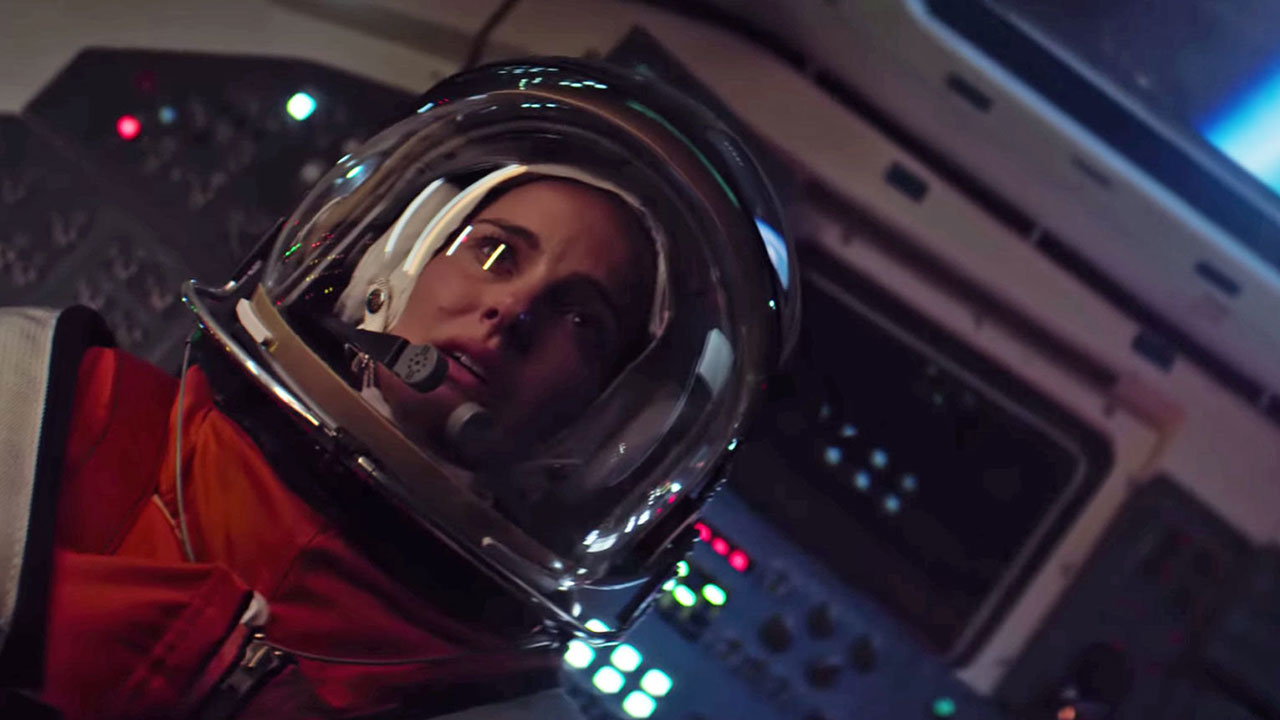 Lucy in the Sky
Noah Hawley
The Experimenter
Michael Almereyda
Dead. Tissue. Love
Natasha Austin-Green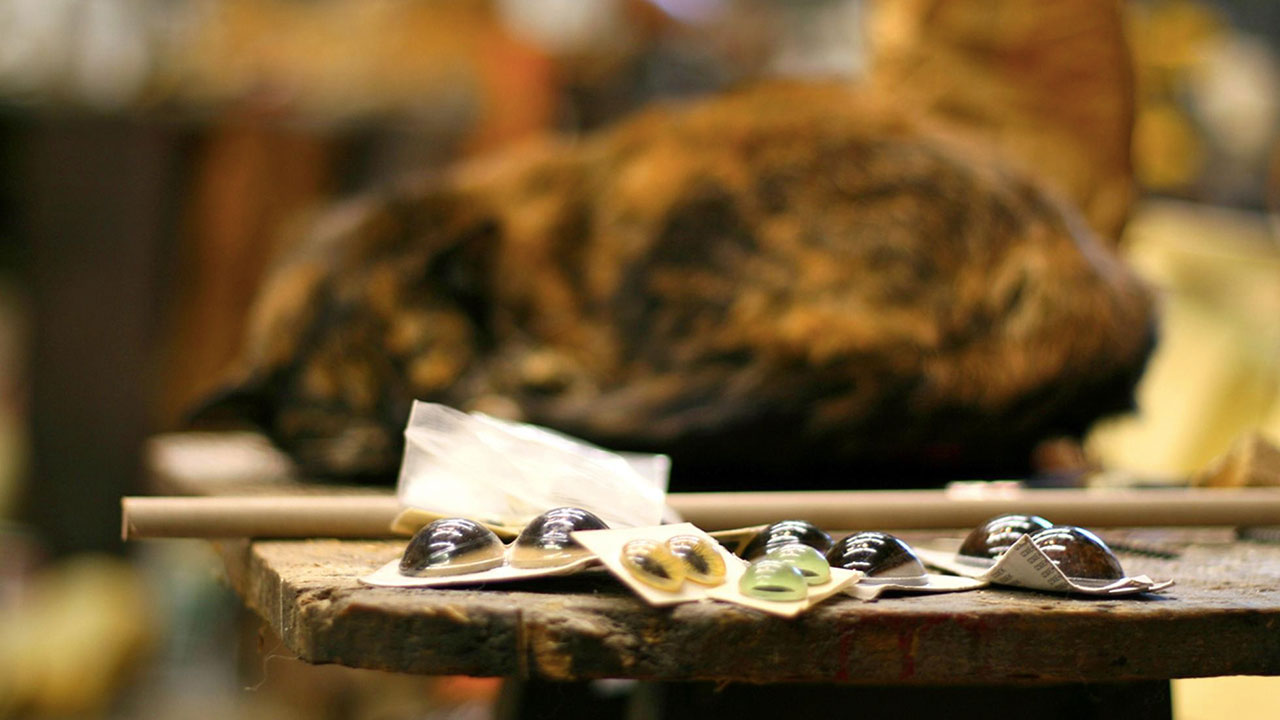 Furever
Amy Finkel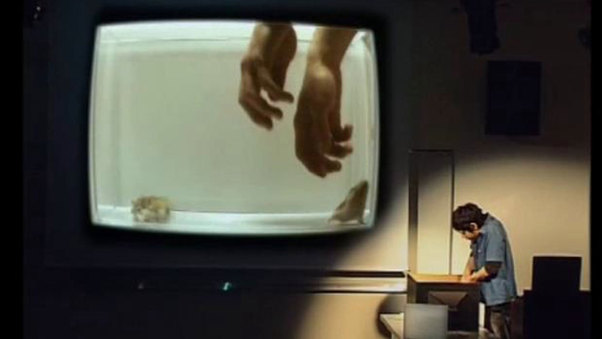 Carlitopolis
Nieto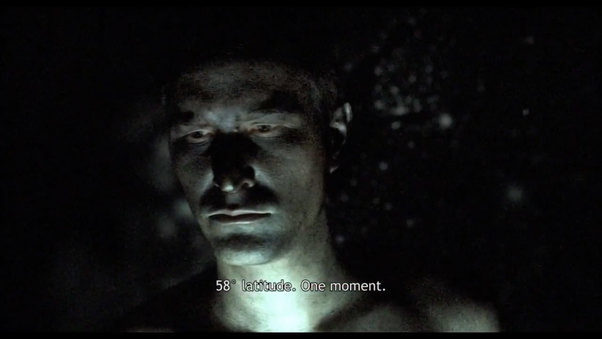 Emergency Calls
Hannes Vartiainen,Pekka Veikkolainen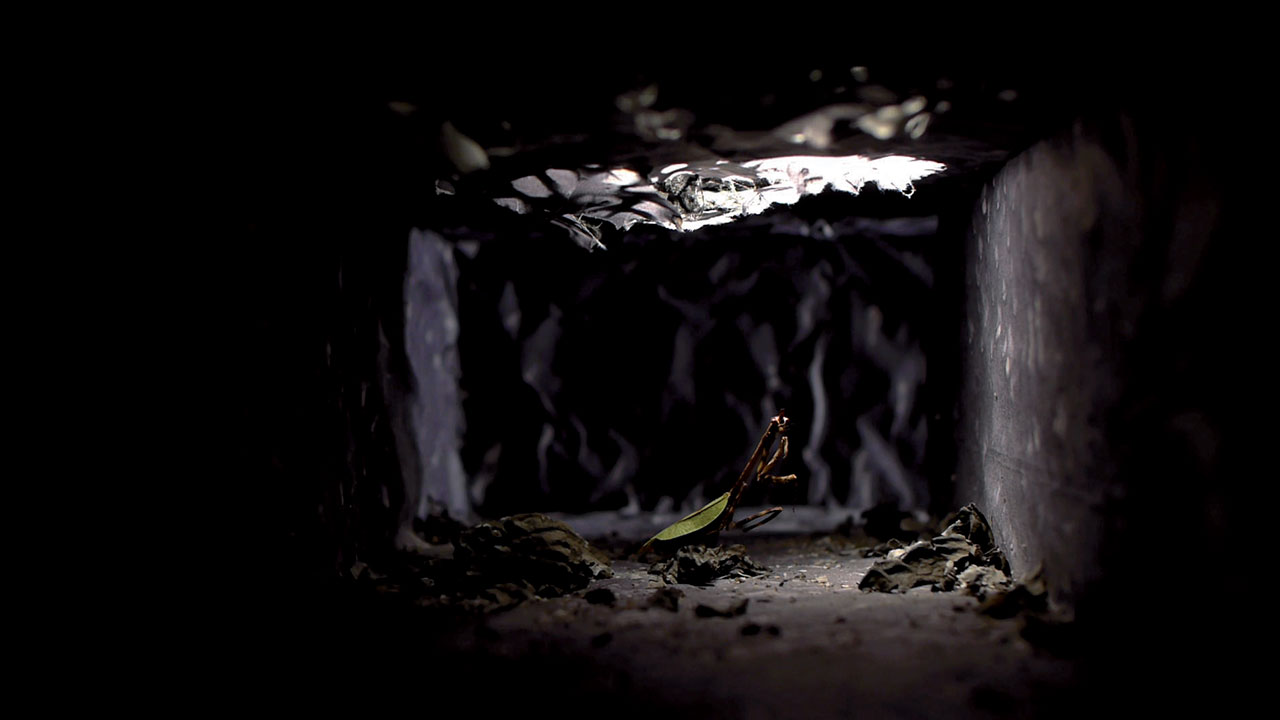 InLight Empire
Franck Lesbros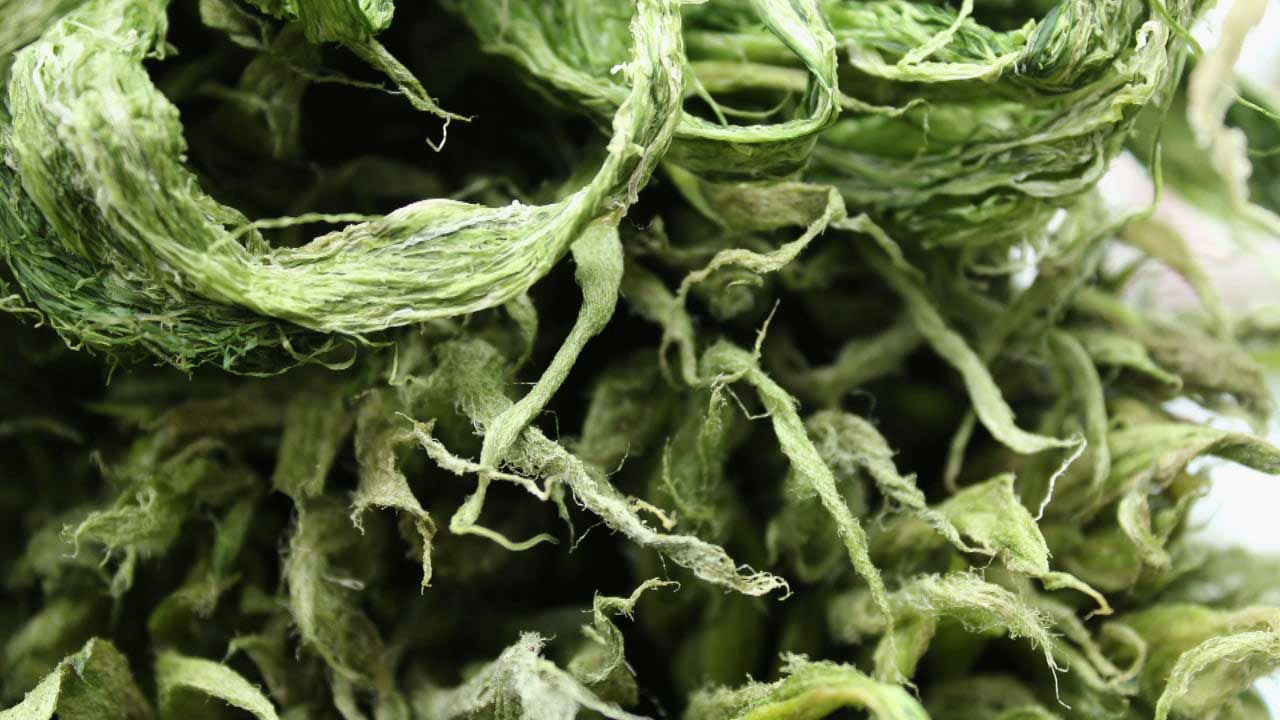 Green Matters
Mia Makela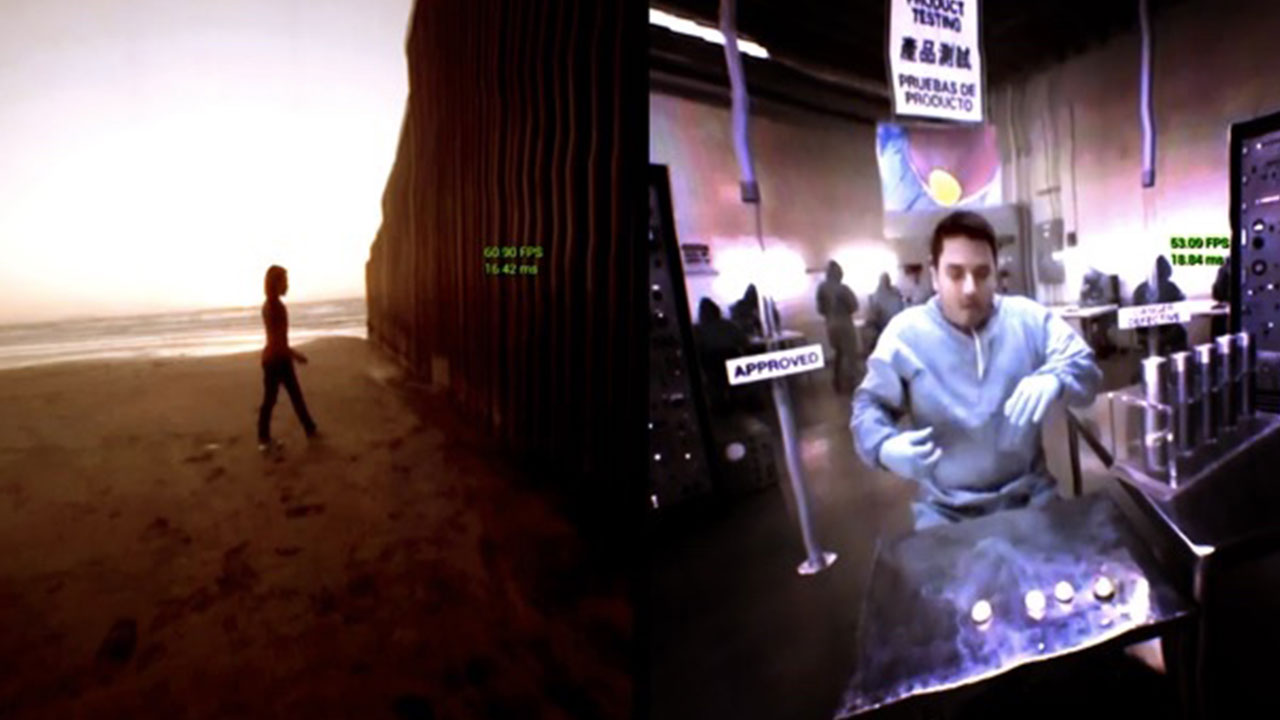 Reaching the Shore
Alex Rivera,Nonny De La Peña
A Place I've Never Been
Adrian Flury
Biophilia Live
Nick Fenton,Peter Strickland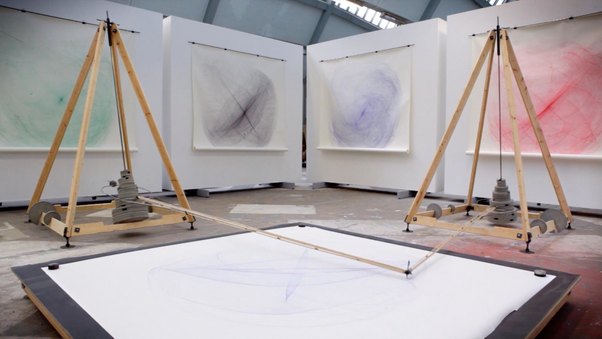 Drawing Machine
Joseph Barnett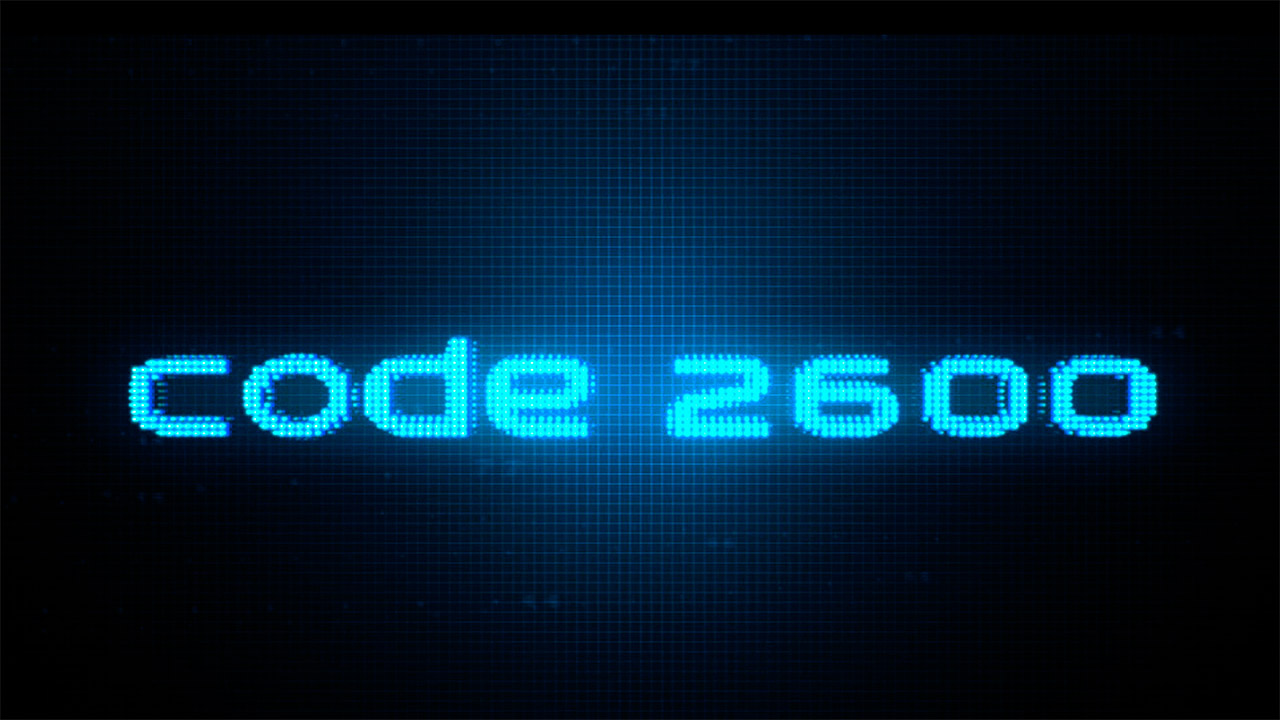 DSKNECTD
Dominic H. White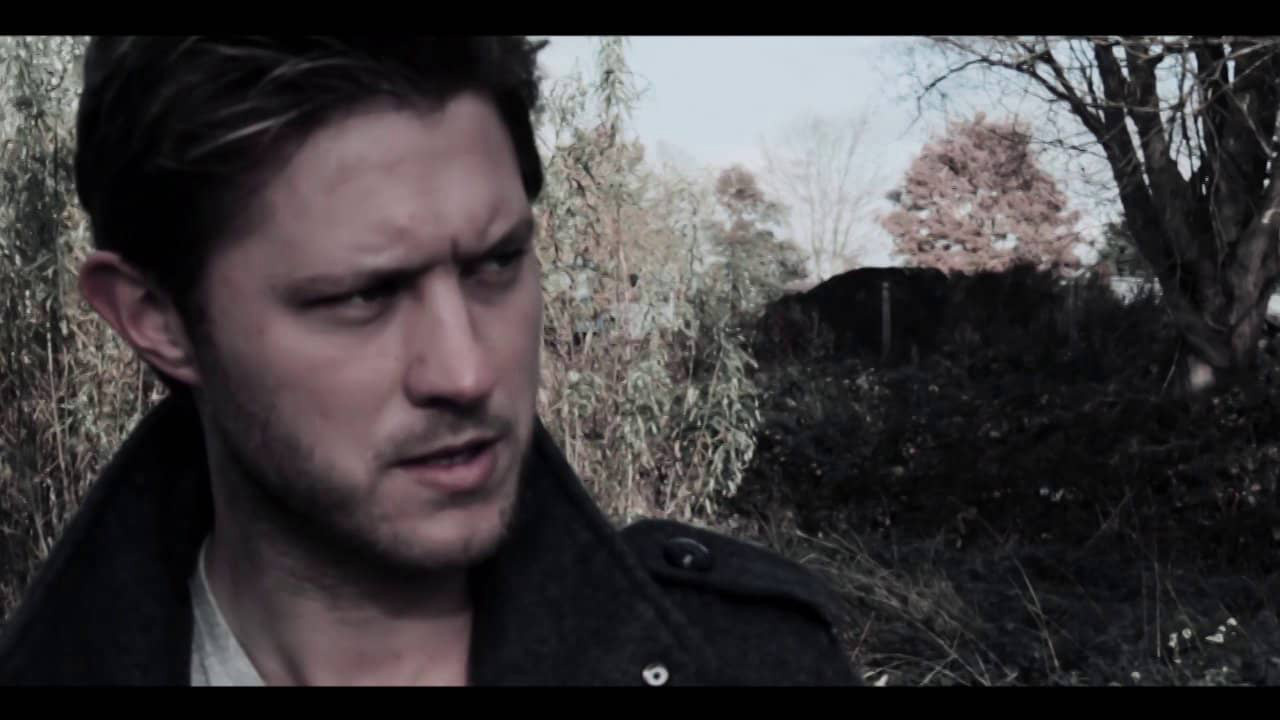 Cell
Paul Holbrook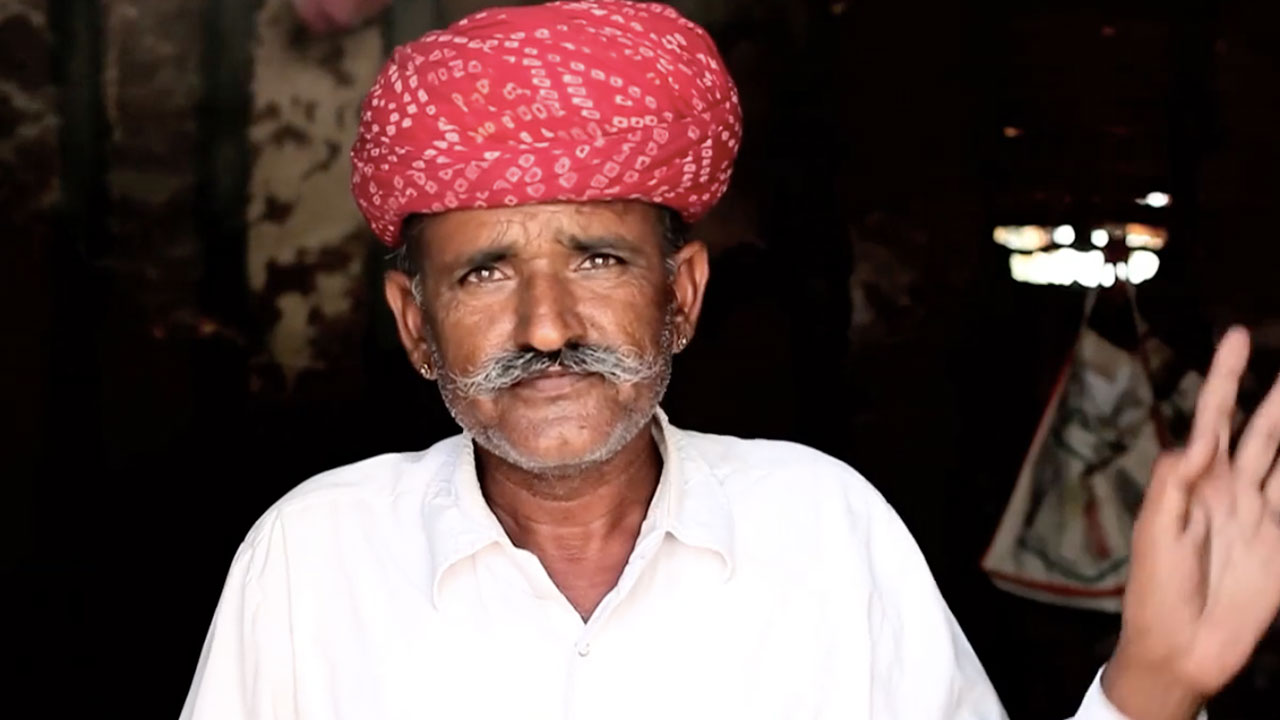 The catalysts of Change: Water woes in Rajasthan
Chintan Gohil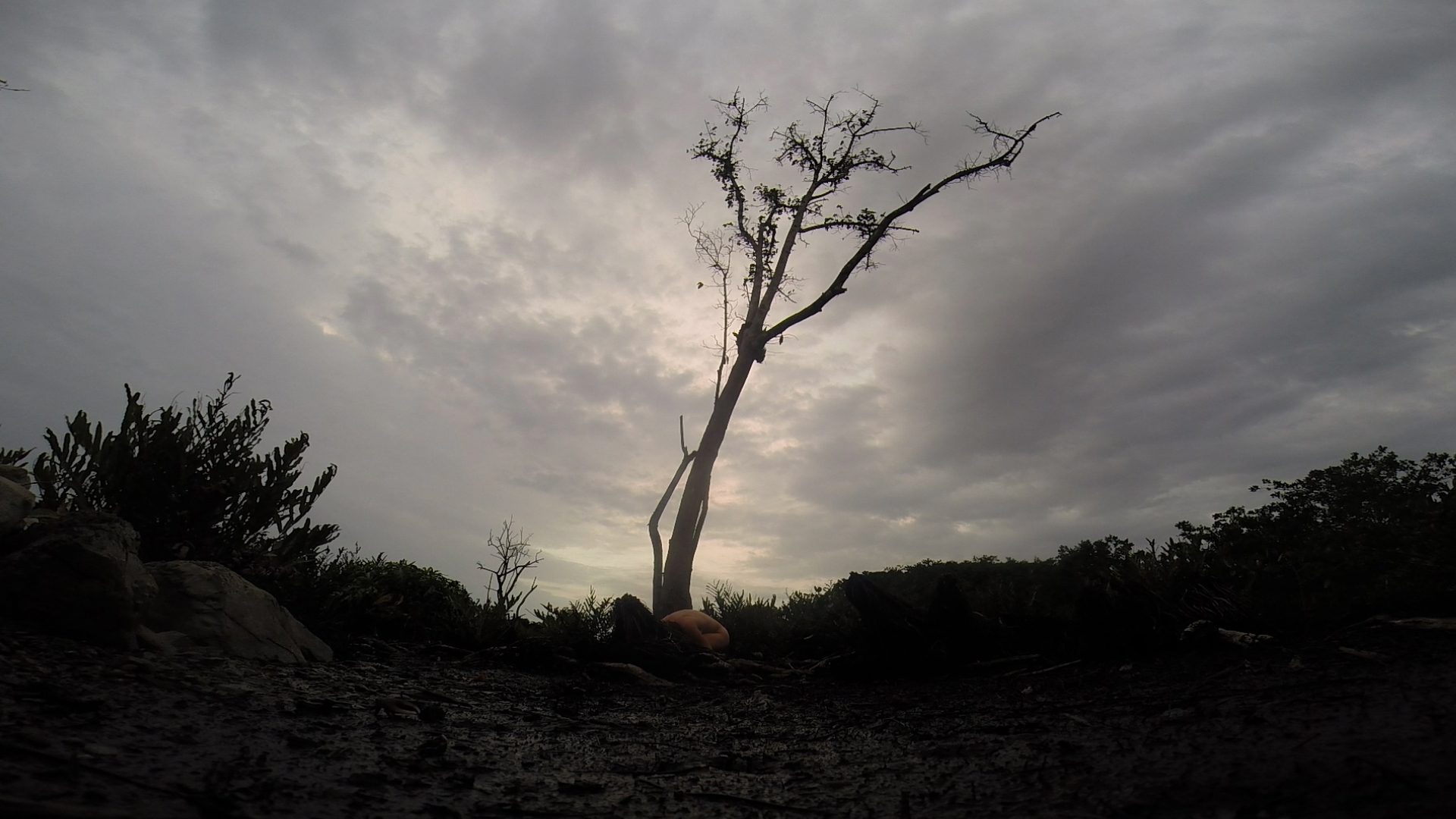 Poulpe (Octopus)
Audréane Beaucage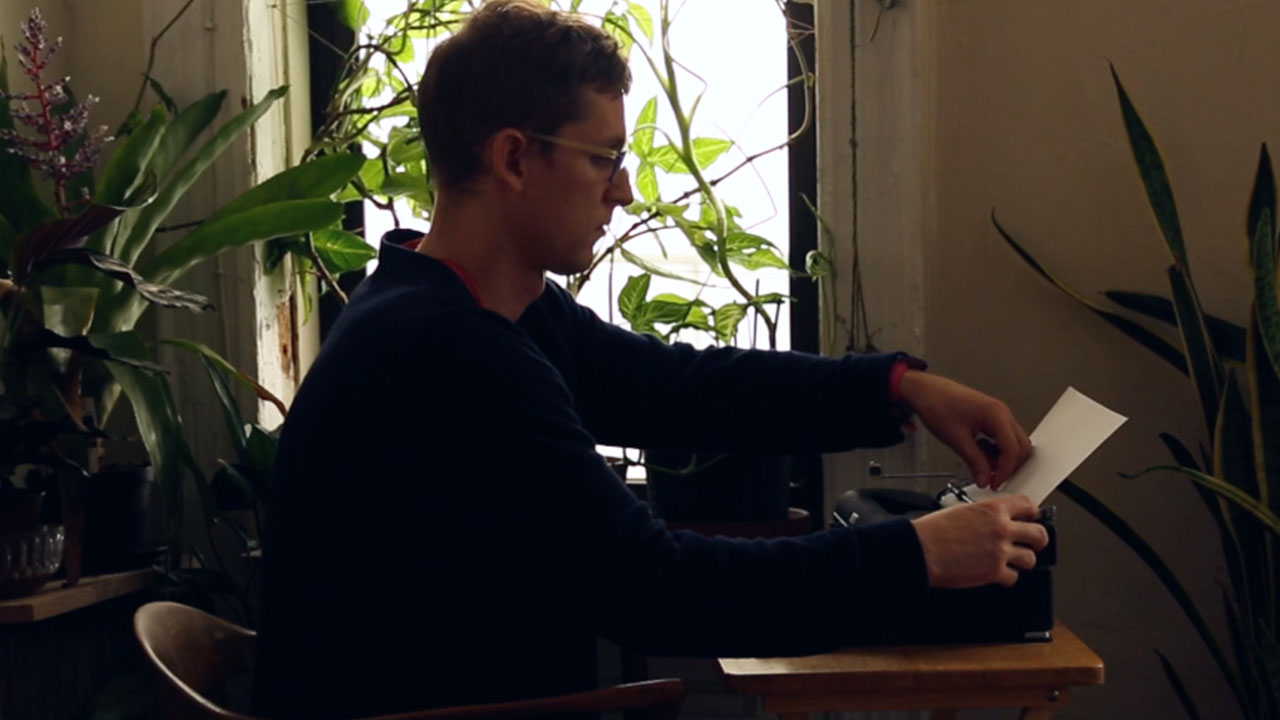 Light-Hearted
Beatrice Copeland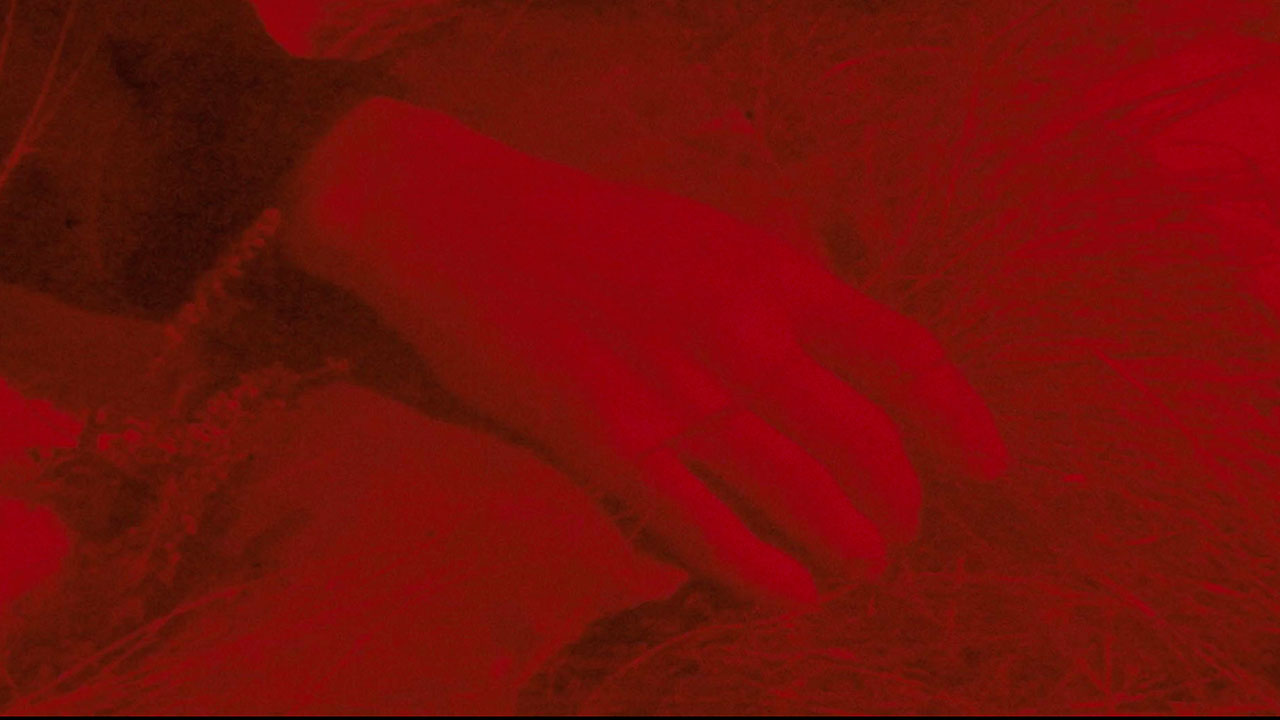 "What Happens to the Mountain" or "Laramie"?
Christin Turner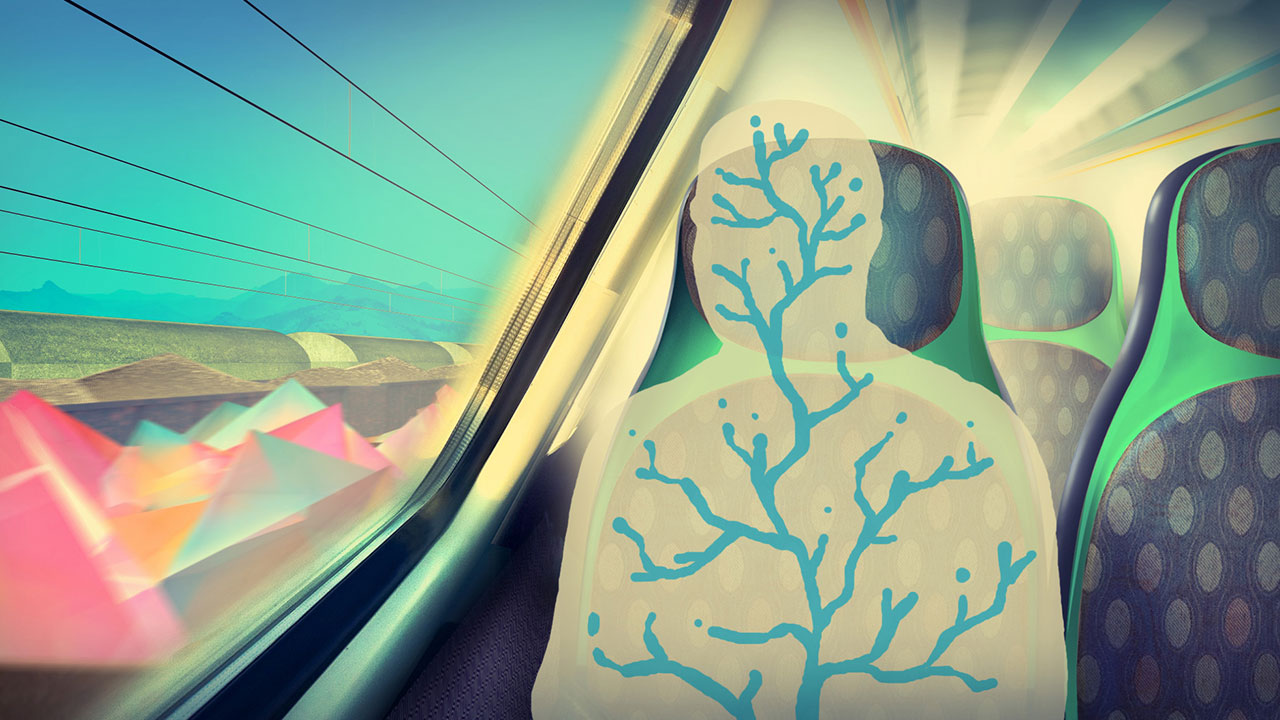 Cutia albă (The White Box)
Mihai Păcurar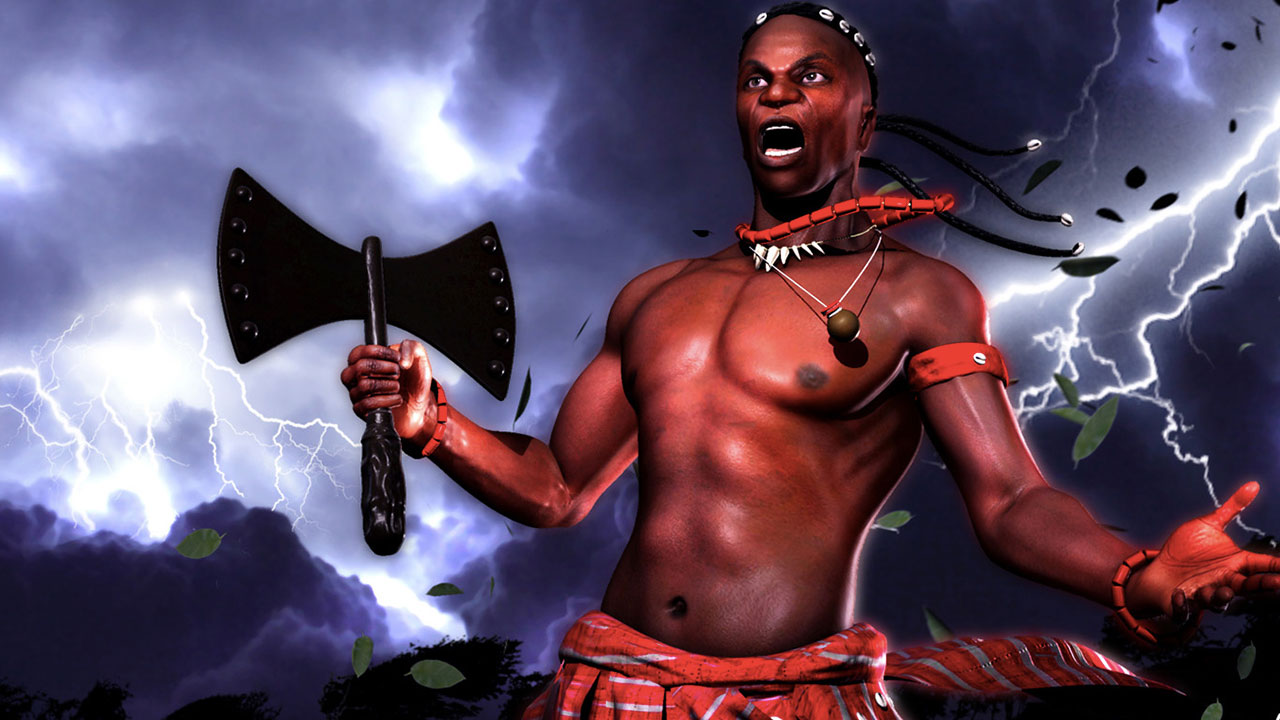 Dawn of Thunder
Kolawole Olarewaju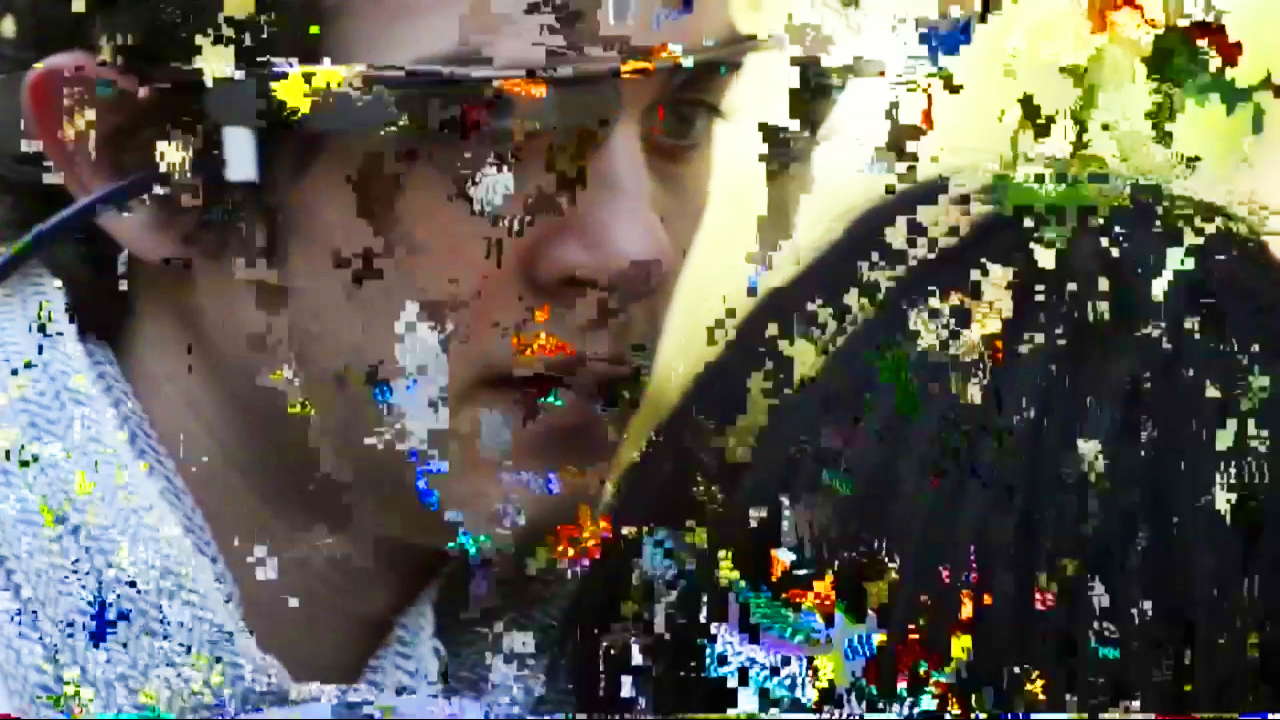 Bodies for a Global Brain
Eben Portnoy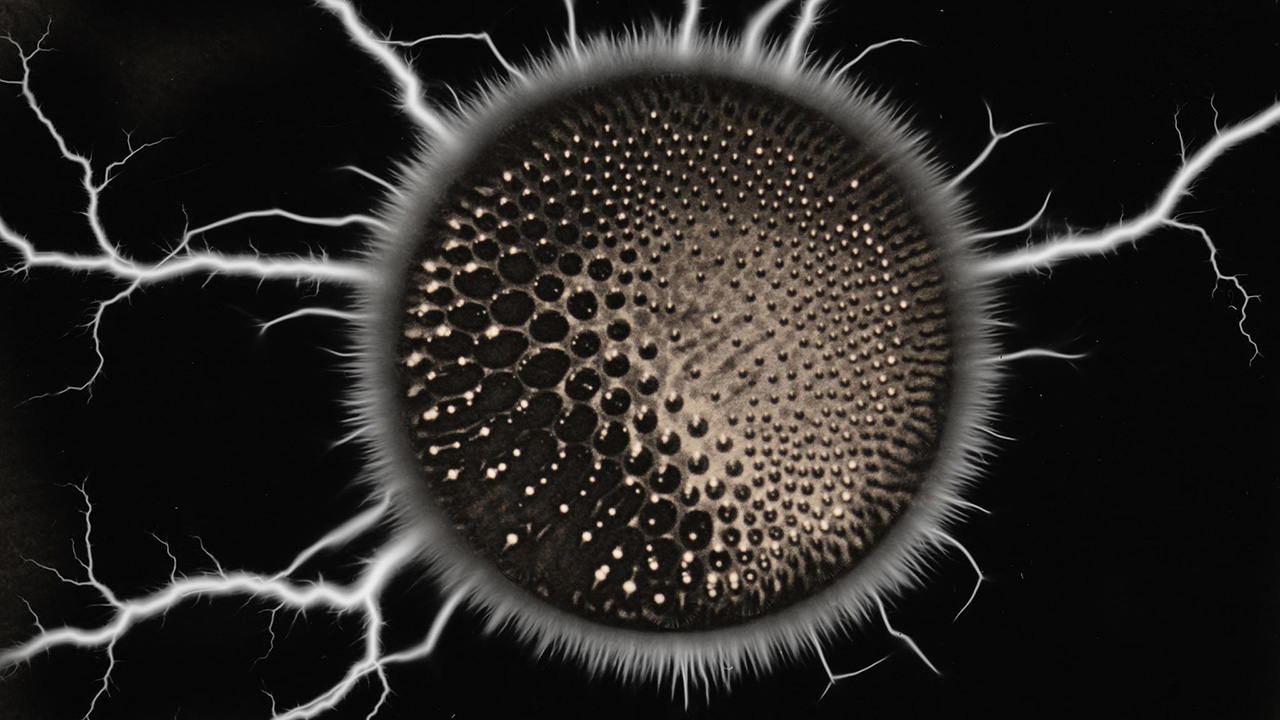 Pwdre Ser: The Rot of Stars
Charlotte Pryce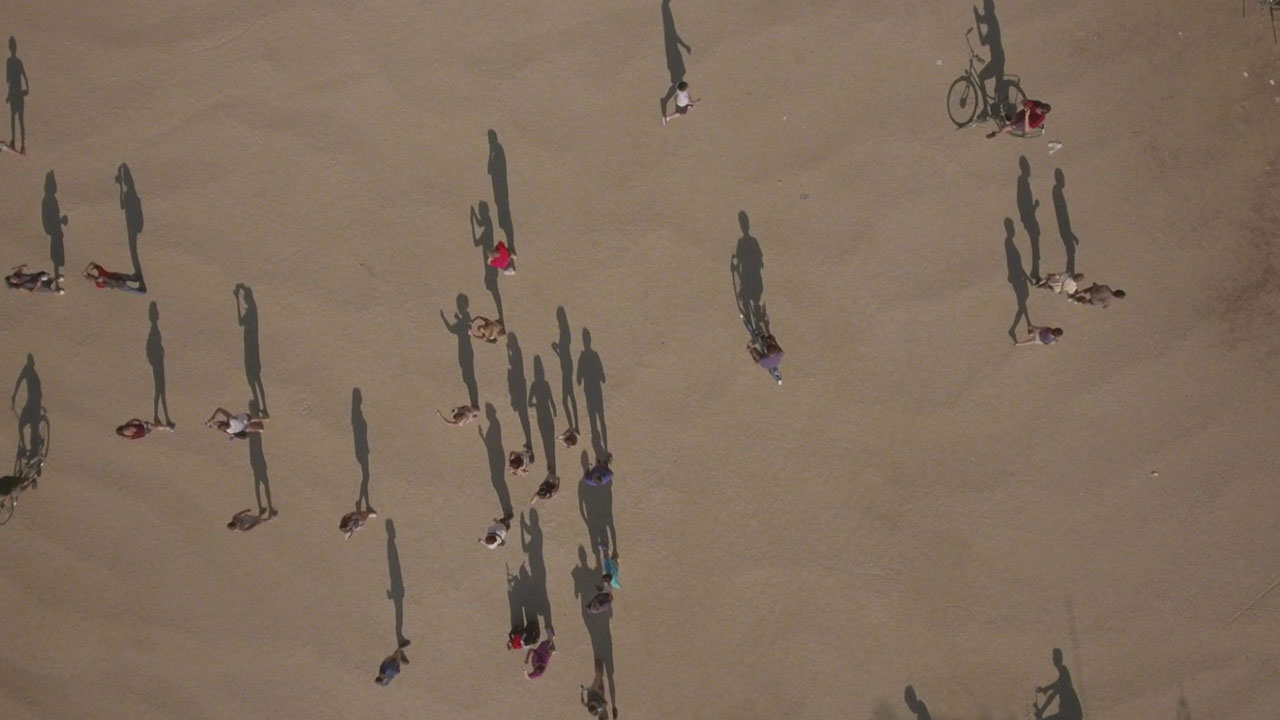 Find Fix Finish
Sylvain Cruiziat,Mila Zhluktenko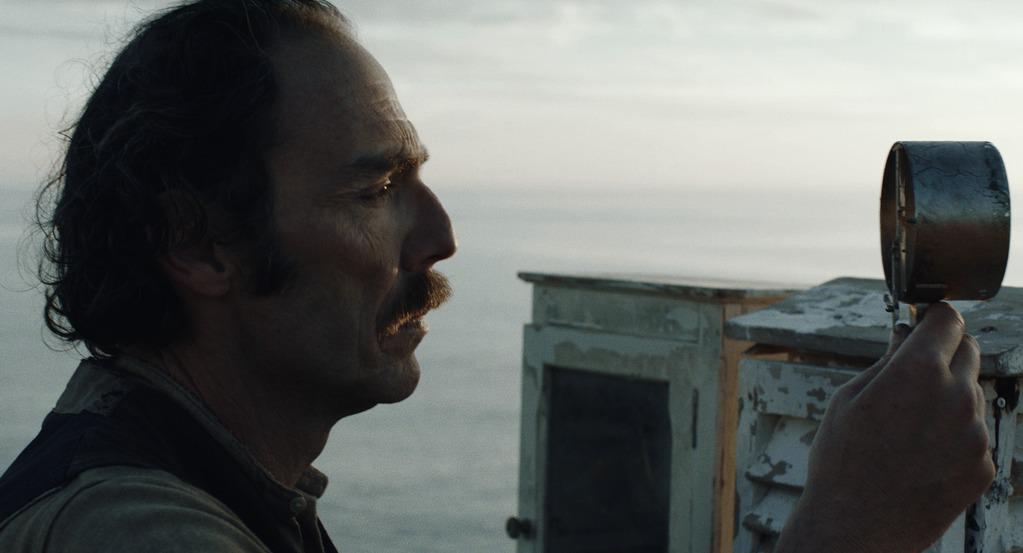 Icare
Nicolas Boucart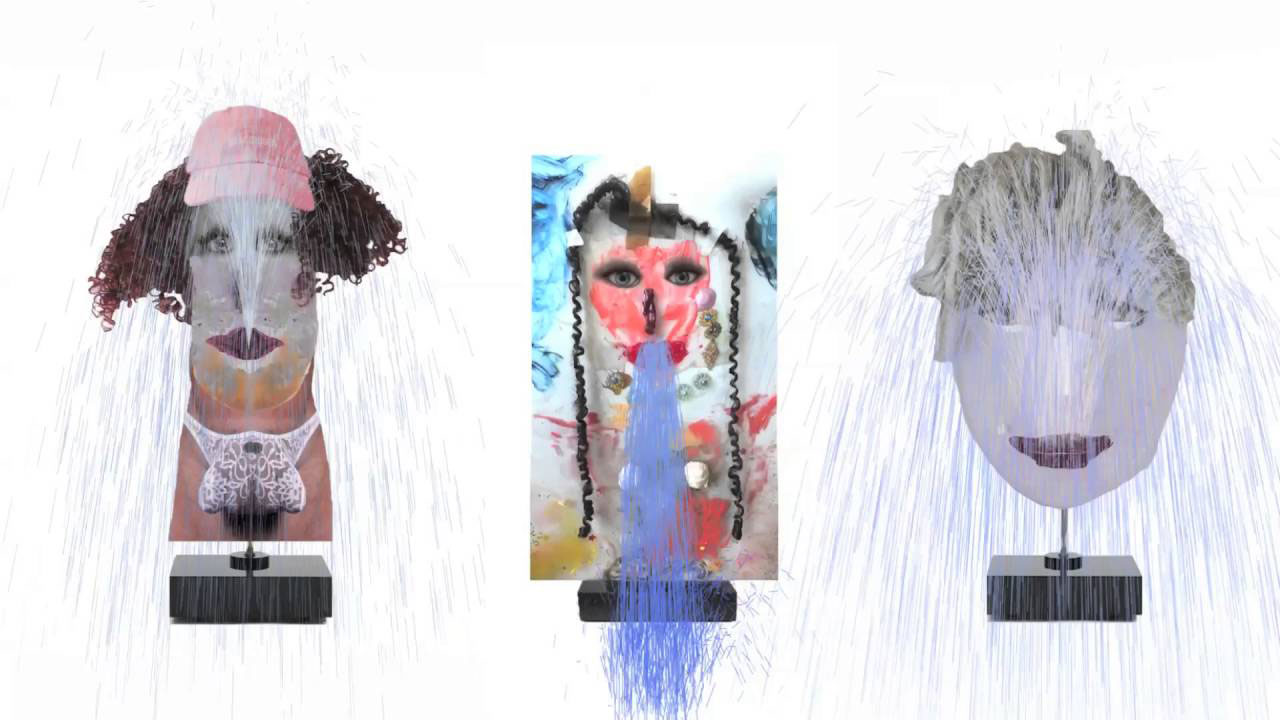 Turing, The Apple, My Father, Eve & I
Fabienne Audéoud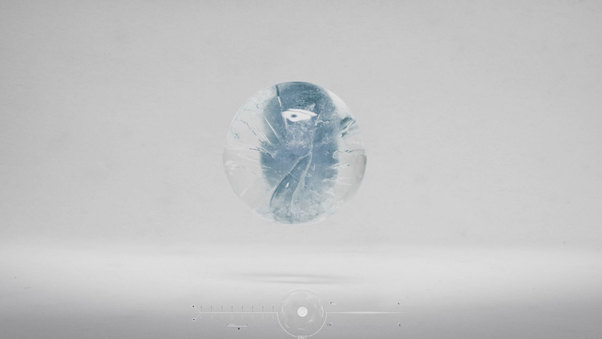 Gravity
Clemens Wirth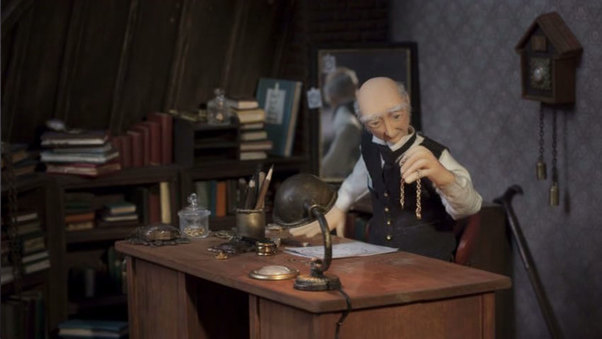 The Reality Clock
Amanda Tasse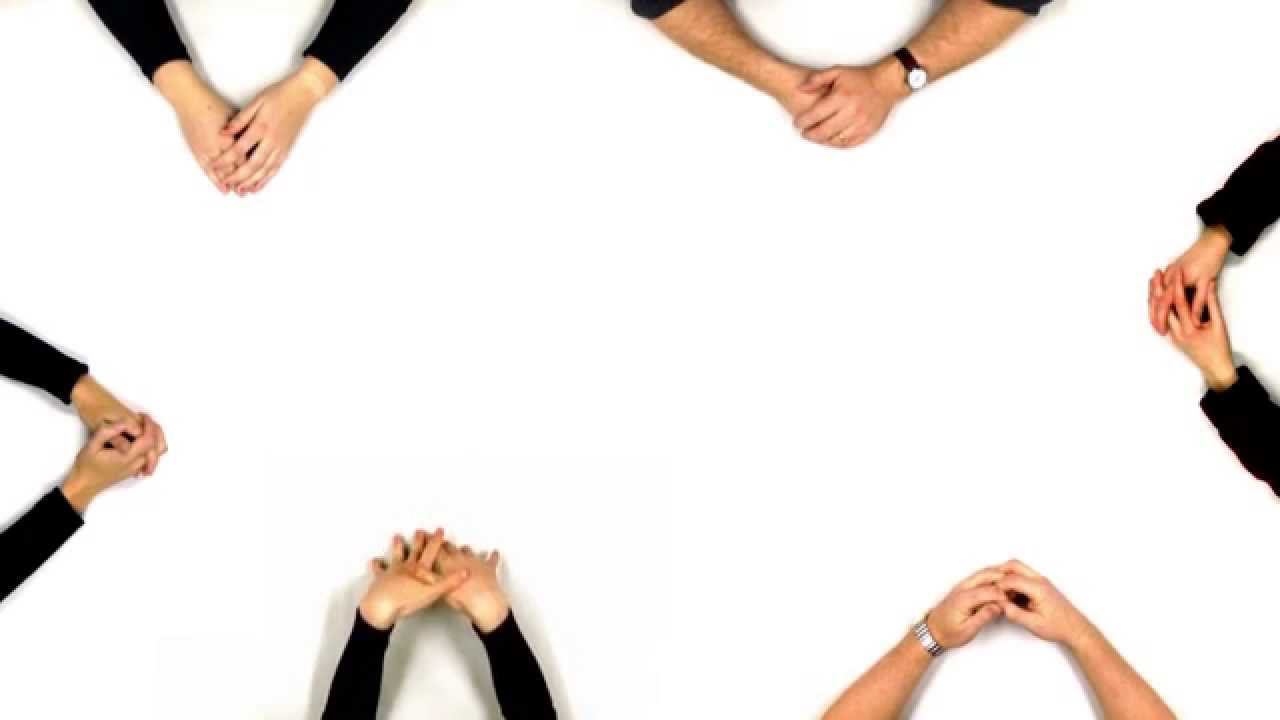 Preclinical Body
Kaisu Koski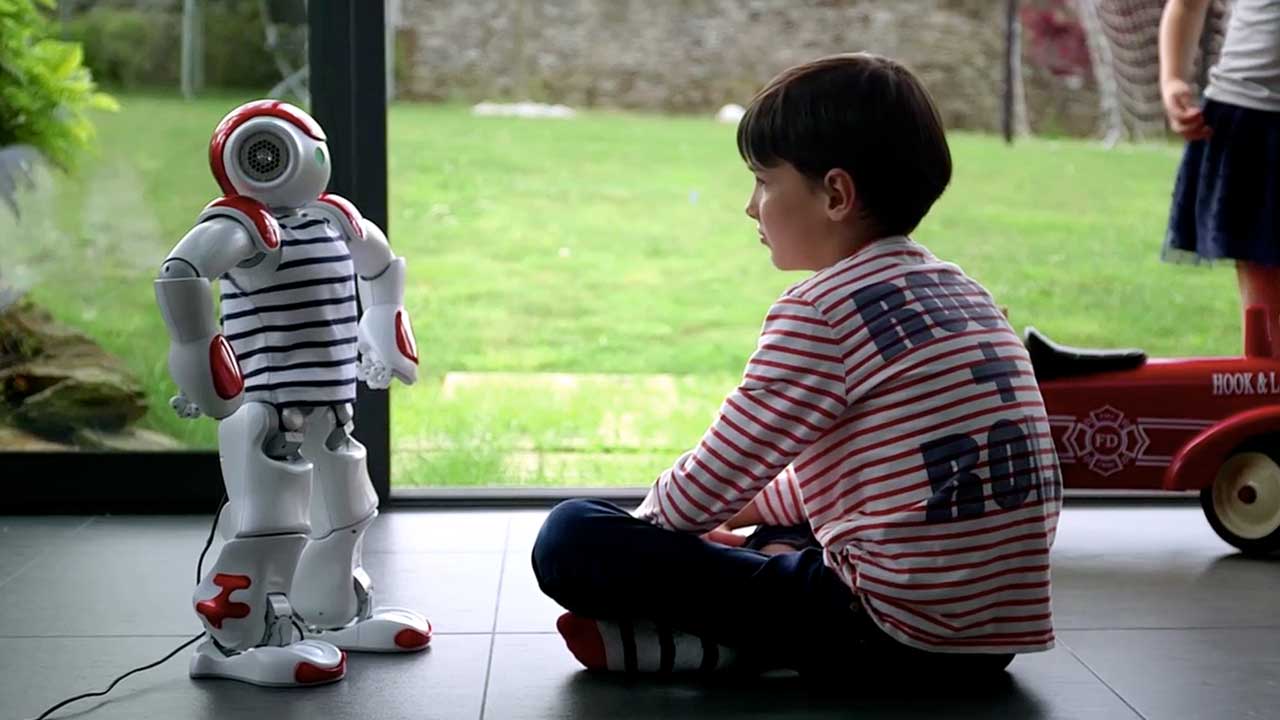 My Life With a Robot
Thibaut Sève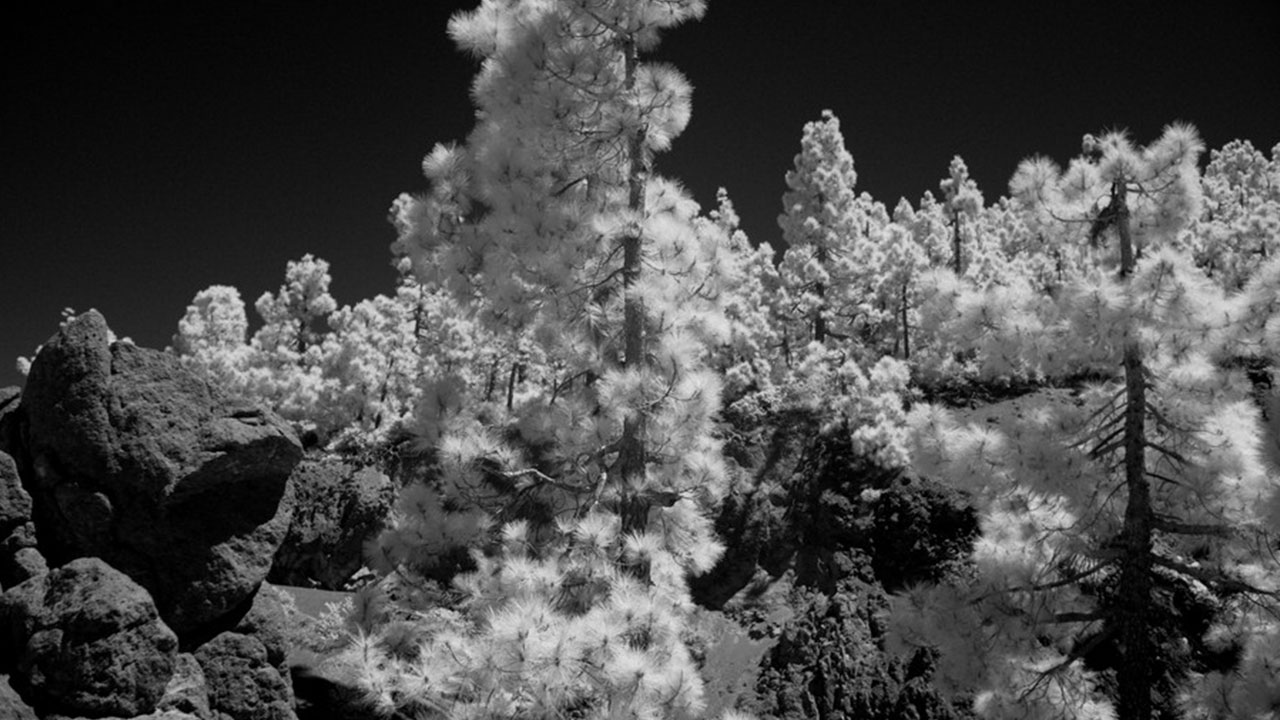 Cosmorama
Hugo Deverchère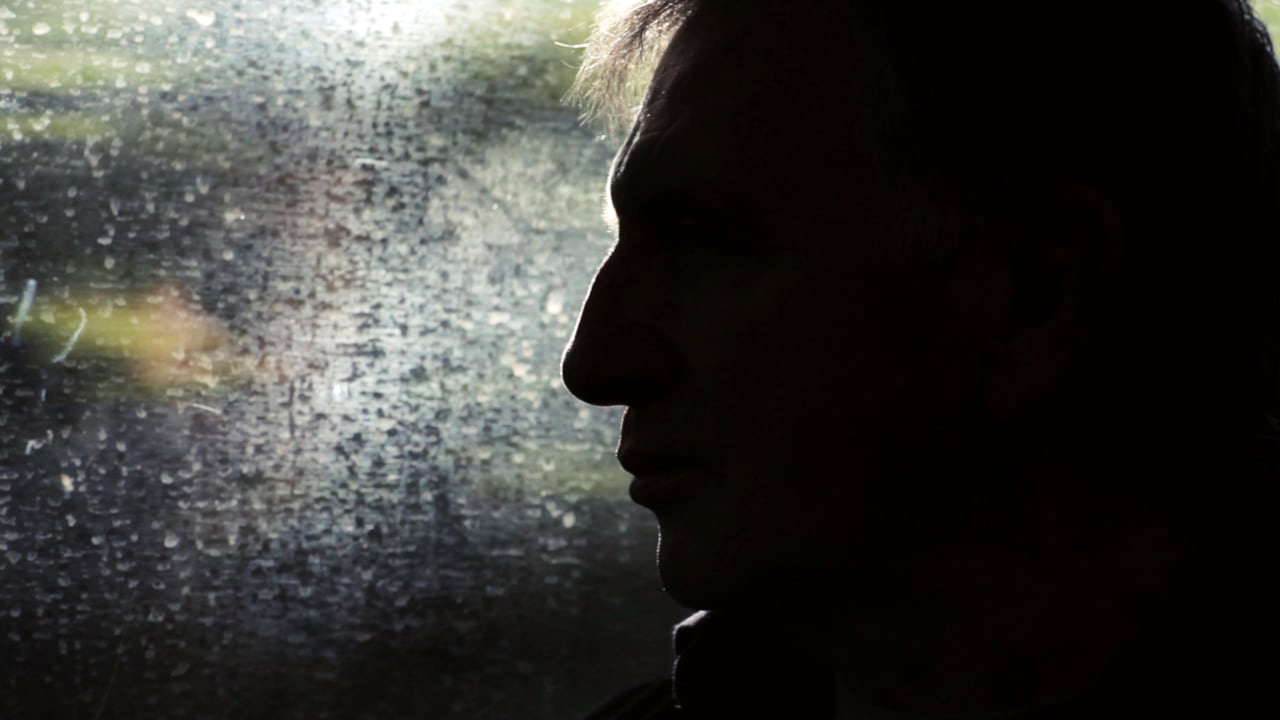 Another Green World
Christina Hardinge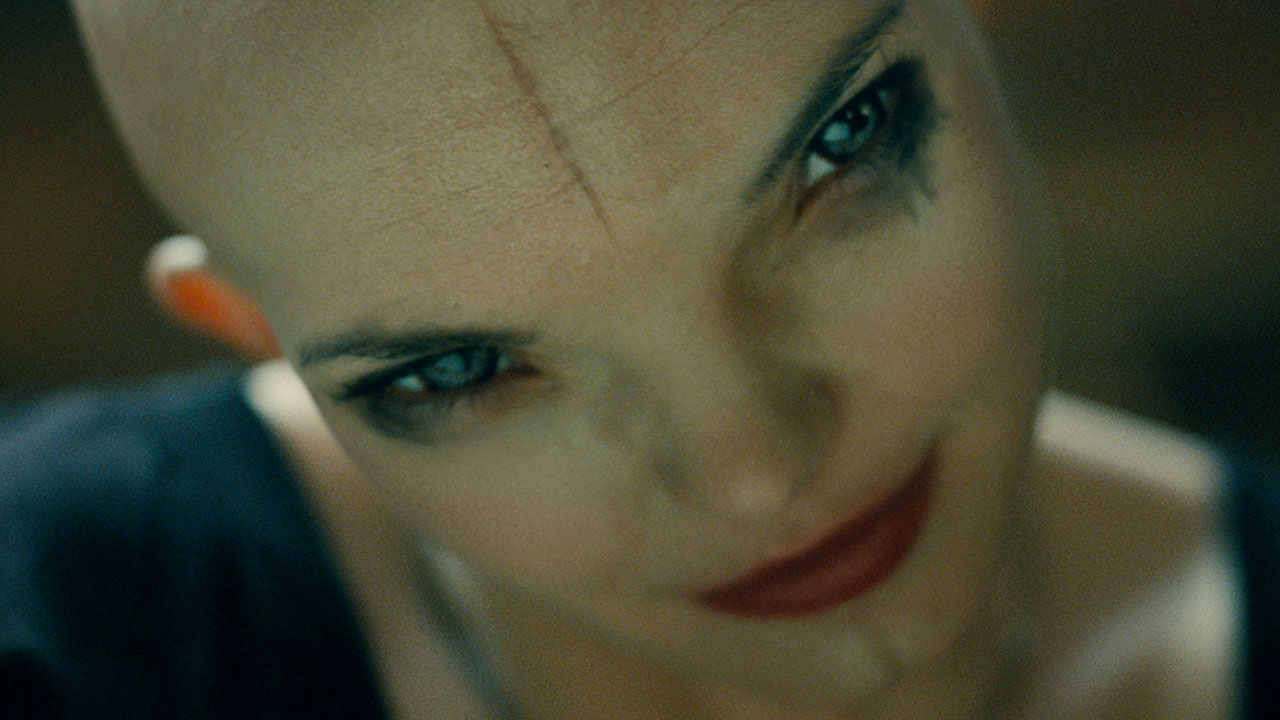 Splice
Vincenzo Natali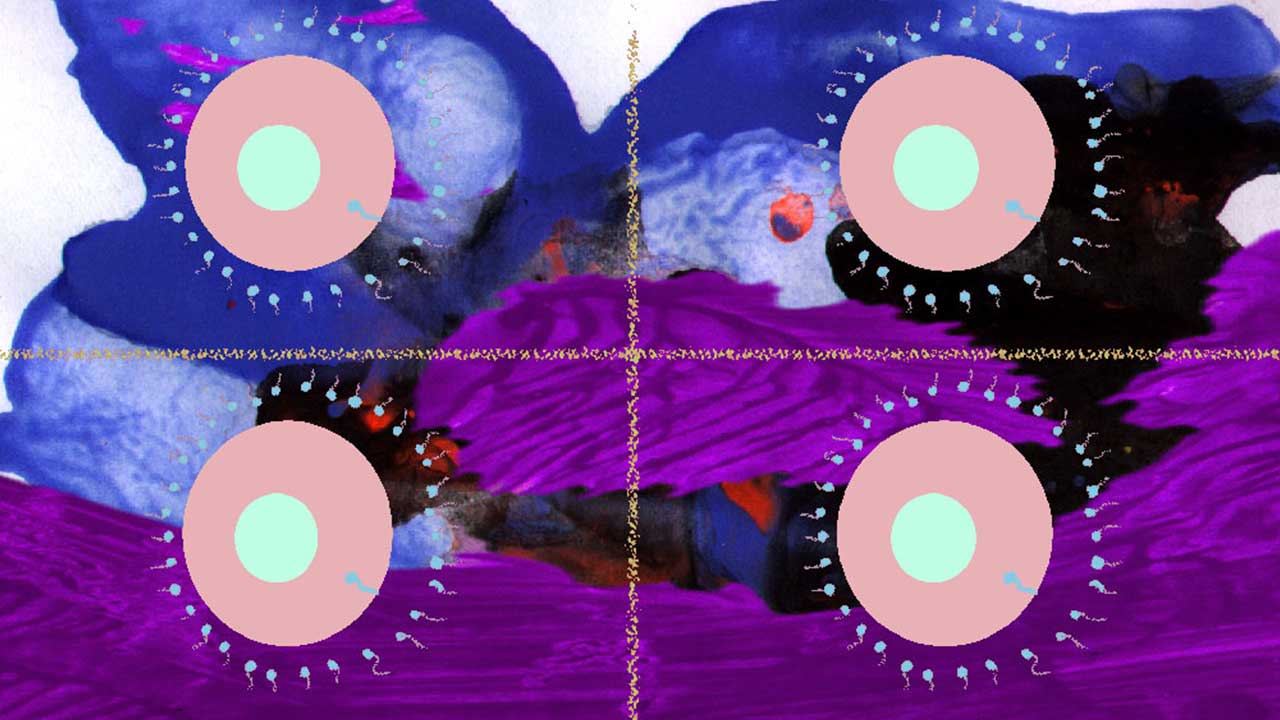 doubled up
Samantha Moore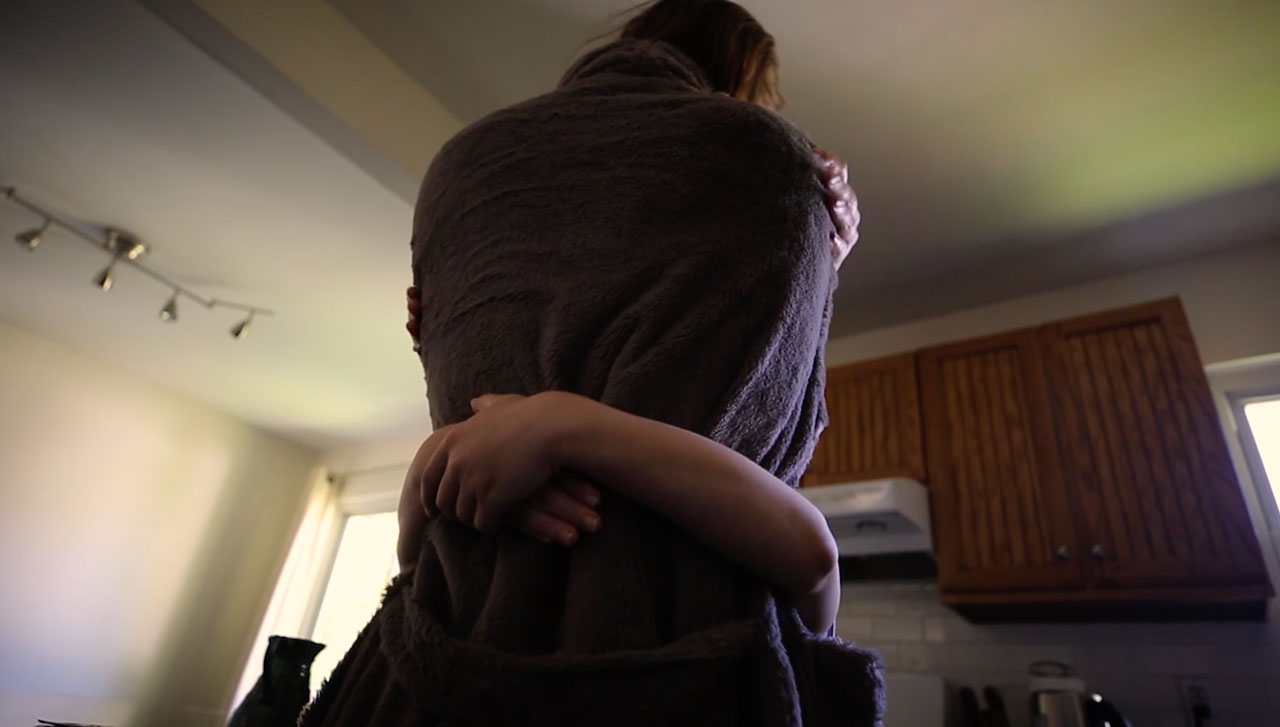 Realm of an Inner Child
Jeannette Louie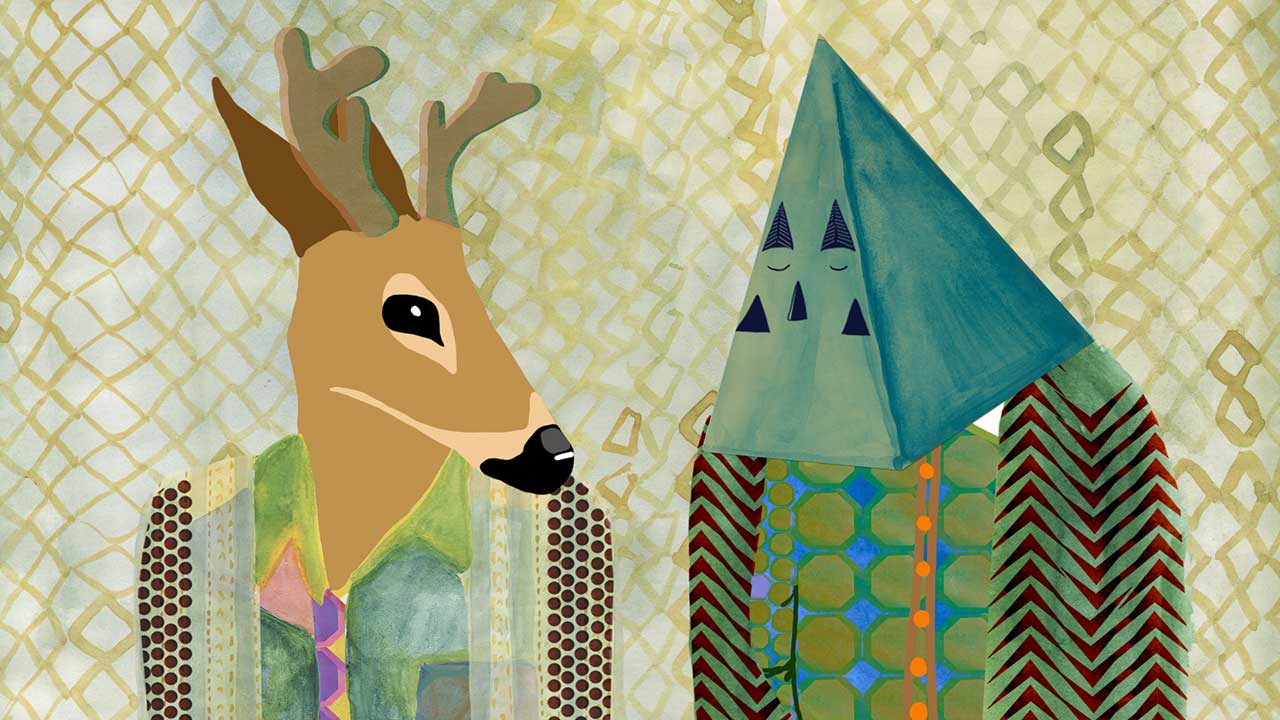 Things used to be hidden
Tara Mercedes Wood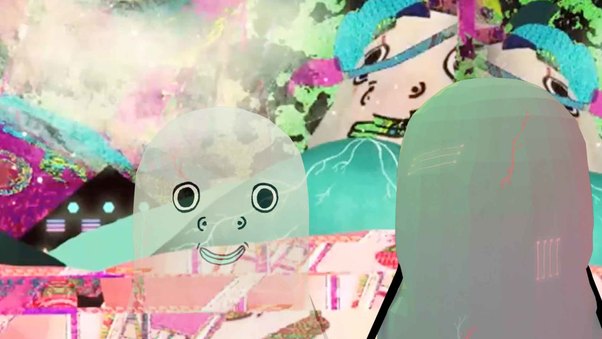 El Sol Como un Gran Animal Oscuro (The Sun Like a Big Dark Animal)
Christina Felisgrau,Ronnie Rivera
Synchronicity
Robin Meier,Andre Gwerder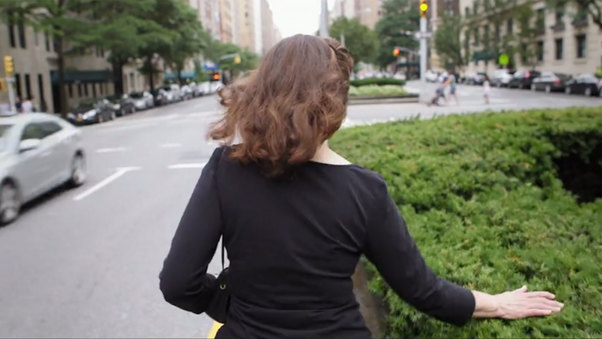 Lithium
David Alvarado,Jason Sussberg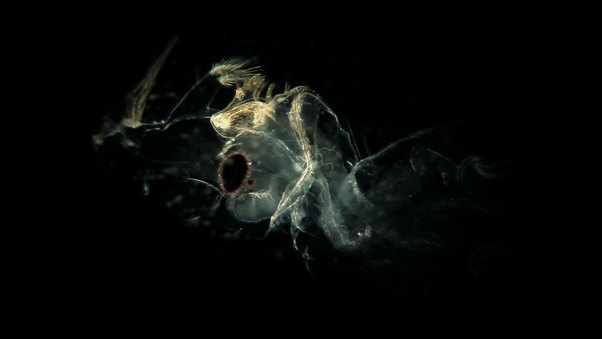 Micro Empire
Clemens Wirth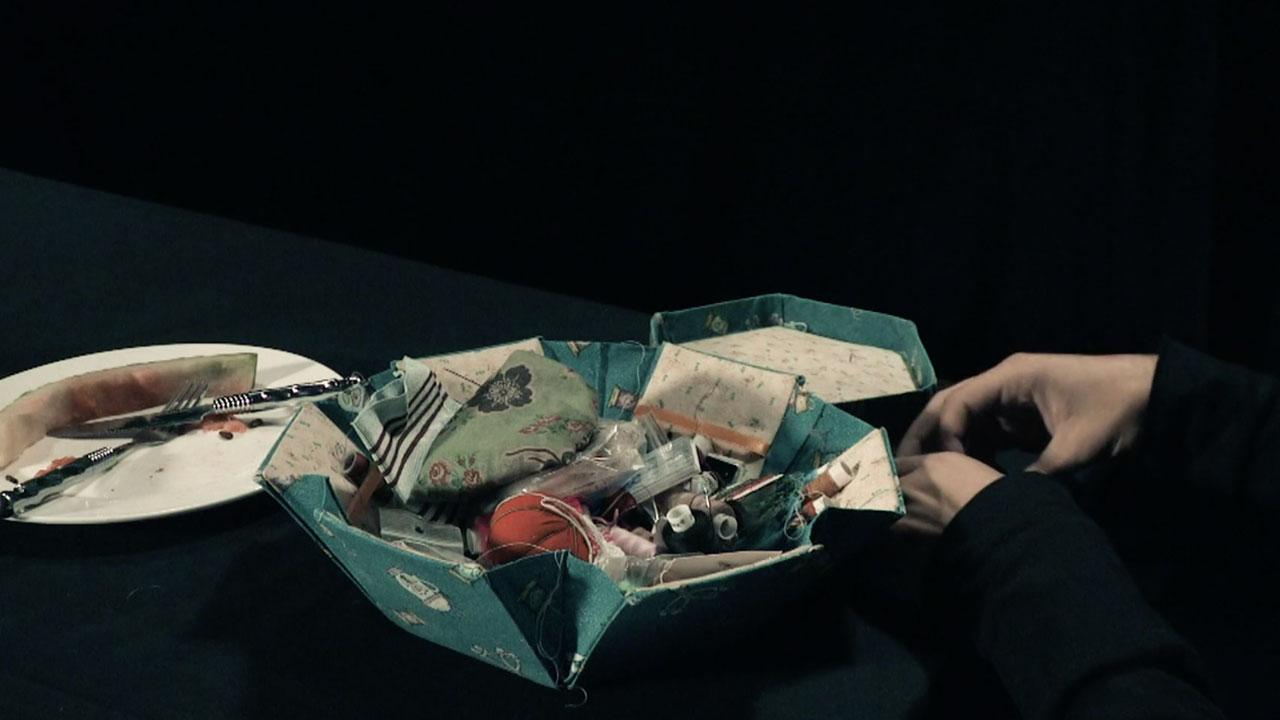 Bioprinting & Artificial Food Waste
Al Hussein Wanas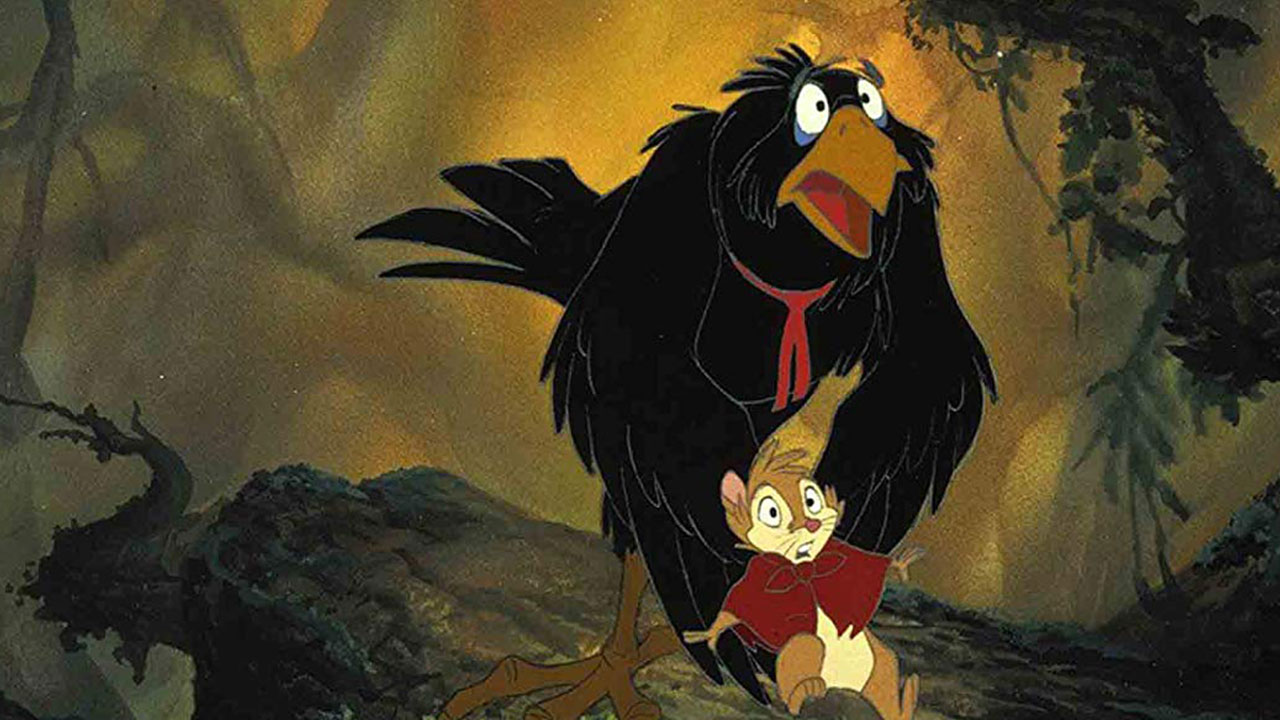 The Secret of NIMH
Don Bluth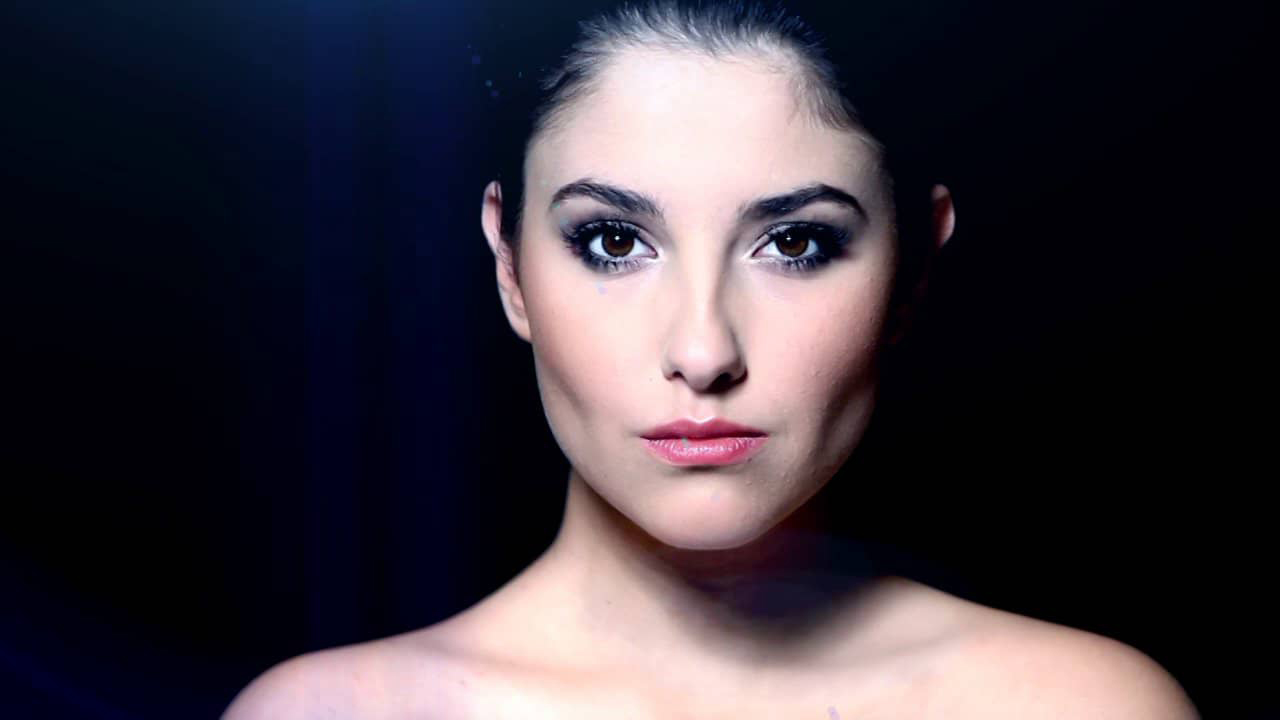 Vessel
Carlo Treviso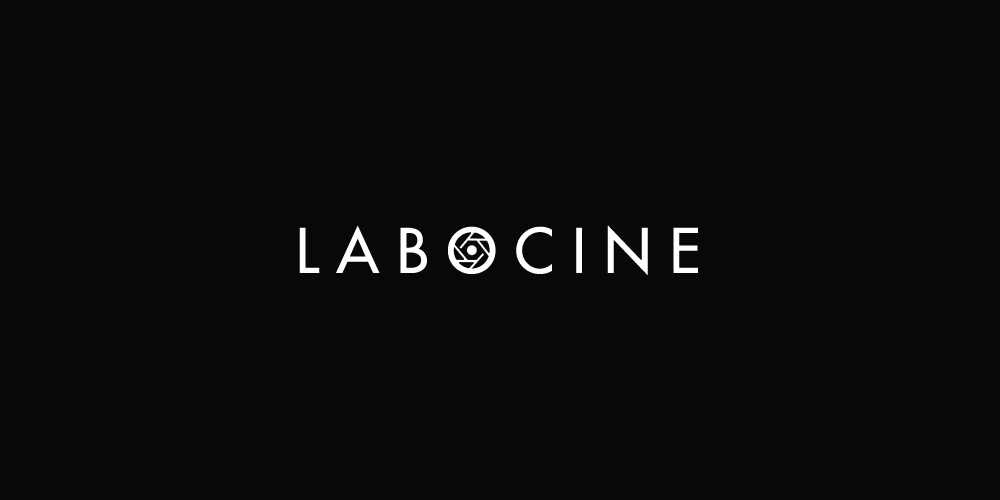 Mind Frame
Jake Fried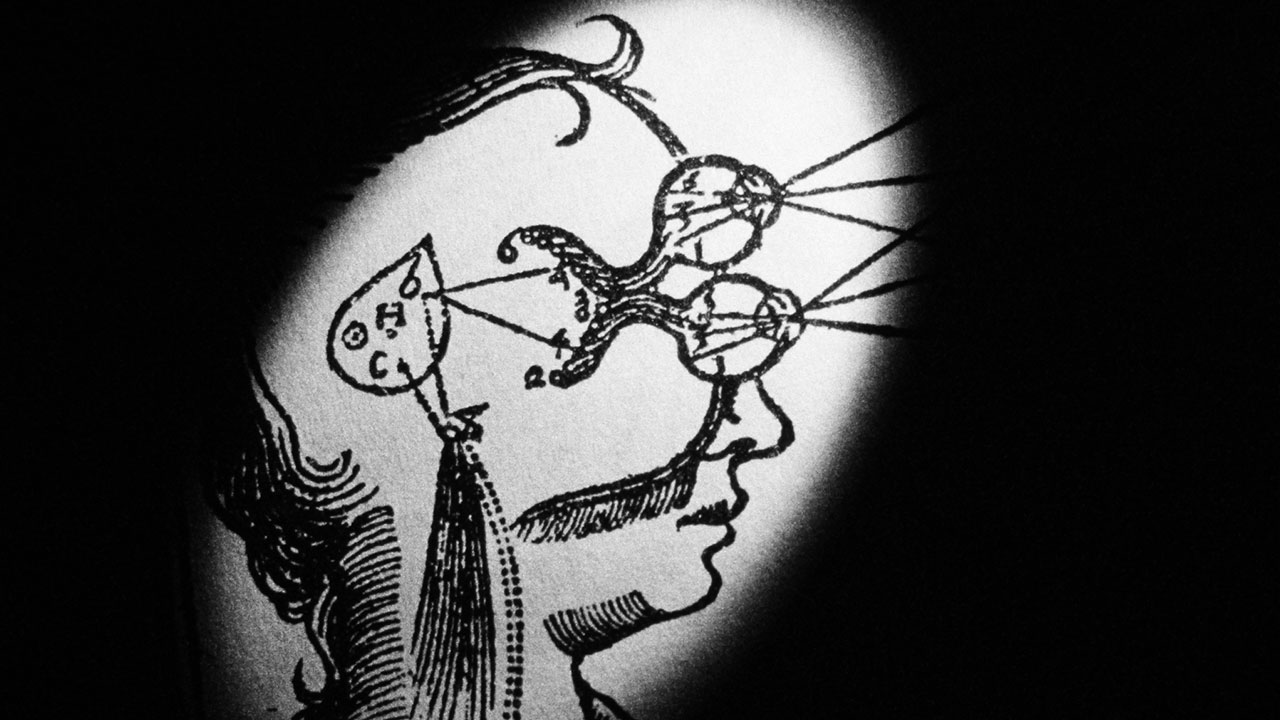 Notes from the Interior
Ben Balcom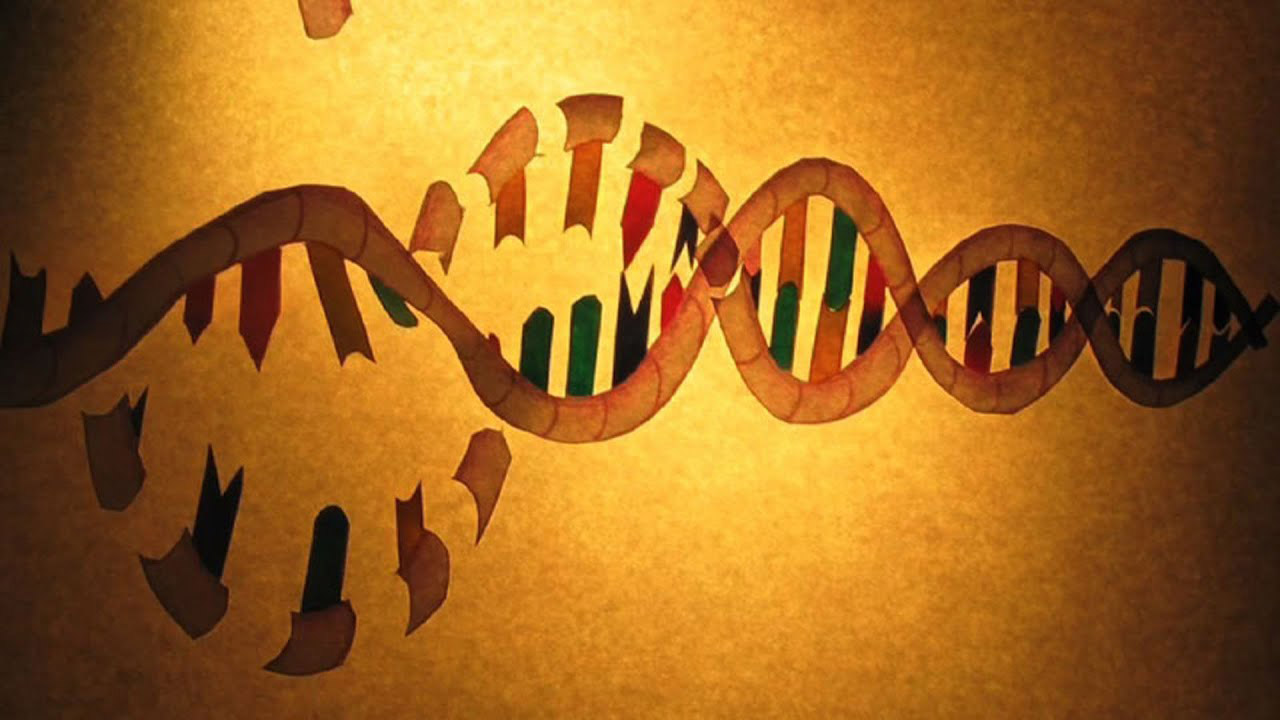 STEM CELL REVOLUTIONS
Amy Hardie, Clare Blackburn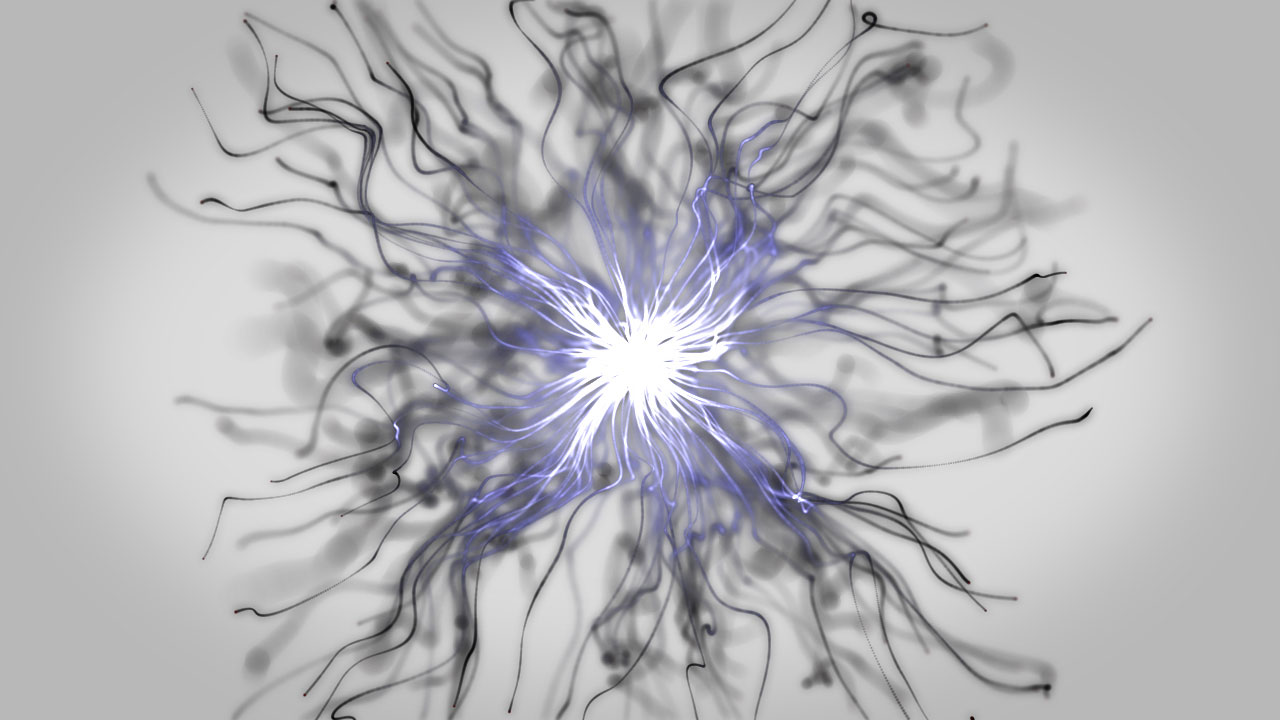 Beyond the Spheres
Meghdad Asadi Lari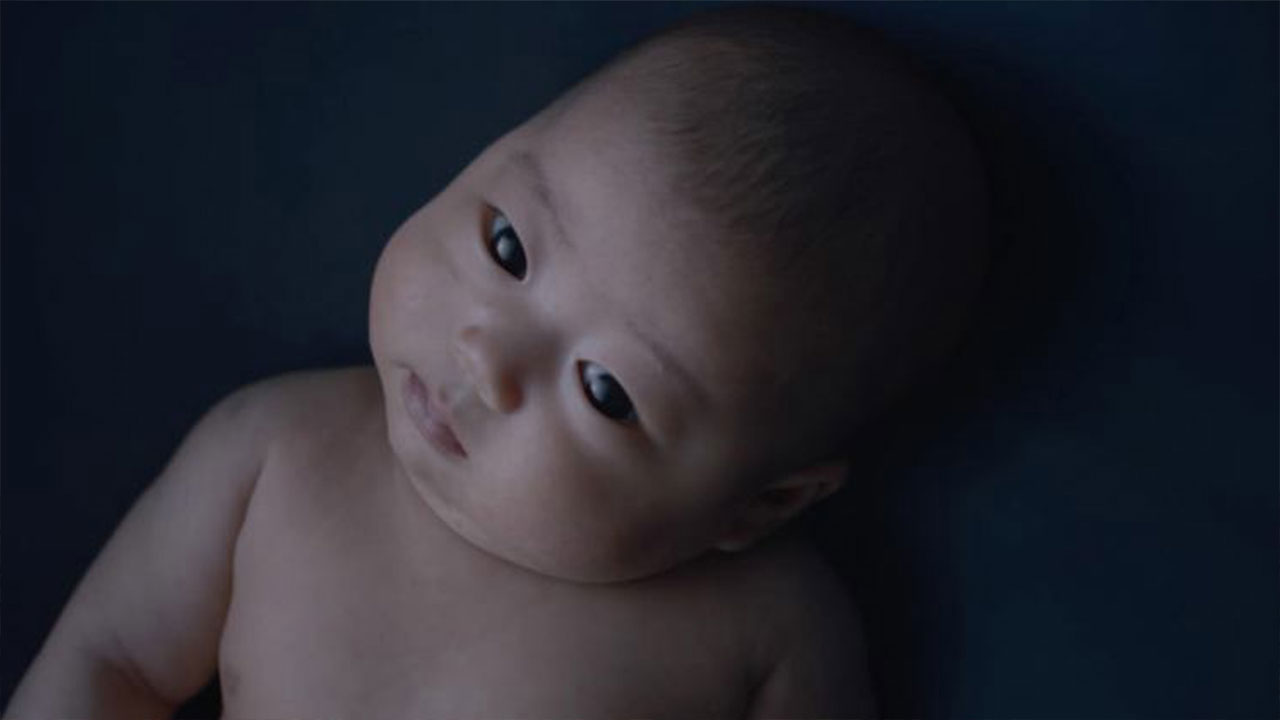 Toru
Jonathan Minard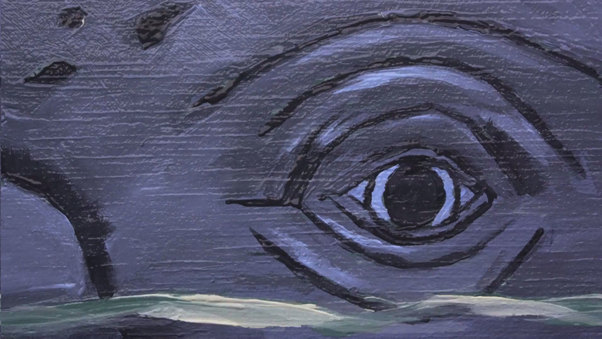 The Whale Story
Tess Martin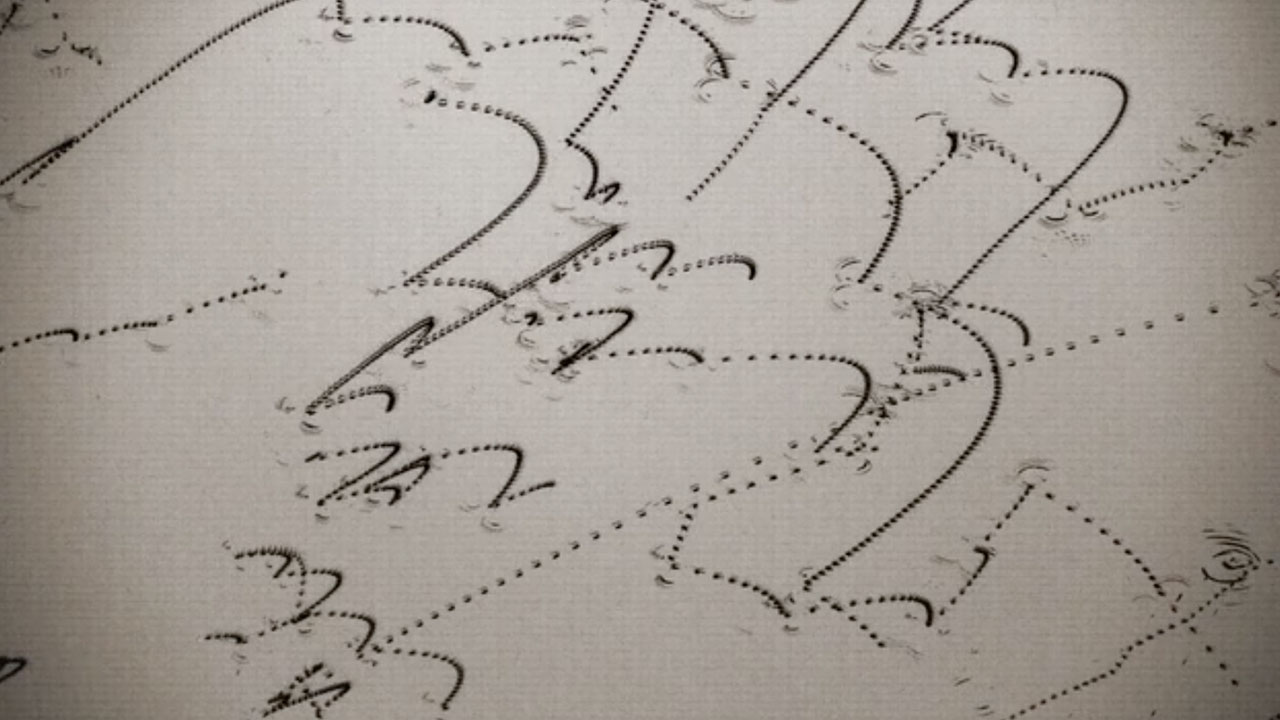 Small Brains en Masse
Dennis Hlynsky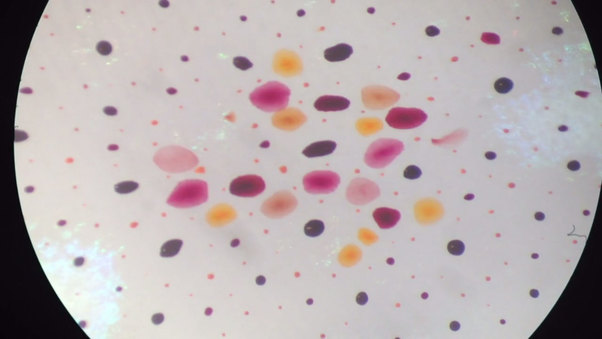 Insane in the Chromatophores
Gregory Gage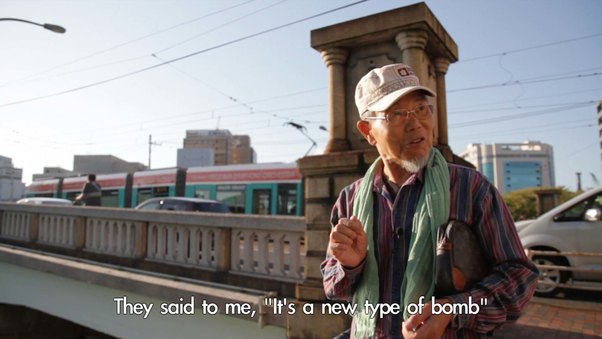 An All-Encompassing Light
Chloe White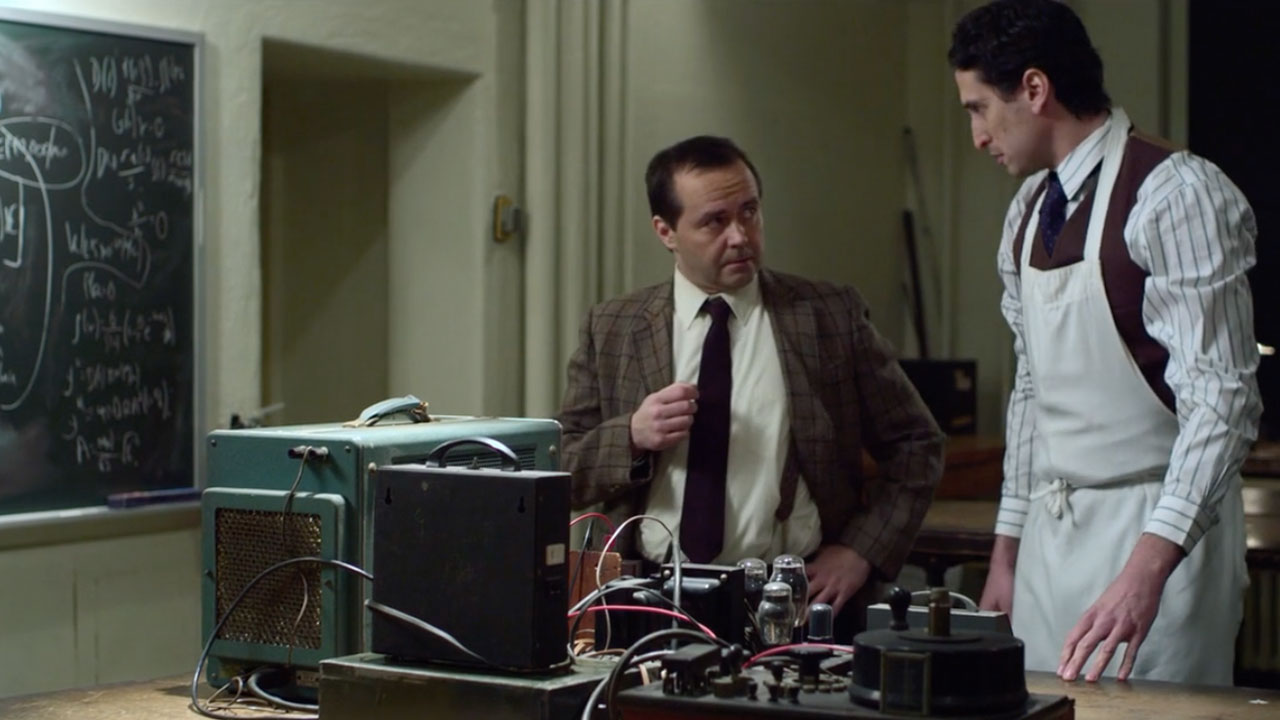 Breaking the Chain
Stuart Weinstock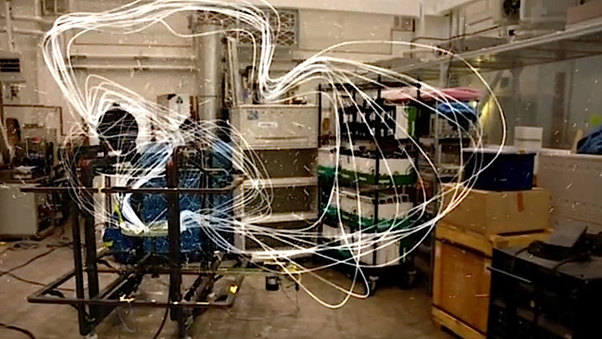 Magnetic Movie
Semiconductor (Ruth Jarman,Joe Gerhardt)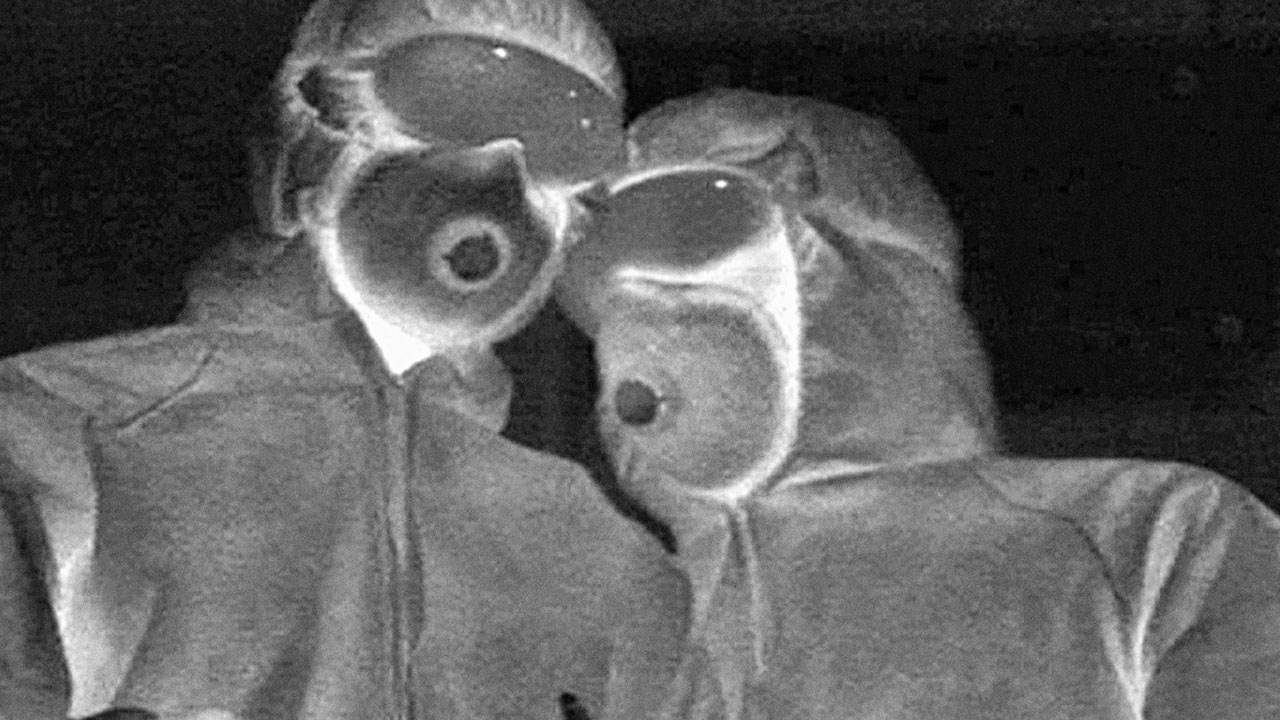 The Operation
Jacob Pander,Marne Lucas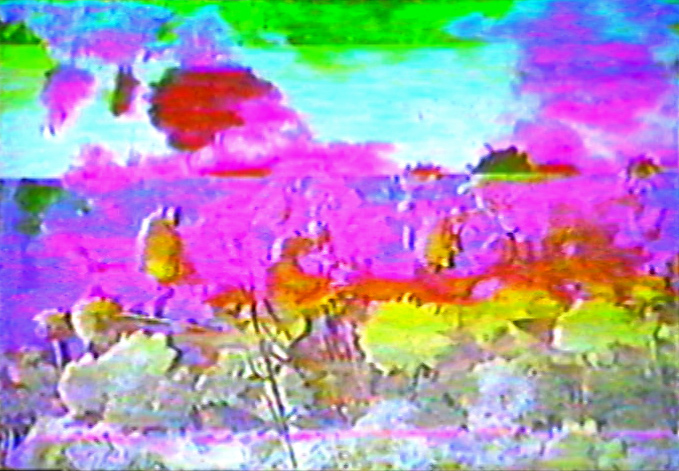 Plant Dreaming Deep
Charlotte Clermont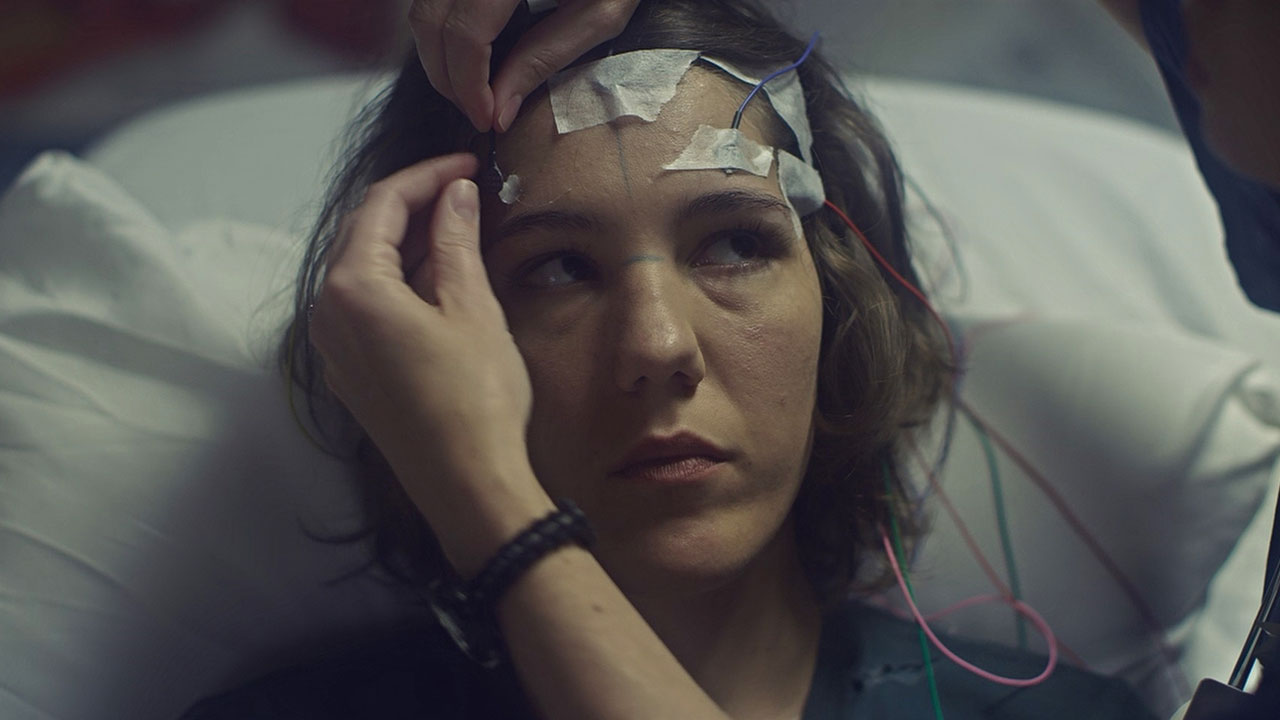 The Sacred Disease
Erica Scoggins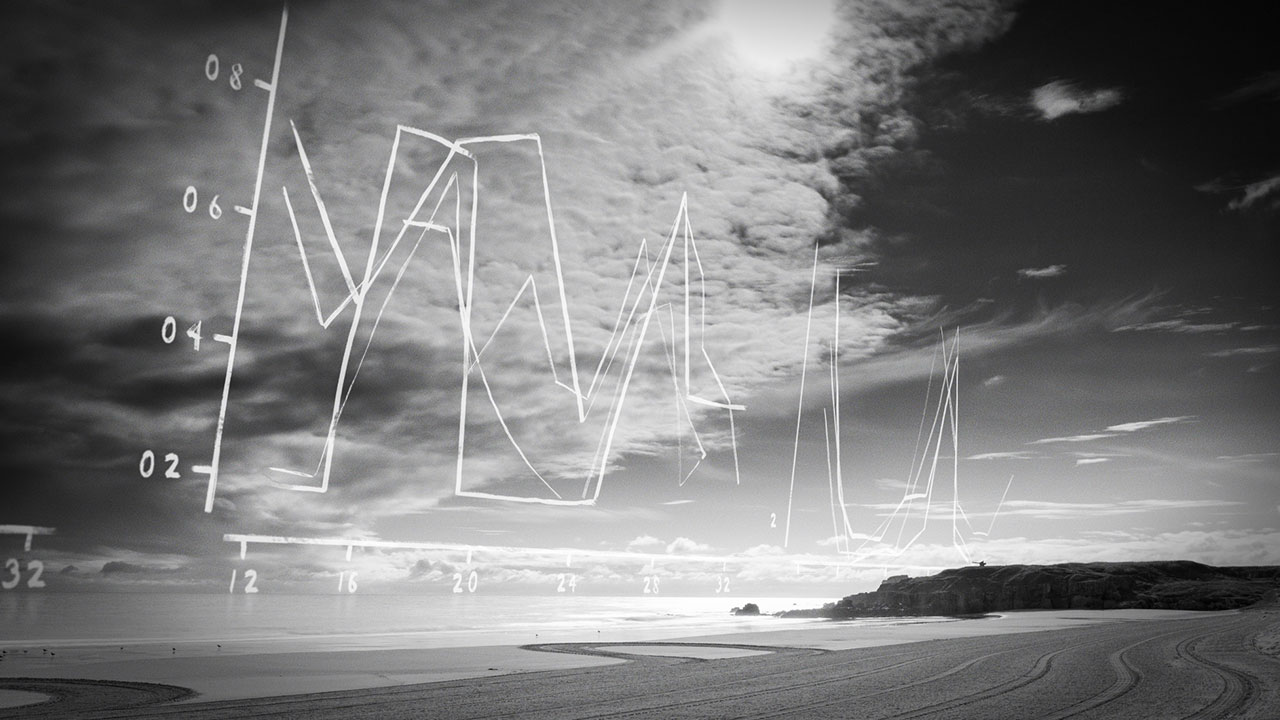 Sleepless
Ellie Land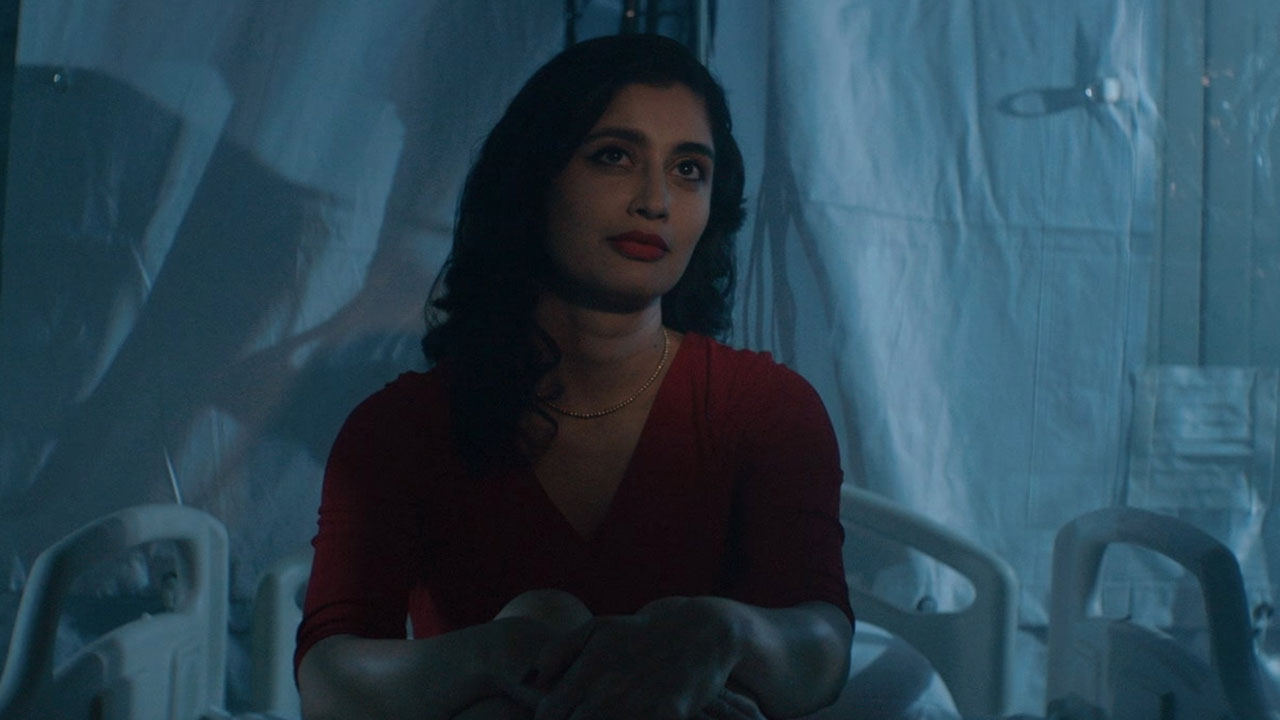 Chimera
Maurice Haeems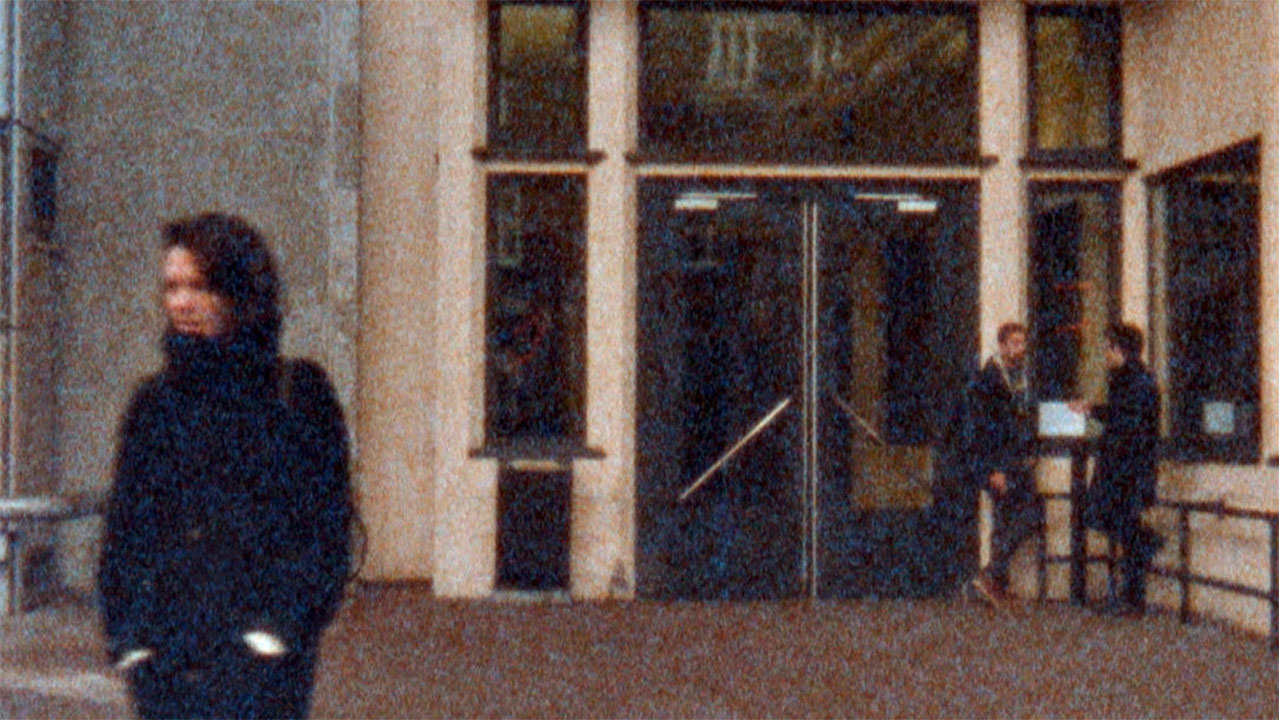 In, Over and Out
Sebastian Brameshuber
Coffee Ring Effect
Kurtis Sensenig
Gargantua
Sandro Bocci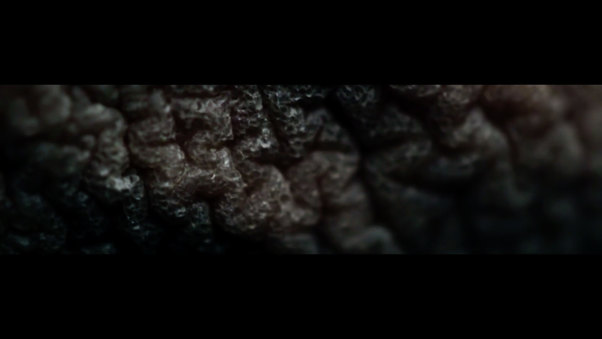 Limbic
Manfred Borsch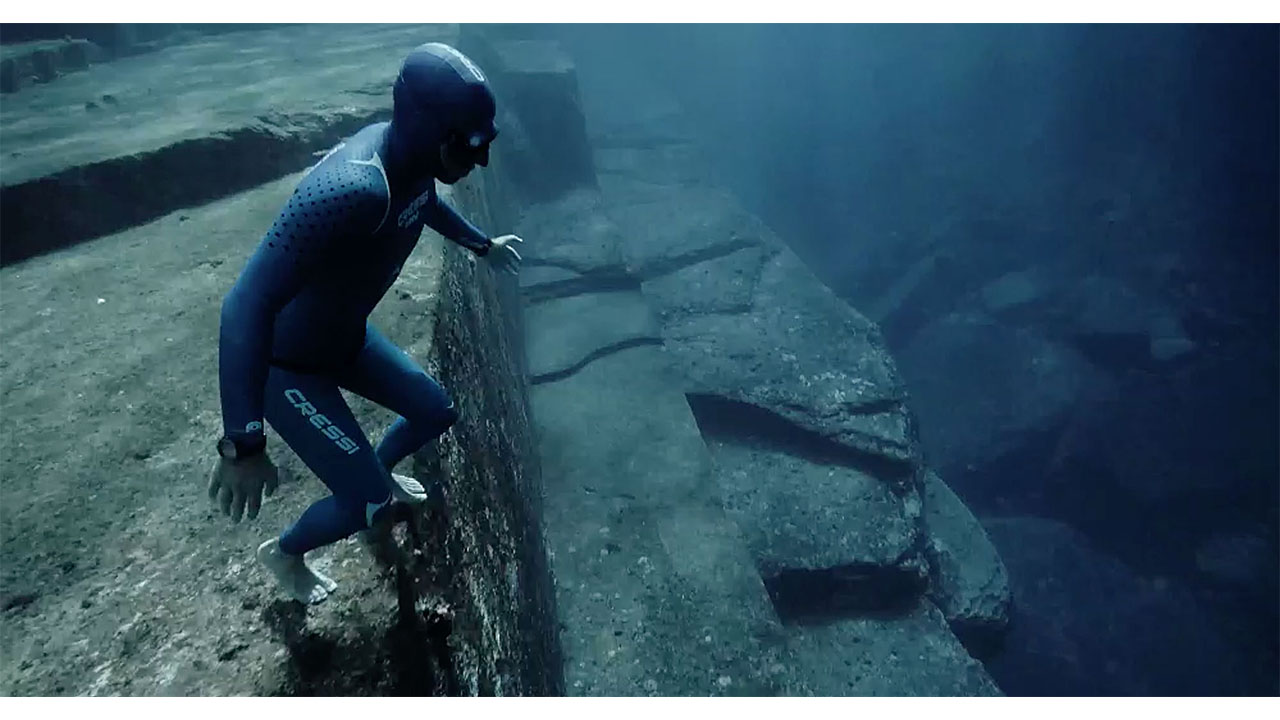 One Breath Around The World
Guillaume Néry, Julie Gautier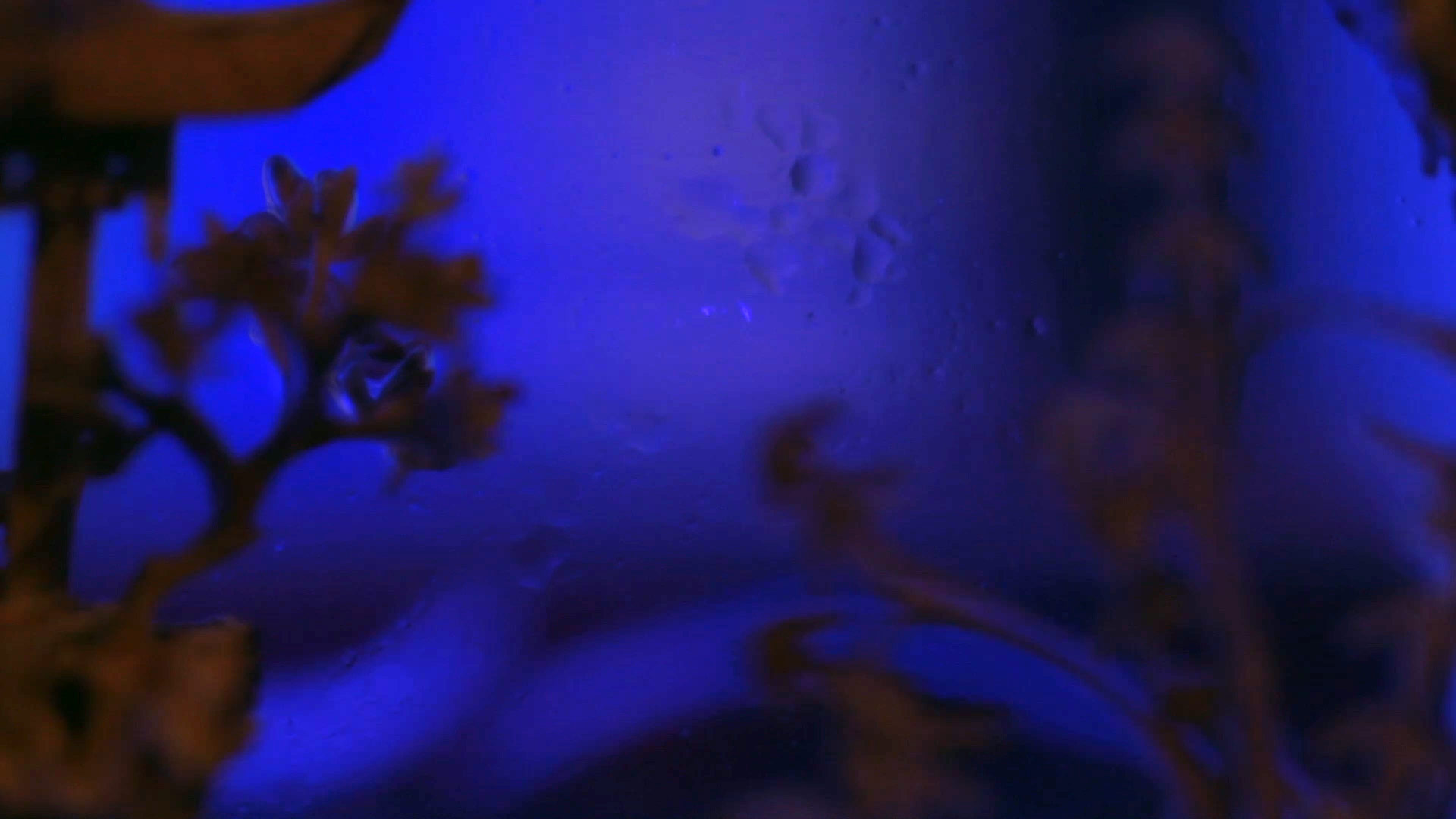 The Nightshift
Giovanni Giaretta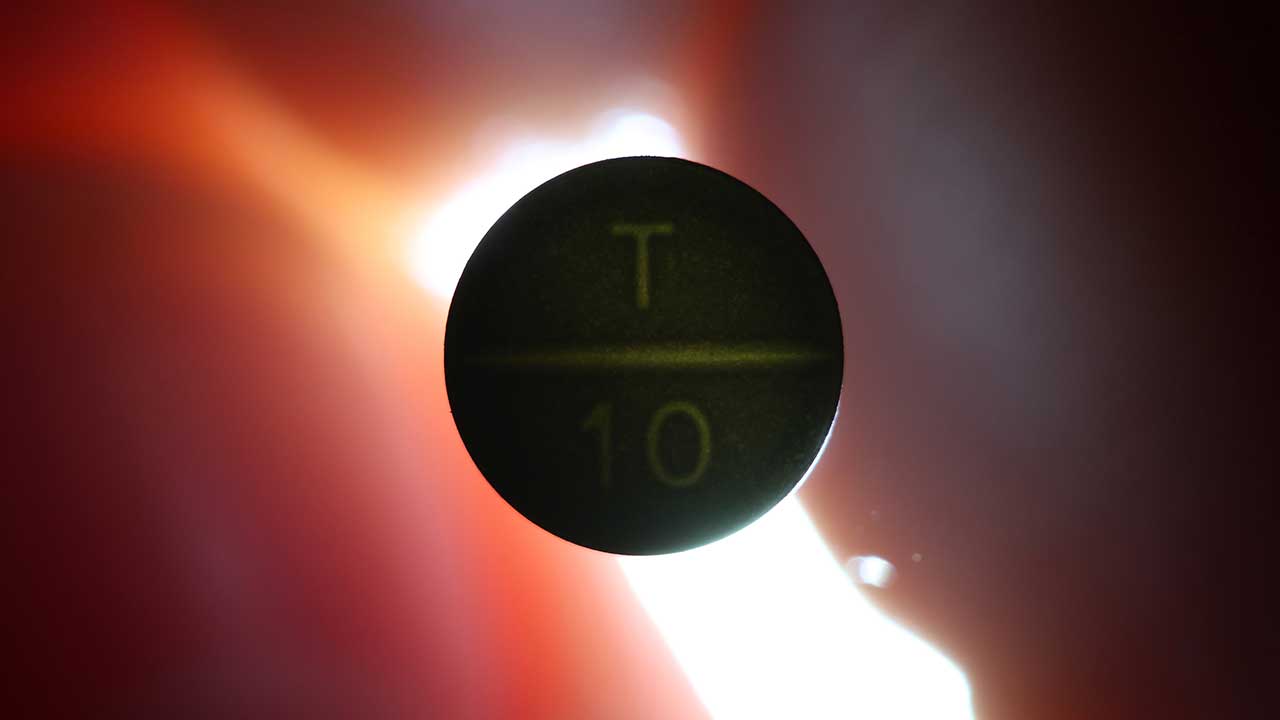 The Betrayal
Susan Young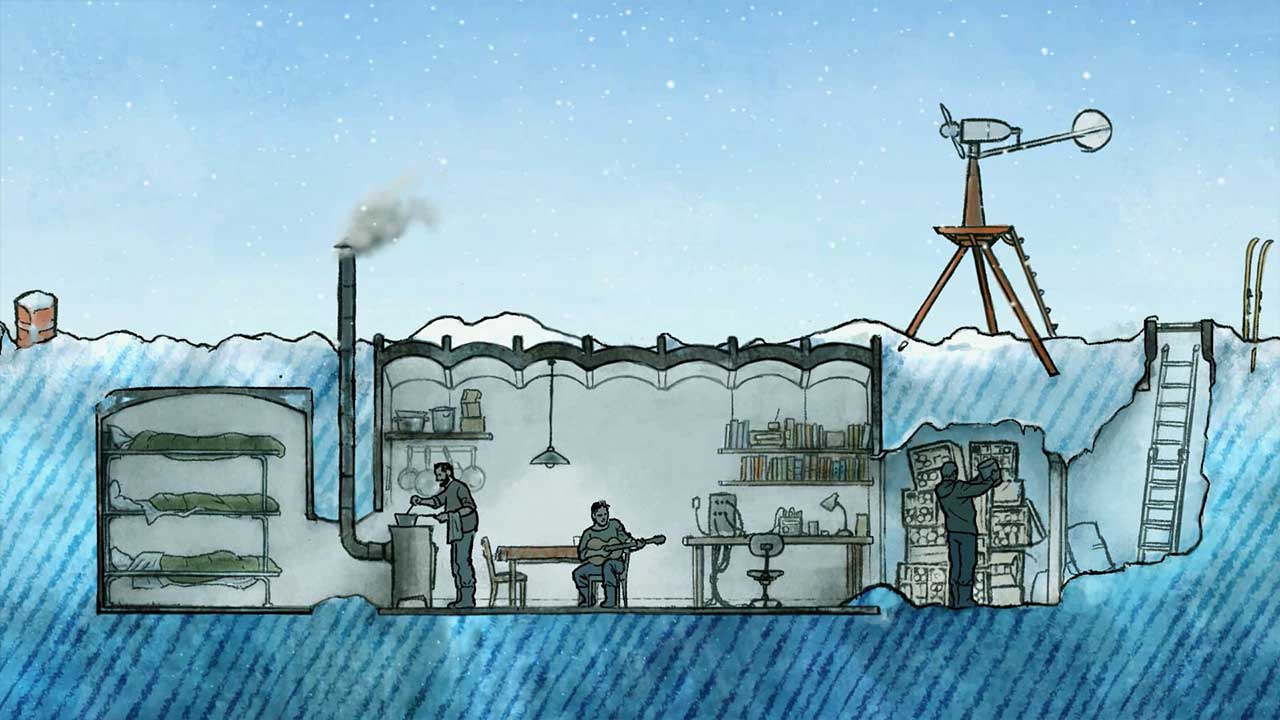 The Secrets Held in Ice
Loïc Fontimpe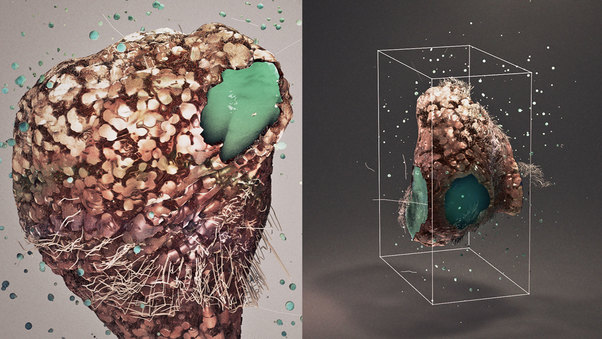 Microscopic Leaps
Markos Kay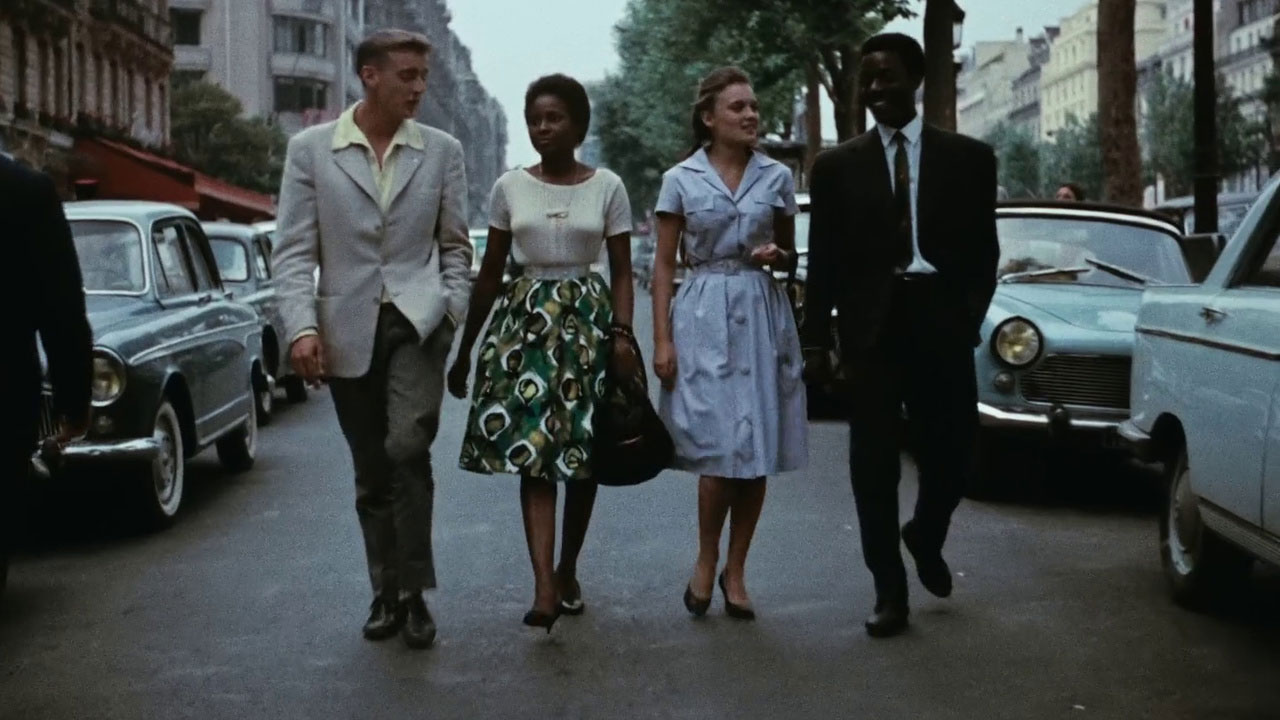 La Pyramide Humaine (The Human Pyramid)
Jean Rouch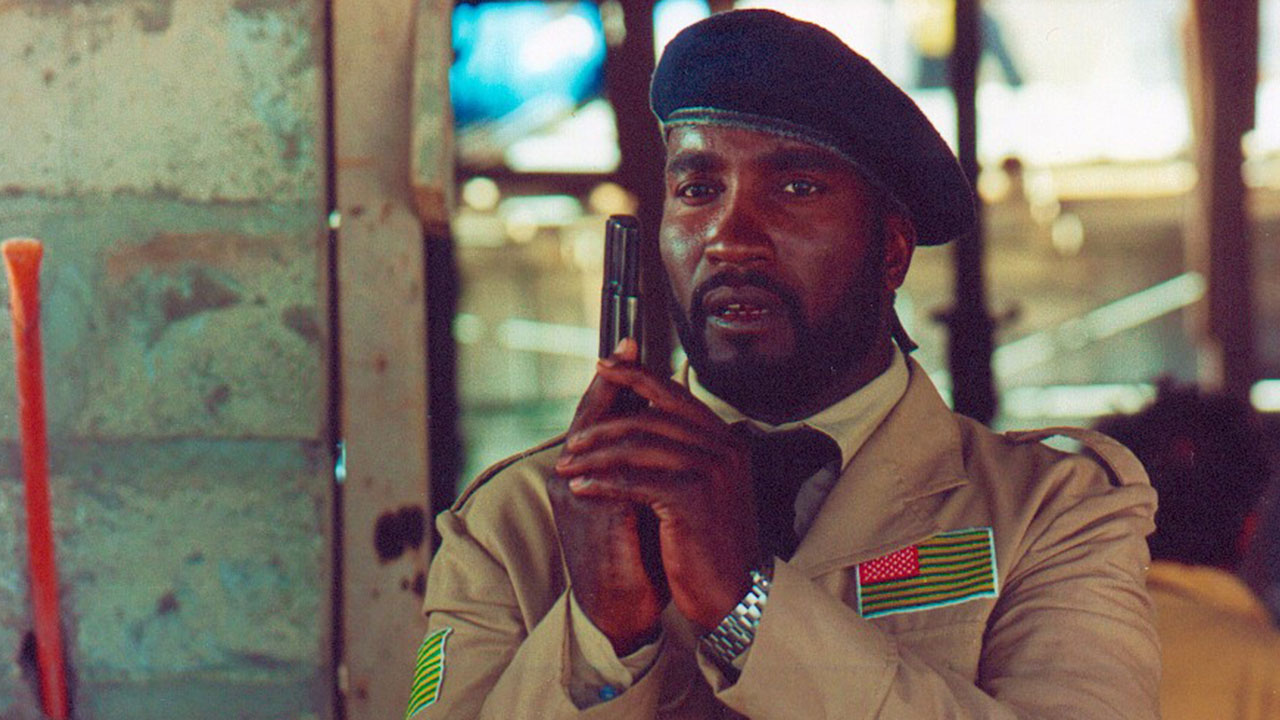 Africa Paradis
Sylvestre Amoussou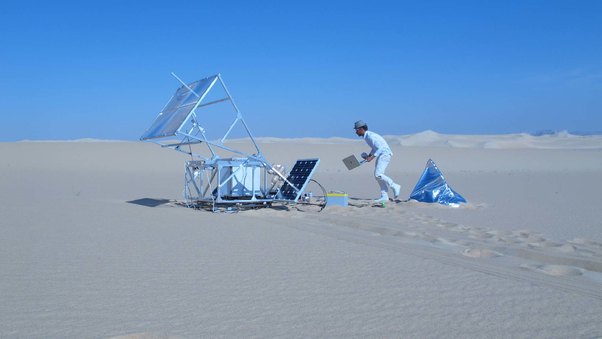 Solar Sinter Project
Markus Kayser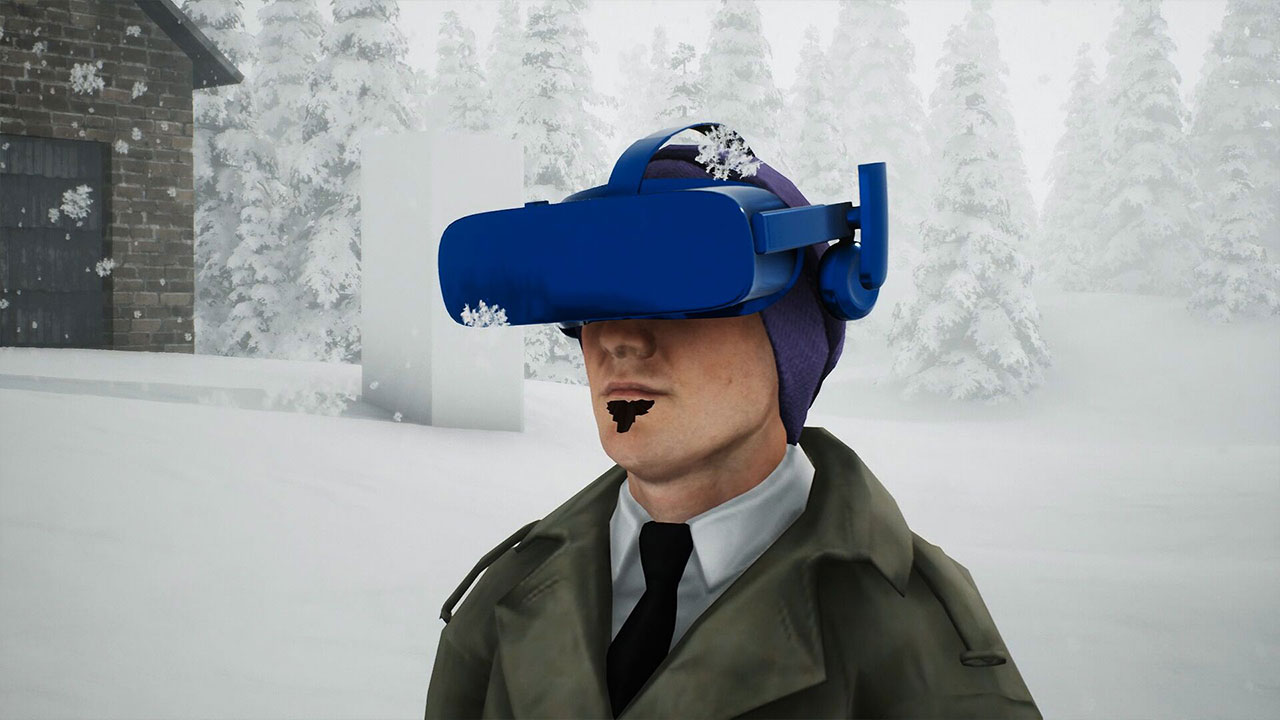 Another Planet
Amir Yatziv
Moxie
Andrés Mansisidor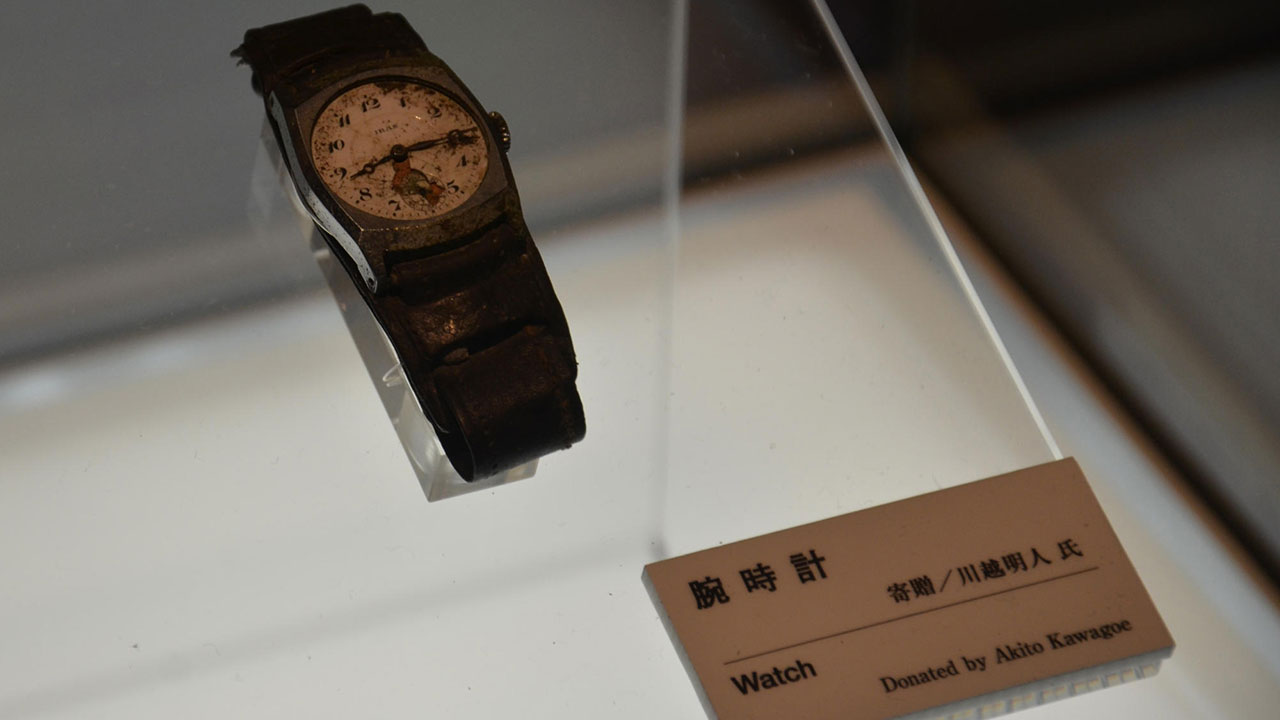 The Miniaturist
Paribartana Mohanty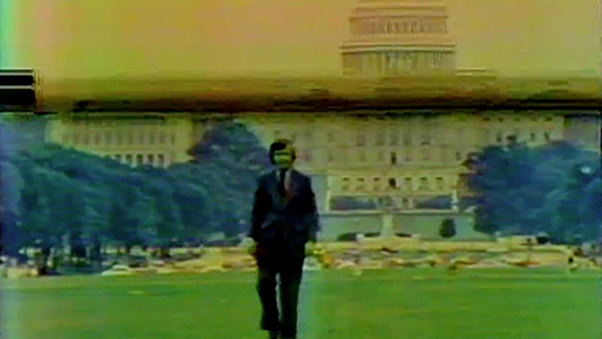 Psychic Driving
William E. Jones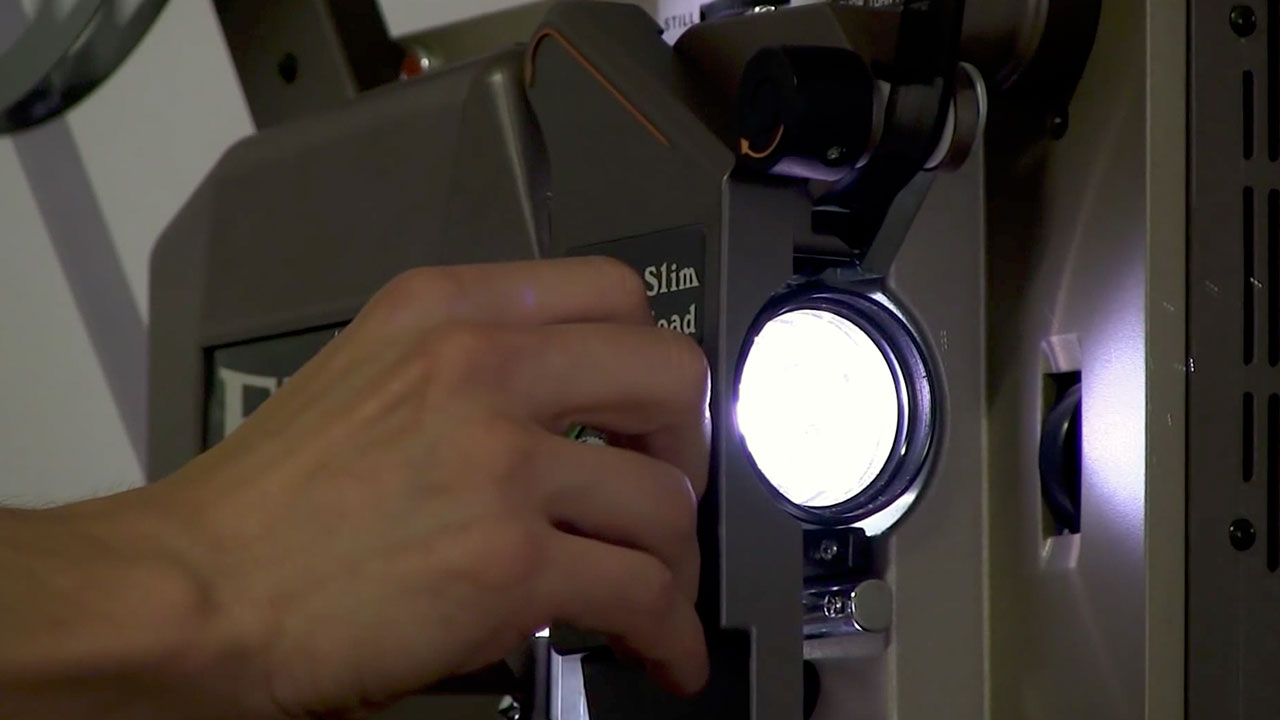 The Science of Cinema
Colin Stringer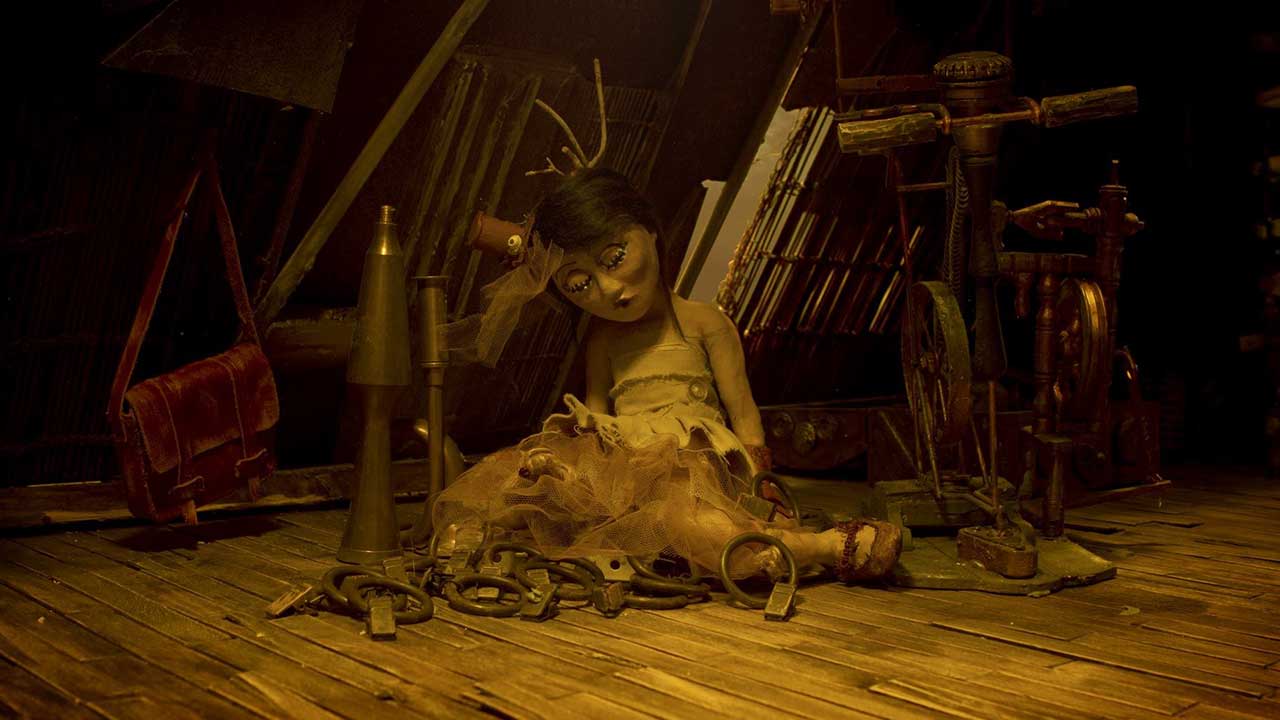 Indigo
Amanda Strong
Three Wavelengths
Mikko Keskiivari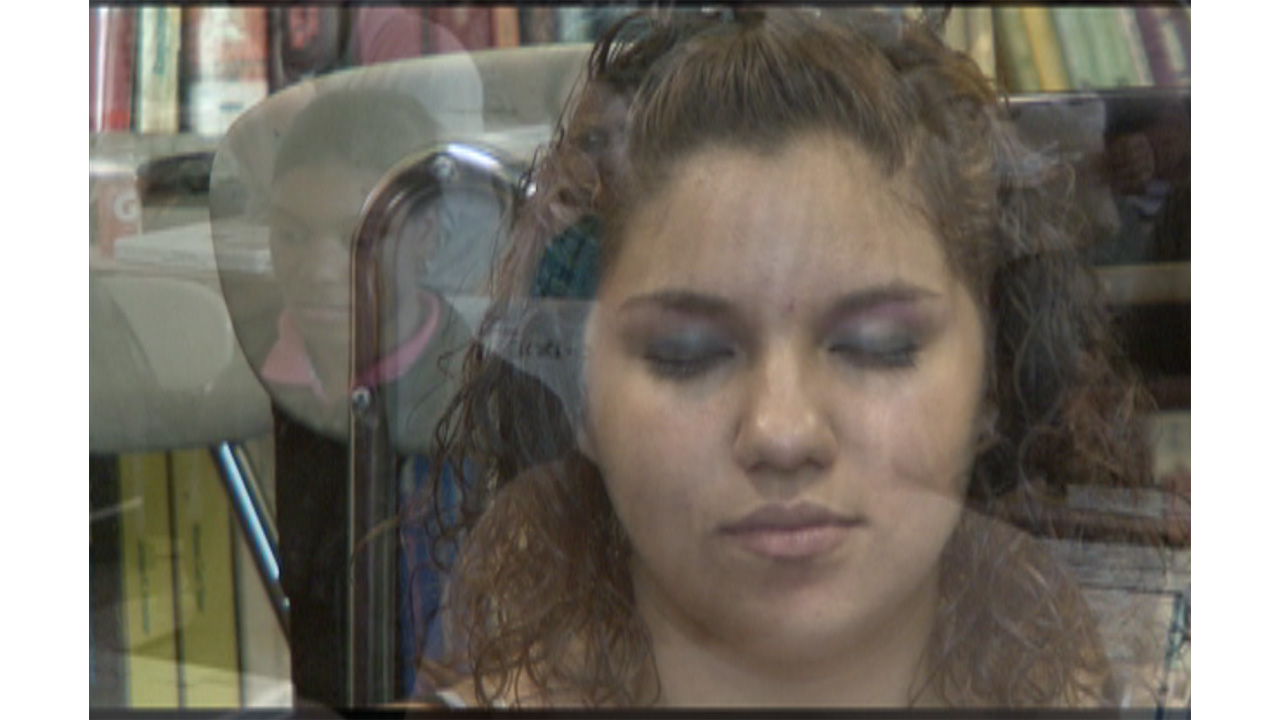 Changing minds at Concord High School
Susan Weiser-Finley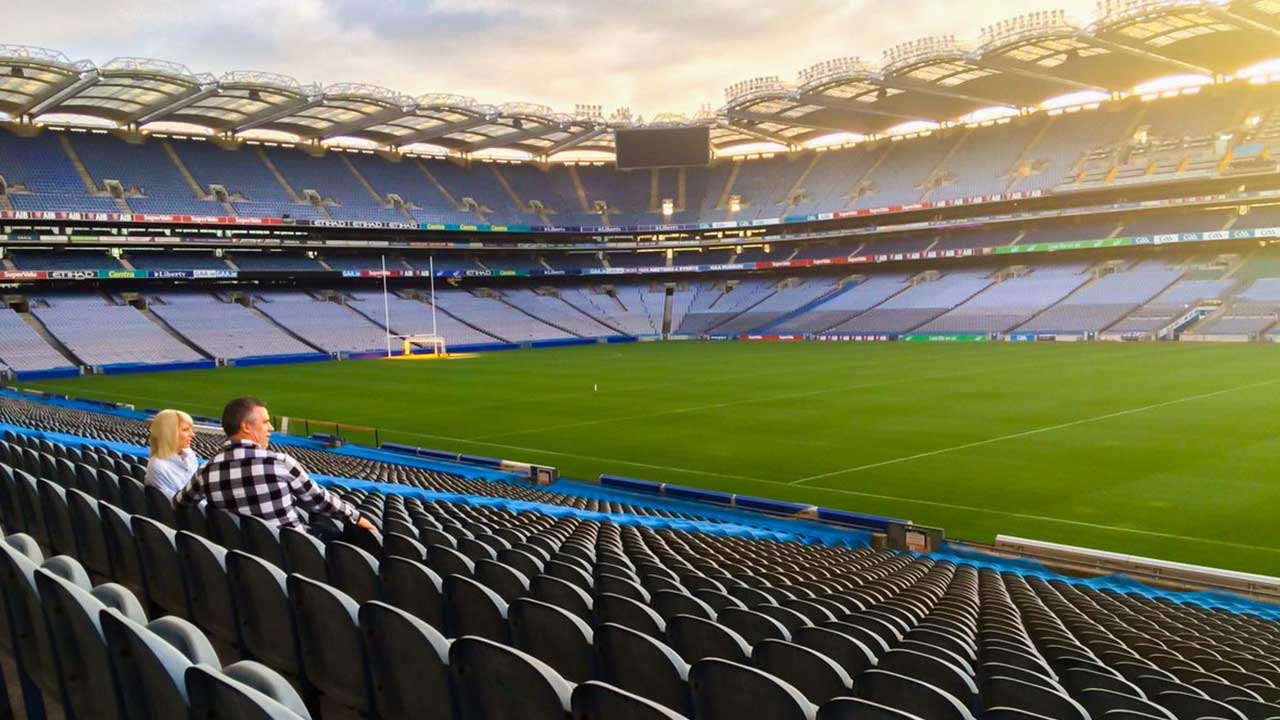 Mending Legends
Paul Webster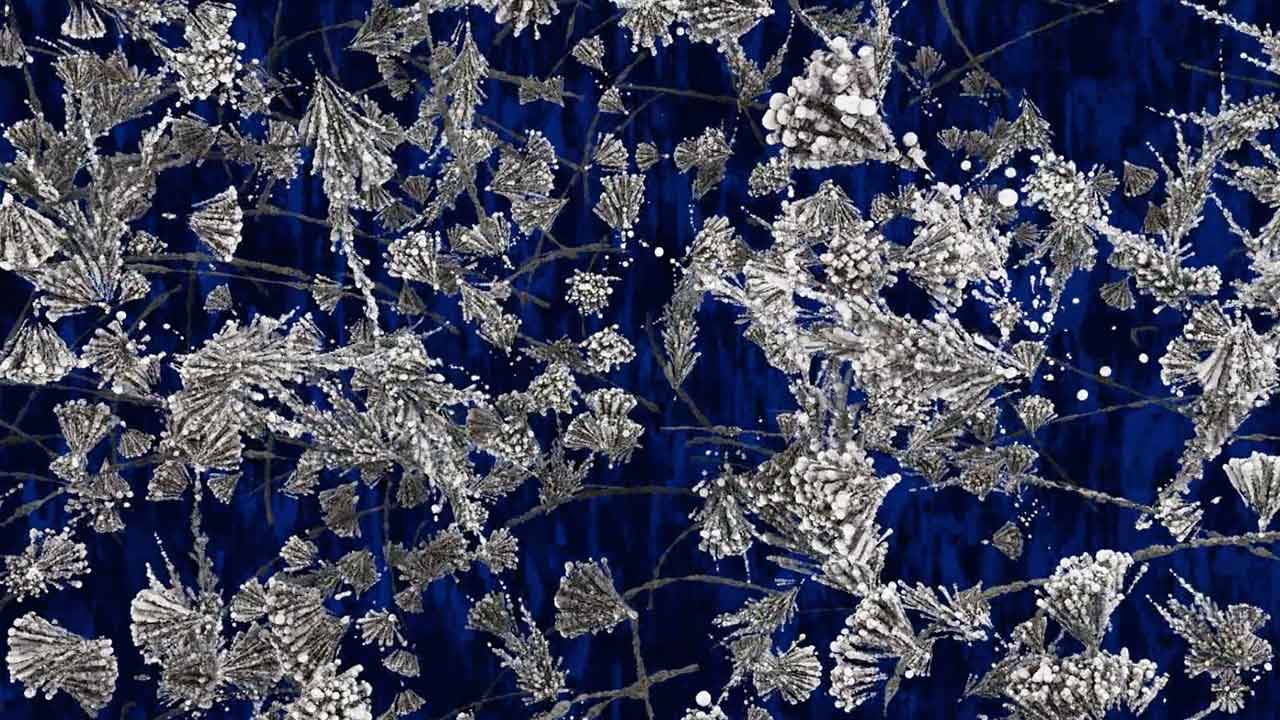 Quantum Fluctuations
Markos Kay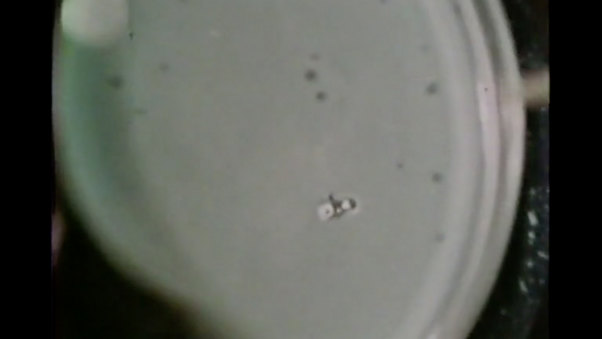 Stop or Go: With Doctor Norton Zinder
NetScience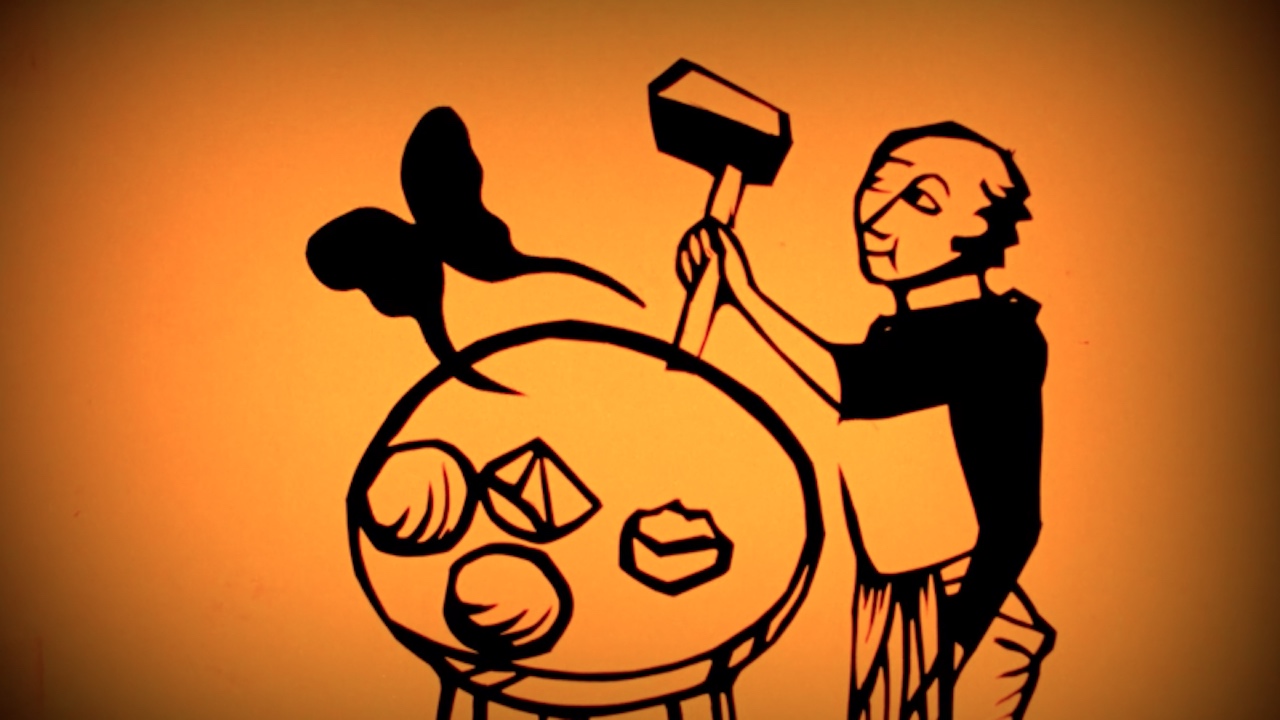 Somnium Lapidum
Emily Pelstring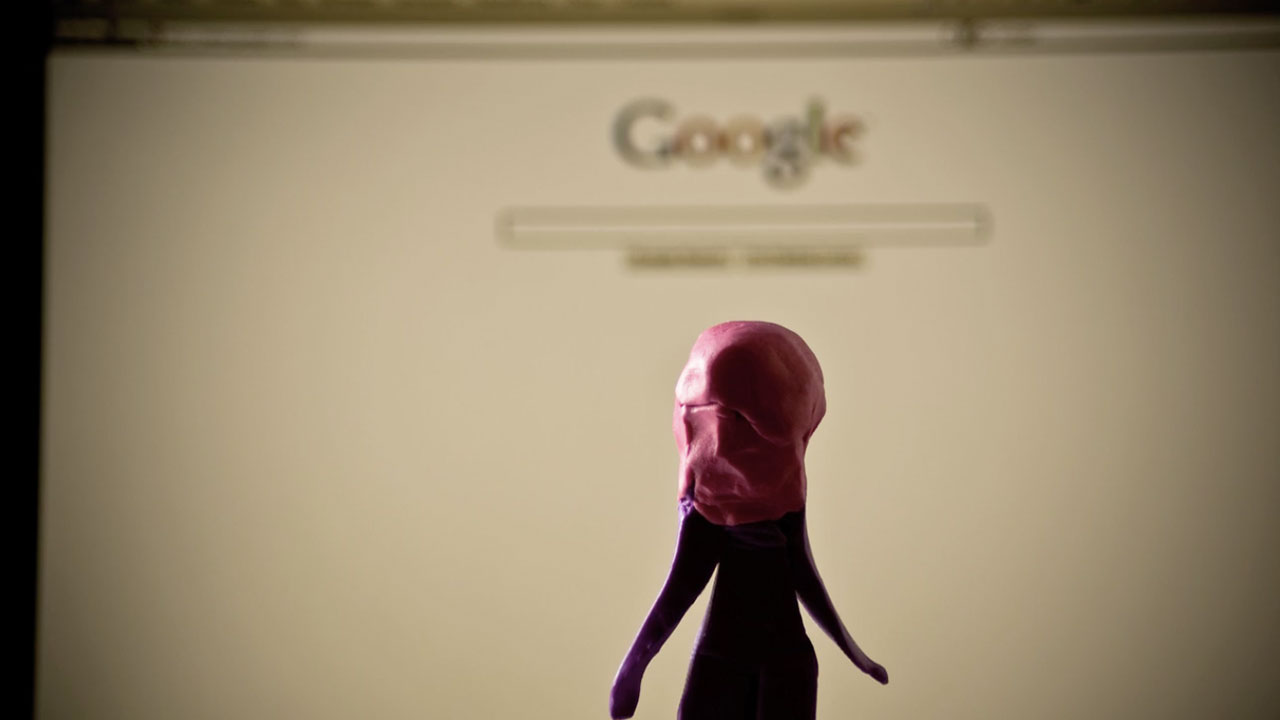 I Do Not Know Who I Am
Constantine Konovalov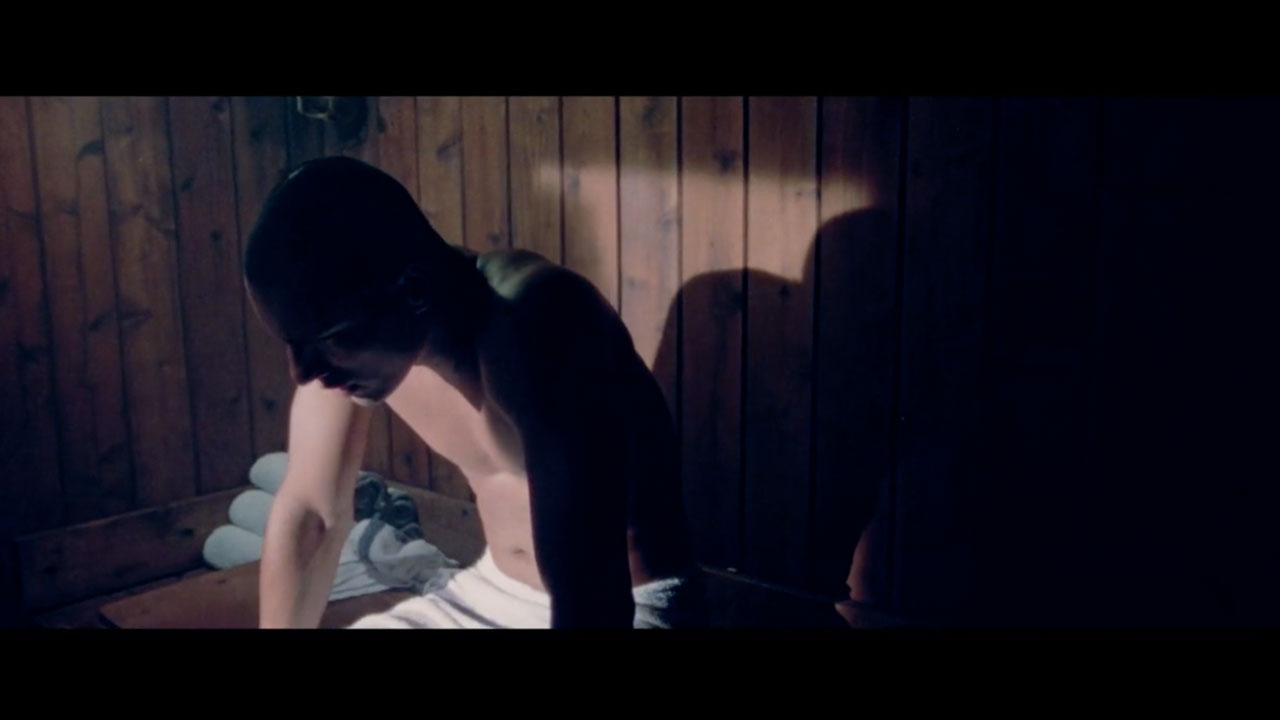 A Crack
Lilian Mehrel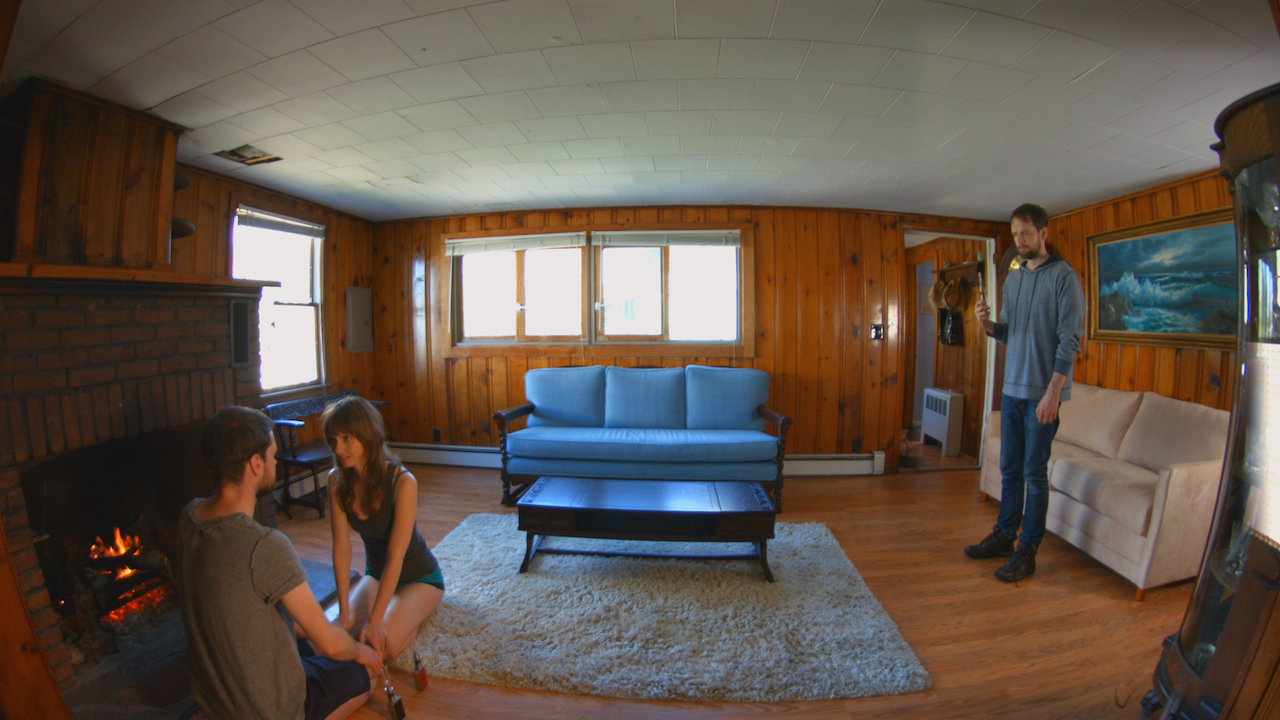 Olfactory
Christopher Piazza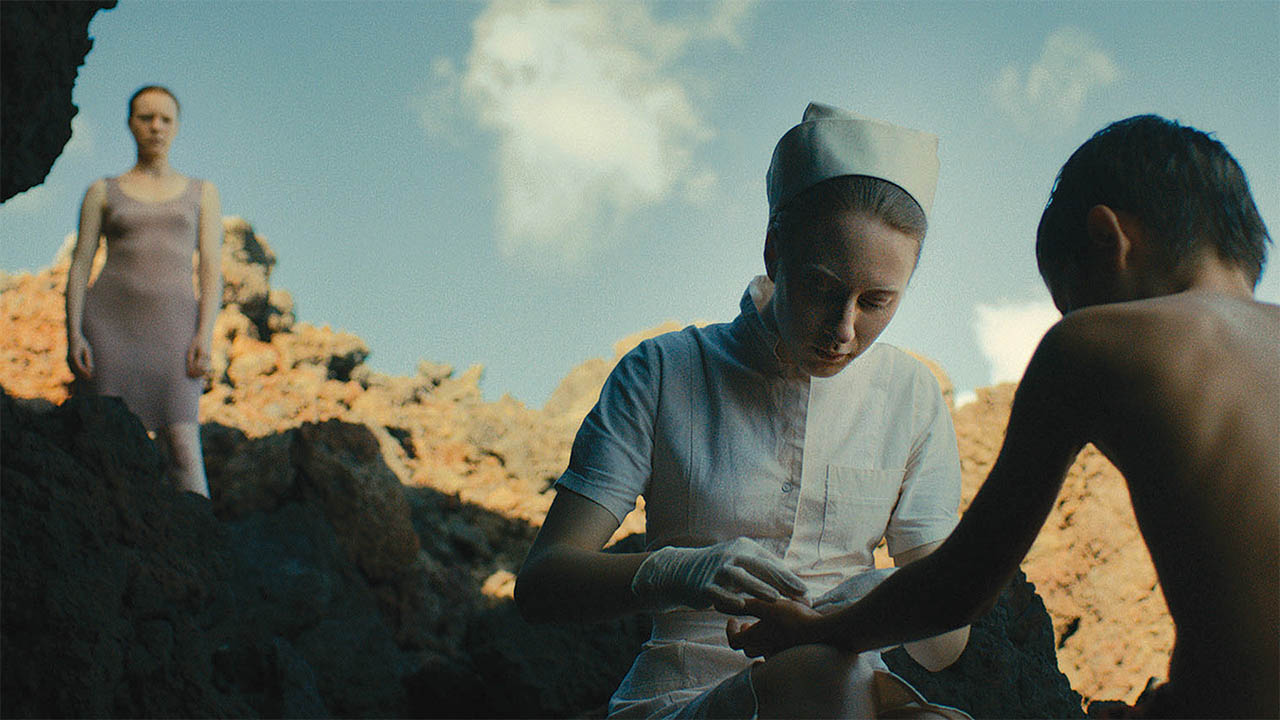 Evolution
Lucile Hadžihalilović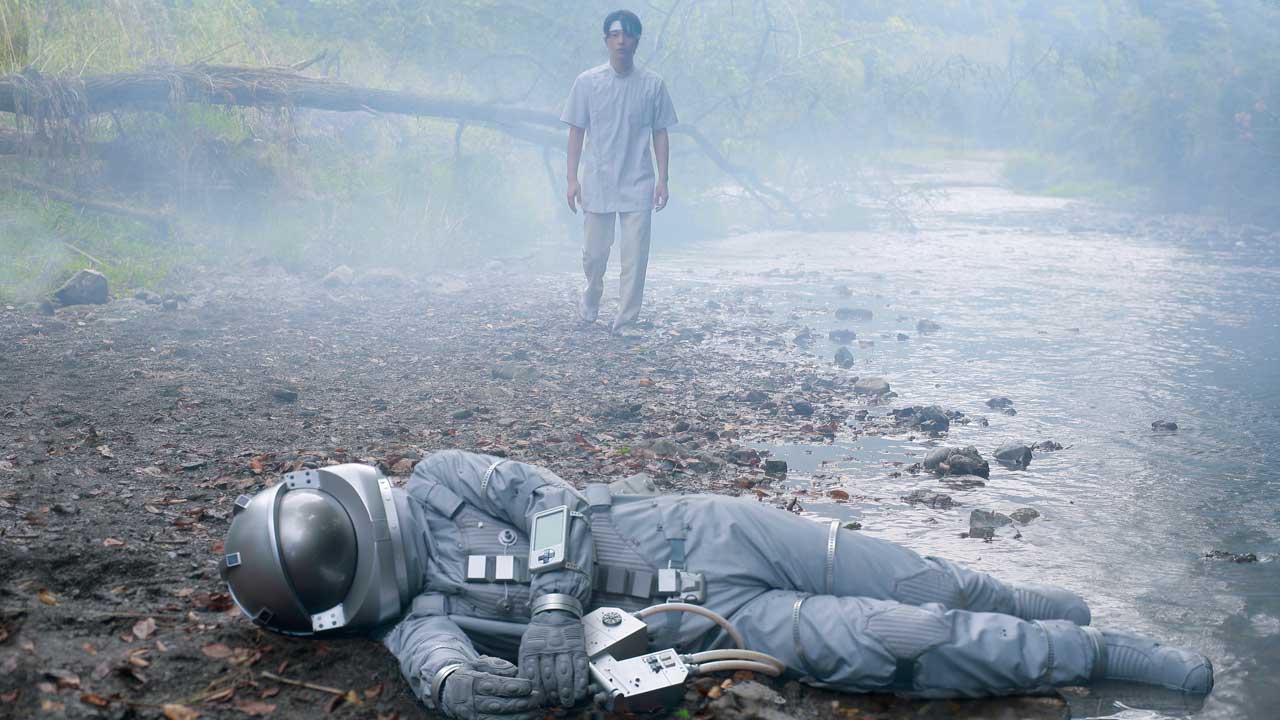 The Clone Returns Home
Kanji Nakajima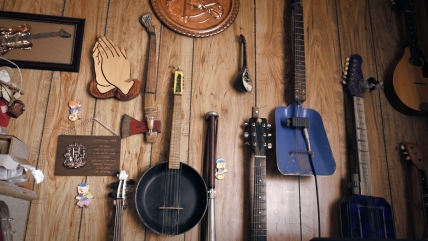 Home Cooked Music
Mike Maryniuk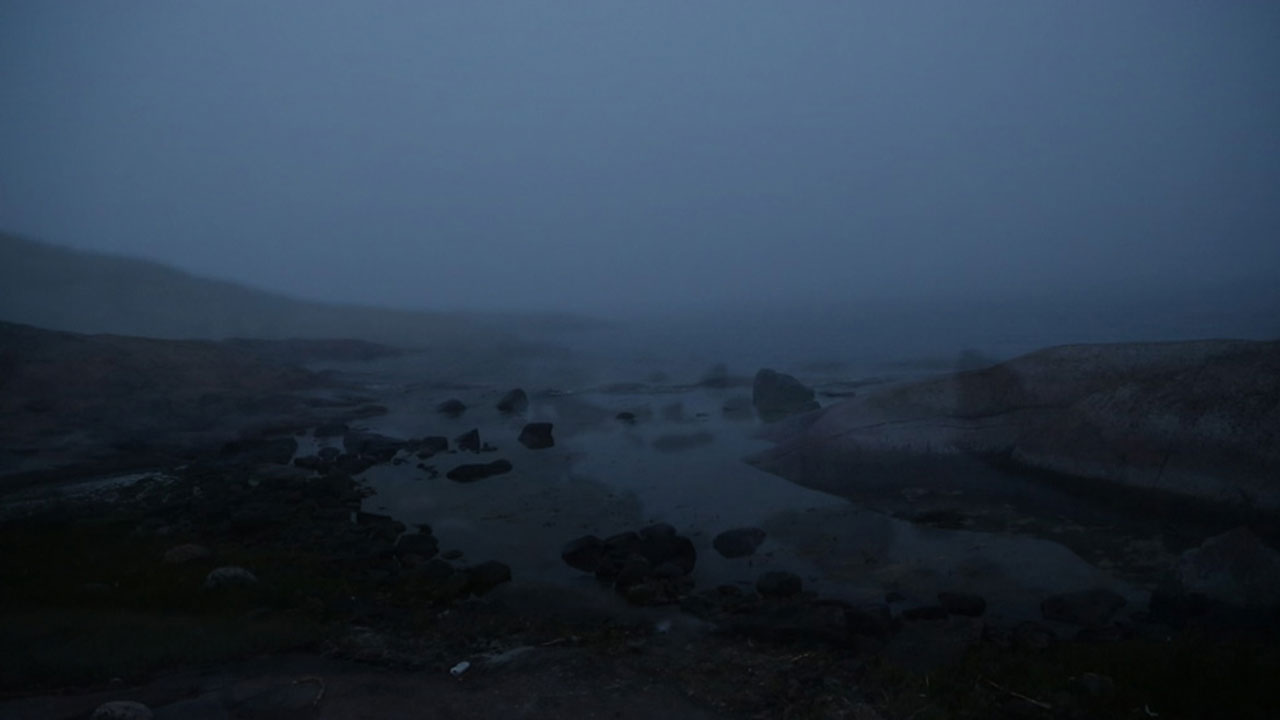 SUR l'eau REAL
Marjo Levlin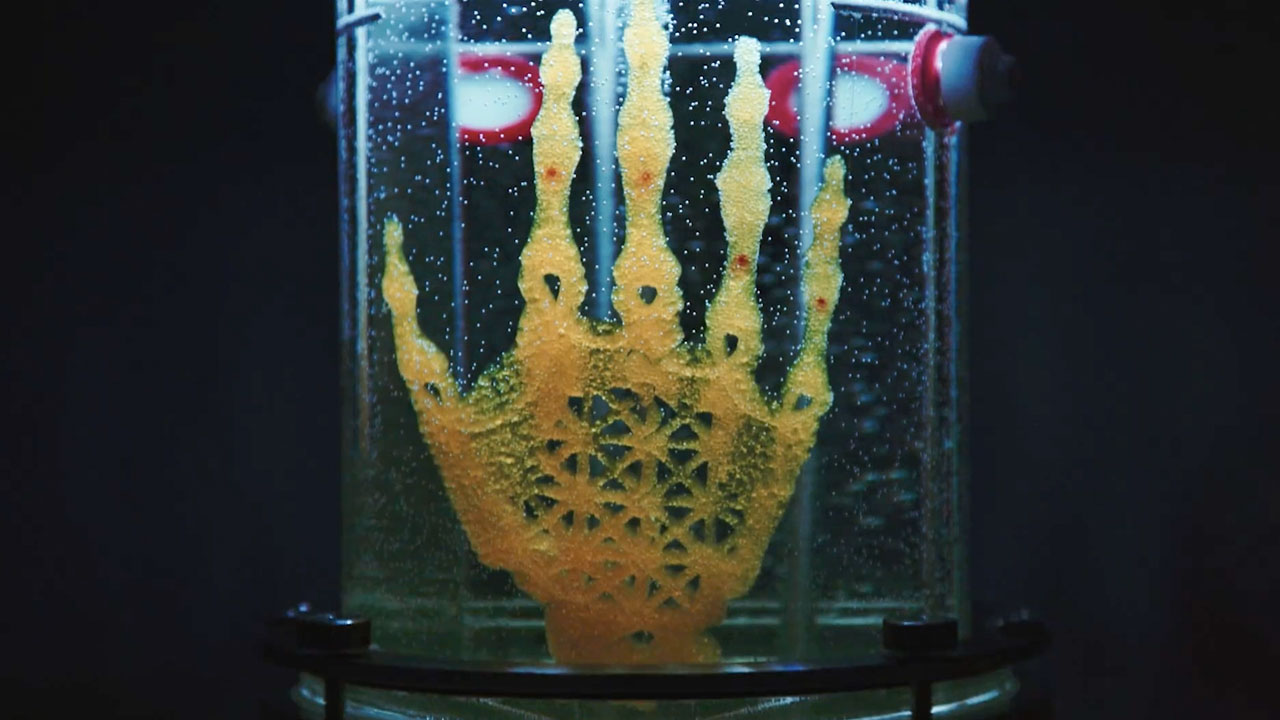 Amy Karle: Bringing Bones to Life
Amy Karle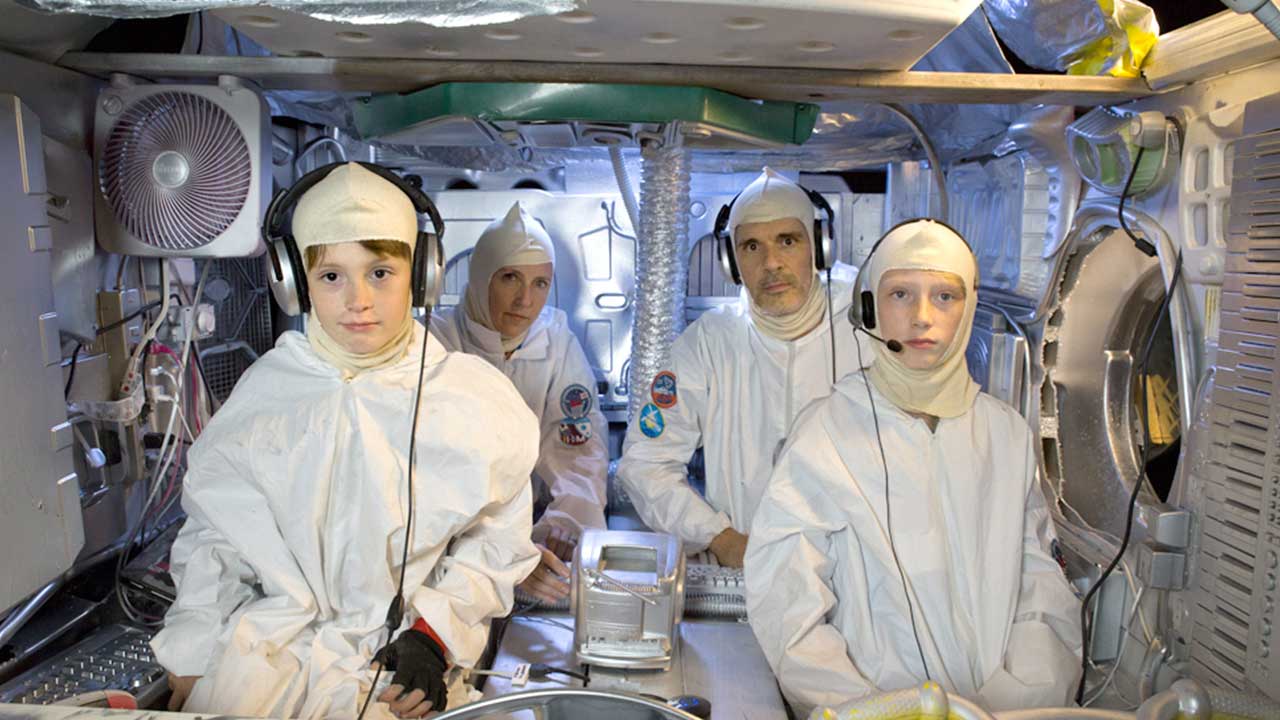 Higher Ground
Mary Magsamen,Stephen Hillerbrand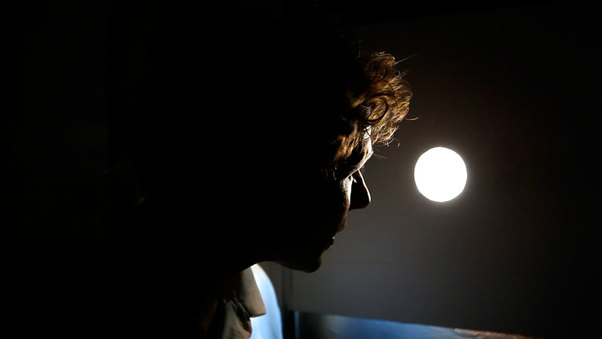 Invisible
Lia Giraud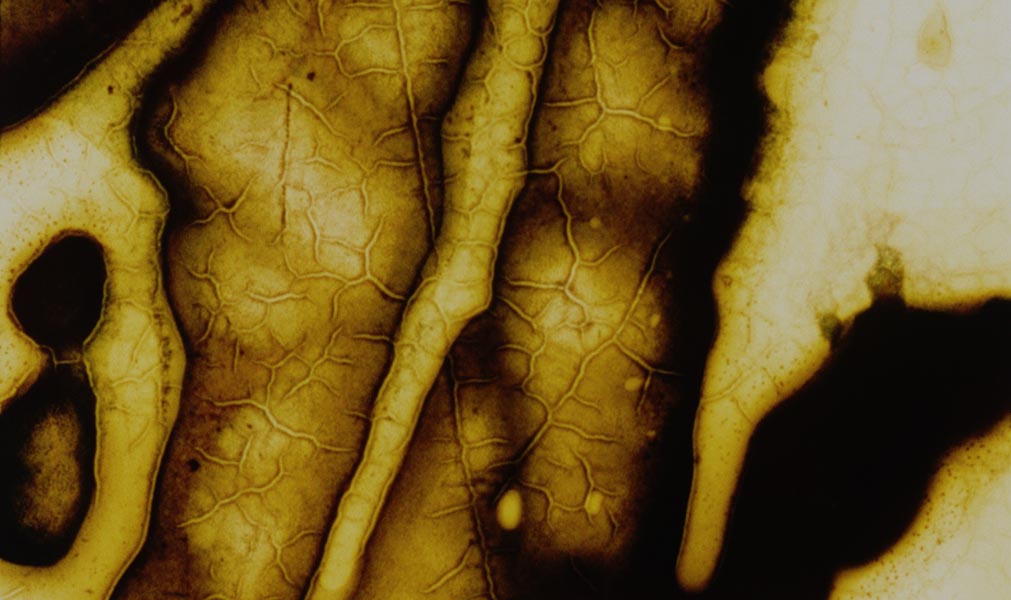 The Mulch Spider's Dream
Karel Doing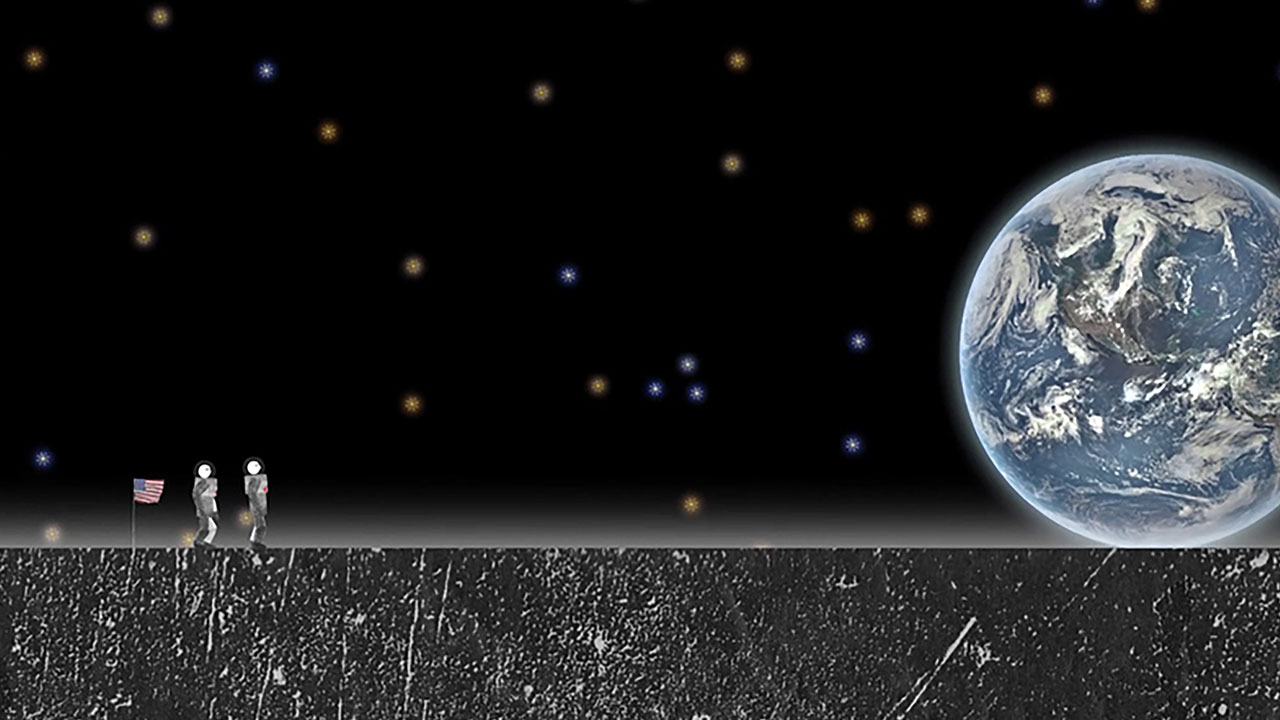 A Story from Space
Joseph Childs,Iro Tsavala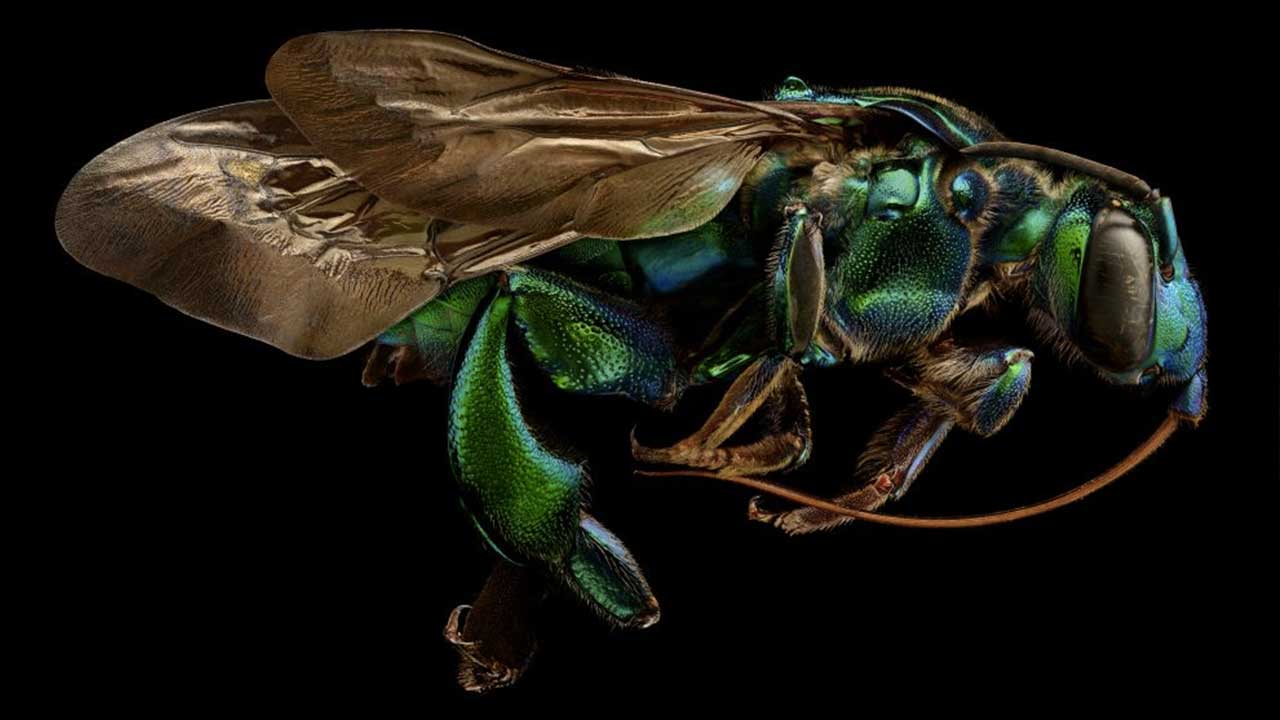 Microsculpture
Tanya Cochrane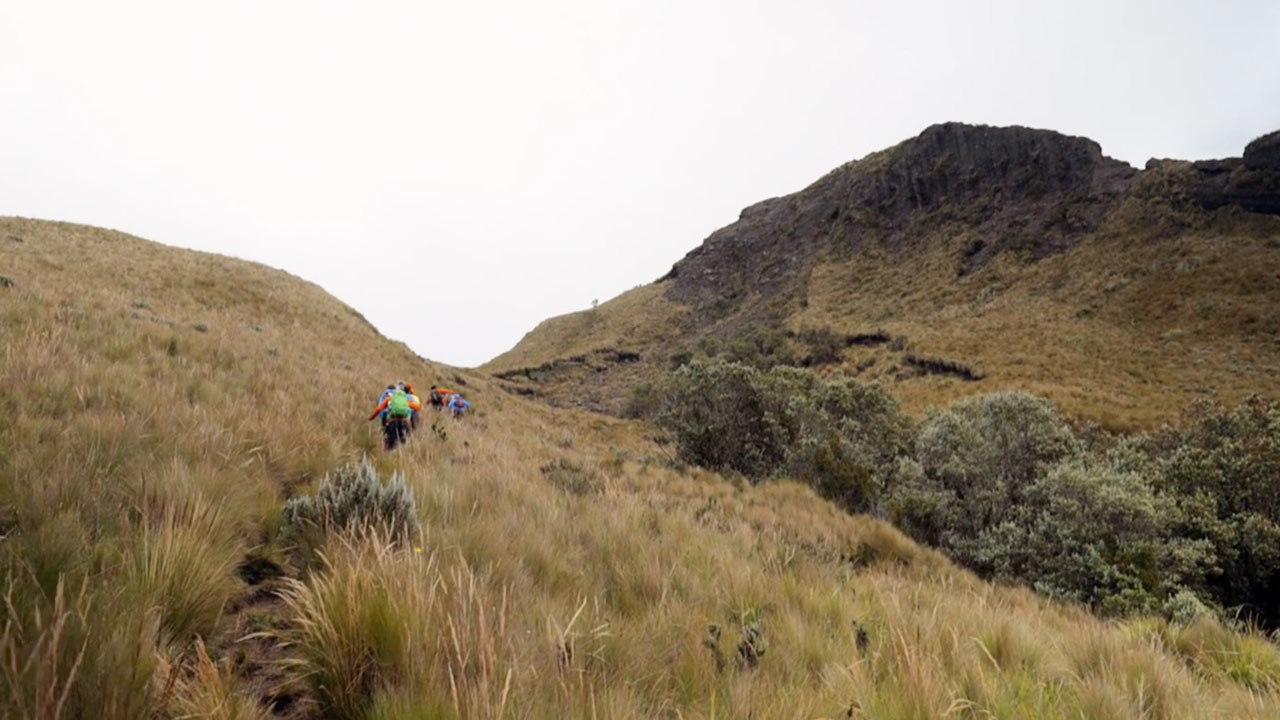 In Extremity
Jake Farmer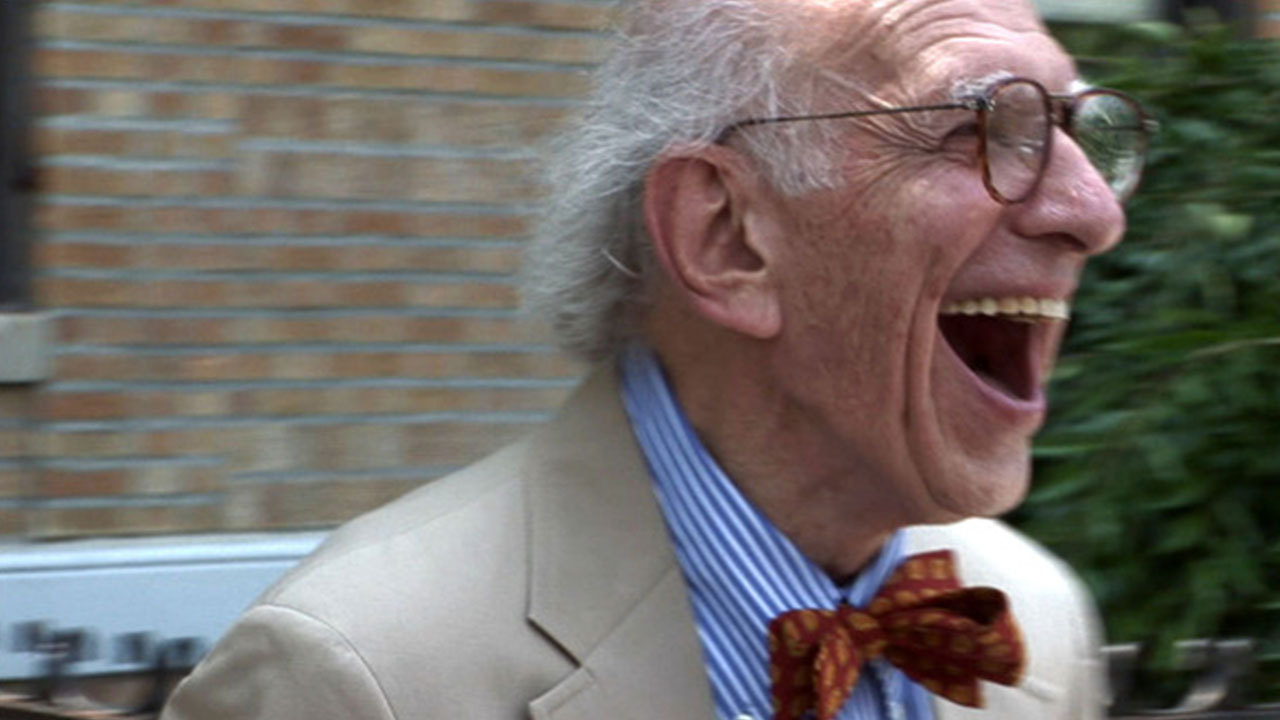 In Search of Memory
Petra Seeger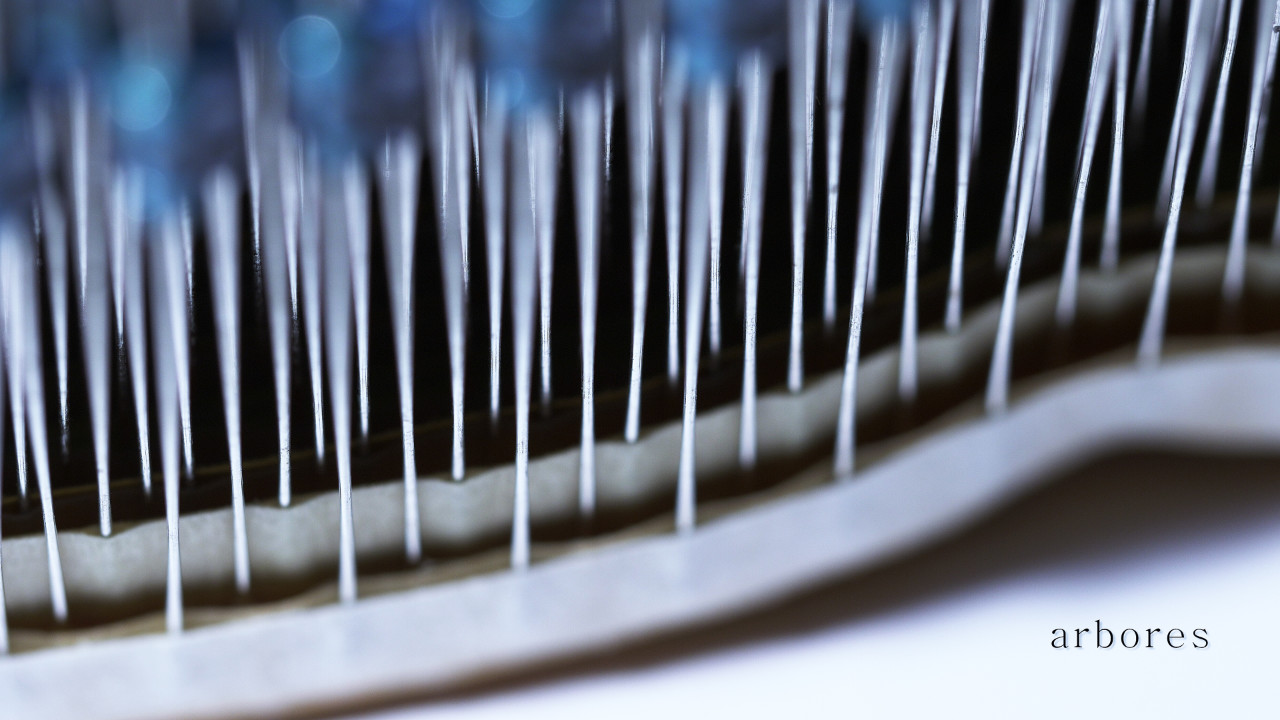 Structures of Nature
Martin Gerigk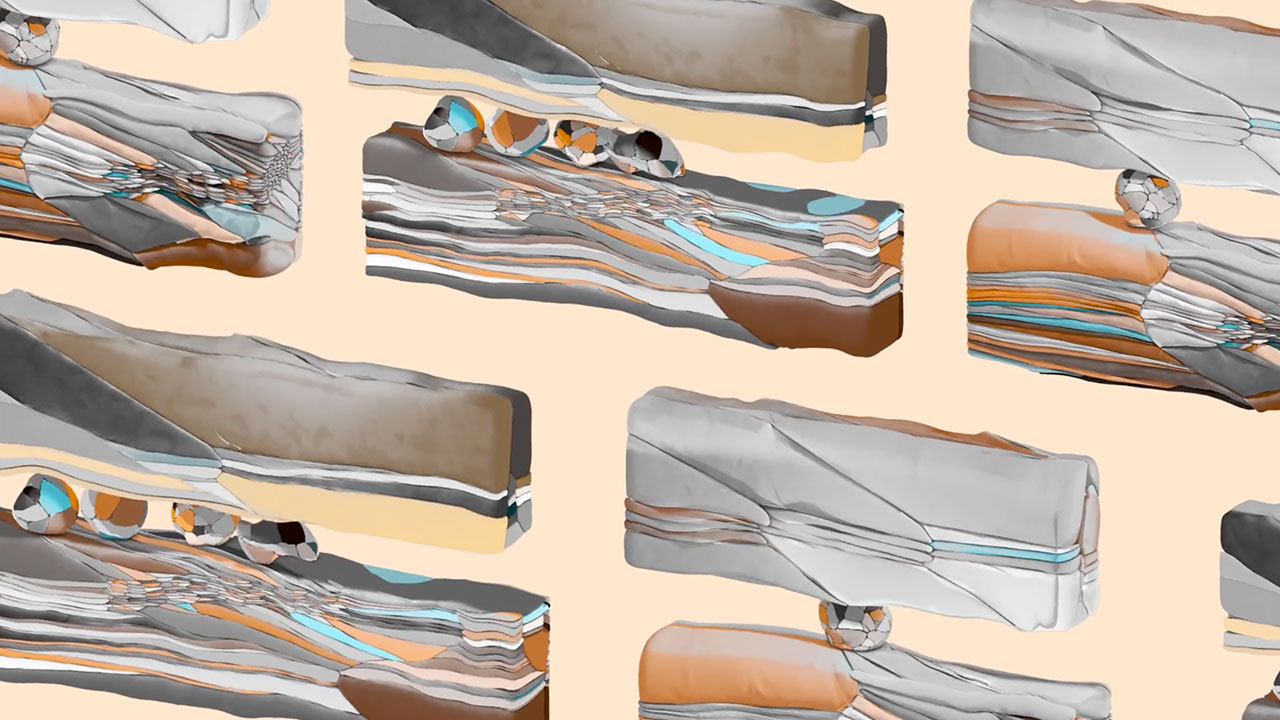 Wearing Well
Markos Kay,Enrico Milanese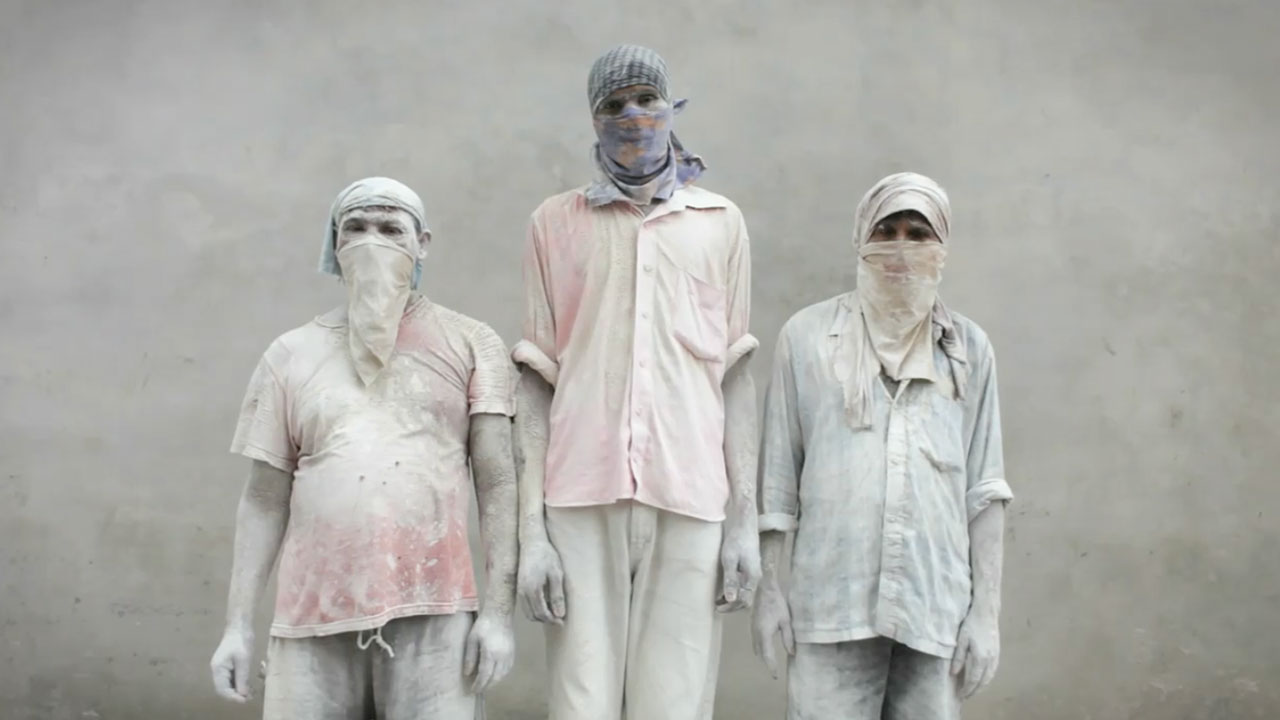 Not a Very Green Revolution
Chintan Gohil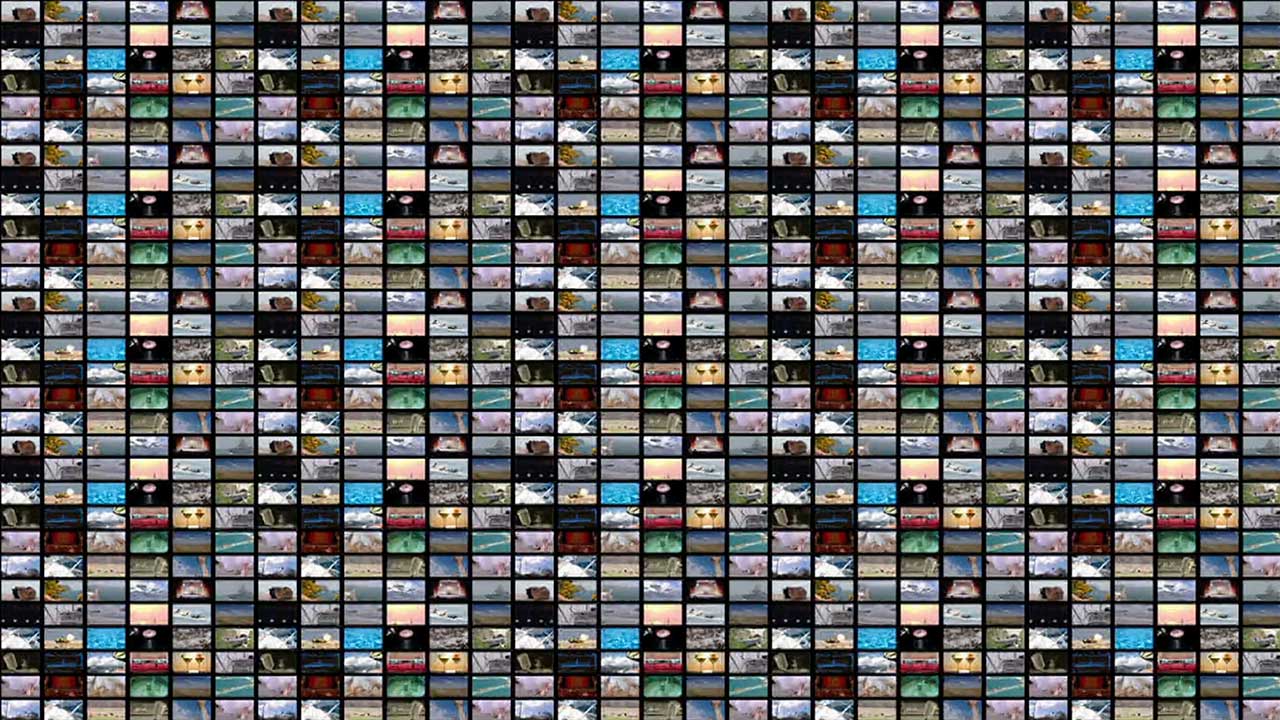 Technology Shabbats
Tiffany Shlain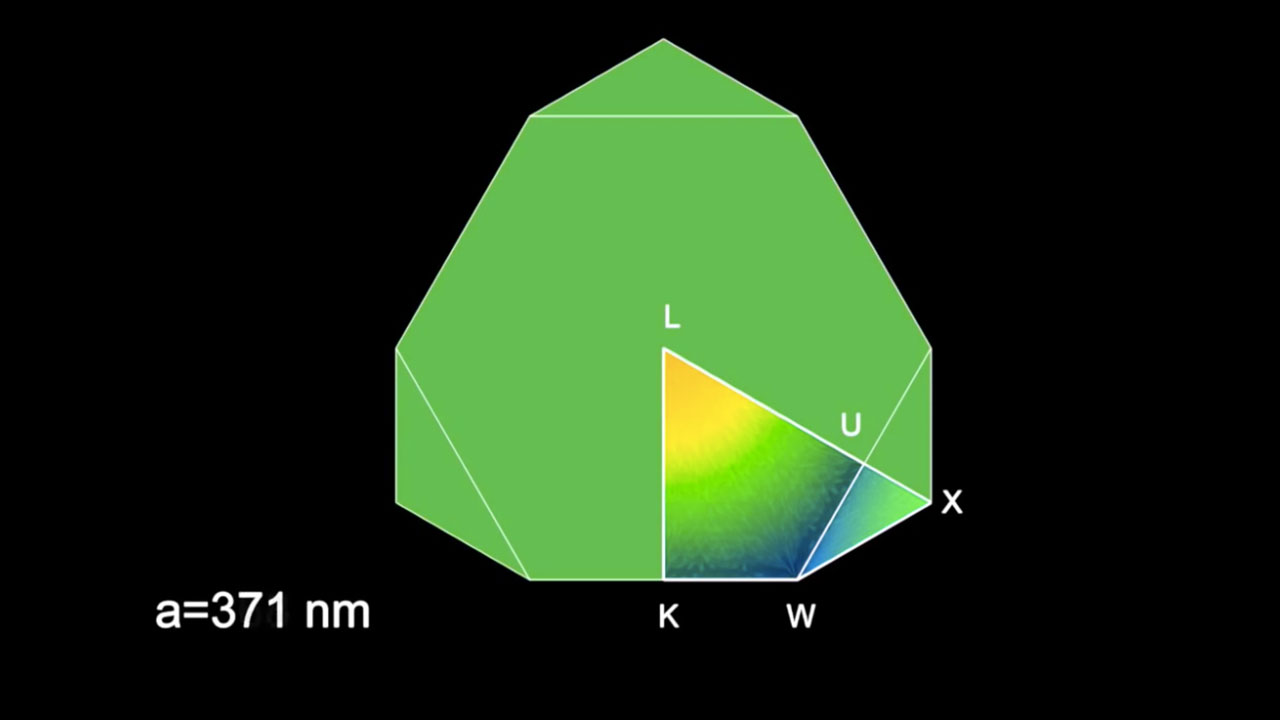 Chameleon colour change (Suppl Movie S5)
Michel Milinkovitch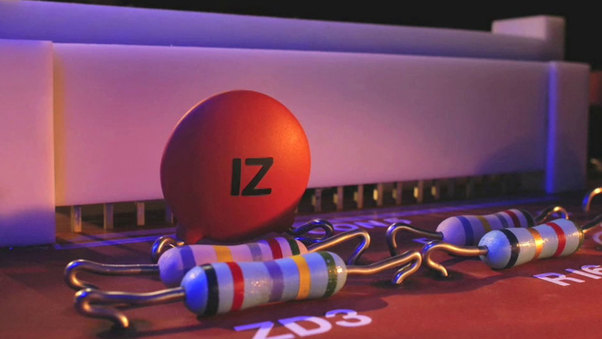 Off-Line
Tom Gasek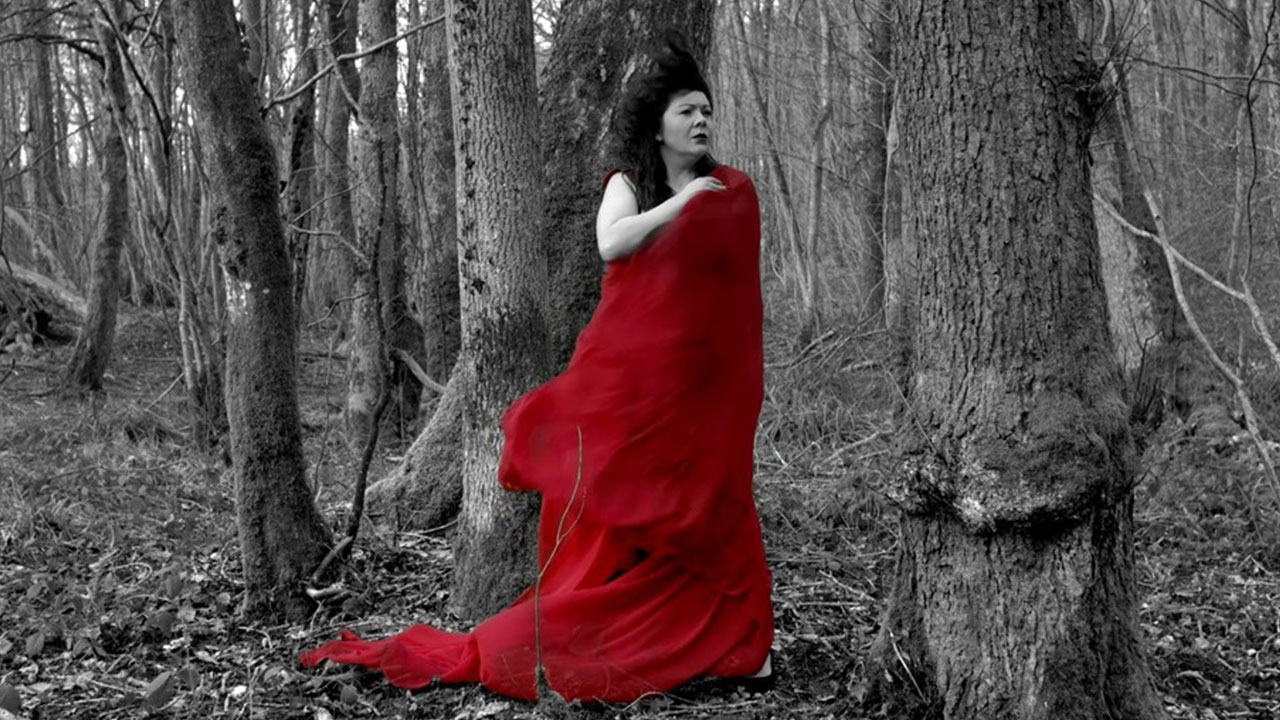 Hon mê
Laurie Dasnois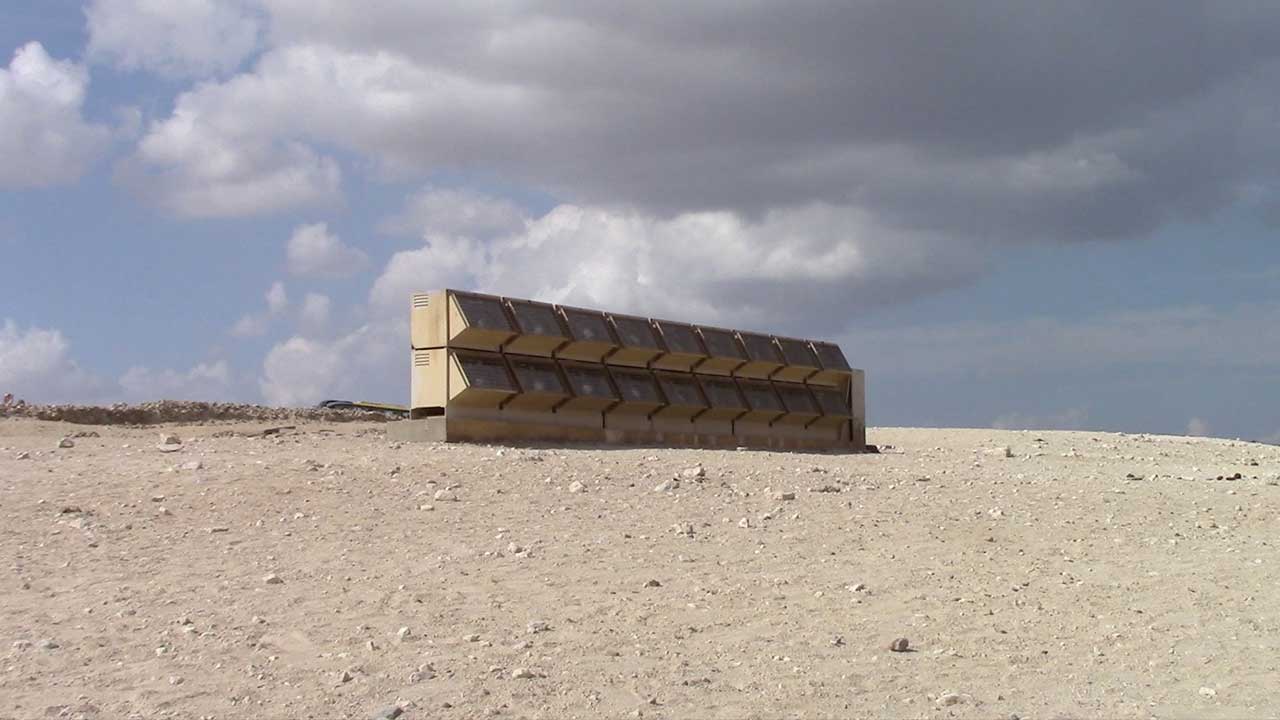 pepsi, cola, water?
Tom Bogaert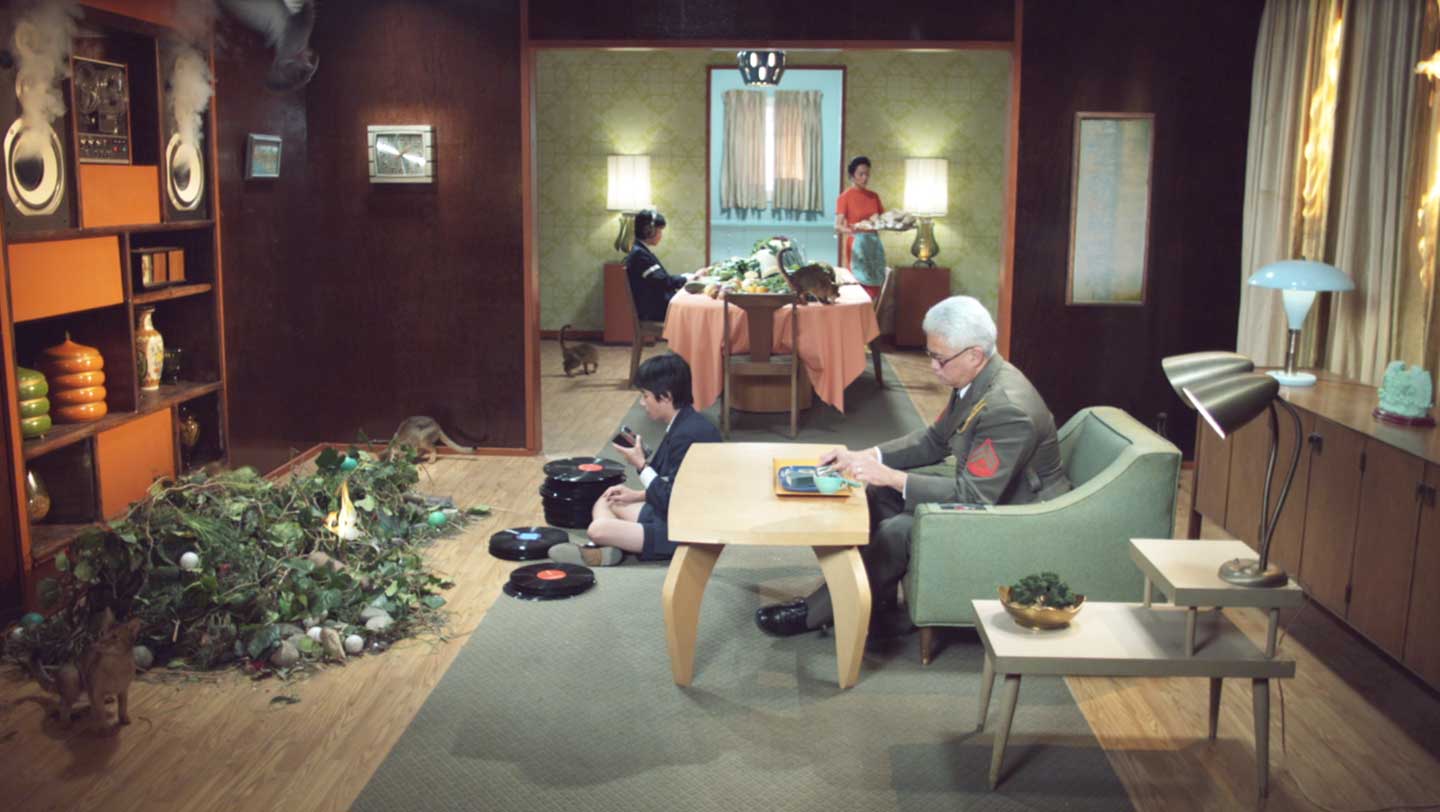 Synesthesia
Corey Creasey,Ian Kibbey,Terri Timely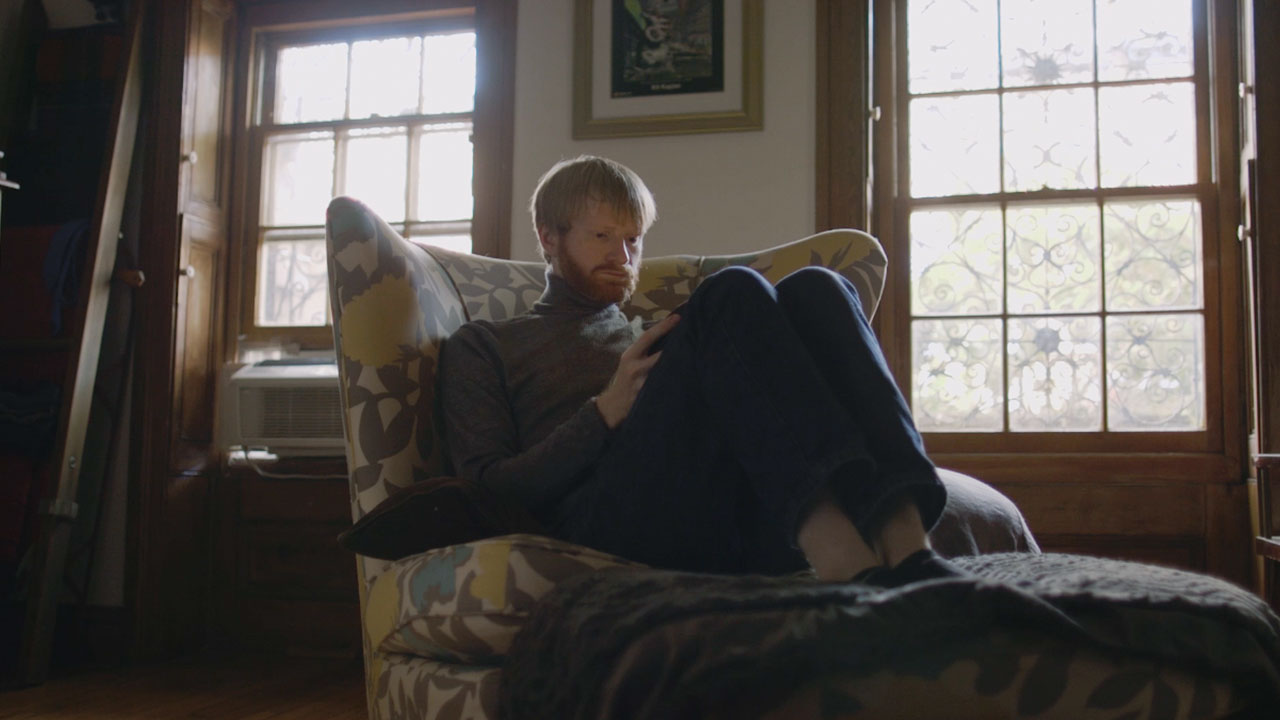 COLORCONDITION
Jason Chew,Rodrigo Valles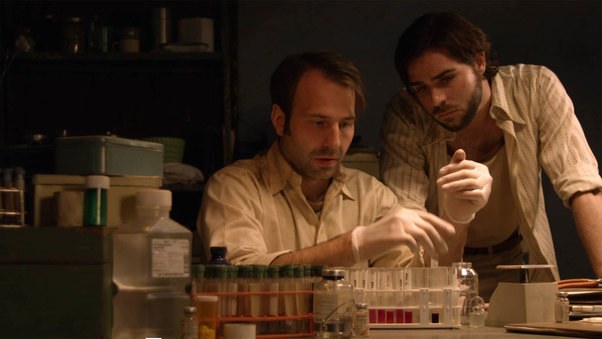 Nzara '76
Jon Noble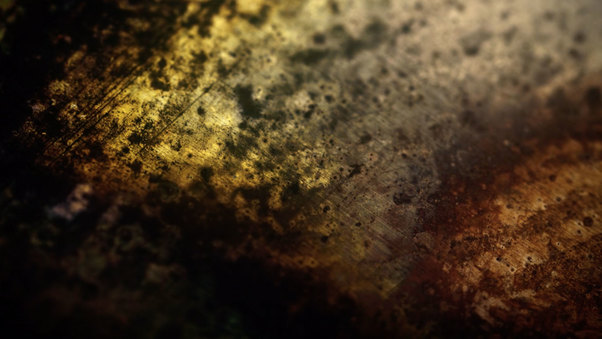 Confluence
Noah Shulman Exchange
Danielle Parsons,Ravi Sheth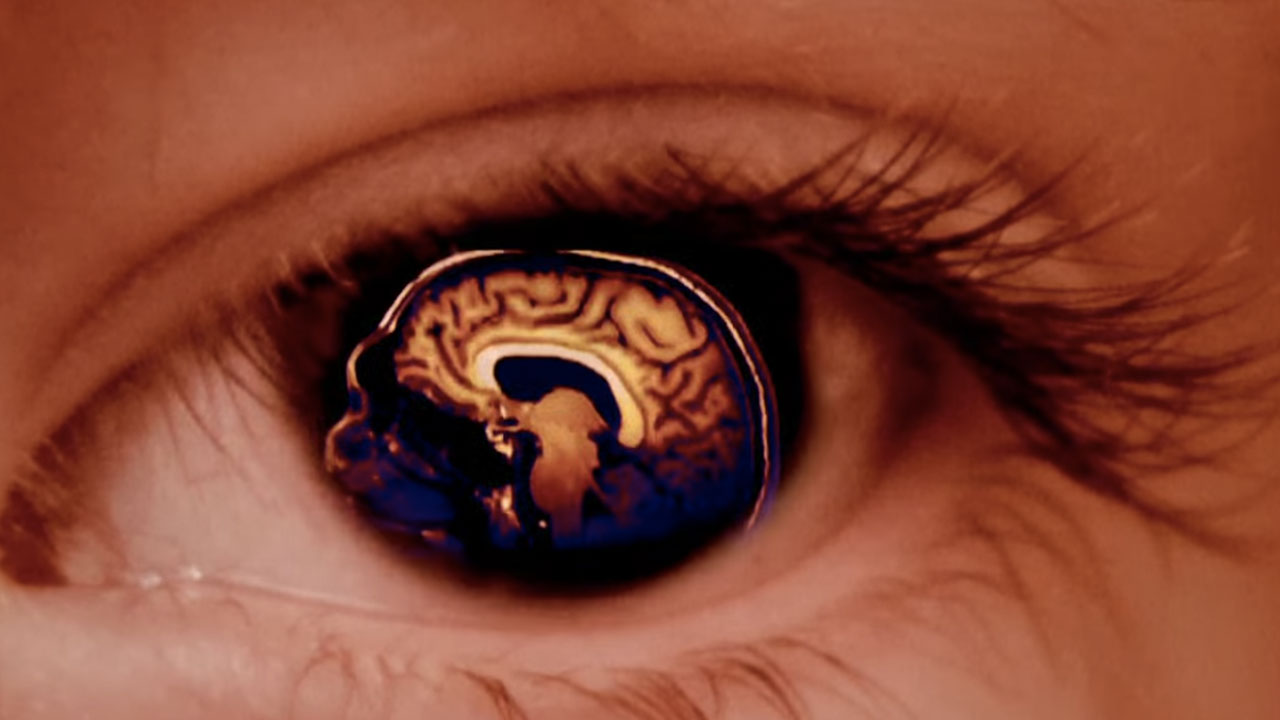 Love, Hate and Everything in Between
Alex Gabbay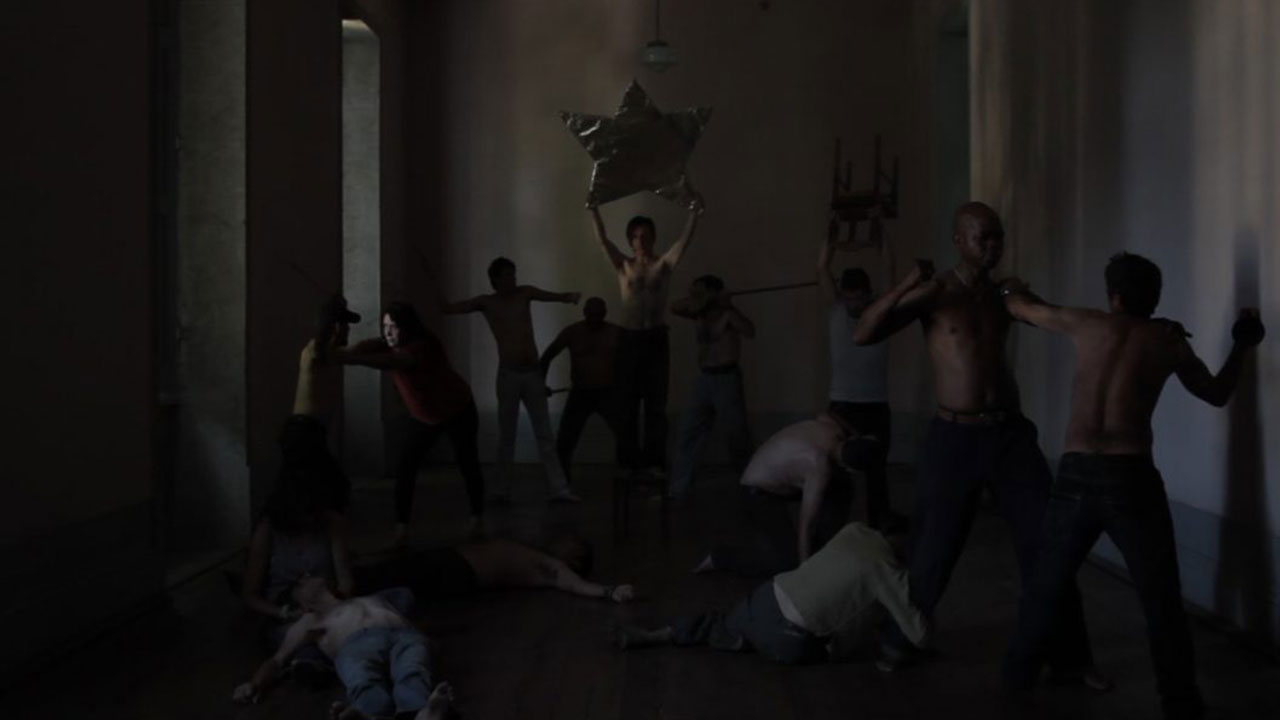 SILÊNCIO
Christophe Bisson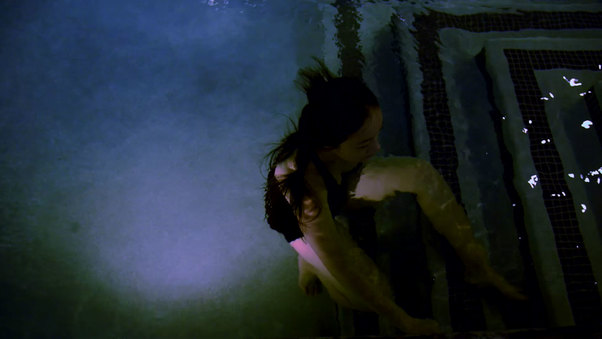 air (verb)
Lilian Mehrel,Jinelle Wint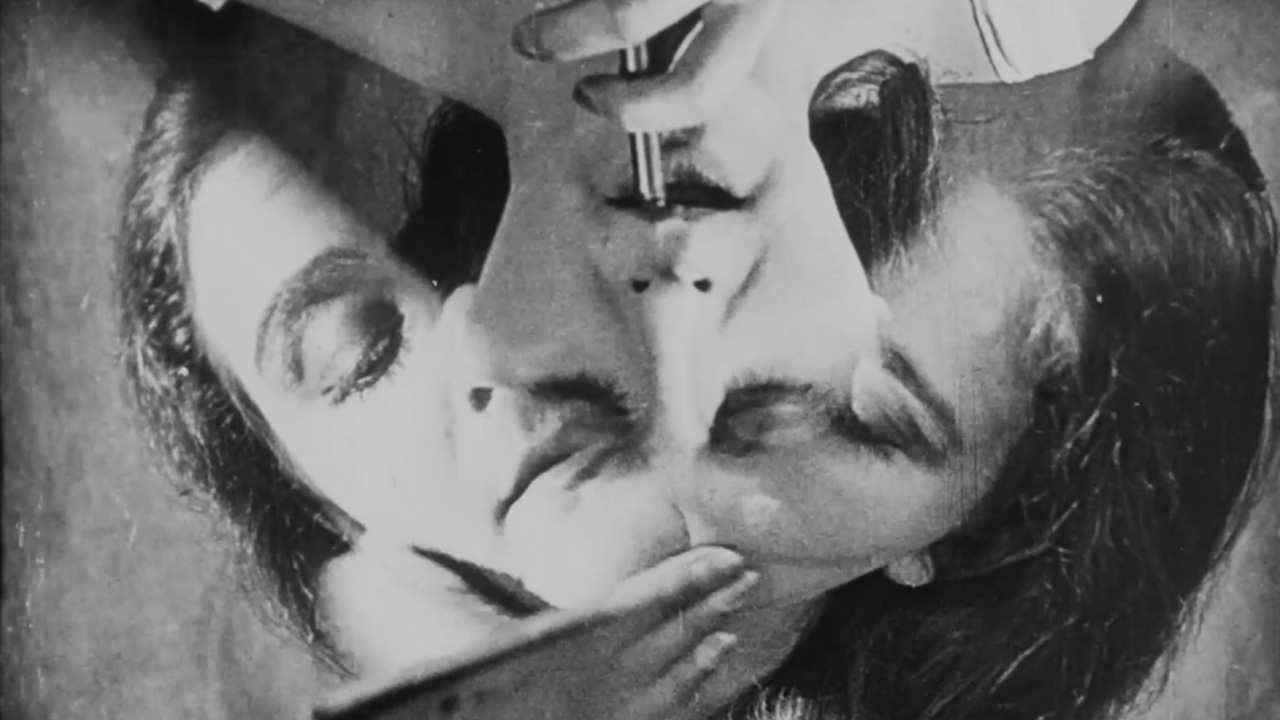 Dreams Rewired
Manu Luksch, Martin Reinhart, Thomas Tode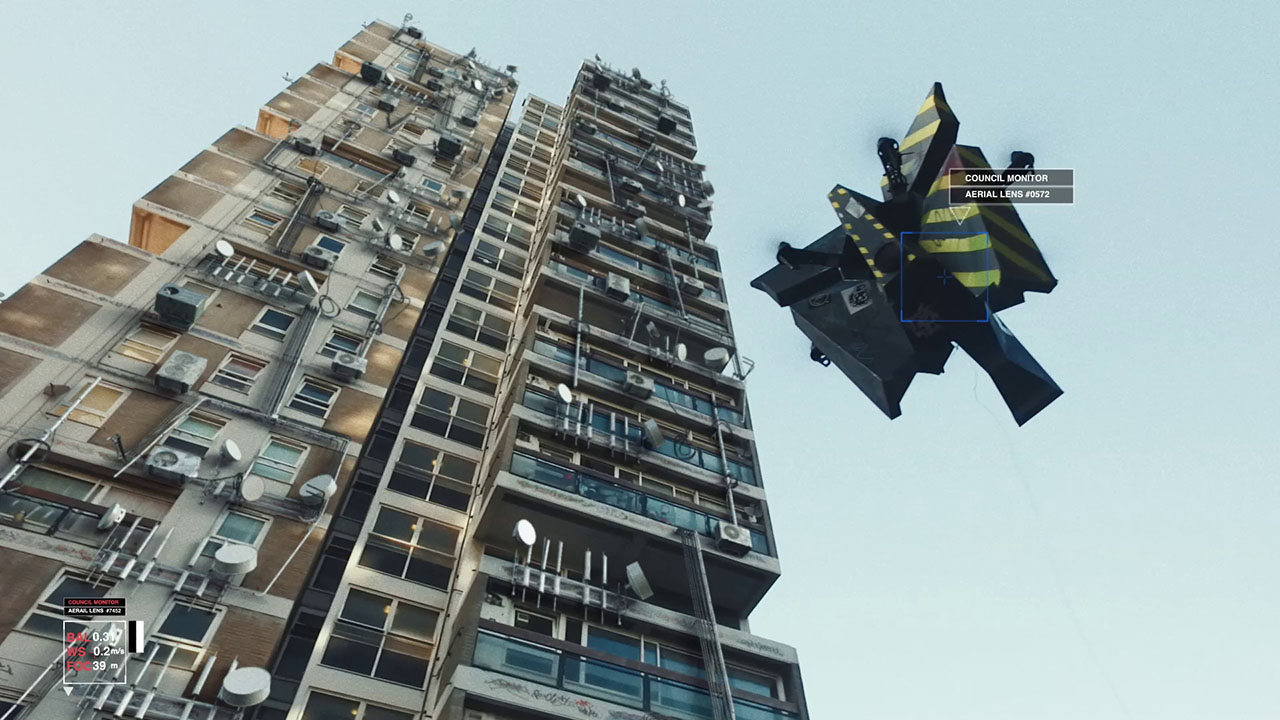 In the Robot Skies
Liam Young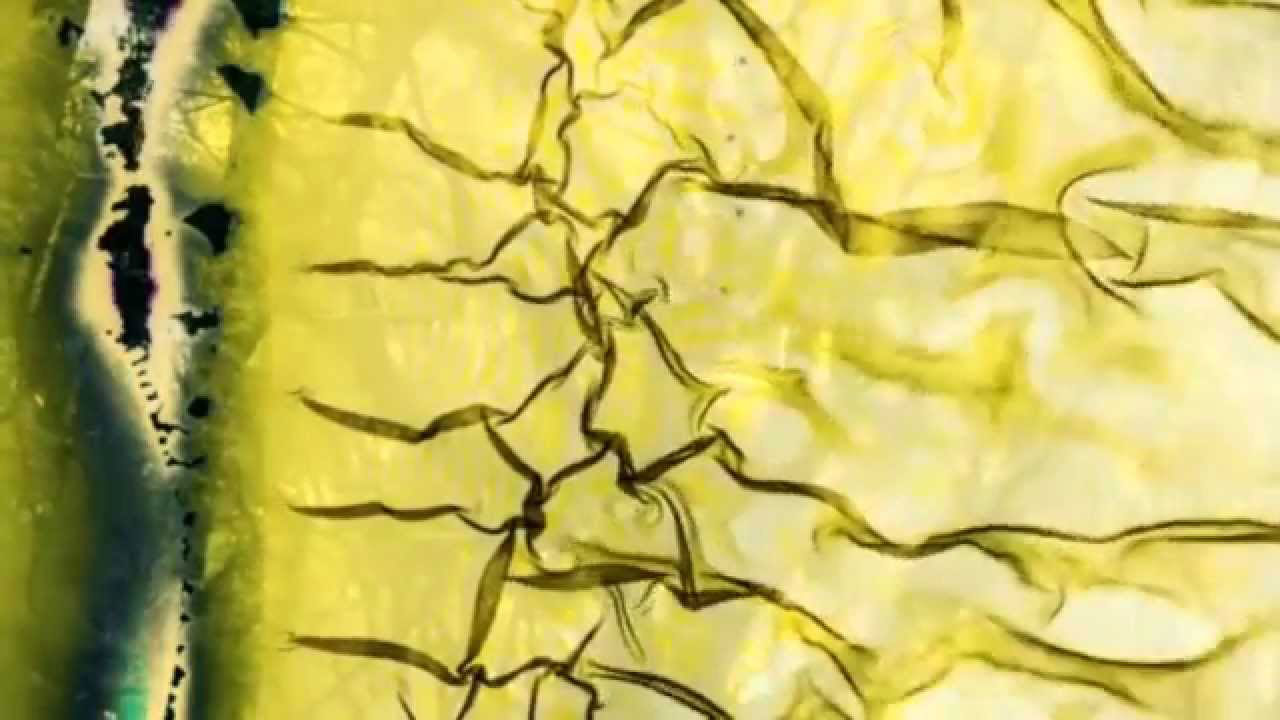 Deforest
Grayson Cooke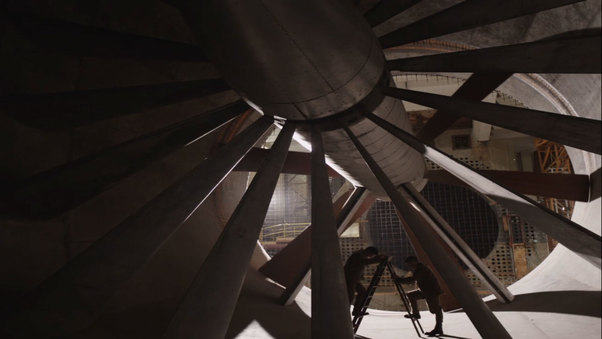 Undead Sun
Jane and Louise Wilson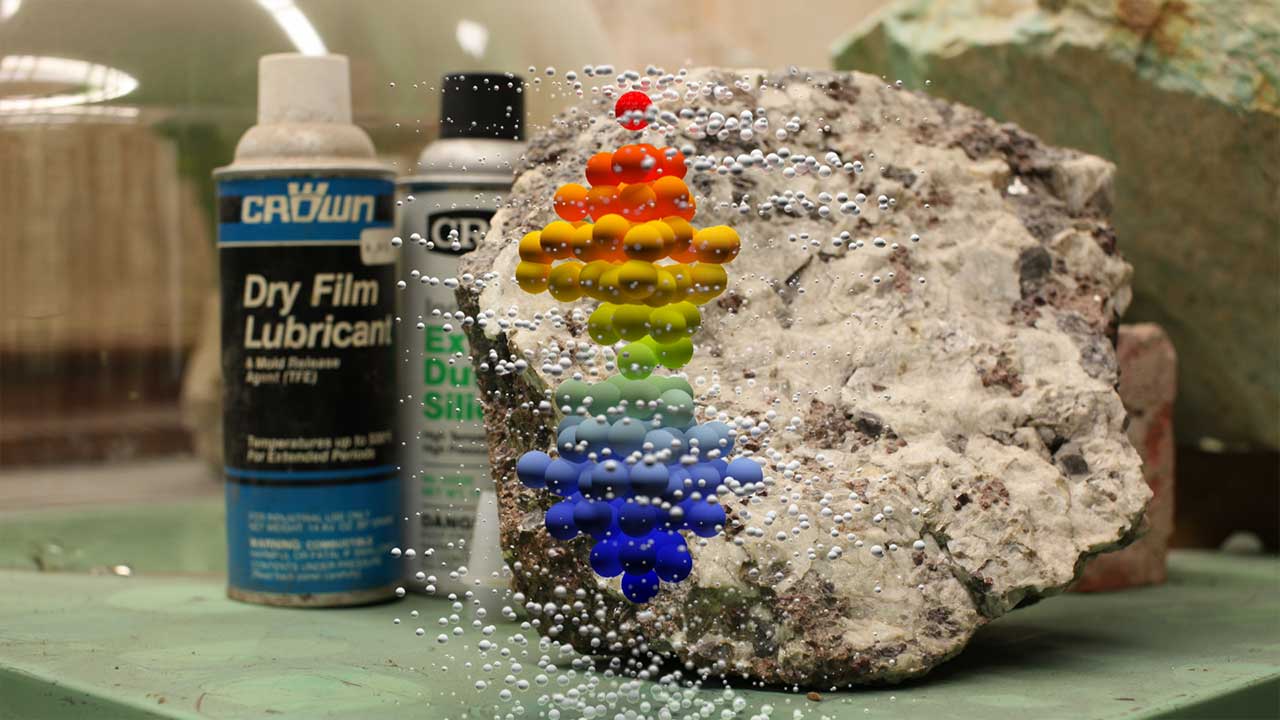 Where Shapes Come From
Semiconductor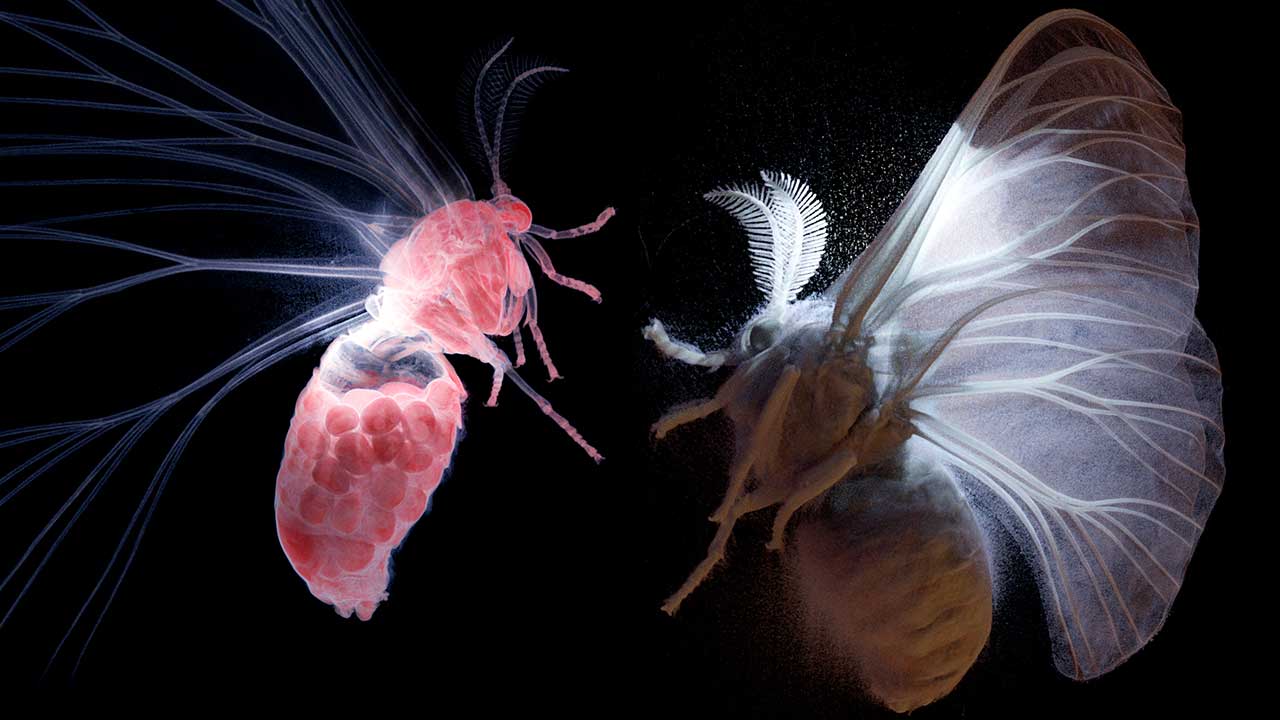 The Secret World of Moths
Hannes Vartiainen,Pekka Veikkolainen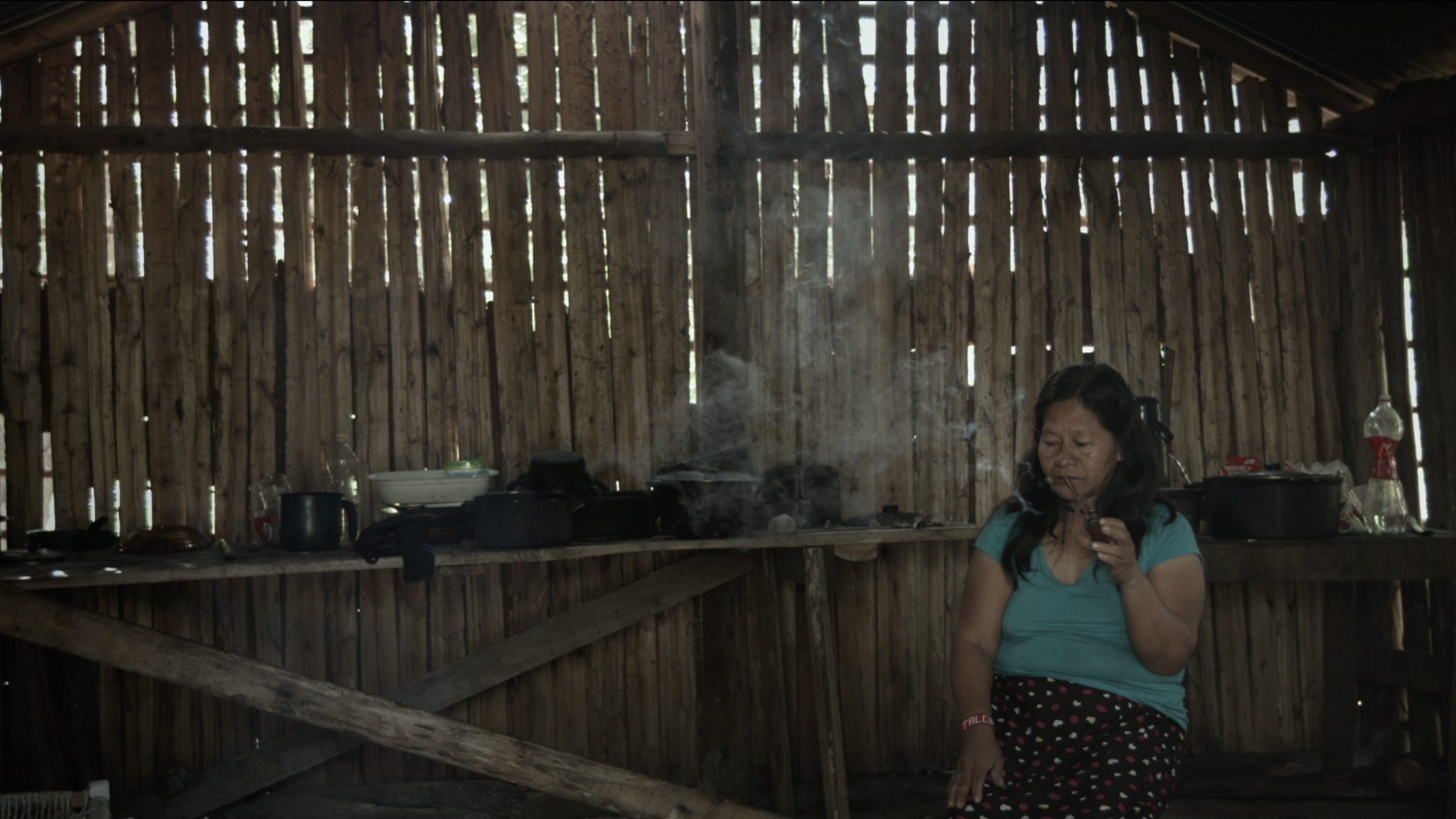 Antes do Lembrar (Stone Engravings and the Three-colored Chickenpox Tale)
Luciana Mazeto, Vinícius Lopes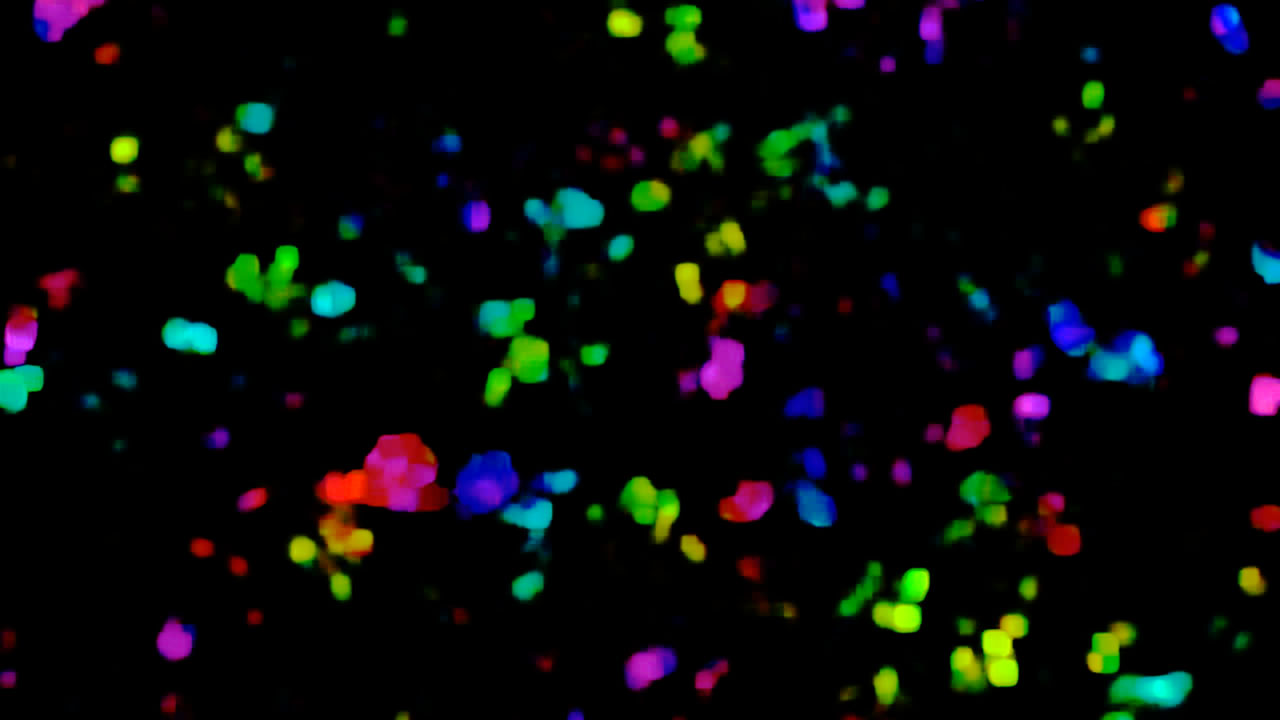 It has to be lived once and dreamed twice
Rainer Kohlberger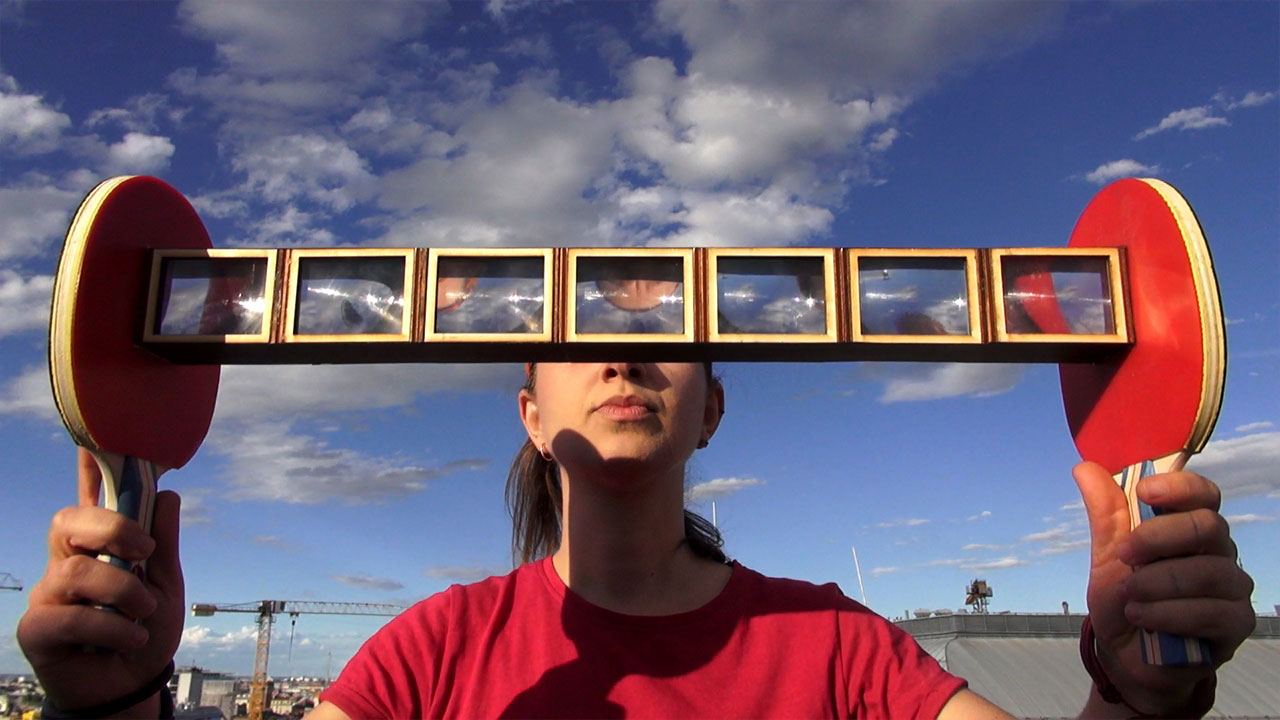 Muybridge's Disobedient Horses
Anna Vasof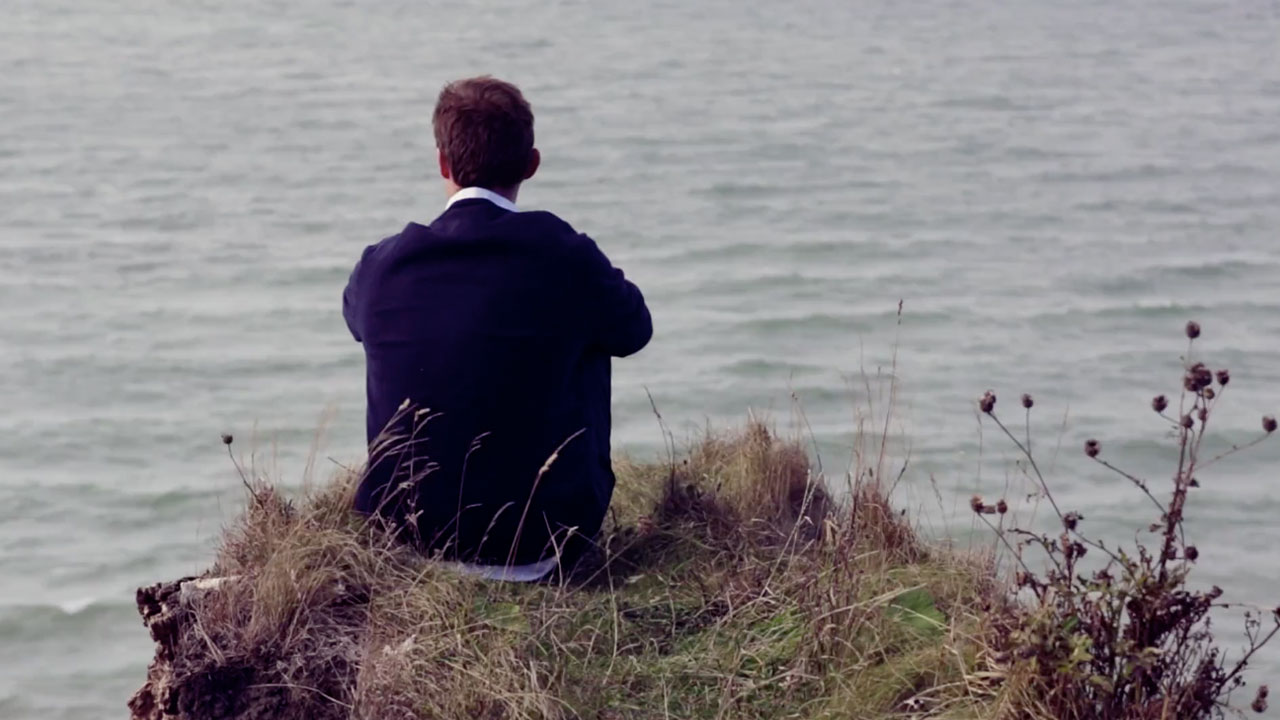 Collaboration: On the Edge of a New Paradigm?
Alfred Birkegaard,Katja Gry Birkegaard Carlsen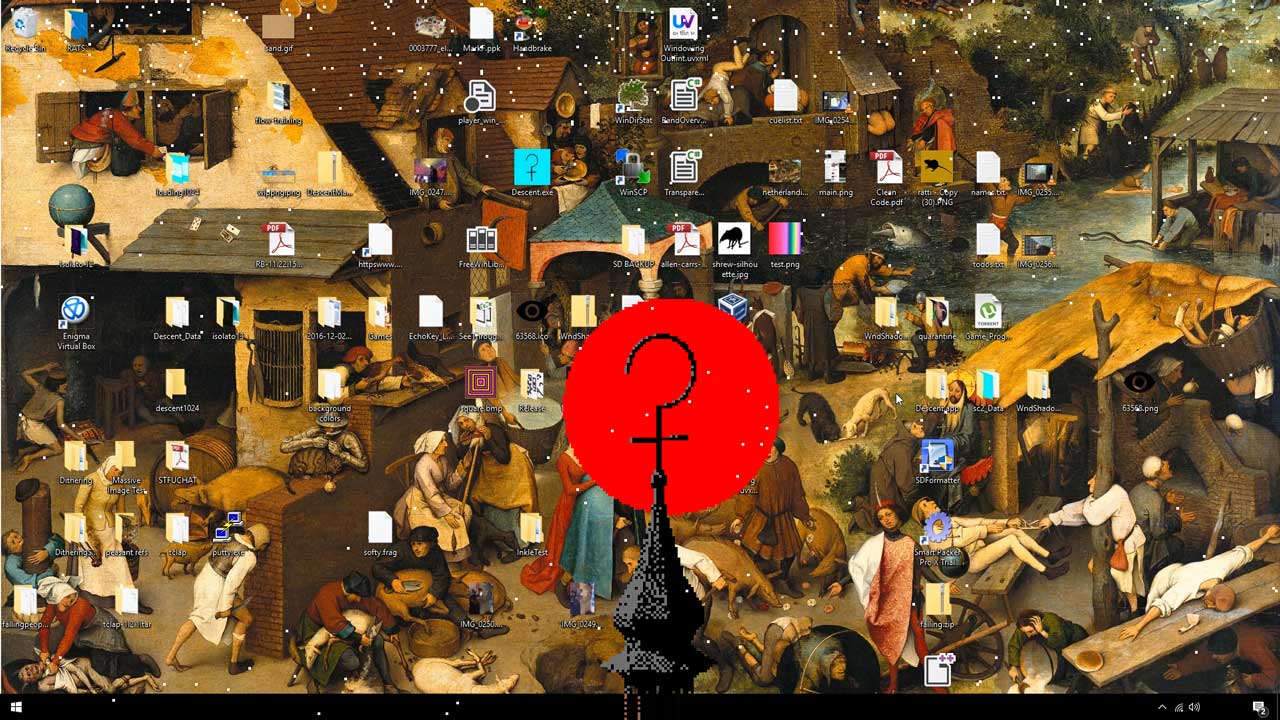 Descent
Peter Burr,Mark Fingerhut,Forma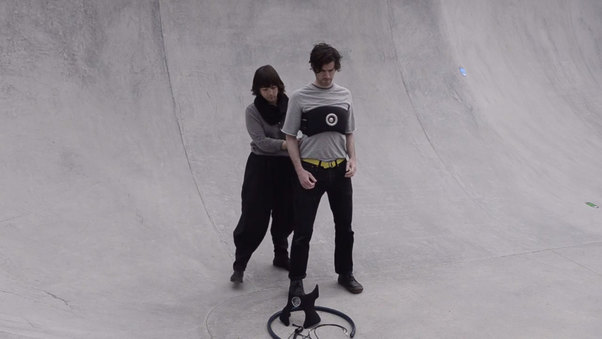 Data Dance
Sara Krugman,Zubin Pastakia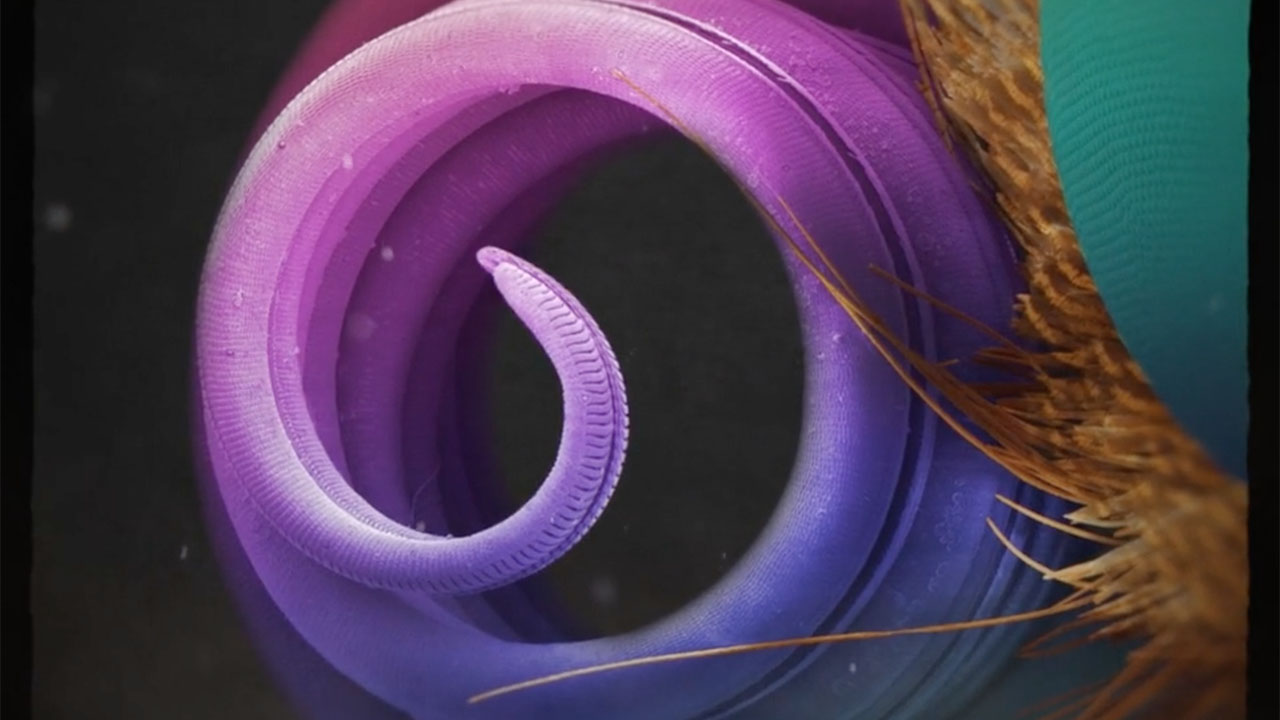 Non Linear
Linnea Rundgren & Hugo Farrant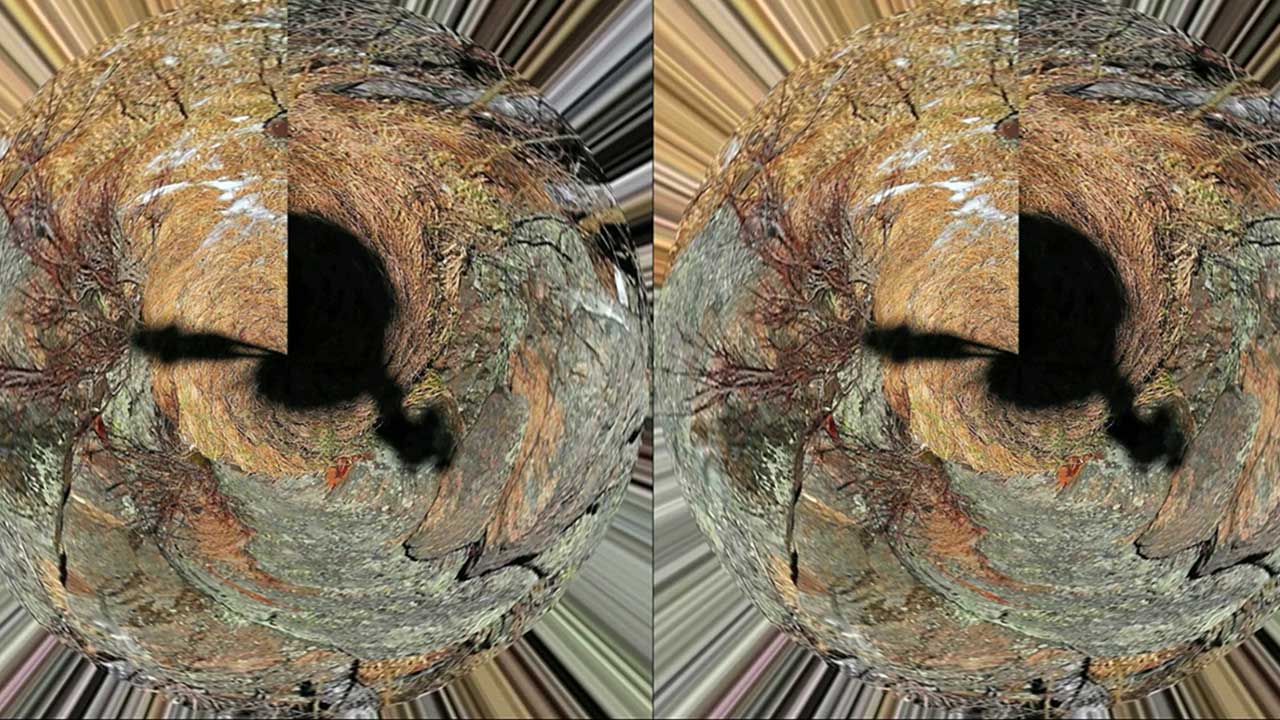 Soon It Would Be Too Hot
Jeanne Liotta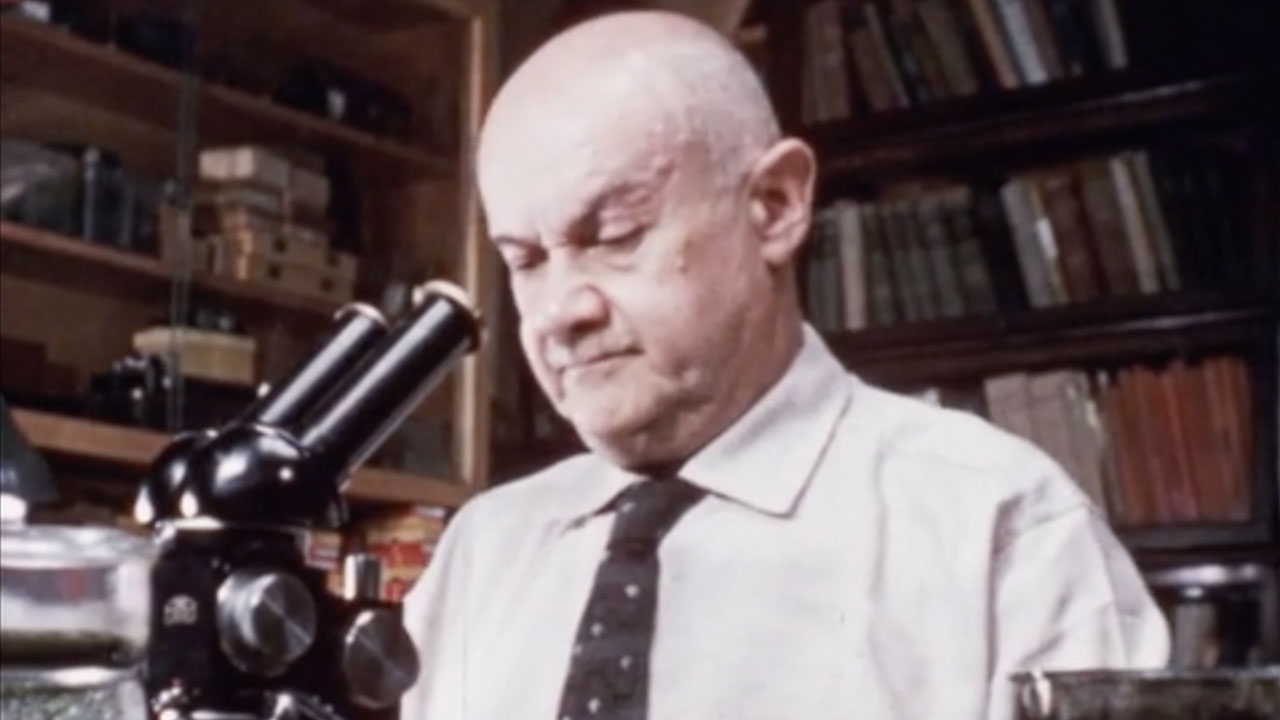 The Worlds of Dr. Vishniac
Donald F. Hornig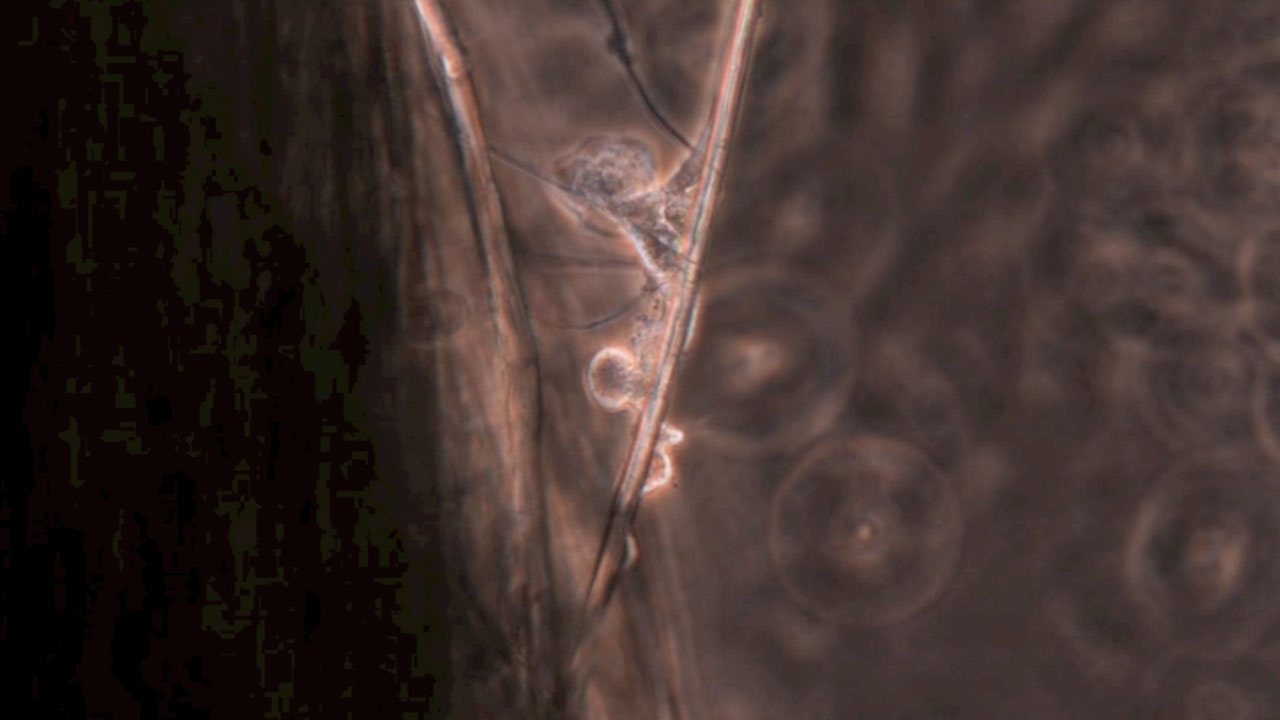 Aseptic Requiem (Requiem Aseptisé)
WhiteFeather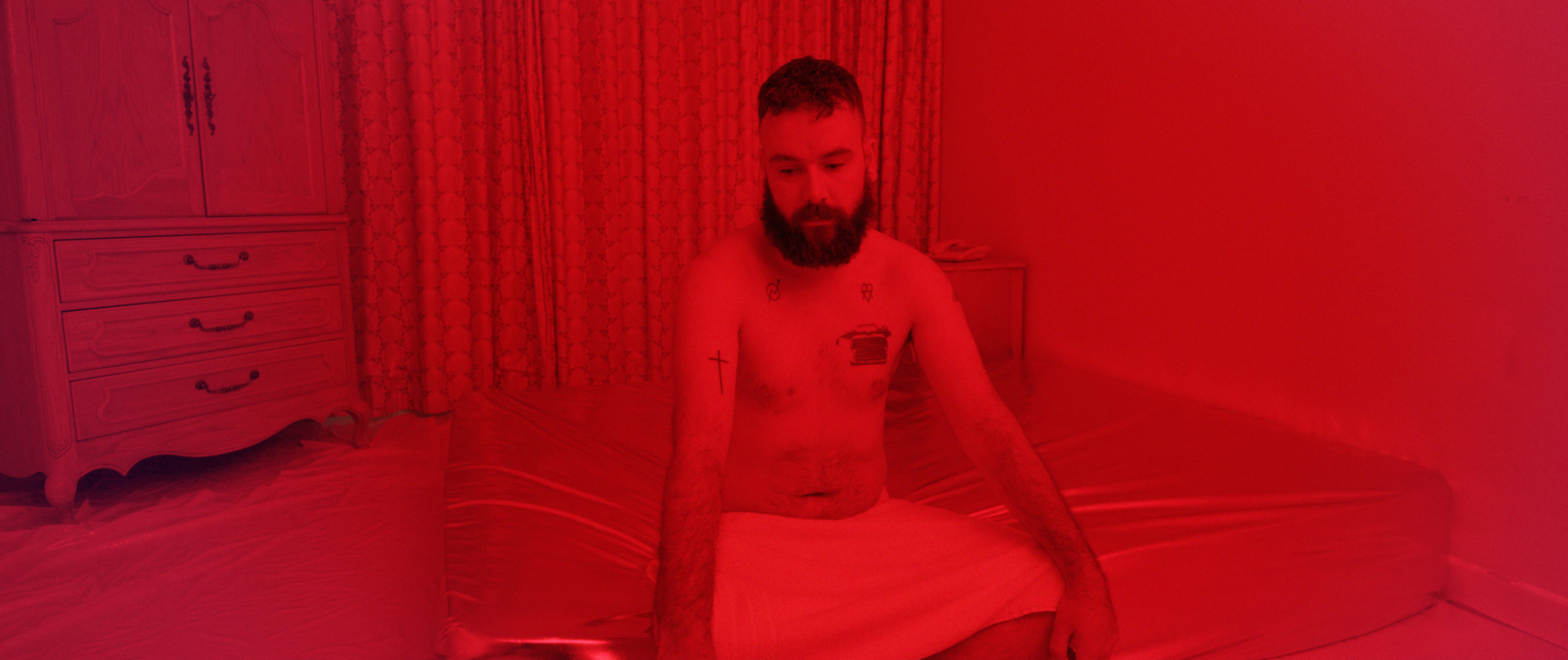 Far from the reach of the sun
Kevin Gaffney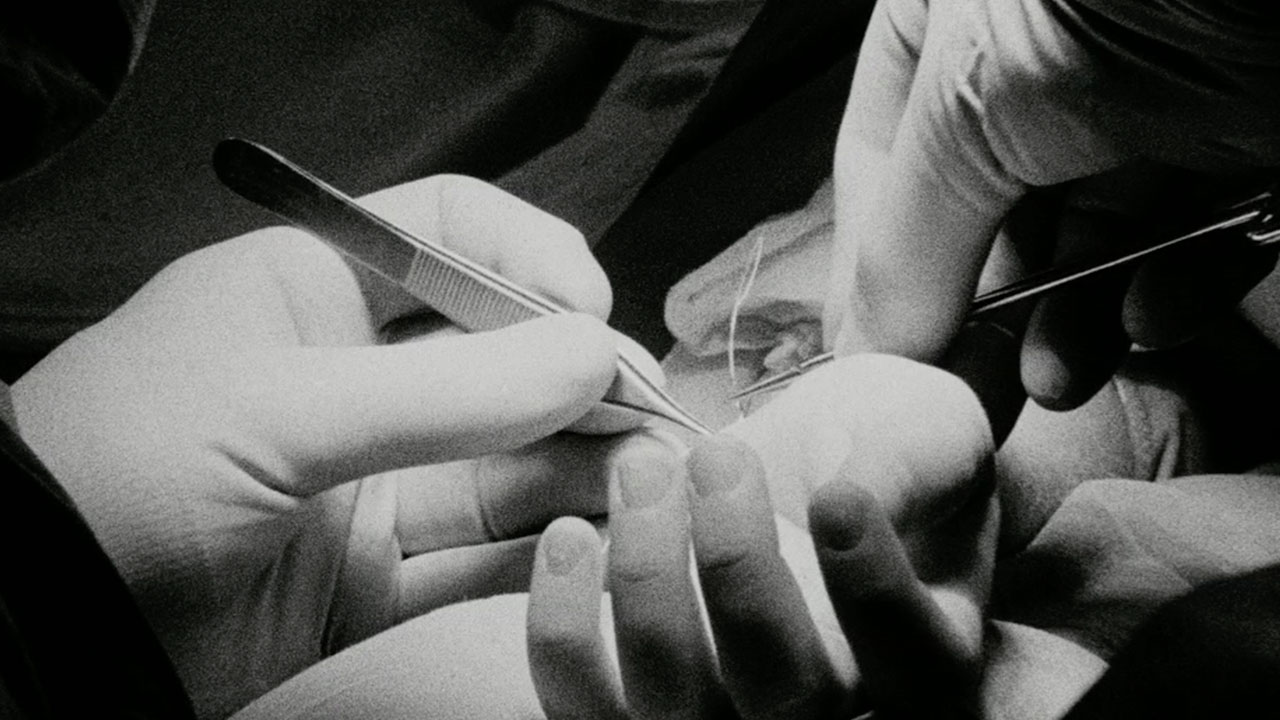 Matters of the Heart
Christina Lammer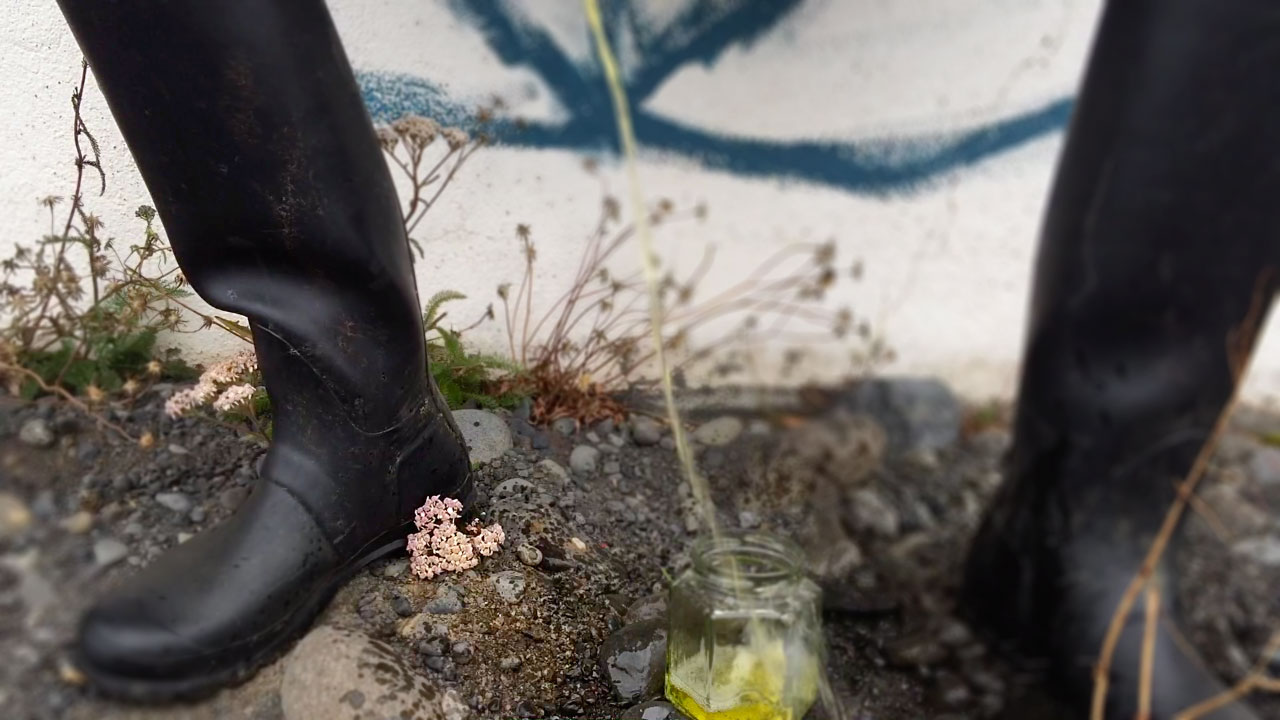 BLÓM + BLÓÐ
WhiteFeather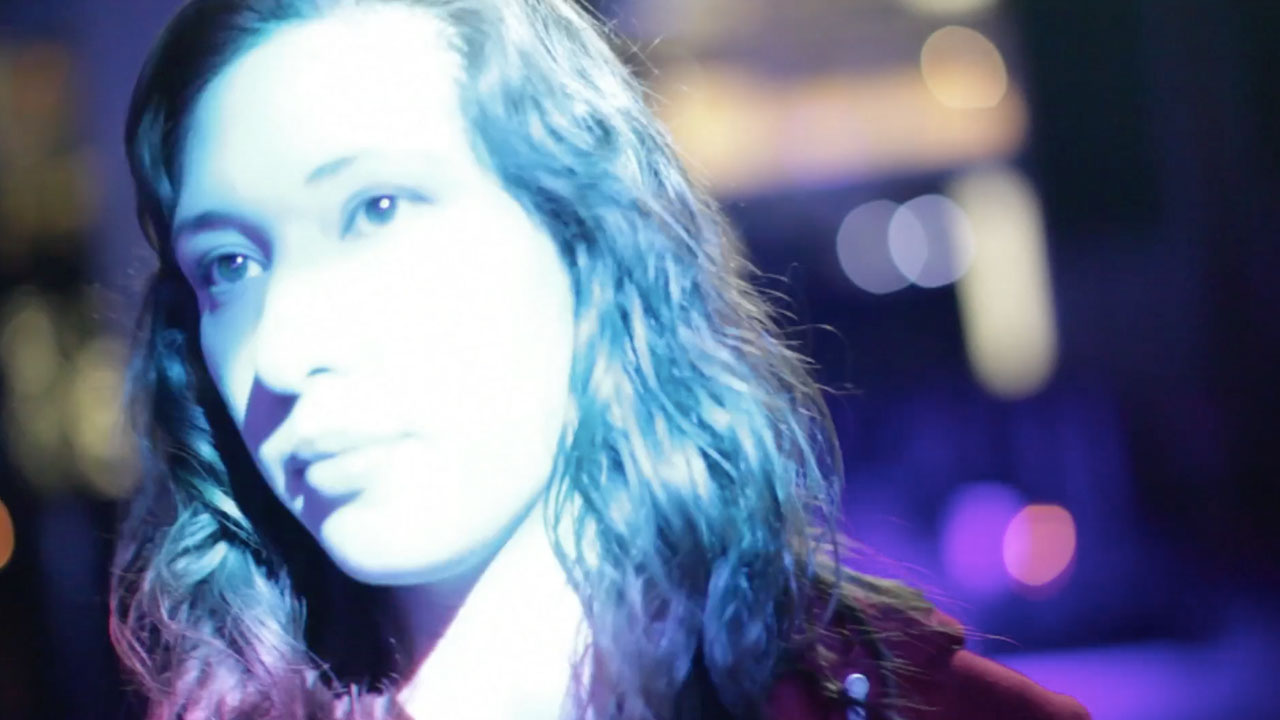 Chlorophyl
Barry Jenkins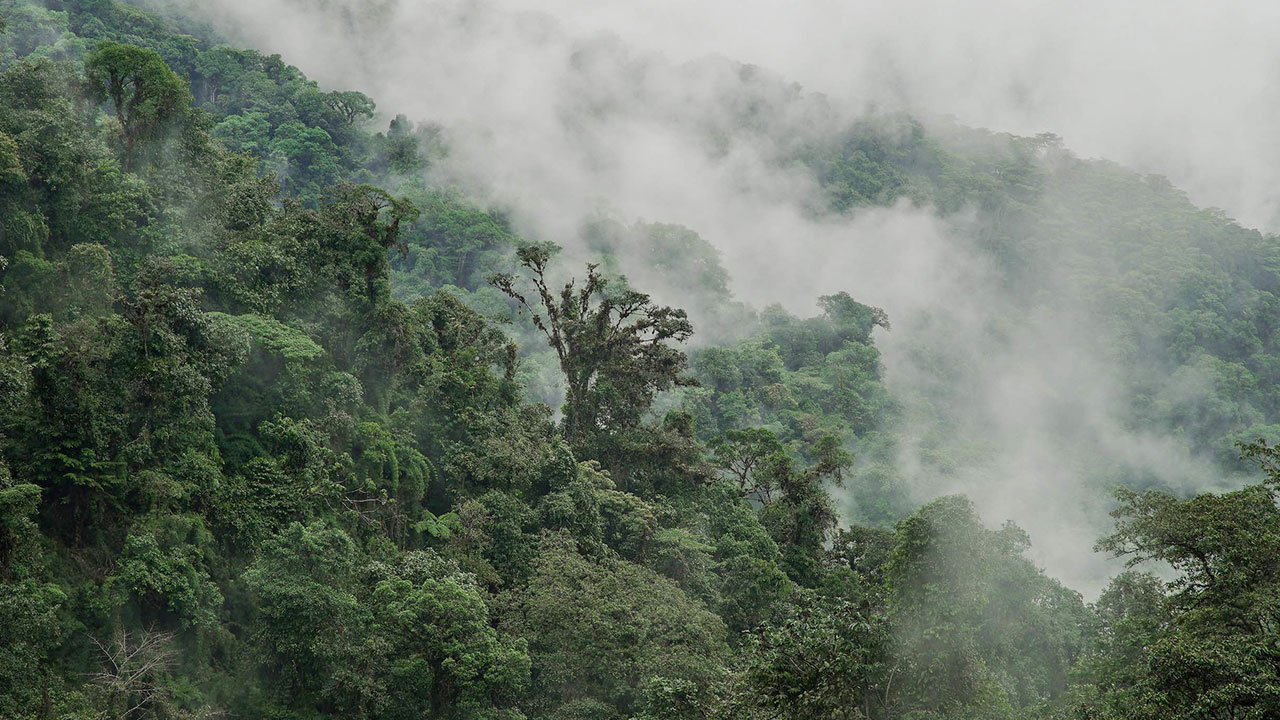 Dusk Chorus (based on Fragments of Extinction)
David Monacchi,Nika Šaravanja,Alessandro D'Emilia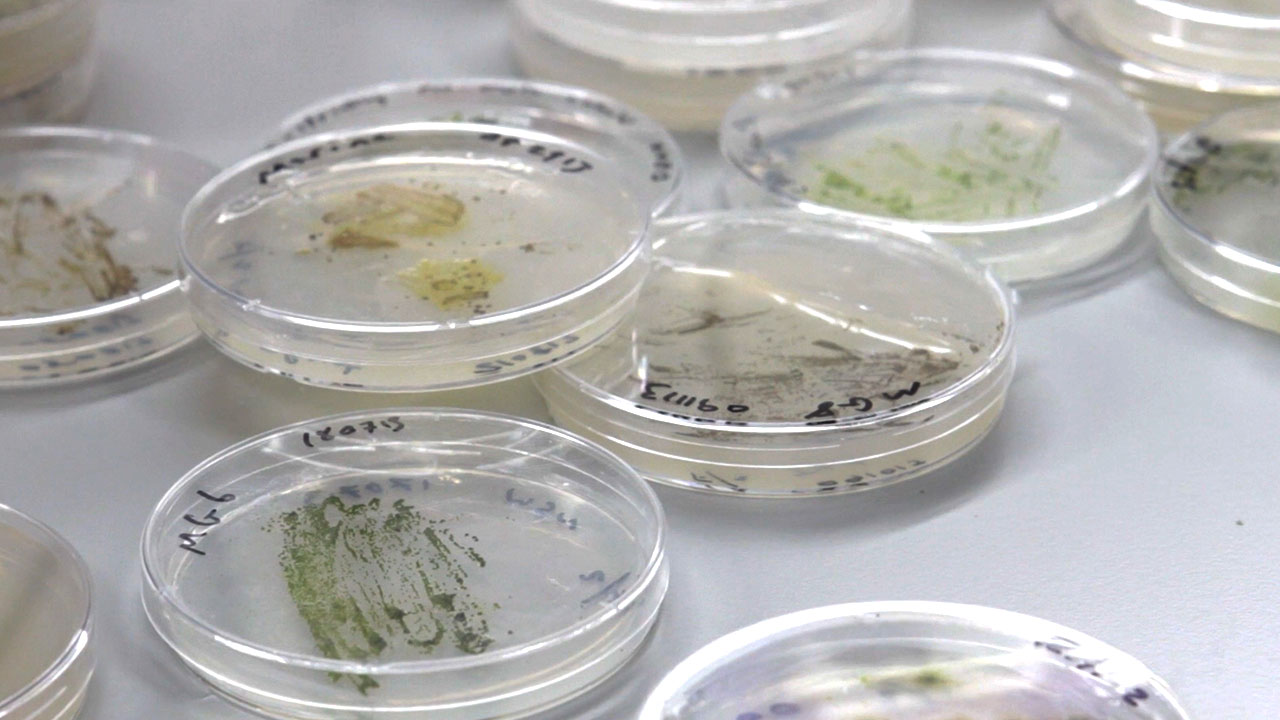 Petri dishes holding algae experiment & falcon tubes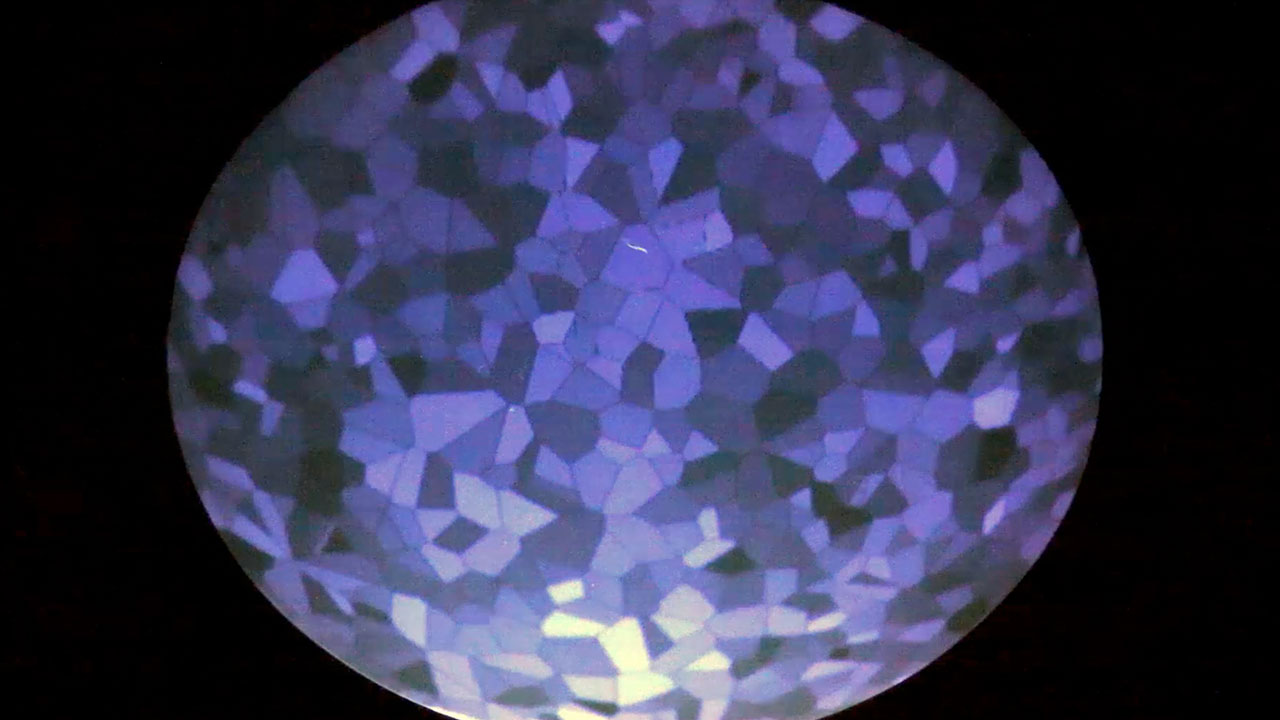 Social feedback experiment with real and virtual fish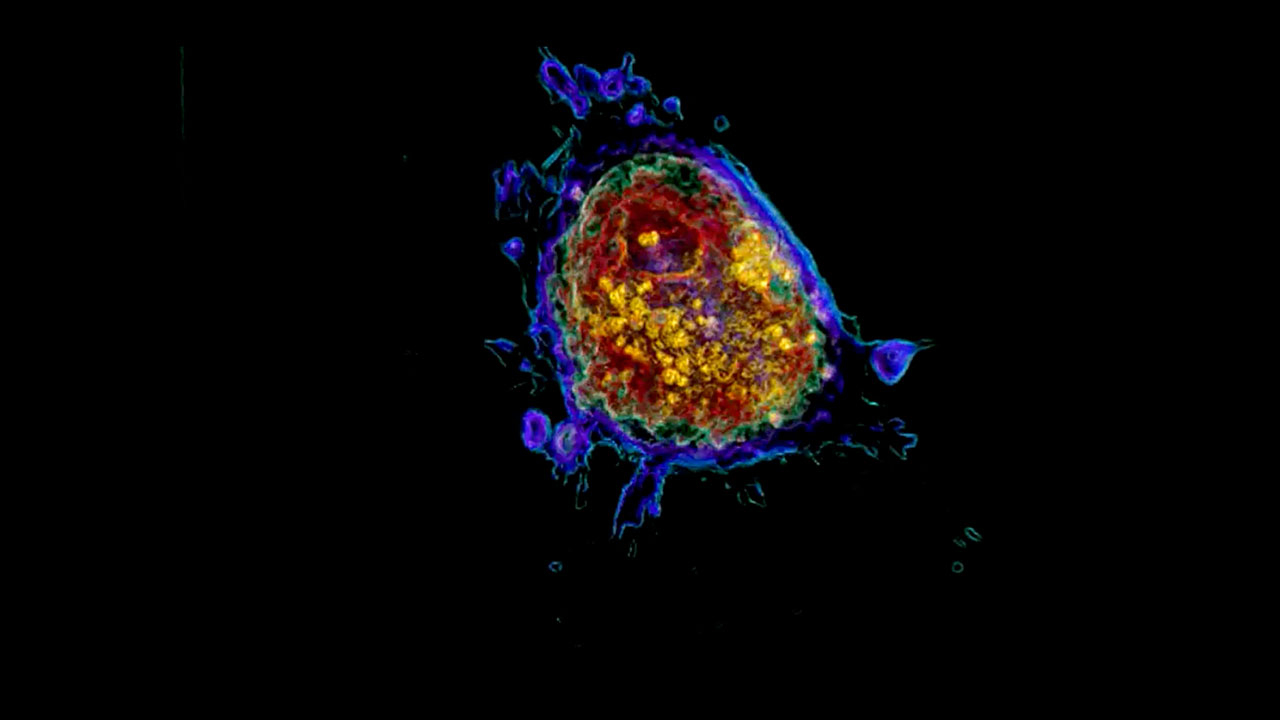 Apoptosis (Programmed Cell Death) - Live and in 3D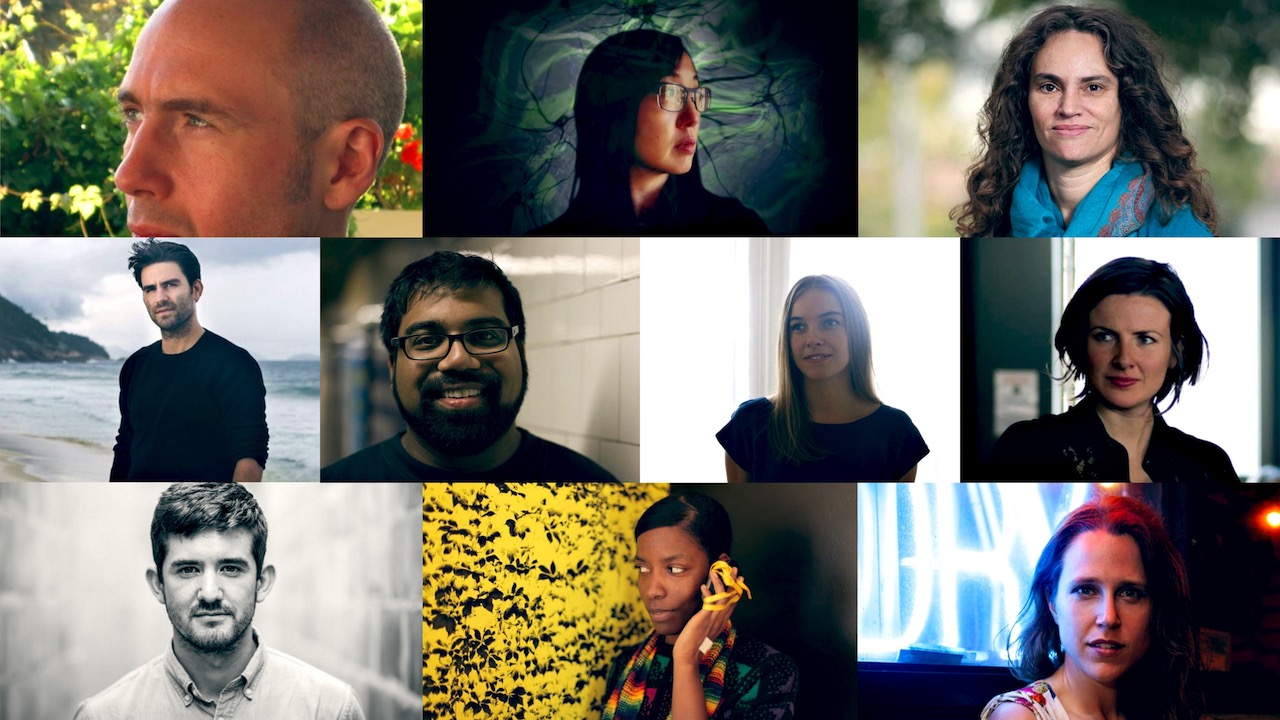 Announcing the Ten Visionary Filmmakers of "Chimera Experiments"
Labocine Invites Filmmakers to Apply for "Chimera Experiments"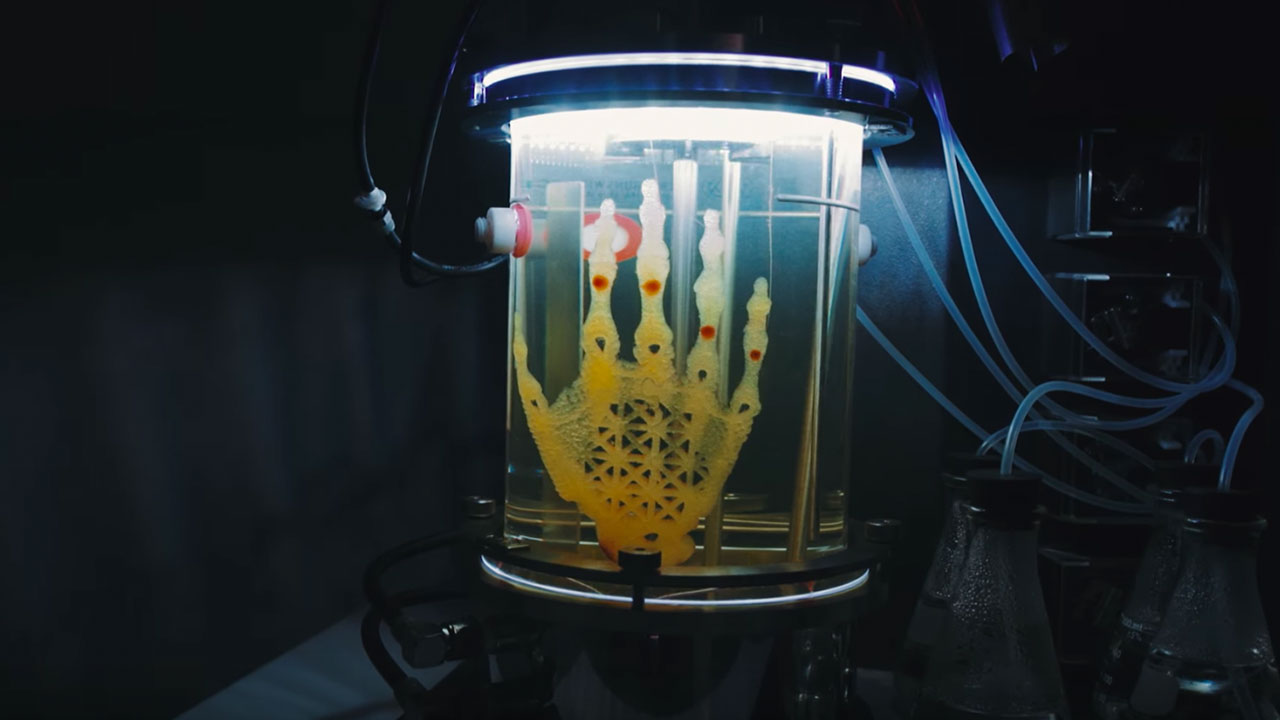 Artificial Life and the Post-Human Filmic Experience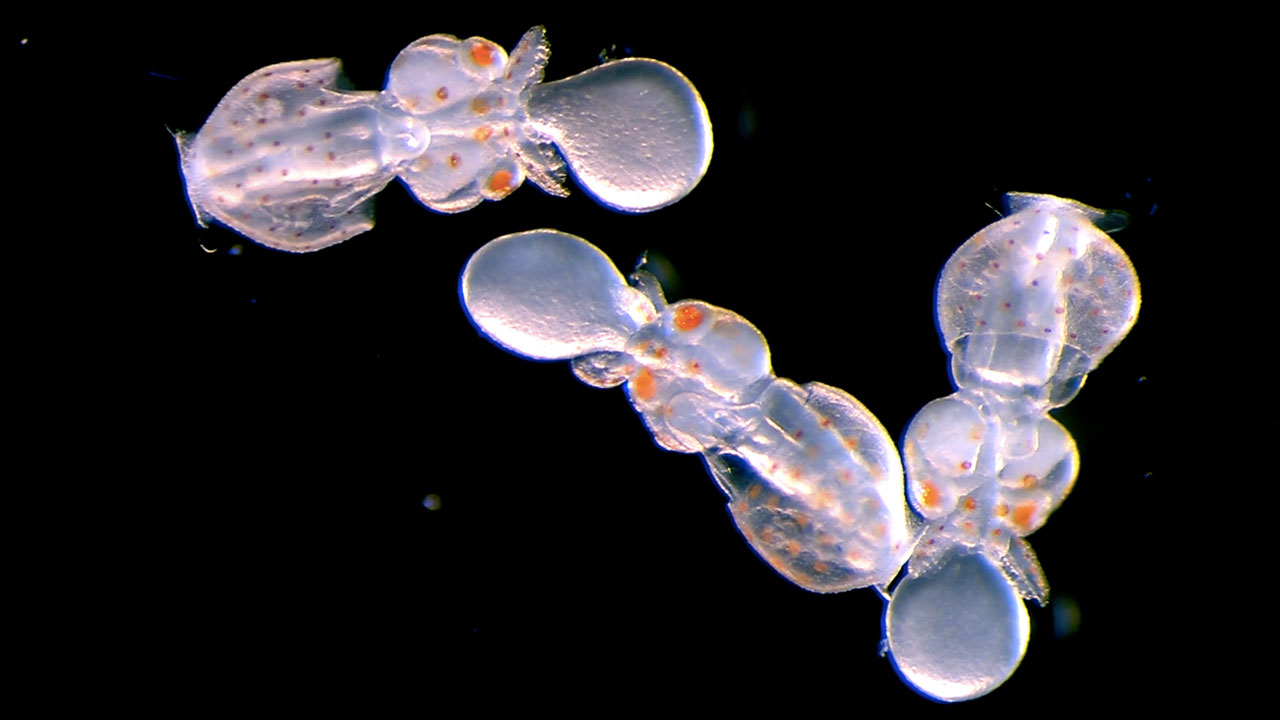 Science as Cinema: A Metamorphosis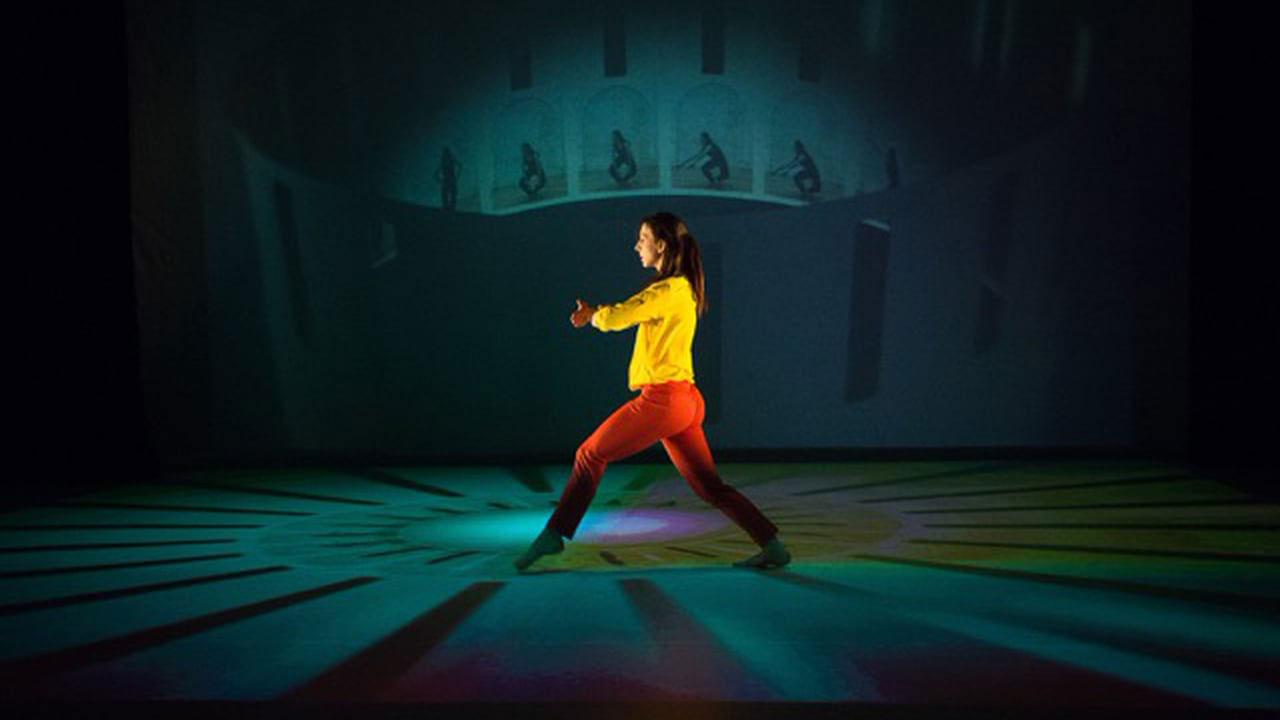 The Dance That Takes Place in Our Heads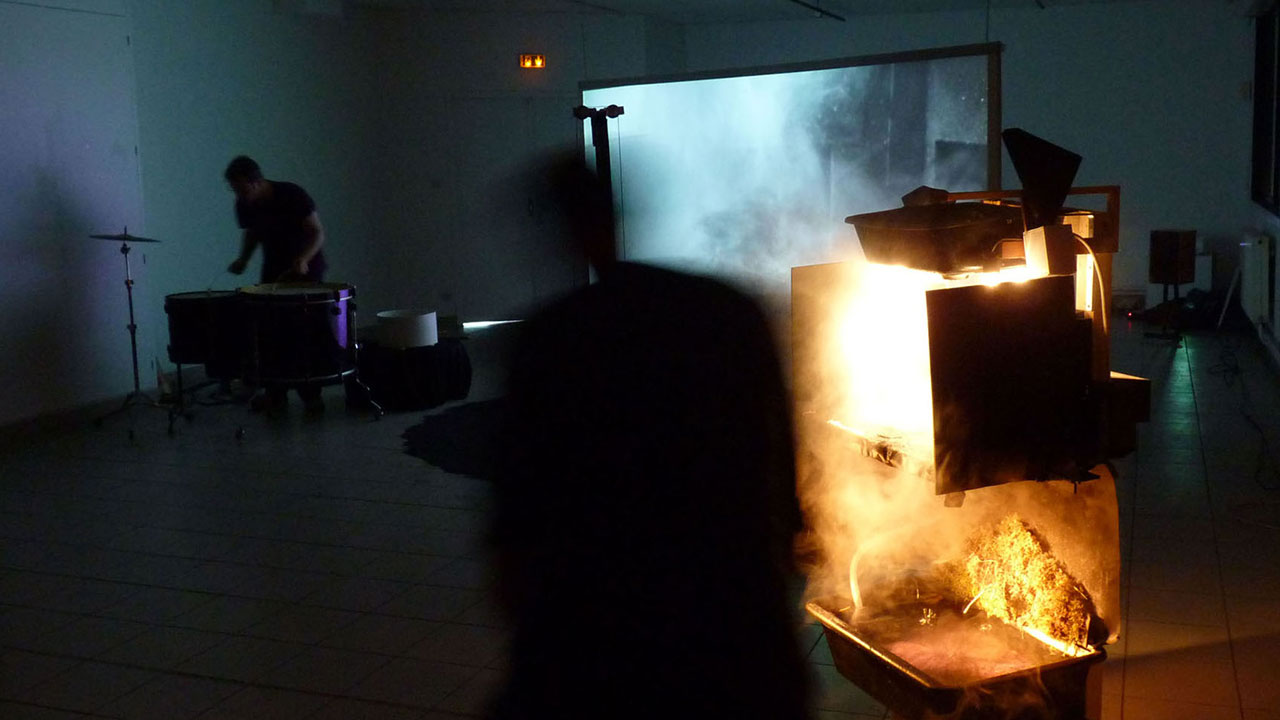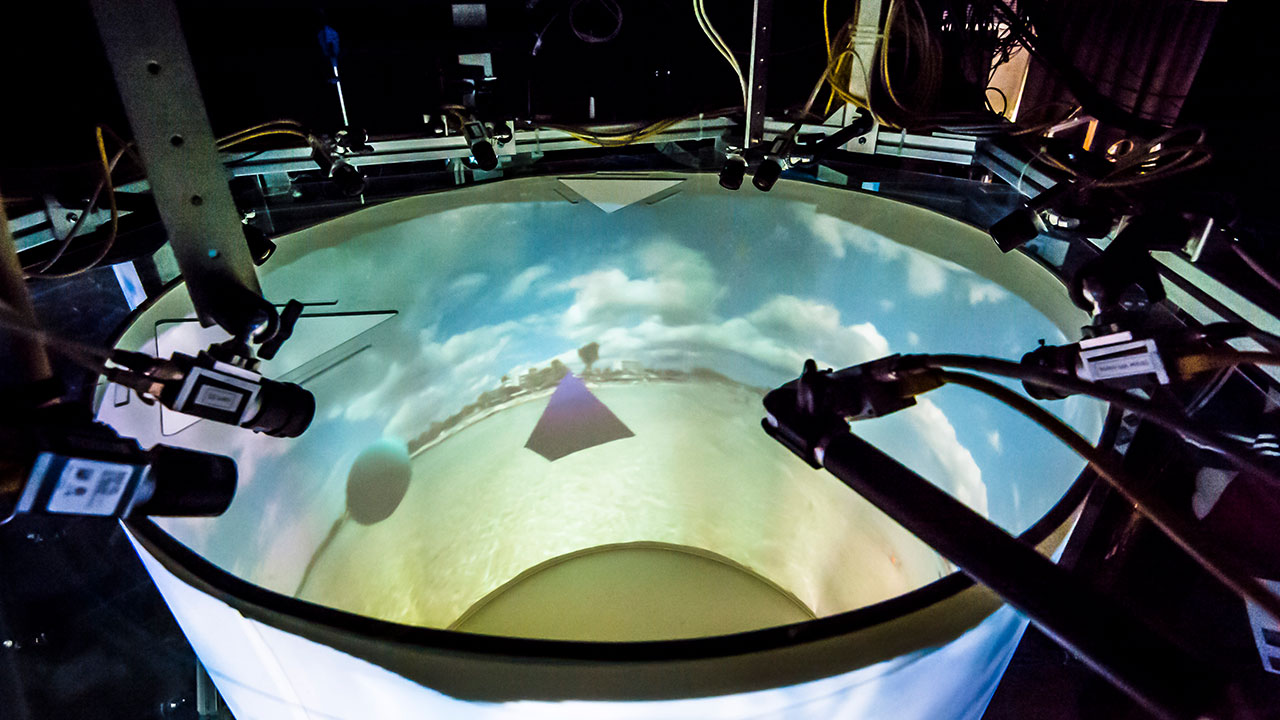 Virtual Reality for Freely Moving Animals
Unsettling Equilibrium and Envisioning a Better Future
How Ordinary Things Transform Into a Magical World Under The Microscope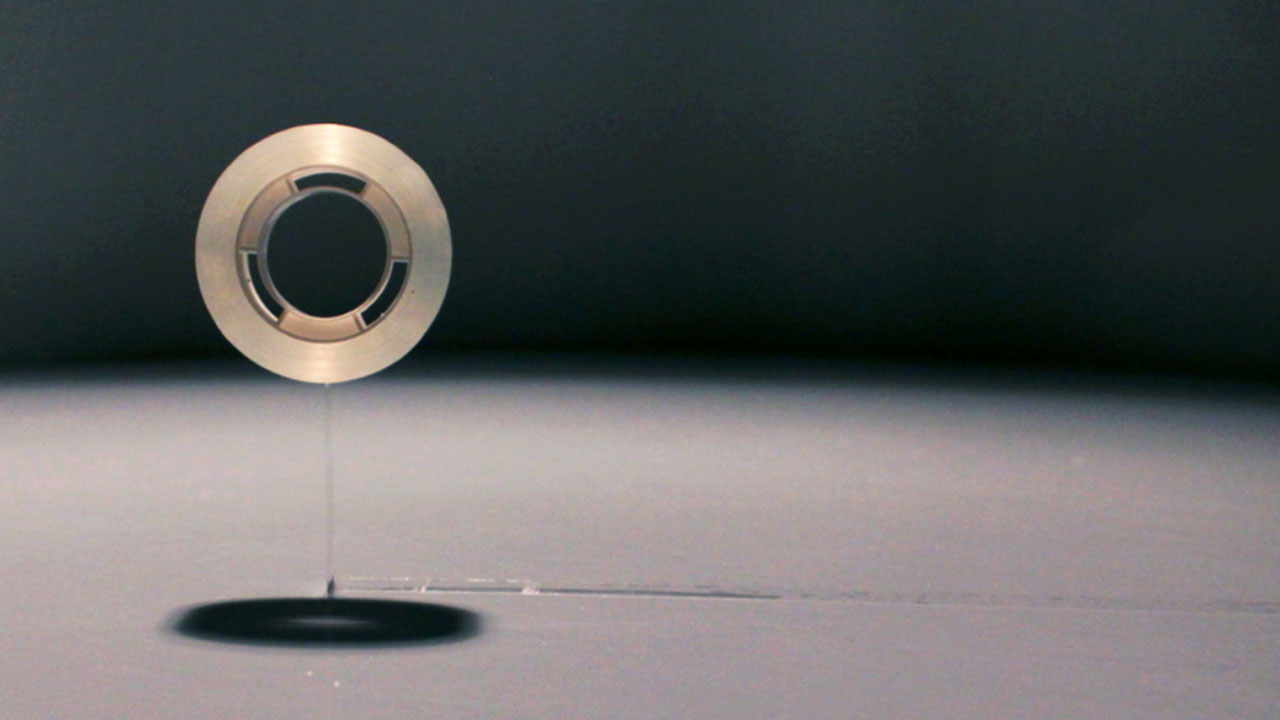 We cannot understand what we cannot imagine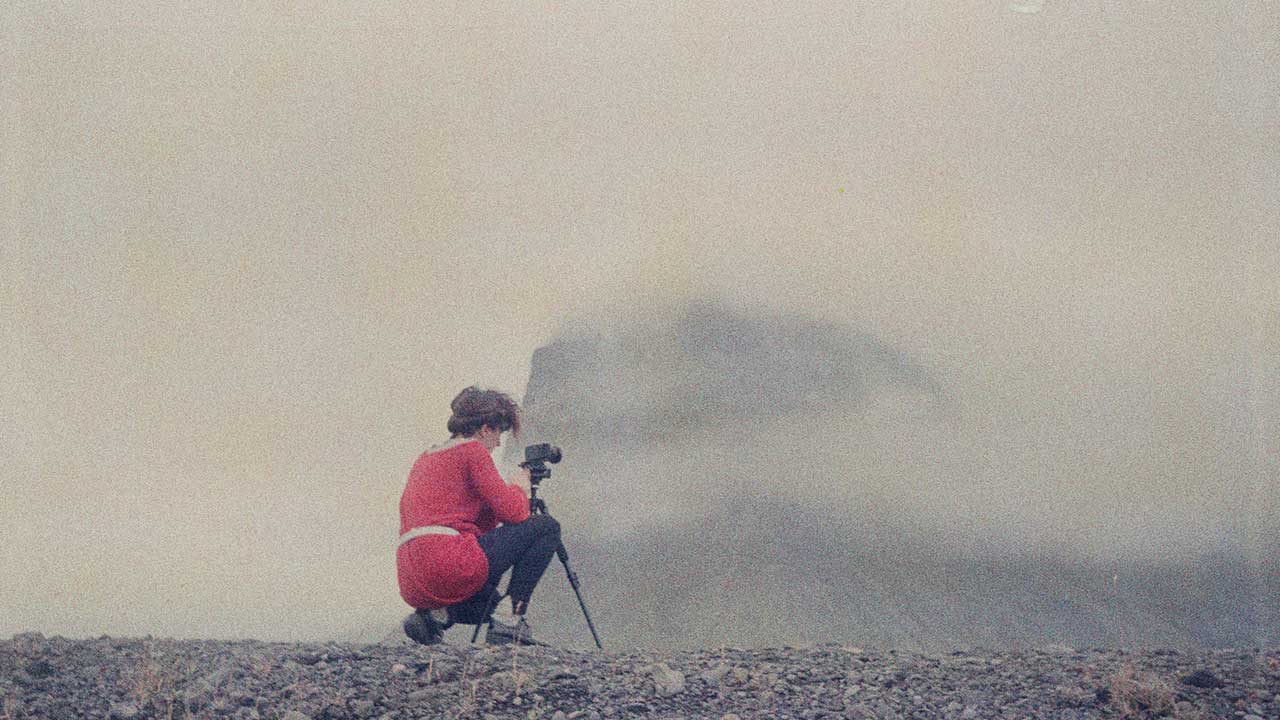 Redefining the Scientific Fiction(s)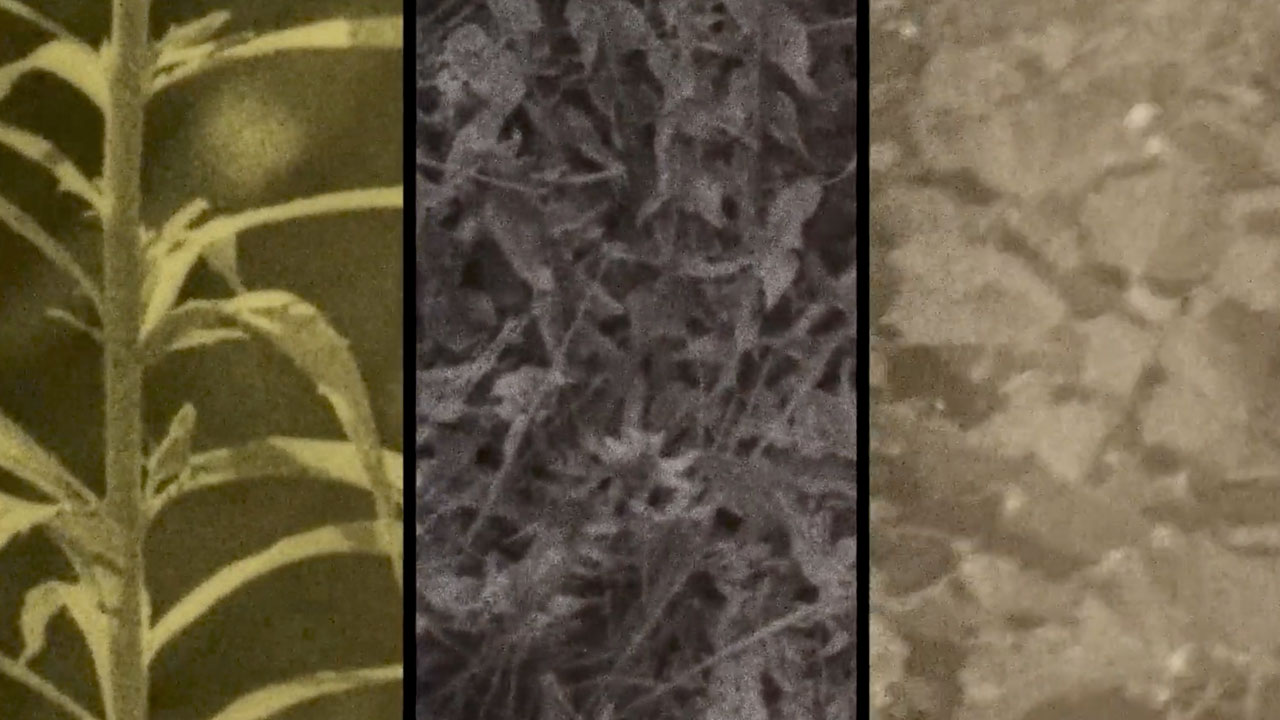 How Film Creates Multitudes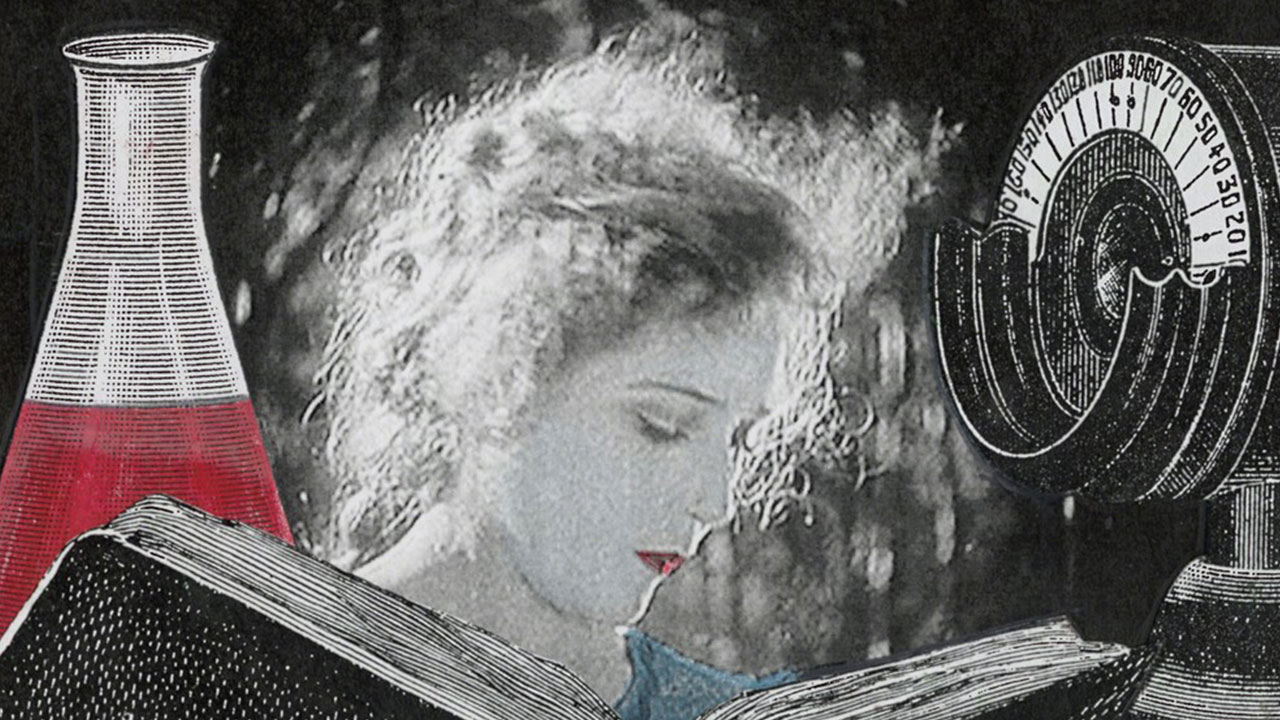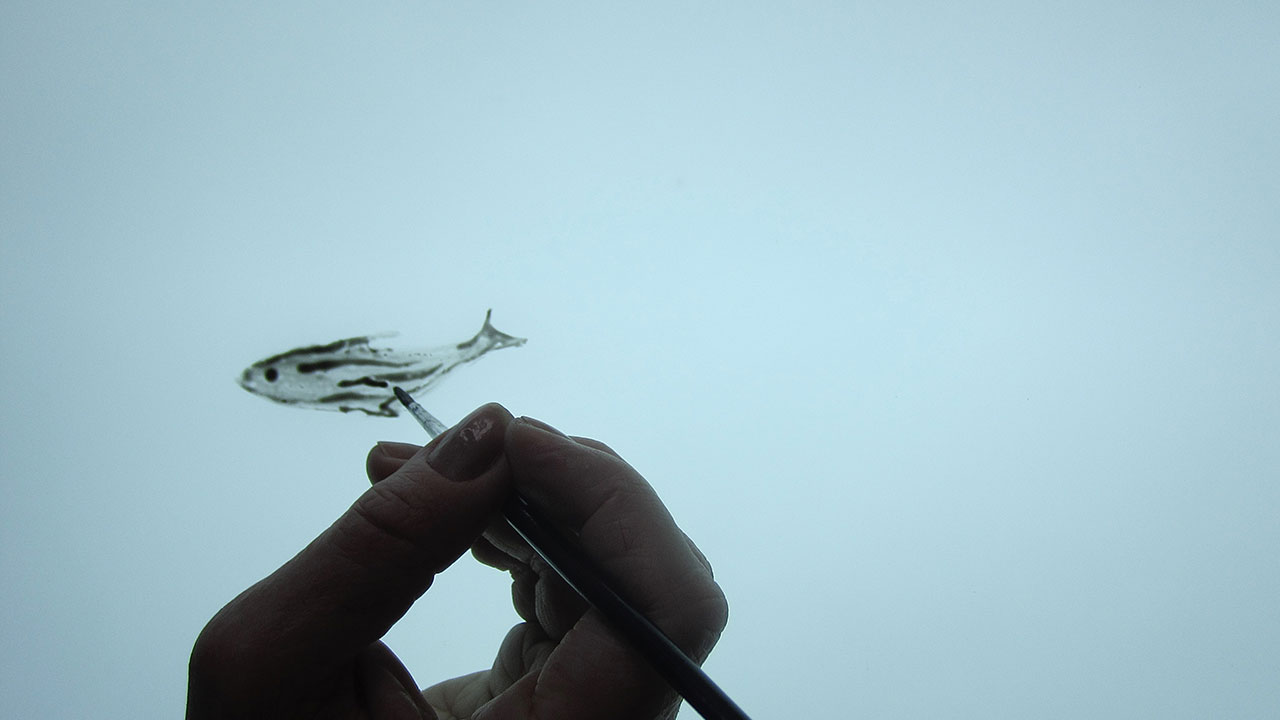 Cinematographic Voyages into Sensory Chaos
The Horror of Science in 21st Century Film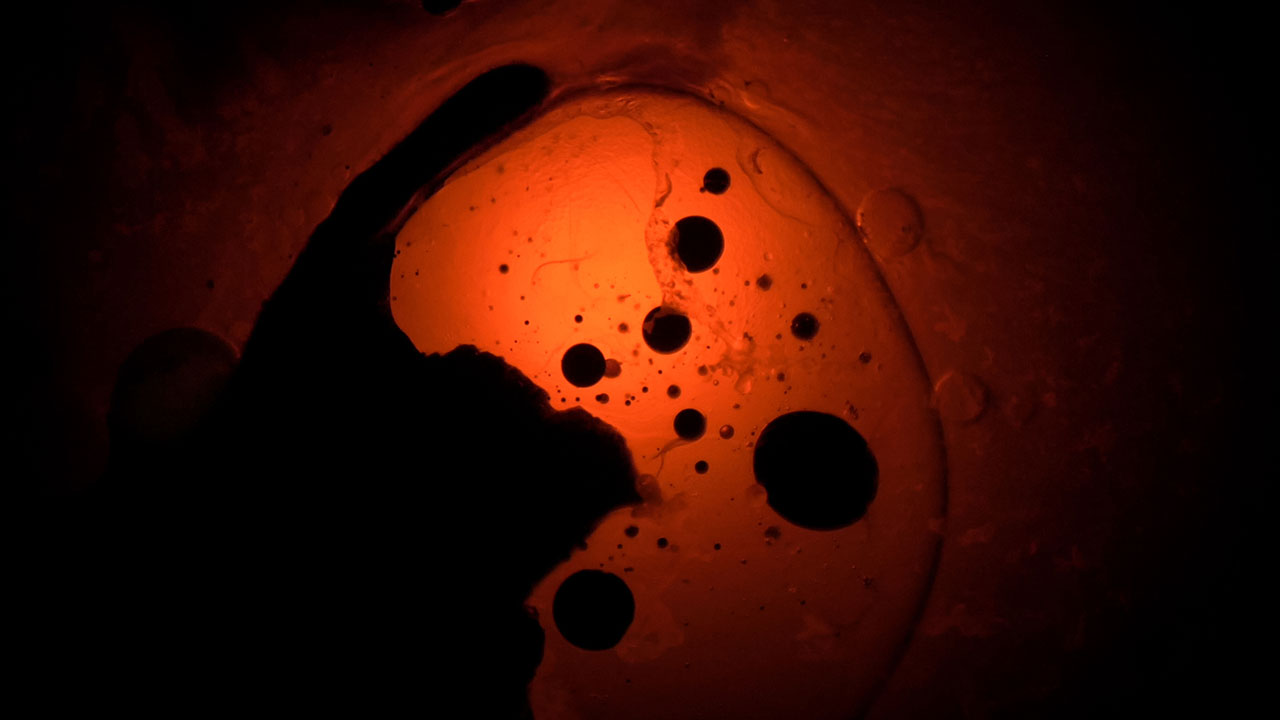 Visual Speculations and The Cyclic Path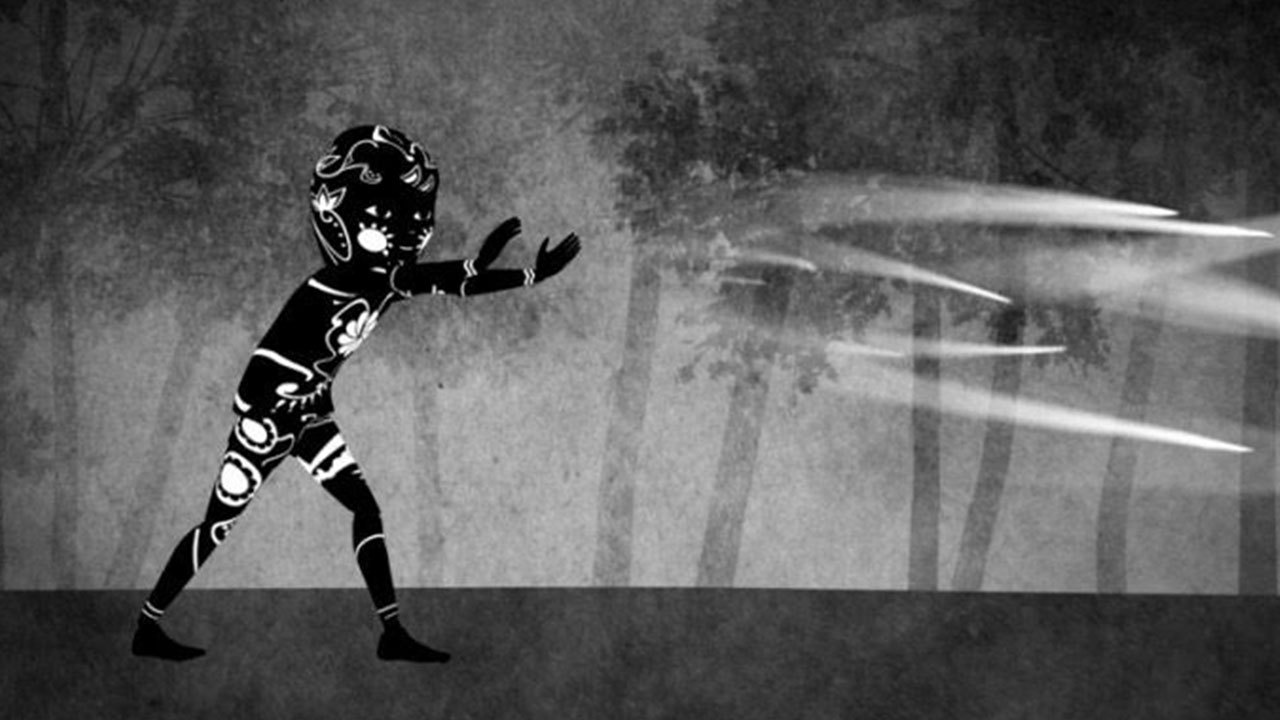 Avatars, myths, shadows, and hieroglyphs: Screens in Southeast Asia
Science and Film as Instruments for Scrutinizing Our World
Visualizing an Intimate Journey Through the Brain
Becoming Animal: Cinemas of transformation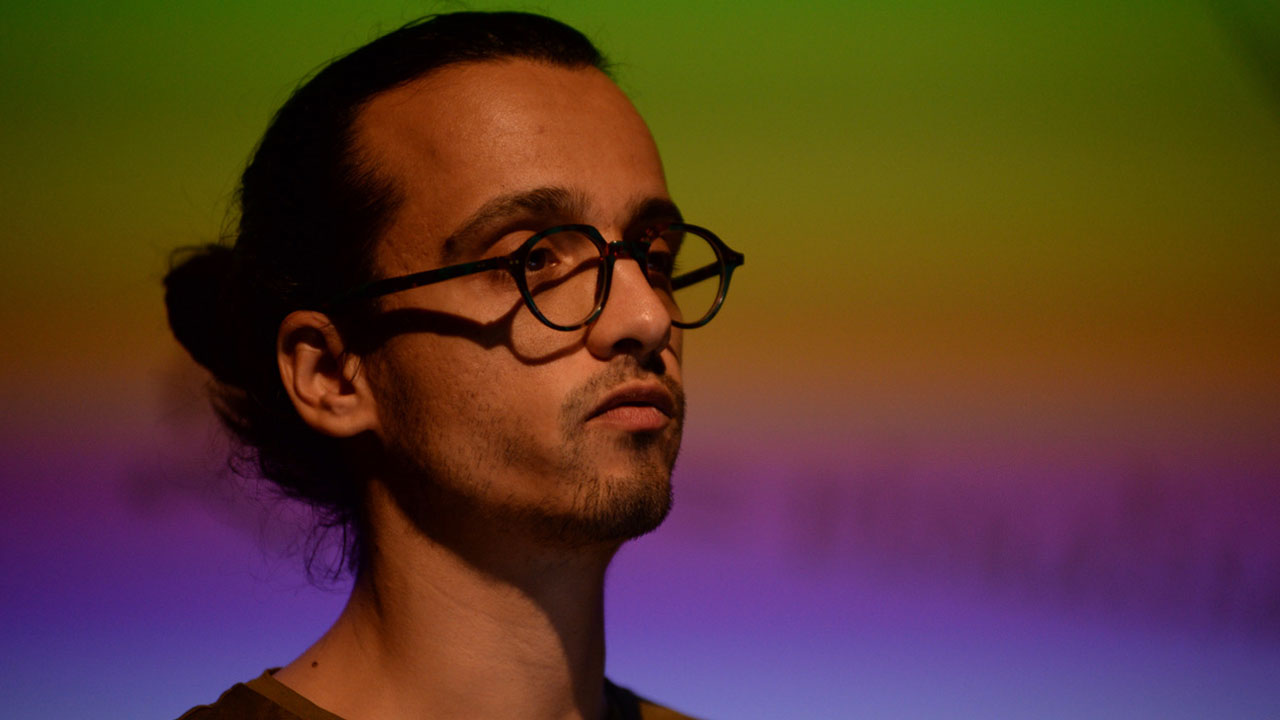 Endless Forms Most Beautiful: The Scientific Art of Markos Kay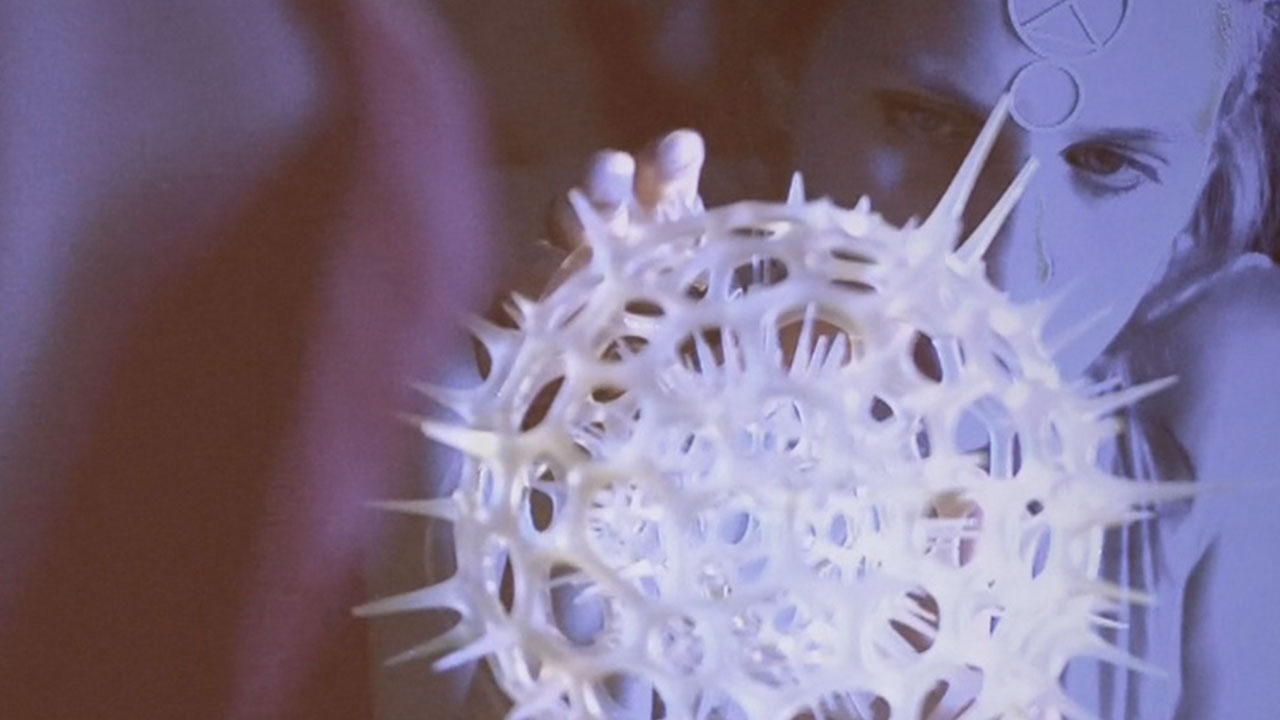 Microscopic Melodramas, A Surrealistic look at Our Oceans in Peril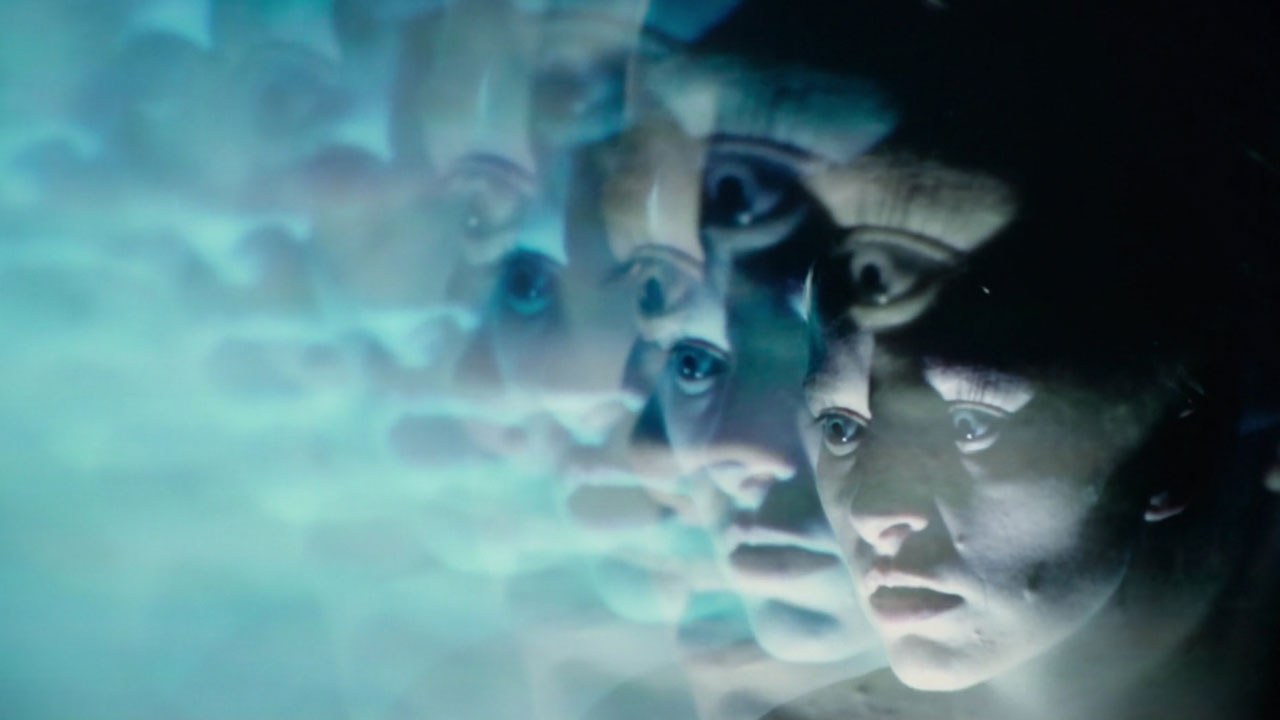 Your Guide to Science at the 2019 Toronto International Film Festival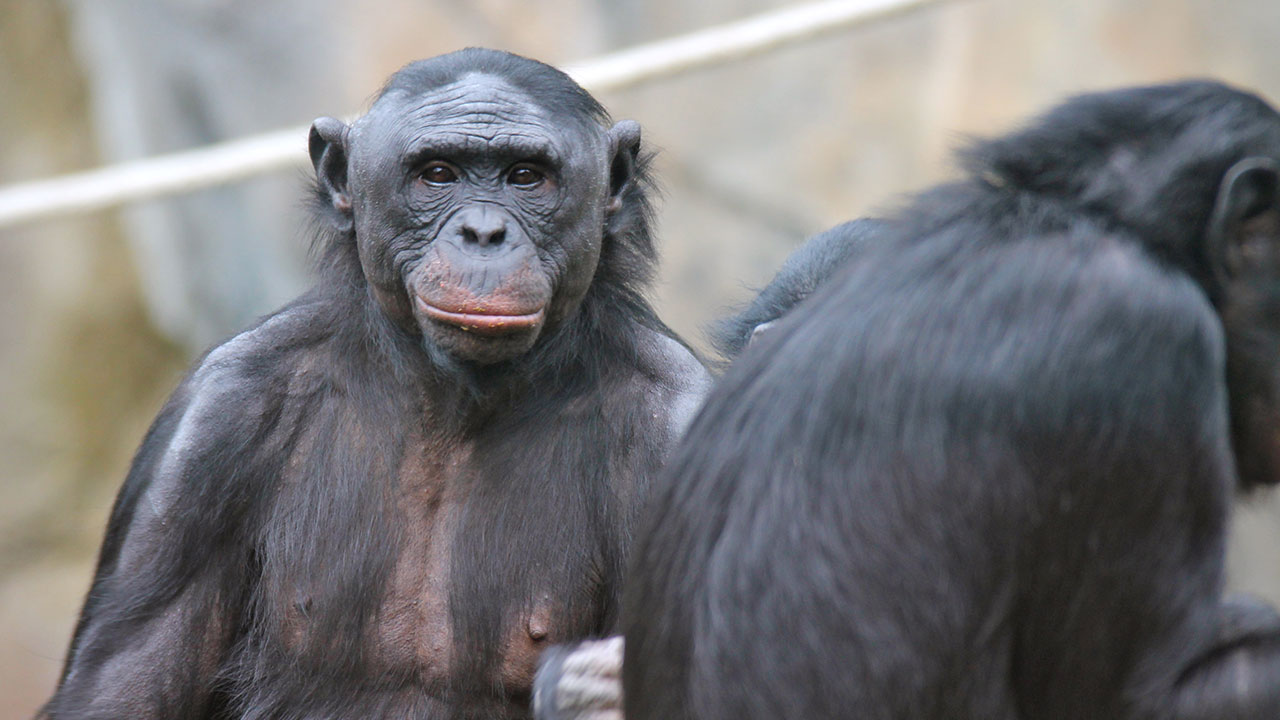 Humans Meet Chimps, Chimps Become Human?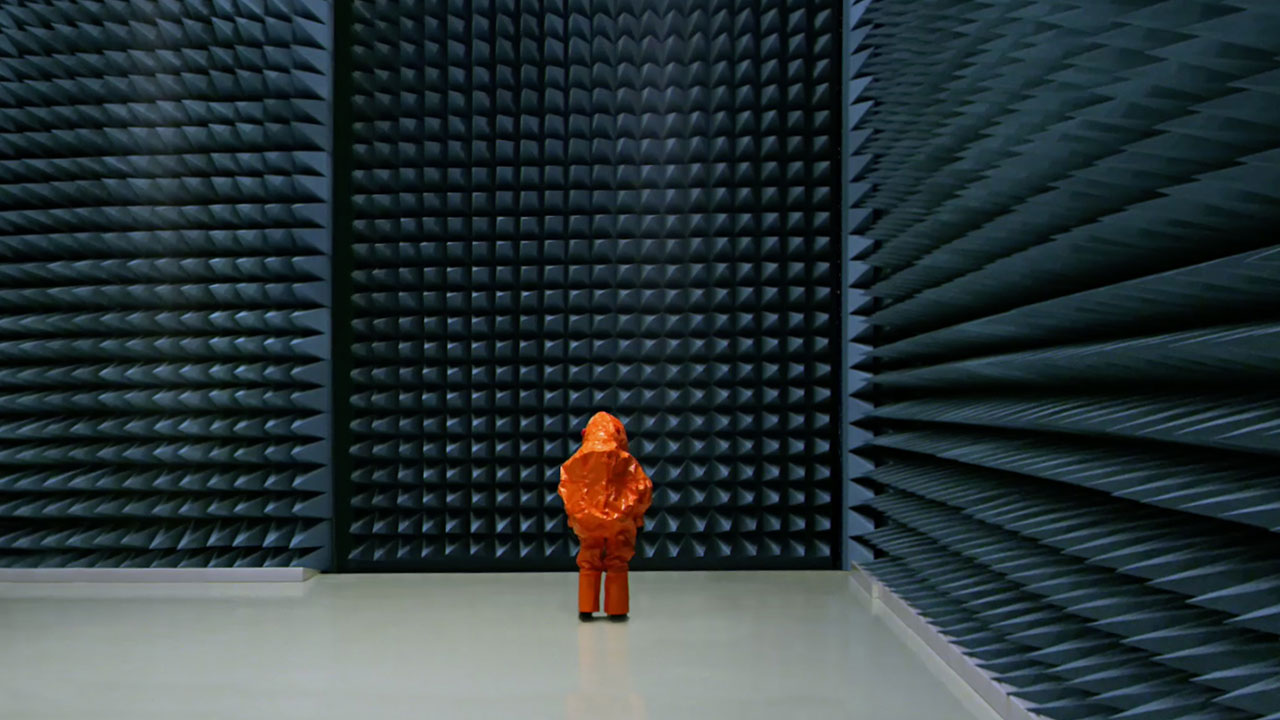 What it means to be human in the 21st century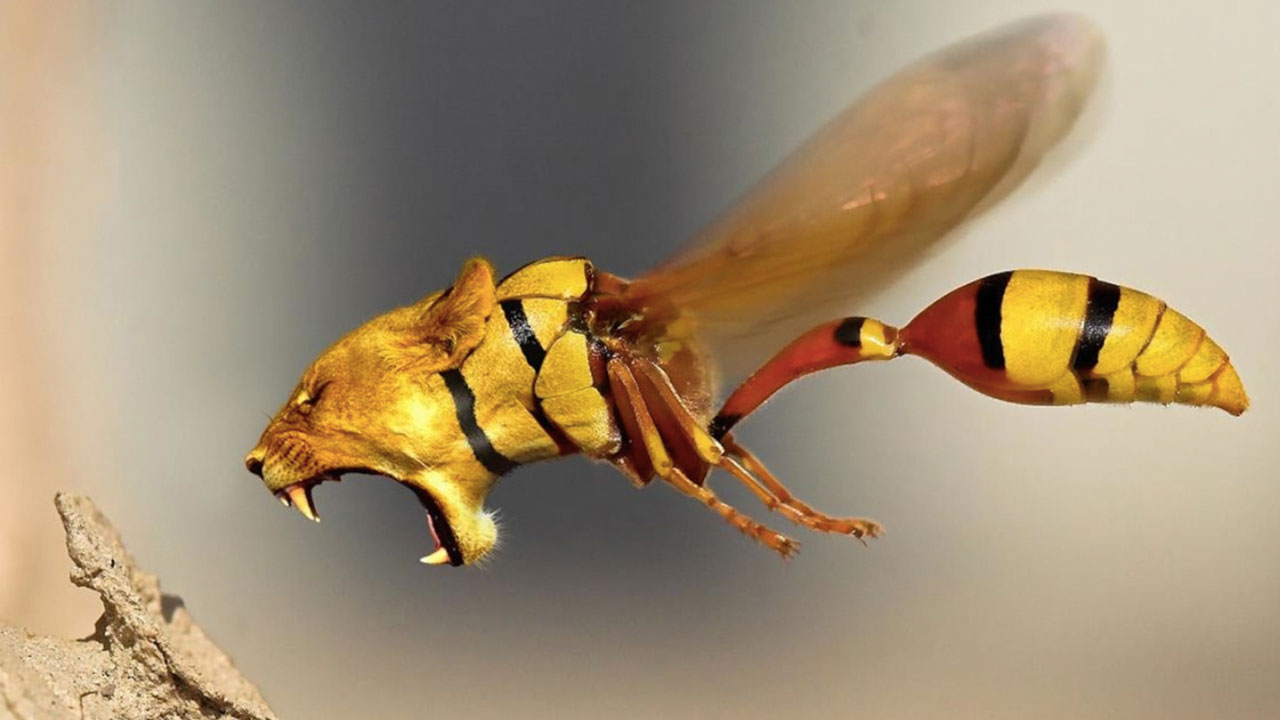 Chimera: Reality or Myth?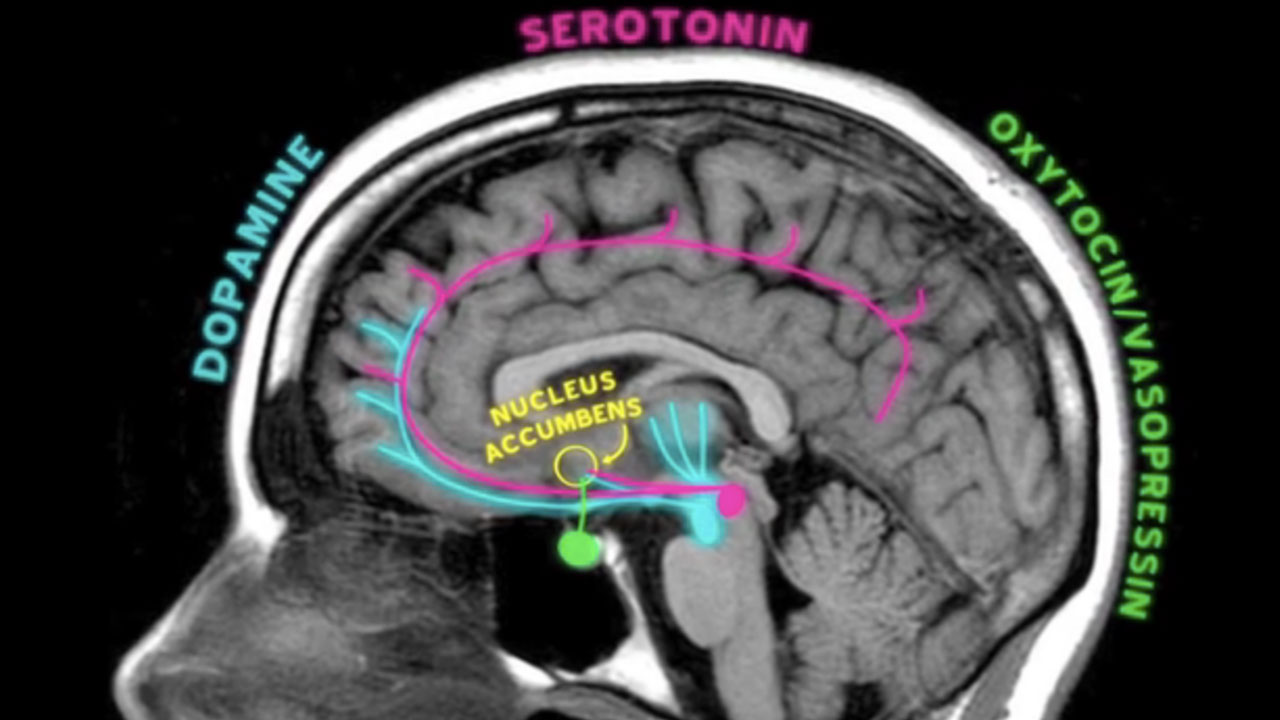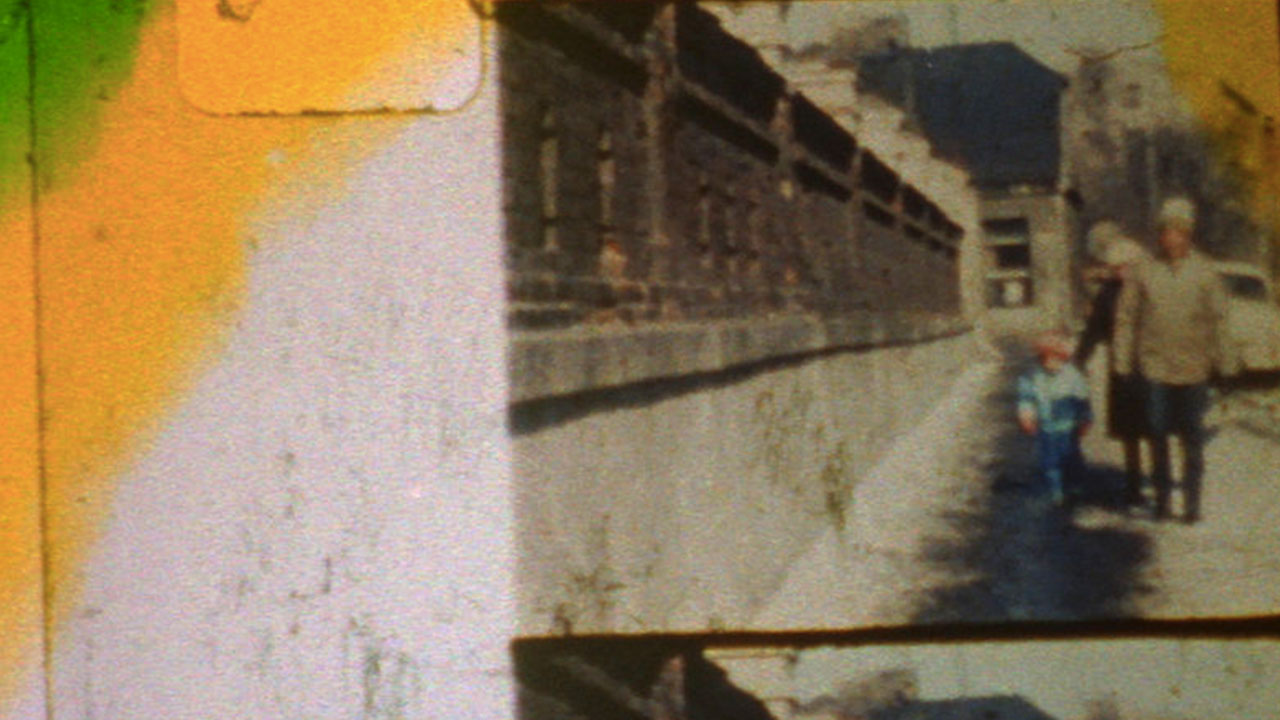 The Artwork of Migration: How movement functions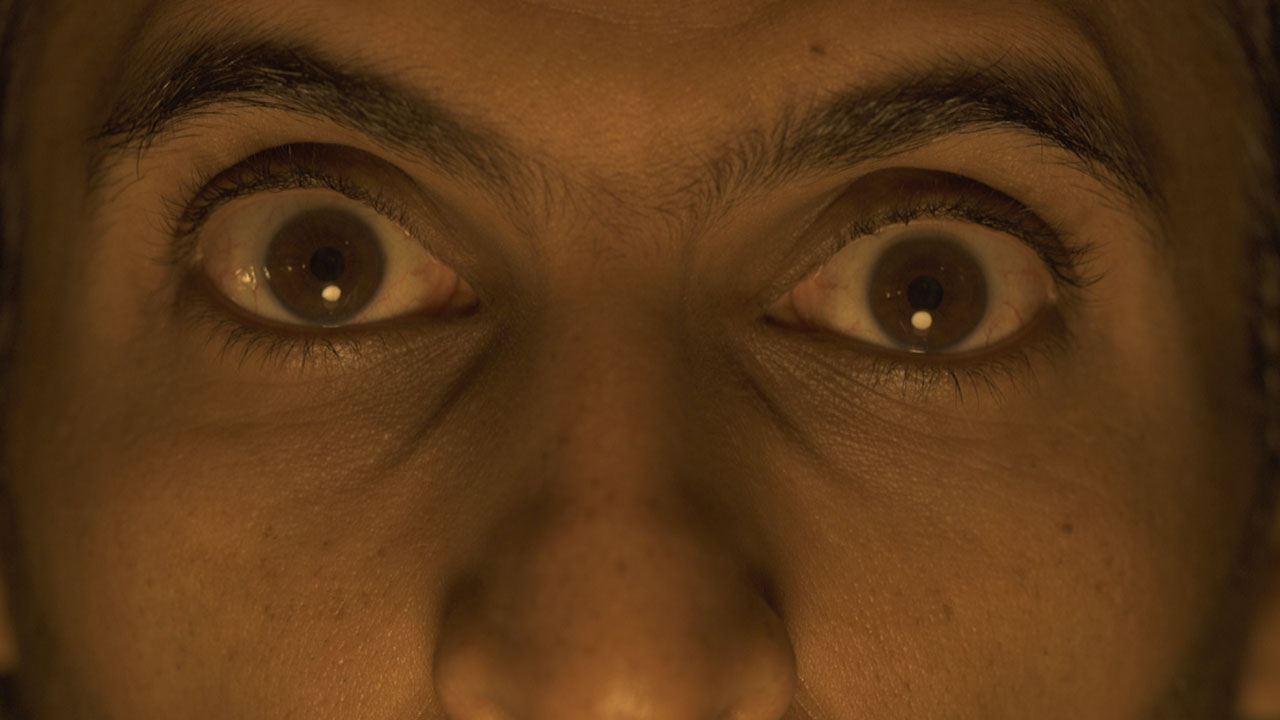 The Marginalized Protagonist in Kuwaiti Short Films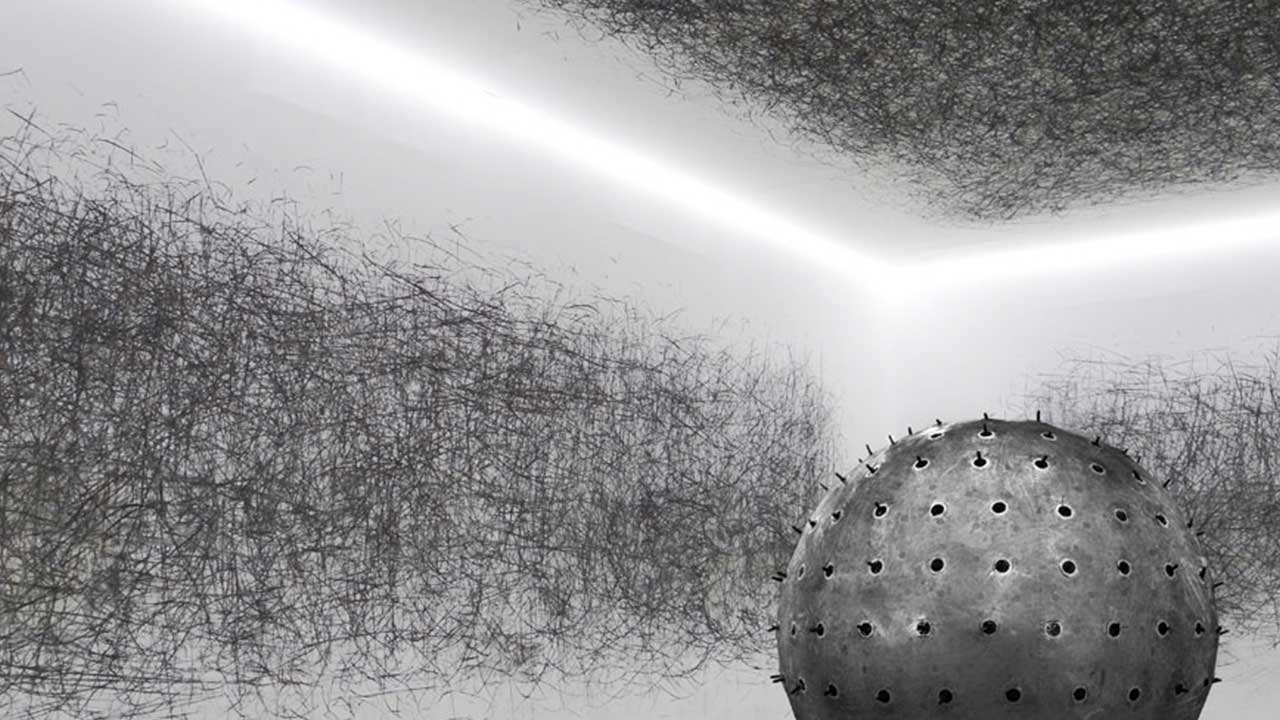 Intimacy and Catastrophe: How film frames climate change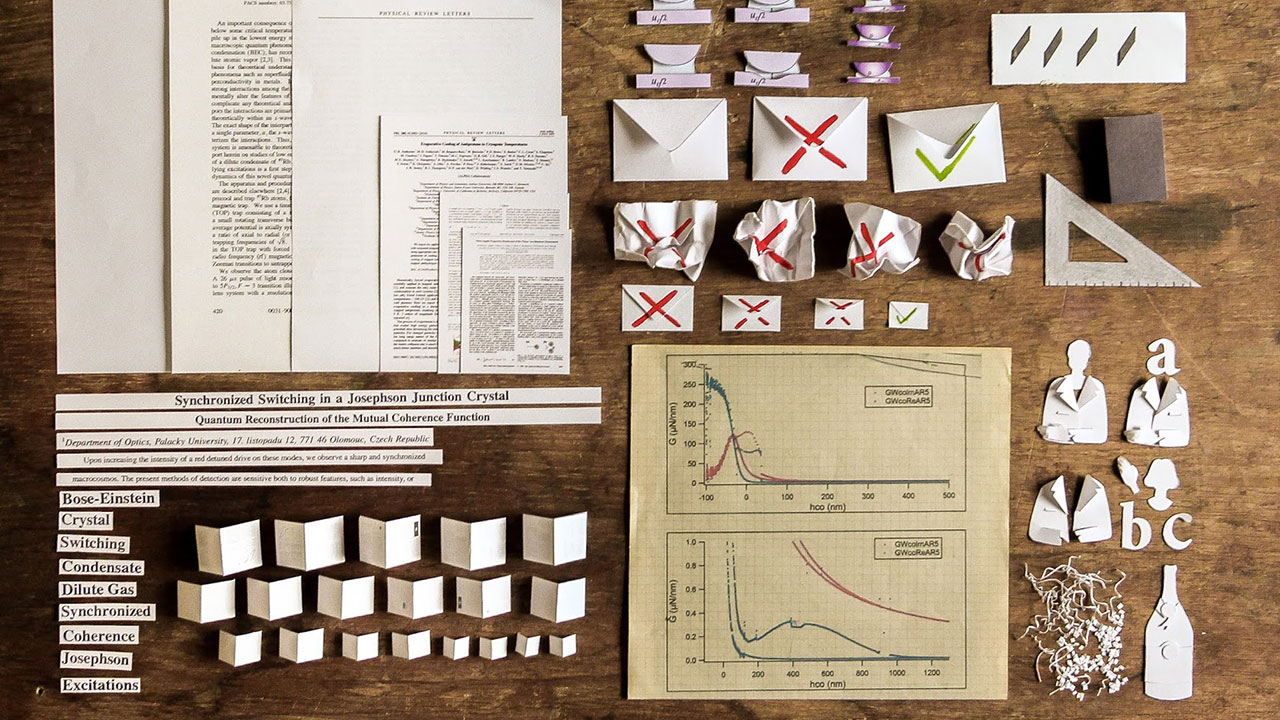 Space Explorers: Human Motives for Transcending Earth And Our Solar System.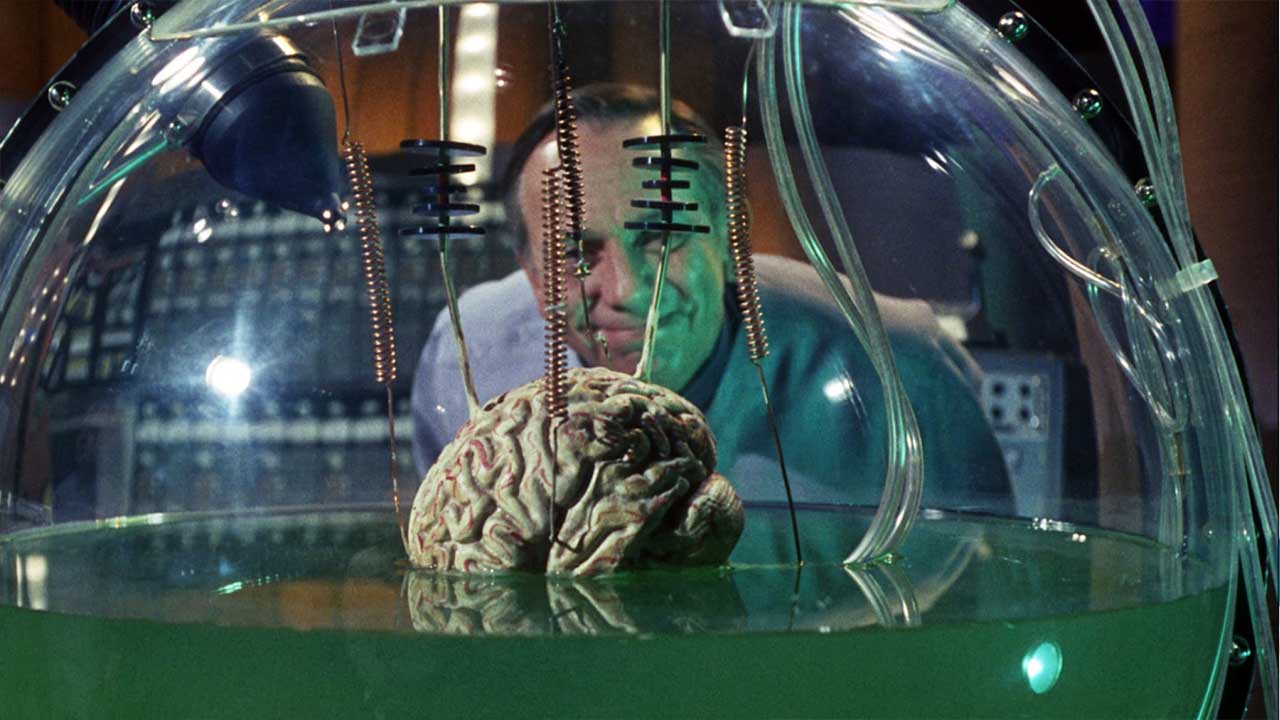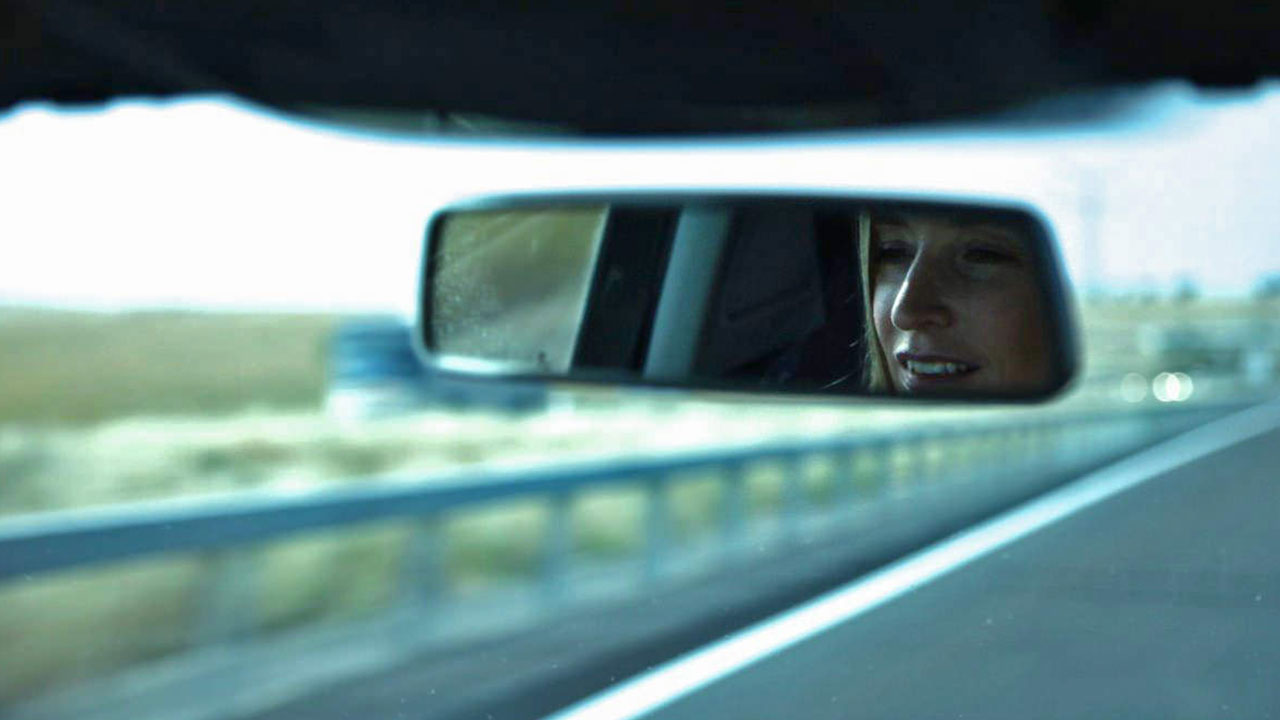 A Haunting Exploration into the Nature of Memory
Landscapes & Language of the Anthropocene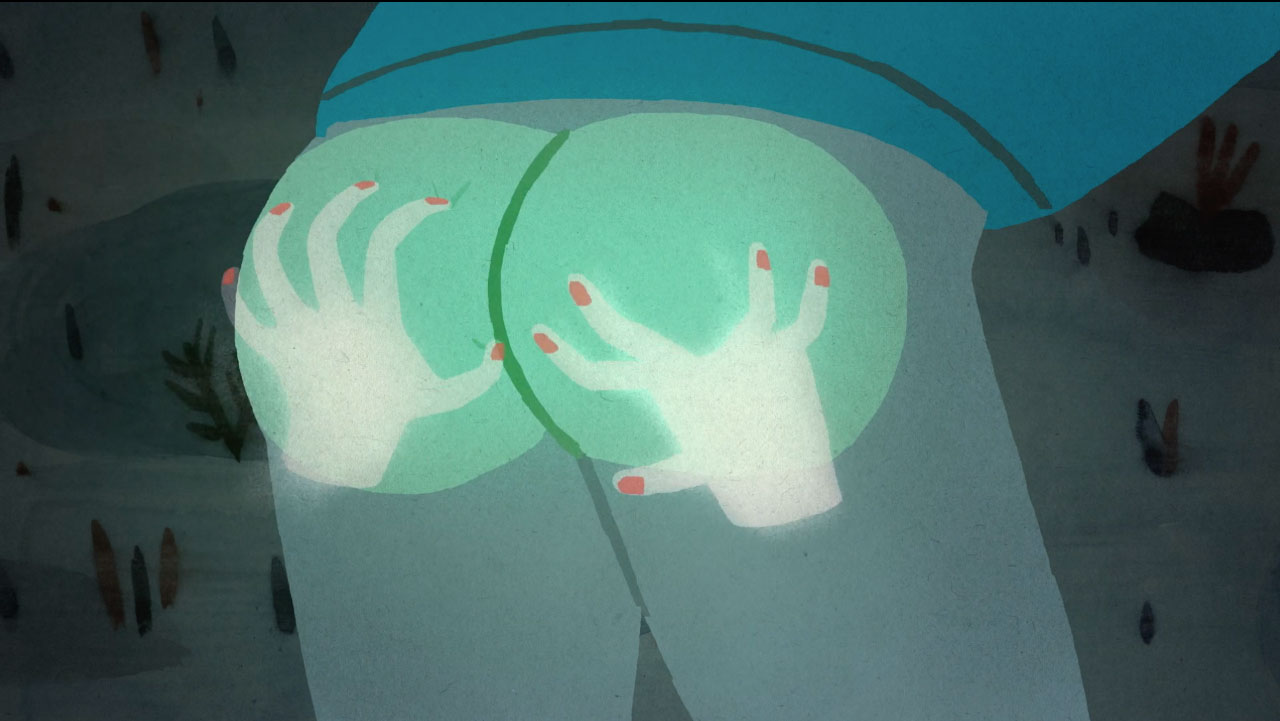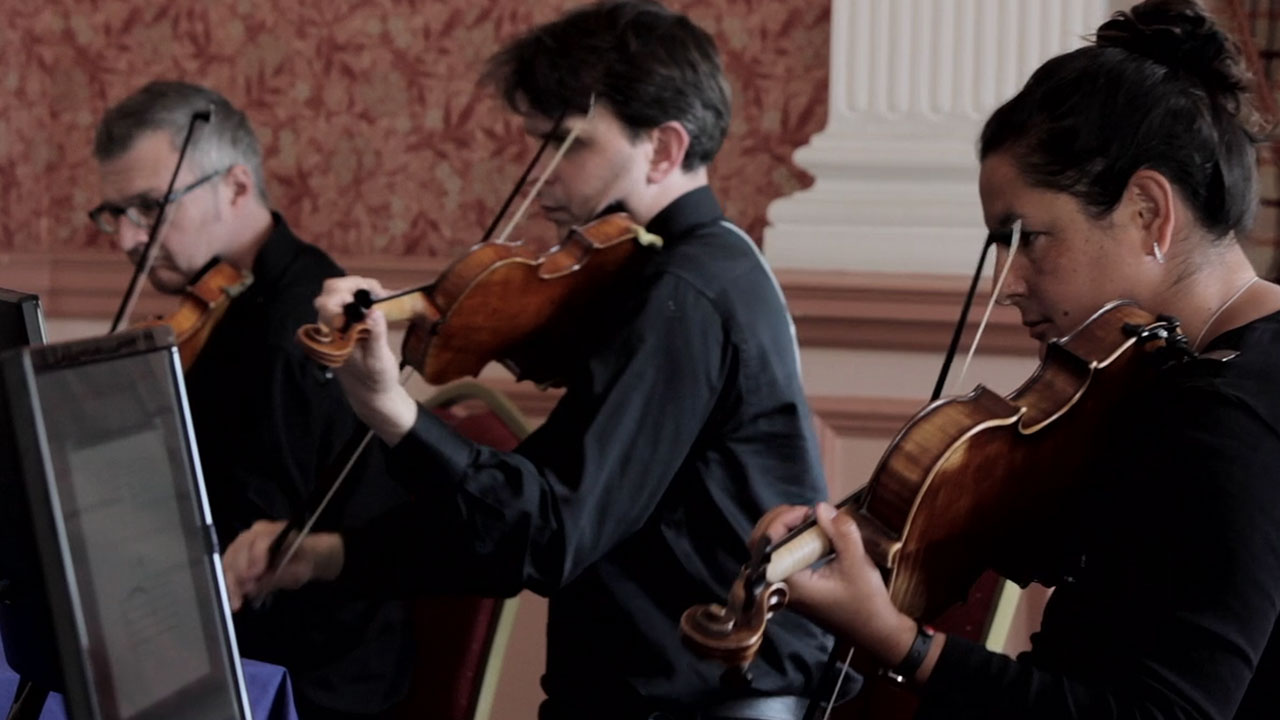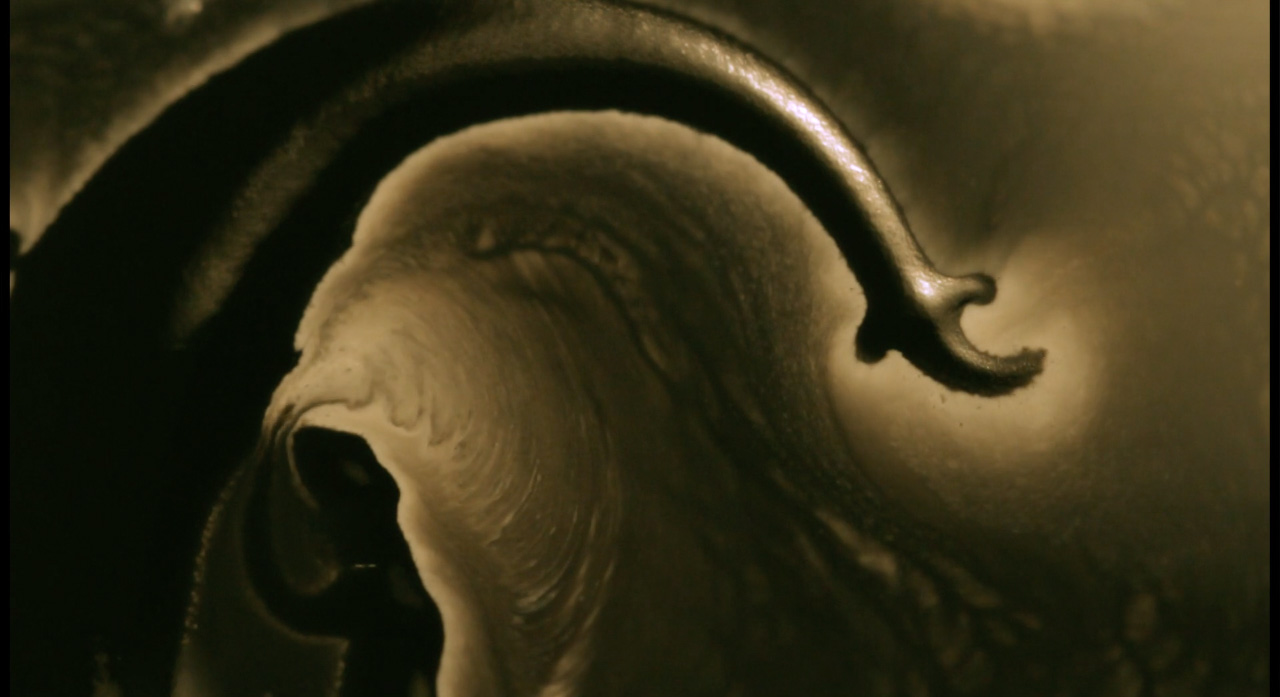 Don't Be Afraid of Science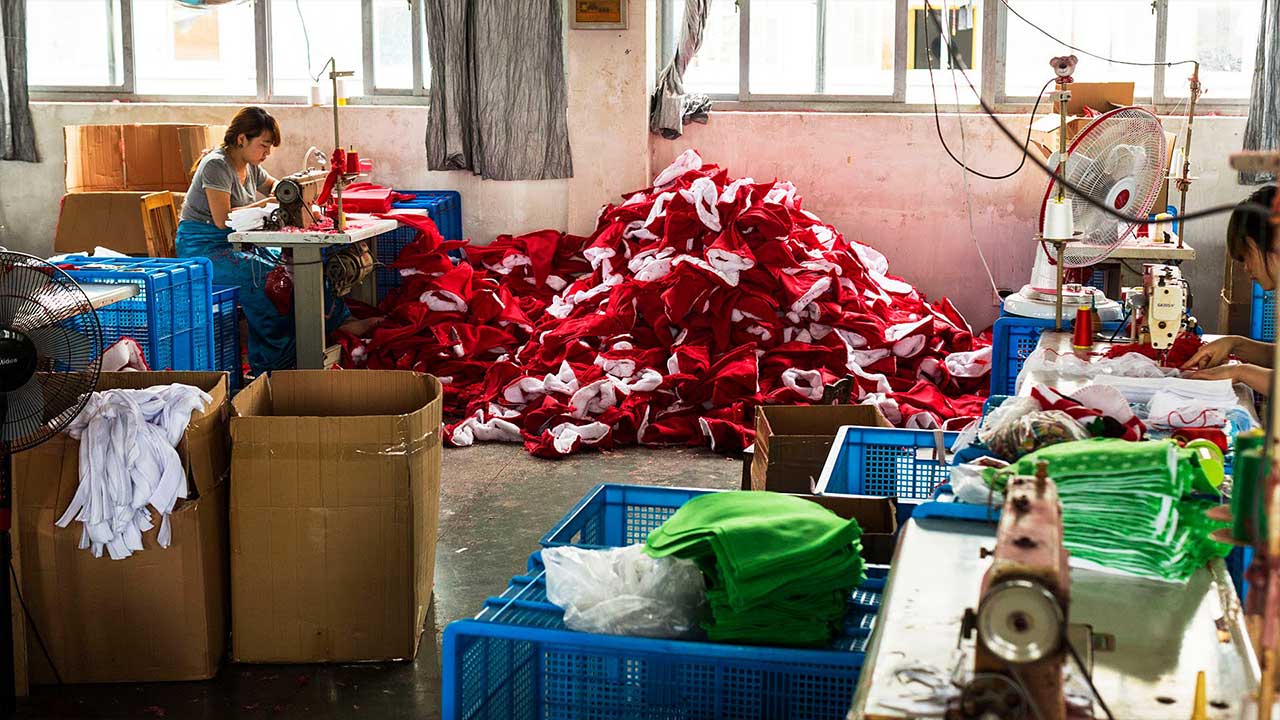 Buy Now or Forever Stall Our Advancements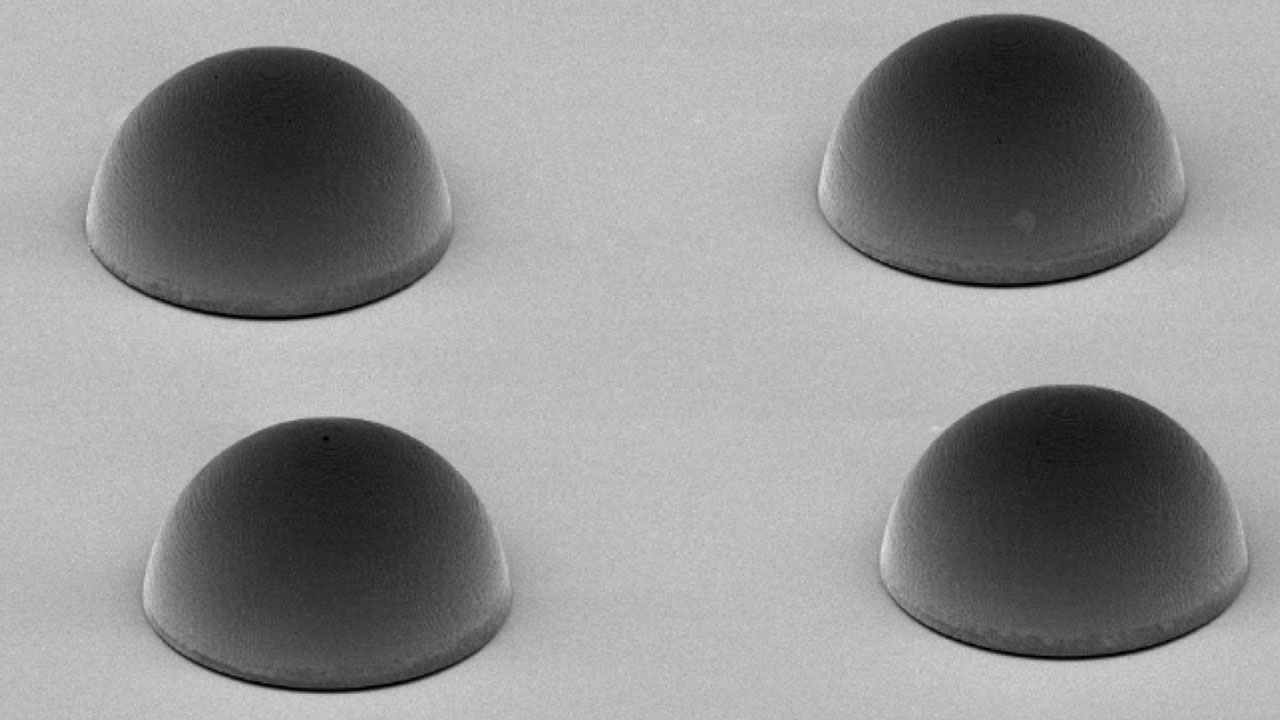 Micro and Nano Theme Parks For Worms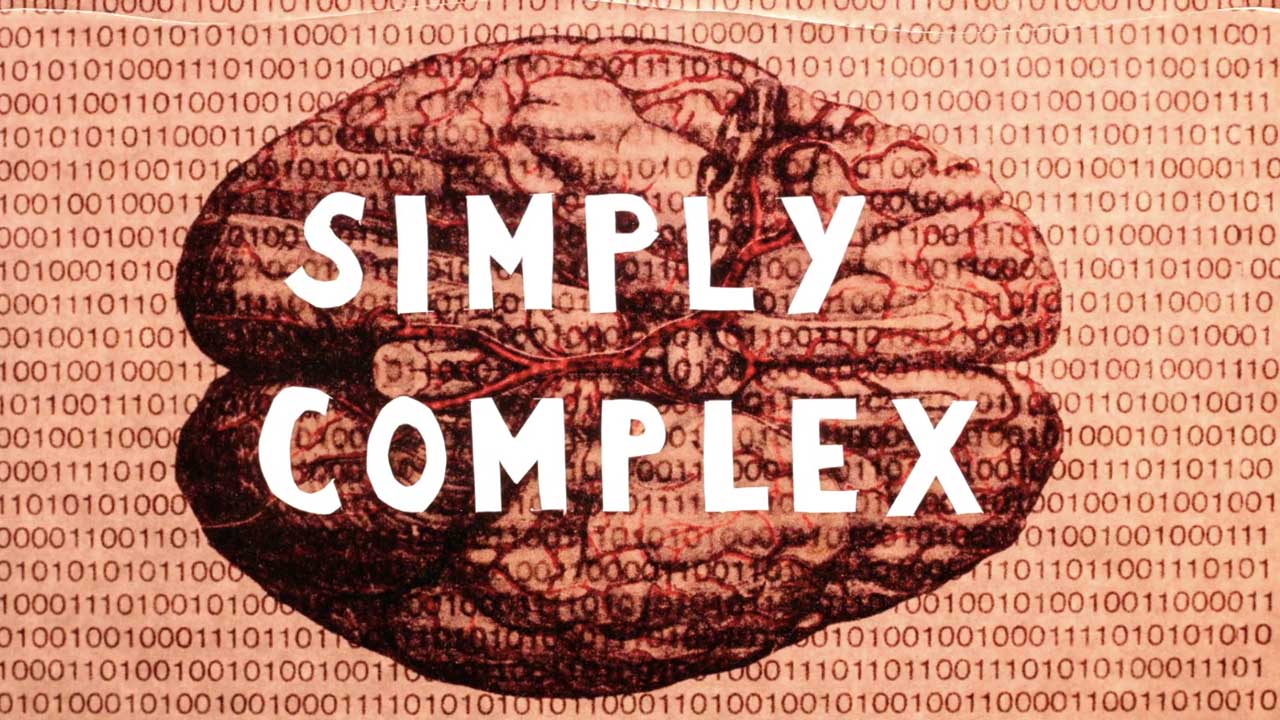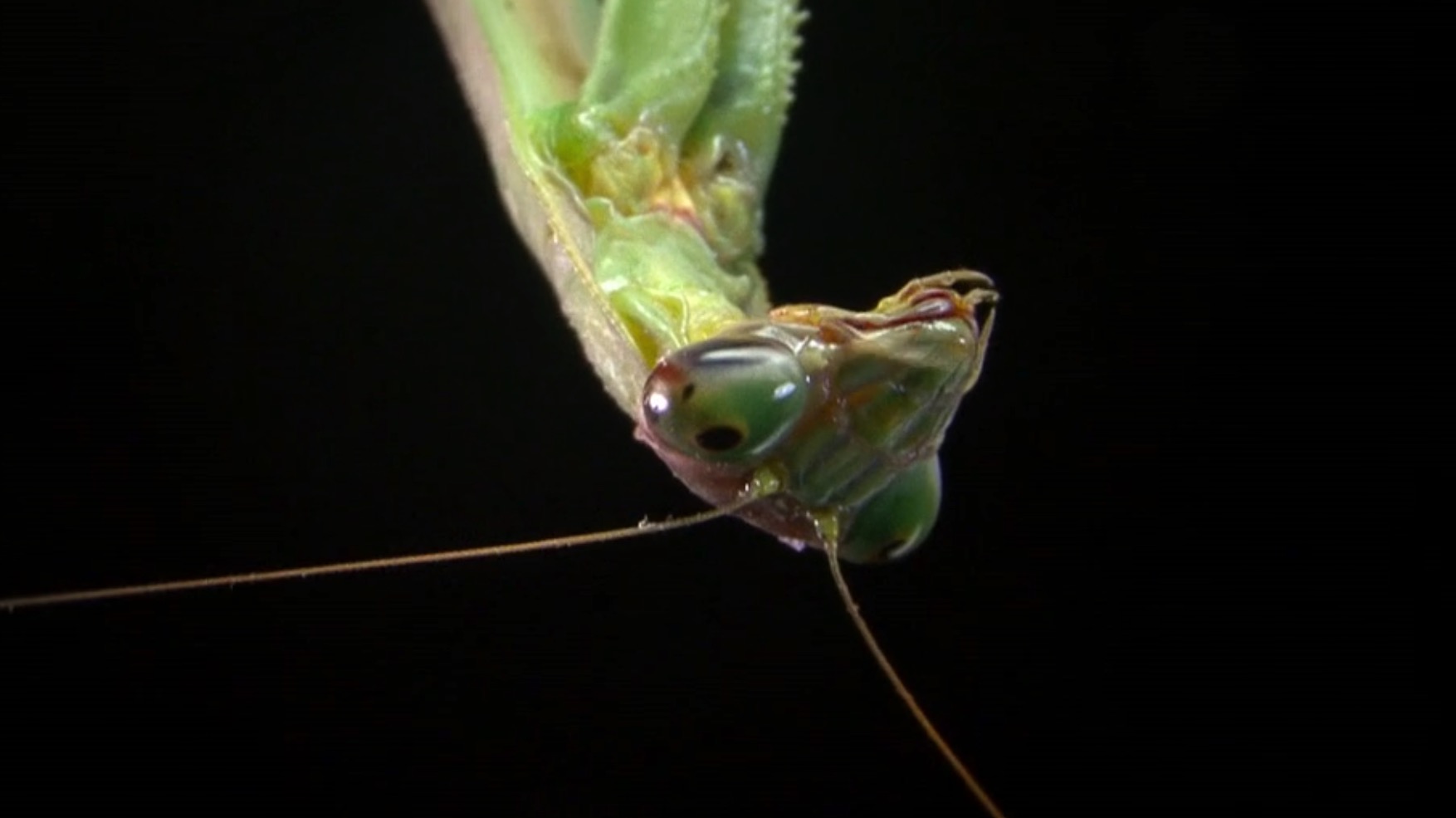 10 Short Science Films Celebrating Tiny Details Usually Unseen
Adding Film to the Science Syllabus (Part 3)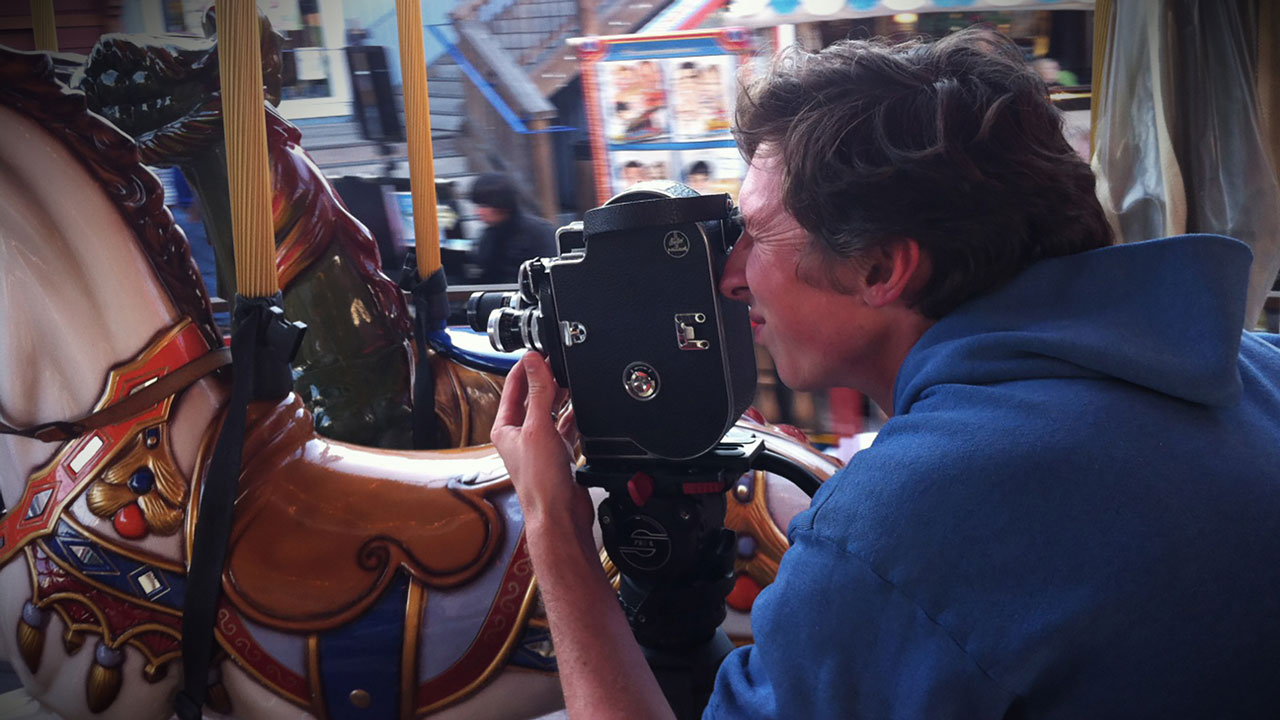 Close Examinations: Decibels, Droughts & Death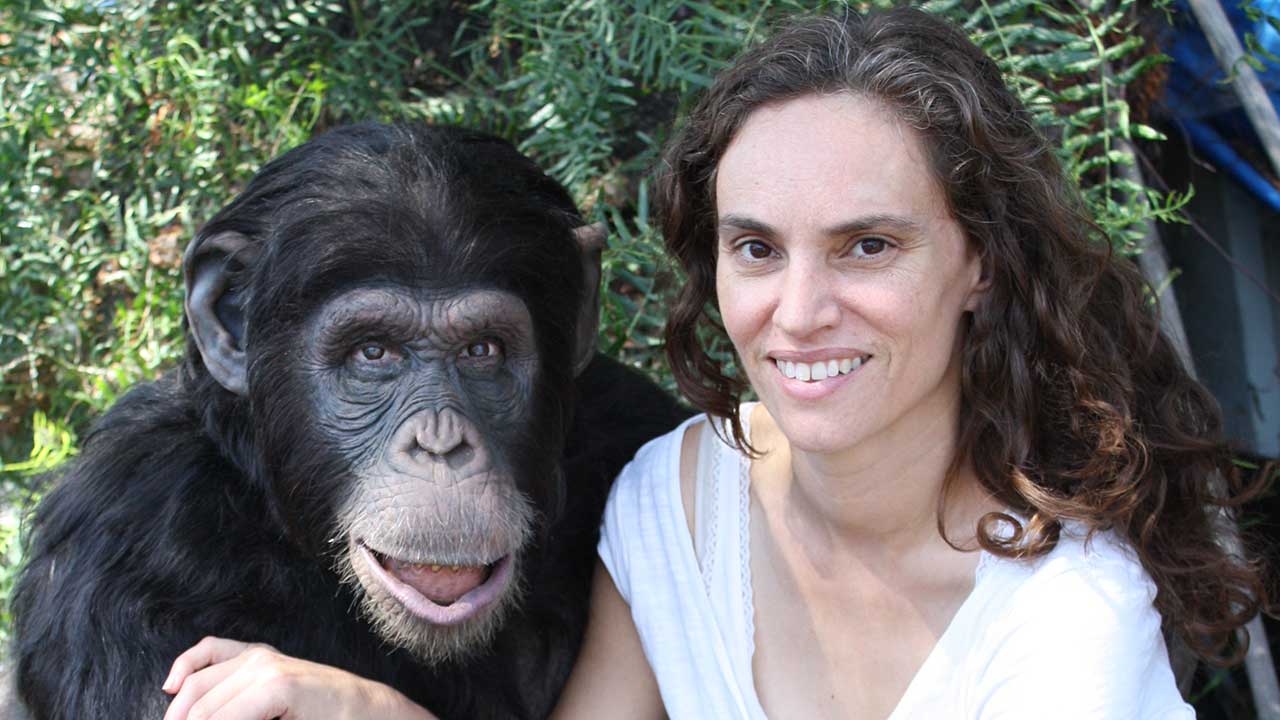 Films for the Non-Human Demographic
Augmenting Human and Machine Intelligence with Data Visualization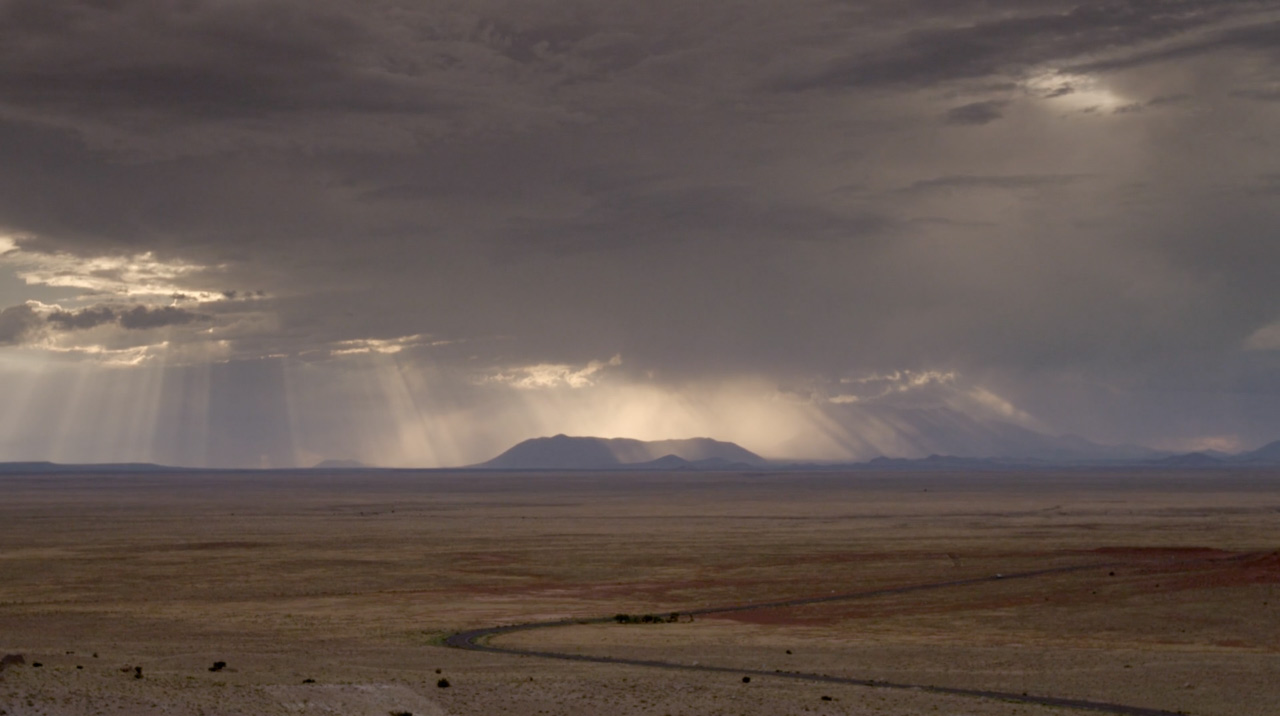 Science v. Religion: Genesis to Genetics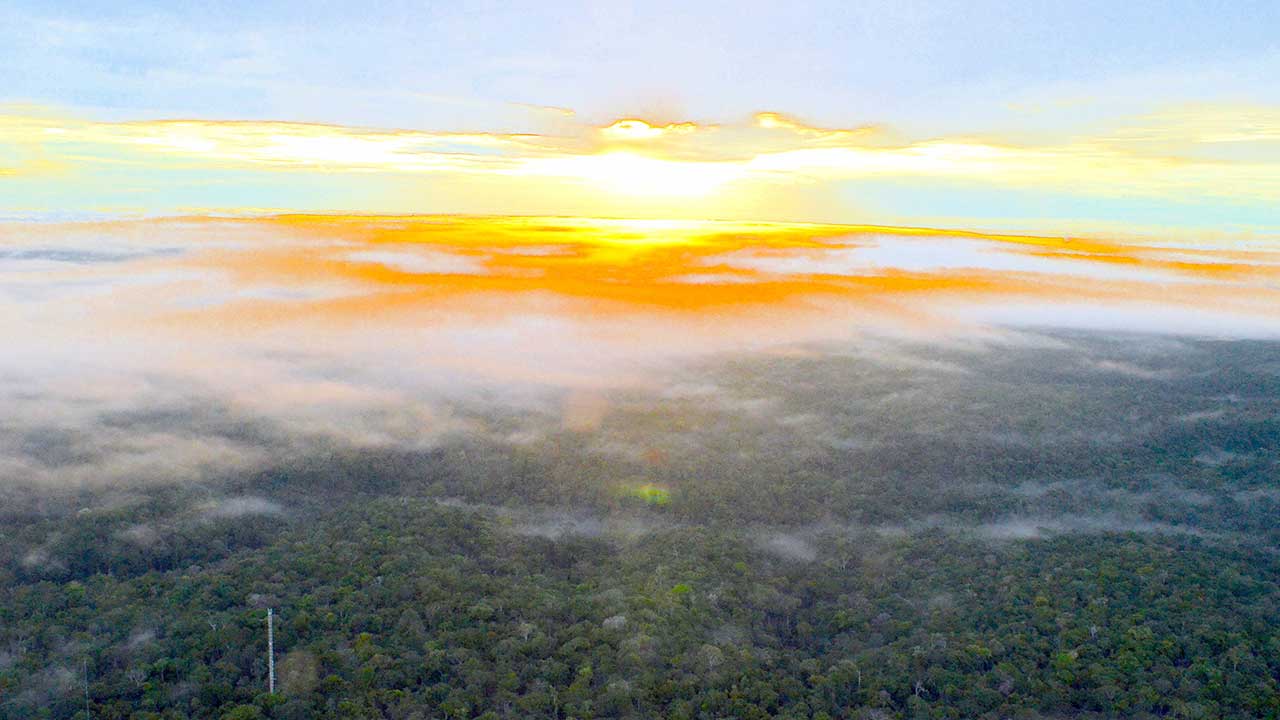 Global Warning: Reports Around the World on Climate Science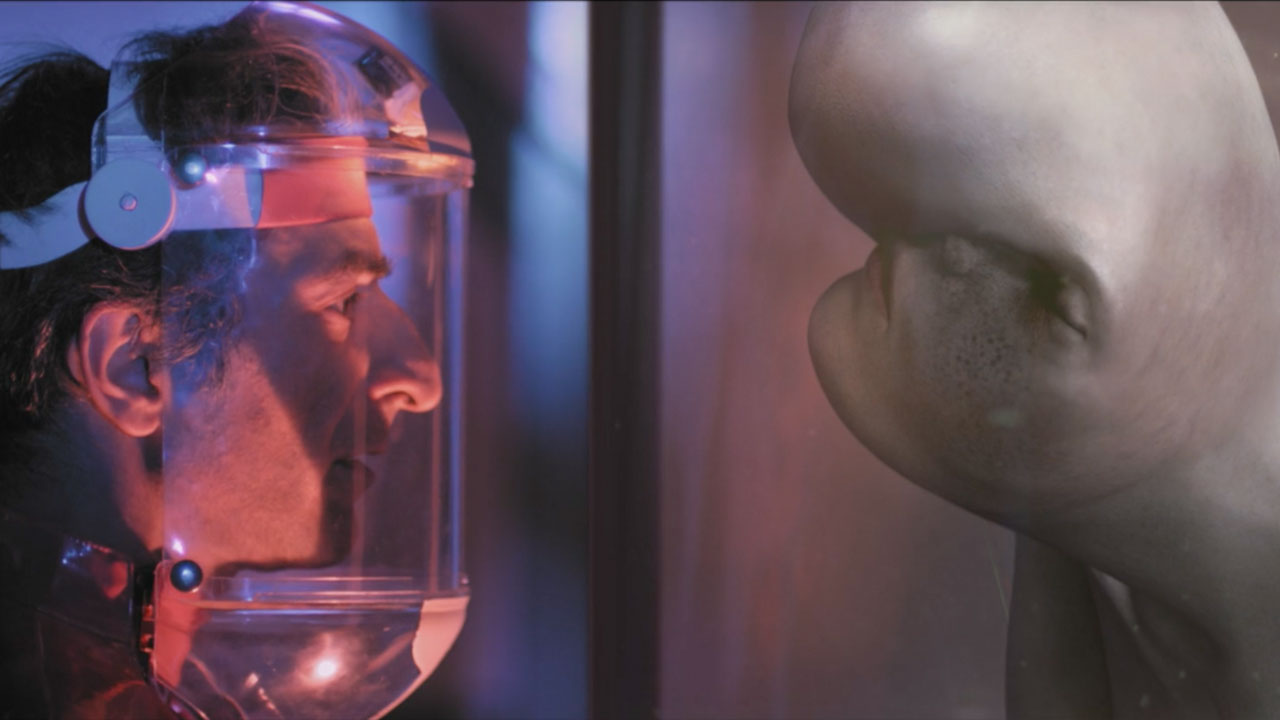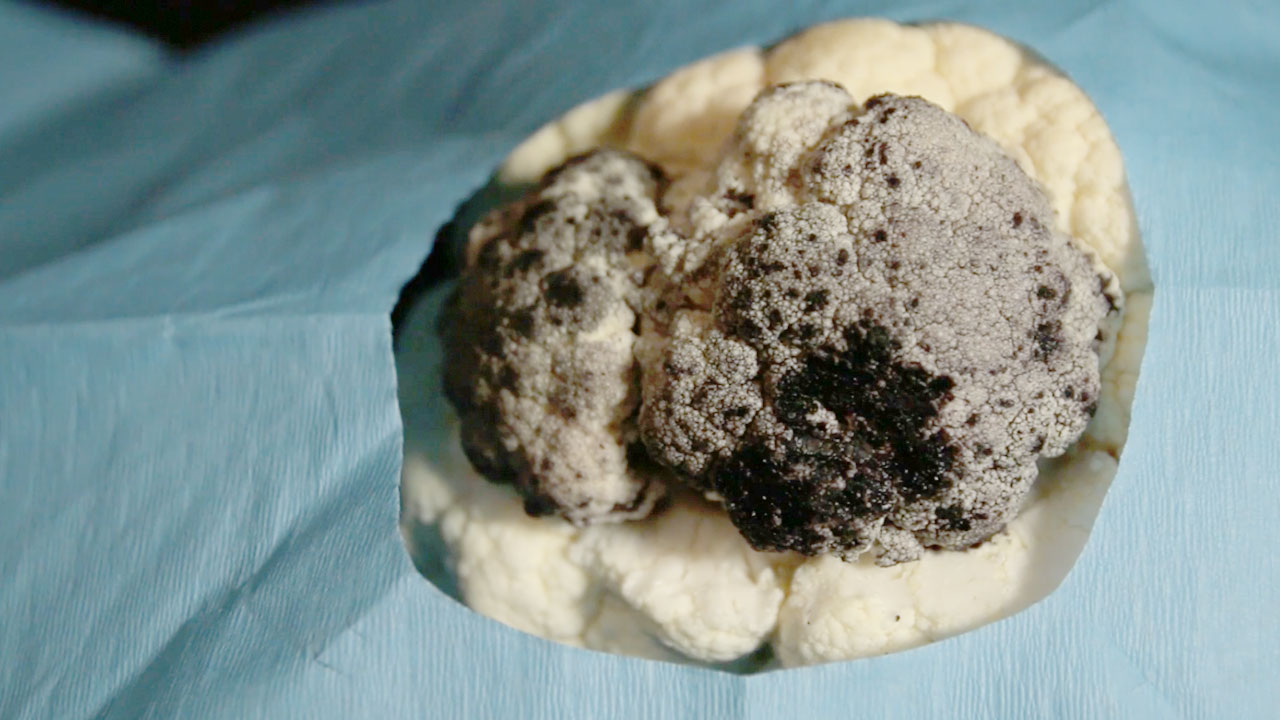 Scientists & Filmmakers in Paris Interpret Light at Pariscience Film Festival
The Pursuit of Hope and Knowledge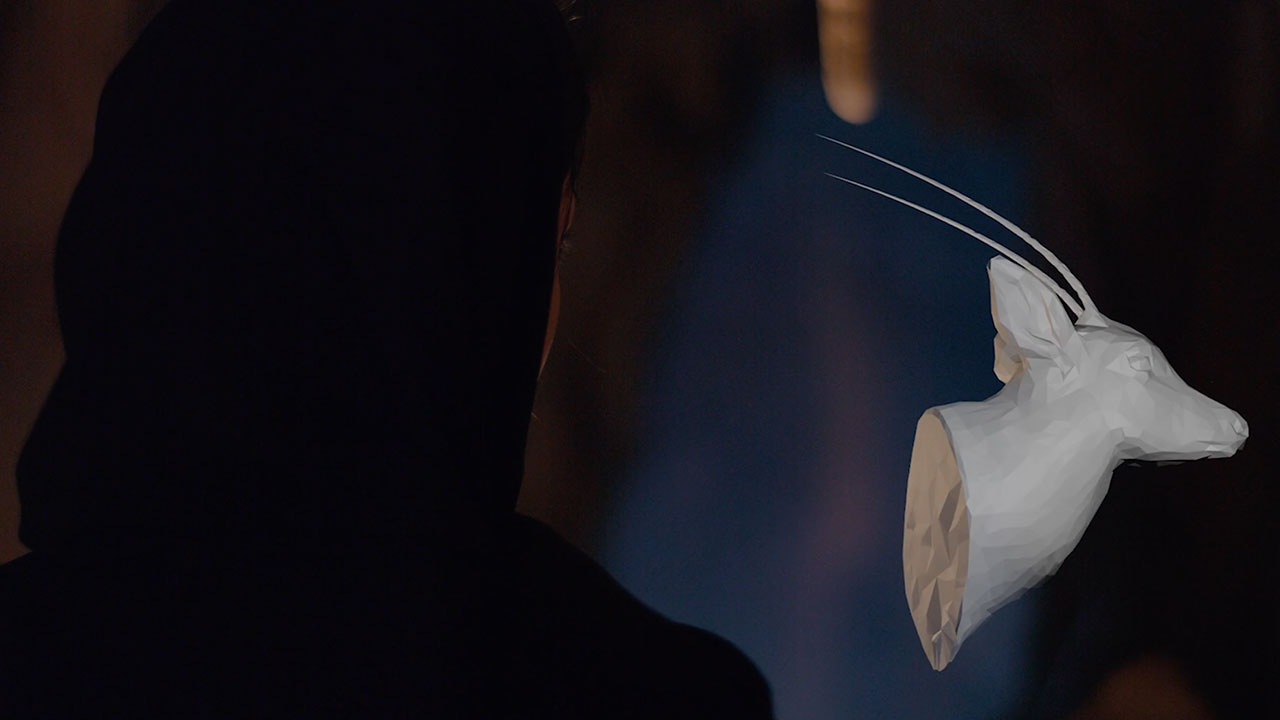 Connection and Communication: What Does it Take?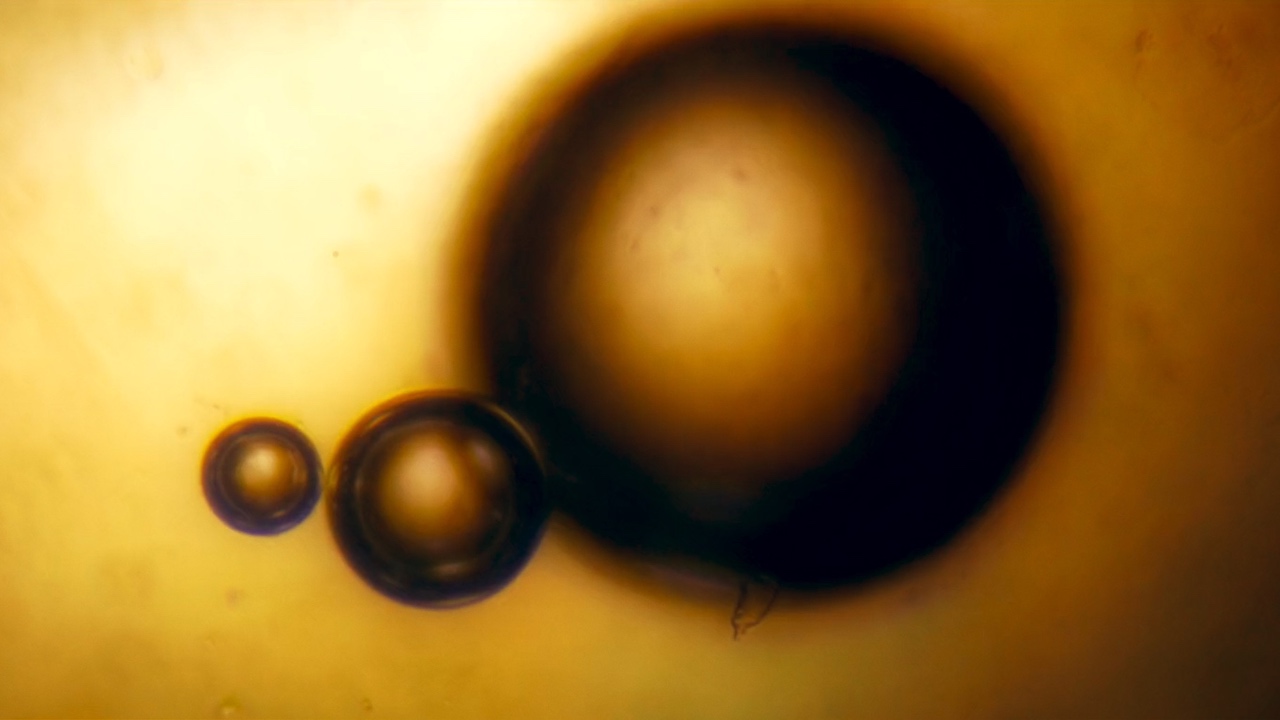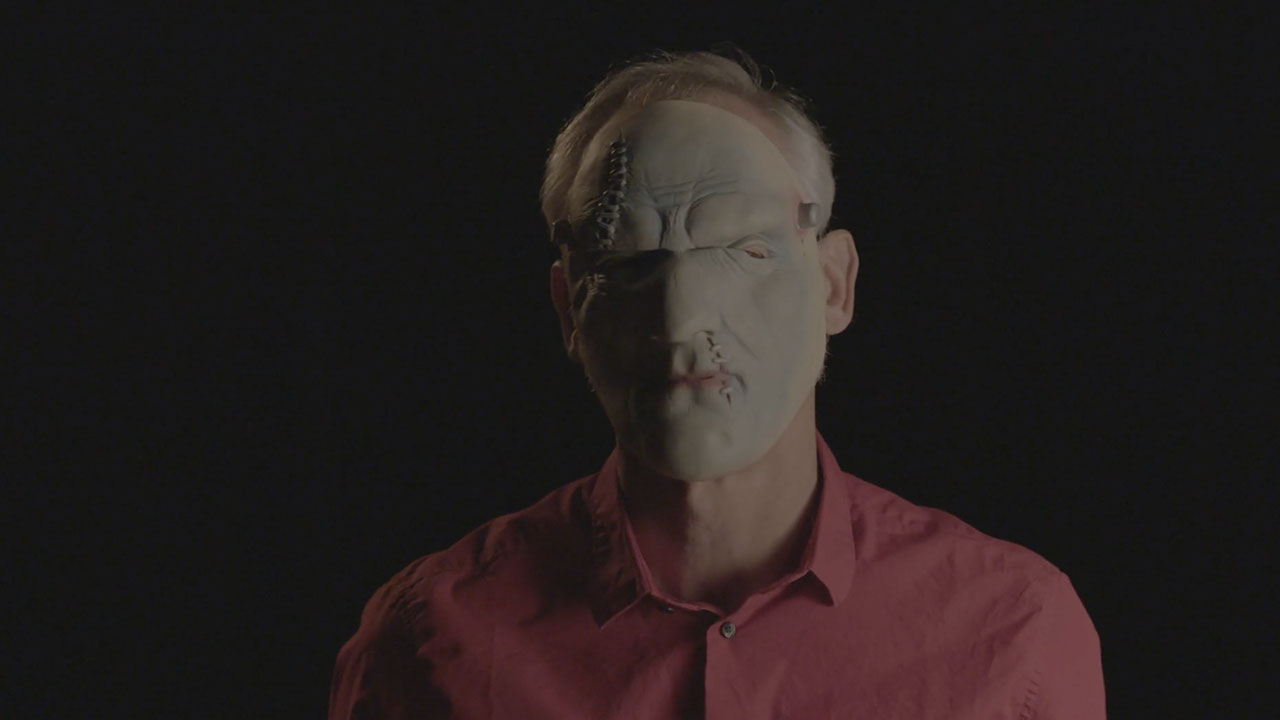 A Choreography of Emotions & Fear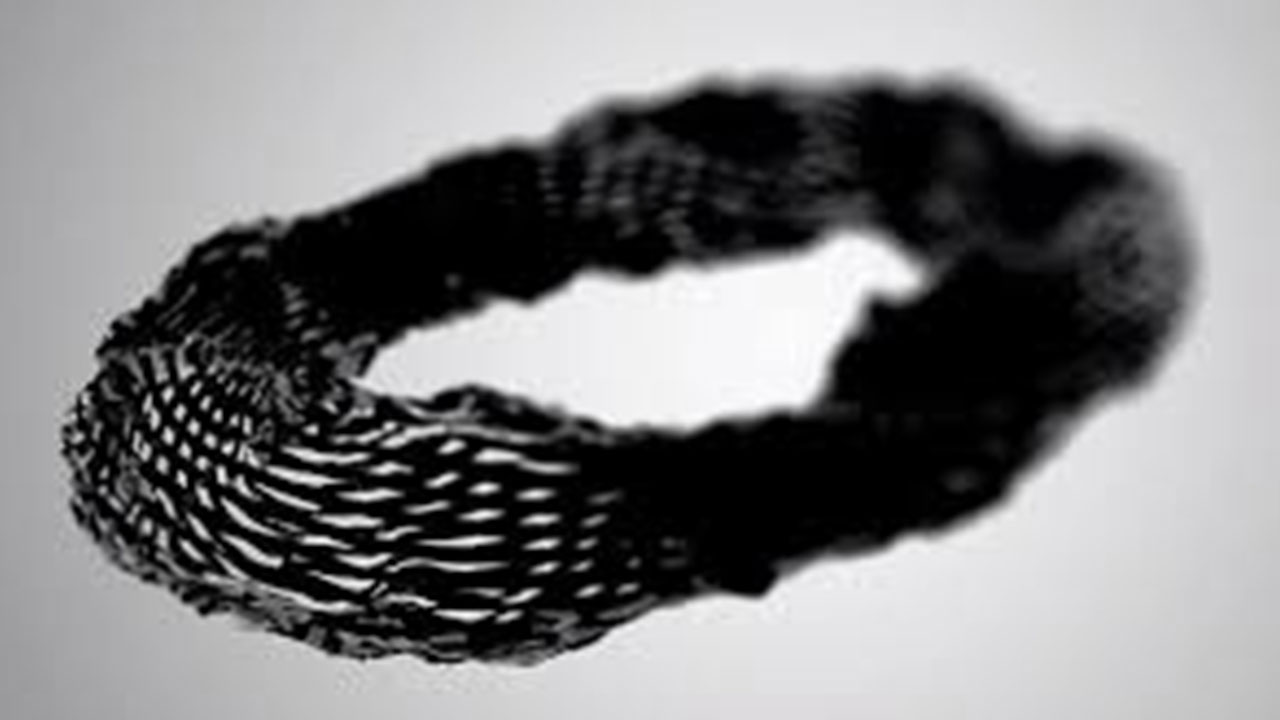 Culture, Health and Art in Africa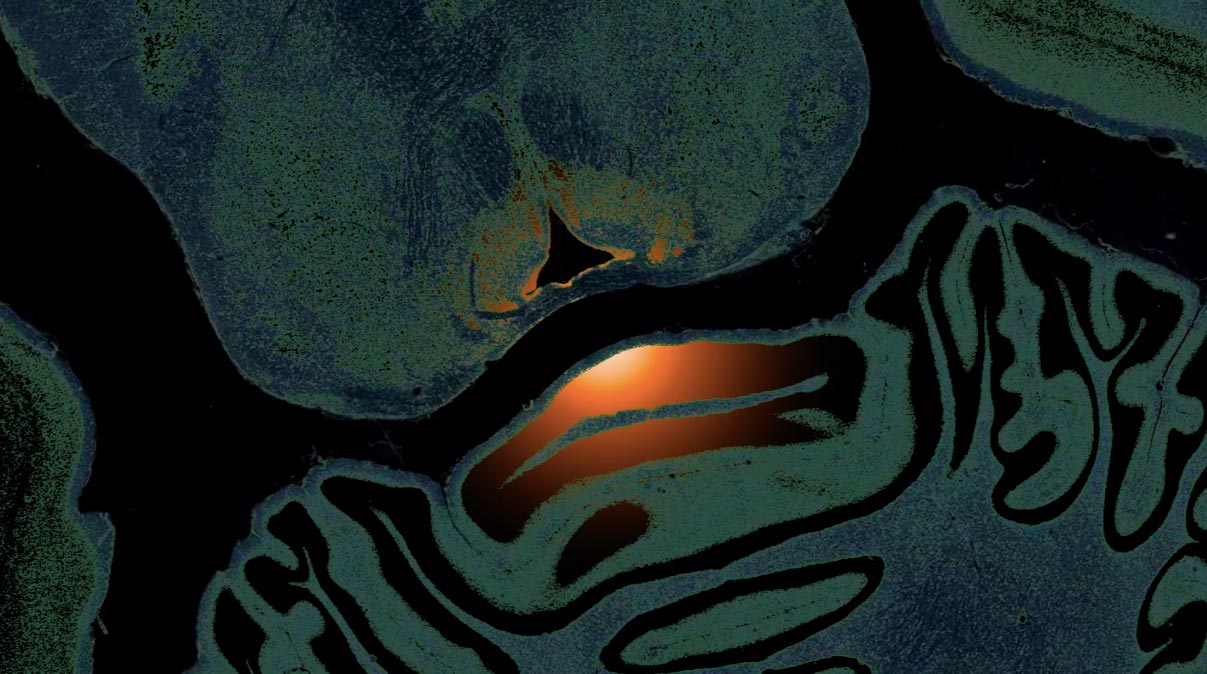 Memory is Everything, Without It We Are Nothing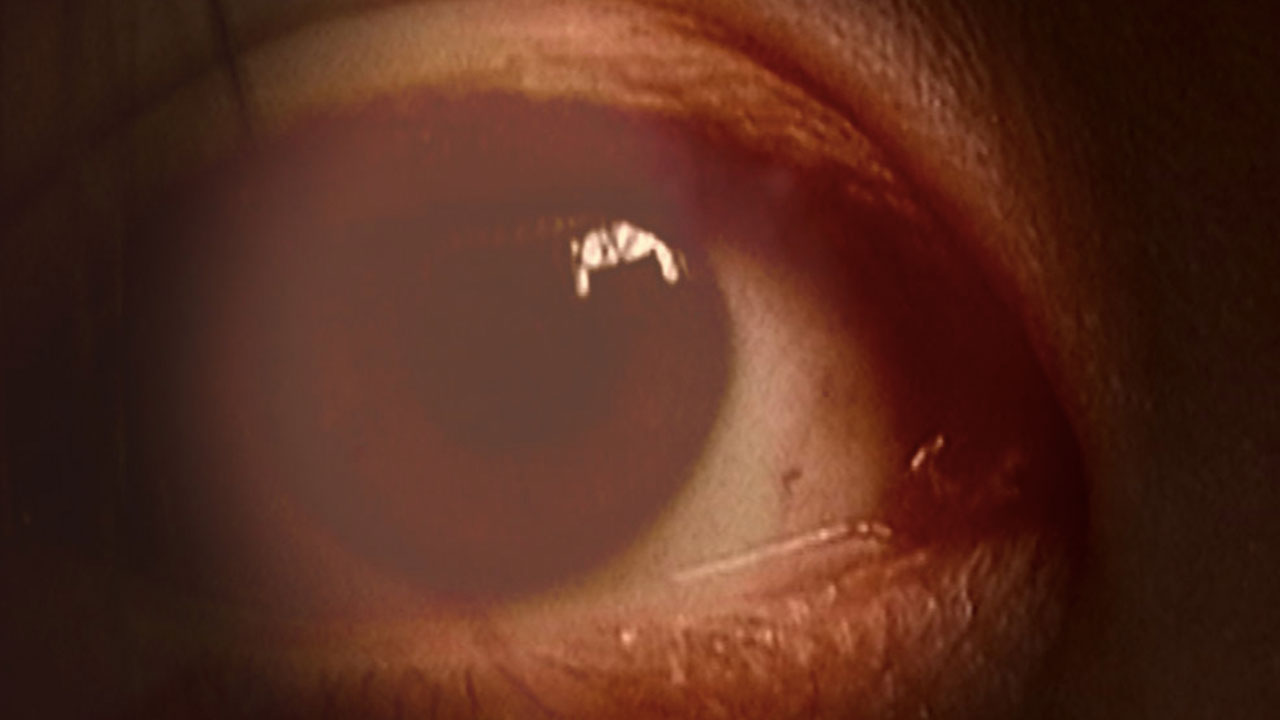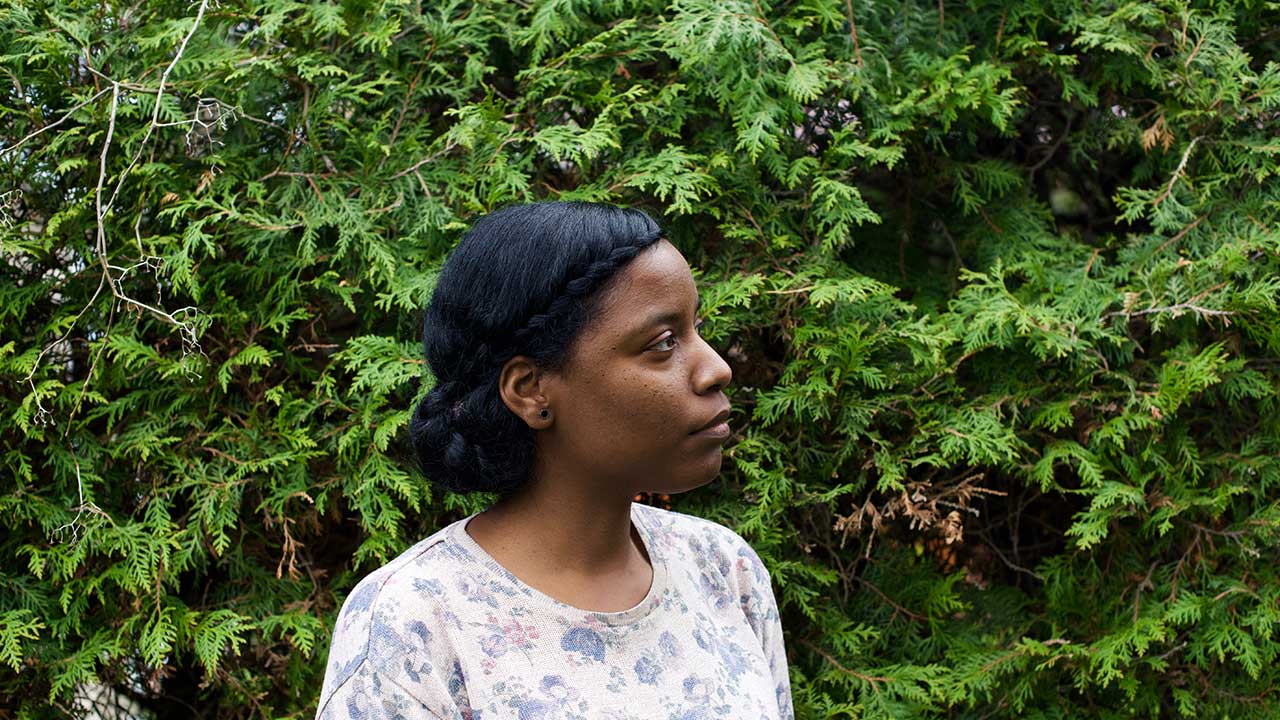 Poetic States, Celluloid Lands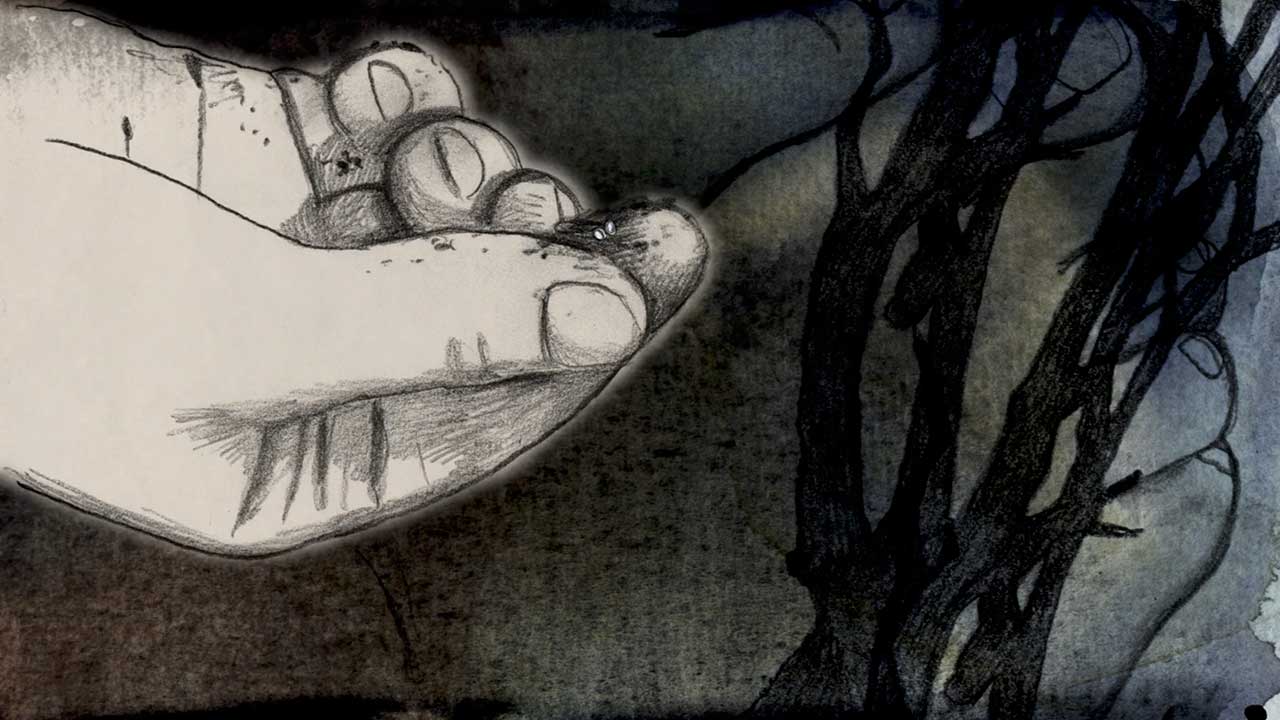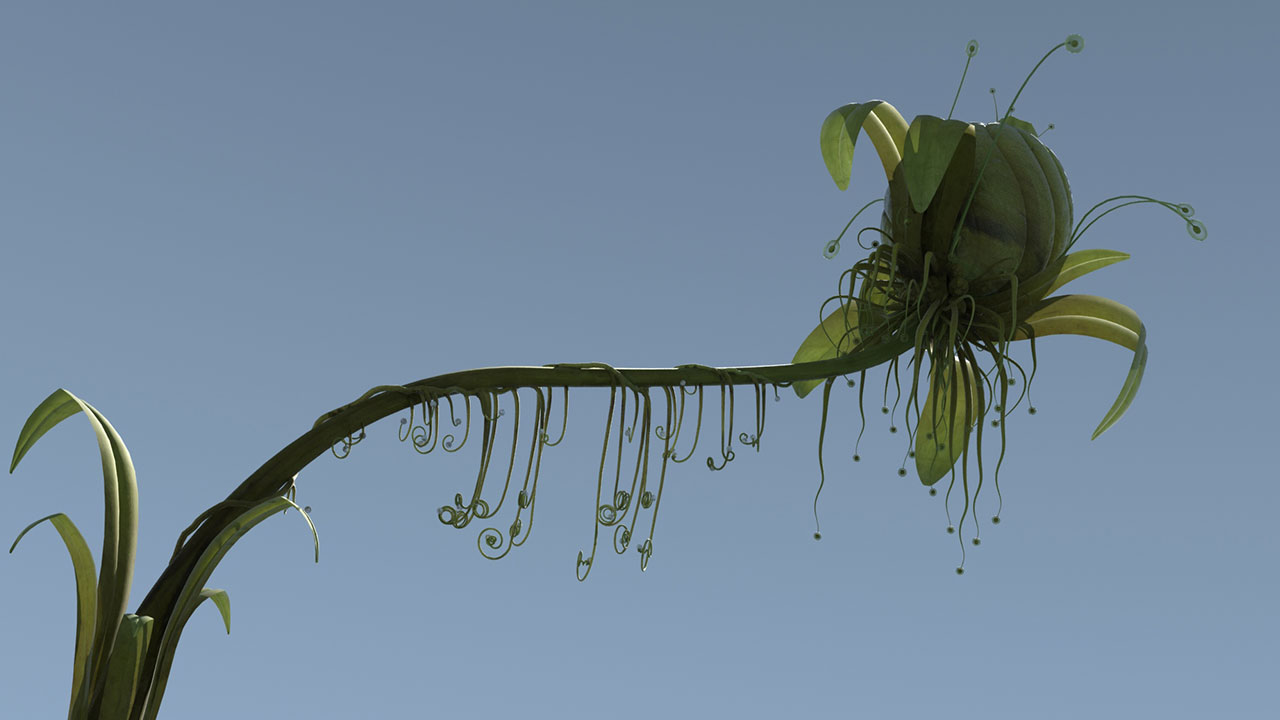 The Persistence of Life: Survival Cinema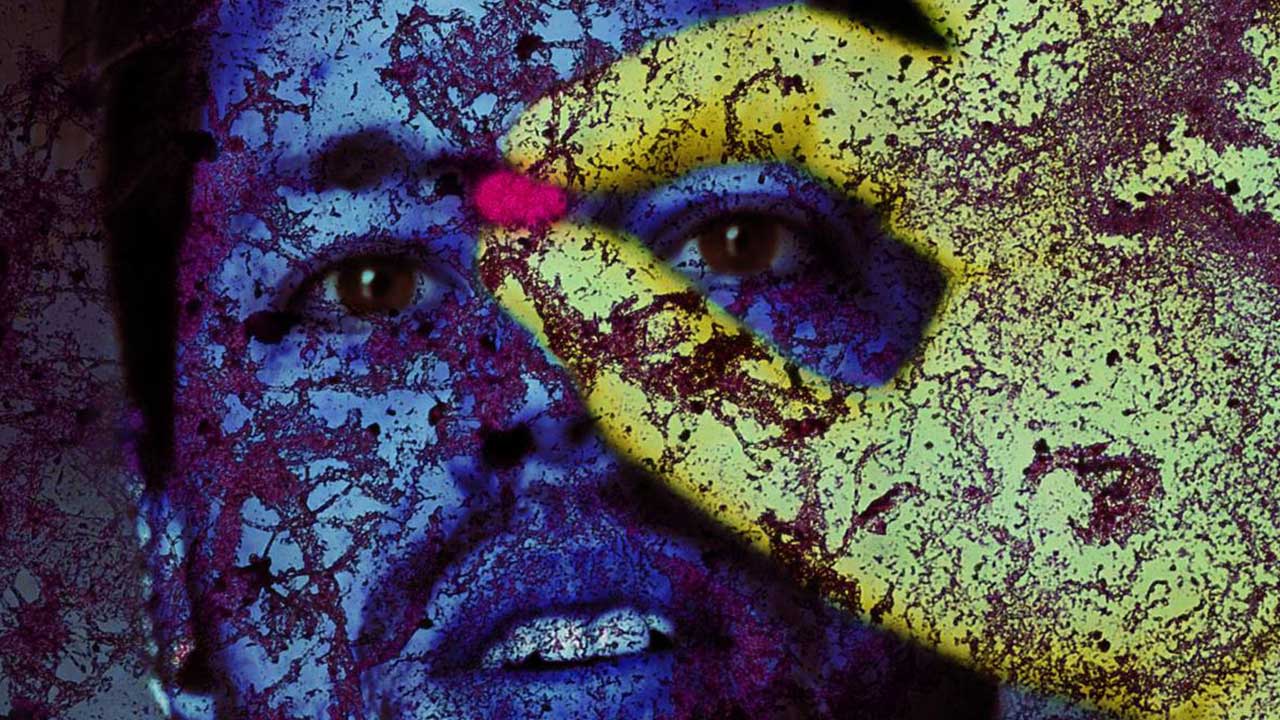 Hacking Your Genes Has Never Been Easier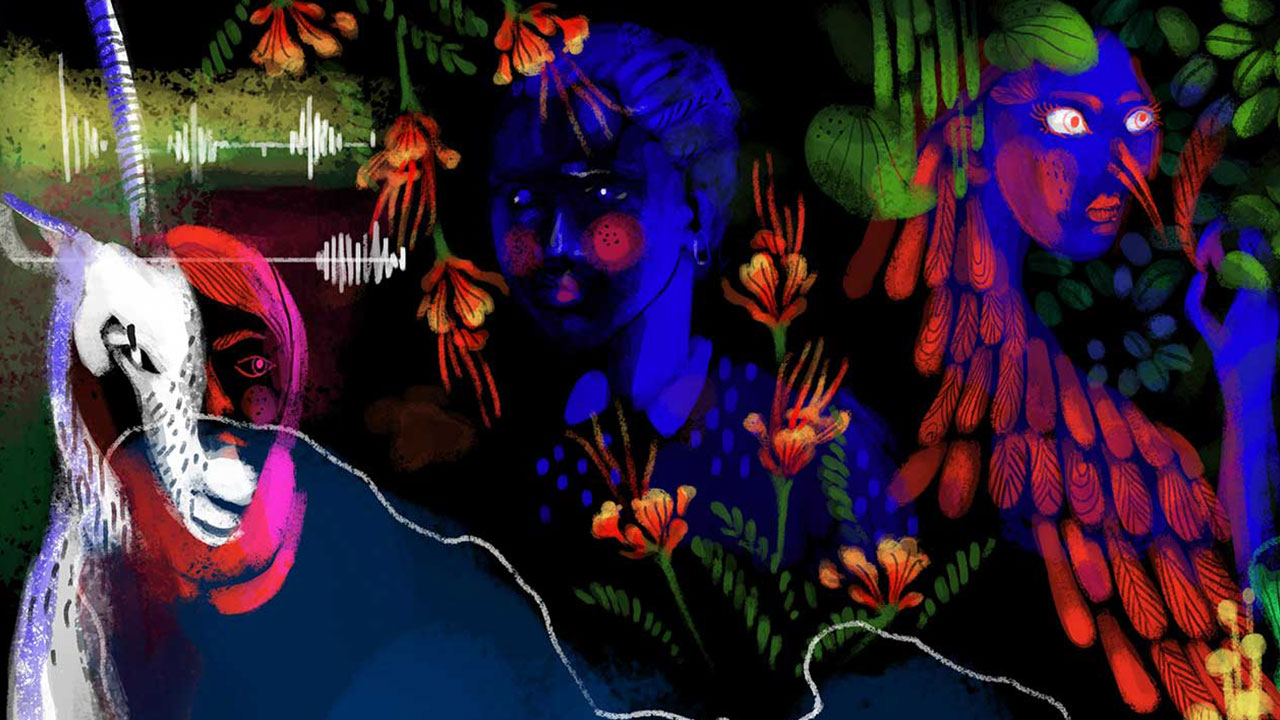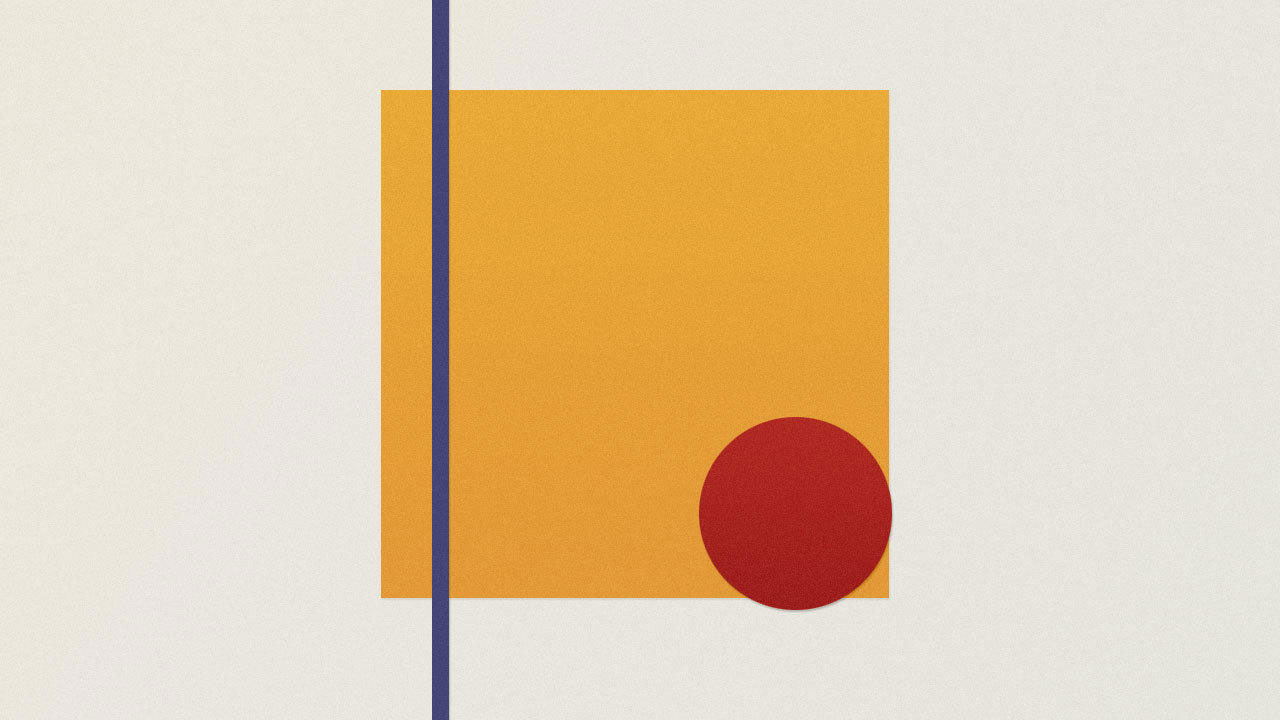 Film, Knowledge, Networks: the Collaboratorium + Open Media Science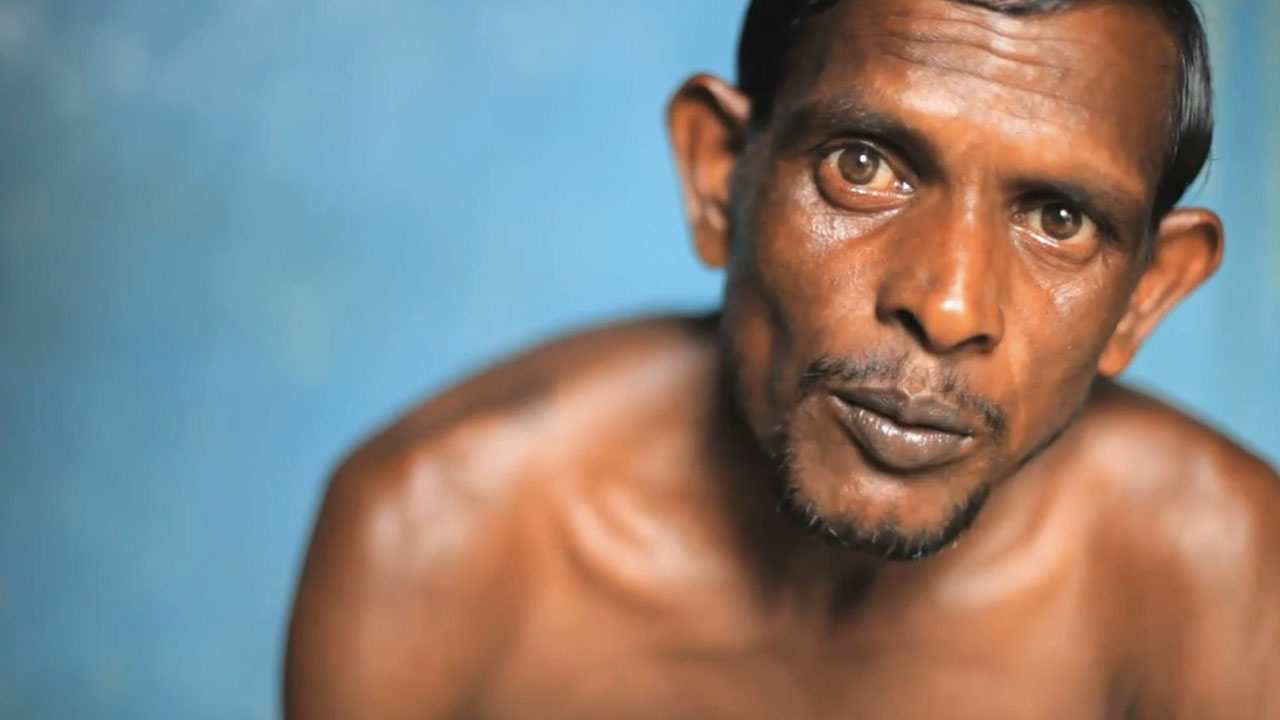 Fracking, Hurricanes, Rising Seas, Leadership, and Climate Change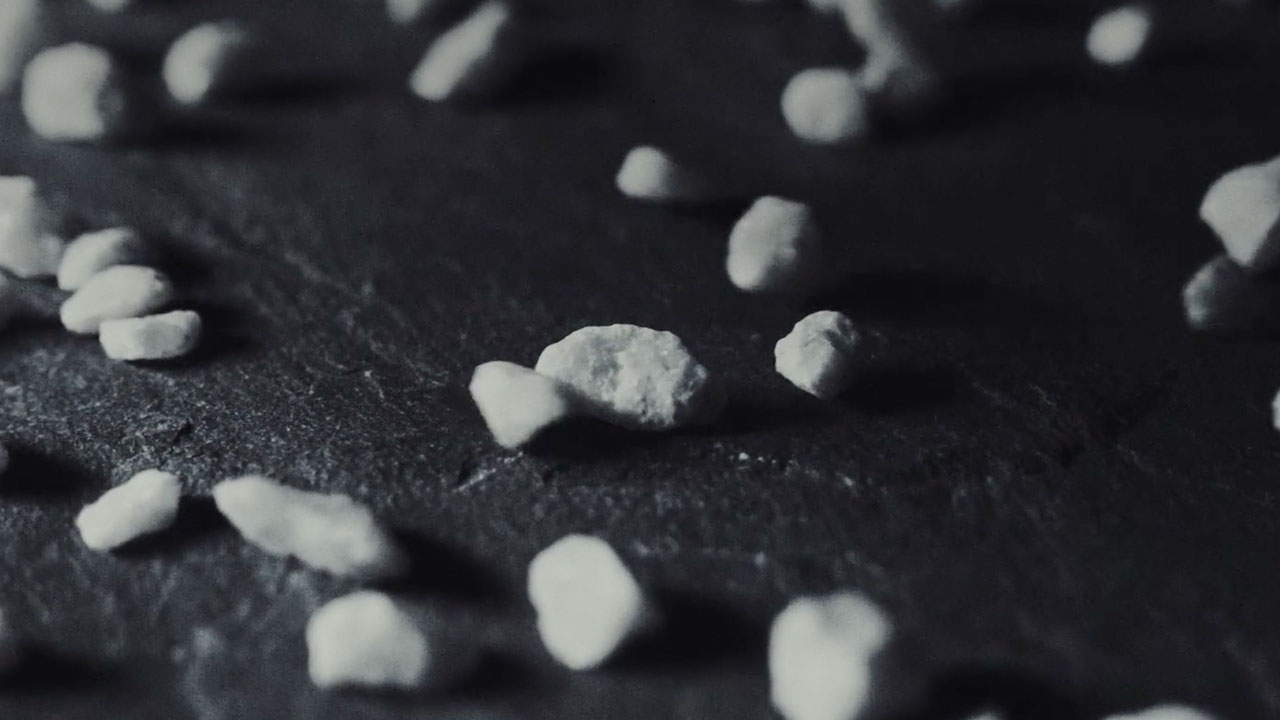 Messages Behind the Science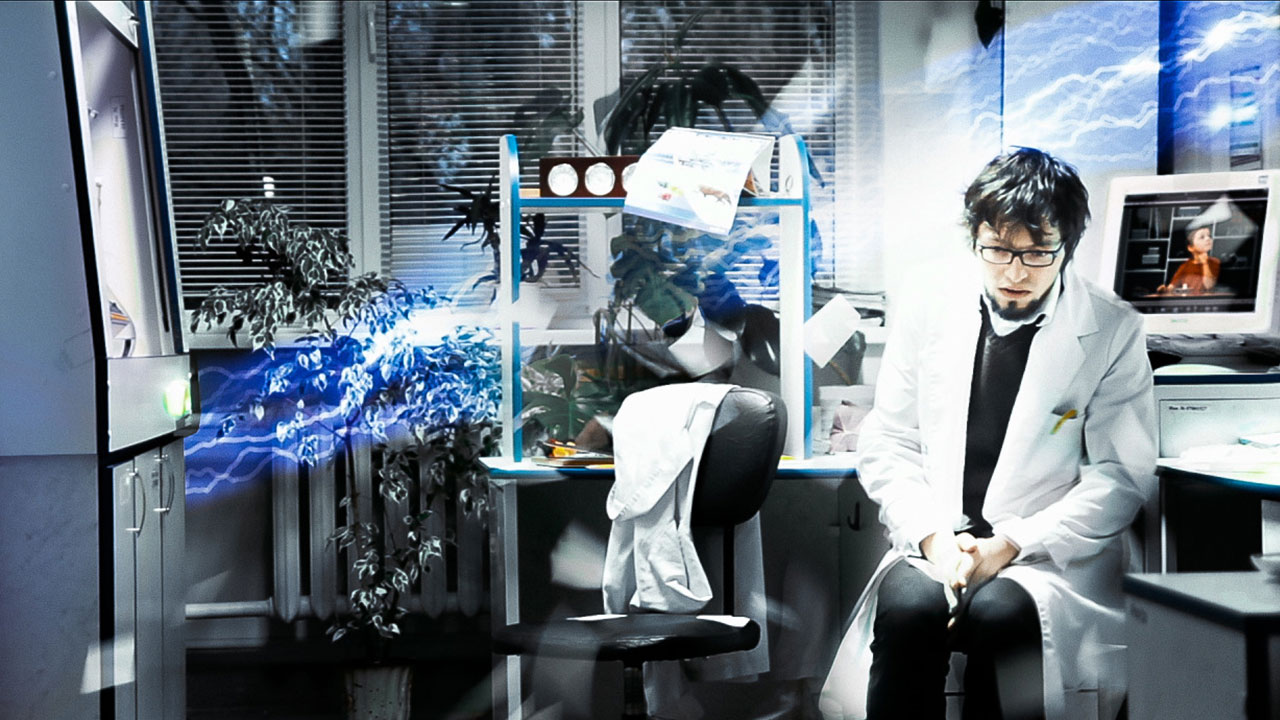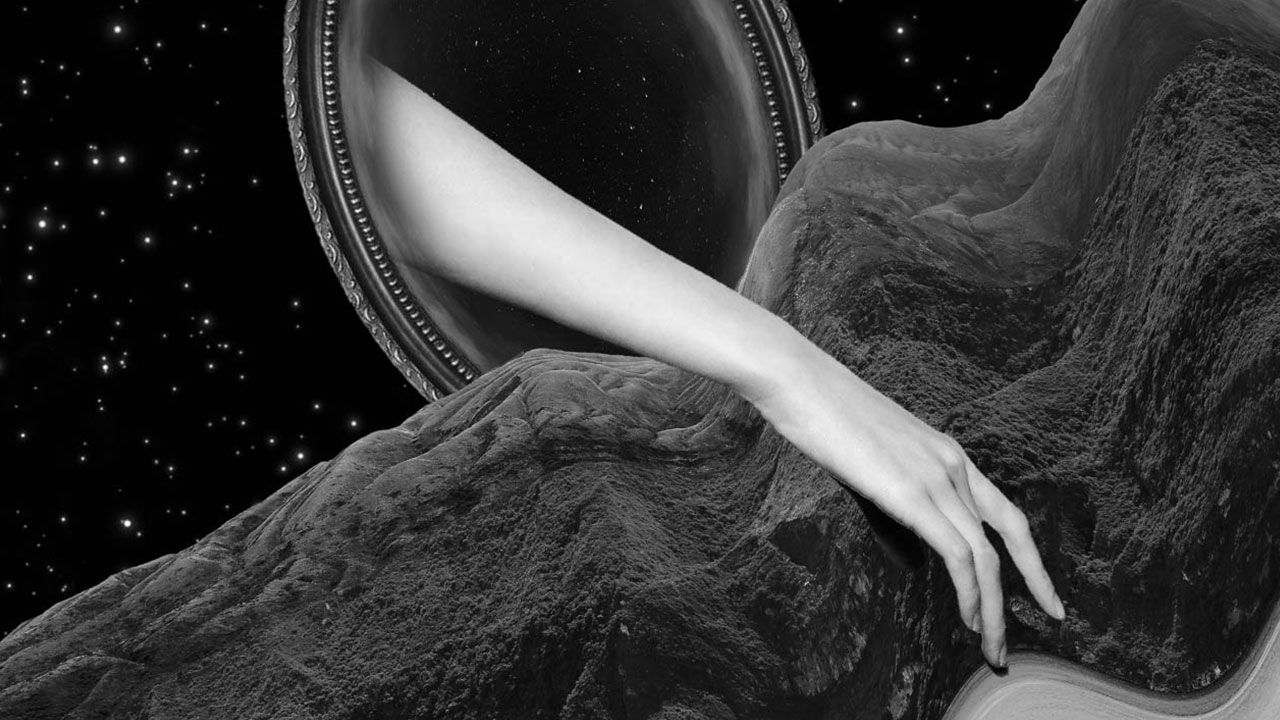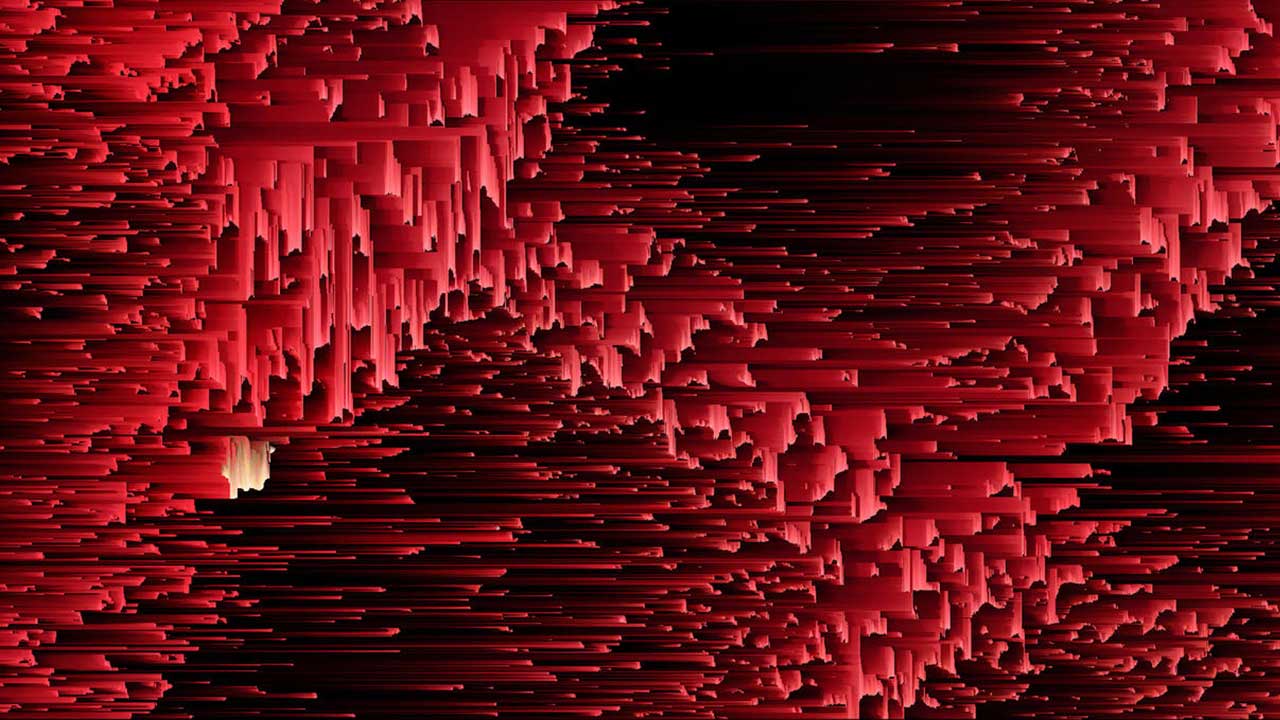 There Will Never Be a Final Film Format (Part 2): Celluloid-Digital Collisions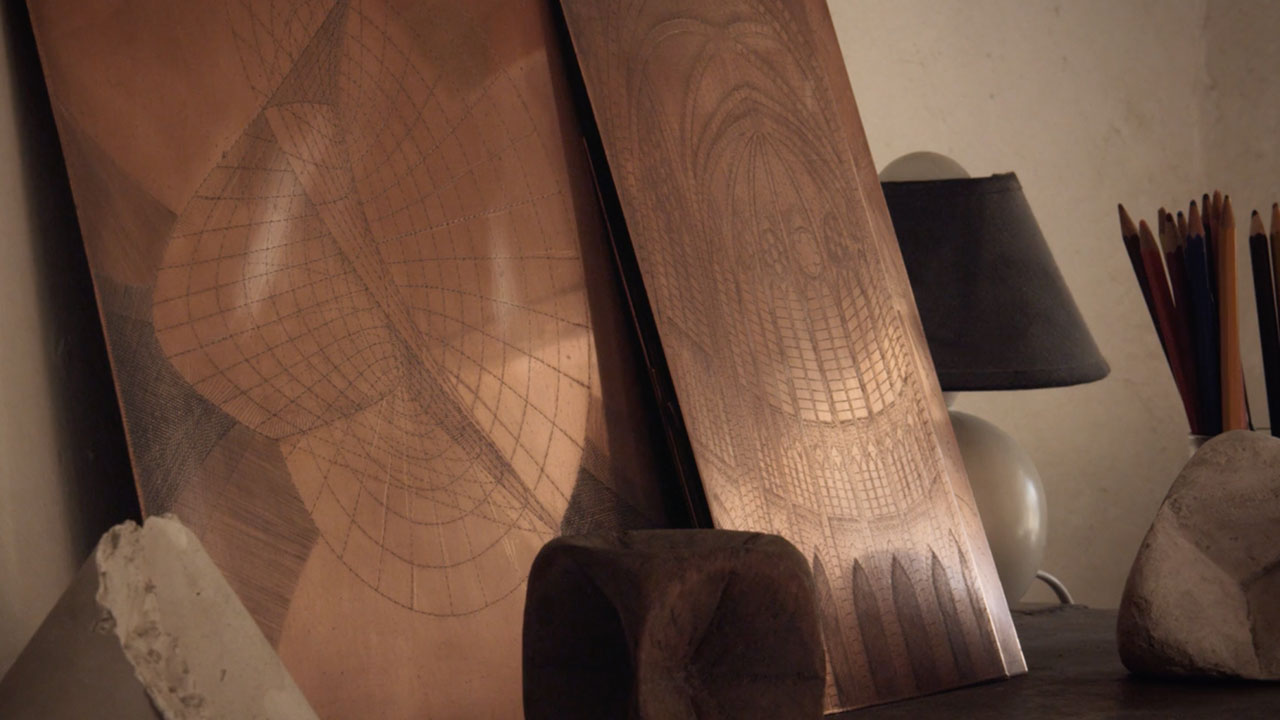 The Poetry and the Prose of Math - Part 1: Poetry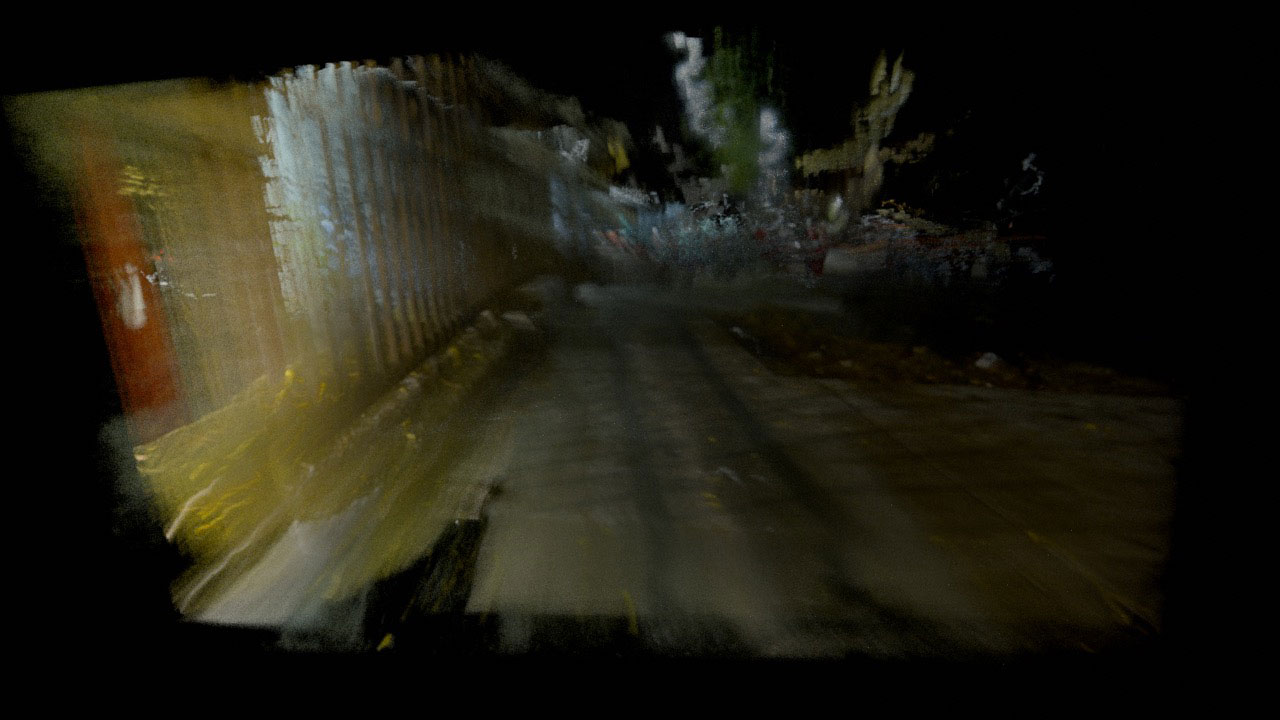 Hybrid Identities at the 10th Annual Imagine Science Film Festival
Attuning to Changing Planetary Conditions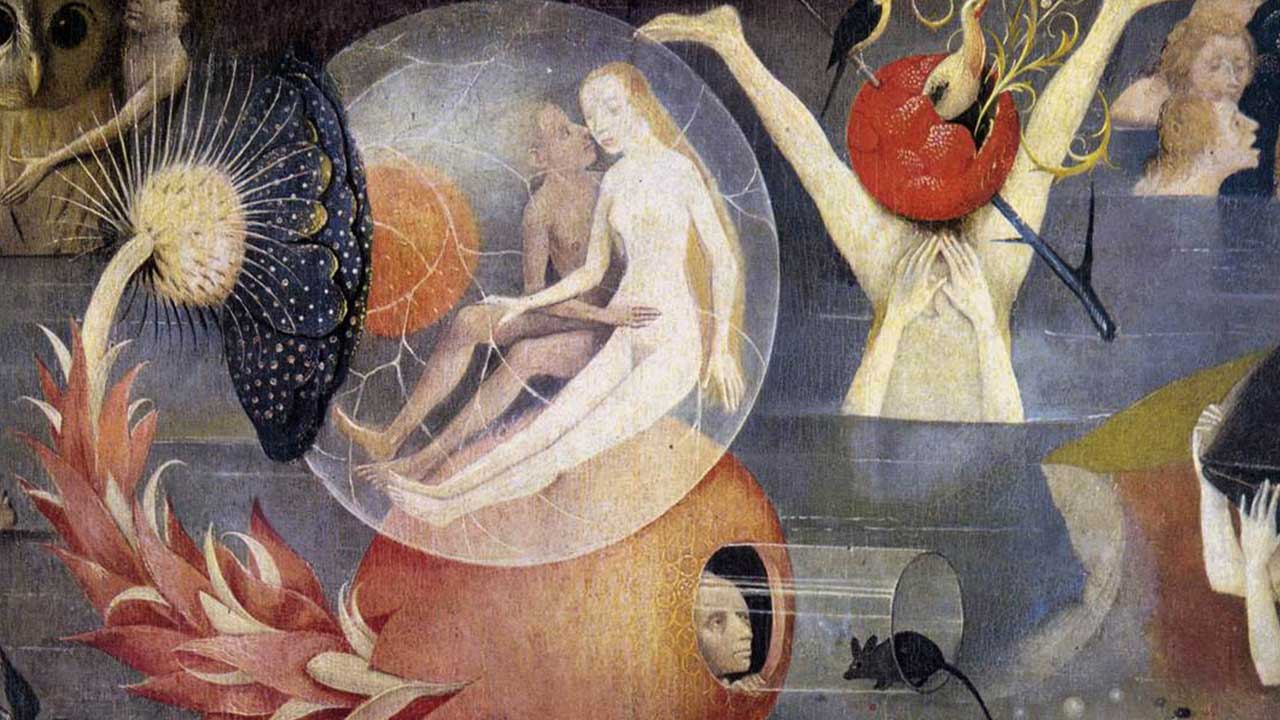 Nostalgia and the Natural World: a Lilian Mehrel Multiverse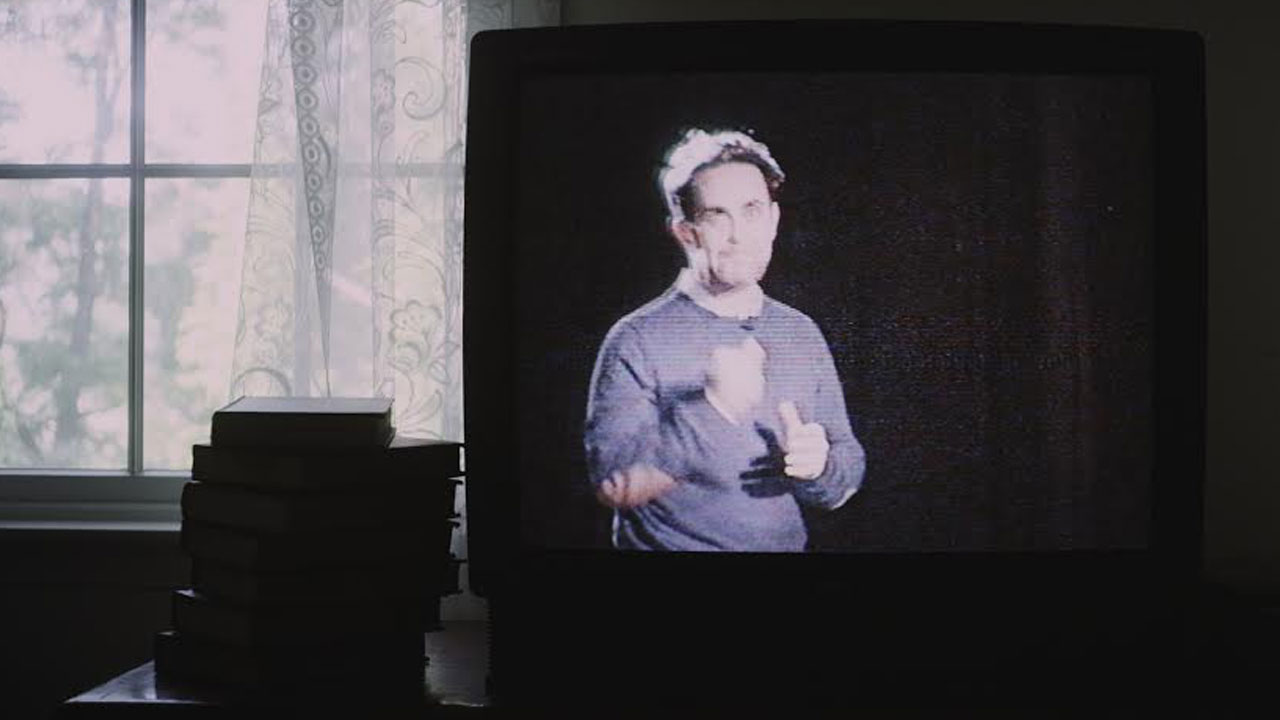 What did the future look like?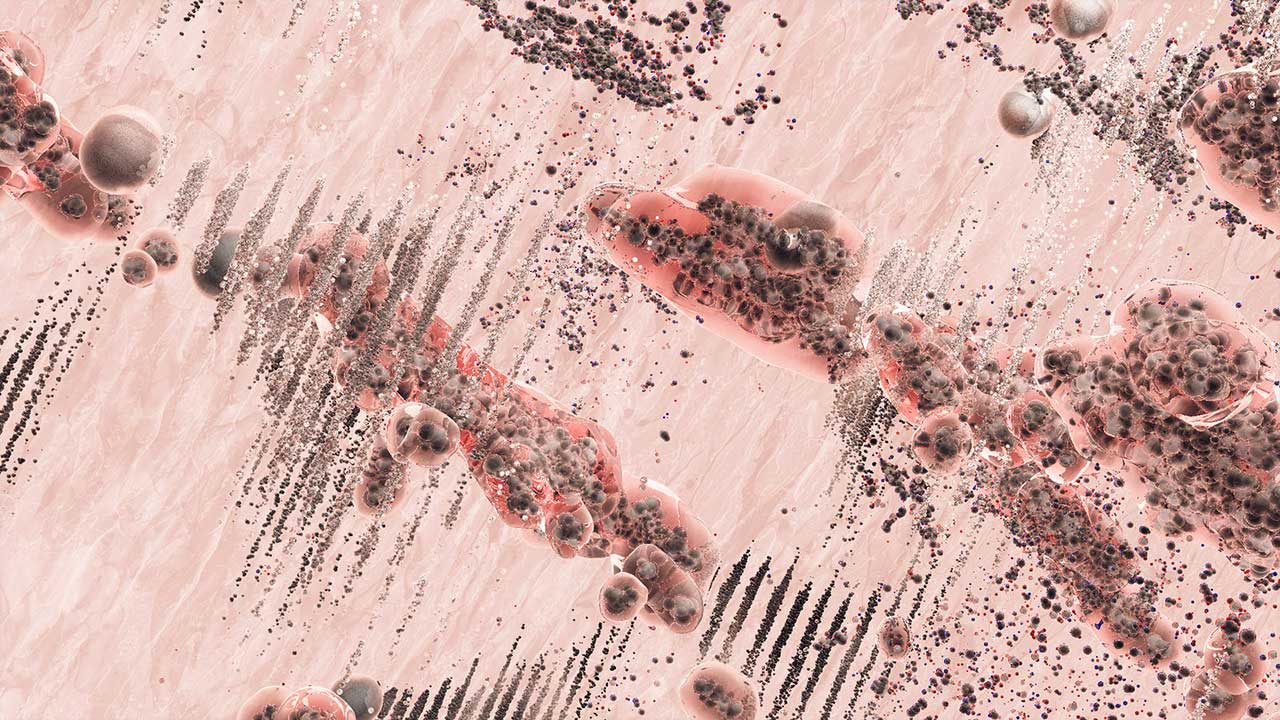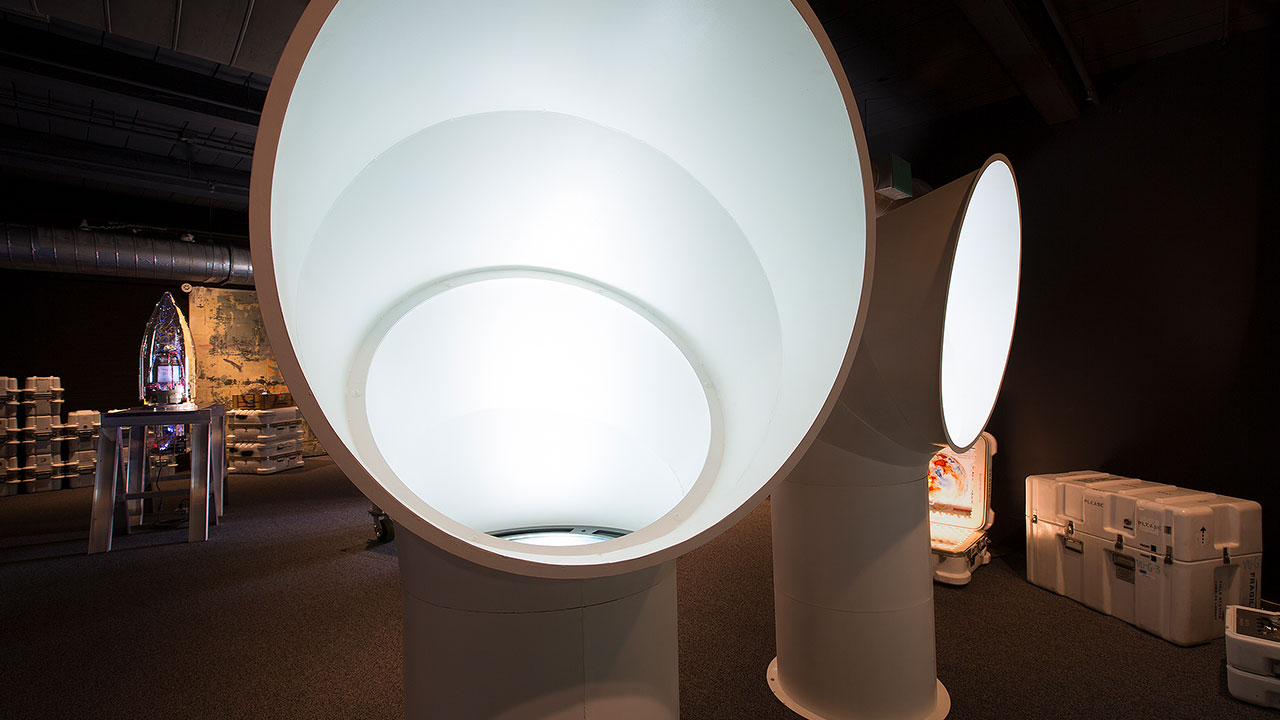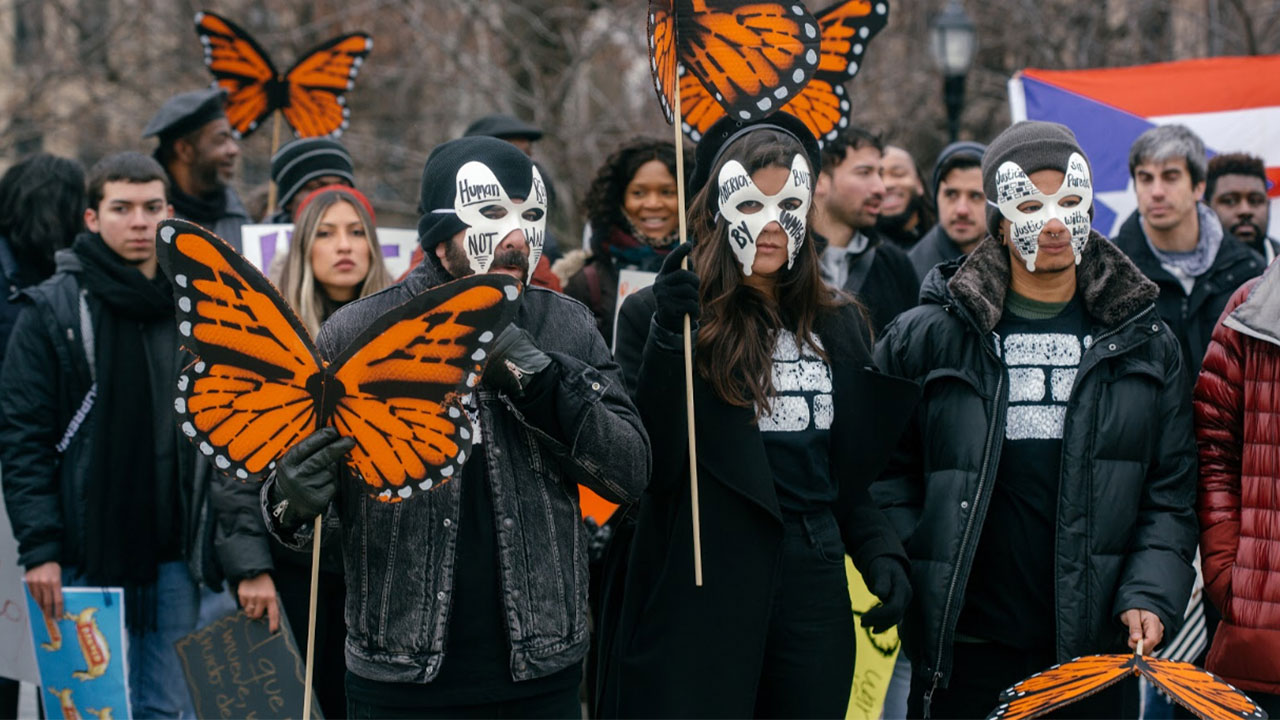 On The Wings of The Monarch: Behind-the-Scenes with Labocine's First Feature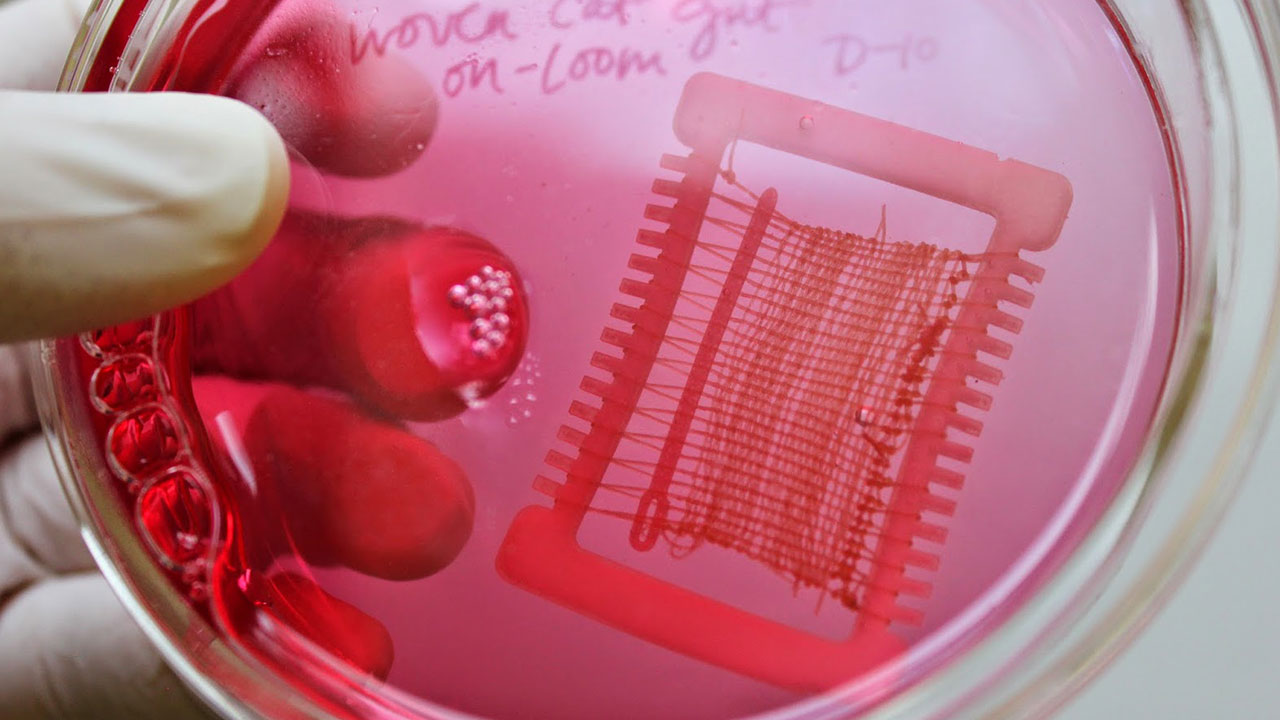 A World of Imagination and Collective Memory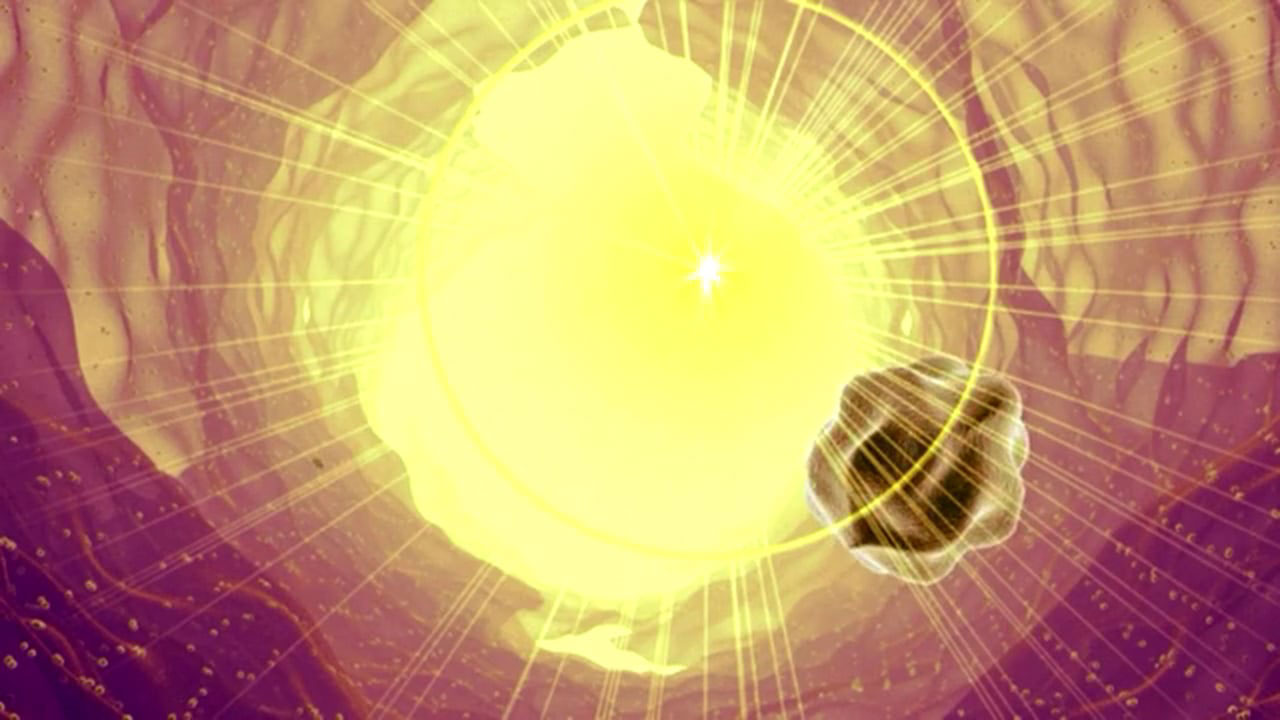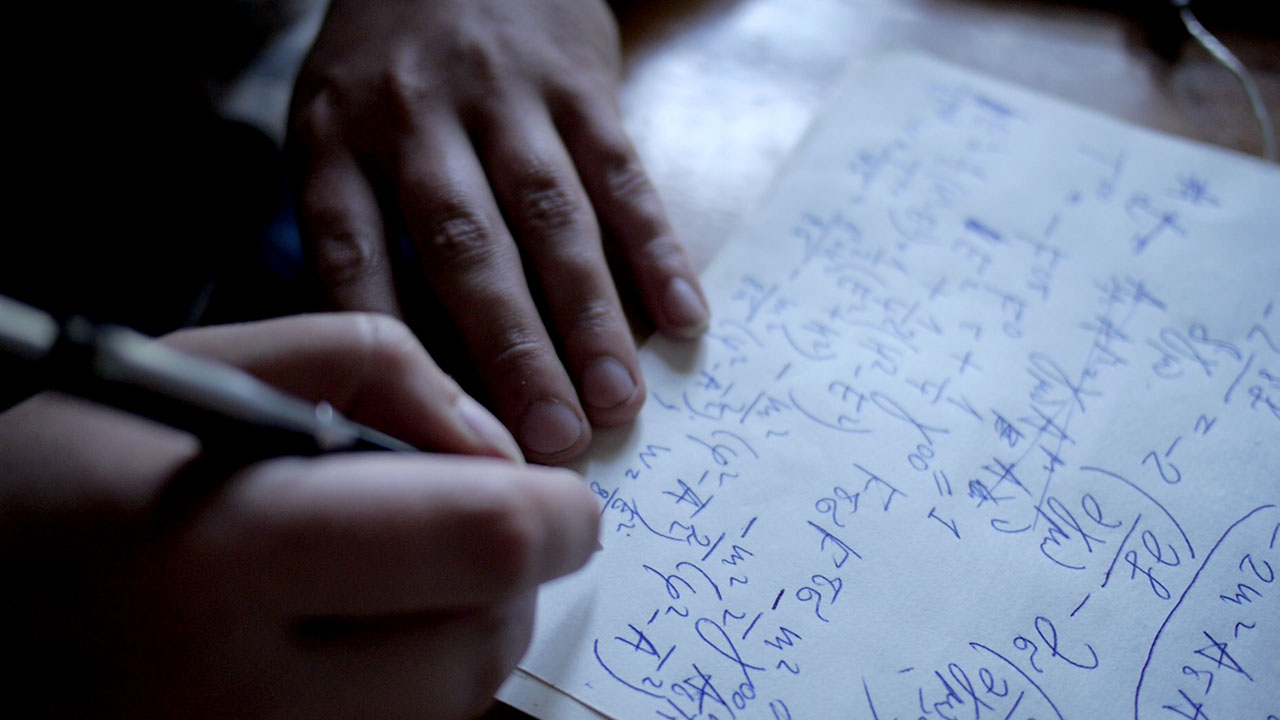 The Poetry and the Prose of Math - Part 2: Prose
Abstract theory has real consequences, in the past and today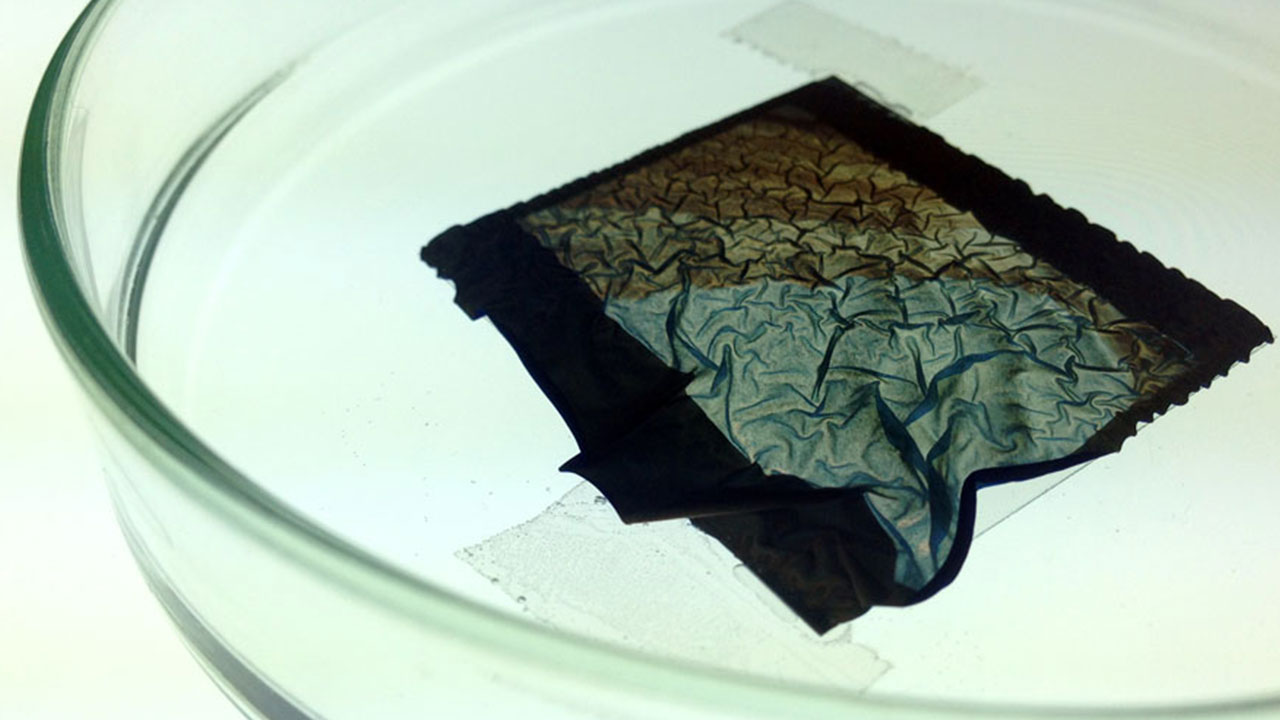 Old Growth: A material metaphor for humanity's effects on the environment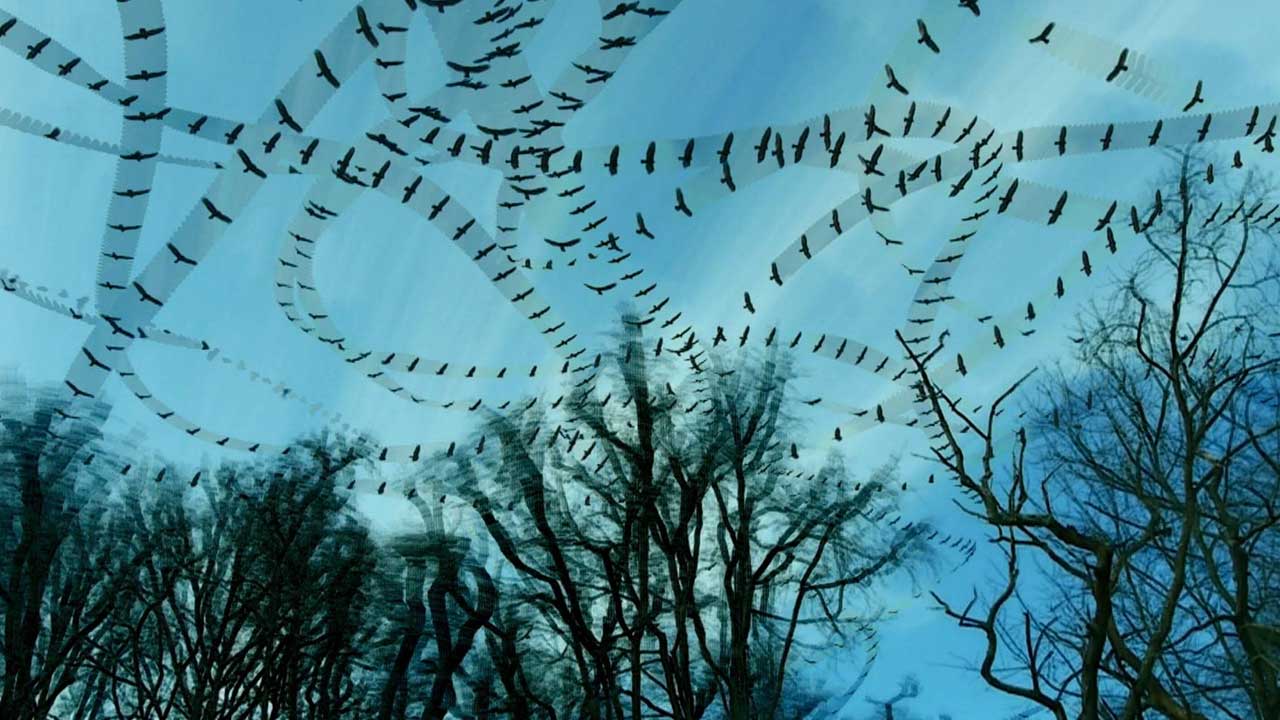 Tracing Animal Movement Patterns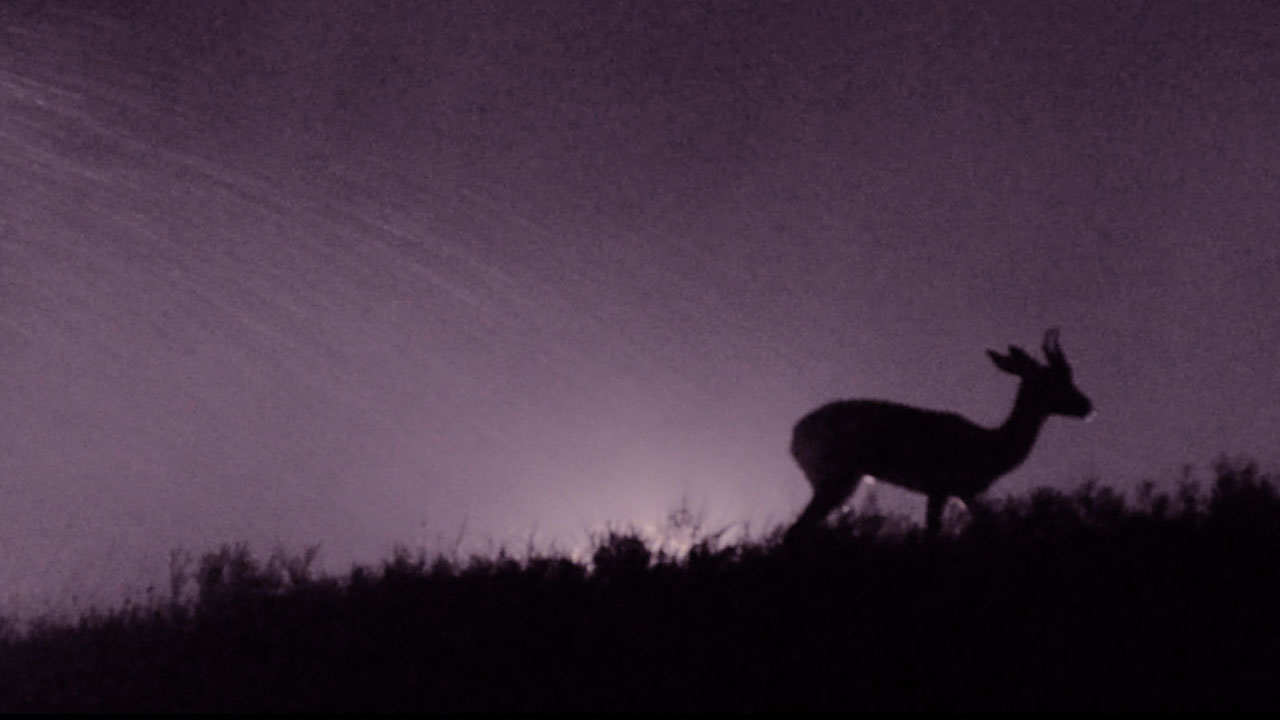 Animal Perspectives in Science and Fiction in the UAE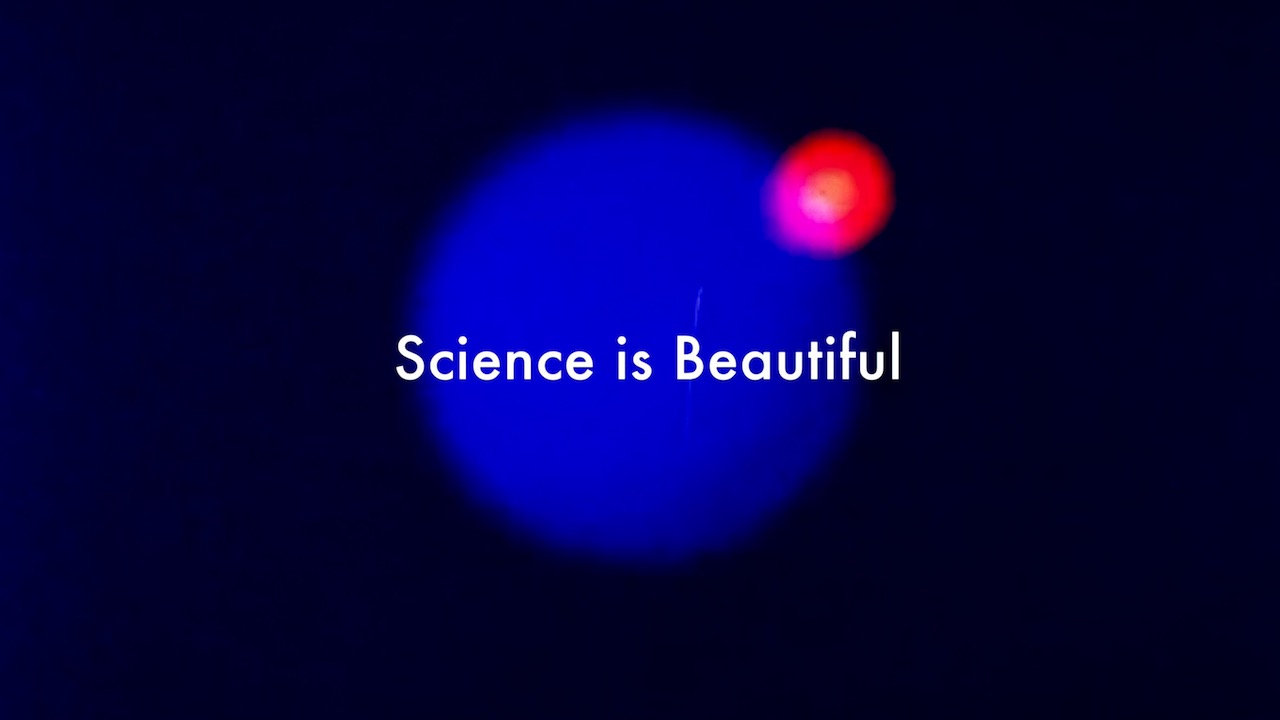 7 Ways to Promote #ScienceMatters in Your Daily Life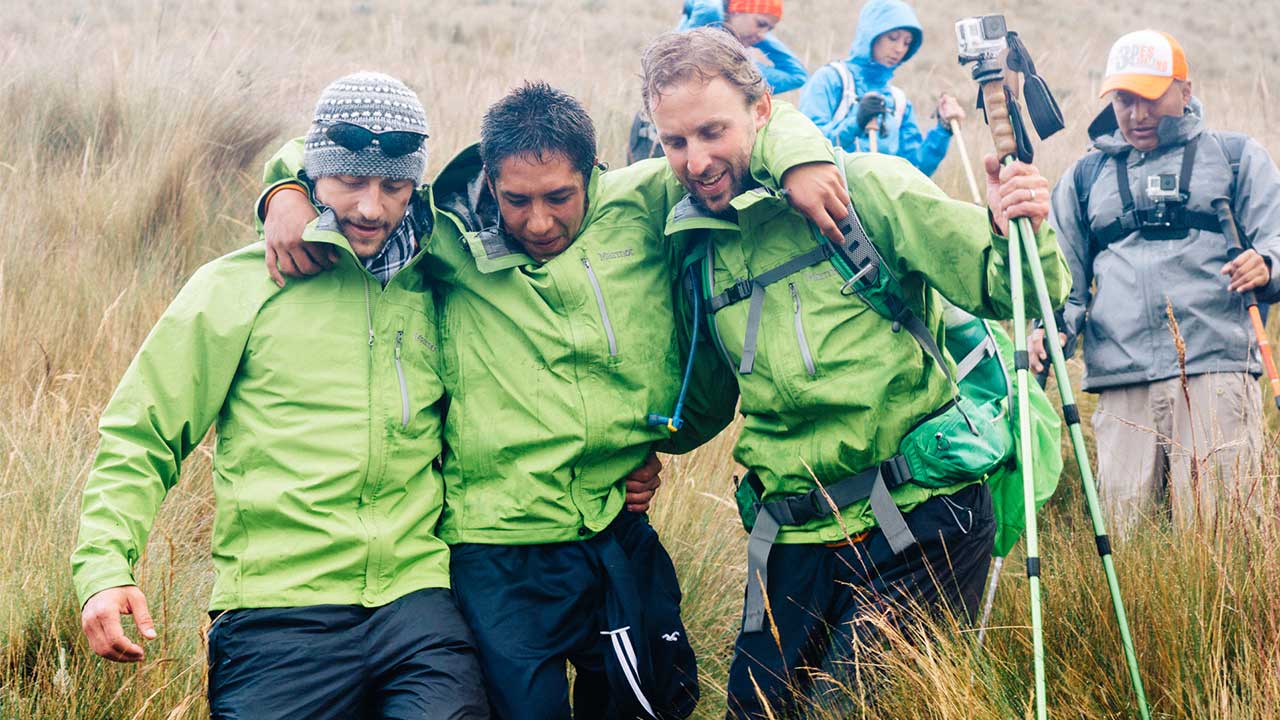 A Chance to Climb Mountains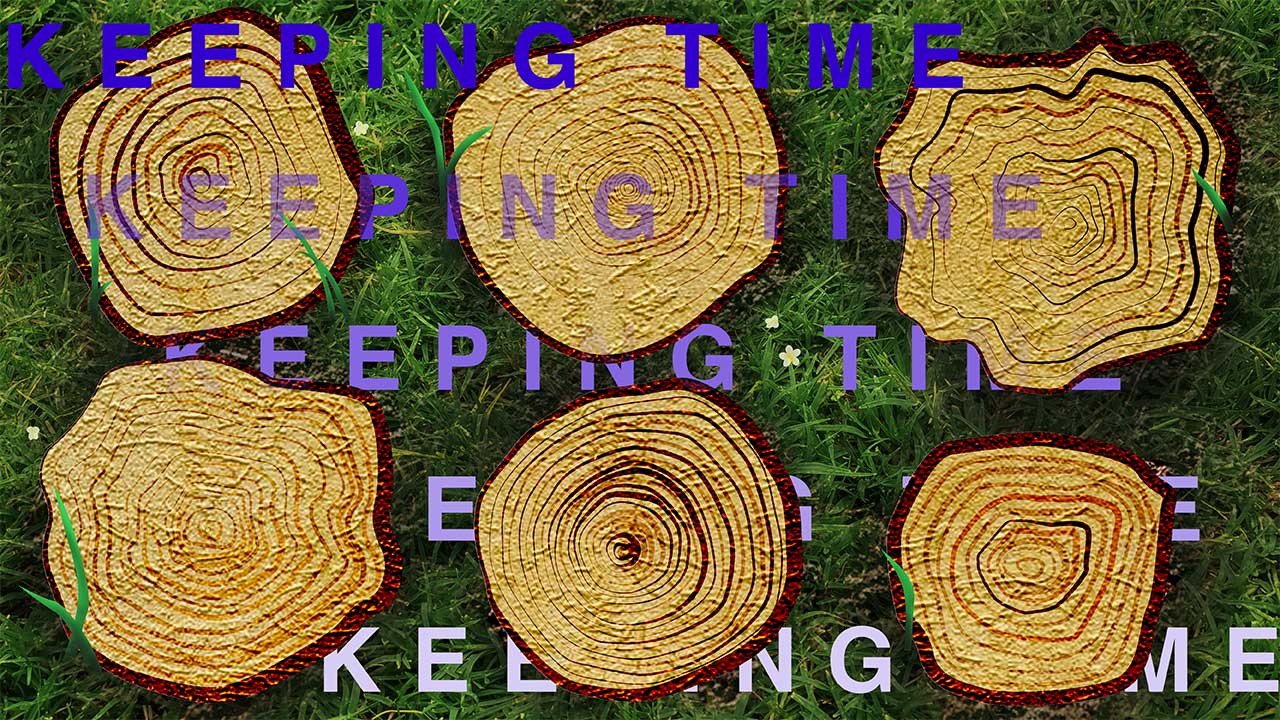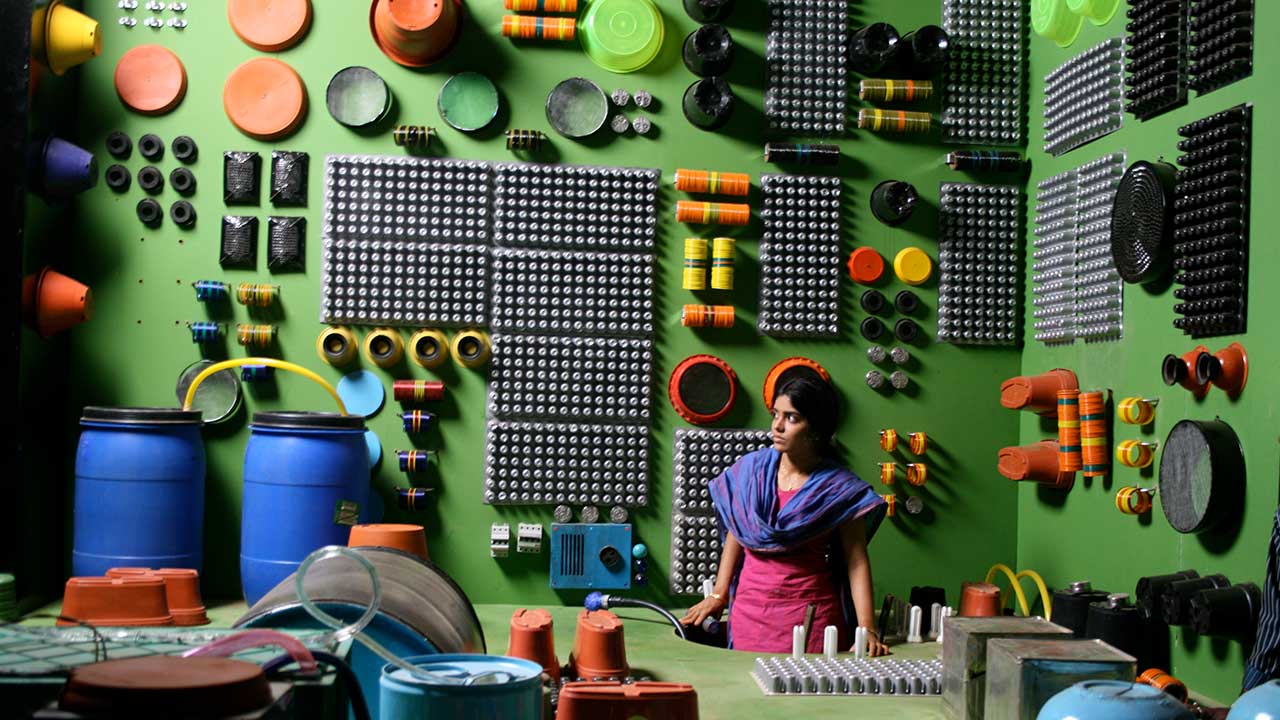 6 Scientific Journeys Through Present and Future India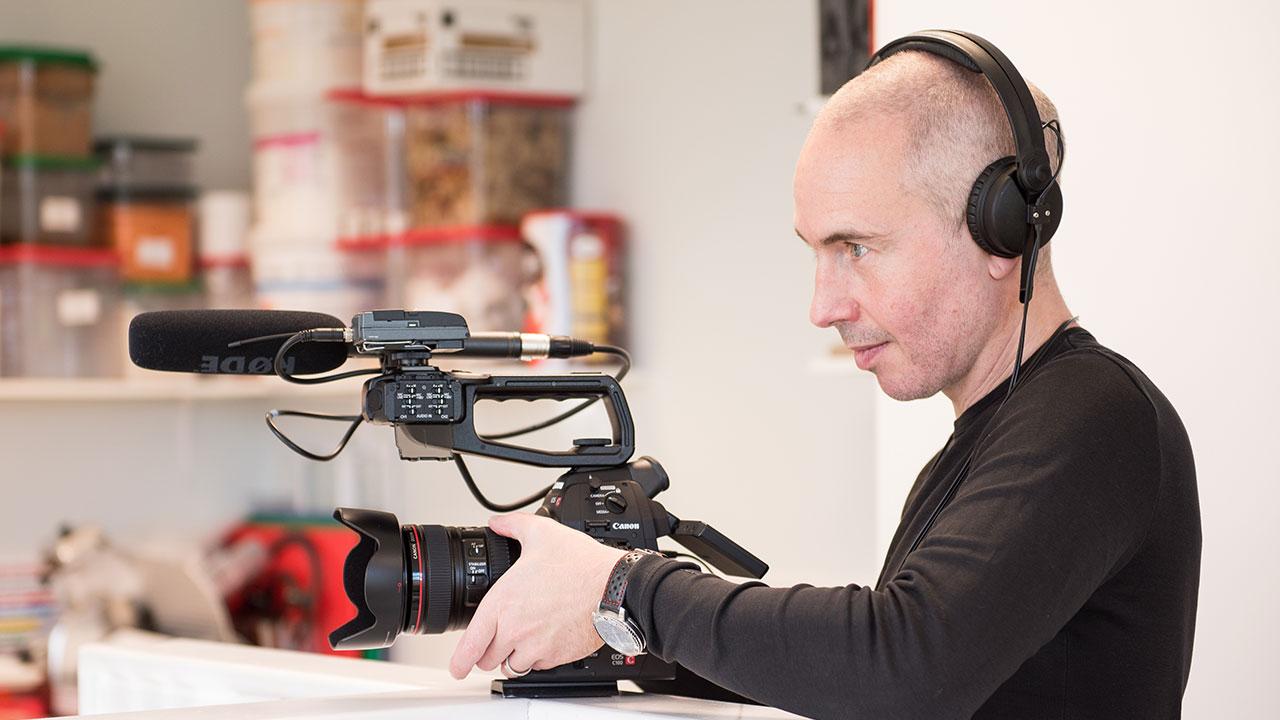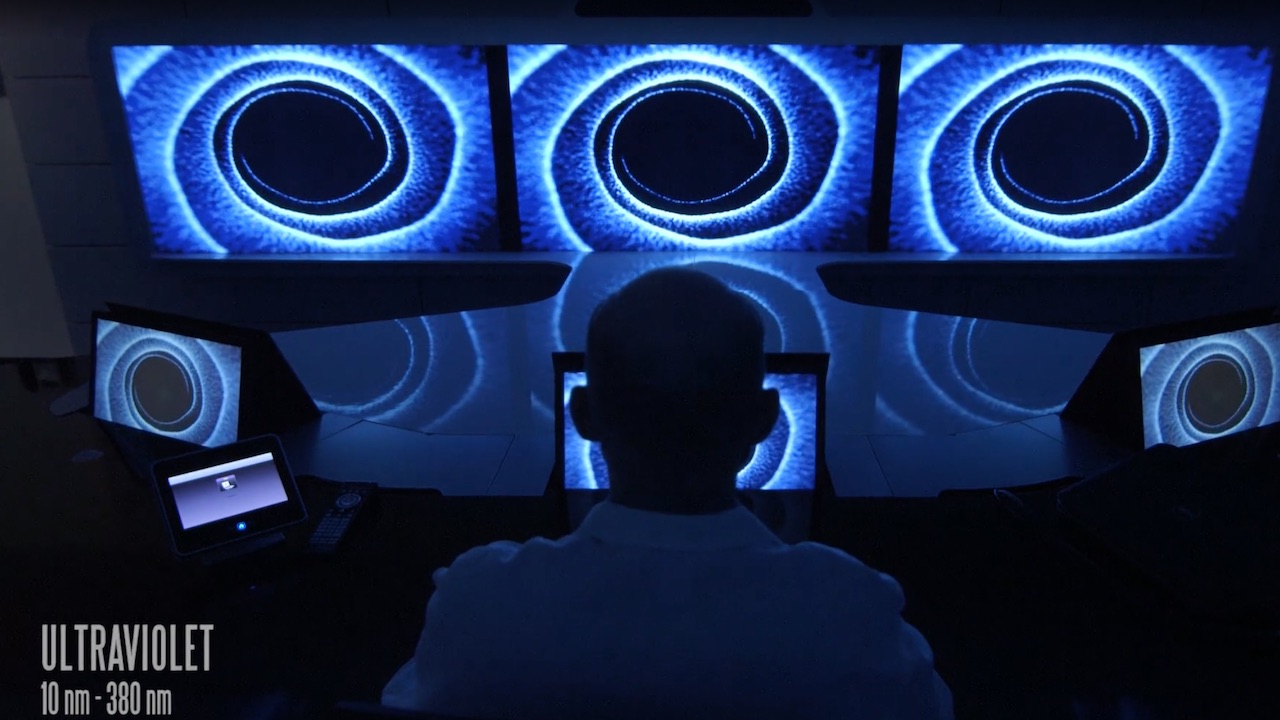 6 Brilliant Science Films From Symbiosis 2016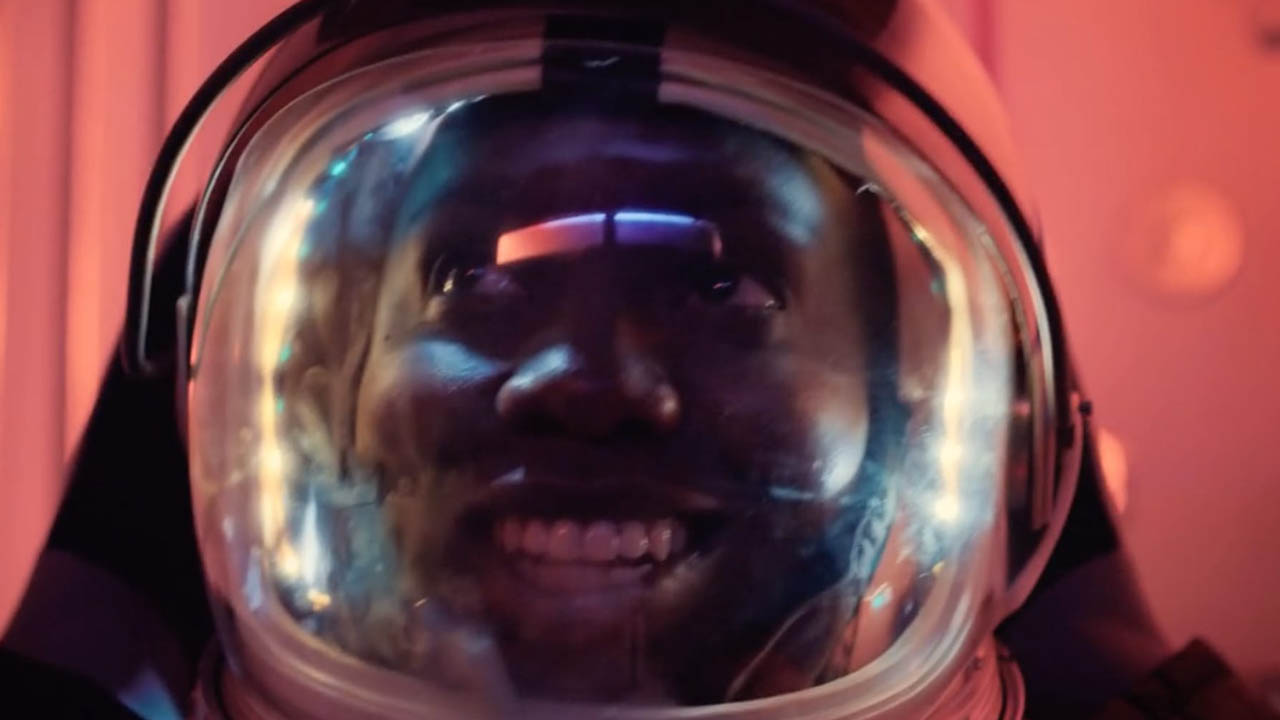 Selections from 2016 Imagine Science Films Festival Presenters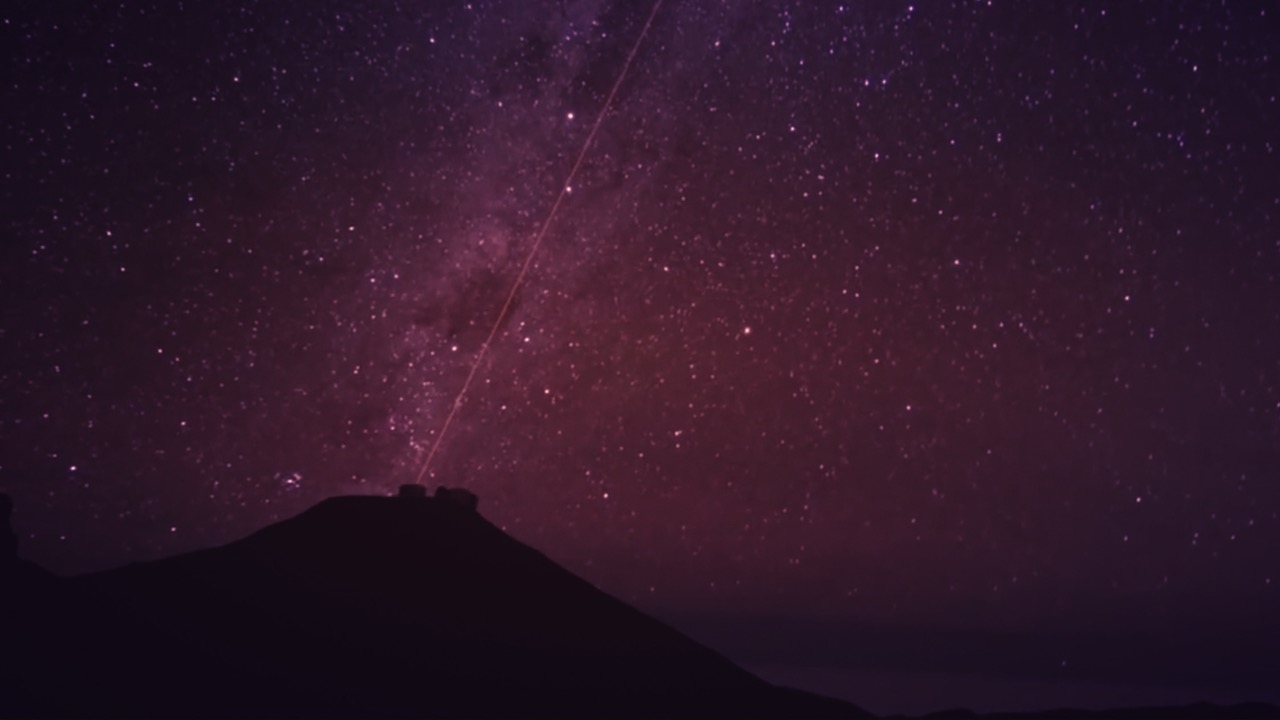 Celebrate the Winter Solstice With Beats and Stunning Visuals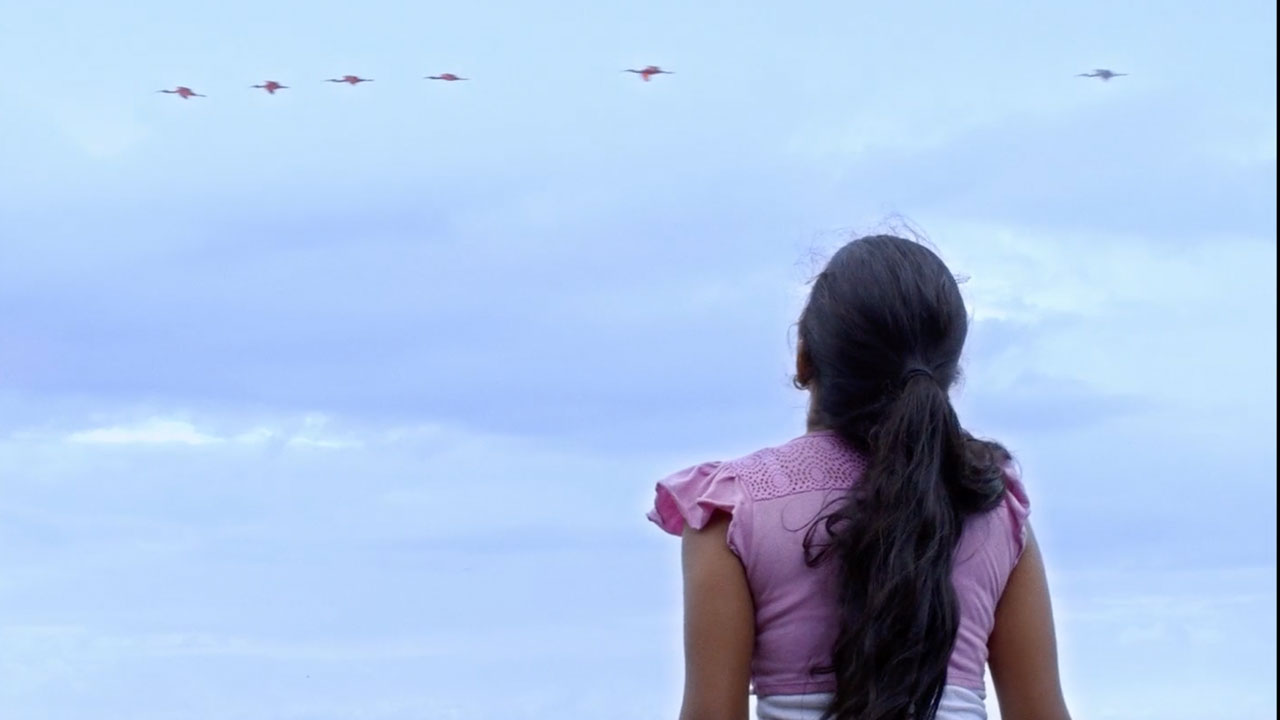 Transformative Desperation
A Deeper Look into the Mundane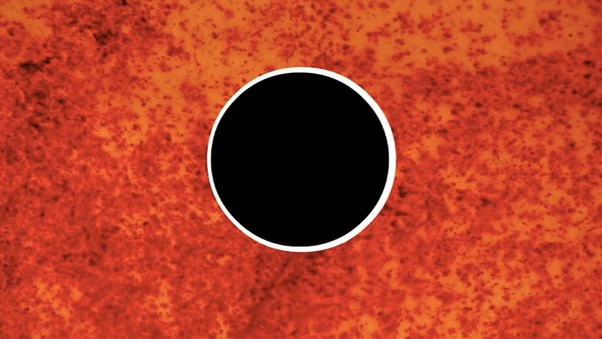 5 Visionary Films to Celebrate the 2017 Solar Eclipse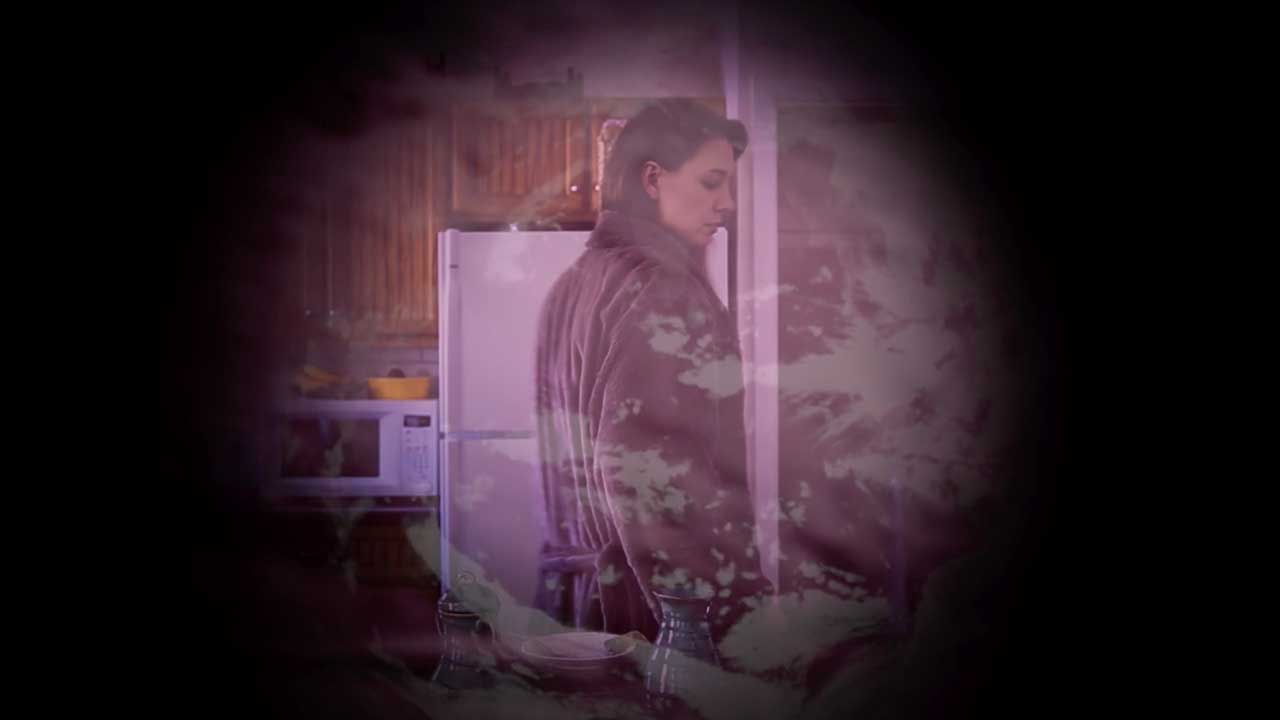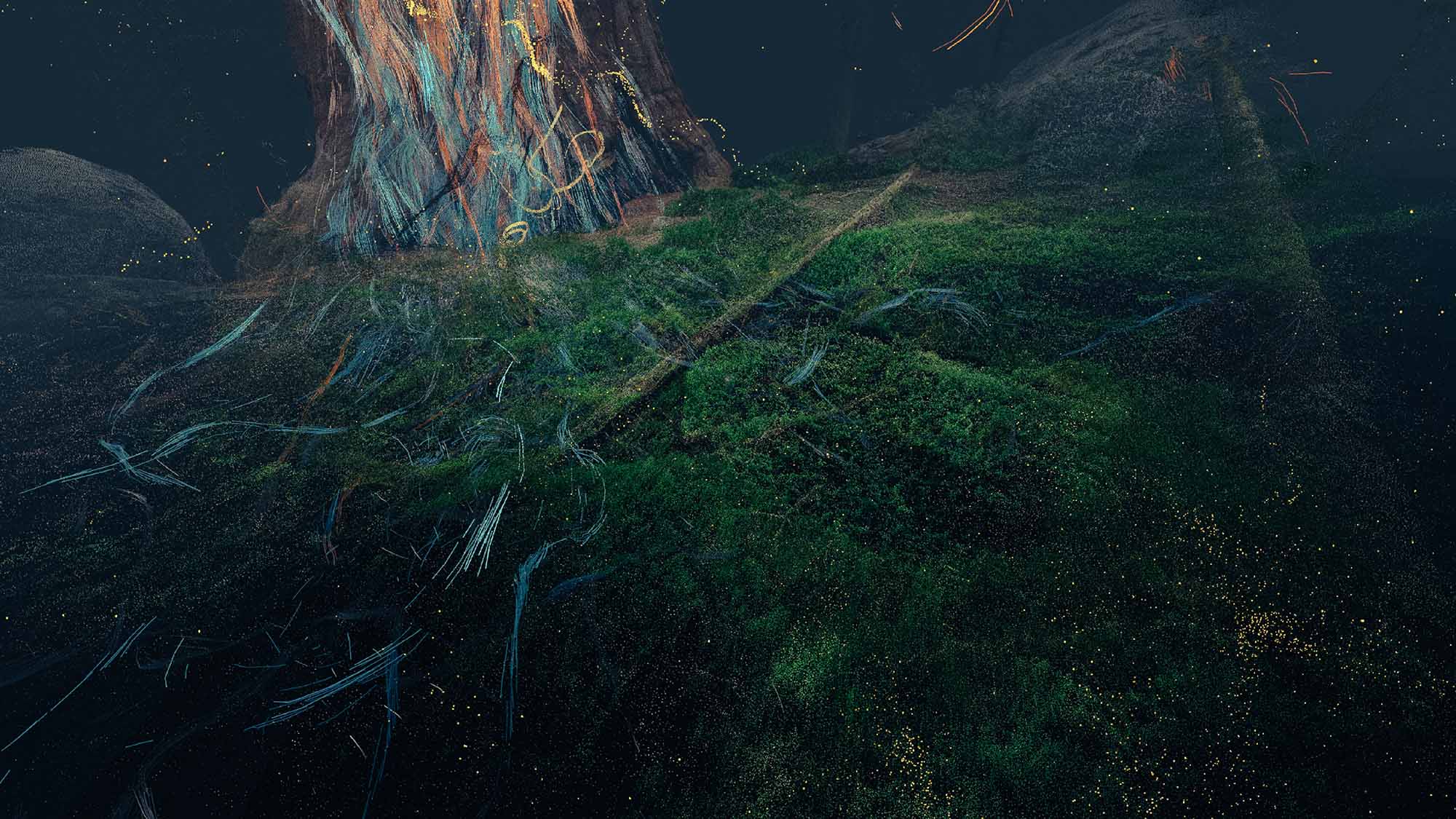 VR Visions of an Ancient Sequoia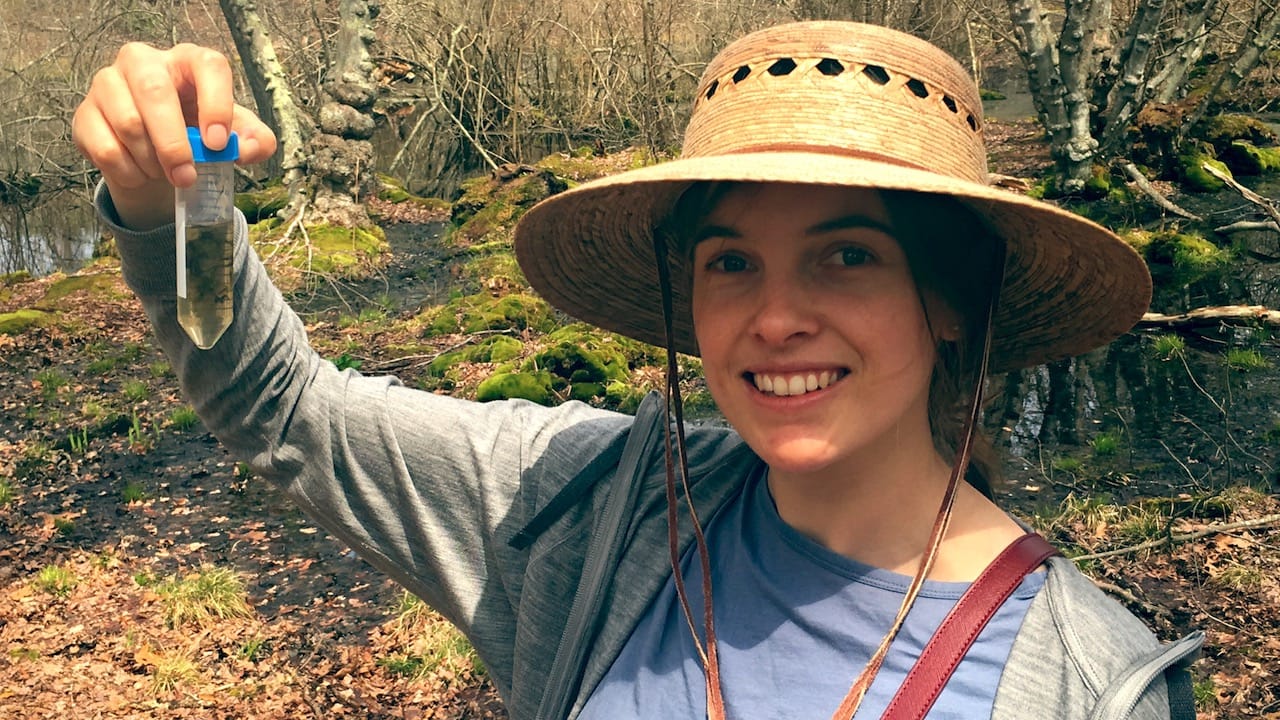 Selections From Pondlife: The Hidden World of New York City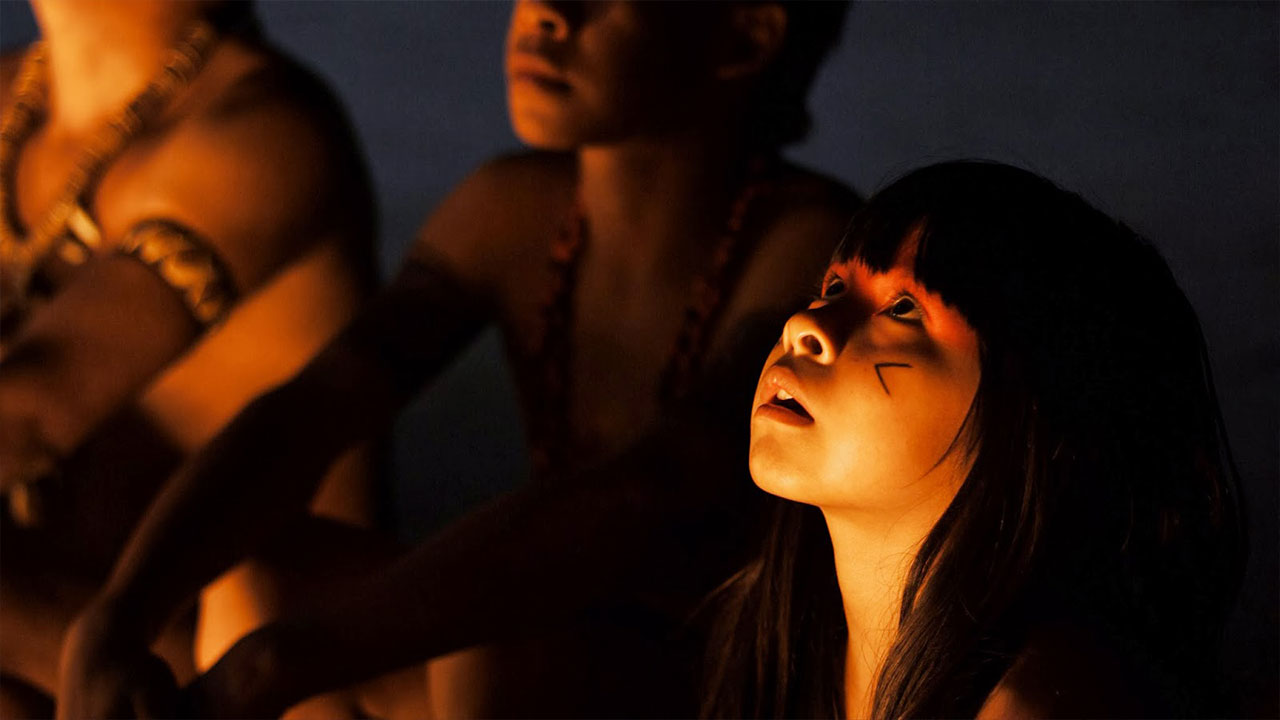 The Birth of Science New Wave Cinema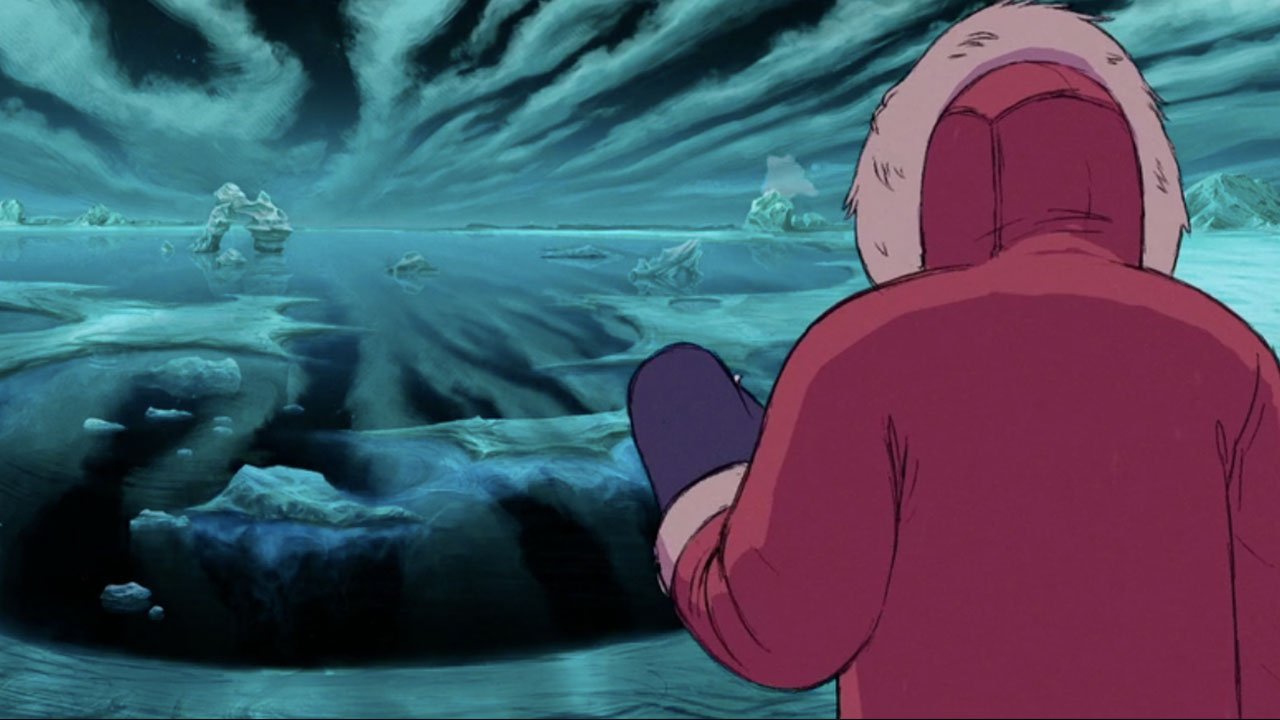 Wild Lands Shape Human Awareness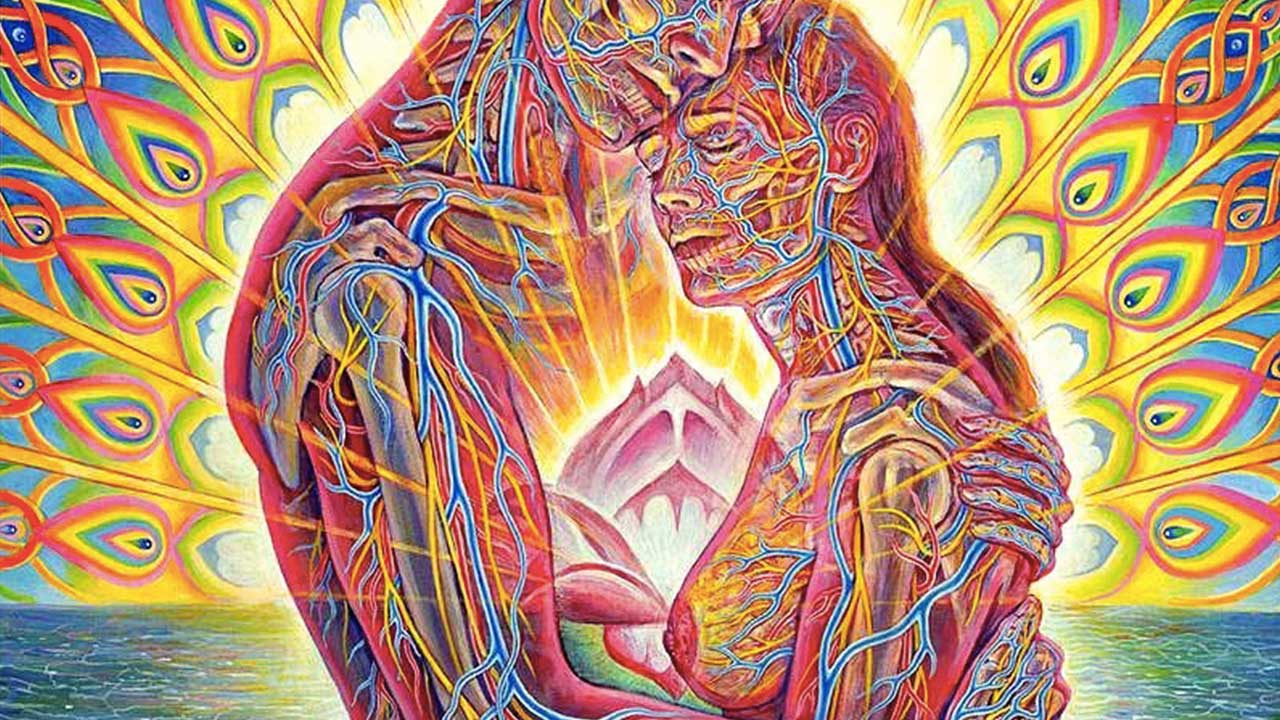 Love, Relationships, Babies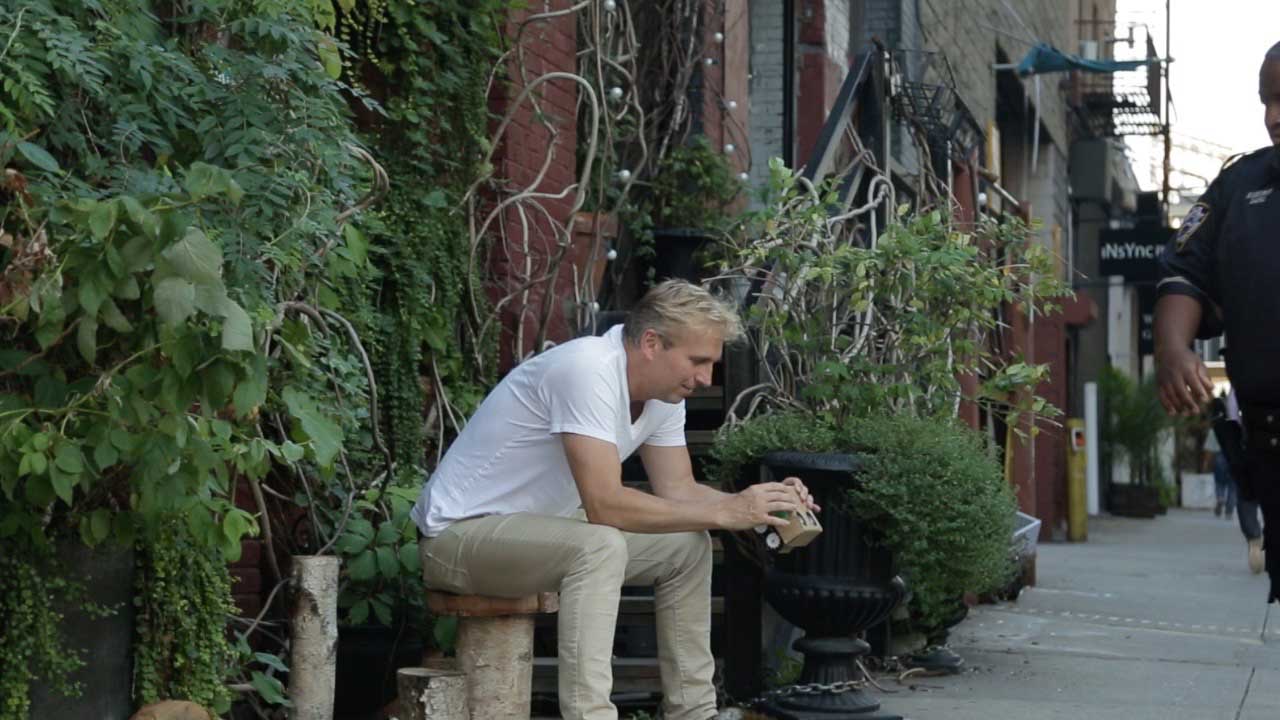 Defiance Against Emotional Repression: The Cogit-Prop Films of Brent Hoff
Top Ten: Animated Films from the Science New Wave
Cultural Heritage and Filmmaking in Kenya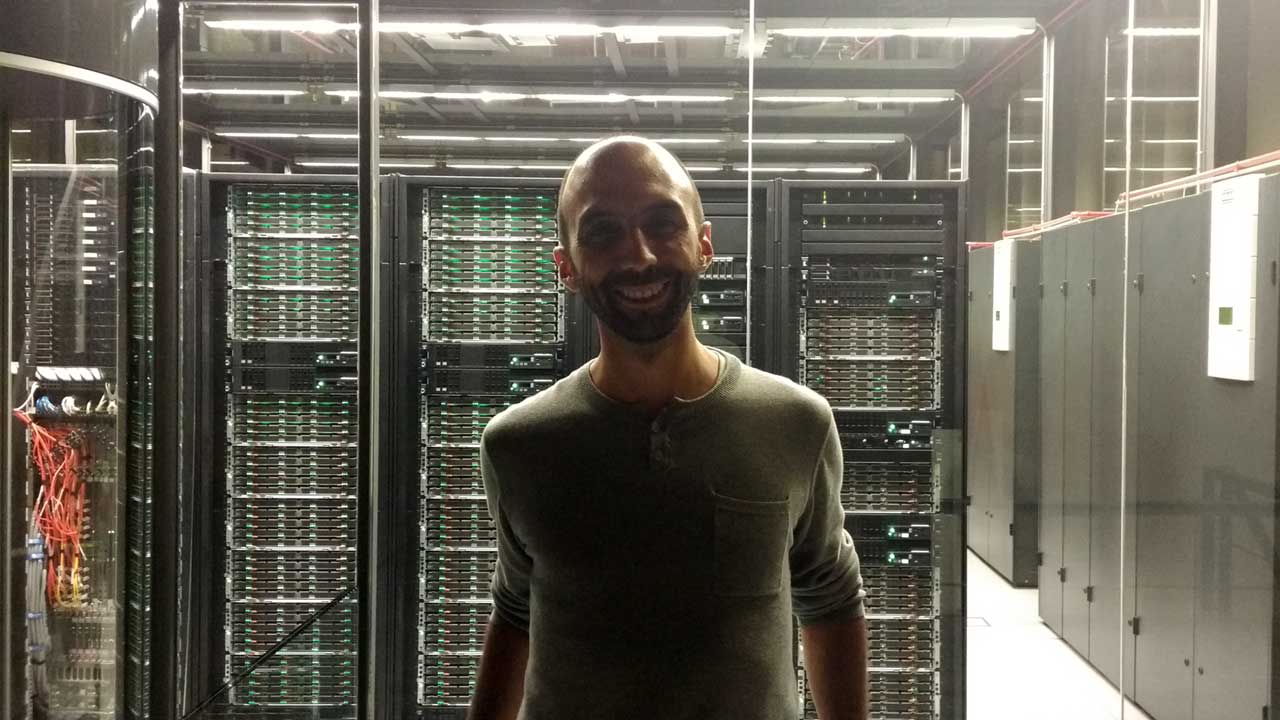 Telling Stories with Data Visualization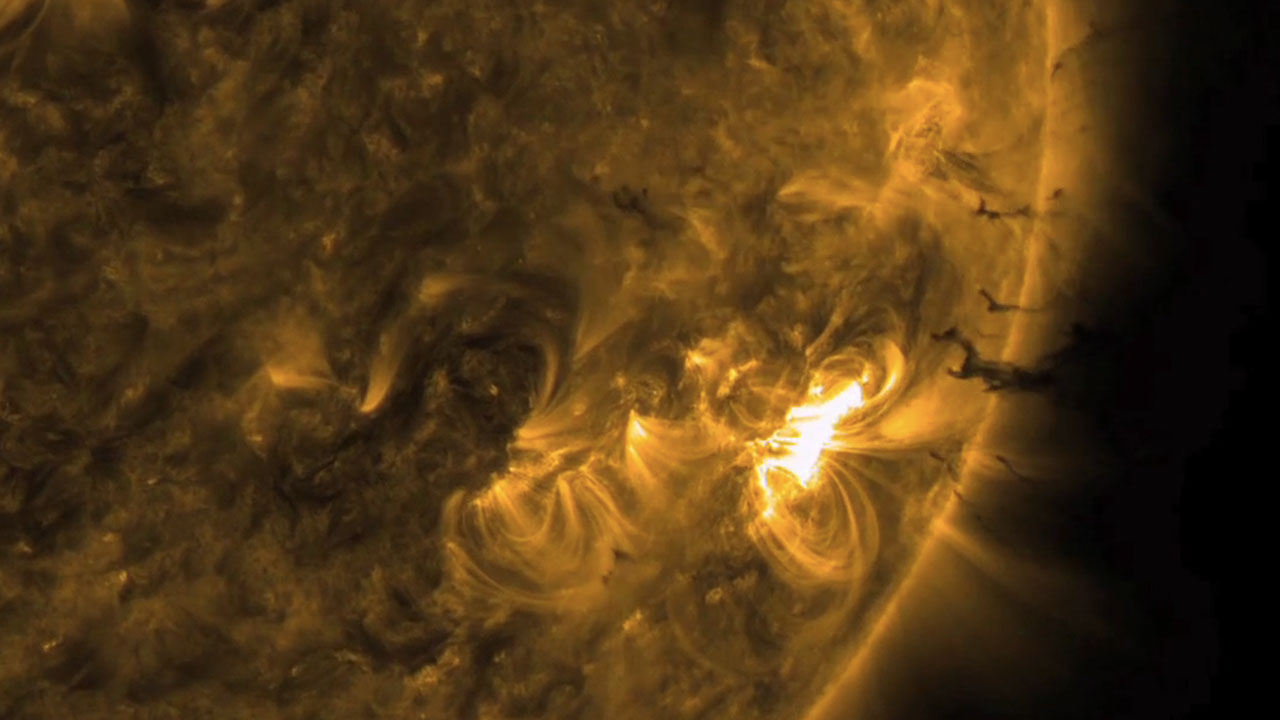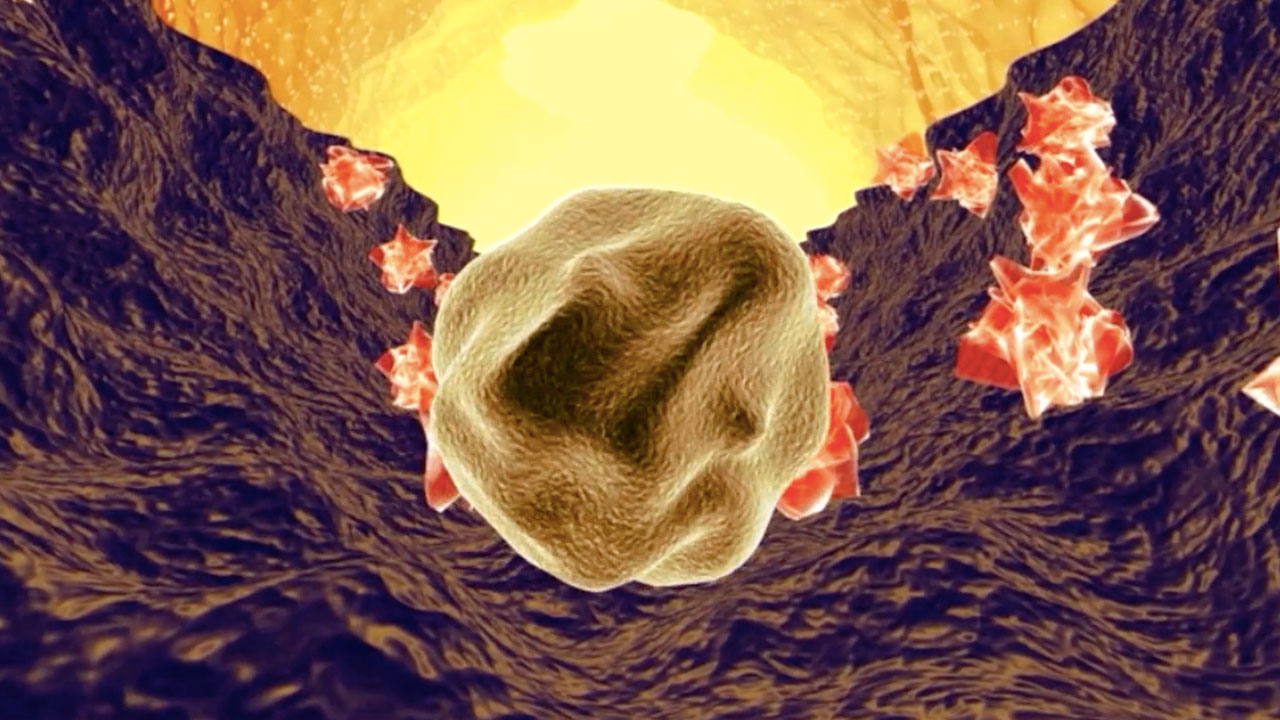 The Stem Cell: A New Protagonist Emerges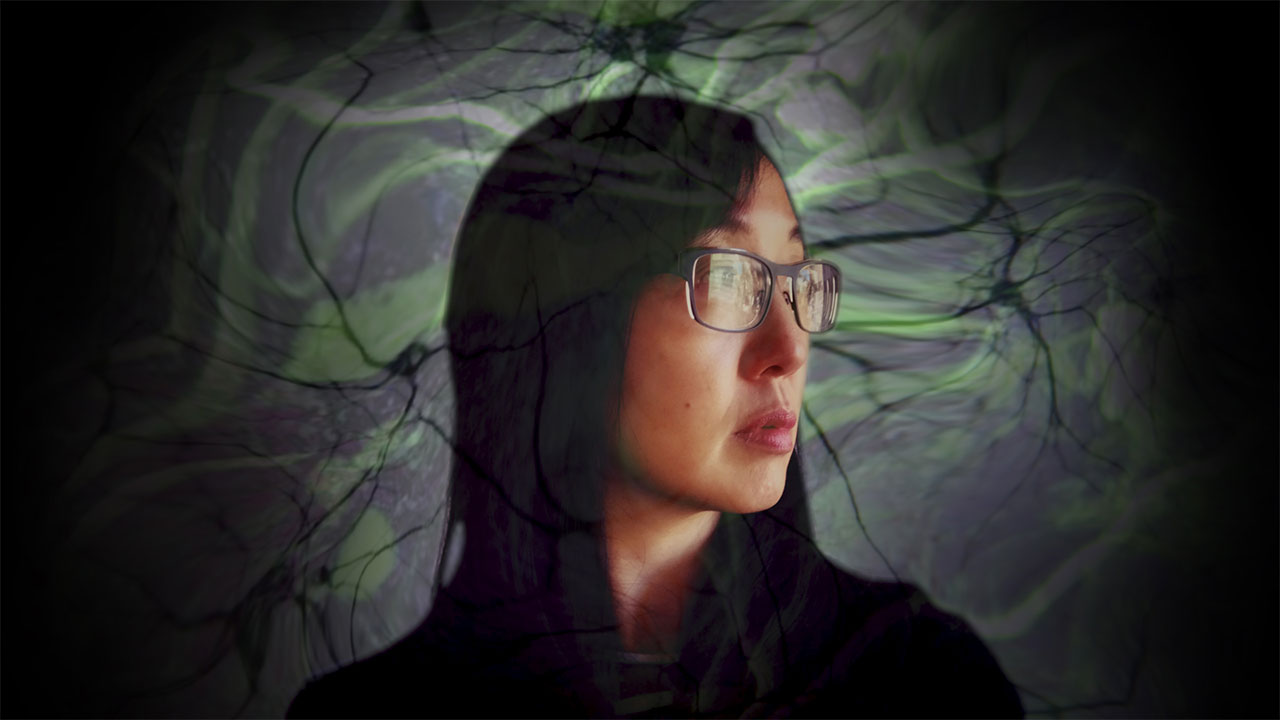 The Netherworld of Consciousness: Films of Jeannette Louie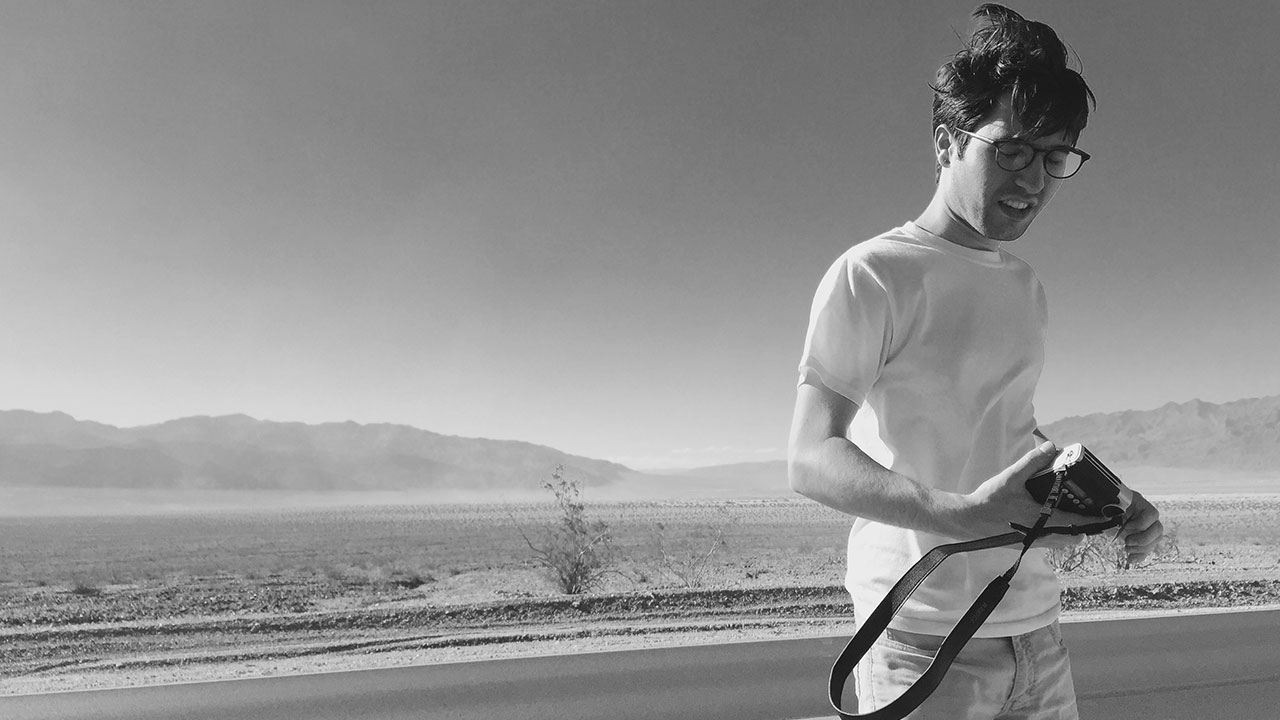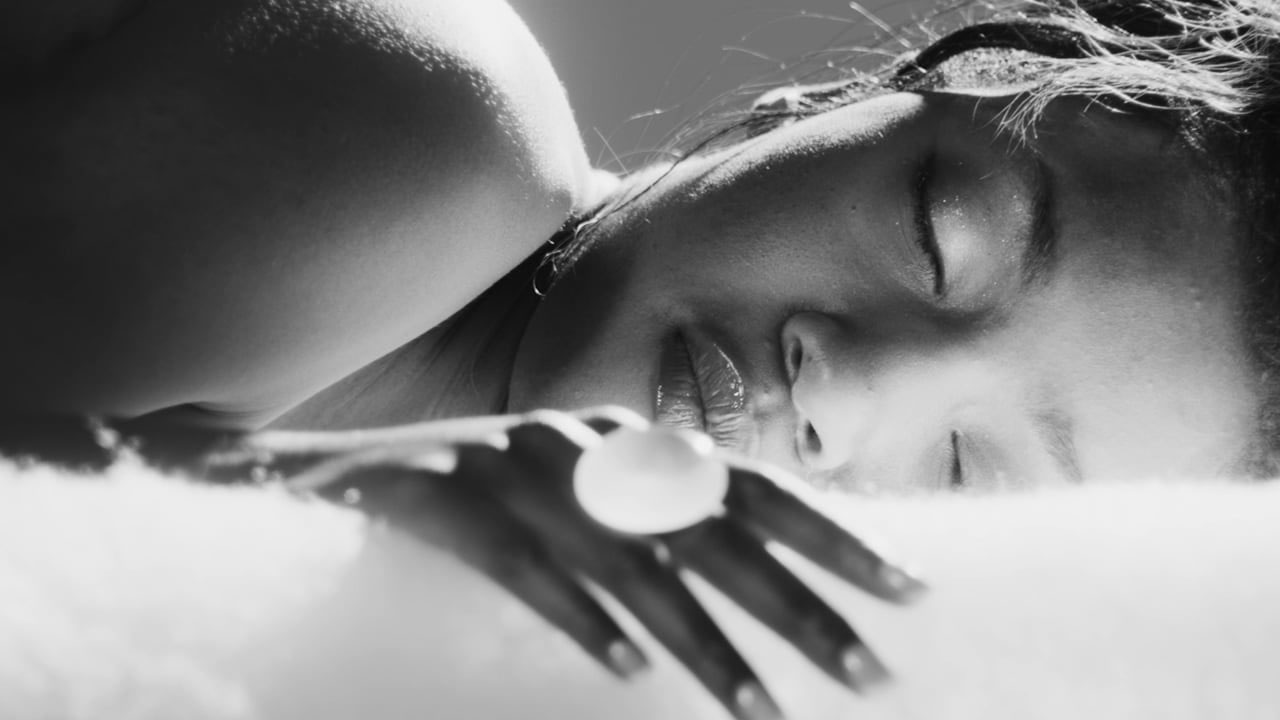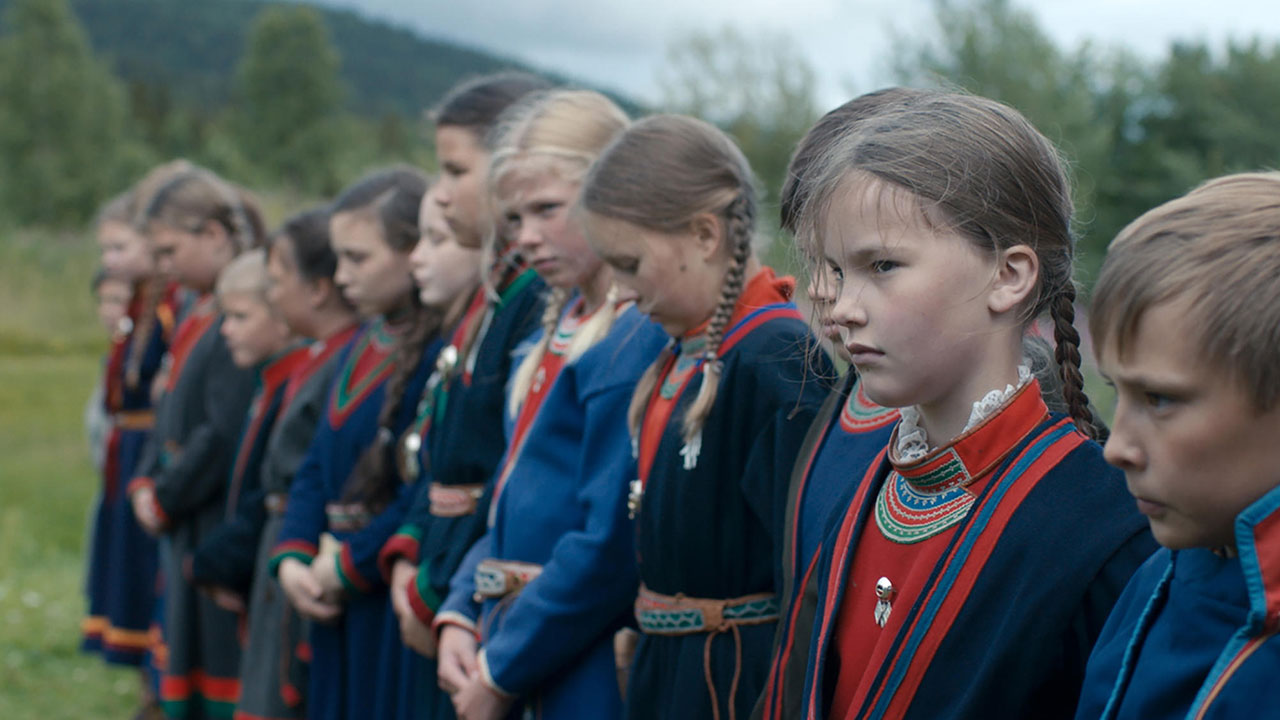 Science Makes for Great art, But What About the Reverse?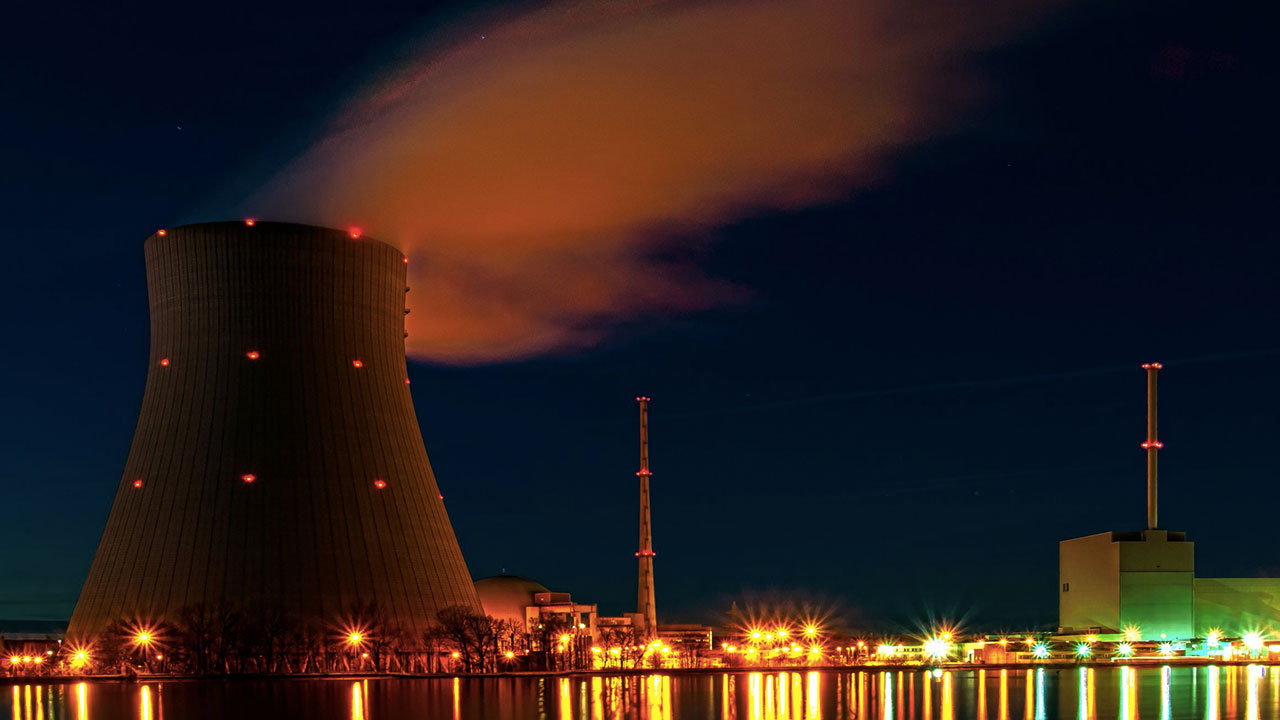 The Fukushima Disaster: Nuclear Trauma Lingers On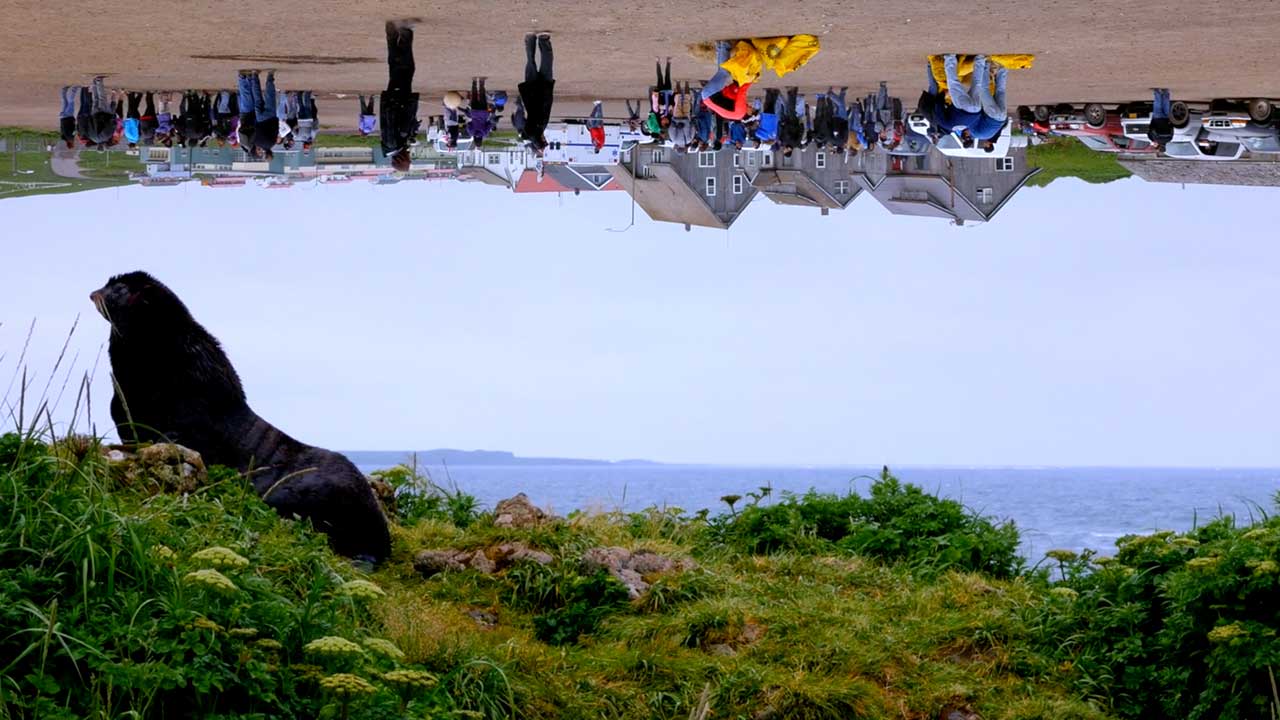 Fauna and Landscapes in Indigenous Stories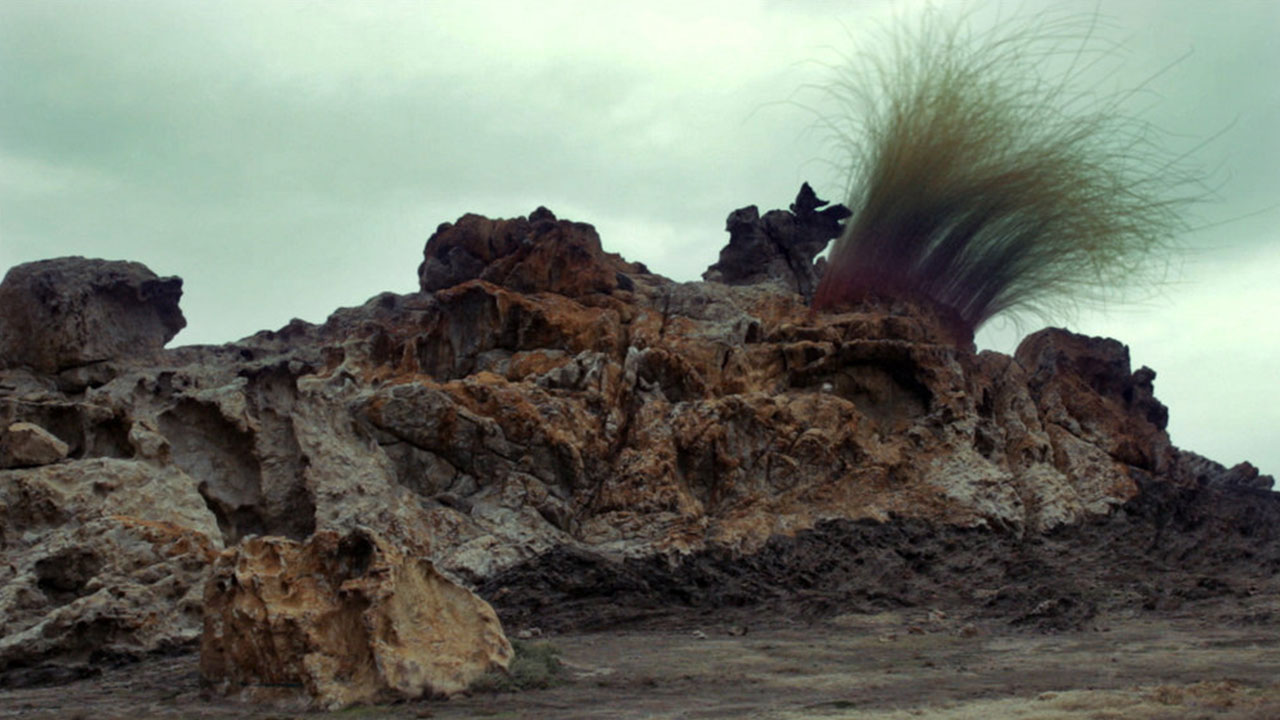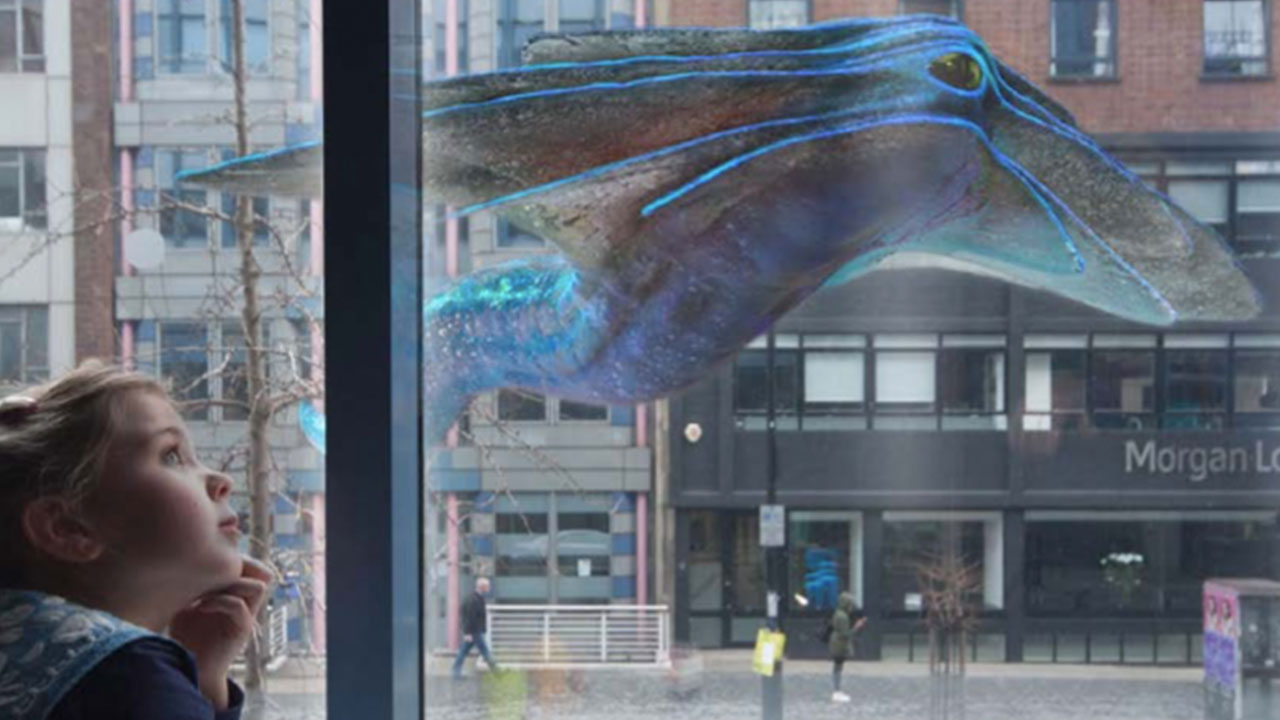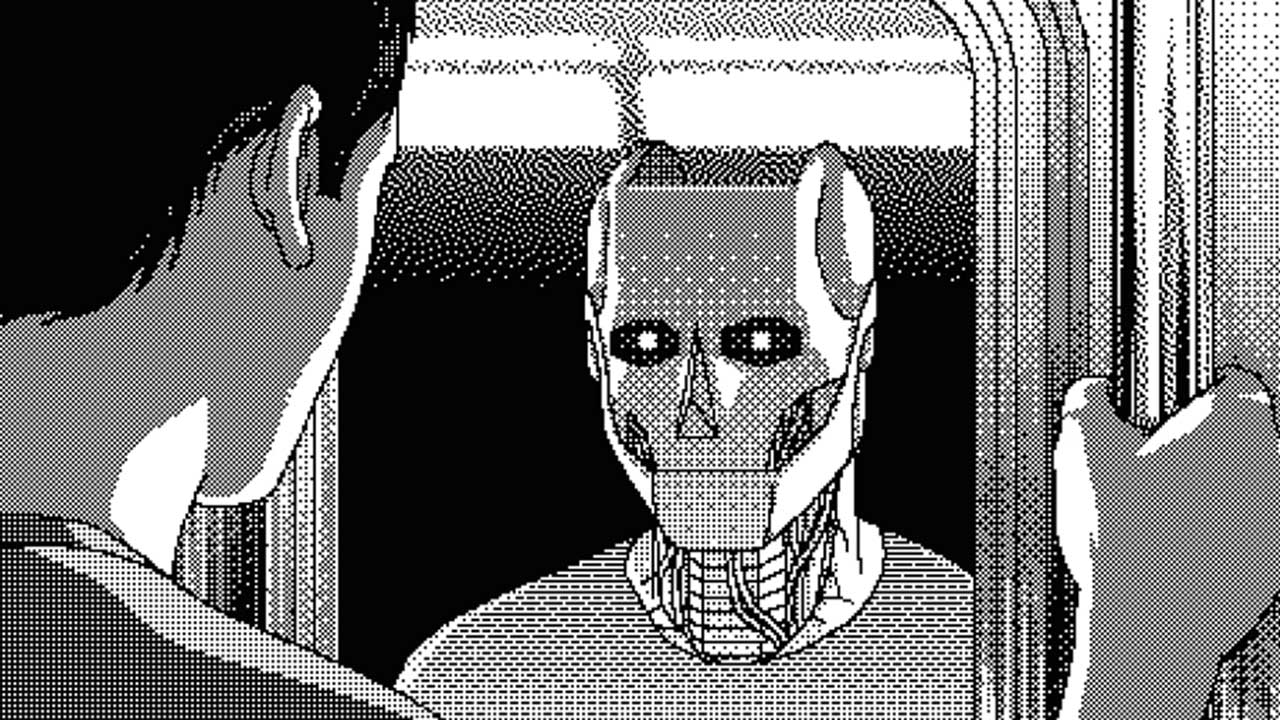 My Narrative Drive is Broken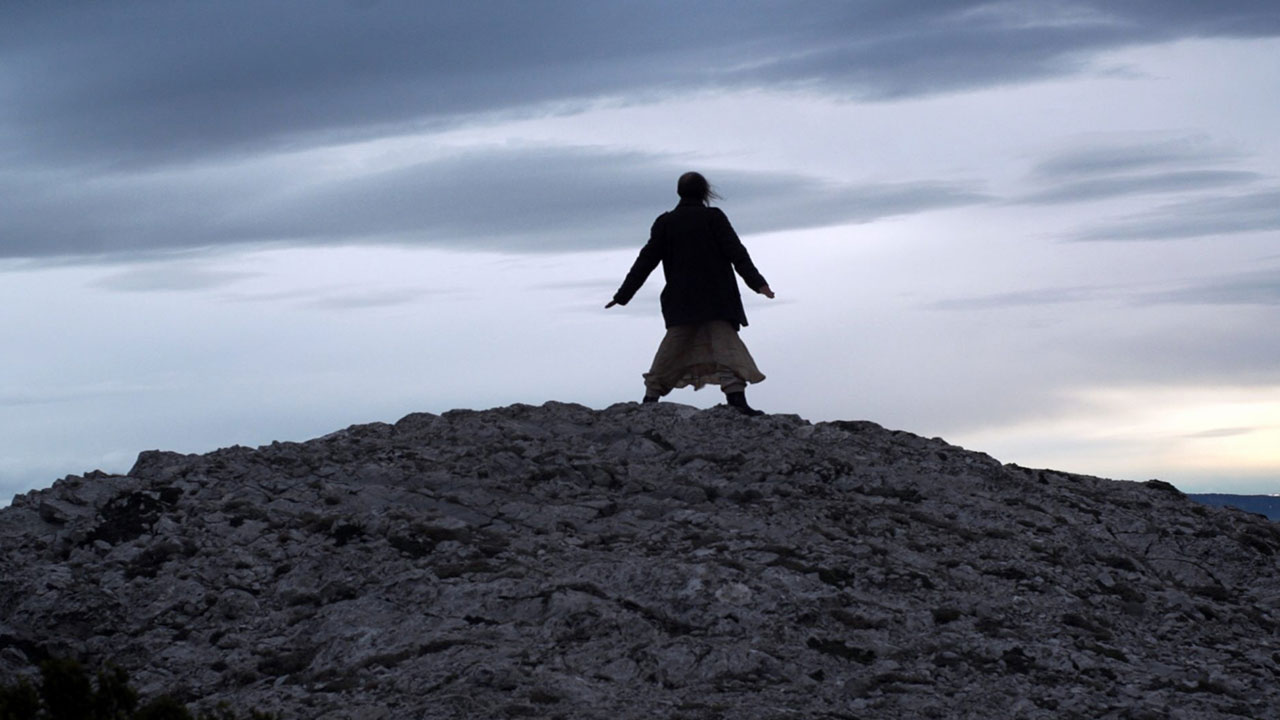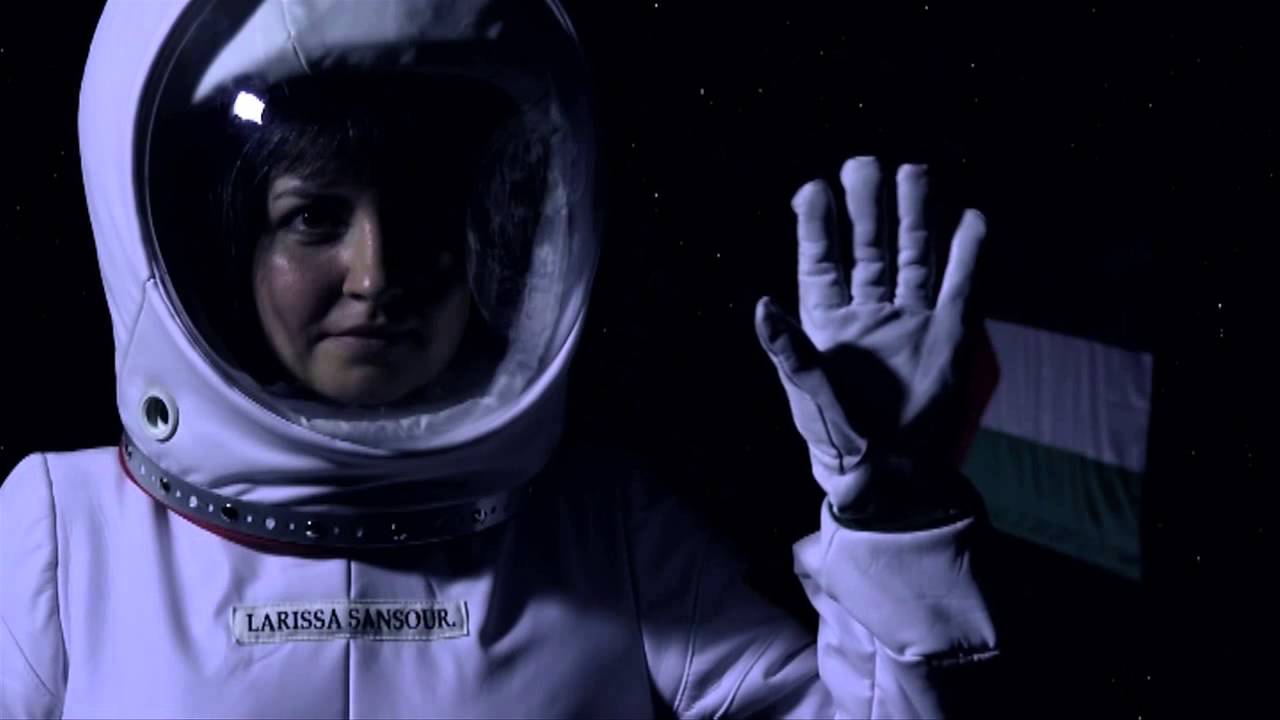 Modern Arab Science Fiction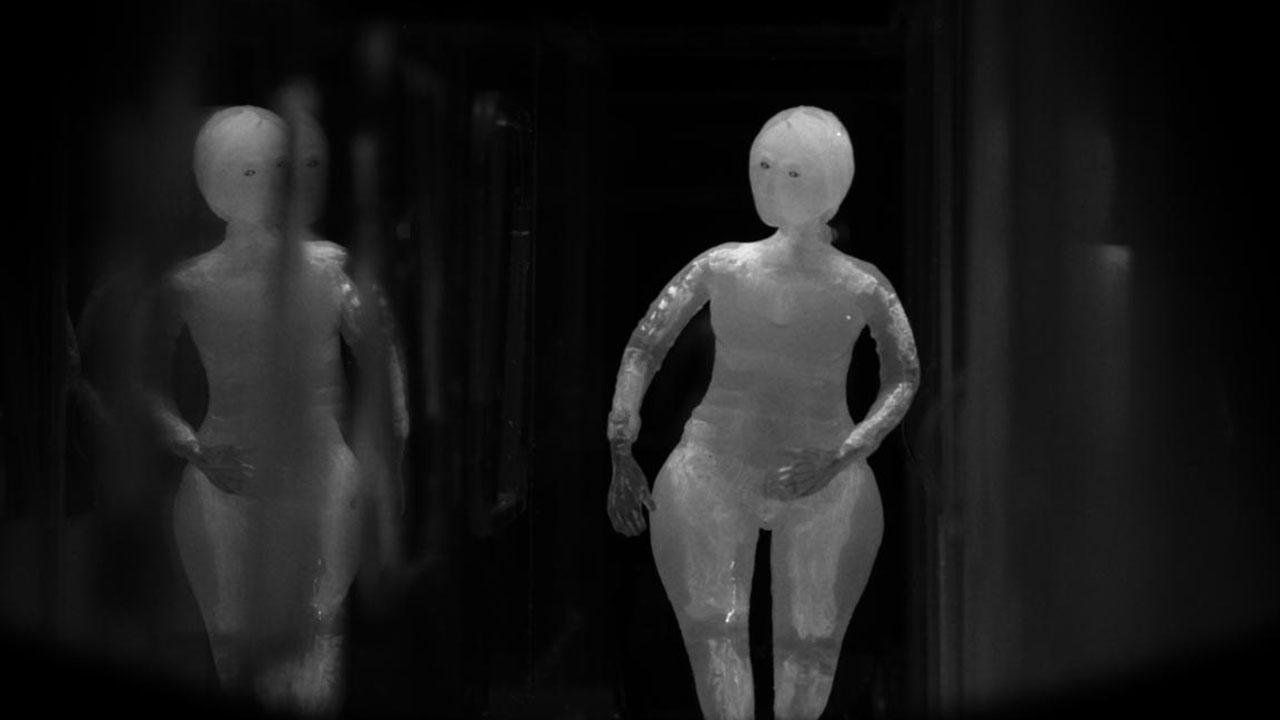 Stranger Than Fiction: Three True Tales From Our Archives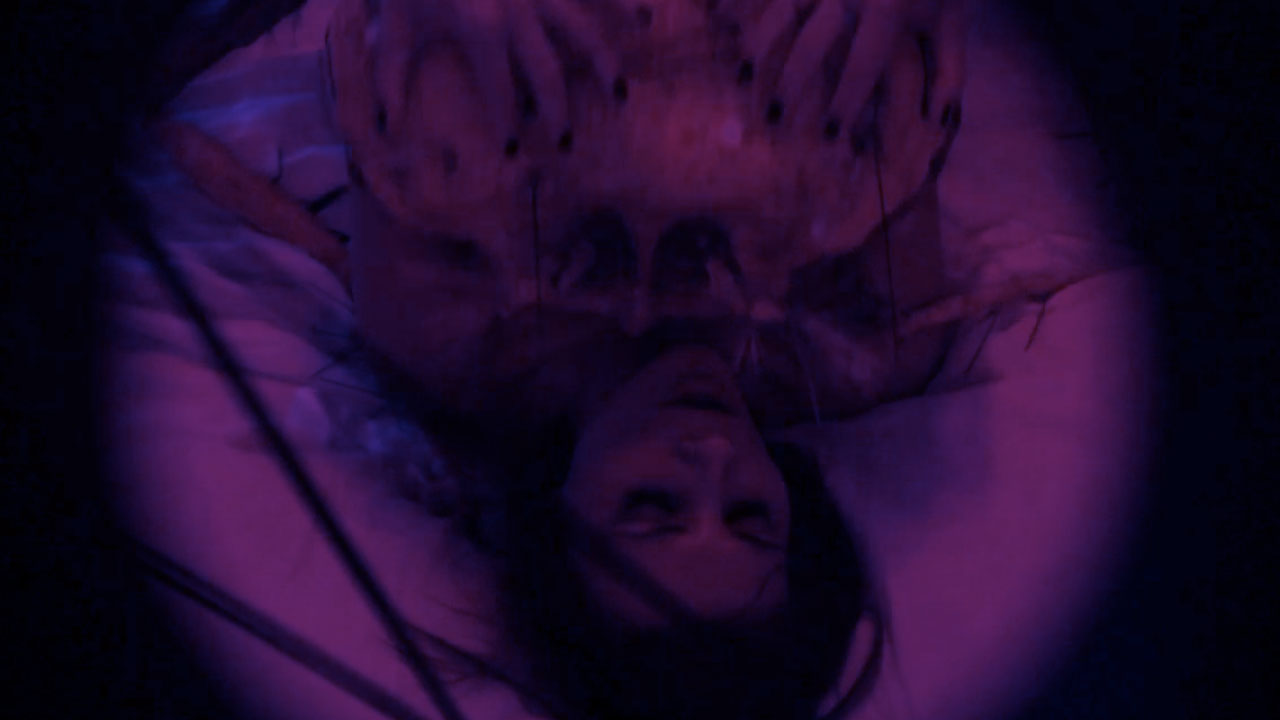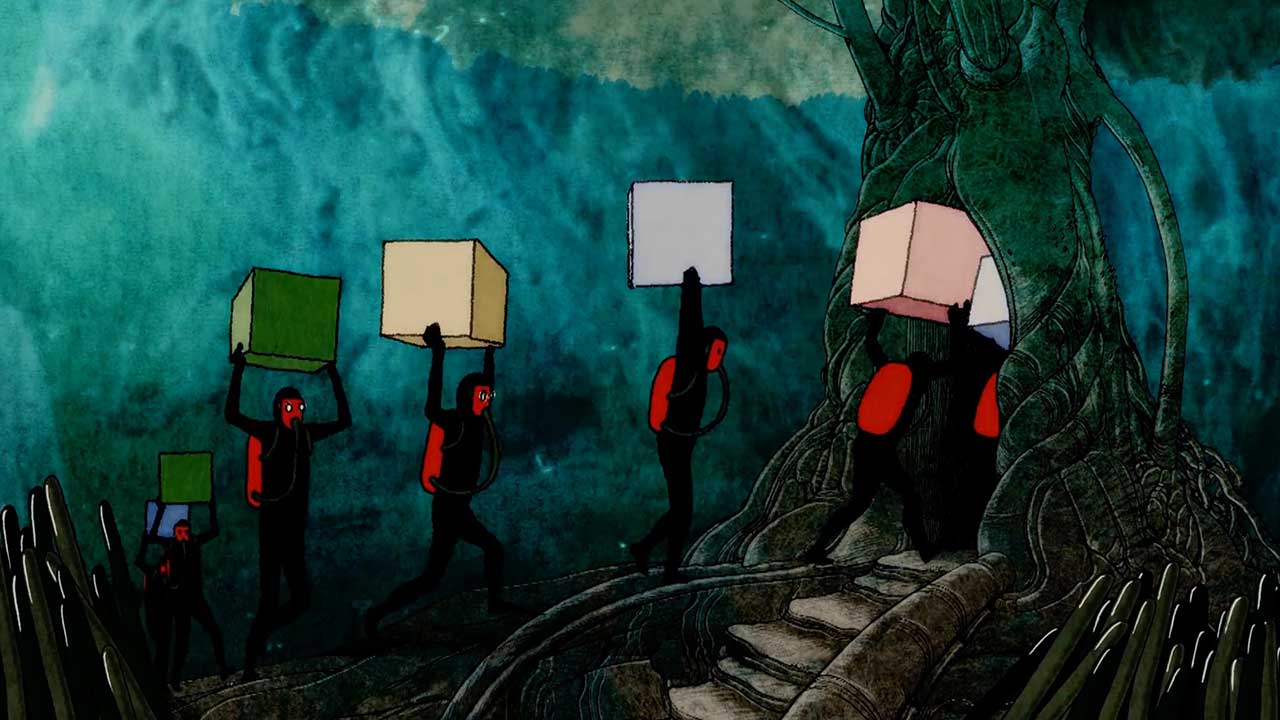 Animated. Science. Fiction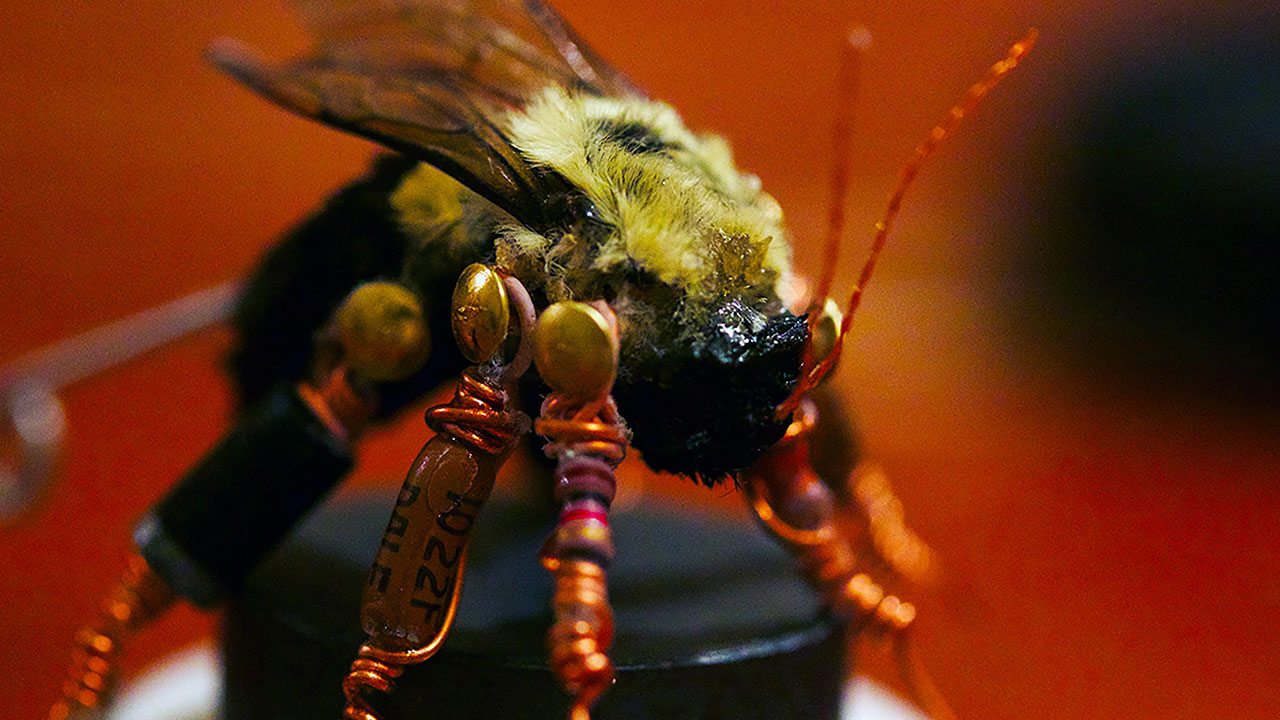 New Life: Survival and Resurrection in short film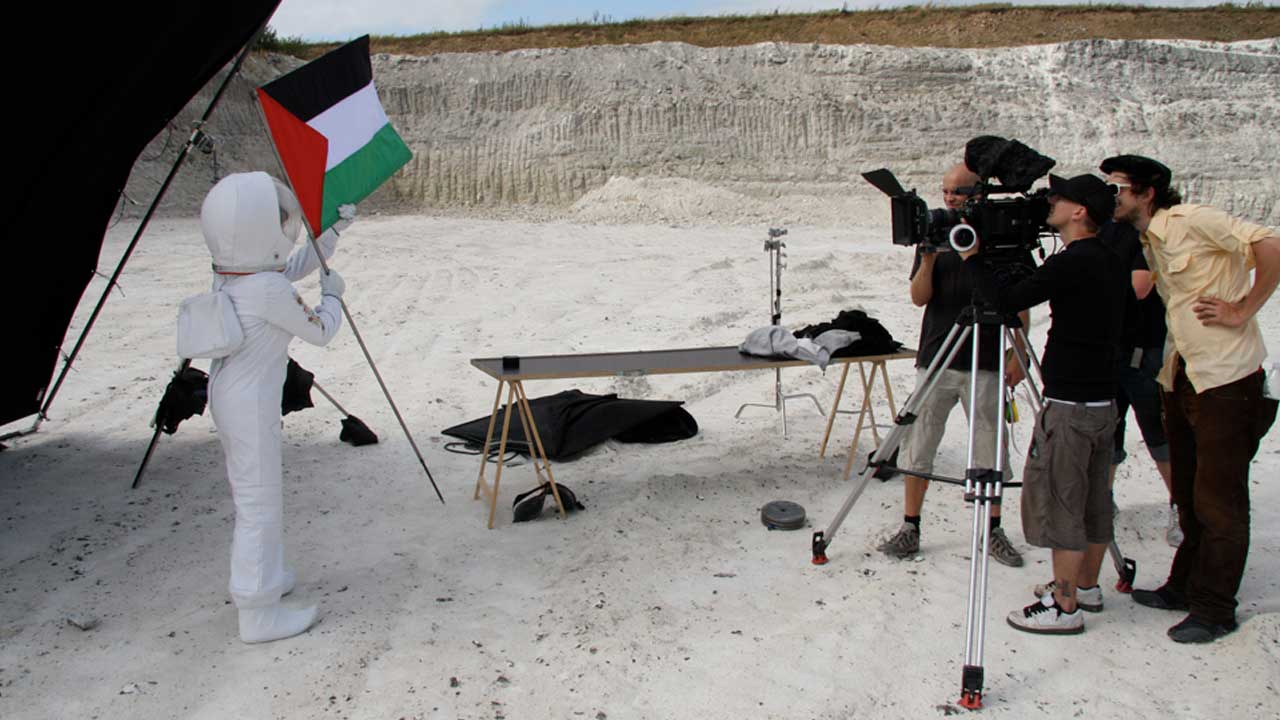 Envisioning Future States With Science Fiction
On Land and Sea: Visions of Landscapes in the Global South 
In Search of the Persian Leopard and Beyond: Rare Wildlife Films of Iran
Unseemly: the body's exquisite horror
The City: How I Dream It & How I Feel It
Visions of the Future: The Artist Depiction Series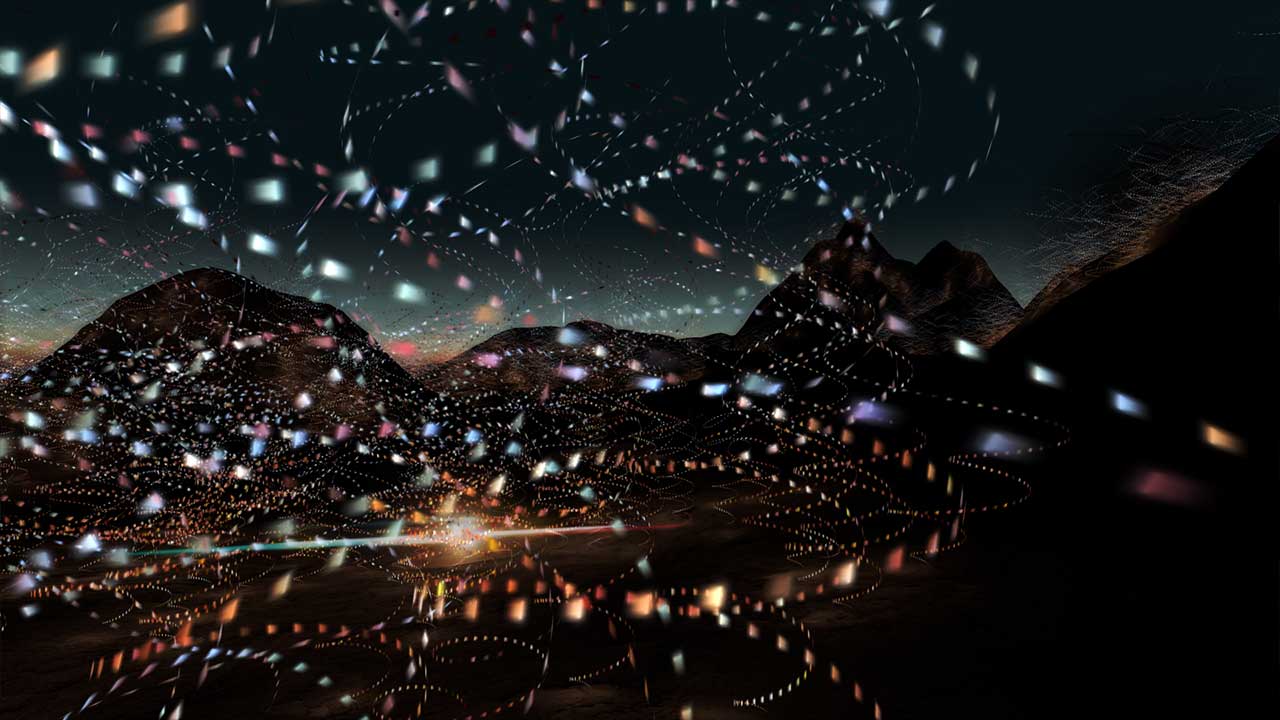 Silent Signal: Exploring Visionary Science through Experimental Animation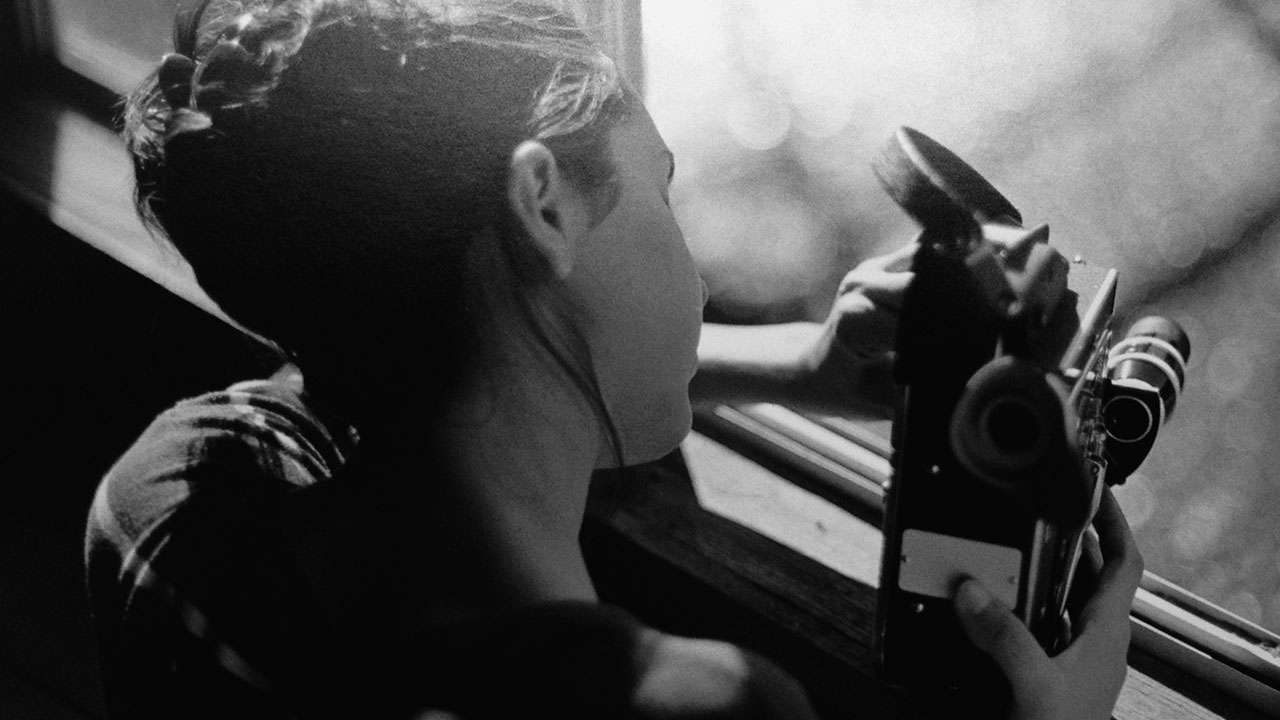 Science and Poetry in the Everyday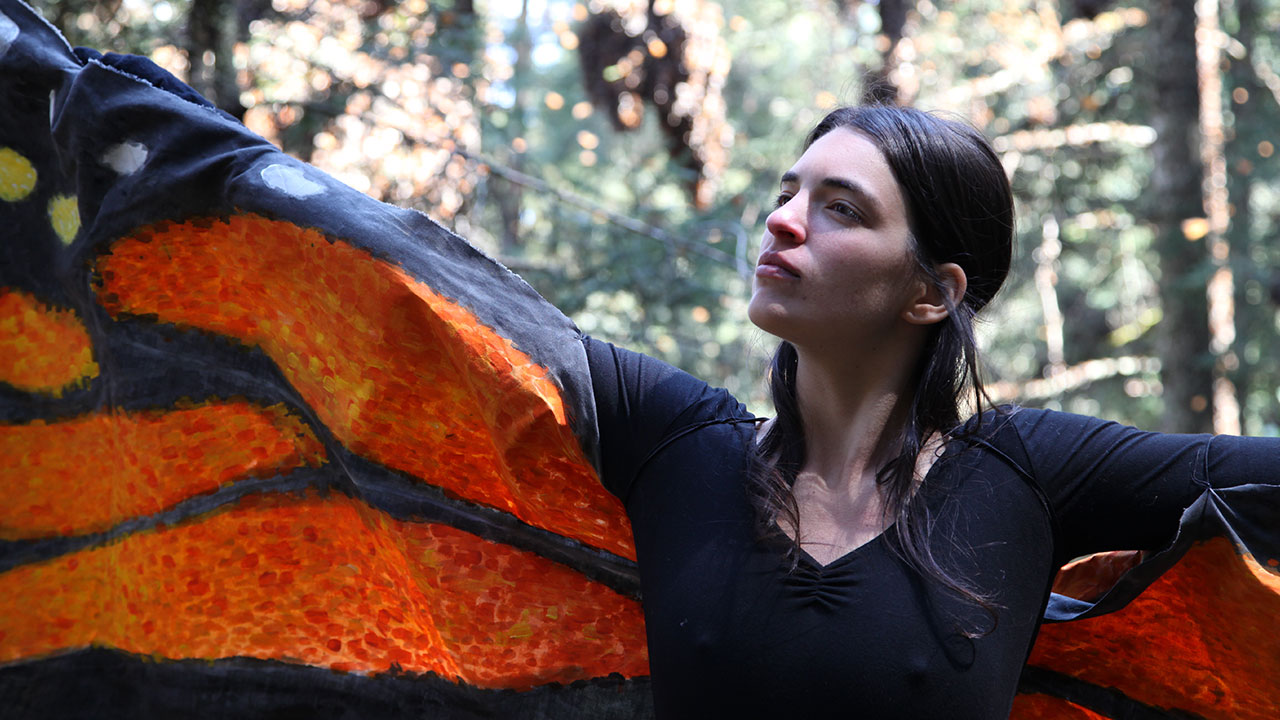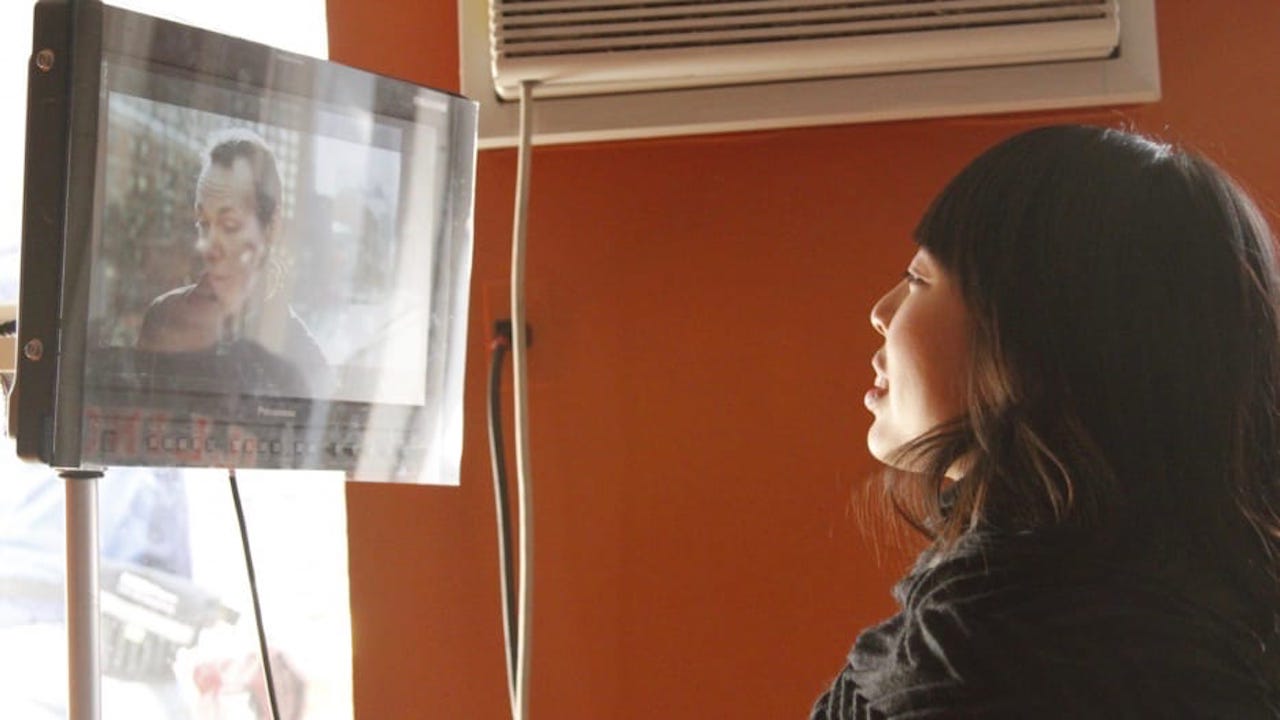 Telling Sci-Fi Stories with Women at the Forefront — a Conversation With Director Cidney Hue
Musical and Mythological Visual Enchantments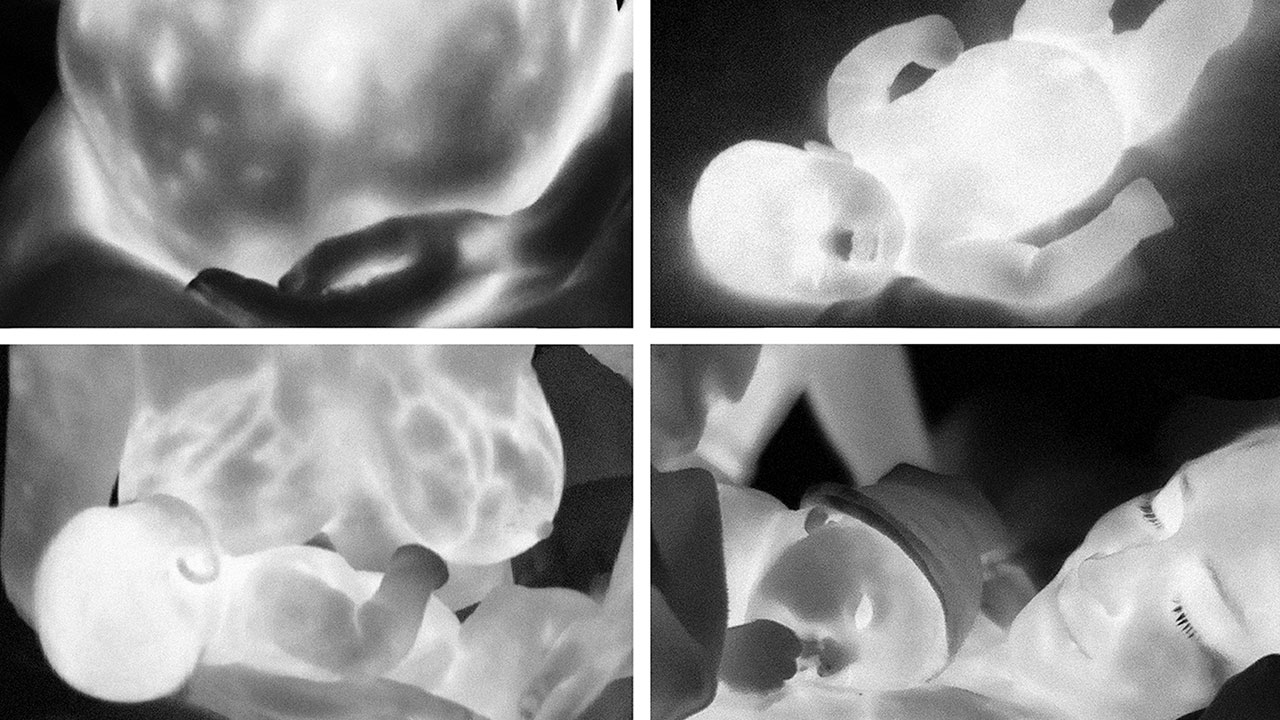 Marne Lucas: A Pioneer in Infrared Experimental Art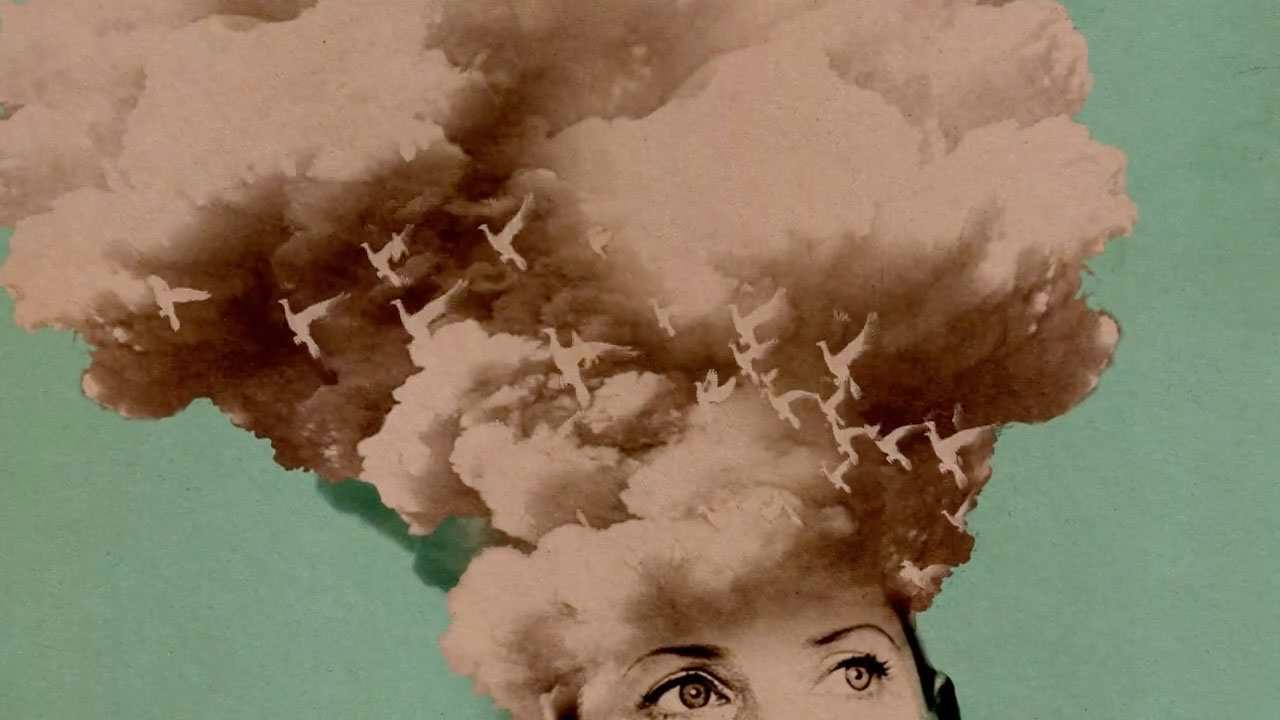 The Work of Tiffany Shlain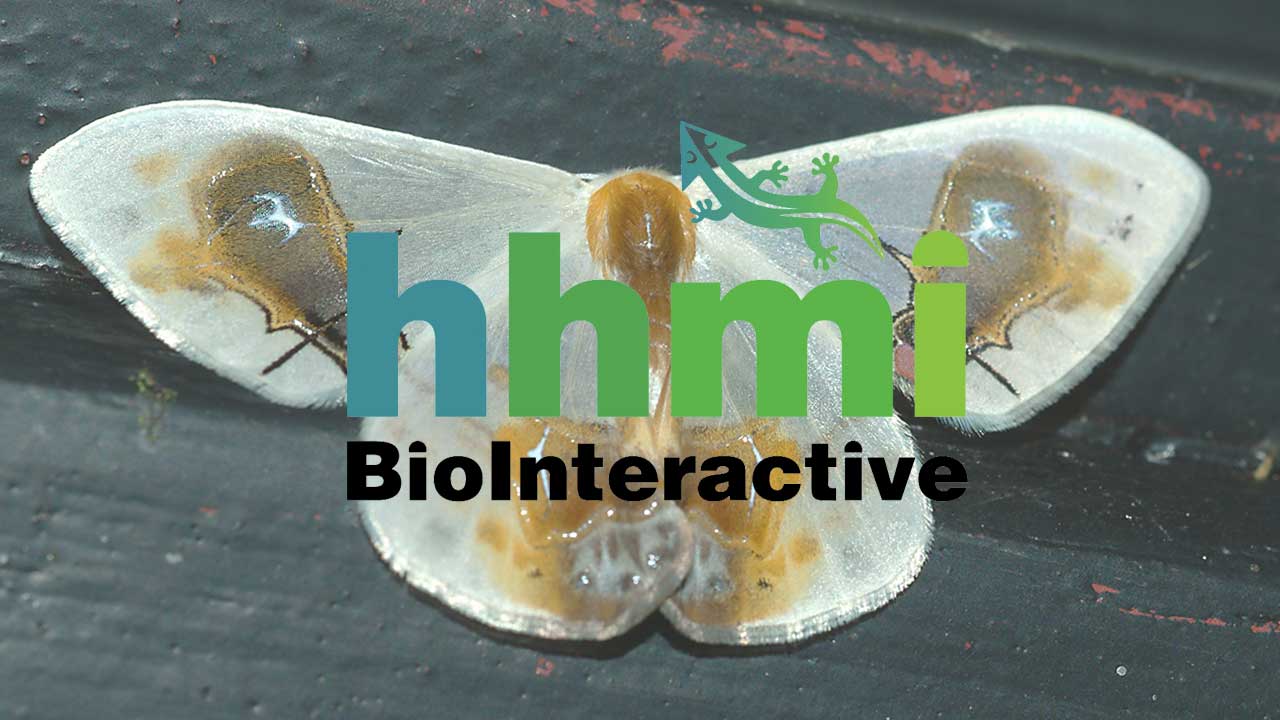 7 Videos That Use Beautiful Storytelling to Advance Science Education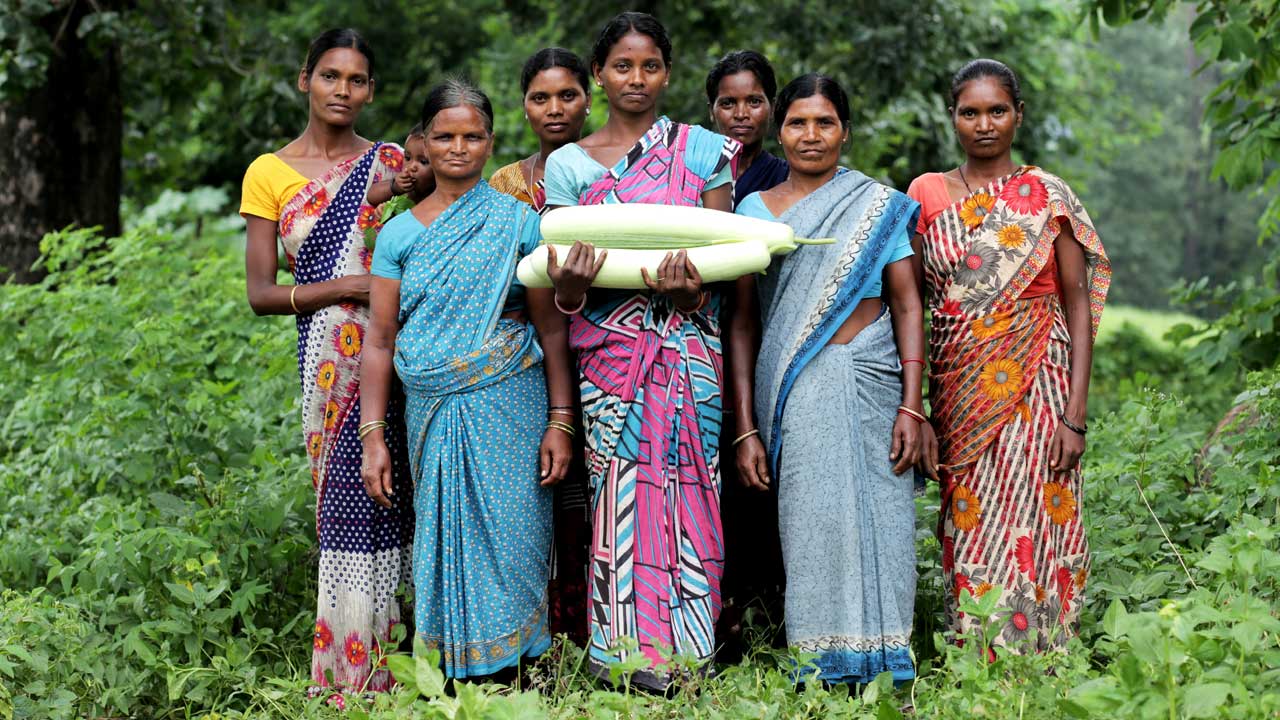 The Source Project: 8 shorts about empowerment and sustainability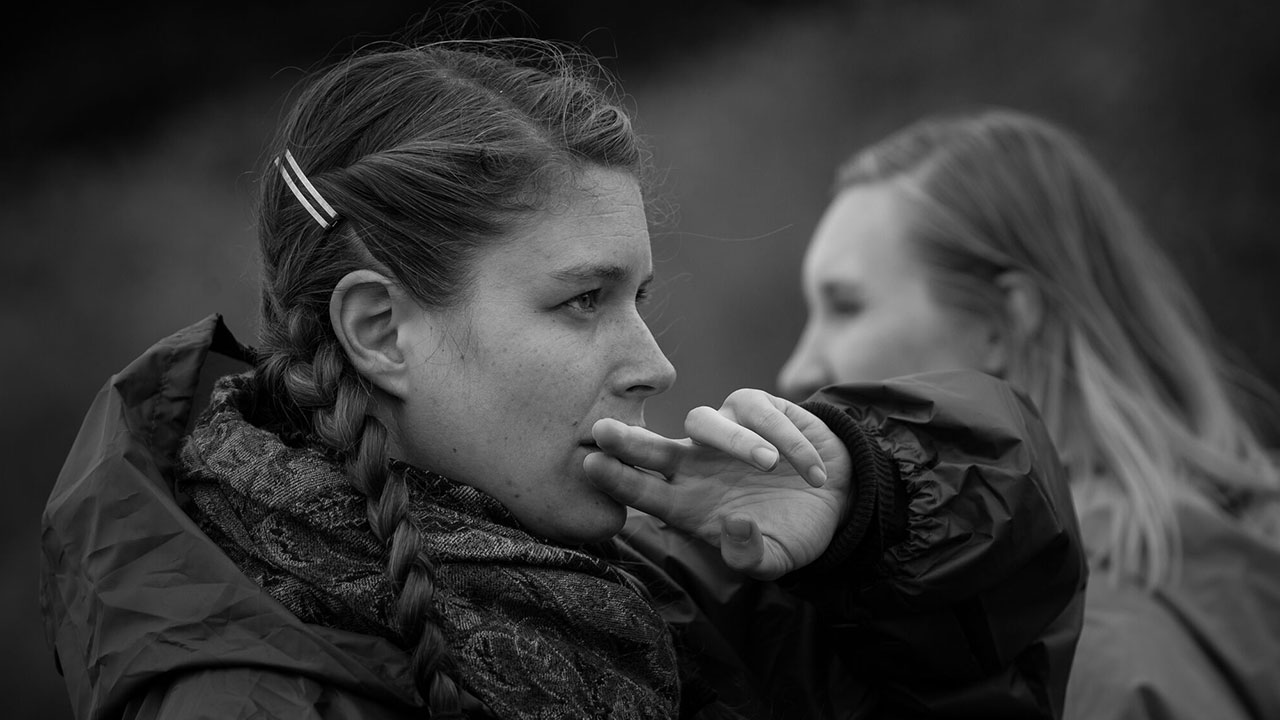 An Ethnobiologist with a Movie Camera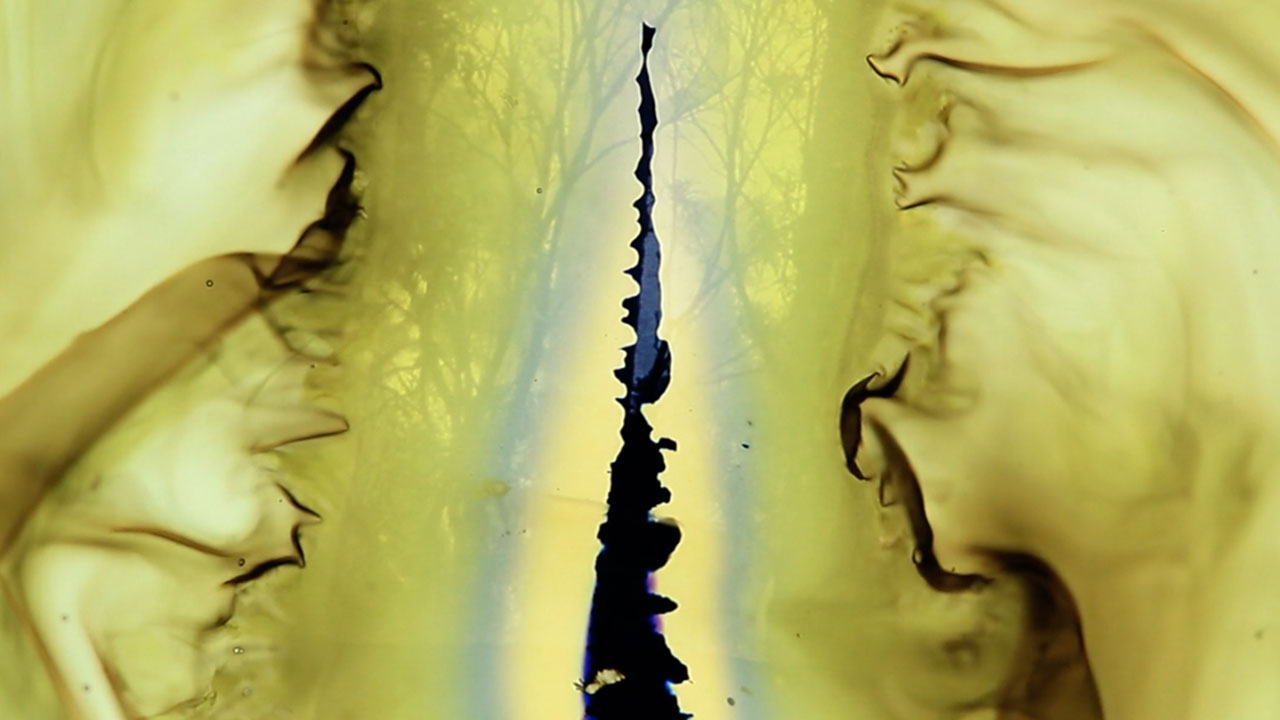 A New Wave of Climate Change Cinematography
Dreams in Space: virtual voyages in n-dimensional biology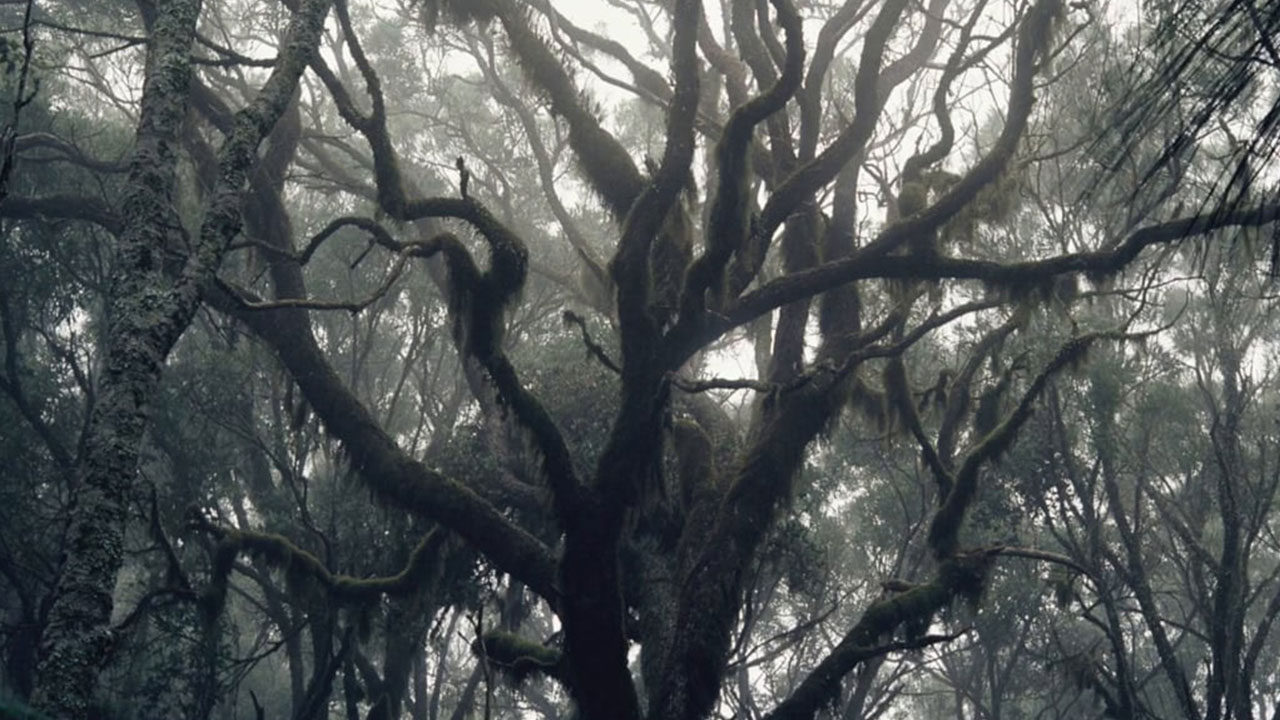 We and the Earth breathe together